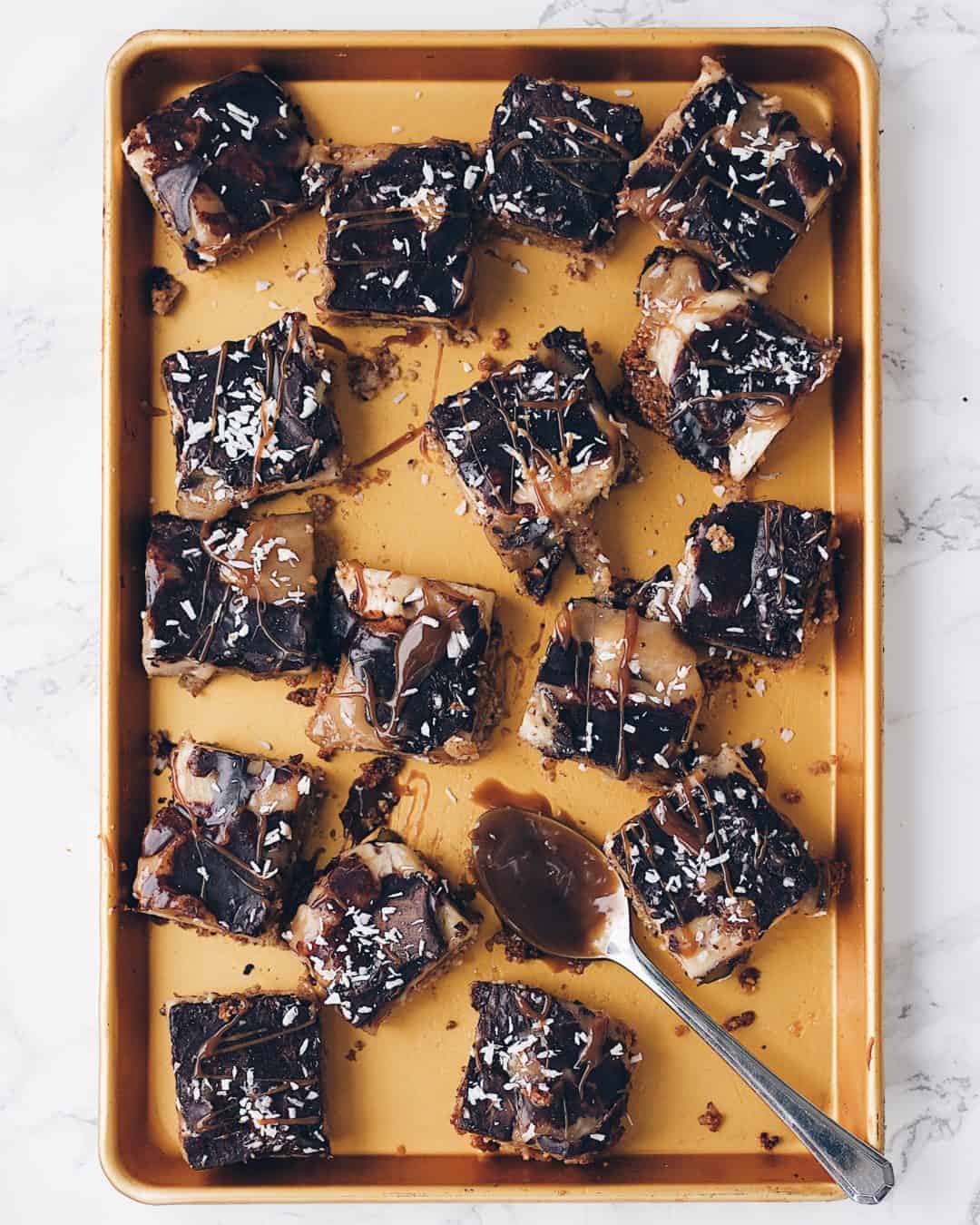 I was scrolling through Pinterest, like I do most mornings, and came across some millionaire shortbreads. I then couldn't think about anything else other than making some and eating them.  I wanted to make them that extra bit special, and after my friend Casey had been talking about banoffee pie, I thought I would turn them into banoffee millionaire shortbreads.  It sounds a lot more complex, but I just added an extra layer of bananas. Easy peasy, banana squeezy. The other great thing about this recipe is that, in trying to make the caramel layer I ended up with a caramel sauce instead. Which meant I had to think of a new way to make the caramel layer. Then I remembered I opened a jar of tahini the other day, so tahini caramel was created. And I am so glad this happened, because not only was it delicious, but it meant I now had an extra caramel sauce to drizzle over my little squares of chocolate heaven. Thank me later!
Vegan Banoffee Millionaire Shortbread
Vegan banoffee millionaire shortbreads.
Ingredients
Base:
100g almonds
40g pecans
40g walnuts
2 tbsp melted coconut oil
30ml maple syrup
2 ripe bananas
Tahini Caramel layer:
½ cup tahini
3 tbsp maple syrup
3 tbsp melted coconut oil
Chocolate layer:
¼ cup melted coconut oil
¼ cup cocoa powder
Drop of vanilla bean paste
Instructions
Base: Blitz the nuts in a blender until fairly smooth and mix in the melted coconut oil and maple syrup. Transfer to a 8×8 baking tray and squish down until there is a even layer. Bake in the oven on 180°c for about 15 minutes until browned, then let cool. Cut the bananas into ½ cm slices.
Tahini Caramel: Blend all the ingredients until it thickens. You want to do this slowly as it will start to separate if you do it too much. If you want to make this a salted caramel, add in some sea salt flakes.
Chocolate Layer: Melt the coconut oil on the hob/microwave and then add the cocoa and vanilla, until smooth and glossy.
Get your base and place the banana slices on top and then pour the tahini caramel over the top. It doesnt matter if the banana is sticking through, just make sure the tahini is evenly spread. Drizzle the melted chocolate on top. You can cover the whole tahini layer in chocolate, but I drizzled it so that I could see some of the tahini caramel underneath. I also sprinkled some desiccated coconut on top. Cut into squares and keep in the fridge. It will keep for 5-7 in an airtight container.
Notes
Refined sugar free, gluten free. Omit bananas if you aren't a fan.