These super simple peppermint creams are the perfect sweet and minty after dinner treat! They only require 5 ingredients and are so easy to make.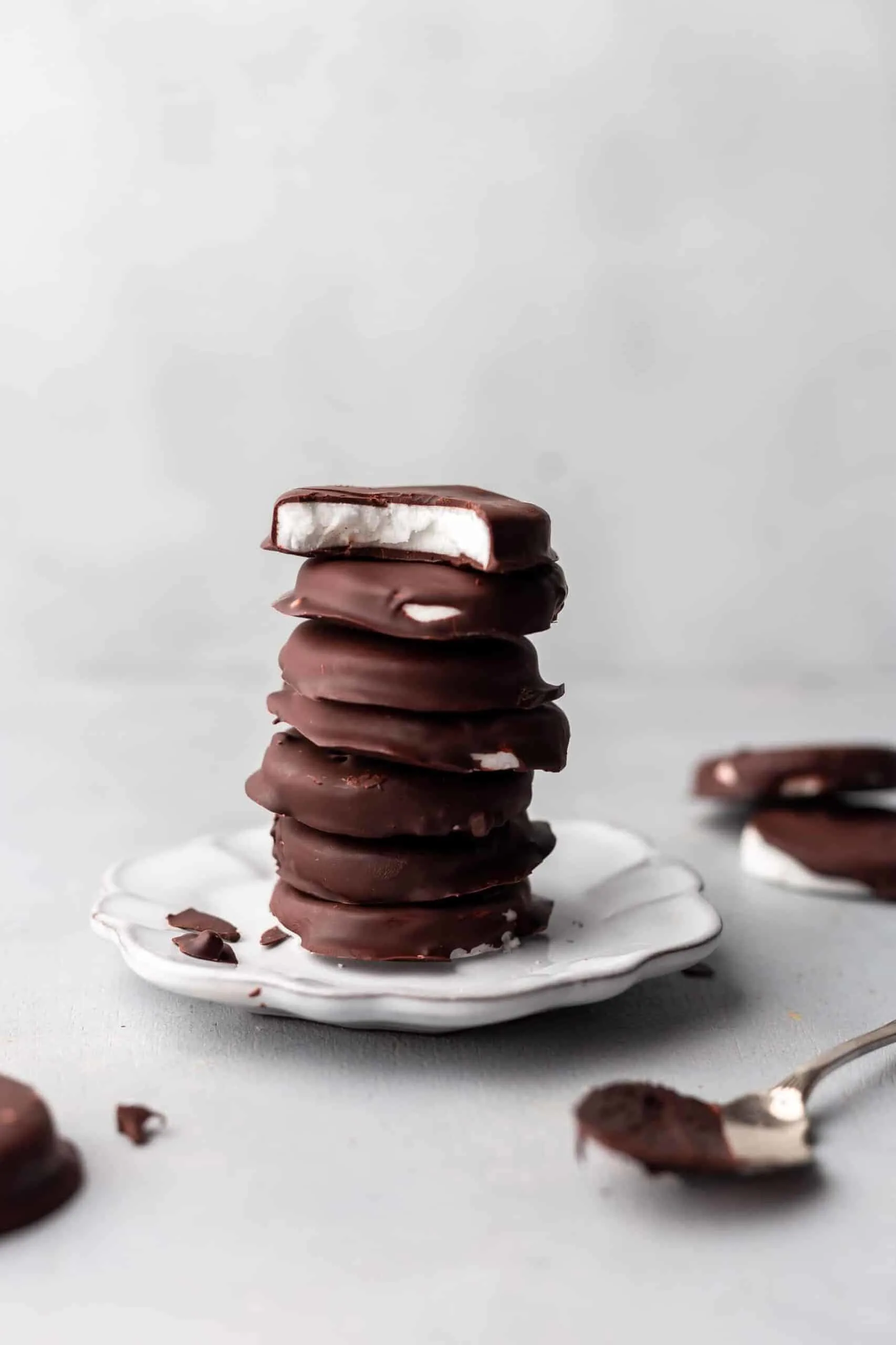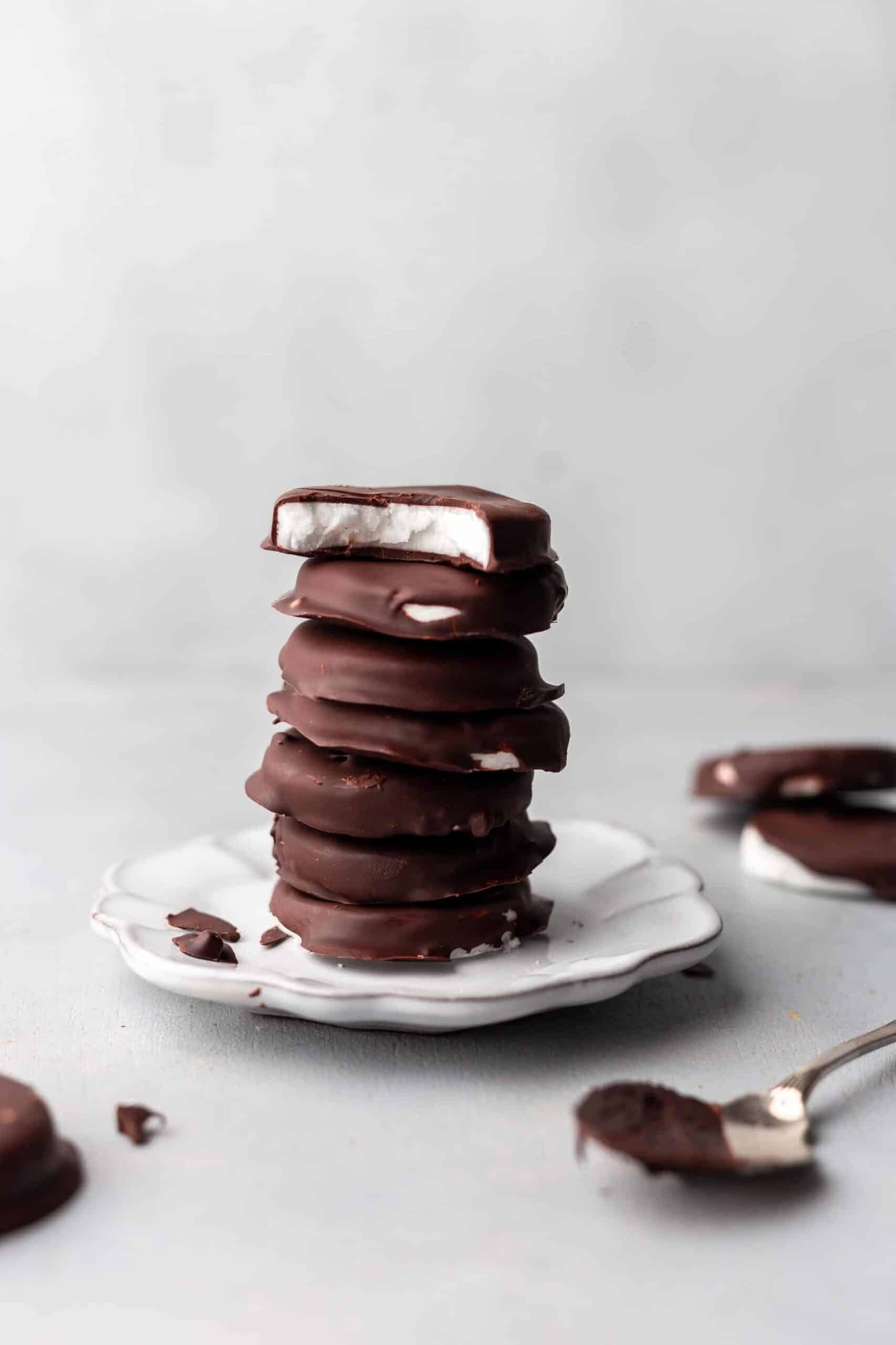 Quite often shop bought chocolate mints are vegan but it is so easy to make your own and they are even more delicious!
After Eights used to be one of my favourite treats at Christmas time but sadly they have milk in. So now me and my family can enjoy these vegan peppermint creams this Christmas!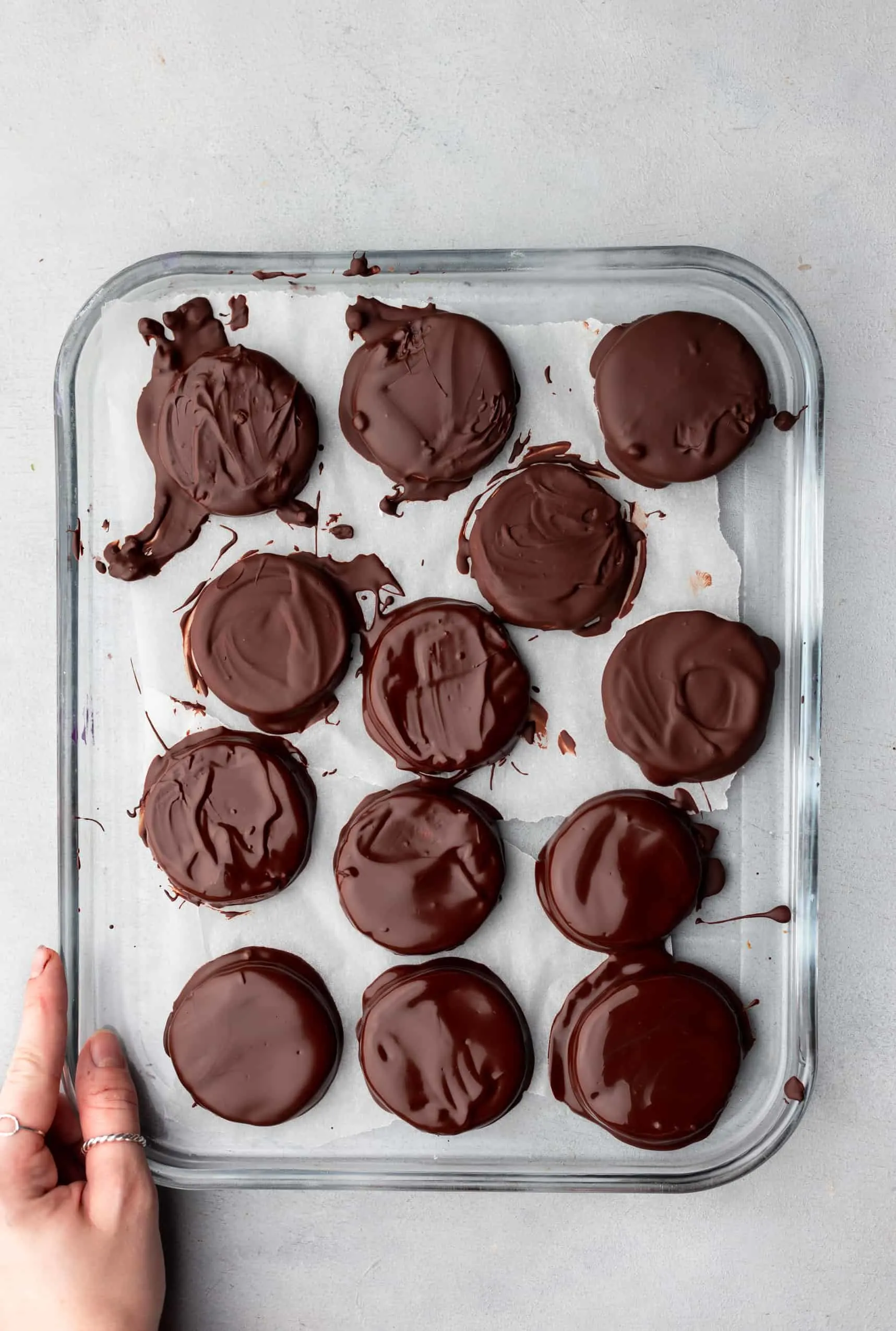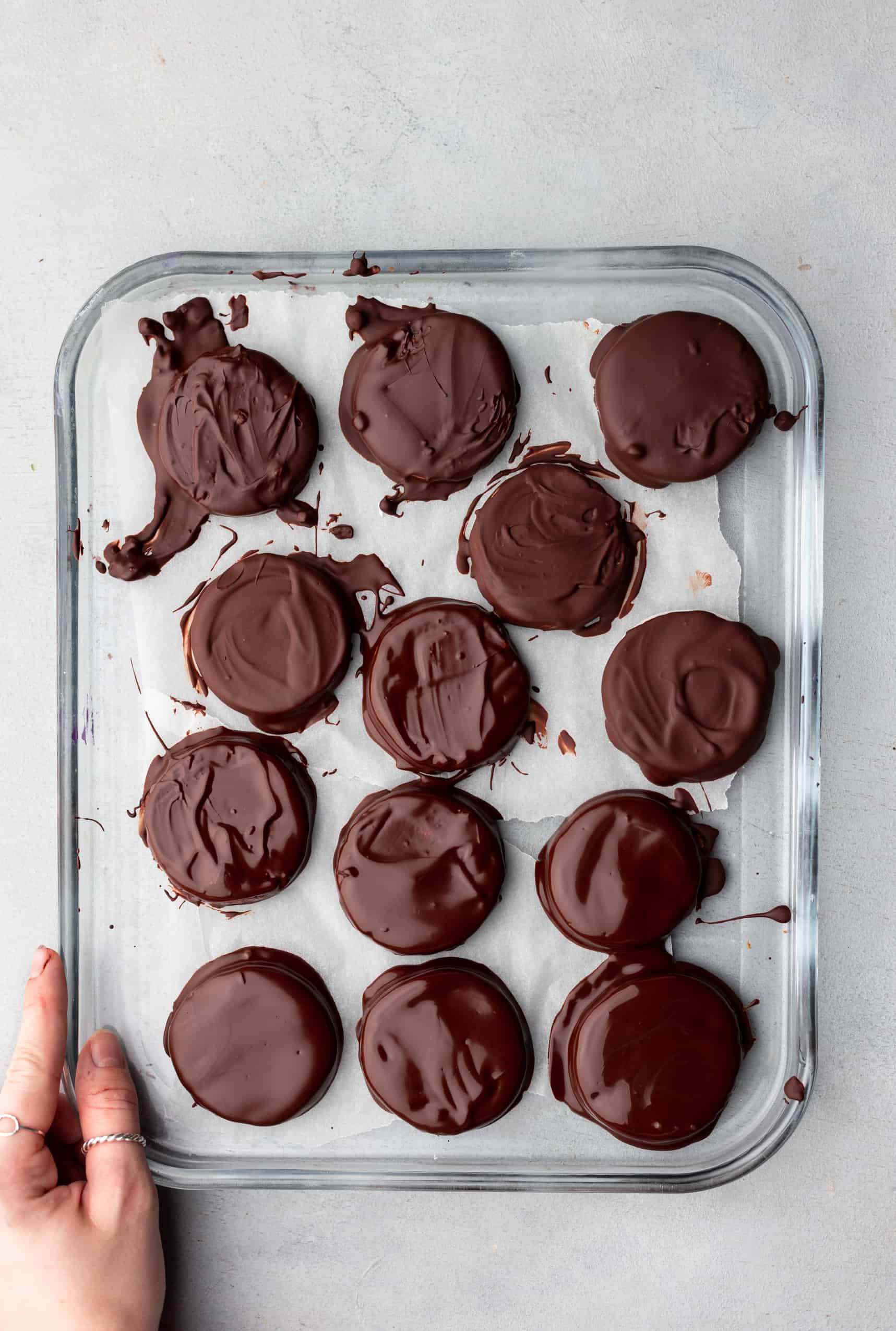 Traditionally peppermint creams have egg in them but I have used aquafaba (chickpea water) as a substitute. And I am so happy how they turned out!
This recipe calls for 2 tablespoons of aquafaba (a tin of chickpeas usually has about 12 tablespoons in) so you can save the rest for another recipe, or just make a large batch of peppermint creams!
I think these would make the perfect edible gift this Christmas and I plan on wrapping them up and giving them to loved ones! And who doesn't love an edible homemade gift? They are always that bit more special.
The other ingredients are icing sugar, peppermint extract, lemon juice and dark chocolate. You can pick up peppermint extract in most supermarkets, in the baking aisle.
I picked some up from Sainsbury's and it's a handy ingredient to have in the cupboard for all things peppermint flavoured! I'm going to put some in my hot chocolate next time! And maybe cookies too..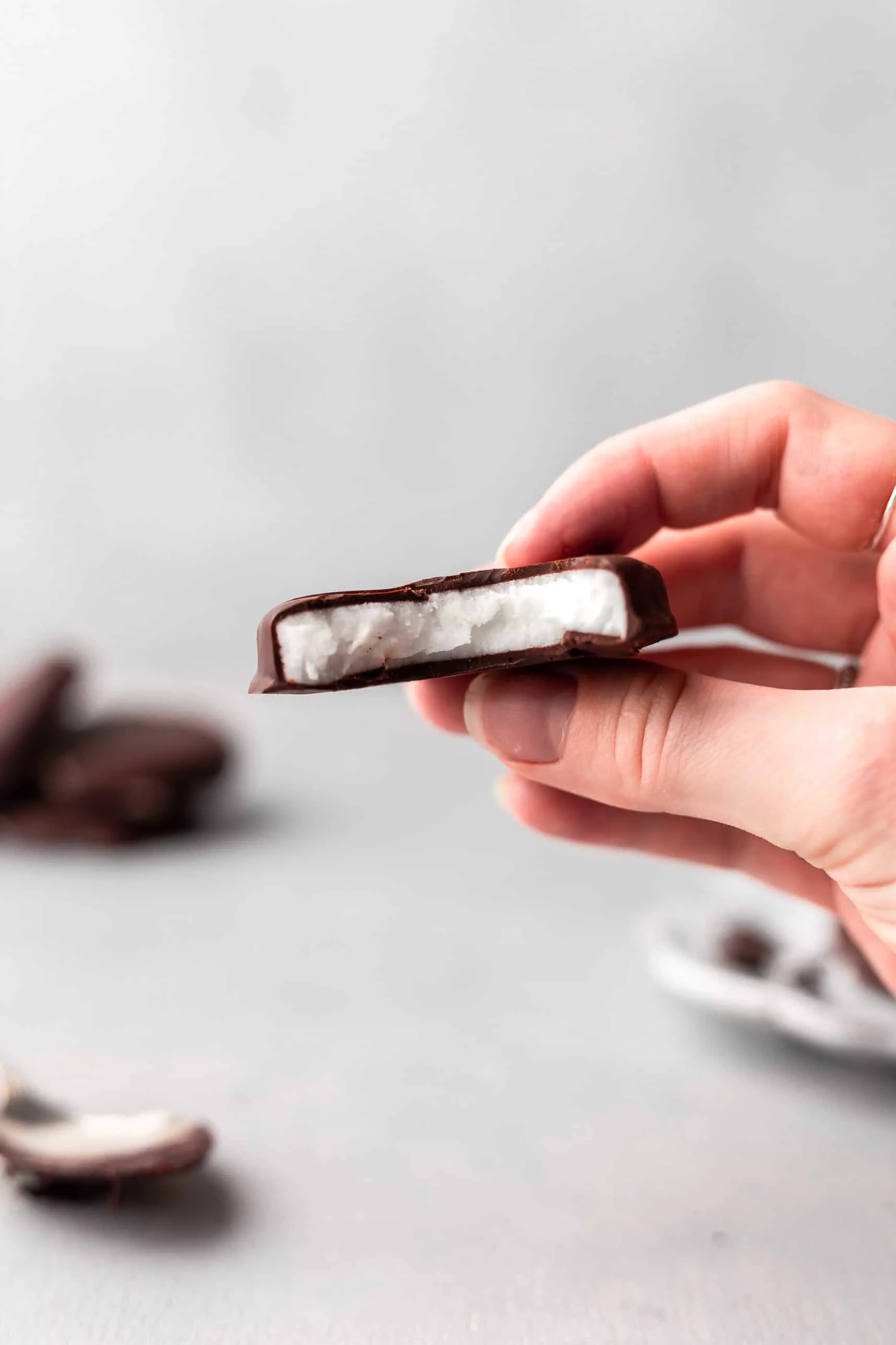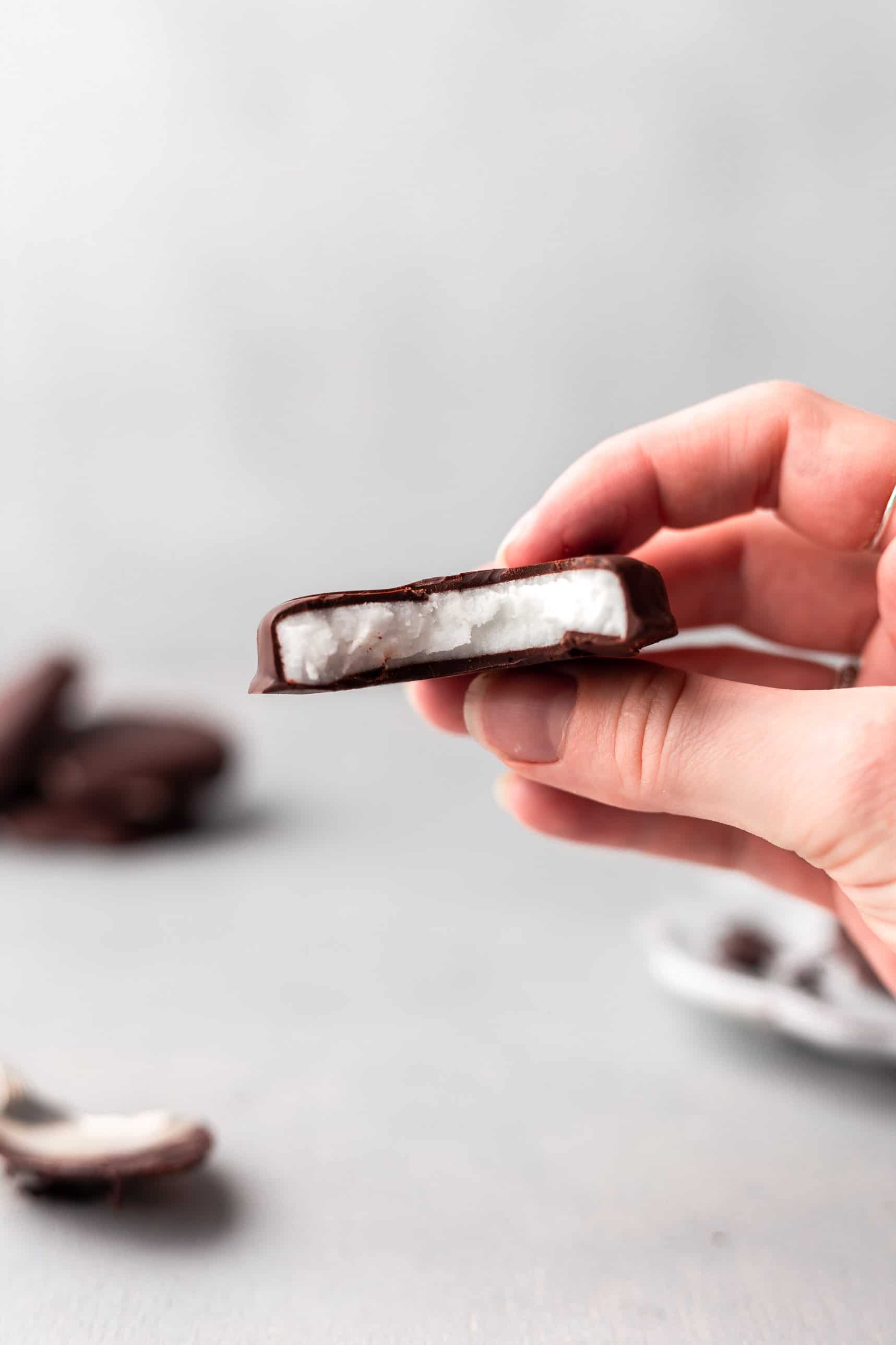 If you're not from the UK you may be familiar with the name peppermint patties and not peppermint creams.
Essentially they are the same thing, we just like to call them different names to confuse things! My friend Eva told me they have something called York Peppermint Patties and after looking them up they aren't vegan.
Another perfect reason to make this recipe! And they taste just like the non vegan ones!
As always if you make these peppermint creams be sure to leave me a comment, rate this recipe and tag me on Instagram. I love seeing all your photos of my recipe recreations!
Don't forget to follow along on Facebook, Pinterest and Instagram – I'd love to see you all there!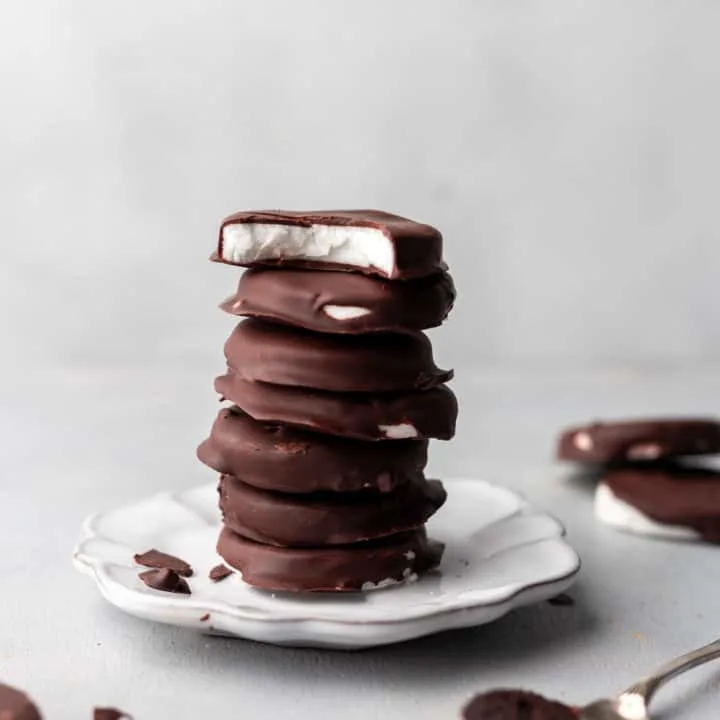 Vegan Peppermint Creams
Total Time:
1 hour
5 minutes
These super simple vegan peppermint creams are the perfect sweet and minty after dinner treat! They only require 5 ingredients and are so easy to make.
Ingredients
2 tbsp aquafaba (chickpea water)
2 tsp peppermint extract
1/2 lemon, juiced
400g icing sugar
100g good quality dark chocolate
Instructions
Place the aquafaba in a large bowl and whisk with an electric mixer until white and fluffy and soft peaks form. This may take between 5-10 minutes.
Add the peppermint extract and juice from 1/2 a lemon and mix.
Next sift in the icing sugar and mix until a firm ball forms, you may want to use your hands. Taste and if you like it more minty, add a bit more peppermint extract.
Transfer to a chopping board lightly coated with some icing sugar and place some cling film on top of the ball. Then using a rolling pin, roll until it is about 1/4 inch thick.
Use a 5cm pastry cutter to make circular shapes. Repeat until all the mixture is used, it will make about 15-18 peppermint creams.
Place on a lined tray and place in the fridge for an hour.
Melt the dark chocolate over a bain-marie and dip the peppermint creams into the chocolate or spoon over the top.
Place back into the fridge until set and then place into an air tight container.
Notes
You can find peppermint extract in the baking aisle of the supermarket. I used 'American Peppermint Extract' from Sainsbury's.