This bright and fresh kale pesto comes together in 10 minutes. It's such a versatile sauce – use it on pasta, pizza, salads, roasted veggies or as a dip!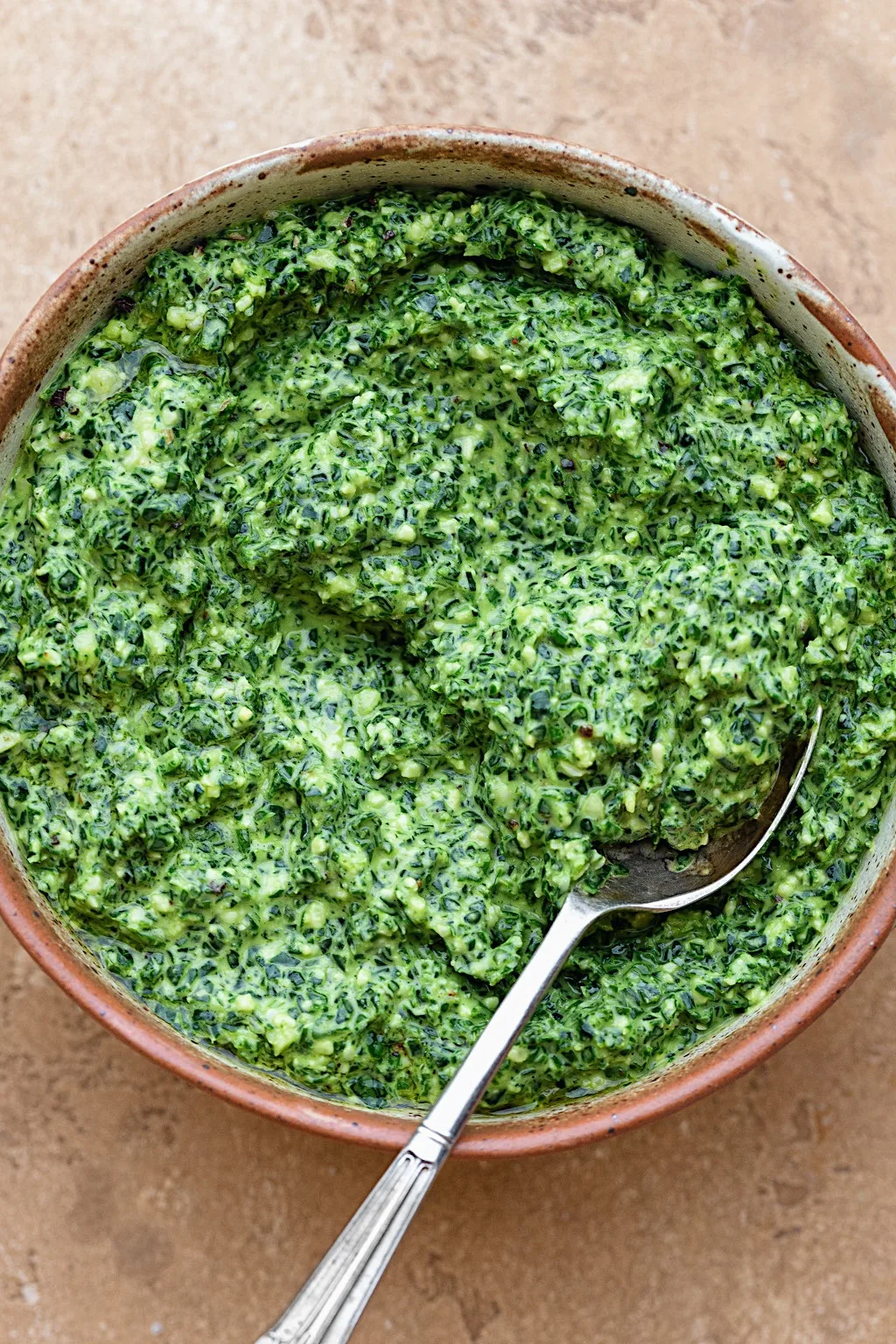 We all love a basil pesto but if you have an abundance of kale or some leftover in the fridge, whip up this flavour packed kale pesto!
A few good quality ingredients is all you need for pesto, and I always keep them in the pantry because pesto cravings are real and happen a lot in our house!
Traditionally pesto isn't vegan but it is super easy to make vegan thanks to nutritional yeast. You can also sub for vegan parmesan if you have that on hand.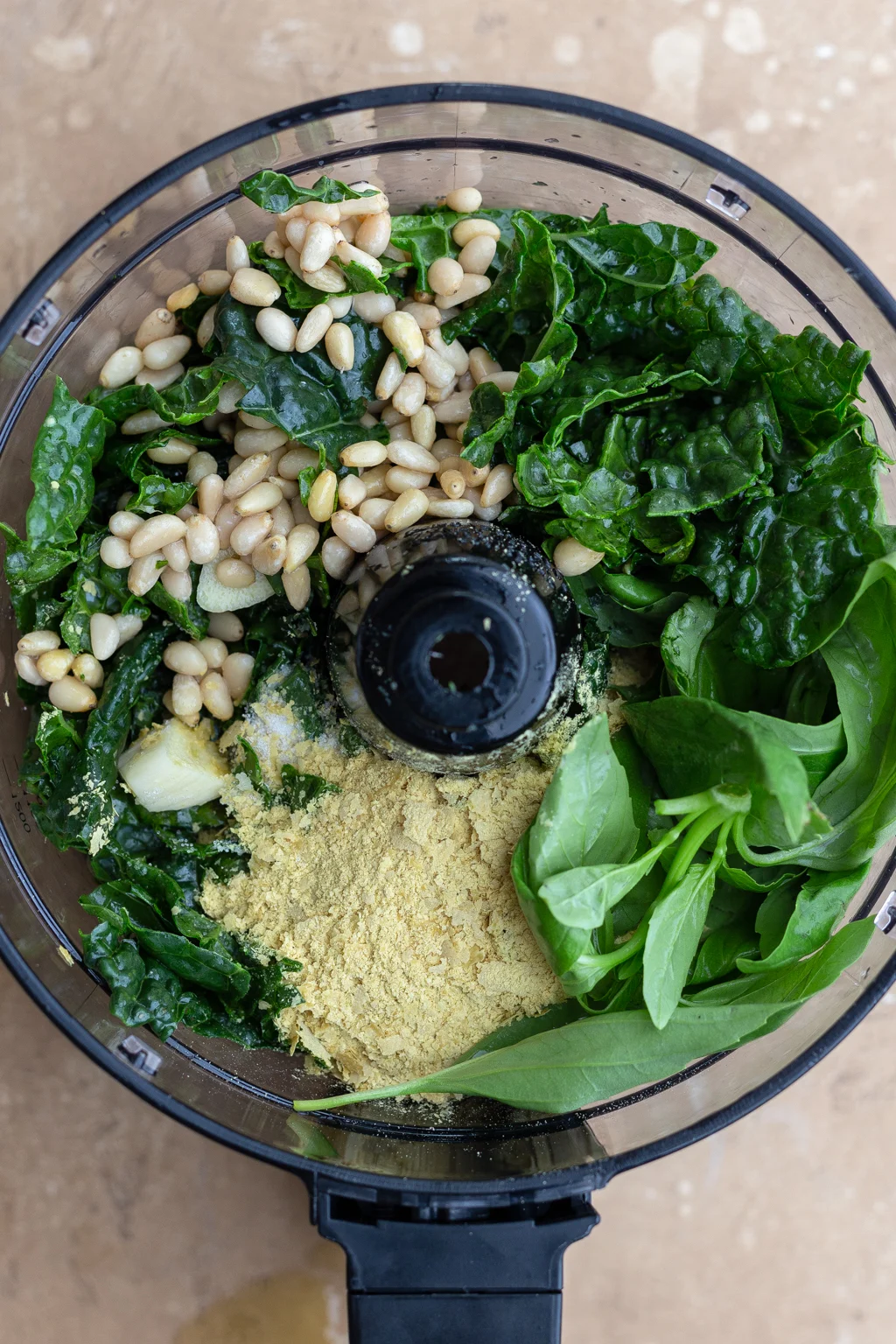 Ingredients for kale pesto:
[full ingredient list and recipe below, please scroll to the bottom]
Kale – you can use any variety of kale – curly kale, tuscan kale, cavolo nero
Pine nuts – traditional pesto ingredient, they get toasted and add a super creamy nutty flavour
Garlic – key to adding flavour to pesto
Lemon – for acidity
Nutritional yeast – for cheesiness, you can also use for vegan parmesan
Olive oil – use a good quality olive oil
Salt and pepper
Optional add in – fresh basil – adds an extra layer of flavour, it is great both ways!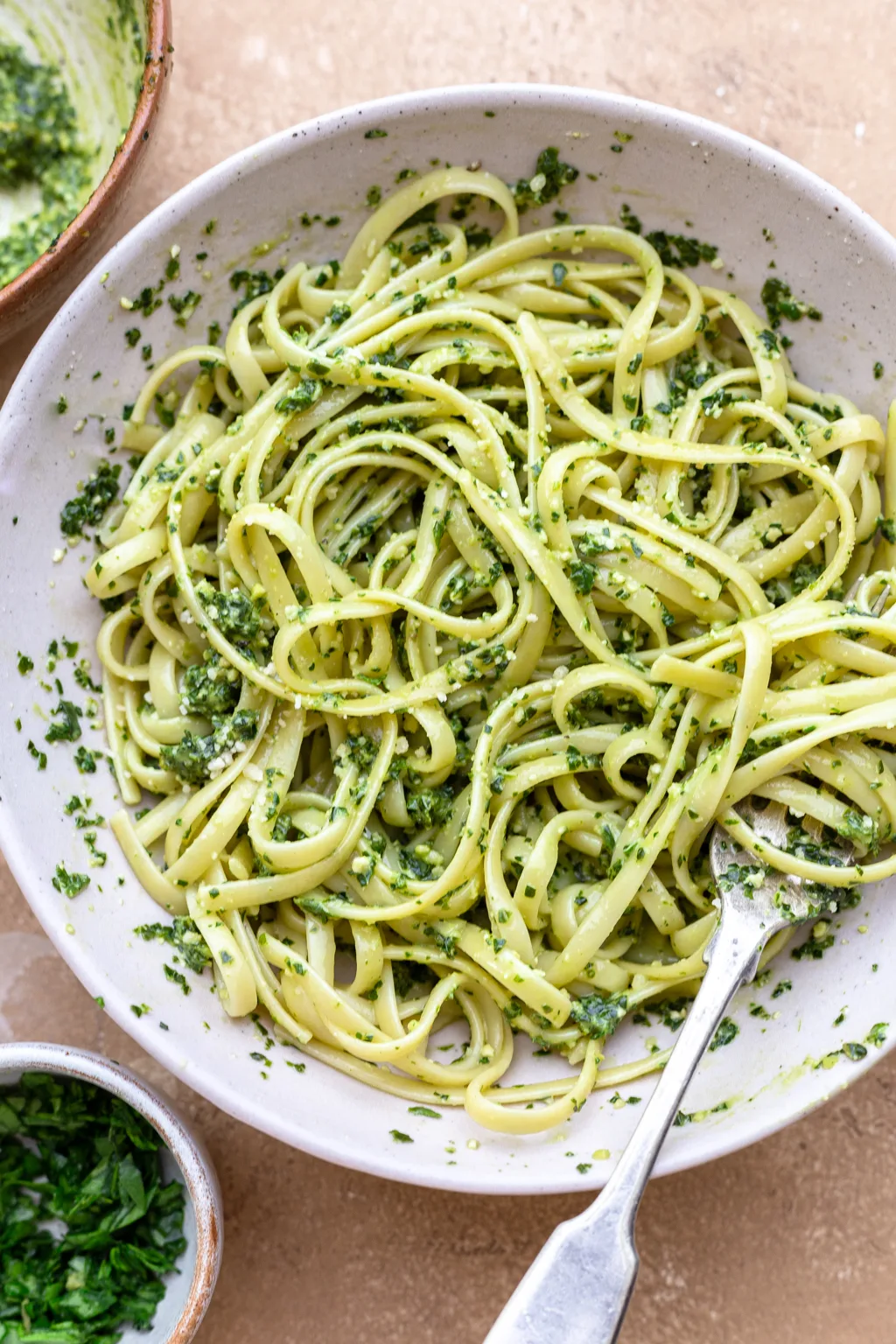 How to make kale pesto:
Start by blanching the kale. Bring a pot of water to boil and add the chopped kale. Leave for 2 minutes, it should have reduced in size and be soft. Immediately place in cold water and then squeeze out any excess water.
Toast the pine nuts in a dry pan on low to medium heat. Toss frequently so they don't burn, it should only take a minute or two.
Place the cooked kale, toasted pine nuts, garlic, lemon, nutritional yeast, basil (optional) salt and pepper in a food processor.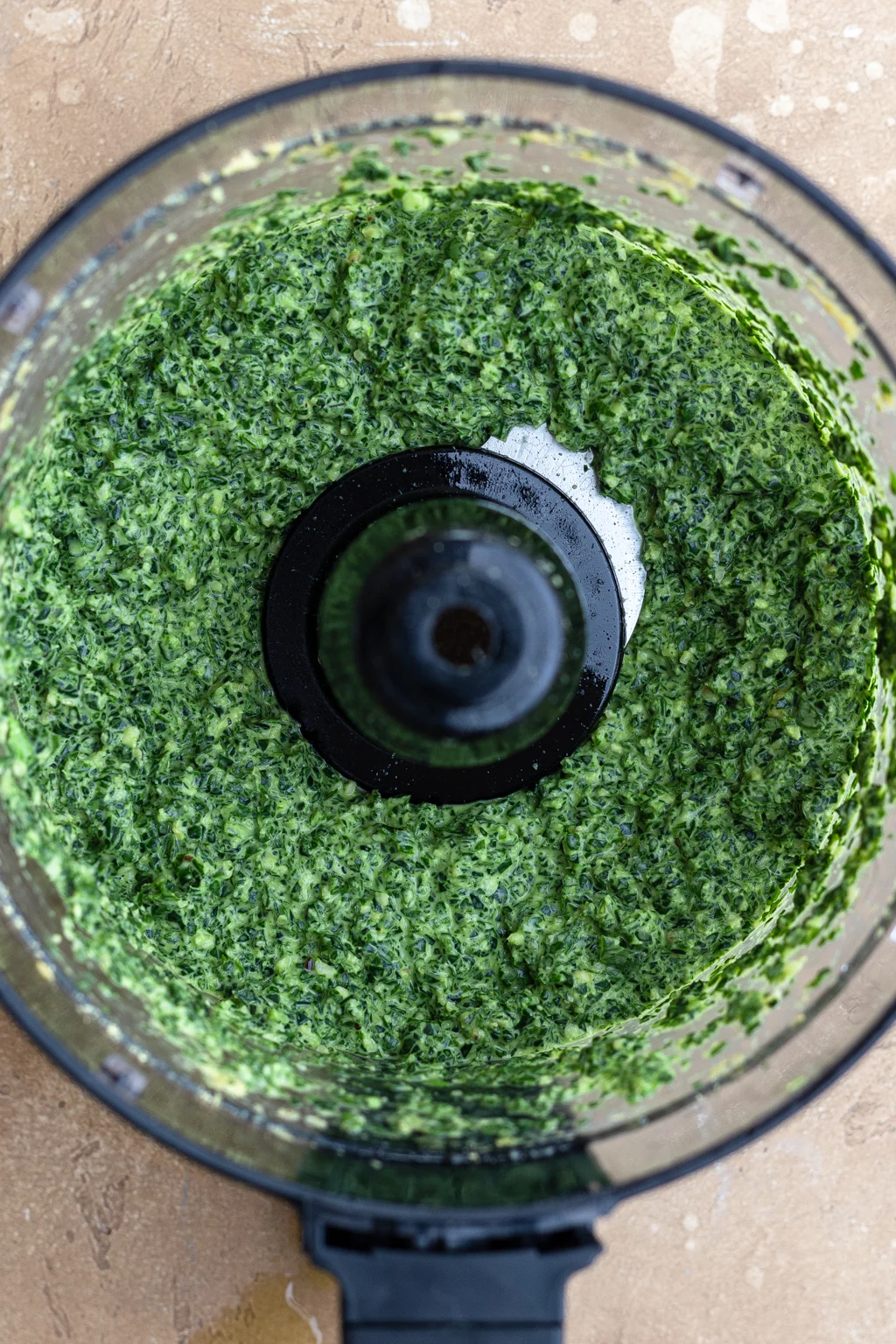 Start blending and pour the oil in, blend for about 30 seconds until combined. Taste and season with salt and pepper.
How do you take the bitterness out of kale pesto:
Kale can have a bitter flavour when not cooked. To eliminate this we are blanching the kale. Simply place in some boiling water for a couple of minutes until softened.
Immediately plunge in cold water (so we don't lose the colour) and then squeeze out any excess water. This will ensure your kale pesto doesn't have a bitter flavour.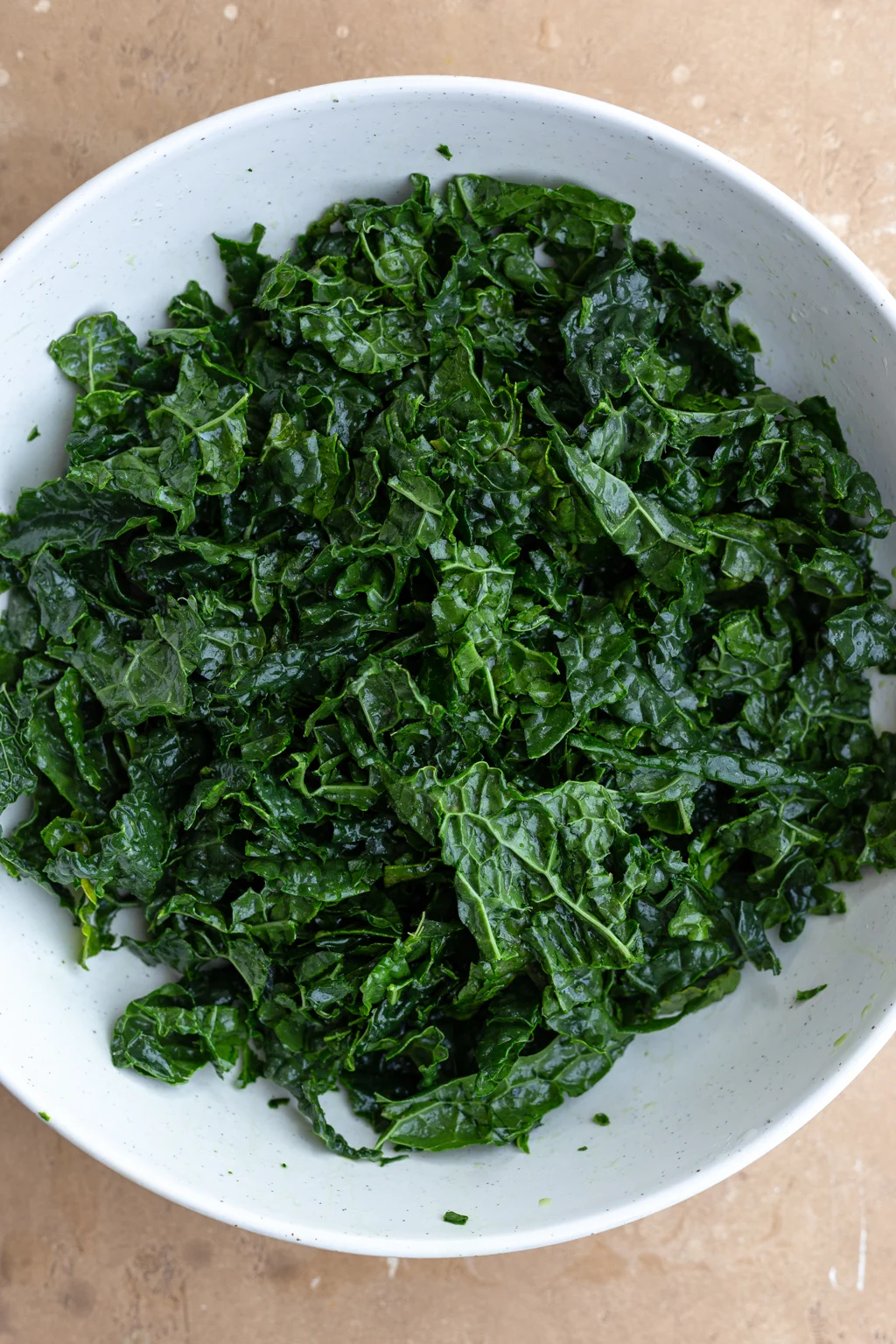 If you don't want to do this and are used to having kale raw I would recommend massaging the kale with a bit of olive oil for a few minutes until it has softened.
This is a great option for salads and will work for this pesto but it can sometimes leave you with a slightly bitter taste. If you do find it to be too bitter, you can balance it out with 1/2 to 1 tsp of maple syrup/agave.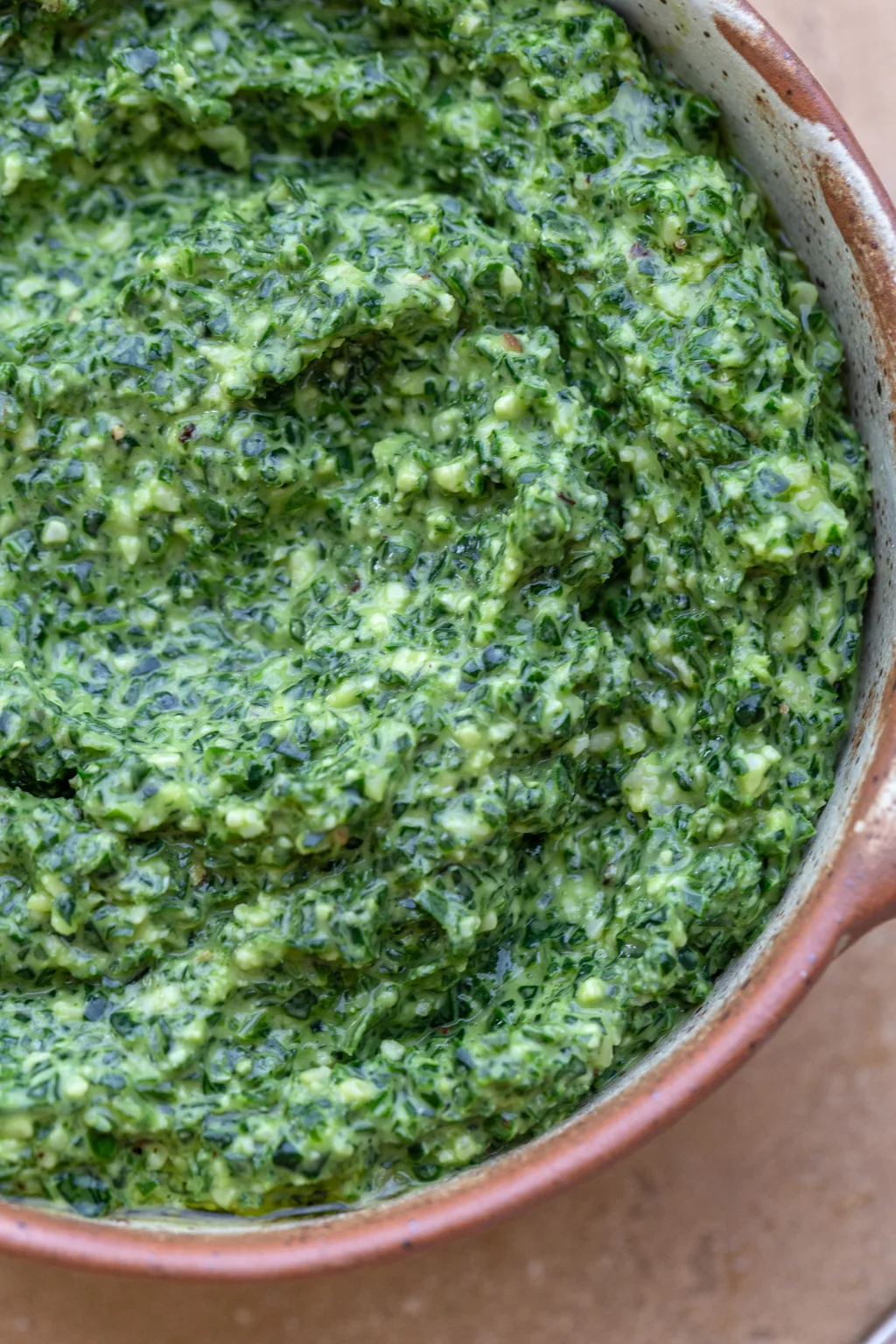 Ways to use pesto:
Pasta – super popular and is always delicious! Add in some sautéed or roasted veg – courgette, peas, cherry tomatoes
Pizza – drizzle on top or use as a sub to a tomato sauce base
Salad – use as a dressing or add a dollop on the side
Potatoes – top a baked potato or smashed potatoes, stir through some baby potatoes with a bit of butter, stir through mash. The possibilities are endless!
As a dip – serve with your favourite crisps/breads and crudités and dip in pesto!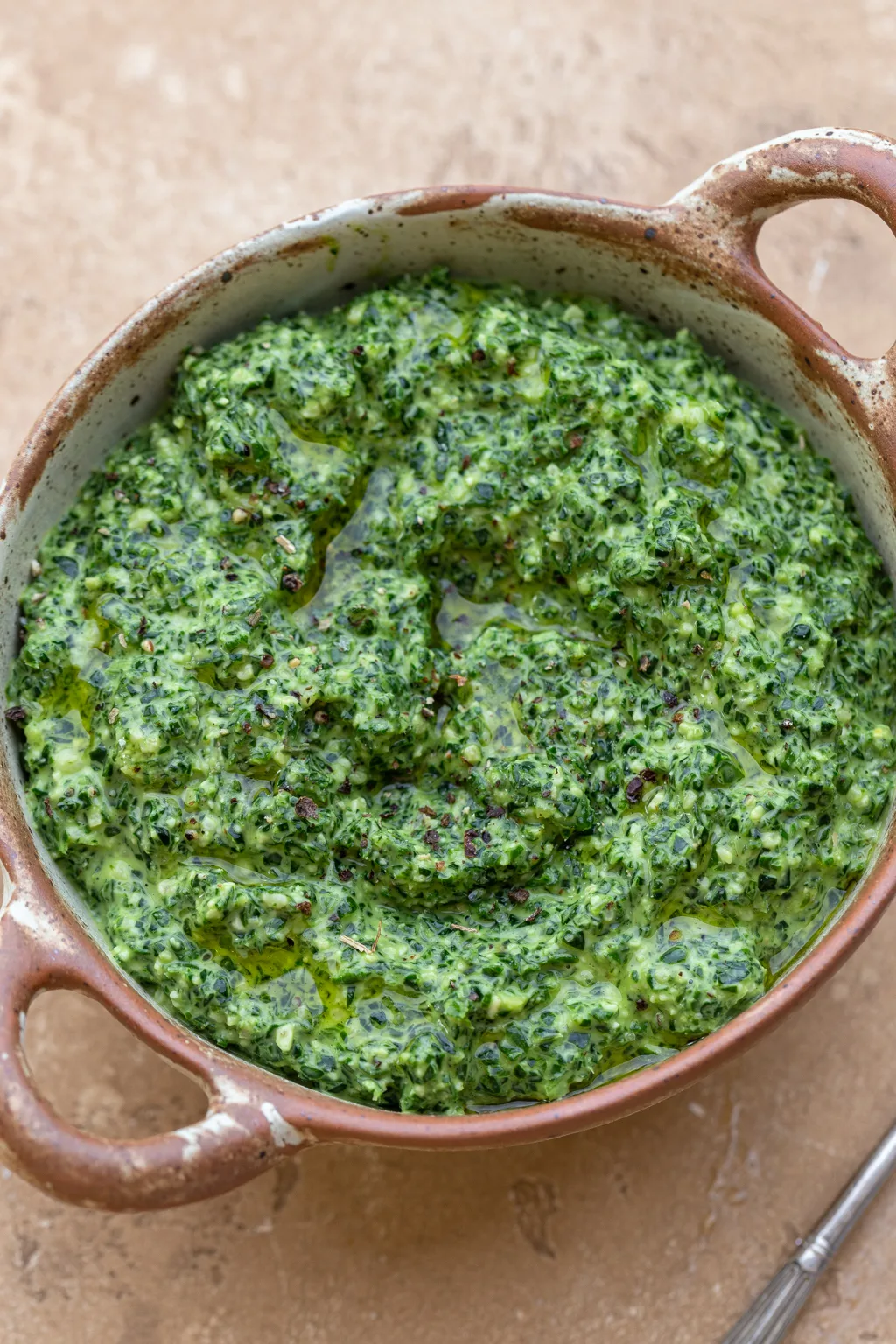 For more pesto recipes you may enjoy these:
Sun dried tomato pesto pasta salad
As always if you make this vegan kale pesto be sure to leave me a comment, rate this recipe and tag me on Instagram. I love seeing all your photos of my recipe recreations!
Don't forget to follow along on Facebook, Pinterest and Instagram – I'd love to see you all there!
---
NEVER MISS A RECIPE! GET MORE VEGAN RECIPES SENT STRAIGHT TO YOUR INBOX – SUBSCRIBE HERE!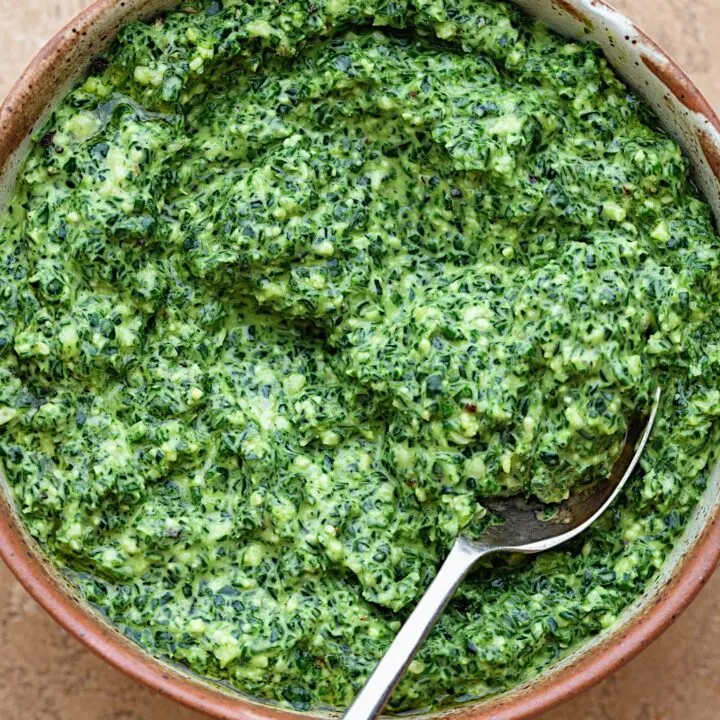 Kale Pesto
Bright and fresh kale pesto makes for the perfect pasta sauce, salad dressing, veggie topper or dip!
Ingredients
100g / 2 cups tightly packed chopped kale
45g / 1/3 cup pine nuts
1 garlic clove
3 tbsp nutritional yeast/vegan parmesan
2 tbsp lemon juice
80 ml/ 1/3 cup olive oil
1/2 tsp salt
Black pepper
Optional
30g / 1 cup loosely packed fresh basil
Instructions
Destem the kale and roughly chop. Bring a pot of water to the boil and then add kale and cook for 2 minutes. Immediately place in cold water and then drain and squeeze out any excess water.
Place pine nuts in a dry pan on low to medium heat. Toast for about a minute, tossing frequently until lightly golden. Watch they don't burn.
Add the pine nuts and garlic into the food processor and pulse a few times until broken down.
Add all the remaining ingredients to a food processor including the basil if using. Blitz until combined. If you need you can add a little more olive oil to loosen.
Taste and season with salt and pepper and serve!
Recommended Products
As an Amazon Associate and member of other affiliate programs, I earn from qualifying purchases.