This vegan jambalaya is a flavour packed one pot recipe. With vegan chorizo, bell pepper and Cajun spiced tomato rice.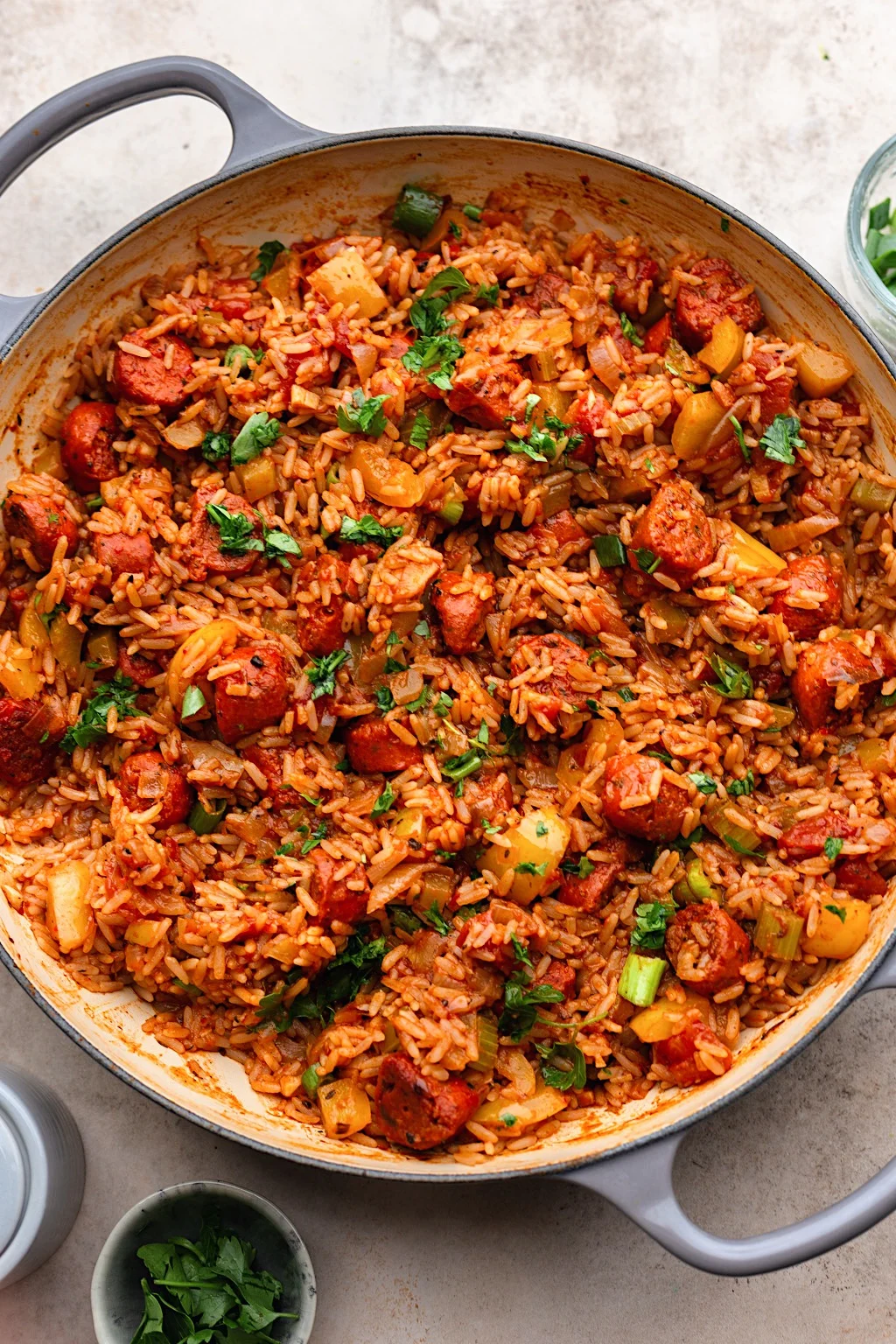 It's so easy to throw together, can be easily adapted and made as spicy as you like!
This vegan jambalaya uses chorizo sausages for their smokiness and rich flavour in place for andouille sausage.
We aren't substituting the chicken and shrimp because I honestly don't think it needs it but you could easily add in some vegan chicken chunks or beans for added protein.
Jambalaya originates from Louisiana and takes influences from Africa and Spain. There are two variations of Jambalaya – Creole style with the addition of tomatoes and Cajun style without tomatoes and the meat is browned first.
This vegan Jambalaya is a bit of a mix of both, it's tomato based but also takes some cooking methods from a Cajun jambalaya.
Ingredients for vegan jambalaya:
Vegan chorizo sausages – you can find these in most big supermarkets, Sainsburys Plant Pioneer ones are my favourite
Onion
Garlic
Celery
Bell pepper – traditionally green but any colour works
Long grain rice – this is important, don't swap for another rice. Long grain rice holds it's shape well
Canned tomatoes
Vegan chicken stock – or sub for vegetable stock
Cajun spice – you'll find this in the spice aisle, I use the brand Schwartz. The heat of cajun spice can vary between brands, so if you aren't sure, add less to start then you can add more towards the end
Bay leaf
Cayenne pepper – if you wan't to make this milder, you can reduce of leave this out
Thyme
Jalapeños – optional, but adds more heat
Tomato paste – for a richer tomato flavour
Salt and pepper
Optional to top: fresh parsley, green onions, chopped jalapeños
The 'trinity' of Cajun cooking is the mix of onion, celery and pepper. Similar to a sofrito which is finely chopped and sautéed until soft.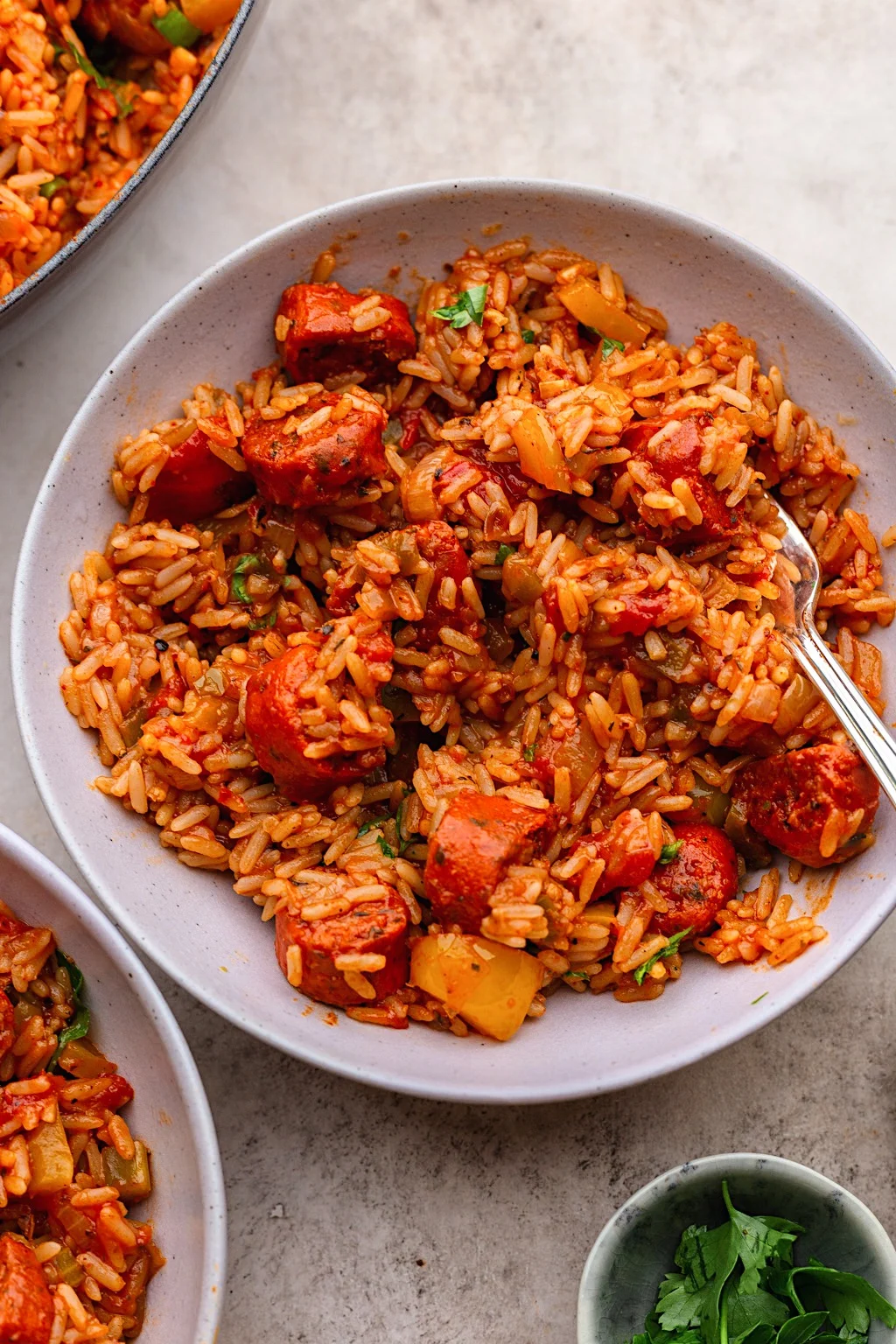 How to make vegan jambalaya:
Start by chopping the chorizo into slices.
Heat a tbsp of oil in a large pot or pan which you will be cooking the whole dish in.
Fry for a few minutes on each side until browned and crispy. Transfer to a bowl and set aside.
Don't clean the pan, you want those juices and oils from the chorizo to flavour the dish.
Add another tbsp of oil and add finely chopped onion. Then add the minced garlic and chopped celery and pepper.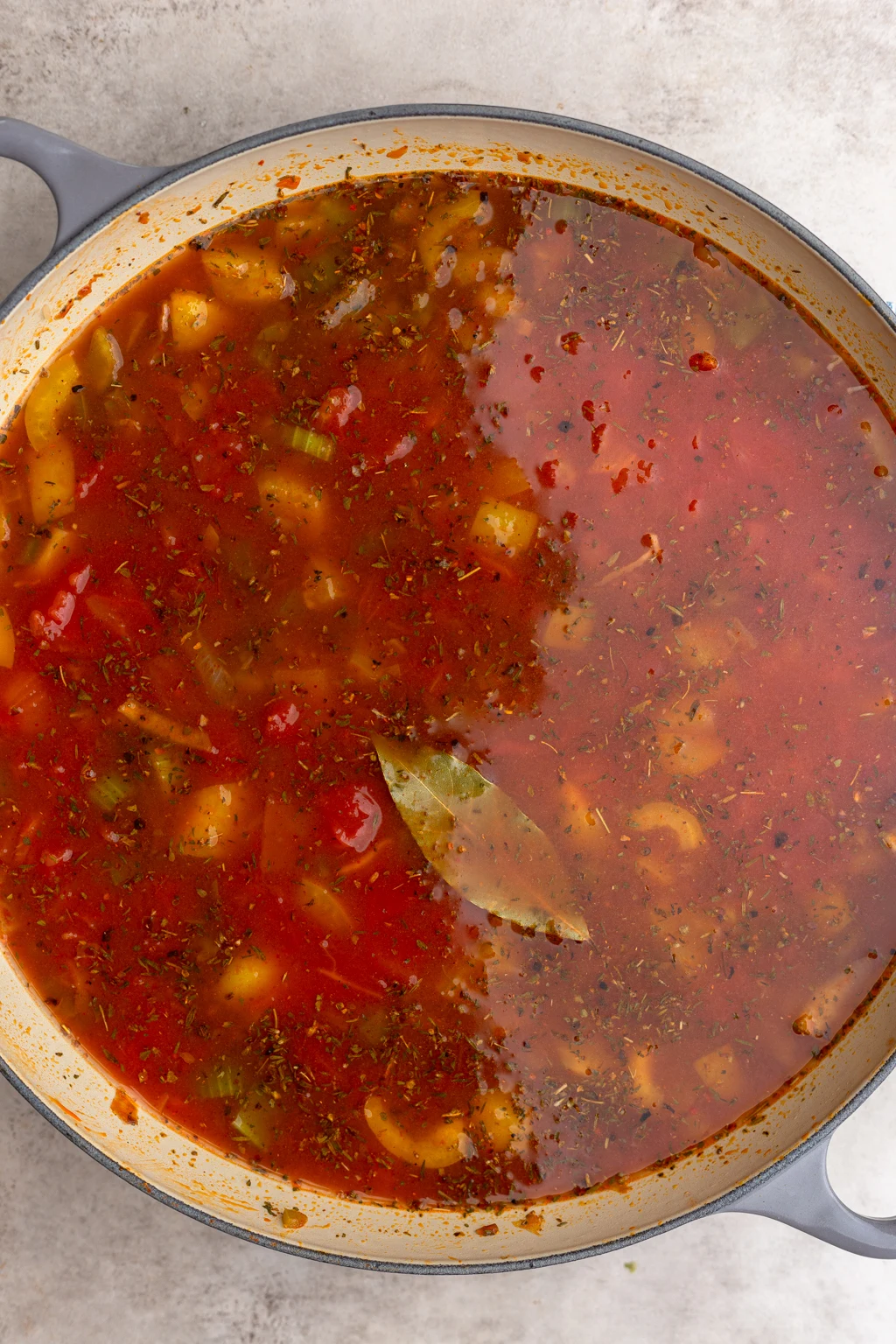 Fry for about 5 minutes until softened and then add the rice, canned tomatoes, spices, stock and bay leaf.
Bring to a gentle simmer and cook for 20-25 minutes until the rice is cooked. Stir occasionally but don't over stir it or you'll end up with mushy rice.
In the last couple of minutes add the vegan chorizo and stir well.
Top with fresh parsley and chopped green onions.
If you want to make this dish milder, you can leave out the jalapeños and reduce the amount of cayenne pepper.
If you're making it for a mix of preferences, serve with chopped jalapeños on the side for people to add.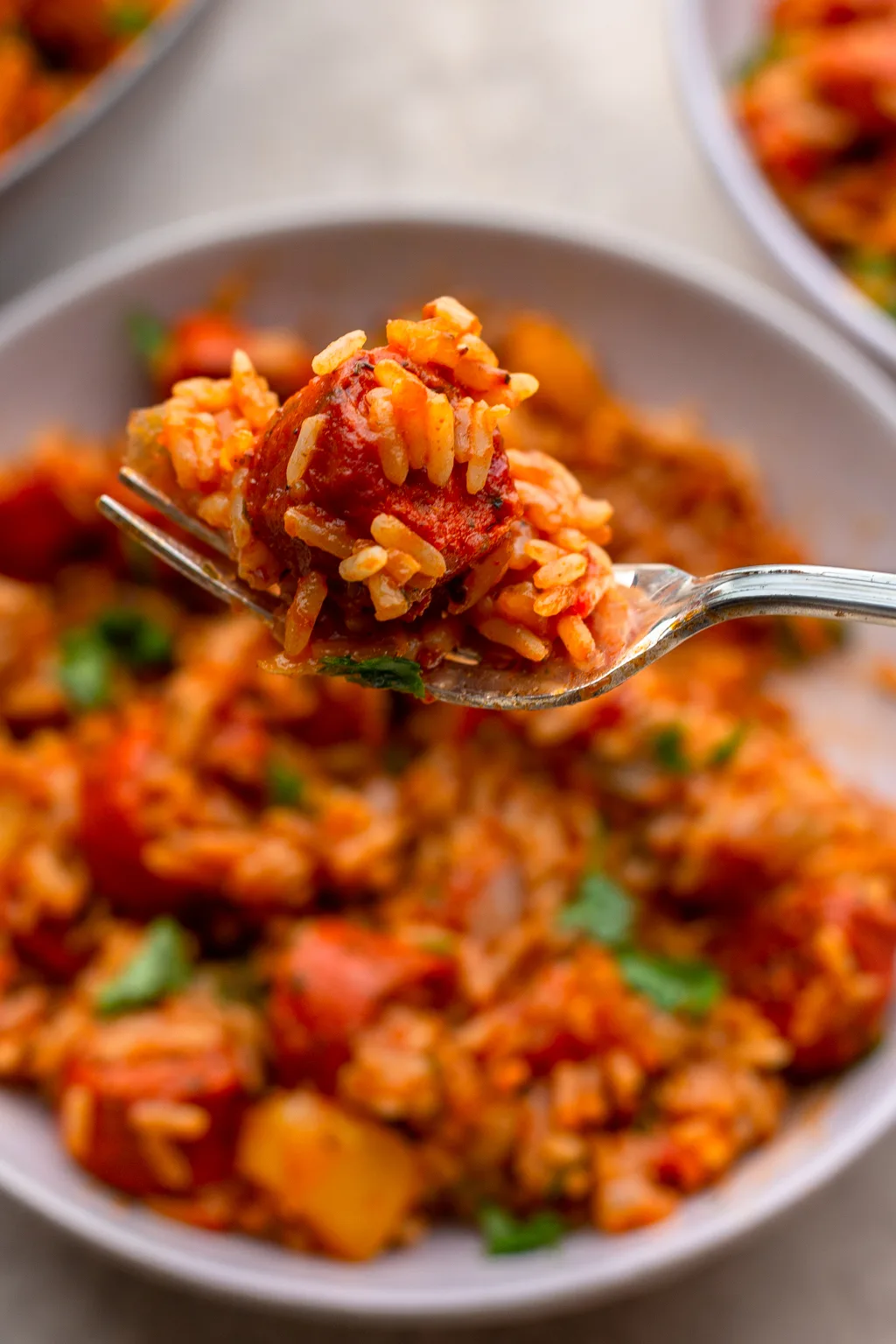 What to serve with vegan jambalaya:
Simple salad
Cornbread or garlic bread
Sautéed greens – spinach, kale, collard greens
Red wine – rioja or pinot noir
Because jambalaya is a flavourful dish with lots of spice and richness, pair it with something simple and fresh!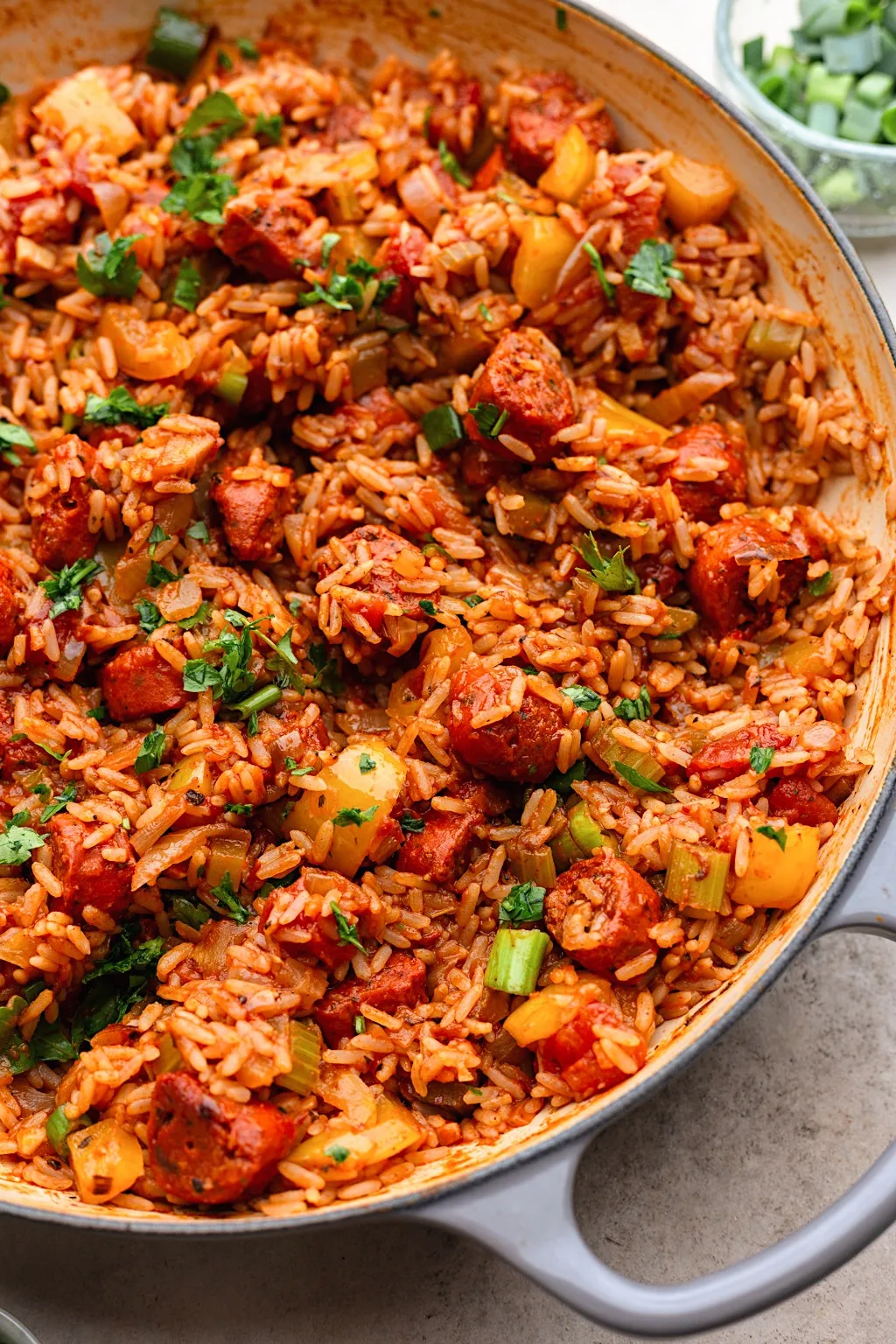 Tips for the best jambalaya:
Don't over stir it. You'll risk the rice becoming mushy. Stir it every 5 minutes to make sure it's not sticking to the bottom and don't have it on too high heat.
Use a flavourful sausage. Vegan chorizo is a great sub with its smoky sweet flavour. Frying them first in the pan leaves for a flavour packed oil to cook the vegetables in.
Choose the right size pot. Don't use something too shallow or small. I use my Le Creuset shallow casserole dish.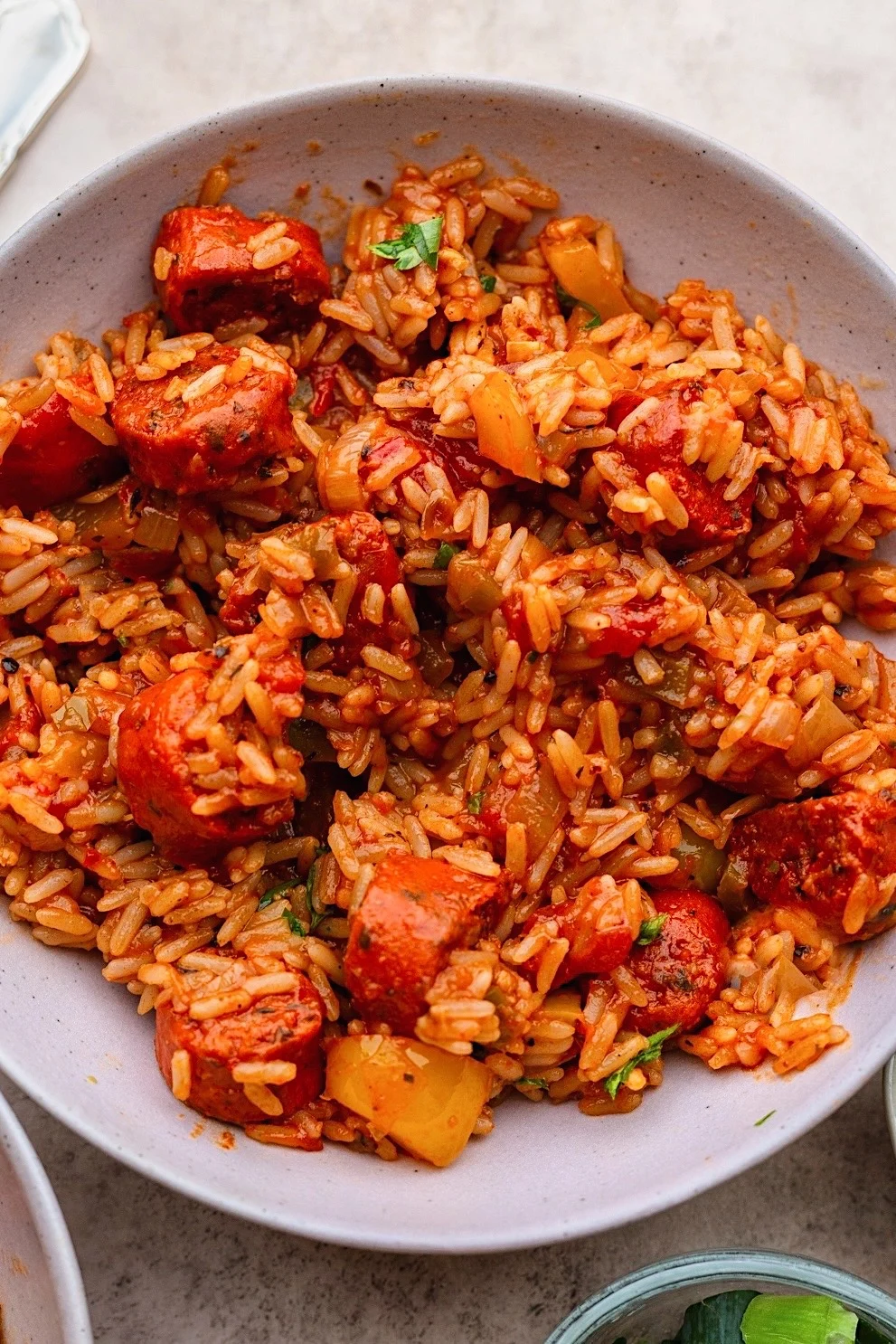 For more rice dishes you may enjoy these:
Creamy sweet potato and wild rice soup
As always if you make this easy vegan jambalaya be sure to leave me a comment, rate this recipe and tag me on Instagram. I love seeing all your photos of my recipe recreations!
Don't forget to follow along on Facebook, Pinterest and Instagram – I'd love to see you all there!
NEVER MISS A RECIPE! GET MORE VEGAN RECIPES SENT STRAIGHT TO YOUR INBOX – SUBSCRIBE HERE!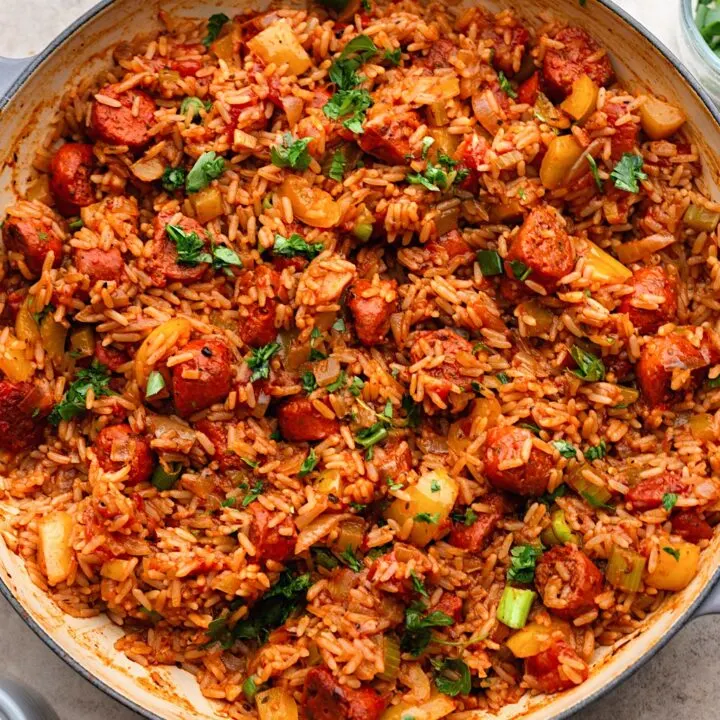 Vegan Jambalaya
This vegan jambalaya is a flavour packed one pot recipe. With vegan chorizo, bell pepper and cajun spiced tomato rice. Easily adaptable you can switch up the vegetables or add tofu or beans for more protein.
Ingredients
6 vegan chorizo sausages
1 white onion
4 garlic cloves
2 ribs of celery
1 green bell pepper (or yellow/red/orange)
1 jalapeño
3 tsp Cajun spice
1/4 tsp cayenne
1 bay leaf
1 tsp dried thyme
3 cups/750ml vegan chicken stock (or vegetable stock)
1 can 15oz/400g chopped tomatoes
1 tbsp tomato paste
1.5 cups/ 280g long grain rice
3/4 tsp salt
Black pepper
To top
Fresh parsley
Chopped green/spring onions
Instructions
Heat a tbsp of oil in a large pan on medium heat.
Chop chorizo sausages into 1/2 inch slices and fry for a few minutes on each side until browned and crispy. Transfer to a bowl.
In the same pan (don't clean it) add another tbsp of oil. Add finely chopped onion and fry for a few minutes then add minced garlic and chopped pepper and celery. Fry for 5 minutes until softened.
Add all the remaining ingredients - finely chopped jalapeño (remove seeds for less spice), cajun spice, cayenne, bay leaf, thyme, stock, tomatoes and rice (rinsed until water runs clear). Bring to a gentle simmer and cook for 20 minutes. Stir every 5 minutes but be careful not to over stir it.
In the last couple of minutes add the chorizo. Taste and season with salt and pepper
Notes
This is a spicy dish, if you want less heat remove the seeds from the jalapeno or don't add at all.
Cajun spice can vary by brand so if you aren't sure, start with 2 tsp and you can add more at the end.