This healthy mixed bean salad tossed in a zesty herby vinaigrette is perfect for summer. Serve at bbqs, picnics or for make ahead lunches.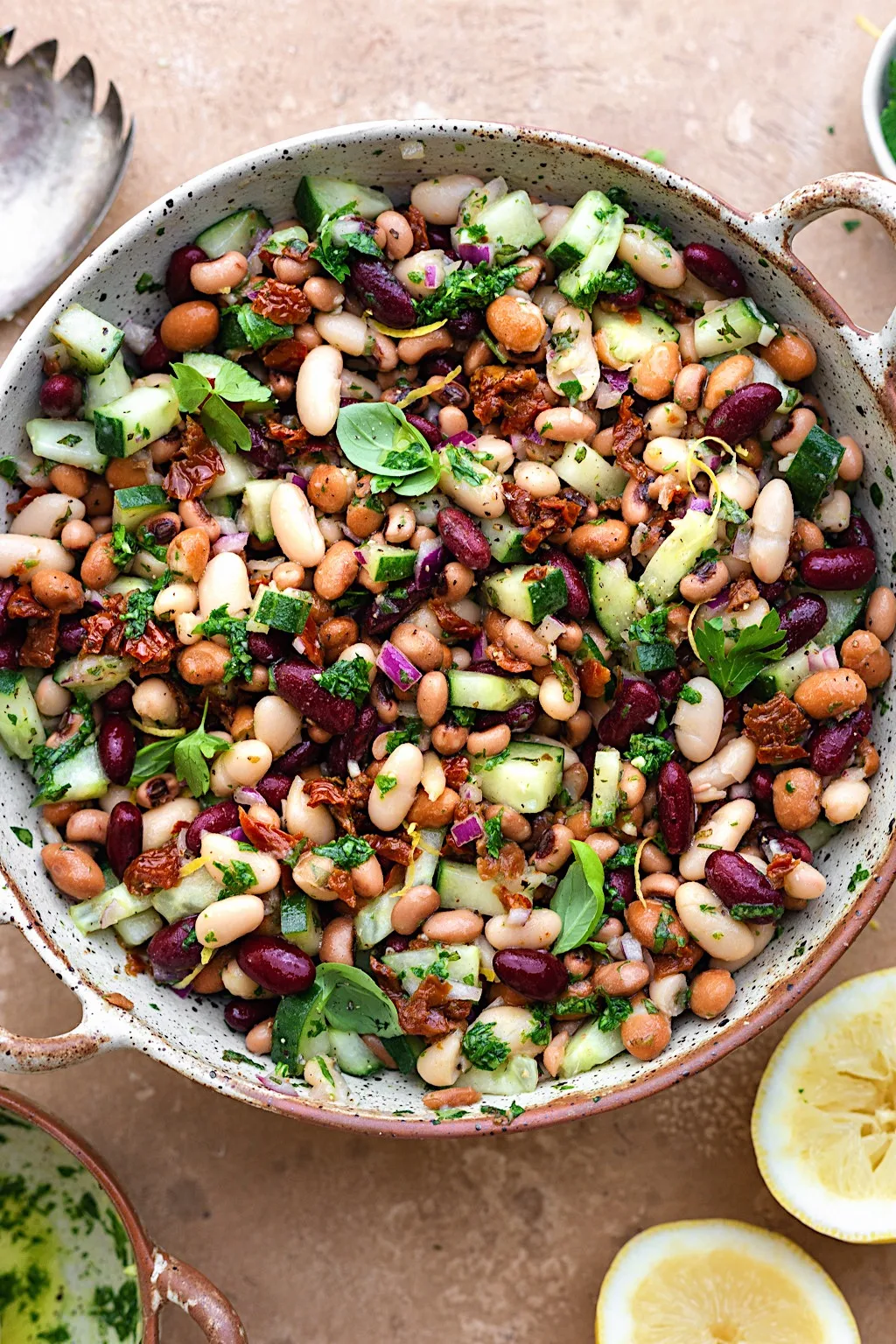 Not all salads need to be boring! This salad is made with 4 different types of beans along with red onion, cucumber and sun dried tomatoes.
We've got texture and flavour in this mixed bean salad. Cucumber for crunch and freshness, red onion for acidity, sun dried tomatoes for bursts of umami flavour and herbs for loaded flavour.
Furthermore, his mixed bean salad is so easy to make and comes together in just 20 minutes!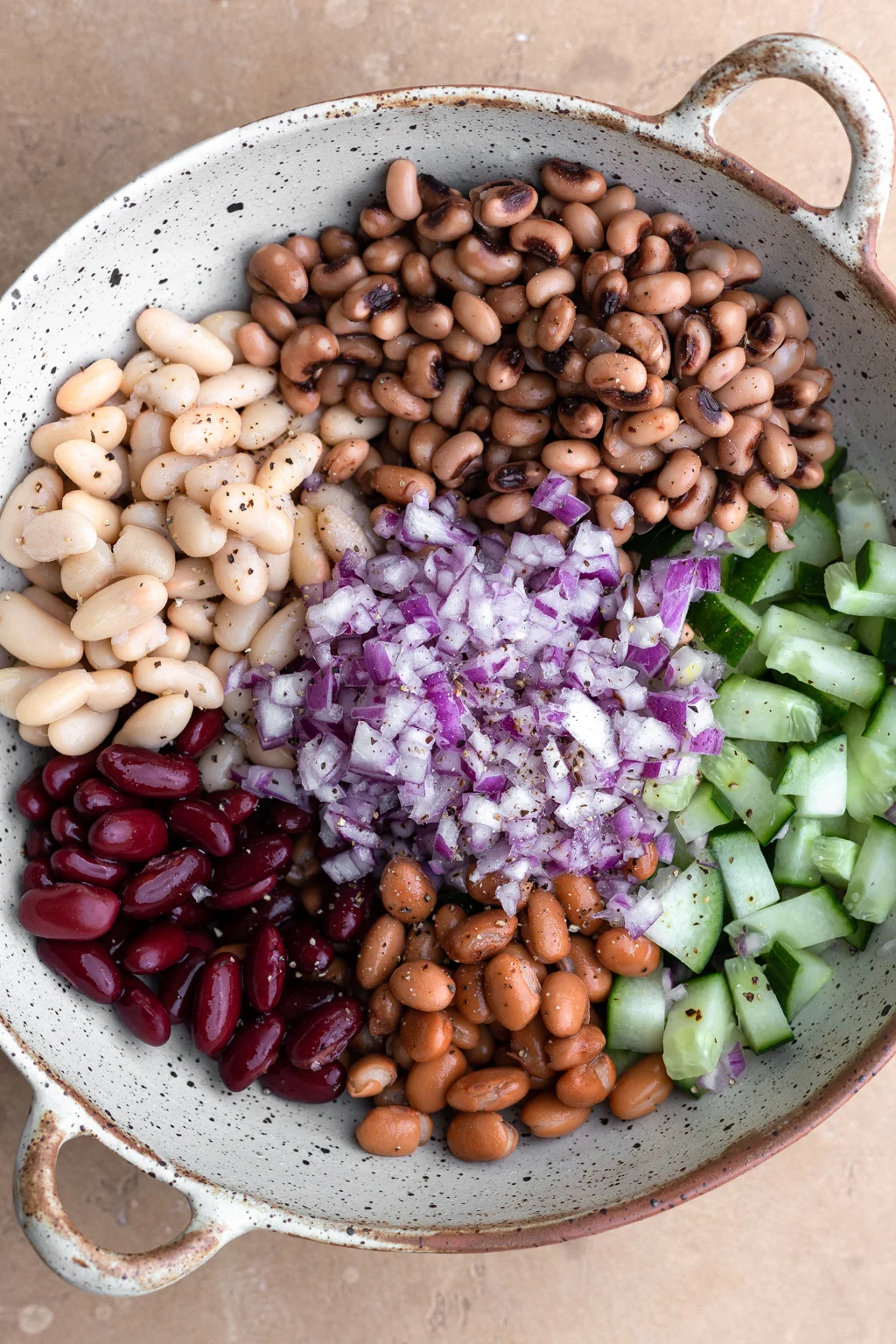 That's the beauty of canned beans, they're already cooked and ready to eat! You can of course prep dried beans but this is a much longer process.
Supermarkets have a wide variety of canned beans. For this salad I've used pinto beans, black eyed beans, cannellini beans and kidney beans.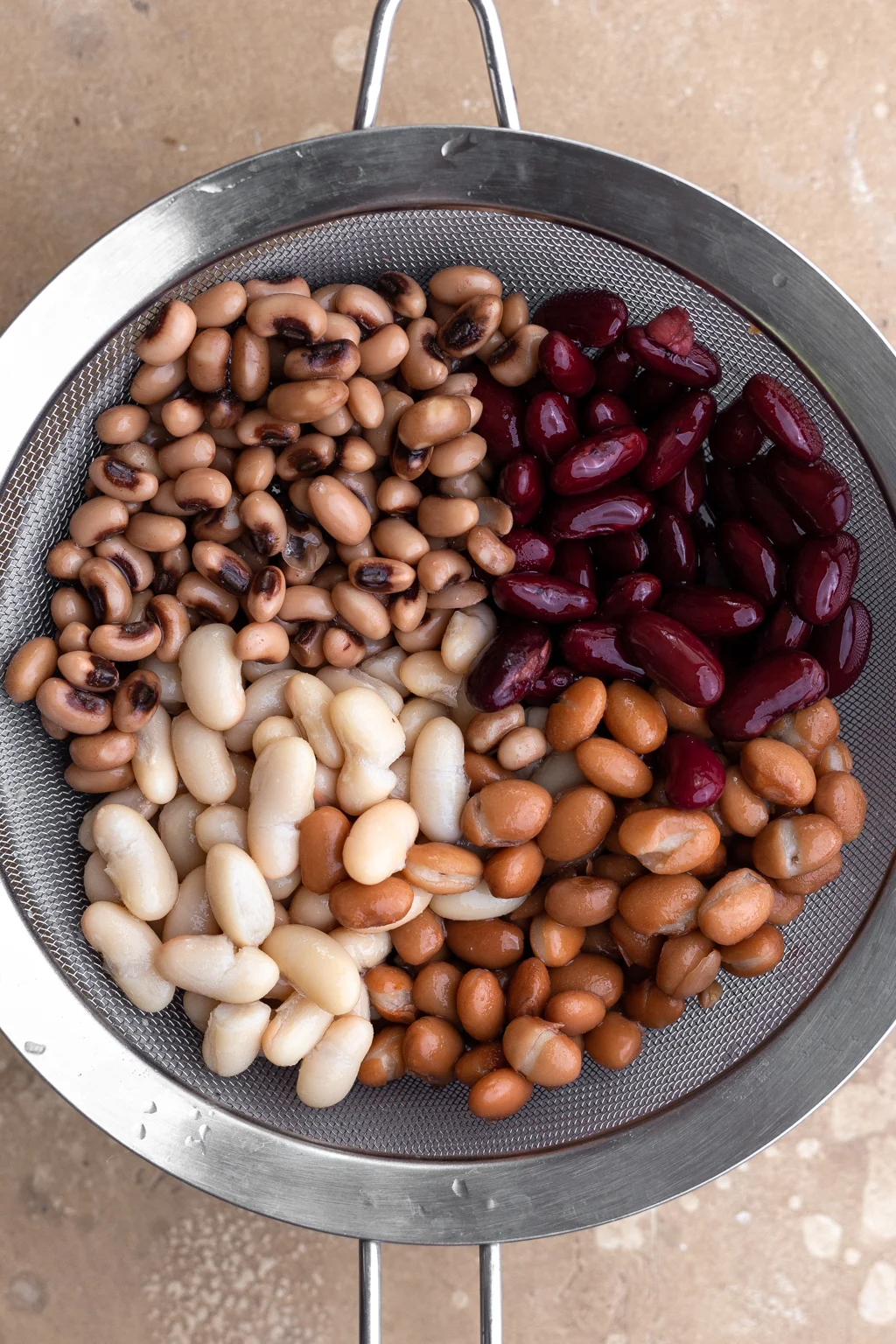 You can use any combo of beans you like or have on hand. Such as butter beans, haricot beans or chickpeas will also be delicious.
The beans work as a great vessel for soaking up the dressing. If you can give this salad time to marinade it's going to taste much better.
A couple of hours will make a big different to the taste so that they can marinade in the dressing.
It will last around 5 days in the fridge in an air tight container. So if you want to make it ahead of time it's ideal.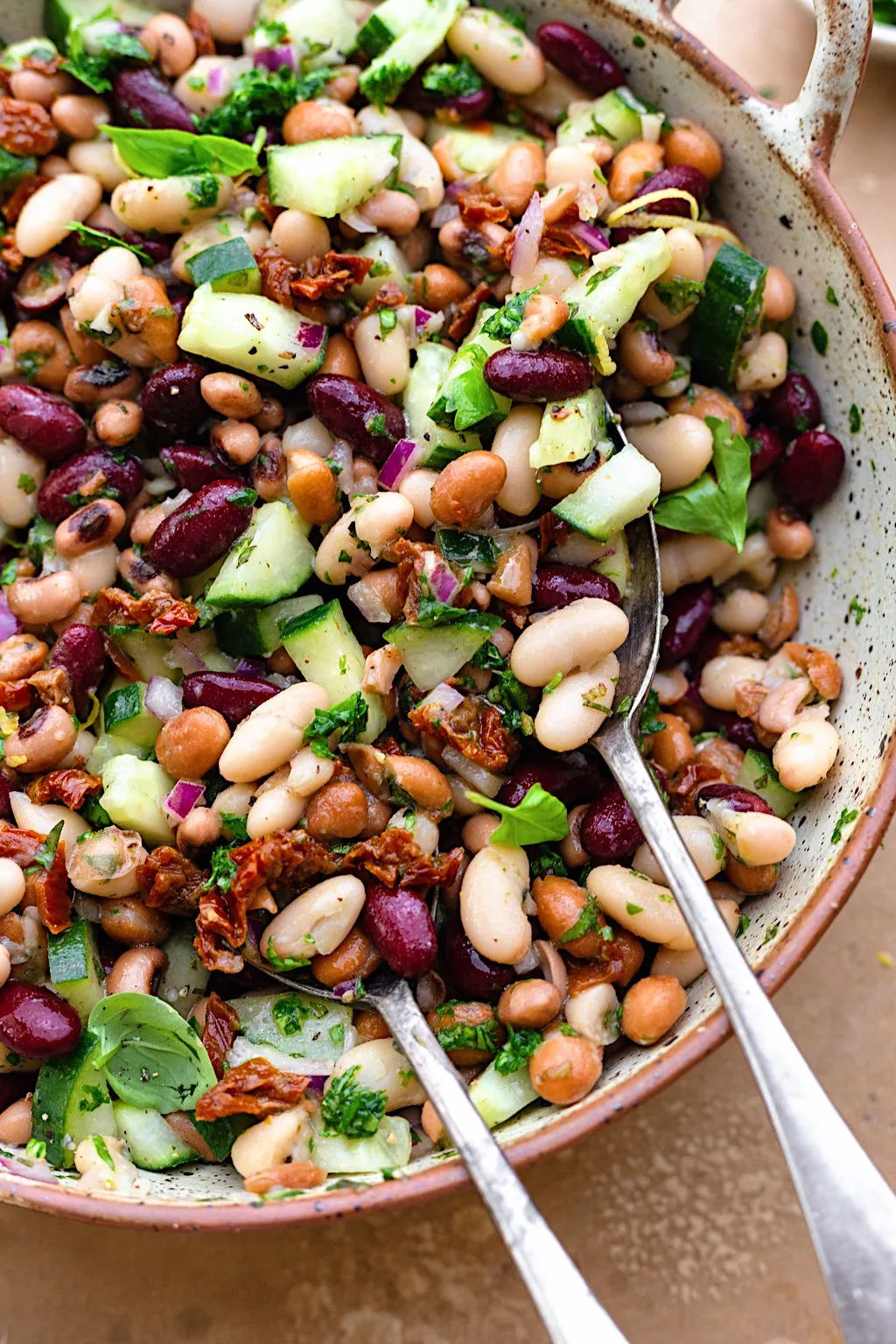 What you'll need for mixed bean salad:
Pinto beans
Black eyed beans
Kidney beans
Cannellini beans
Cucumber
Red onion
Sun dried tomatoes
For the dressing:
Extra virgin olive oil
Lemon
Dijon mustard
Garlic
Maple syrup
Red wine vinegar
Fresh mint
Fresh parsley
Fresh basil
Salt
Black pepper
You'll need half an english cucumber, a small/medium sized red onion and sun dried tomatoes in oil (the ones you get in a jar).
The oil is packed with flavour so don't rinse them, once you've chopped them scoop up any excess oil and add to the salad.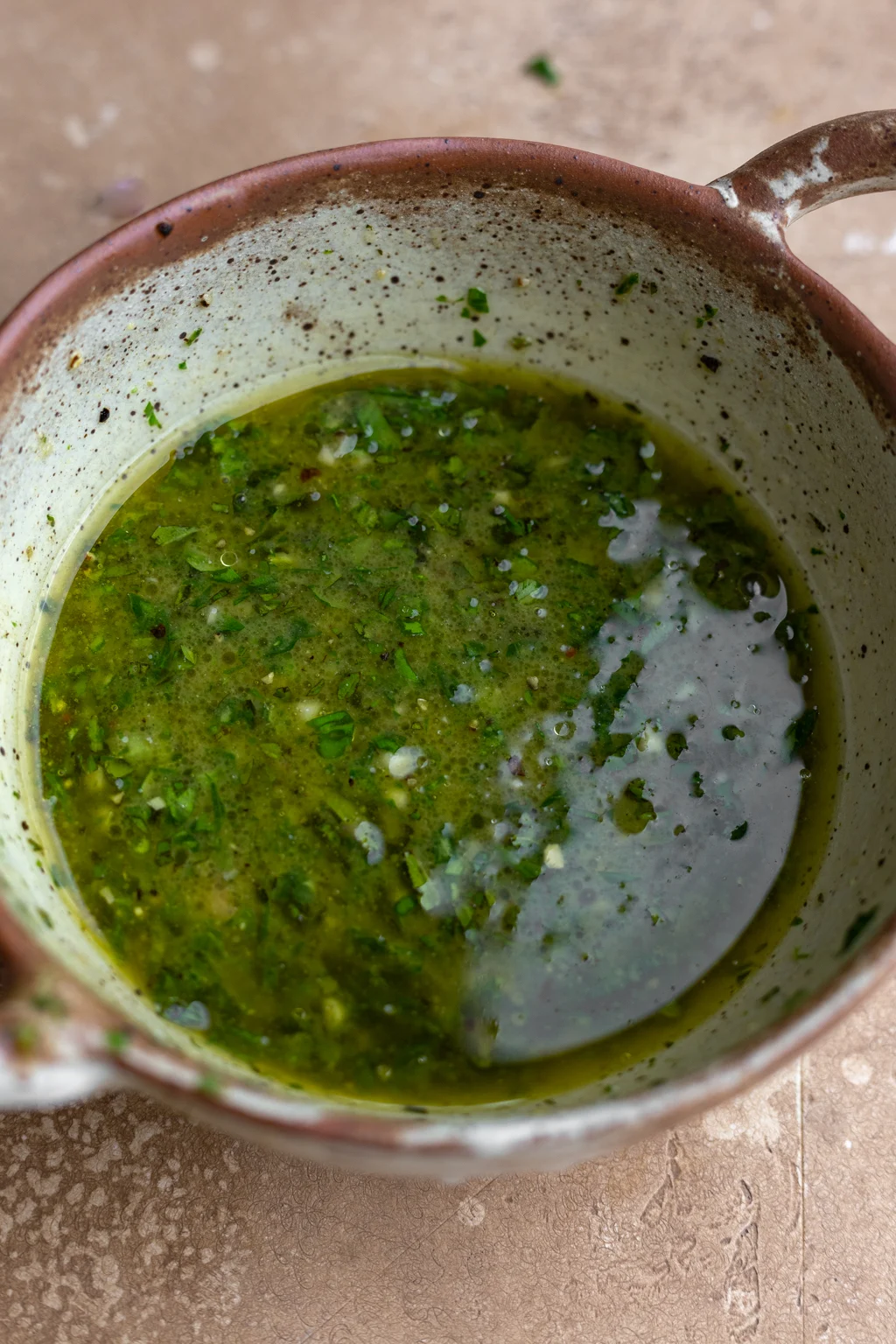 How to make mixed bean salad:
Start by sieving and rinsing the beans. This is important because you don't want murky water in your salad.
Finely chop the cucumber, red onion, sun dried tomatoes and herbs. Add to the salad bowl and then make the dressing.
In a small bowl add the olive oil, lemon zest, lemon juice, dijon mustard, minced garlic, red wine vinegar, maple syrup, salt and cracked black pepper. Then whisk until well combined and drizzle over the salad.
Lastly, toss all the salad ingredients with salad tongs until it is all coated in the dressing. Pop in the fridge or cover and leave to marinade for at least an hour.
Our tips for making the best bean salad:
Give it time to marinade in the dressing. Beans alone aren't that flavourful so it's key to let it stew in the dressing for best flavour! It's one of those recipes that taste better the longer it's left!
Use good quality extra virgin olive oil for the dressing. Don't sub this for another oil, it's important for a tasty dressing.
Go for a combination of beans. We are using four different types of beans, the more the better! This allows for more texture and flavour.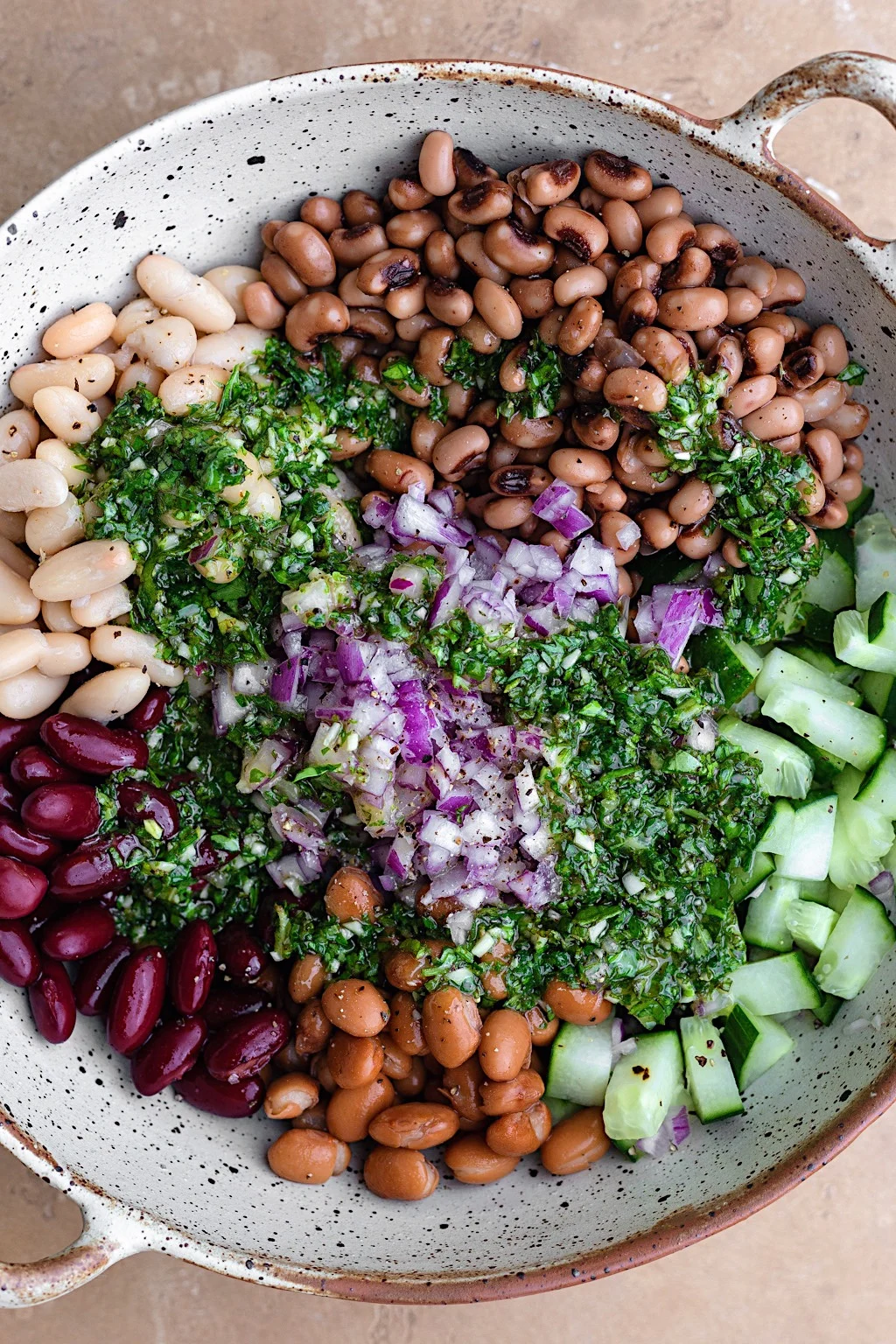 Is mixed bean salad gluten free?
Yes! There is no gluten in this salad including the dressing. It's gluten free, dairy free and nut free.
What to serve with this four bean salad:
Serve it with bbq food! Burgers or hot dogs with this as a side salad.
As part of a picnic! Serve with quiche, sausage rolls, crusty bread.
Add it to a buddha bowl or lunch. Serve with some tofu, cubed sweet potato and avocado.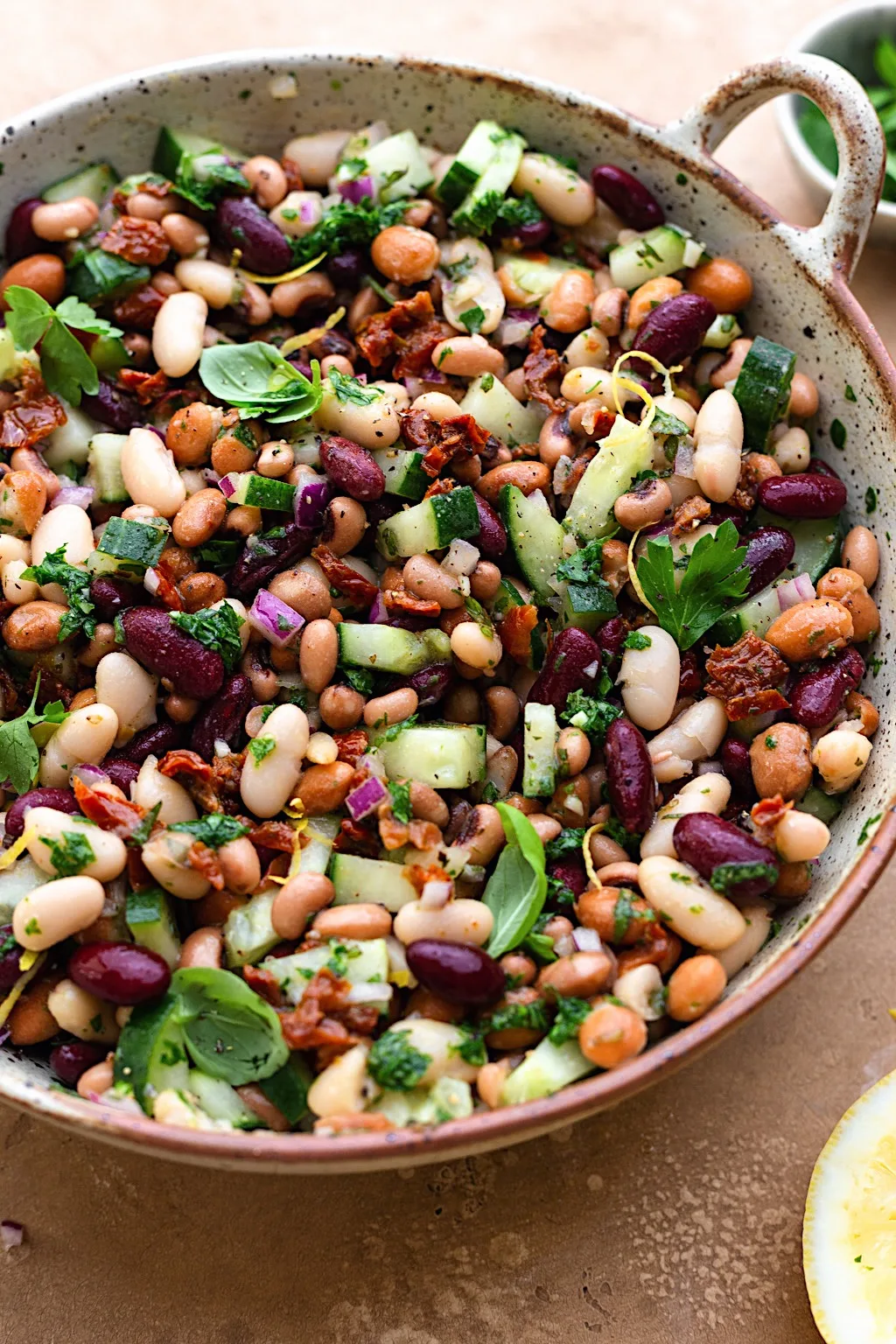 For more bean recipes you may enjoy these:
As always if you make this mixed bean salad be sure to leave me a comment, rate this recipe and tag me on Instagram. I love seeing all your photos of my recipe recreations!
Don't forget to follow along on Facebook, Pinterest and Instagram – I'd love to see you all there!
---
NEVER MISS A RECIPE! GET MORE VEGAN RECIPES SENT STRAIGHT TO YOUR INBOX – SUBSCRIBE HERE!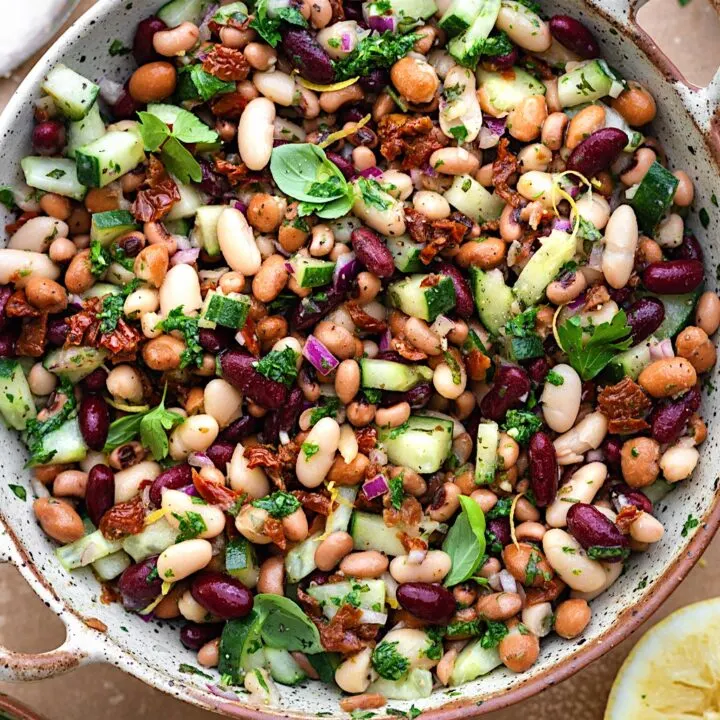 Mixed Bean Salad
Healthy mixed bean salad with four types of beans, cucumber, red onion and sun dried tomatoes tossed in a zesty herby vinaigrette! Serve at bbqs, picnics or easy lunches!
Ingredients
1 can 15oz/400g pinto beans
1 can 15oz/400g kidney beans
1 can 15oz/400g black eyed beans/peas
1 can 15oz/400g cannellini beans
1/2 english cucumber
1 medium red onion
6 sun dried tomatoes, in oil
Dressing
4 tbsp/1/4 cup extra virgin olive oil
1 tbsp red wine vinegar
1 tsp lemon zest
Juice of one lemon (about 3-4 tbsp)
1 garlic clove, minced
1 tsp dijon mustard
1 tsp maple syrup
2 tbsp finely chopped parsely
2 tbsp finely chopped mint
2 tbsp finely chopped basil
3/4 tsp salt
Cracked black pepper
Instructions
Drain and rinse all the beans well. Add to a salad bowl.
Finely chop red onion, cucumber and sun dried tomatoes. Scoop up any excess oil from the sun dried tomatoes and add to the bowl.
Add all the dressing ingredients to a small bowl and whisk until combined. Pour over the salad and toss well with salad tongs until it is all coated.
Pop in the fridge or cover and leave to marinade for at least an hour. This will improve the flavour and allow the beans to soak up the juices!
Notes
You can sub for any beans you like or have on hand, just make sure the quantity is the same.
Recommended Products
As an Amazon Associate and member of other affiliate programs, I earn from qualifying purchases.