This vegan greek salad is fresh, crunchy and healthy. Tossed in a simple olive oil based dressing it's the best summer salad!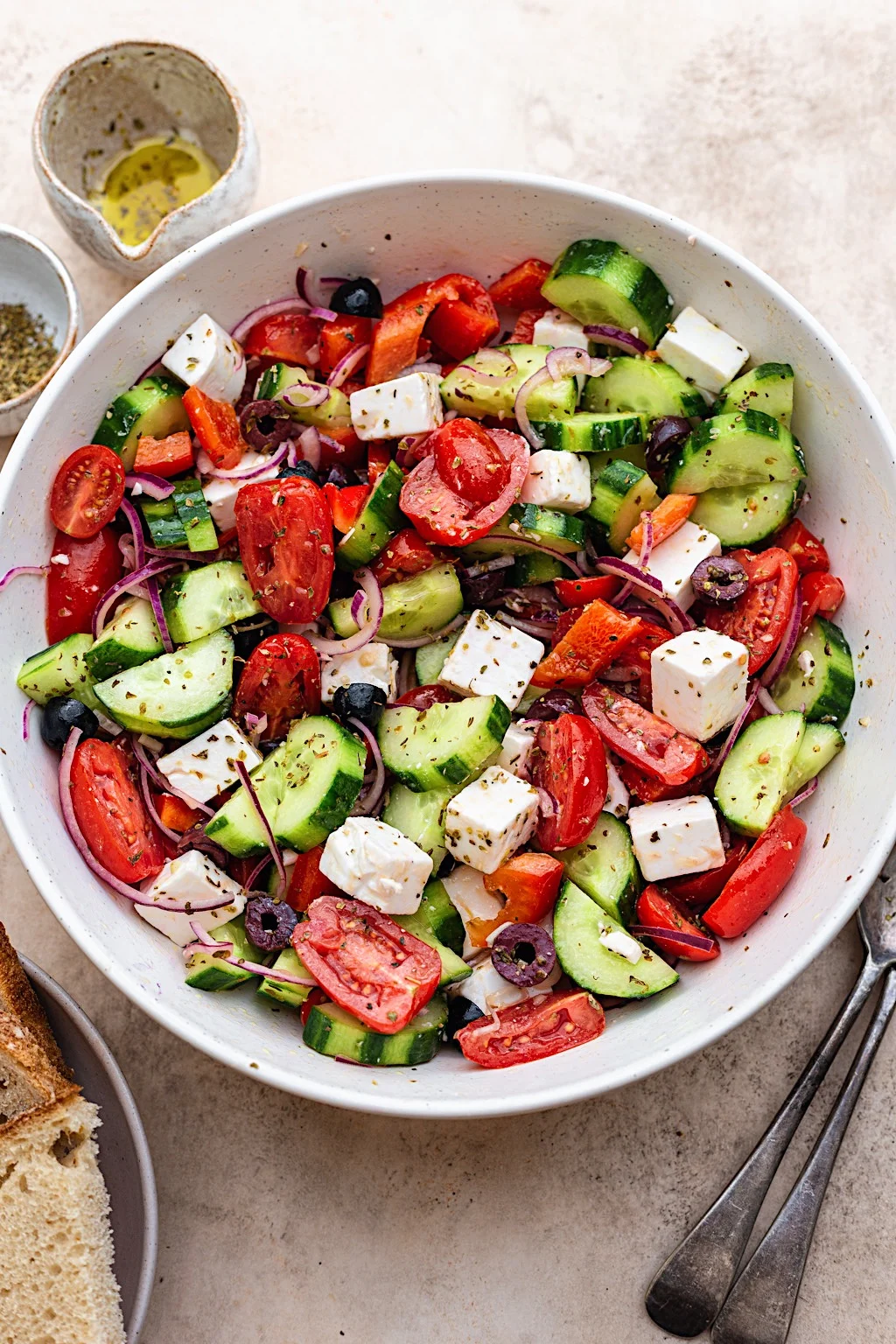 A few simple, good quality ingredients is all you need for a greek salad! We've got cucumber, tomatoes, bell pepper, onion, kalamata olives and vegan feta.
The dressing only requires a few ingredients which you probably already have in your pantry!
Greek salad or horiatiki salad is a popular salad in Greek cuisine. This vegan greek salad is as close to traditional, with a few extra dressing ingredients and the sub of vegan friendly feta!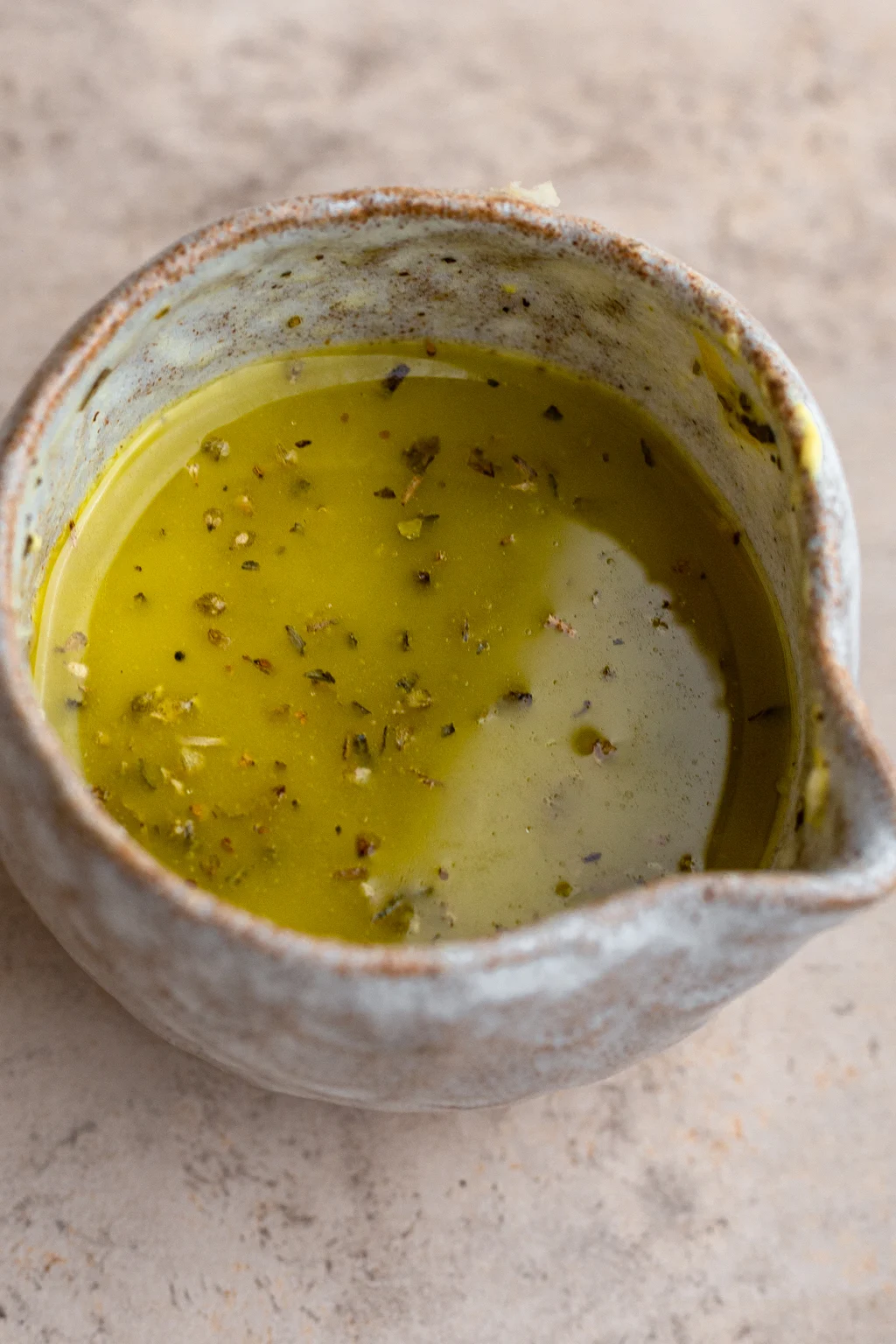 You'll see many variations of Greek salad including lettuce or avocado, but this is not traditional. But by all means if you want to add them you can!
I fell in love with Greek cuisine when I visited with my family as a kid. It will always be one of my favourite holiday destinations and I can't wait to hopefully go back next year!
It was the first time I had ever tried feta and I have been a lover ever since. When I turned vegan six years ago, vegan feta wasn't really a thing, and I missed it!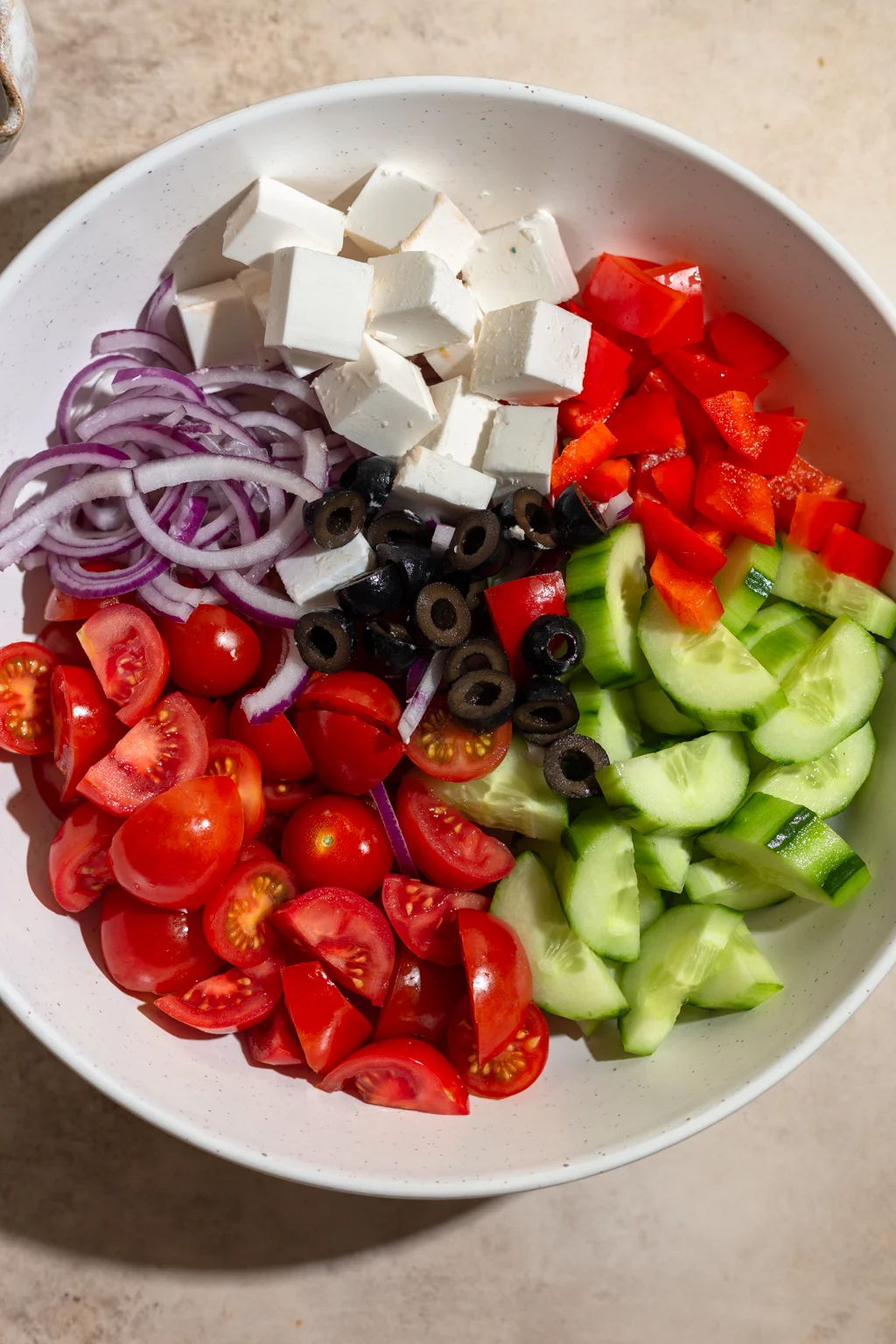 Thankfully there are some great vegan feta options out there now and my go to is Violife Greek White – it is super creamy and taste really similar.
There really is nothing better to make with feta than a traditional Greek salad. It is so easy to throw together and is great served with just about everything!
Greek salad ingredients:
Cucumber – English cucumber
Tomatoes – good quality tomatoes, choose ones with a bright red skin that are ripe for best flavour. Large tomatoes are traditional but you can also use cherry tomatoes. A variety of tomatoes works really nicely too.
Bell pepper – green is traditional but you could use any colour
Red onion – one medium red onion
Kalamata olives – purple coloured greek olive, you can use fresh or jarred, make sure they are pitted. If you really can't find any then use black olives
Vegan feta cheese – one block of vegan feta, Violife is my favourite and perfectly creamy. It cuts well too. Traditionally it is cubed or torn into large pieces, not crumbled.
Dressing ingredients:
Extra virgin olive oil
Red wine vinegar
Garlic
Dijon mustard
Lemon juice
Dried oregano
Salt and pepper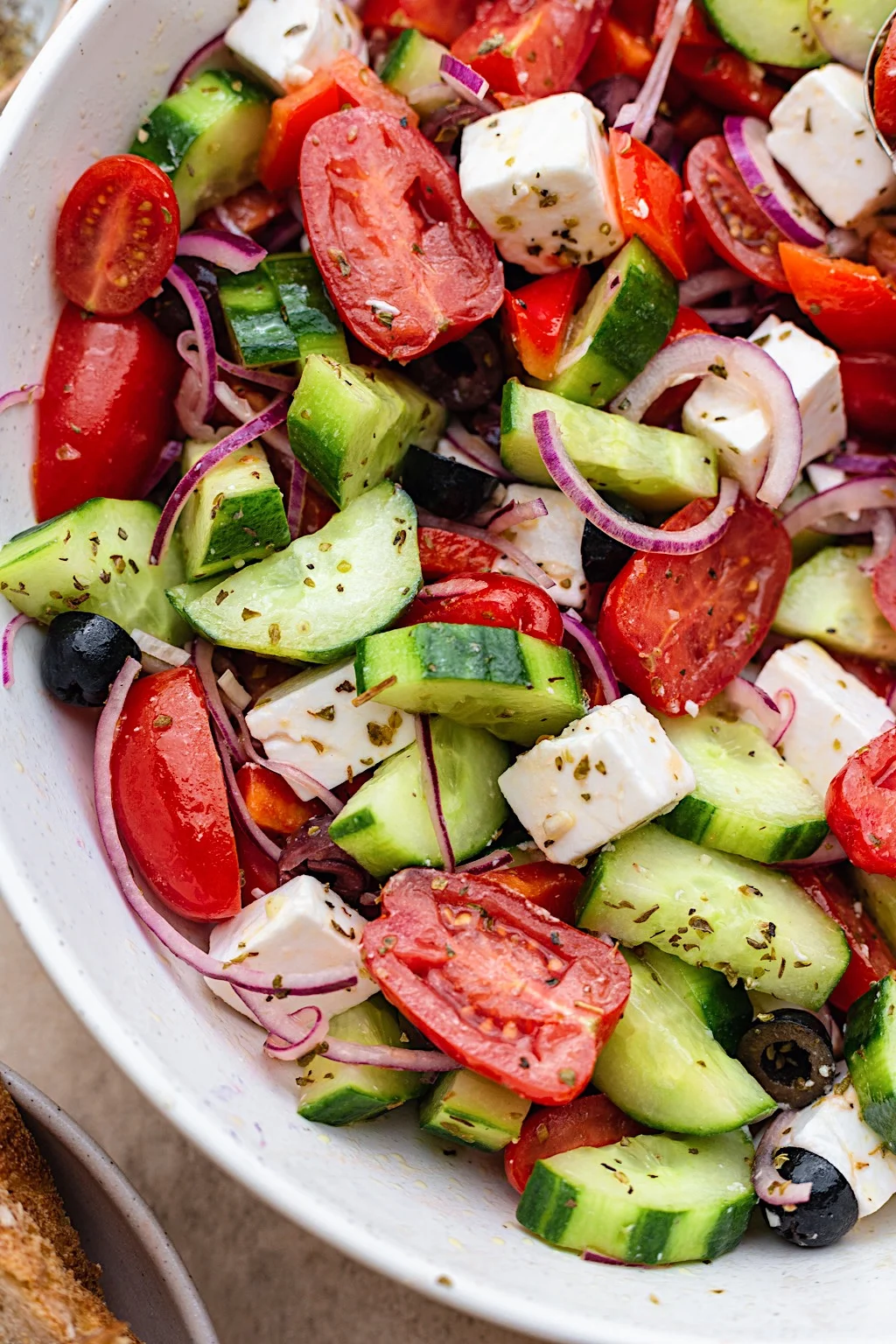 Oregano is a key ingredient in Greek salad, it gives for a really distinct flavour so don't skip it! We've added a few extra ingredients to a traditional Greek salad dressing for extra flavour.
This salad comes together in 15 minutes so it's great when you have cravings for this salad and want it quick!
The dressing goes really well with any salad so why not double it and save some in the fridge for a later date!
Is Greek salad gluten free?
Yes! There is no gluten in a Greek salad or dressing. So this dairy and gluten free salad can be enjoyed by everyone!
How to make vegan greek salad:
Start by prepping the veggies. Peel some of the skin off the cucumbers, this creates a really pretty skin but you can skip this step! Slice the cucumber in half lengthways and then cut into semi circles.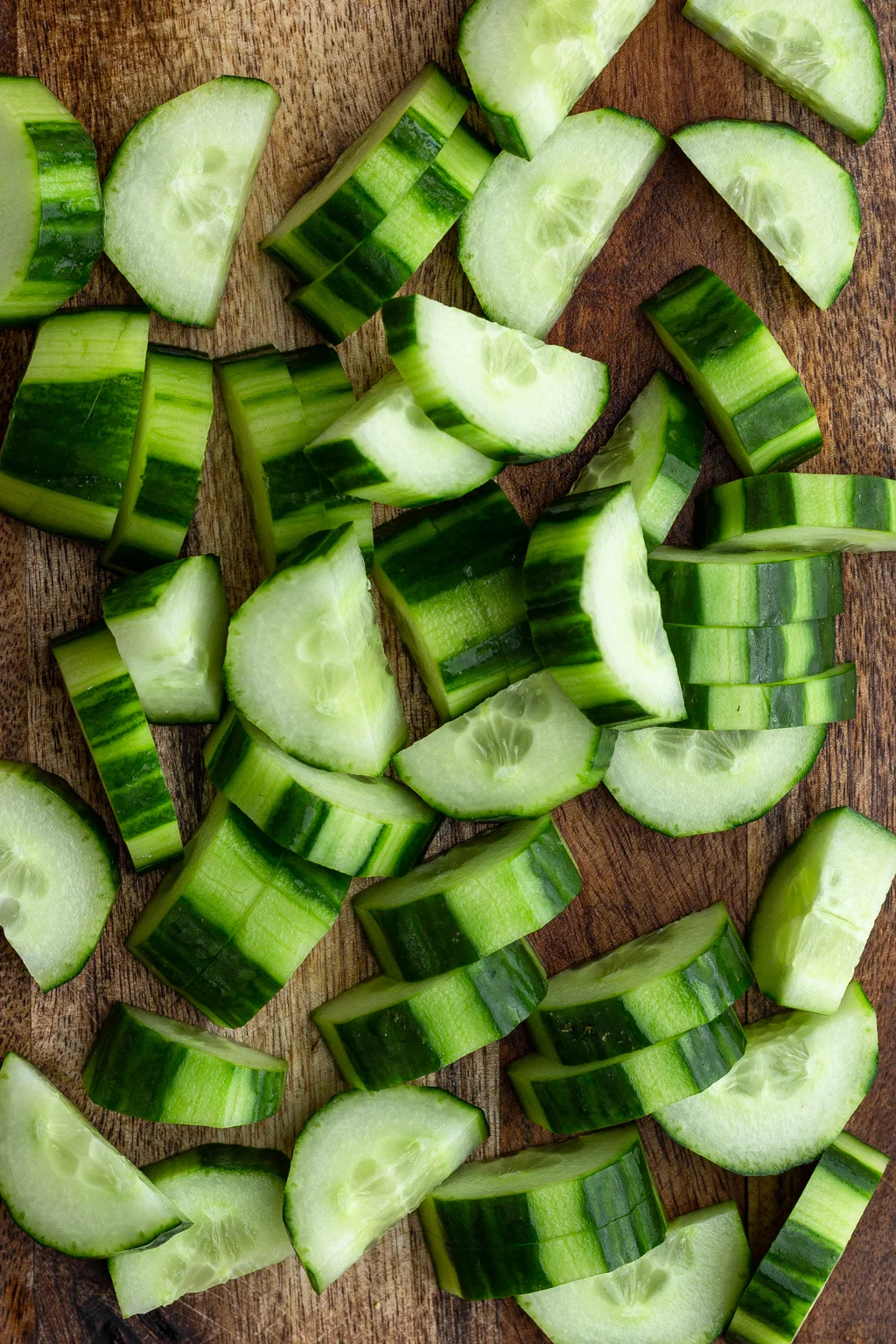 If you are using large tomatoes, cut into wedges or if you are using cherry tomatoes just cut them in half. Finely chop the bell pepper.
Thinly slice the red onion and cut the kalamata olives in half – this ensures you get bits of olive in every bite, but you can also leave them whole!
Cut the vegan feta into 1 inch cubes, a firmer feta is better for this but if it is more crumbly you can tear it into chunks.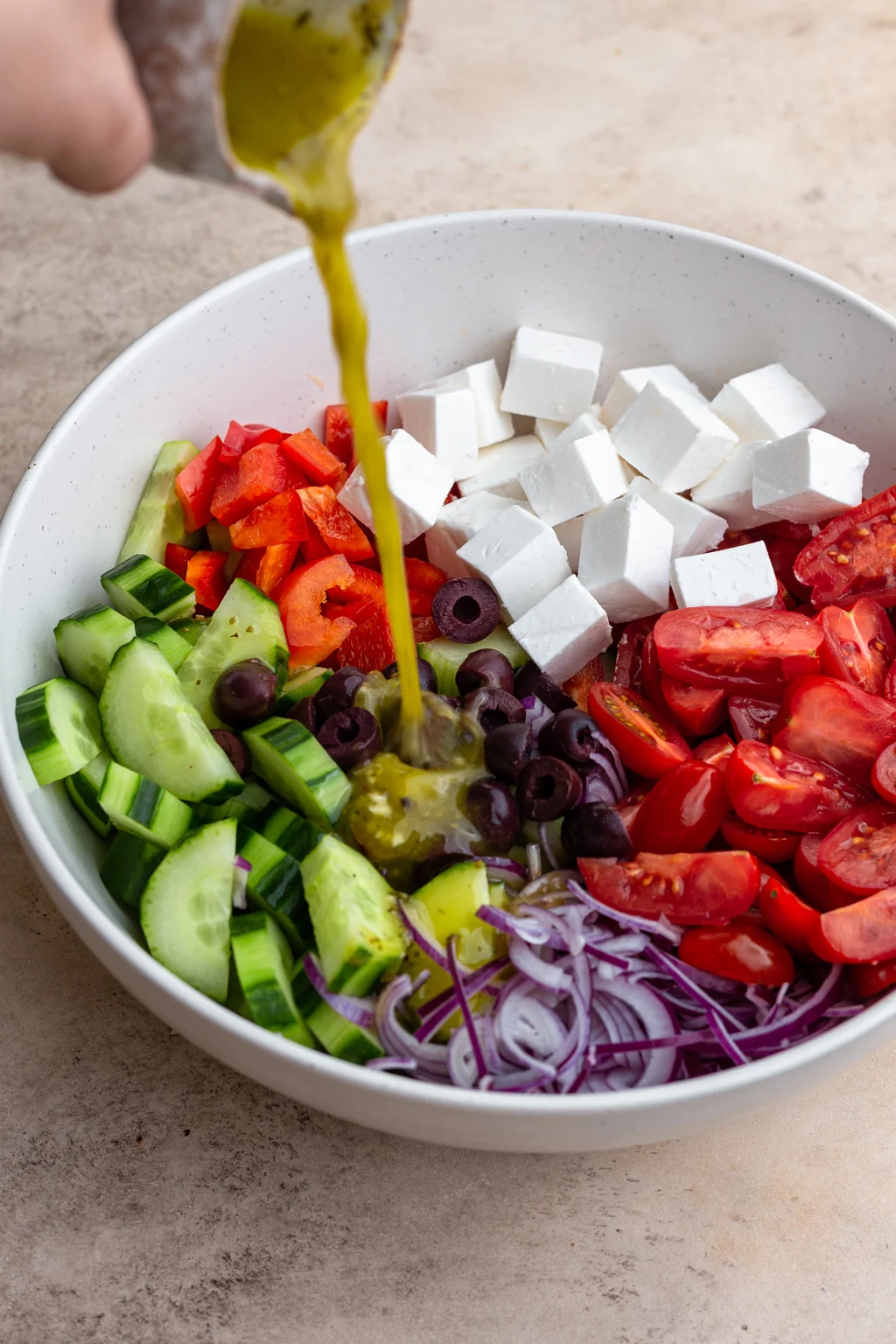 Add all these ingredients to a large salad bowl and make the dressing. In a small bowl whisk the olive oil, red wine vinegar, minced garlic, dijon mustard, lemon juice, oregano, salt and pepper.
Whisk until well combined and pour over the salad. Carefully mix with some salad tongs and serve!
What to serve with greek salad:
Bread – Any good quality bread works well – pita, focaccia, ciabatta, baguette. Serve fresh or toast and rub with some cut garlic or vegan butter!
Pasta – I love the combo of pasta with salad, it makes it super fresh. Go for something simple like a tomato pasta or pesto pasta
Pizza – another great combo! You really can't go wrong with pizza and salad, opt for something not too cheesy as you have the feta from the greek salad!
Potatoes – the possibilities are endless with potatoes – serve with a baked potato, buttered baby potatoes, chips or a potato salad!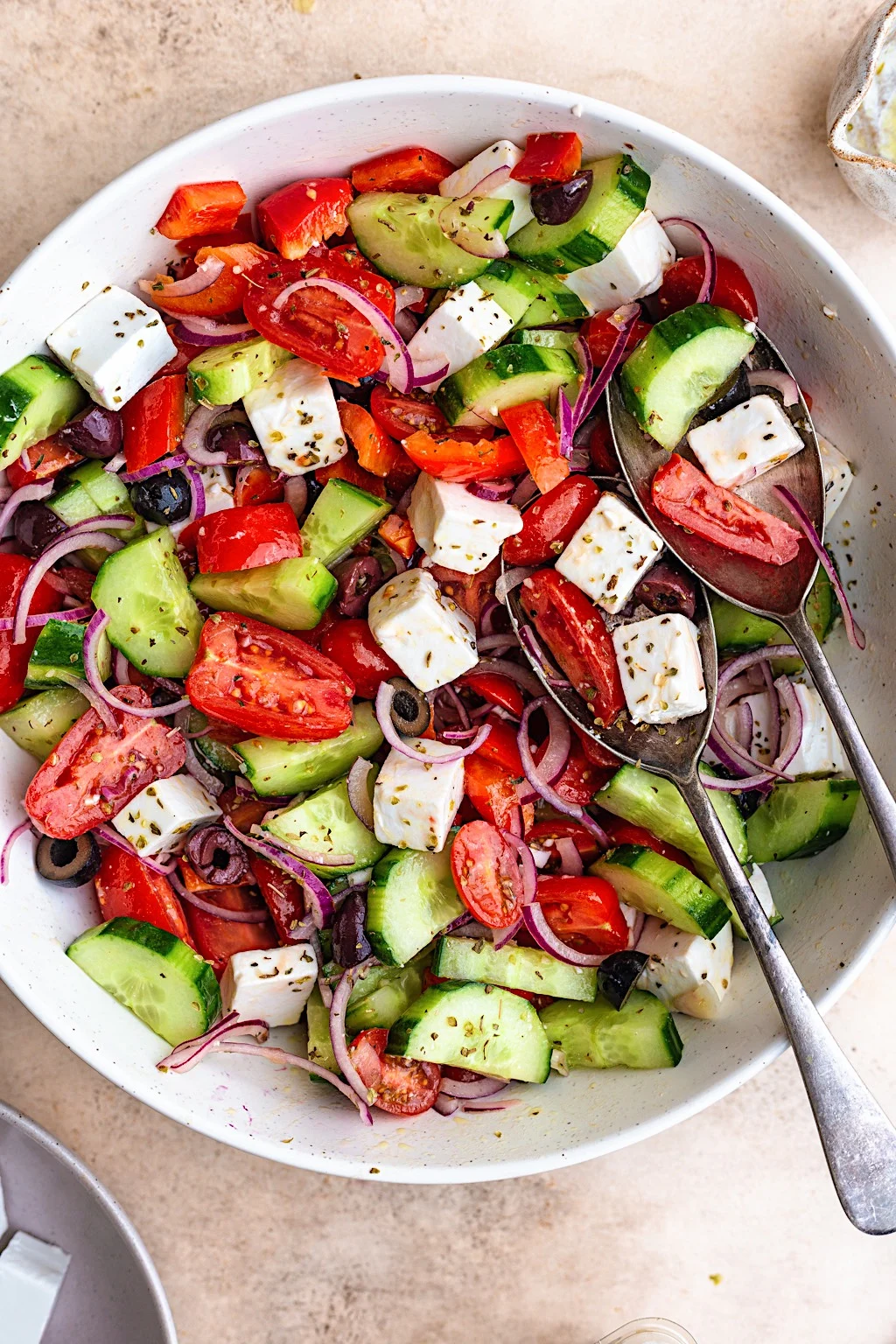 For more salad recipes you may enjoy these:
Roasted sweet potato, carrot, quinoa and feta salad
Moroccan couscous chickpea salad
As always if you make this vegan Greek salad be sure to leave me a comment, rate this recipe and tag me on Instagram. I love seeing all your photos of my recipe recreations!
Don't forget to follow along on Facebook, Pinterest and Instagram – I'd love to see you all there!
---
NEVER MISS A RECIPE! GET MORE VEGAN RECIPES SENT STRAIGHT TO YOUR INBOX – SUBSCRIBE HERE!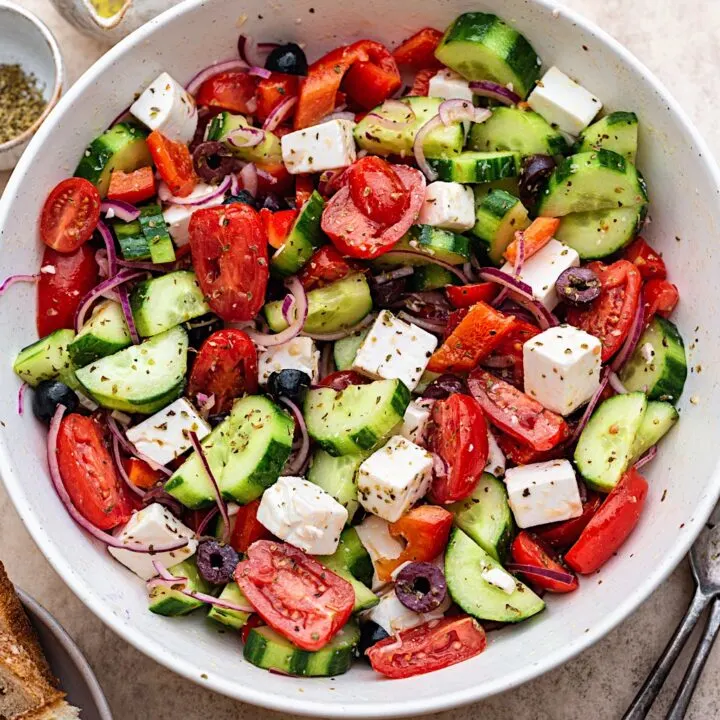 Vegan Greek Salad
This fresh vegan Greek salad can be enjoyed all summer long. With cucumber, tomatoes, red onion, kalamata olives and vegan feta tossed in a simple olive oil based dressing!
Ingredients
1 English cucumber
300g / 10.5 oz good quality tomatoes (you can use large or cherry)
1 green/red bell pepper
1 medium red onion
15 kalamata olives
200g / 7oz block vegan feta
Dressing
3 tbsp extra virgin olive oil
1 tbsp red wine vinegar
1 tbsp lemon juice
1 garlic clove, minced
1 tsp dried oregano
1/4 tsp dijon mustard
1/4 tsp maple syrup
1/4 tsp salt
Cracked black pepper
Instructions
1. Peel half of the cucumber skin so it leaves alternate stripes, or just peel all or none. Cut in half lengthways then cut into semi circles.
2. If using large tomatoes, cut into wedges or cut smaller ones in half.
3. Dice bell pepper and thinly slice the onion. You can leave the olives whole or cut in half.
4. Cut block of feta into 5 long strips then cut each strip into 5 cubes.
5. Place all the salad ingredients into a bowl and make the dressing.
6. Place salad dressing ingredients into a bowl and whisk until combined.
7. Drizzle over the salad and toss with salad tongs until well mixed. Sprinkle some extra dried oregano on top and serve!
Notes
You can use any type of tomato but make sure they are bright red in colour and ripe. Good quality tomatoes are important for this recipe.
I use Violife Greek White which can be found in most large supermarkets.