This vegan caramelised onion and cheese quiche is perfect for summer time lunches and picnics!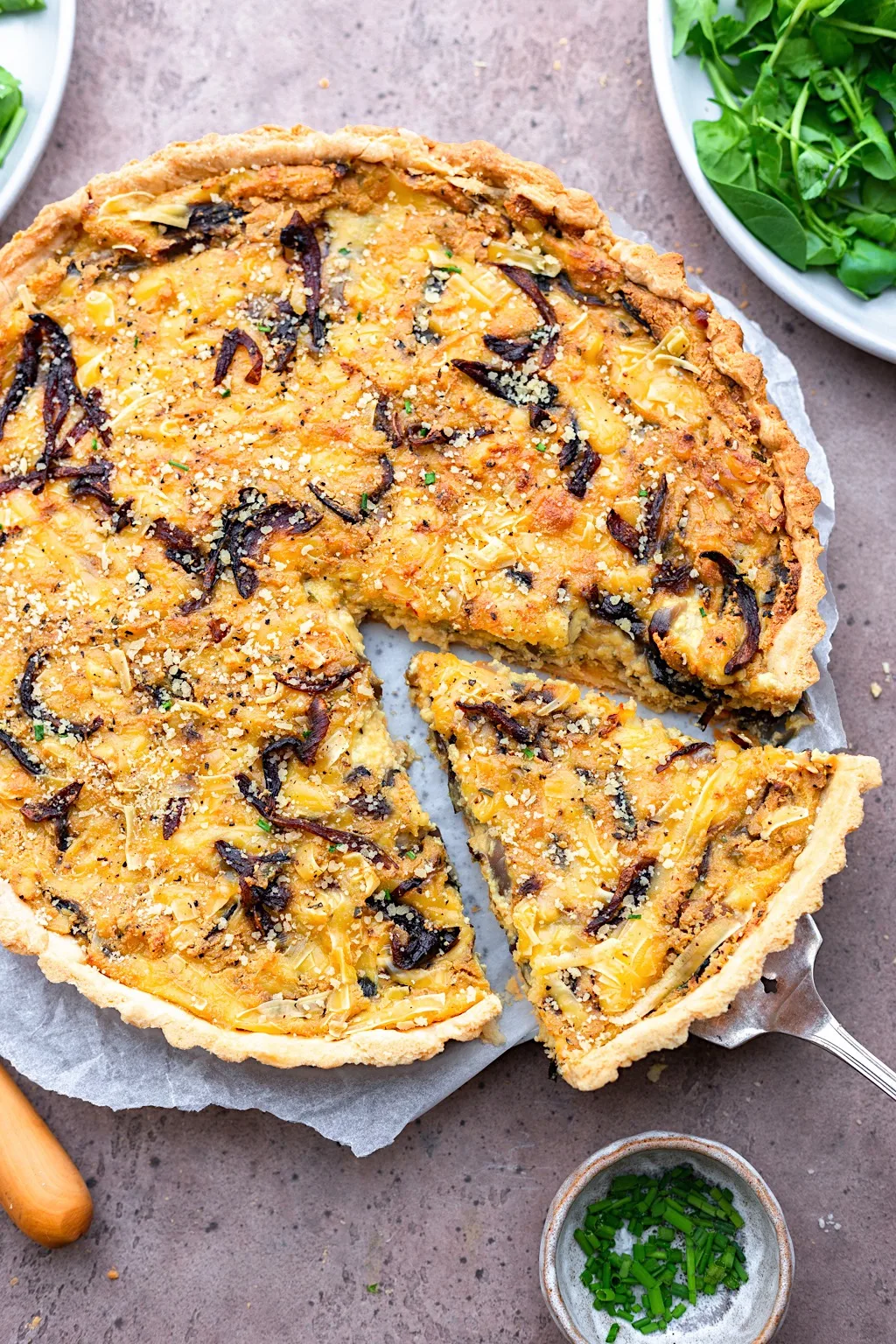 With shop bought pastry it makes this vegan quiche super easy to put together! Which is perfect when you have a quiche craving!
Traditionally quiche is made using eggs so in orderr to make this vegan we are using tofu. An extra firm tofu, you don't want a soft tofu with a high water content. Tofu gets blended with ingredients like vegan milk and cream along with spices until it resembles a smooth, custard texture.
The great thing about this vegan quiche is that it has a very similar texture to non vegan quiche. It's soft and 'eggy' and sets well when baked.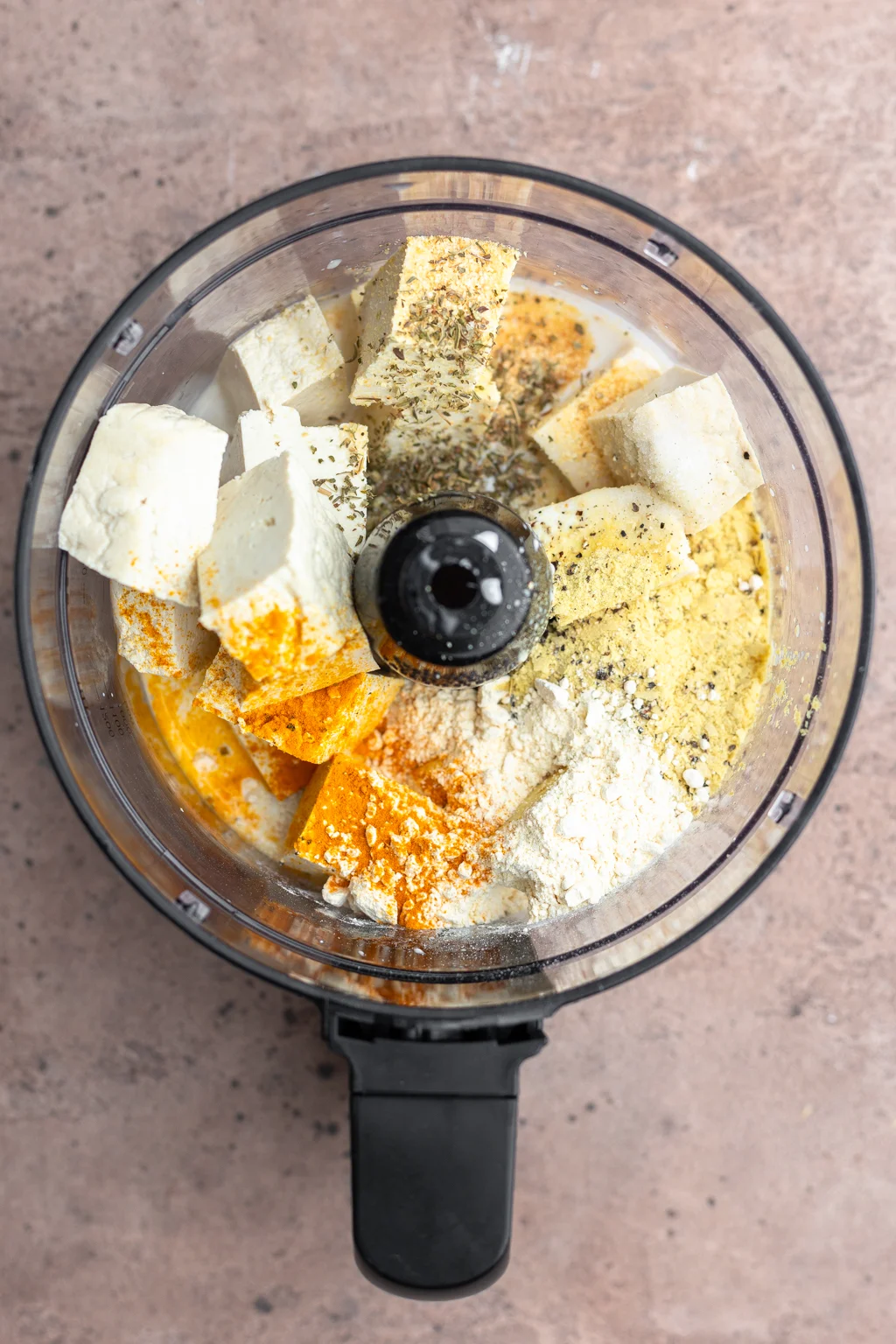 Cheese and onion quiche was one of my favourites growing up which is why I had to make a vegan version!
Caramelised onions level up any recipe and they pair so well with a sharp mature cheese. Making them the perfect combo for a quiche!
Thankfully there are some good vegan cheeses available and I would recommend Violife Mature or Cathedral City dairy free block. Applewoods smoked vegan cheddar would also work really nicely!
Always go for a block rather than grated cheese as these have added ingredients and don't melt as well (plus they're more expensive!).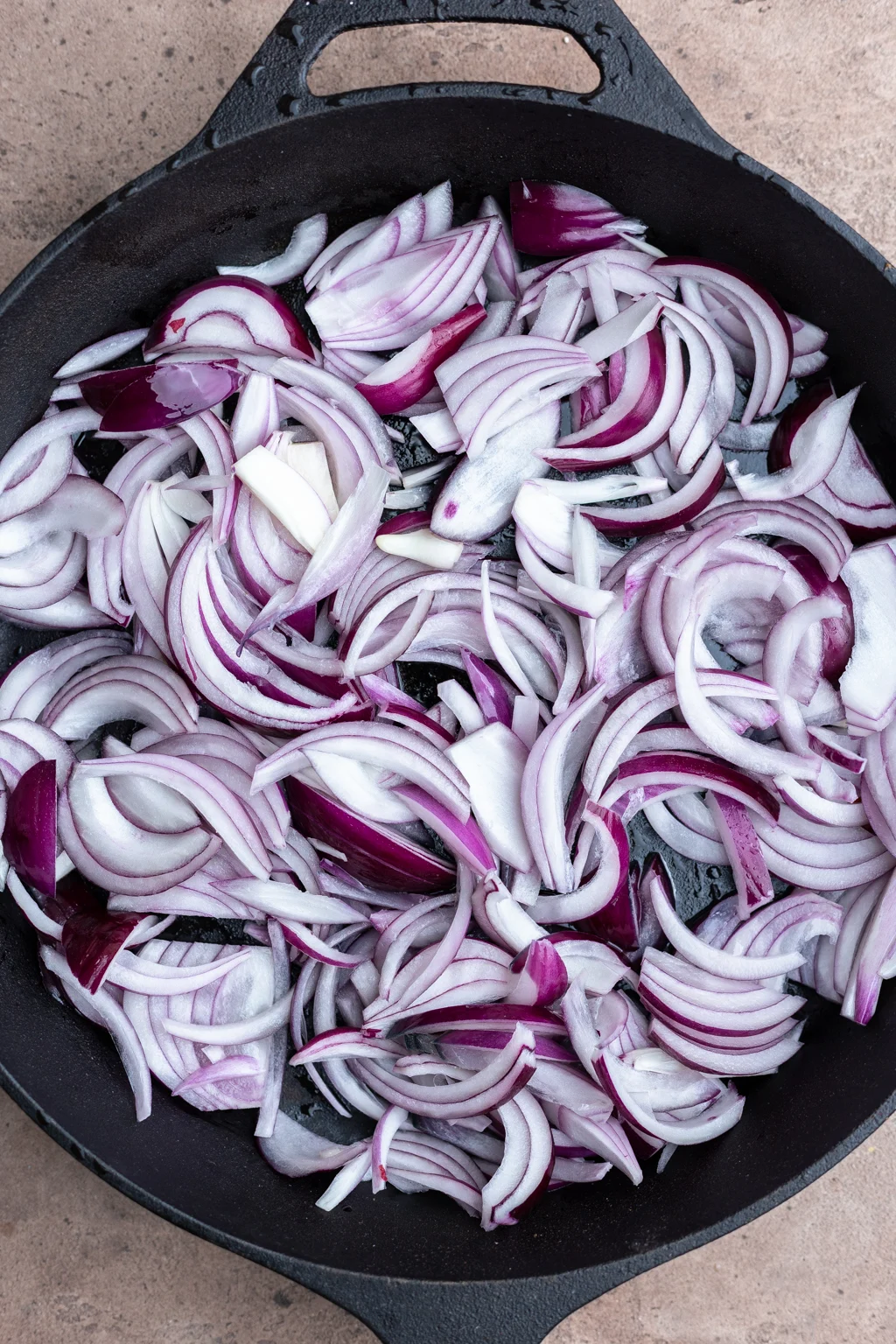 What you'll need for vegan caramelised onion and cheese quiche:
[full recipe and instructions can be found in the recipe card, please scroll to the bottom]
Shortcrust pastry – shop bought or home made, just double check the ingredients are vegan. Jus-rol and most supermarket own brand ones are vegan.
Onions – red onions have more sweetness, but brown onions work too
Tofu – extra firm tofu, do not use a soft/silken variety as they have too much water content. Squeeze any excess water from the block of tofu.
Vegan cream – this adds richness and creaminess. I use Oatly single cream.
Nutritional yeast – for added cheesy and nutty flavour
Unsweetened almond/soy/oat milk – along with the cream this will help make the mixture super soft and creamy
Garlic powder – for flavour
Gram (chickpea) flour – this helps bind and thicken the mixture
White miso paste – for depth of flavour and umami
Vegan cheddar cheese – go for a mature style vegan cheddar like Violife mature or Catherdral Ciry dairy free block
Turmeric powder – for an eggy colour
Salt
Pepper
All of these ingredients can be found in large supermarkets, including the gram/chickpea flour. I usually use the brand KTC but some supermarkets have their own brand one.
Chickpea flour is pretty much what is says it is, ground chickpeas. It's an Indian ingredient and is great for binding and thickening, which is key for a good quiche!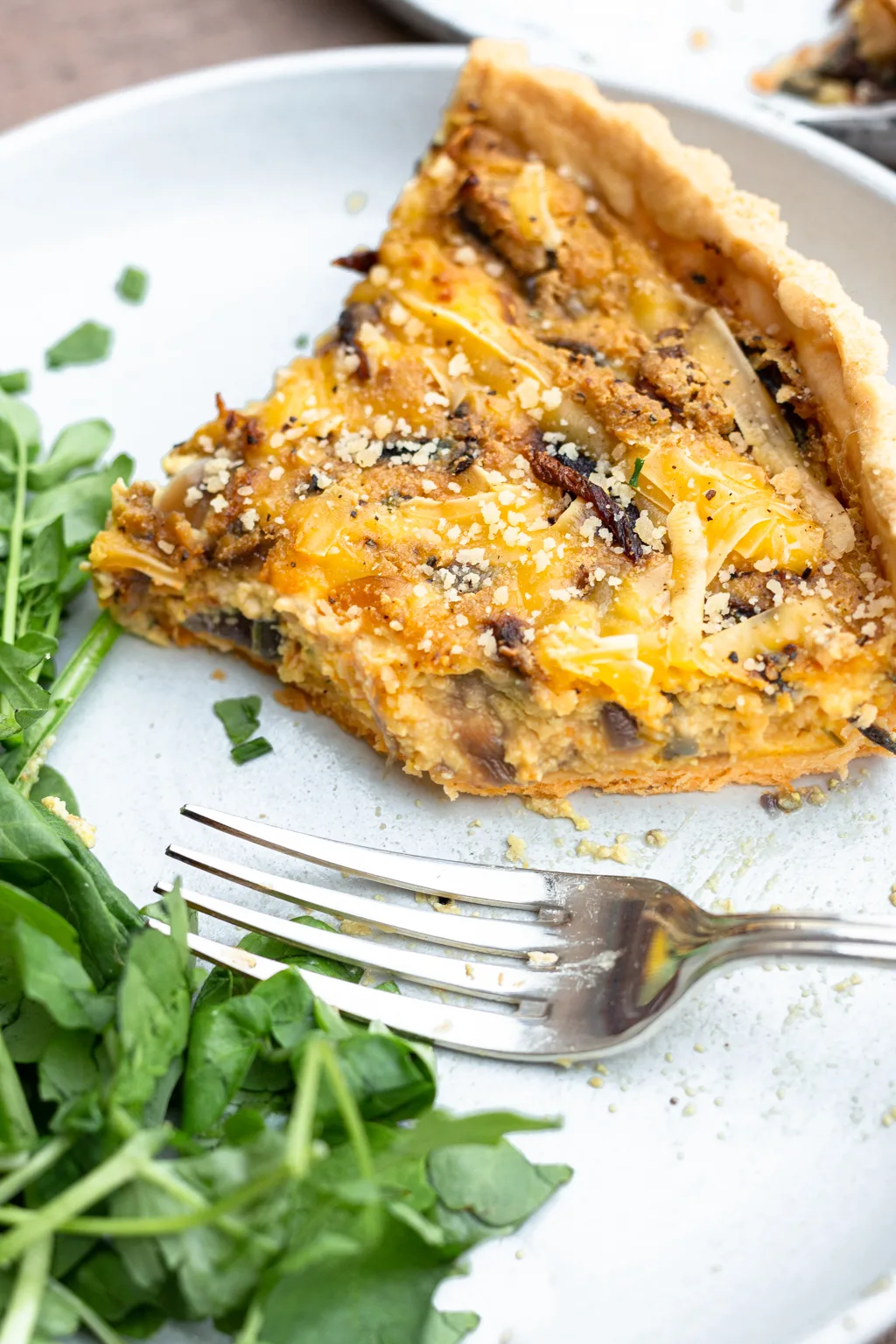 How to make vegan quiche:
Start by caramelising the onions. We are using red onions but red onions because they are sweeter but you can also use brown/white onions too.
Finely slice onions and then add to a pan with oil on a low-medium heat. You don't want to rush this and burn the onion. It takes a little while but is worth it and you can prep the rest of the quiche whilst they are cooking.
Fry them for 35-45 minutes until really soft and breaking down, stirring occasionally.
Whilst the onions are cooking you can prepare the pastry and filling. Pre heat oven to 200c/400f.
Leave the pastry at room temperature for 20 minutes before unrolling. Gently place over a 9 inch pie tin and carefully press into the corners.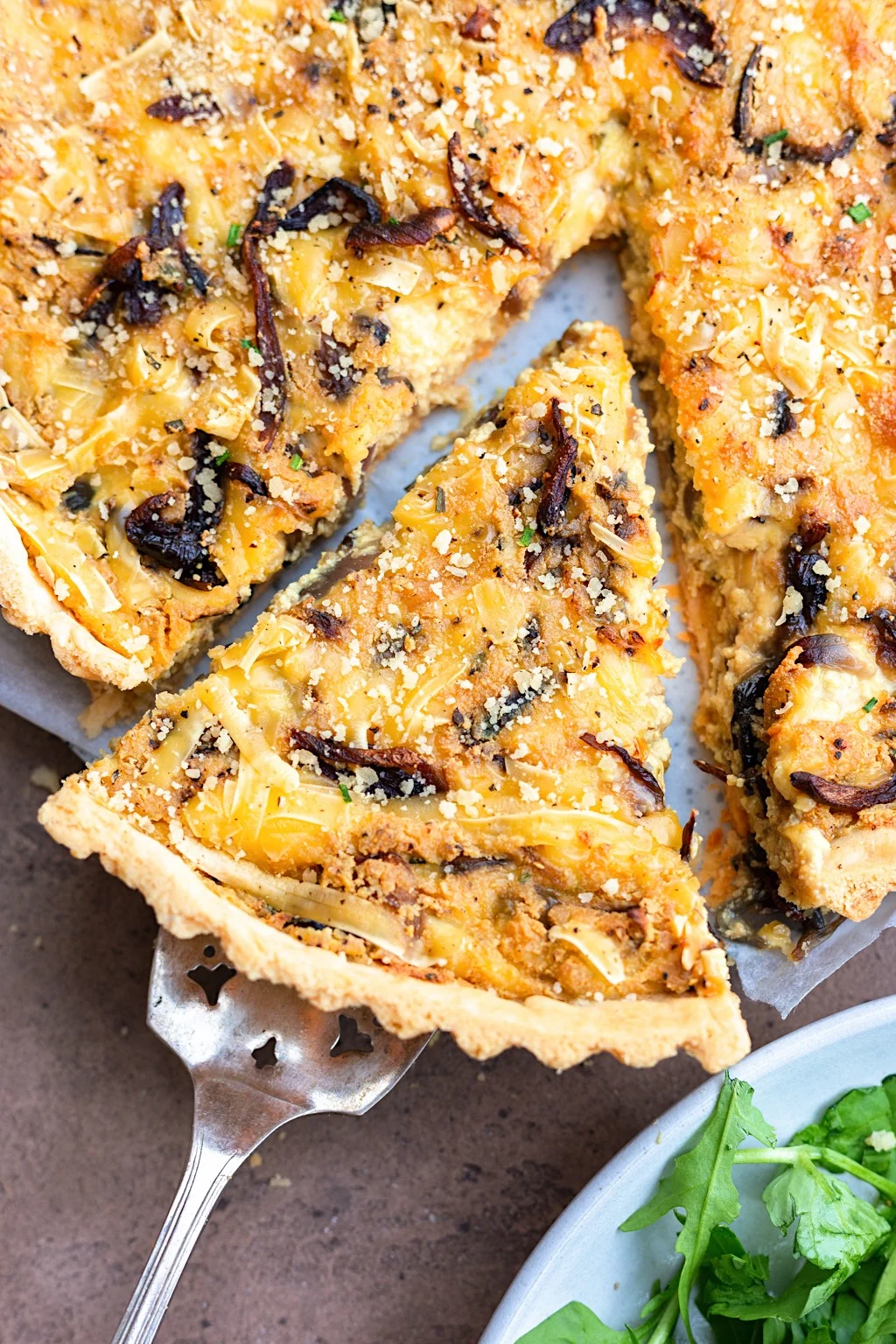 Cut off any excess pastry but leave about 1/2 inch of pastry over the edges. Gently press holes into the bottom with a fork.
Line the pastry with some parchment paper and pour over baking beans. Place in the oven for 15 minutes then remove the parchment paper with beans and cook for a further 5 minutes, then remove.
In a blender place tofu (break it up a bit), vegan cream, vegan milk, nutritional yeast, chickpea flour and spices.
It should be smooth, custardy and thick. You can use a food processor but you won't get the mixture as smooth.
Transfer to a bowl and mix with grated vegan cheddar and onions until well combined (you can leave aside some cheese and onion to put on top). Pour over the pastry, then cook for 35-40 minutes.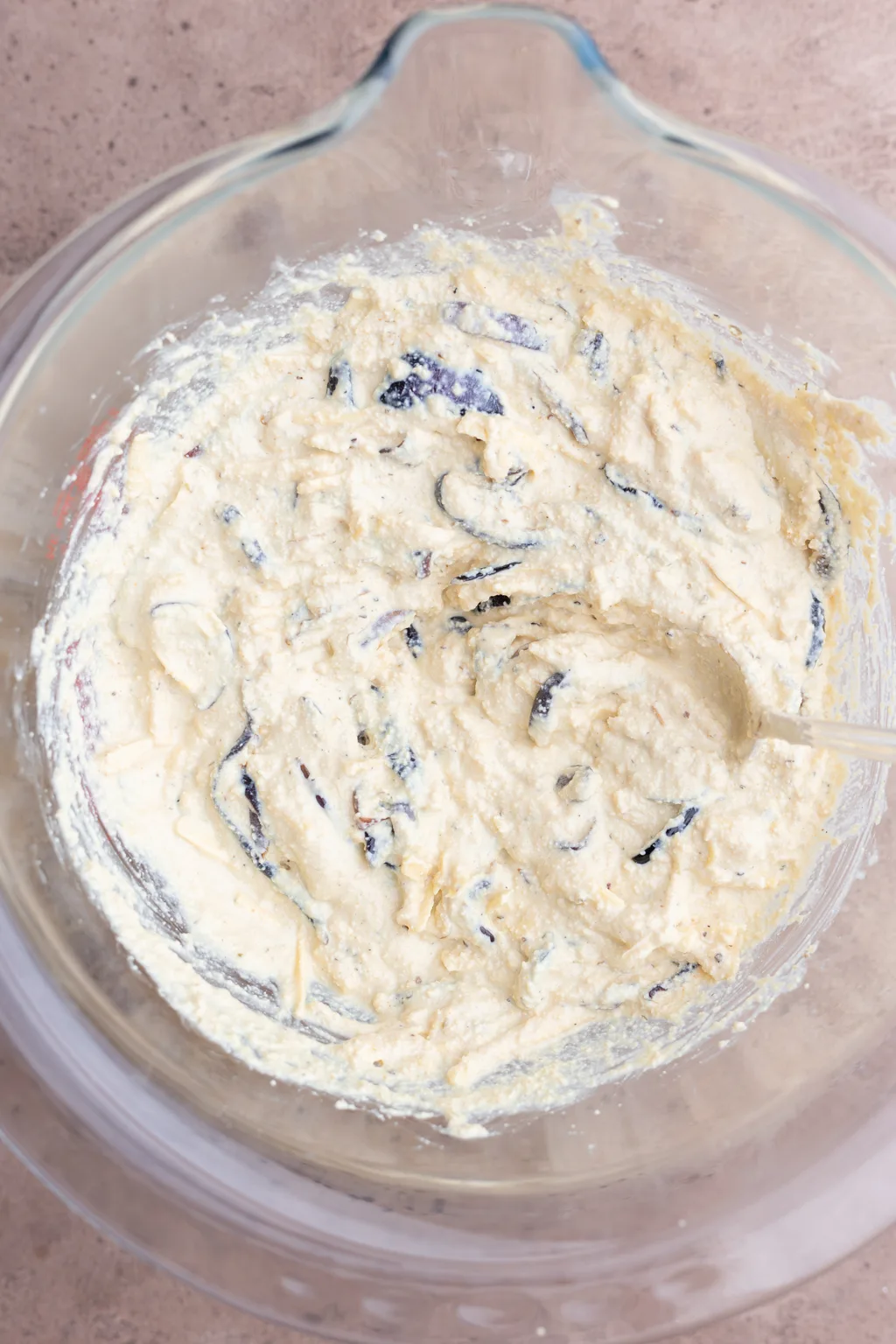 The top should be golden and the filling should be soft and firm and not wobble too much. If it is, put back in the oven for another 5-10 minutes.
Leave to cool and set for 10-15 minutes before serving and cutting!
What to serve with quiche:
Salad – a simple leafy salad compliments it really well. Or go for something more filling like my vegan chicken caesar salad.
Potatoes! Buttery boiled potatoes, baked potato, potato salad. Any kind of potato goes well with quiche. My pesto potato salad would be delicious!
Veggies – roasted, sauteed, steamed. I find a selection of green veg goes really well – broccoli, asparagus, spinach. Throw whatever you have in the fridge in the oven for some really tasty roasted veg!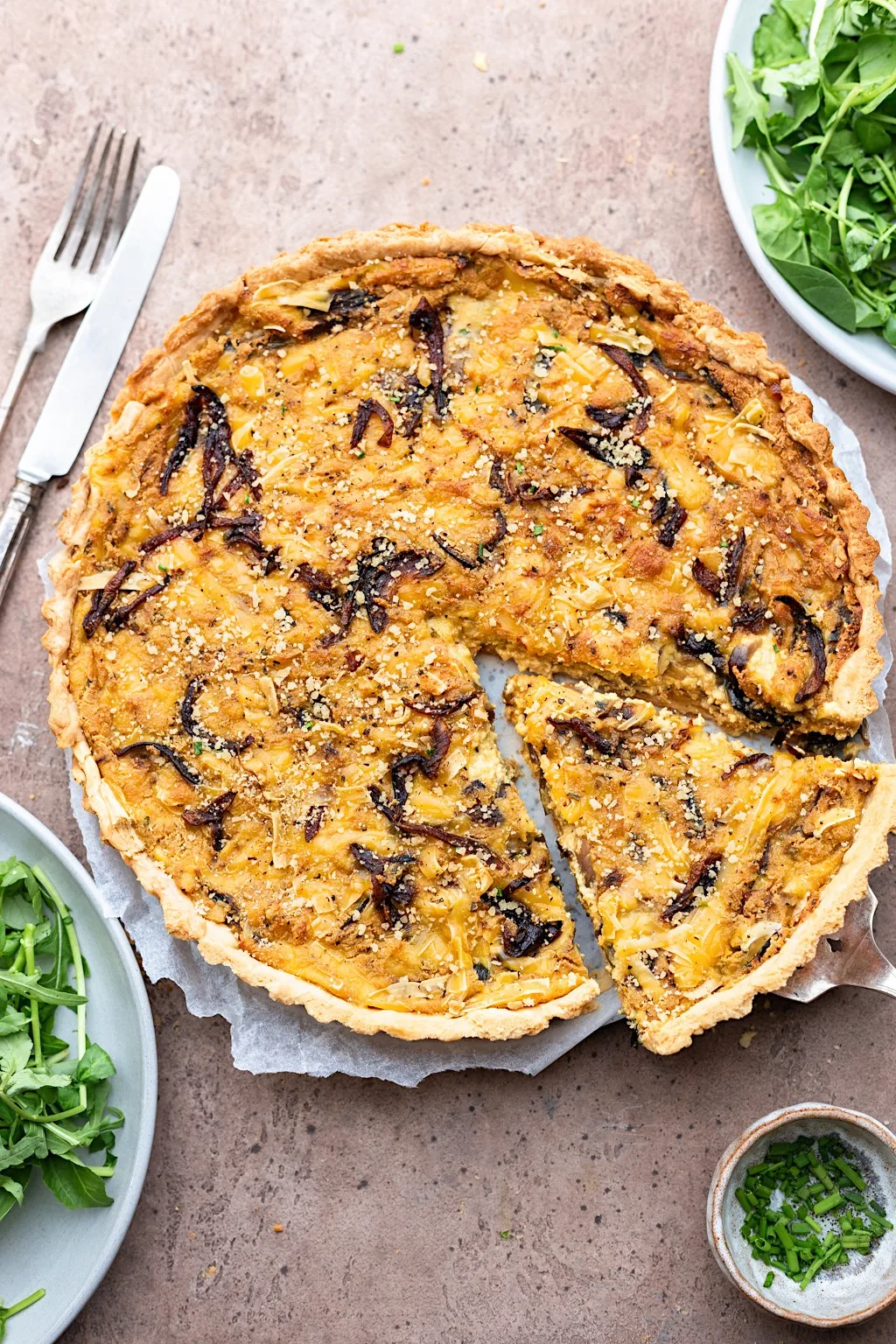 As always if you make this vegan caramelised onion and cheese quiche be sure to leave me a comment, rate this recipe and tag me on Instagram. I love seeing all your photos of my recipe recreations!
Don't forget to follow along on Facebook, Pinterest and Instagram – I'd love to see you all there!
---
NEVER MISS A RECIPE! GET MORE VEGAN RECIPES SENT STRAIGHT TO YOUR INBOX – SUBSCRIBE HERE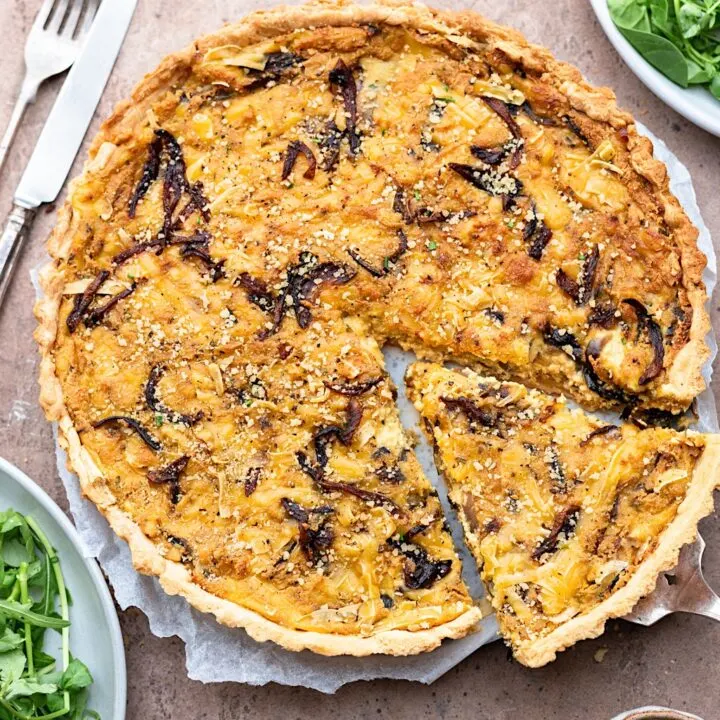 Vegan Caramelised Onion and Cheese Quiche
Cook Time:
1 hour
30 minutes
Total Time:
1 hour
40 minutes
This vegan caramelisd onion and cheese quiche is perfect for summer lunches and picnics! With sweet caramelised onions, mature vegan cheddar and eggy tofu filling. Use shop bought or homemade pastry.
Ingredients
3 red onions
1 block (320g) shop bought ready rolled shortcrust pastry (or homemade)
400g/14oz extra firm tofu
200ml/6.8 fl oz vegan cream
100ml/3.4 fl oz unsweetened almond/soya/oat milk
3 tbsp nutritional yeast
2 tbsp chickpea/gram flour
1 tbsp cornflour
1 tsp garlic powder
1 tsp white miso paste
1 tsp salt
Cracked black pepper
200g vegan mature cheddar
Instructions
Preheat oven to 200C/400F and remove shortcrust pastry from the fridge.
Thinly slice onions and add to a pan with 1 tbsp oil. Leave to cook on a low-medium geat for 35-40 minutes, stirring occasionally.
Gently unroll the pastry and lay over a 9 inch pie dish. Gently push pastry into the sides of the dish. Cut off any excess pastry but leave about 1/2 of overhang. Gently prick the pastry with a fork. Place in the fridge for 20 minutes,
Add the tofu (roughly break it up) and all the remaining ingredients (minus the cheese) into a blender. Blend until smooth. Pour into a bowl and add the caramelised onions and grated cheese, mix well. You can set aside a bit of the onions and cheese to top if you wish.
Take the pastry out the fridge, place parchment paper over the crust and then top with baking beans. Pop in the oven for 15 minutes, remove the parchment paper and beans and bake for another 5 minutes. Turn down oven to 180C/360F
Pour the filling into the pastry and bake for 35- 40 minutes. The top should be golden and the filling should be soft but firm to touch. If it is too wobbly, give it another 5 minutes.
Remove from the oven and leave to sit for 10-15 minutes before serving and cutting.
To reheat quiche, place in the oven for 10-15 minutes at 200C/400F or microwave for a couple of minutes.
Notes
Make sure the pastry you buy is vegan, most are like JusRol or supermarket own.
I recommend using Violife mature cheddar or Cathedral ciry dairy free block for the best mature flavour.
Recommended Products
As an Amazon Associate and member of other affiliate programs, I earn from qualifying purchases.