This hearty vegan white chicken chili is the perfect meal to cosy up with. With white beans and vegan chicken pieces cooked in a creamy savoury spicy broth. Top with tortilla chips, avocado and coriander.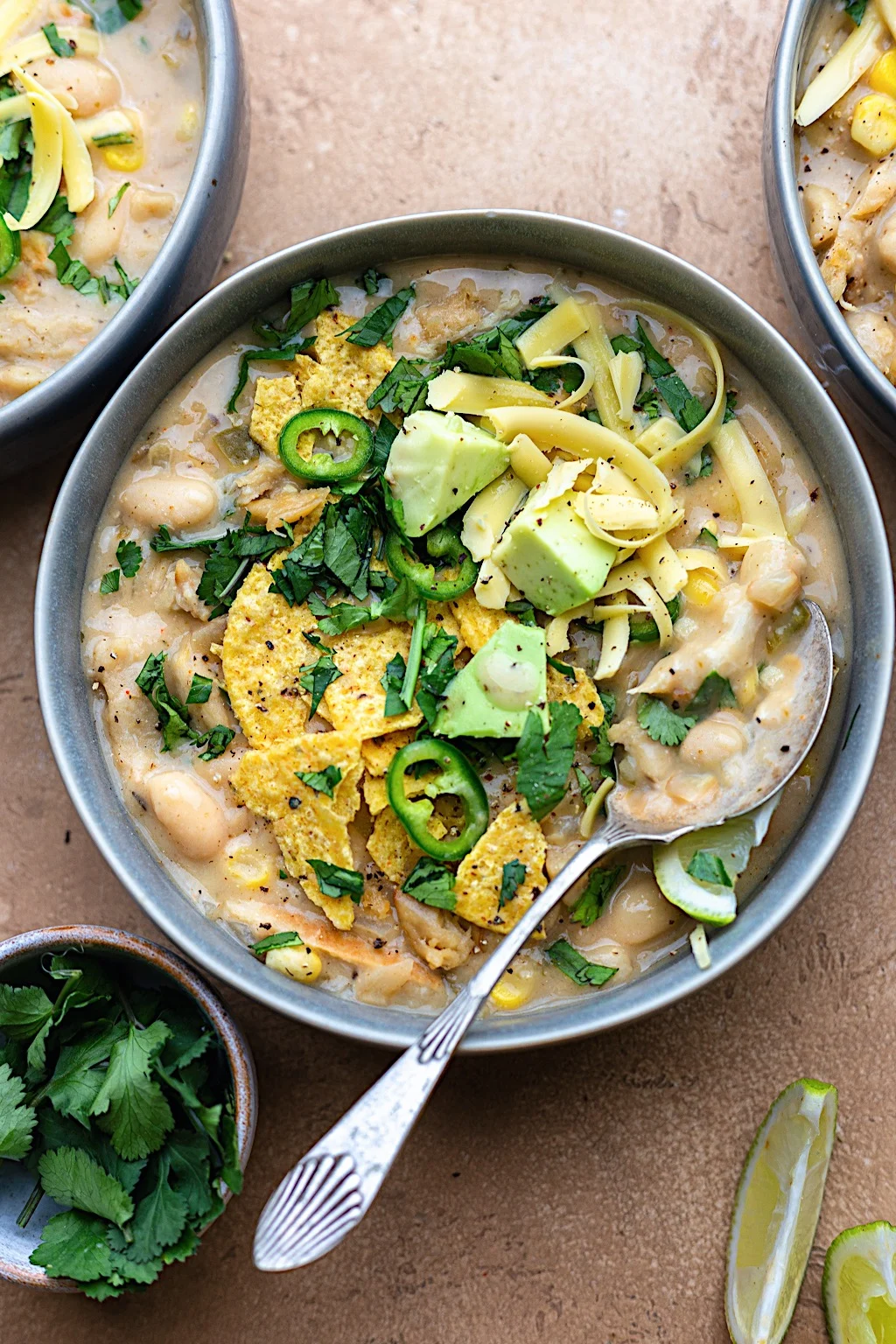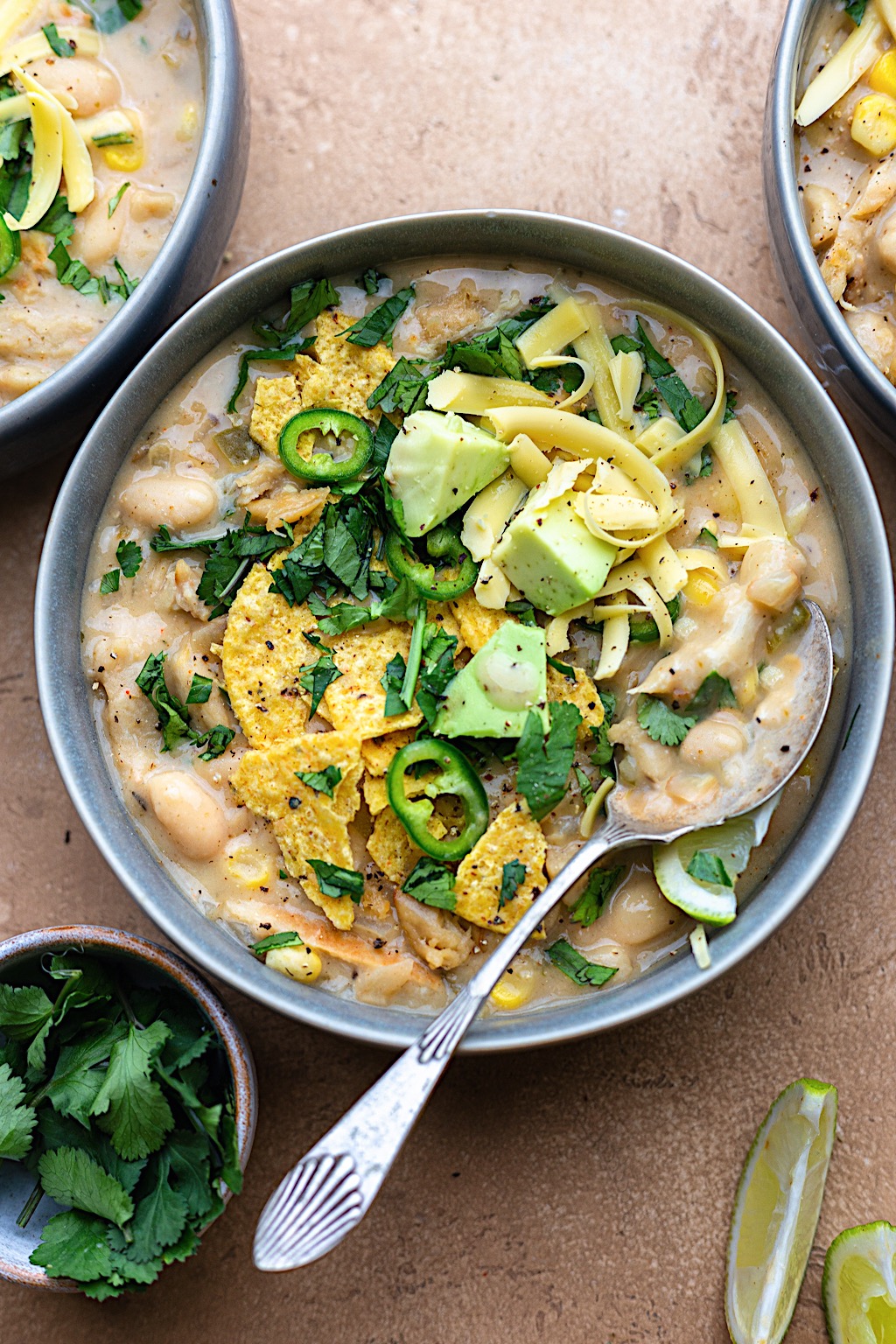 This white bean chili is a favourite weeknight meal. It's a mostly one pot meal and super easy to throw together! Serve as it is or with a side of rice or cornbread!
This white chili uses two types of chili – poblano and jalapeno. Poblano chiles are mild-medium heat and jalapeños are medium heat.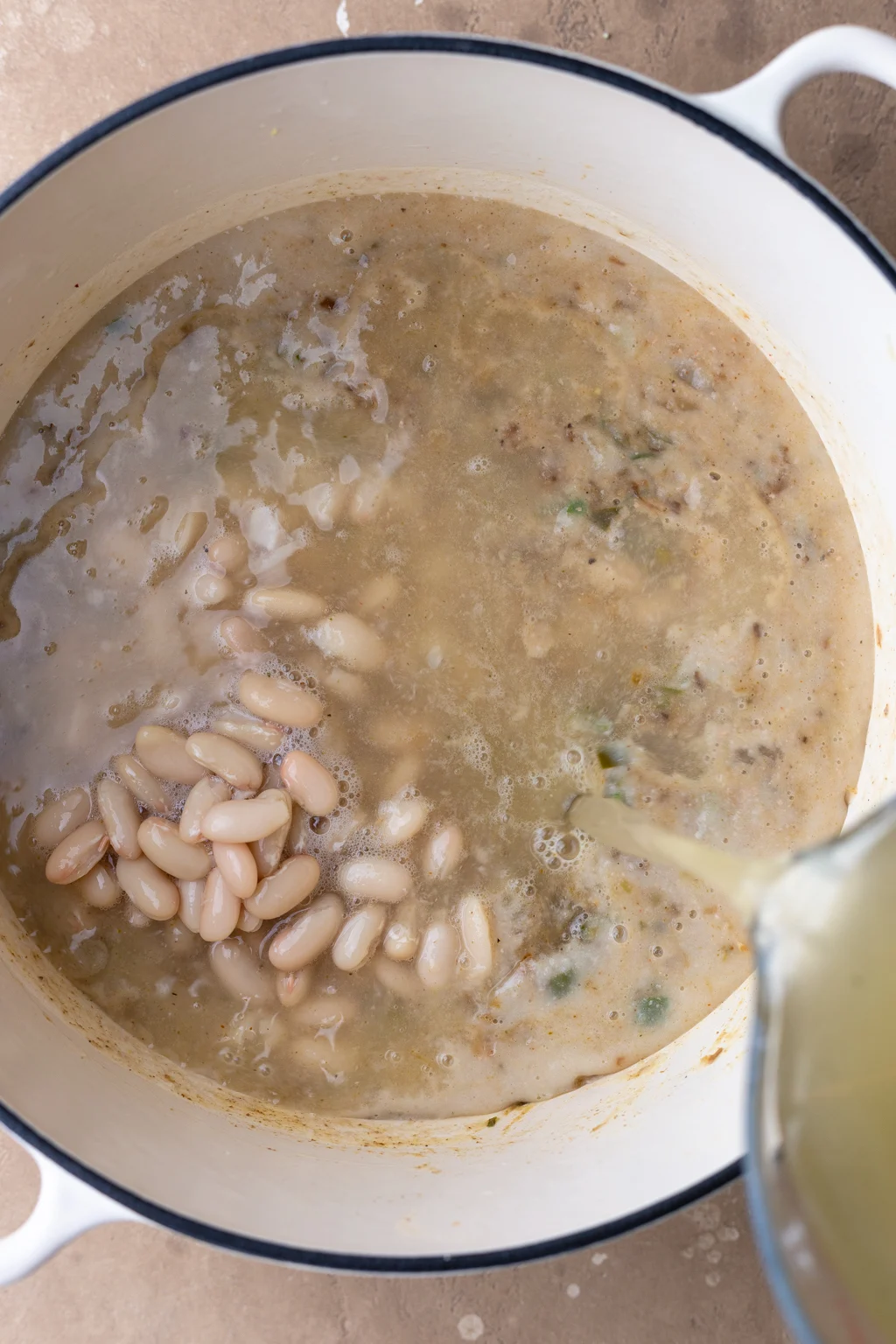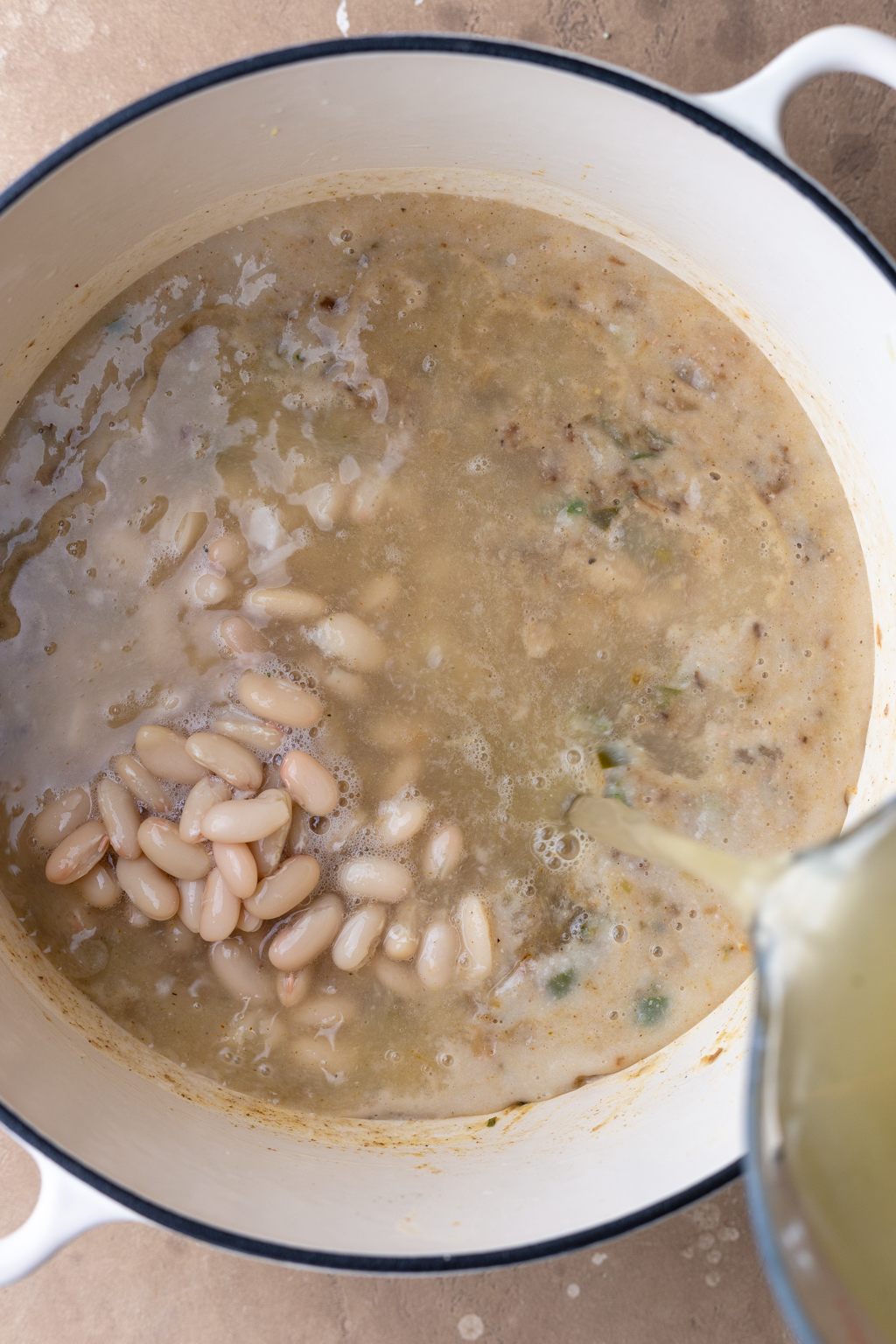 For science and reference – poblano chiles are 1000 to 2000 on the scoville chart and jalapeños are 2500 to 8000 on the chart.
If you can't get your hands on poblano chiles then find something that is a similar heat or if you have a spicier chili like Serrano then you can just remove the seeds and ribs.
Of course, you can make this chili as spicy or as mild as you like based on your preference. If you want to make it family friendly or on the milder side then remove the seeds and ribs from the jalapeño peppers or leave out altogether and serve on the side for people to add.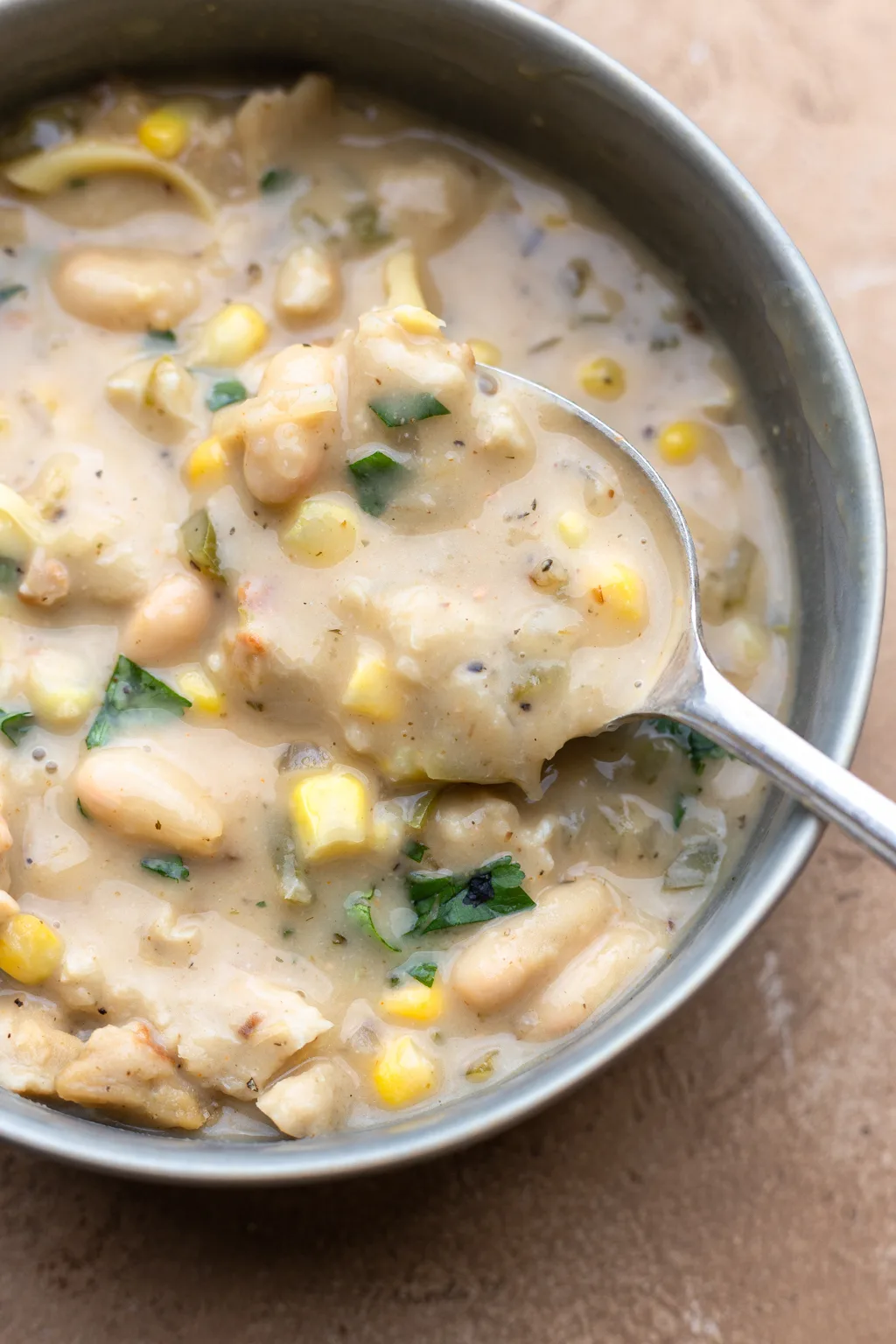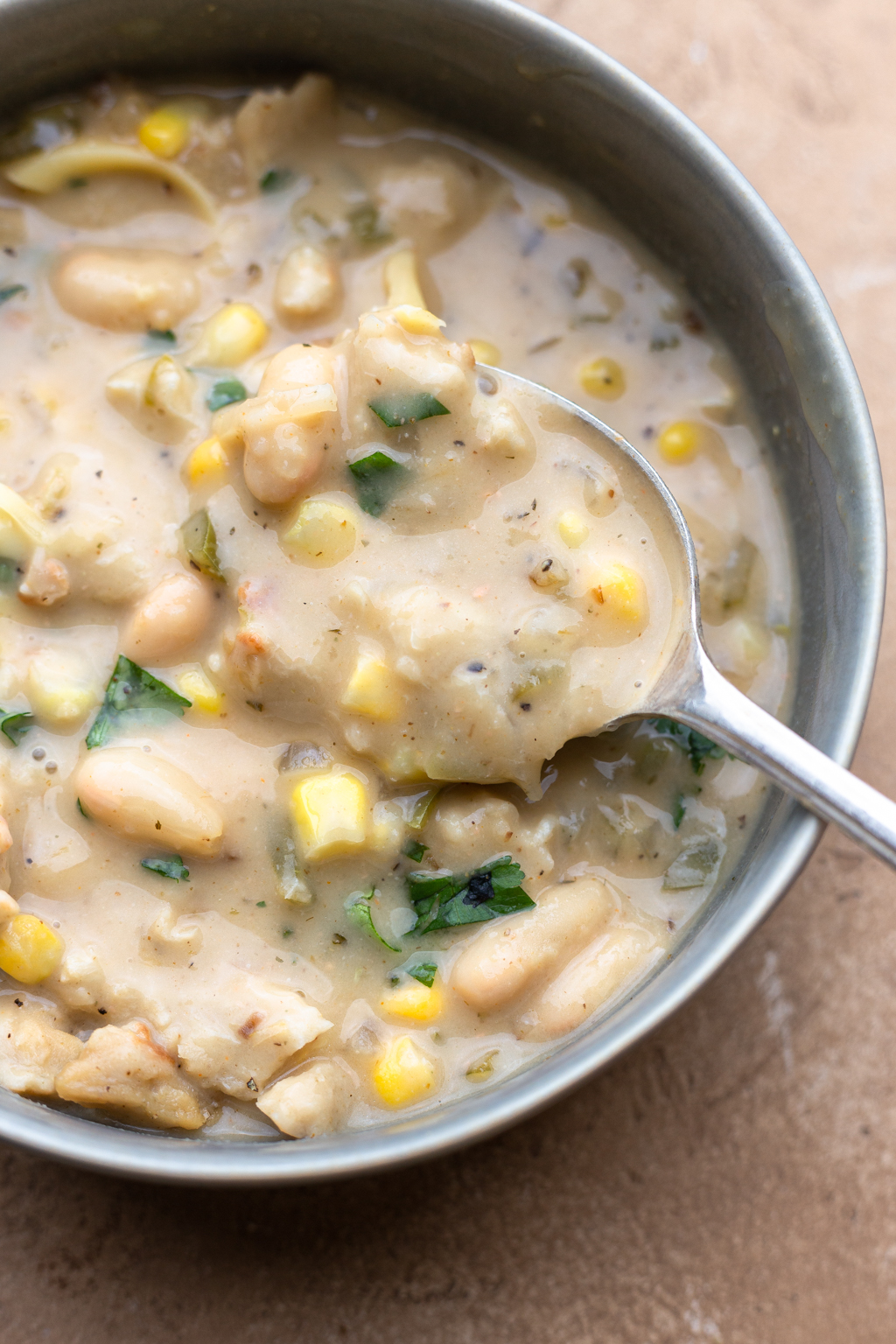 What is white chili made of?
Unlike a tomato based red chili, white chili is broth based with no tomatoes. Onion, garlic and chili peppers get fried then spices, vegetable broth and blended white beans are added.
Blended beans help to thicken the sauce along with vegan cream cheese and cheddar. White beans, vegan chicken pieces and corn make up the bulk of the chili. You can serve with your favourite toppings and sides – tortilla chips, avocado, lime, coriander!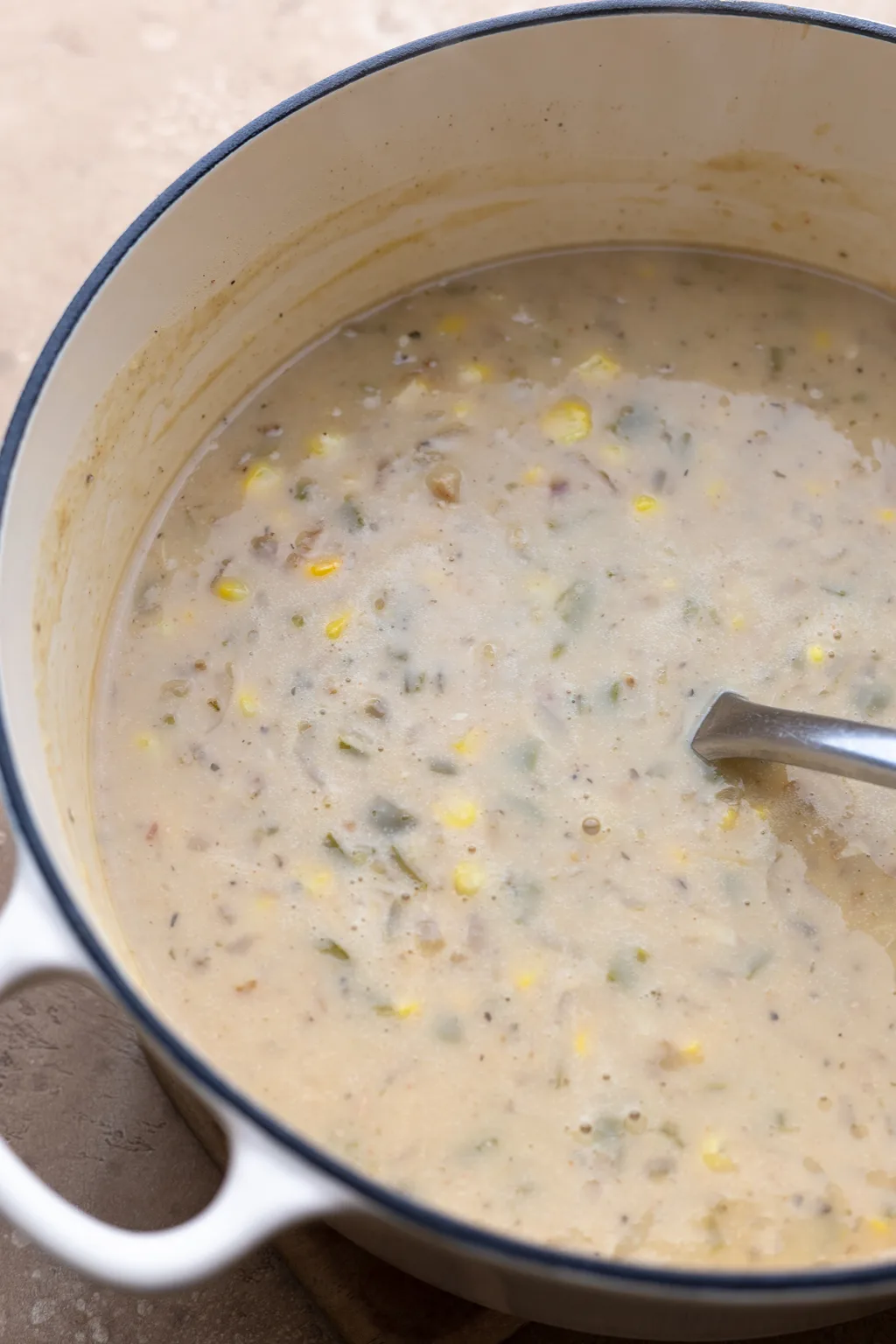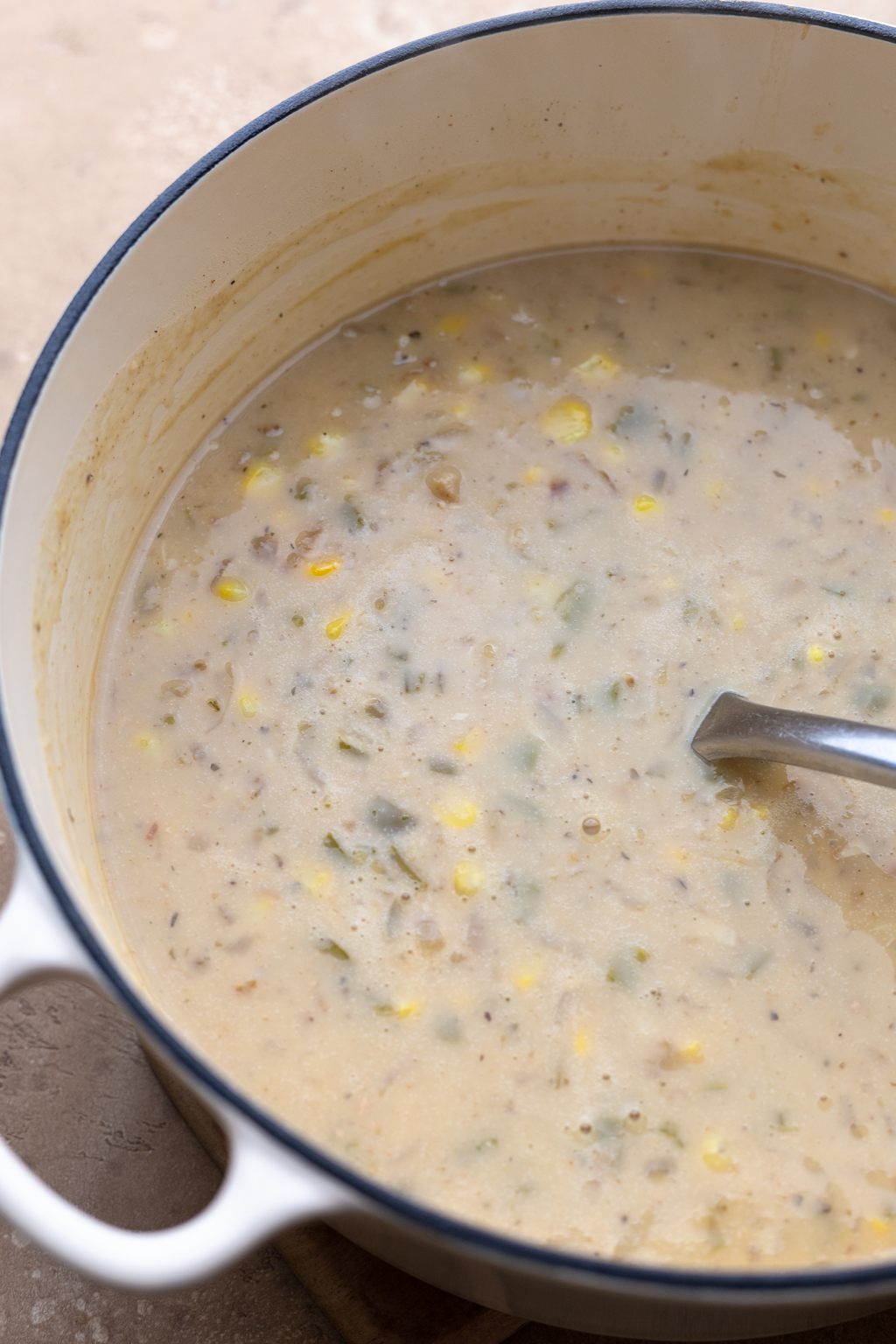 What you need for white chili:
White beans (navy/cannellini/butter bean)
White onion
Garlic
Pablano peppers
Jalapeño peppers
Ground cumin
Ground coriander
Dried oregano
Cayenne powder
Vegetable stock (chicken style is best)
Vegan chicken pieces (or soy curls)
Sweetcorn
Vegan cream cheese
Vegan cheddar cheese
To serve:
Fresh coriander
Lime
Avocado
Tortilla chips
Extra cheddar/jalapeños
Whilst the list may look long, you probably already have most of the ingredients in your pantry, so it's just the fresh ingredients to get.
For the vegan chicken pieces, you can use any of your favourite (I use Dopsu frozen chicken pieces and fry first) or use hydrated soy curls, or even grated extra firm tofu.
Any vegetable stock is fine, but a vegan chicken one (like oxo) will give extra flavour.
Frozen corn works great and can just be thrown straight in the broth to cook.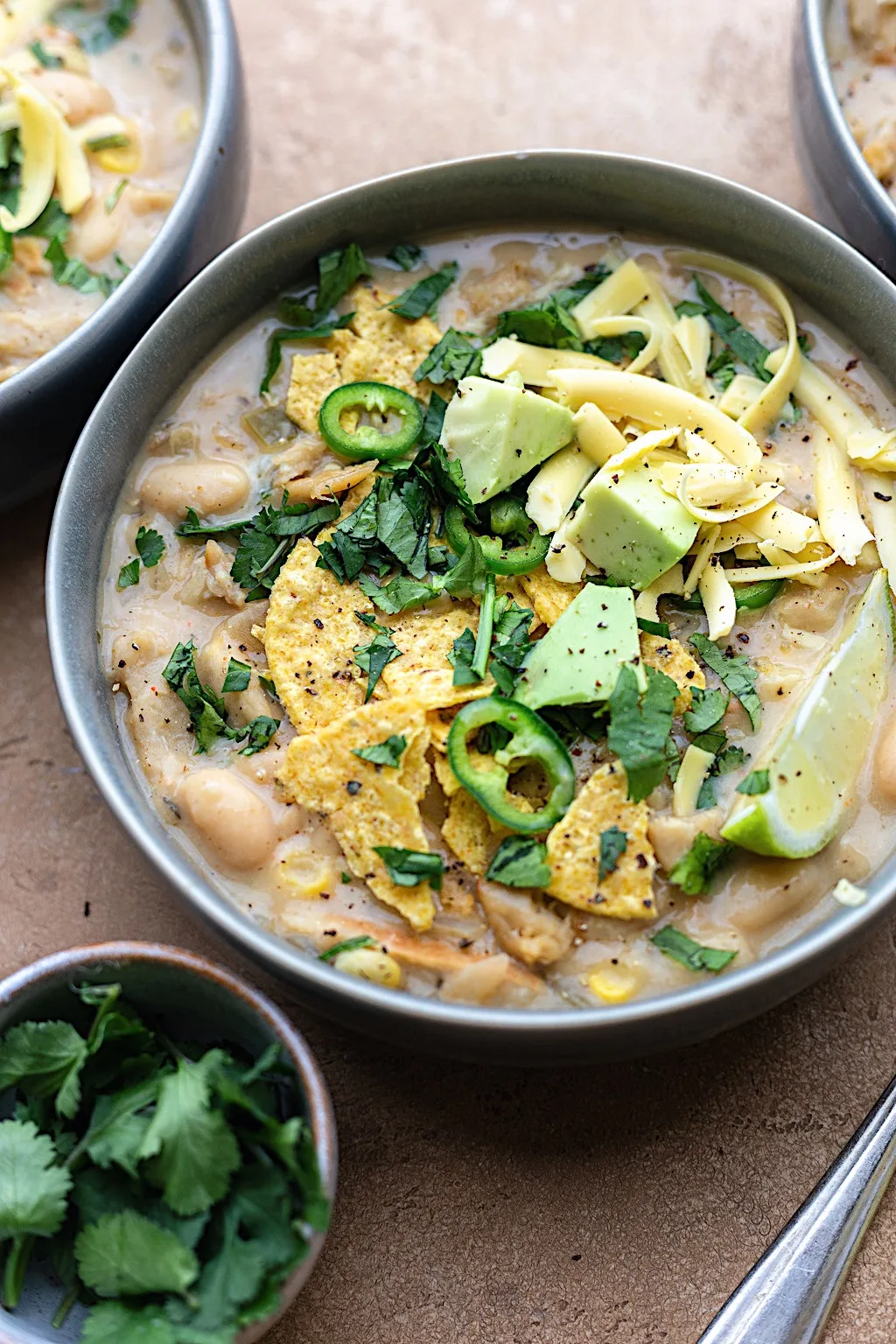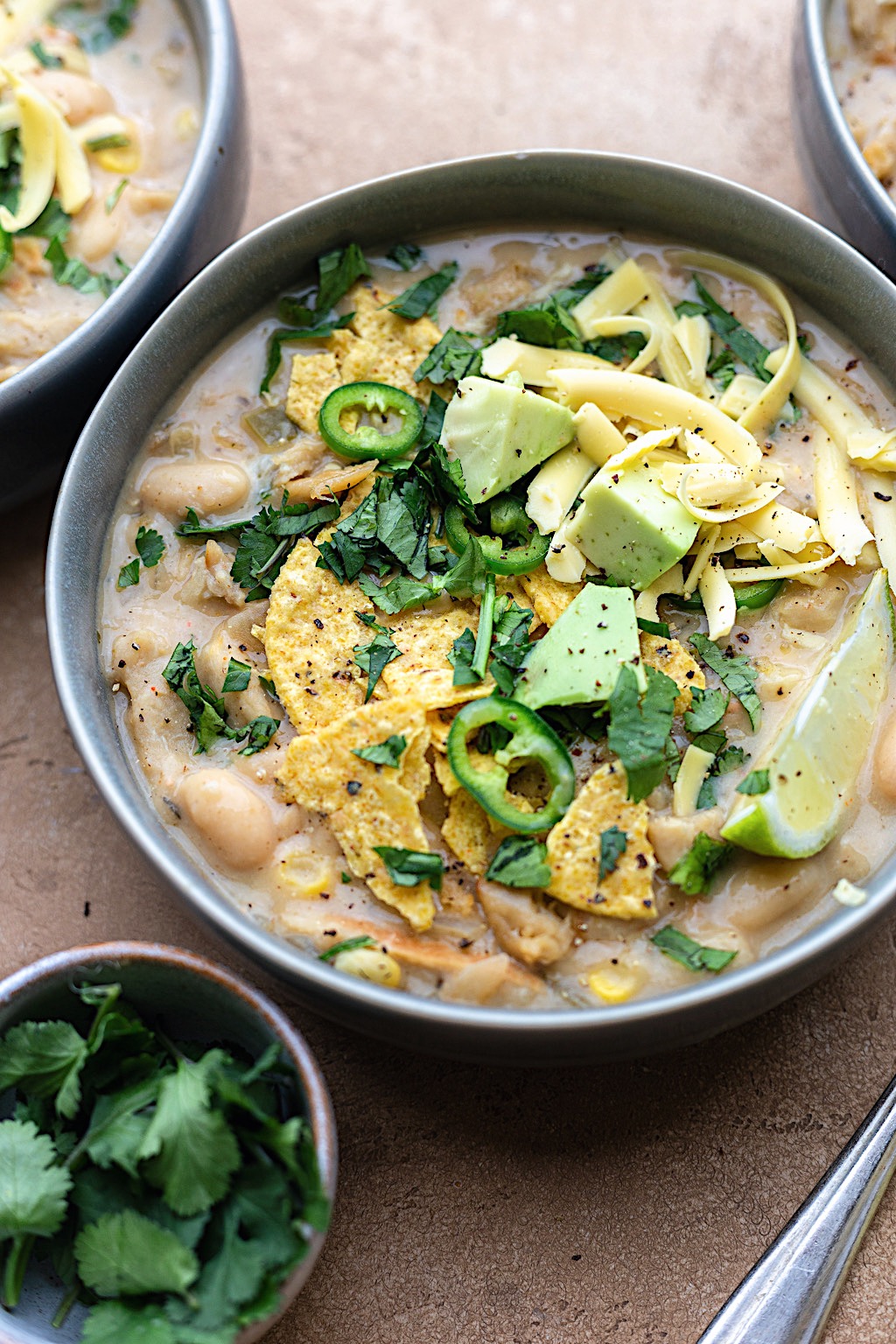 What is the best white bean for white chili?
Typically great northern beans are used, but you can use cannellini beans, butter beans or haricot beans. We are using tinned beans in this recipe for convenience, but if you want to use dried beans, make sure to soak them the night before.
What thickens white chicken chili?
Half (1 tin) of the white beans get blended until smooth which helps thickens the sauce. There is also vegan cream cheese and vegan cheddar! This combination alone will thicken the chili but if you end up with a chili that is too runny you can add 1 tsp cornstarch mixed with 1 tsp water. Just bear in mind that the chili will thicken as time goes on.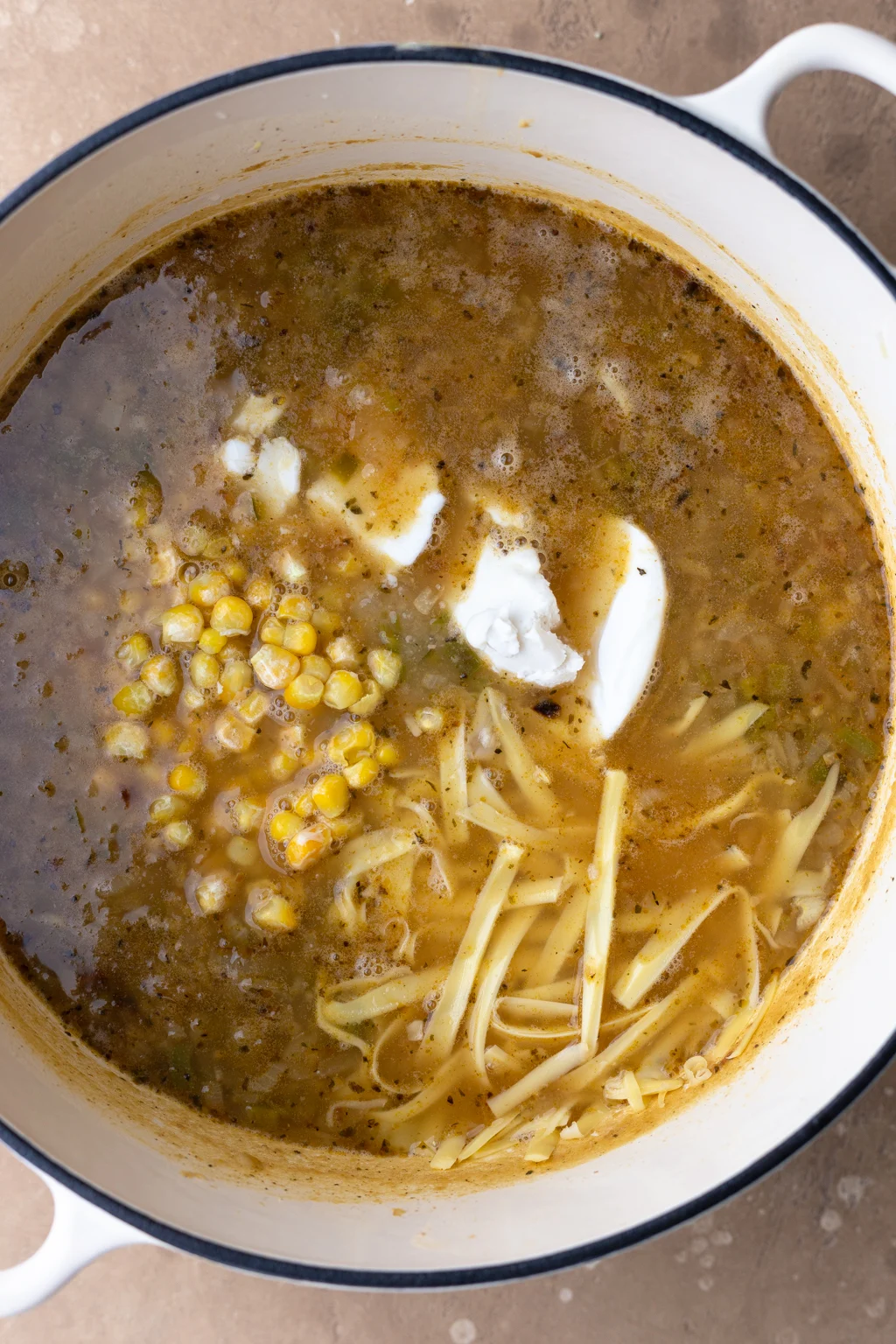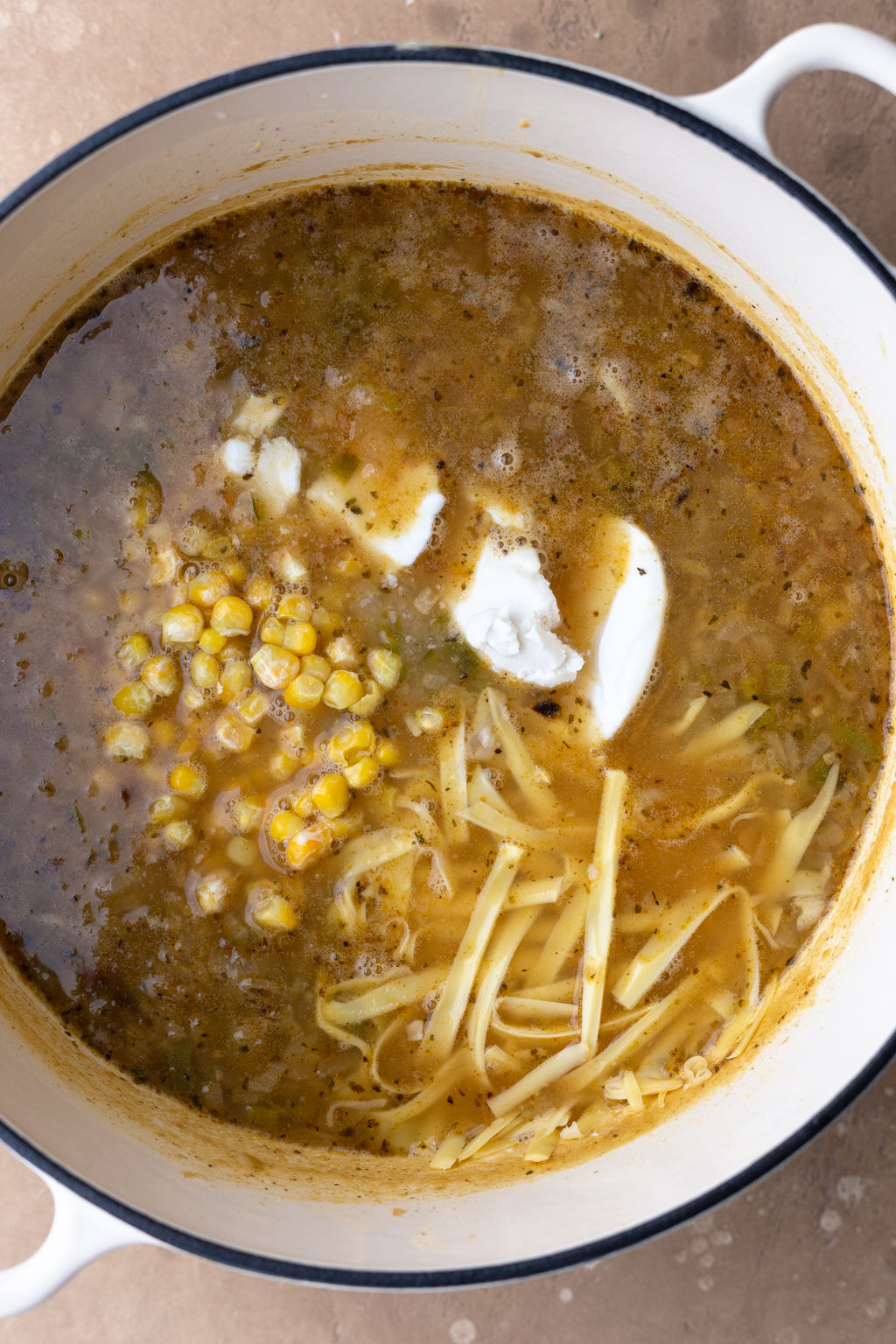 How to make vegan white chicken chili:
[full ingredient list and method at the bottom of the page, please scroll down]
Start by frying finely chopped white onion in a heavy bottom pan. Fry for a few minutes then add minced garlic and finely chopped chili peppers.
Whilst they are frying, drain and transfer one tin of white beans to a food processor/or use a hand blender and blend until smooth.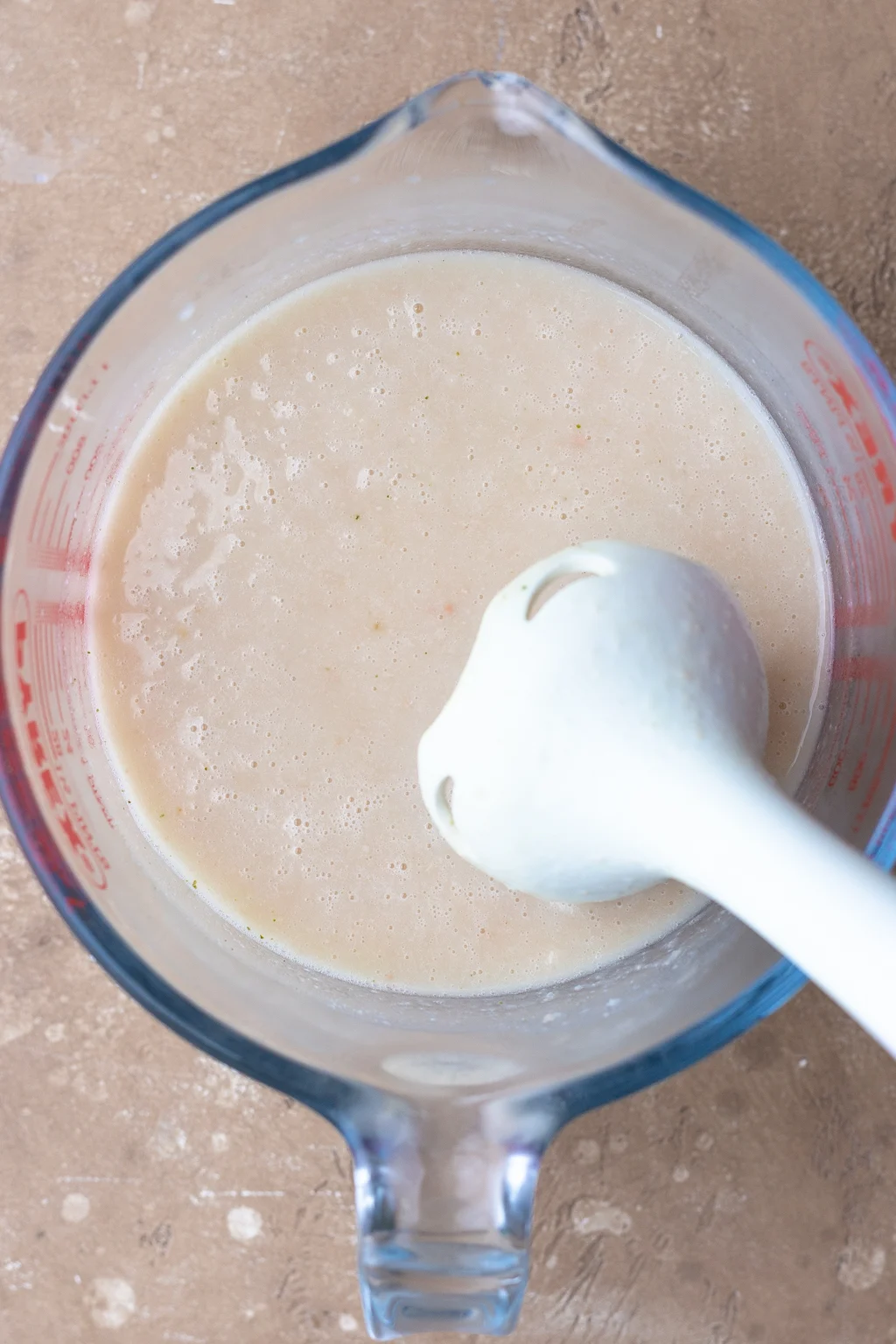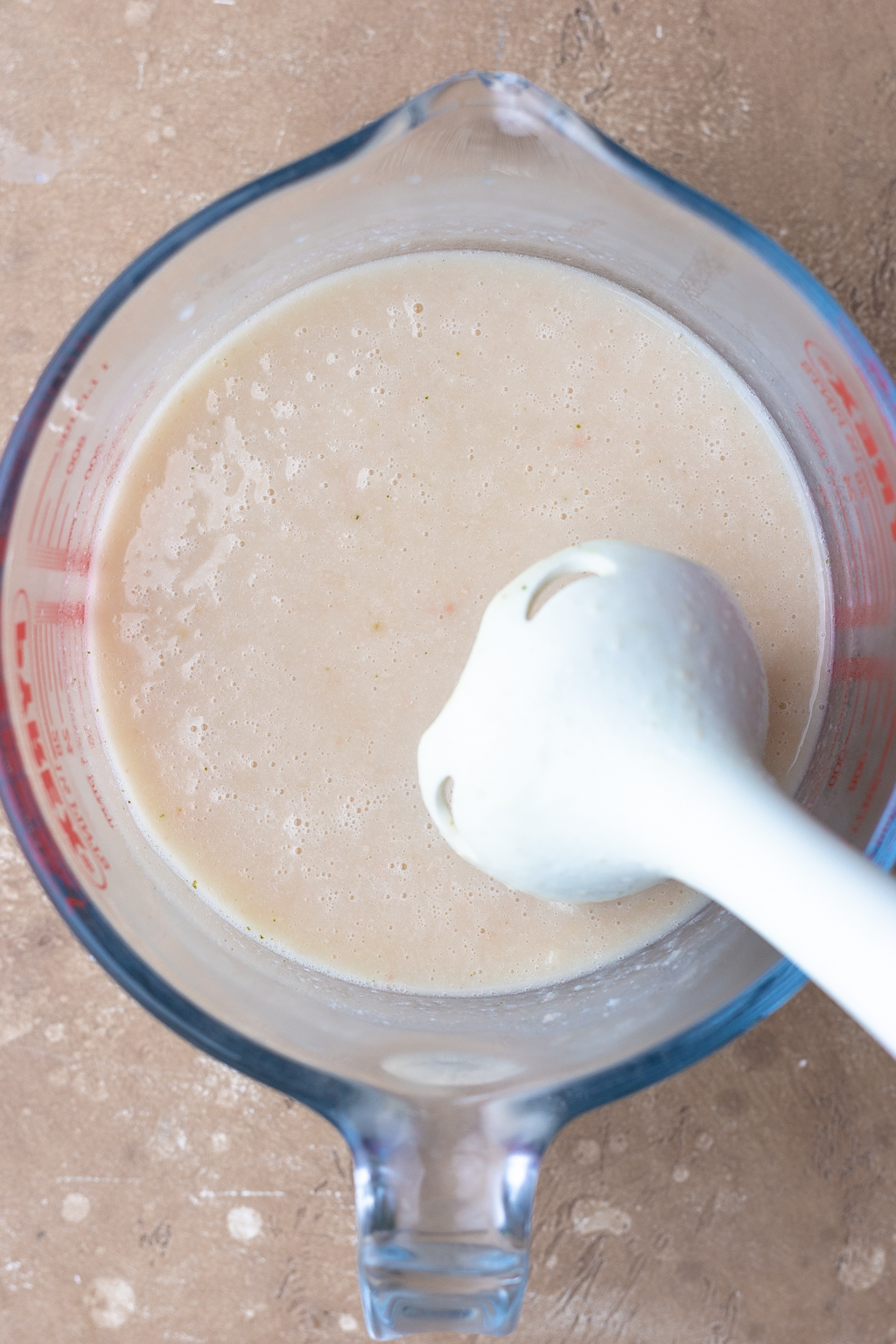 Add the spices and fry for 30 seconds until fragrant. Add the blended beans and stock and simmer for 20 minutes.
Whilst that is simmering, fry the vegan chicken pieces (if using frozen or need frying).
Then add along with the other tin of drained beans, vegan soft cheese, vegan cheddar, corn and simmer for another 10 minutes.
Taste and season with salt and pepper and add juice of 1/2 a lime. Serve with tortilla chips, avocado/guacamole, fresh coirander, extra chili and lime.
This vegan white chili will keep well in the fridge for a few days in an air tight container. To reheat, microwave for a few minutes or heat up on the stove.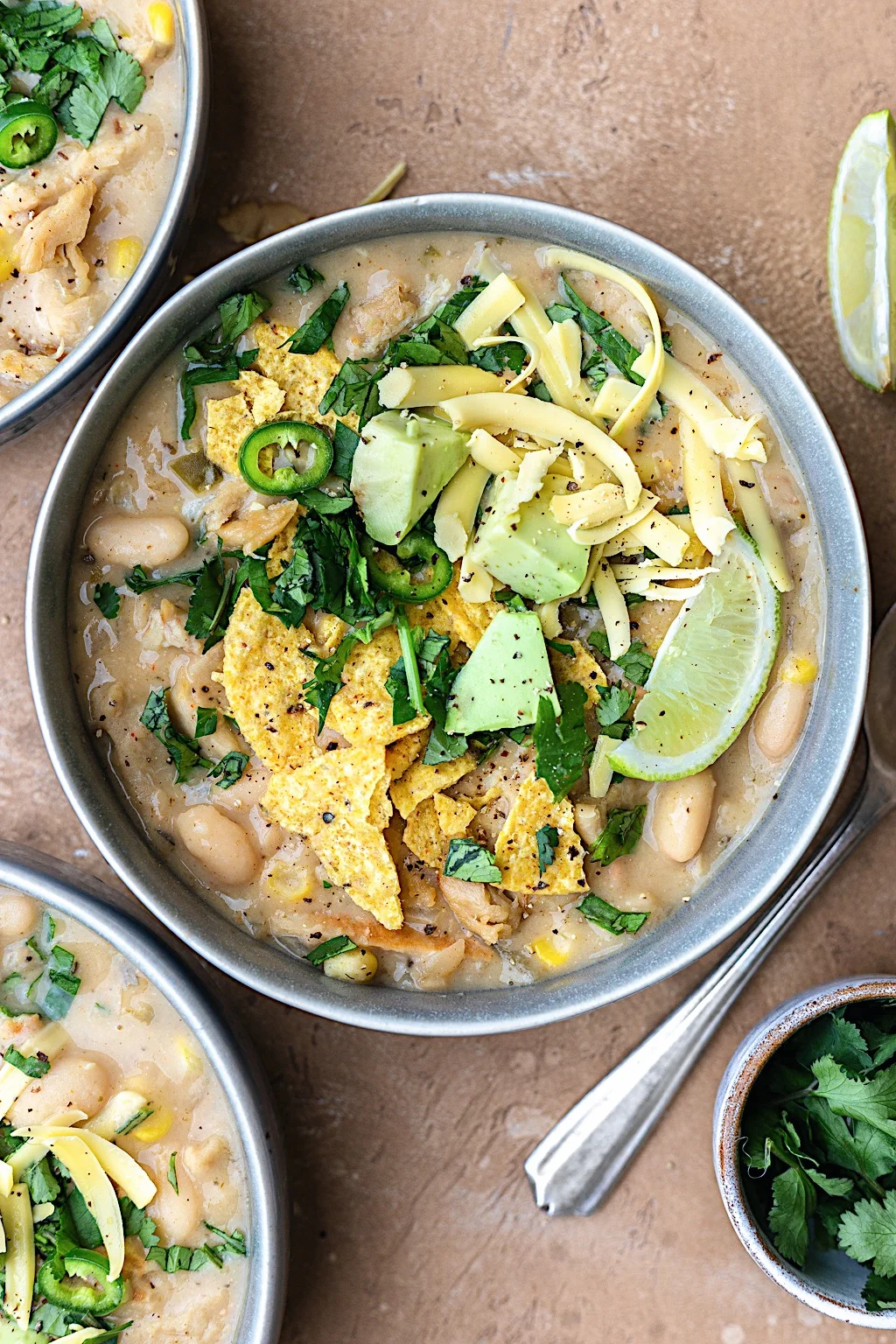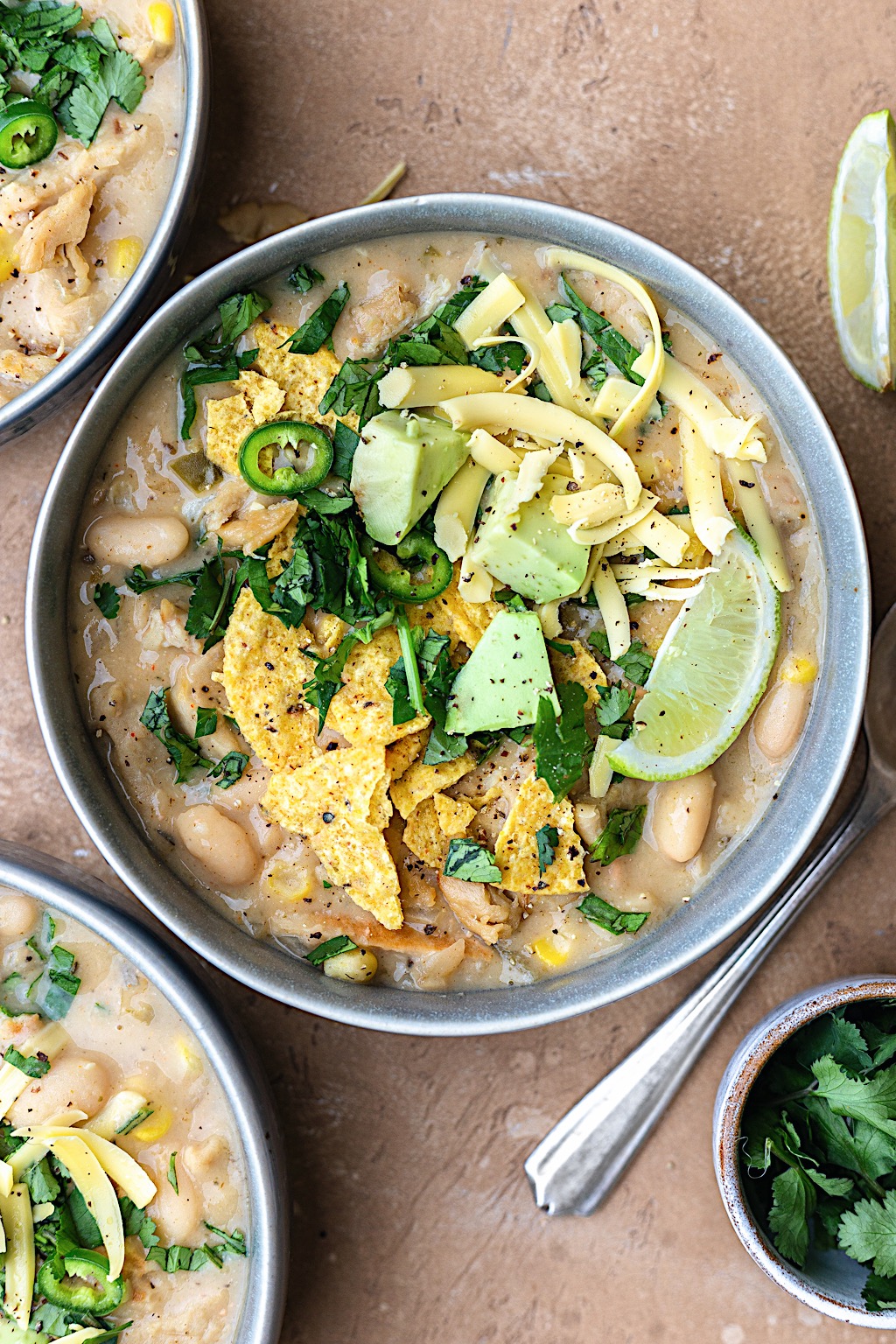 For more bean recipes you may enjoy these:
Black bean chipotle chili with roasted sweet potato
Sweet potato and black bean enchiladas
Black bean, kale and sriracha burgers
As always if you make this vegan white chicken chili be sure to leave me a comment, rate this recipe and tag me on Instagram. I love seeing all your photos of my recipe recreations!
Don't forget to follow along on Facebook, Pinterest and Instagram – I'd love to see you all there!
---
NEVER MISS A RECIPE! GET MORE VEGAN RECIPES SENT STRAIGHT TO YOUR INBOX – SUBSCRIBE HERE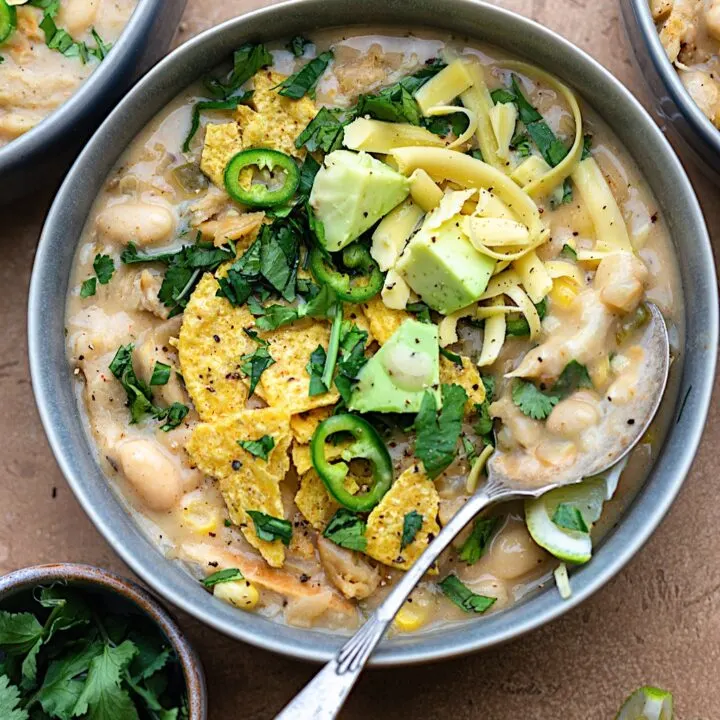 Vegan White Chicken Chili
This comforting vegan white chili with white beans and vegan chicken pieces is the ultimate cosy dinner. Topped with tortilla chips, avocado and coriander.
Ingredients
1 white onion
4 garlic cloves
2 pablano peppers
1-2 jalapenos
1.5 tsp ground cumin
1 tsp ground coriander
1 tsp dried oregano
1/2 tsp cayenne powder
1/2 tsp salt
Black pepper
2 cans white beans
4 cups no chicken stock/vegetable stock
1 cup frozen/fresh corn
1 cup grated vegan cheddar style cheese
4 oz / 115g vegan cream cheese
4 cups vegan chicken pieces*
1/2 lime
To top
Tortilla chips
2 avocados, cubed
Fresh coriander
Lime
Extra chili
Instructions
Heat a tbsp oil in a heavy bottom pan on medium heat. Add finely chopped onion and fry for a few minutes.
Add minced garlic and finely chopped poblano and jalapeno peppers. If you want it less spicy you can remove the seeds and ribs from the peppers. Fry for a few more minutes.
Blend 1 can of drained beans in a food processor or with a hand blender until smooth.
Add the cumin, coriander, oregano, cayenne, salt and pepper. Fry for 30 seconds until fragrant, but don't burn.
Add the blended bean and stock and let simmer for 20 minutes.
Fry the vegan chicken pieces in a separate pan.
Add along with the vegan cream cheese, vegan cheddar and corn. Mix well and leave to simmer for another 5-10 minutes
Taste and season with salt and pepper. Squeeze in juice of half a lime, stir and serve.
Serve in bowls and top with tortilla chips, fresh coriander, avocado, extra lime and chili.
Notes
You can use any vegan chicken alternative you like, or use hydrated soy curls or grated tofu. OR you can add and extra tin of beans.
The chili will thicken over time so you shouldn't need to add to it. If you want, you can add a slurry of 1 tsp cornflour and 1 tsp water.