Spicy, sweet and tangy vegan gochujang tofu bowls with rice and broccoli. Tofu gets coated and fried until crispy then tossed in a vibrant gochujang sauce until thick and sticky.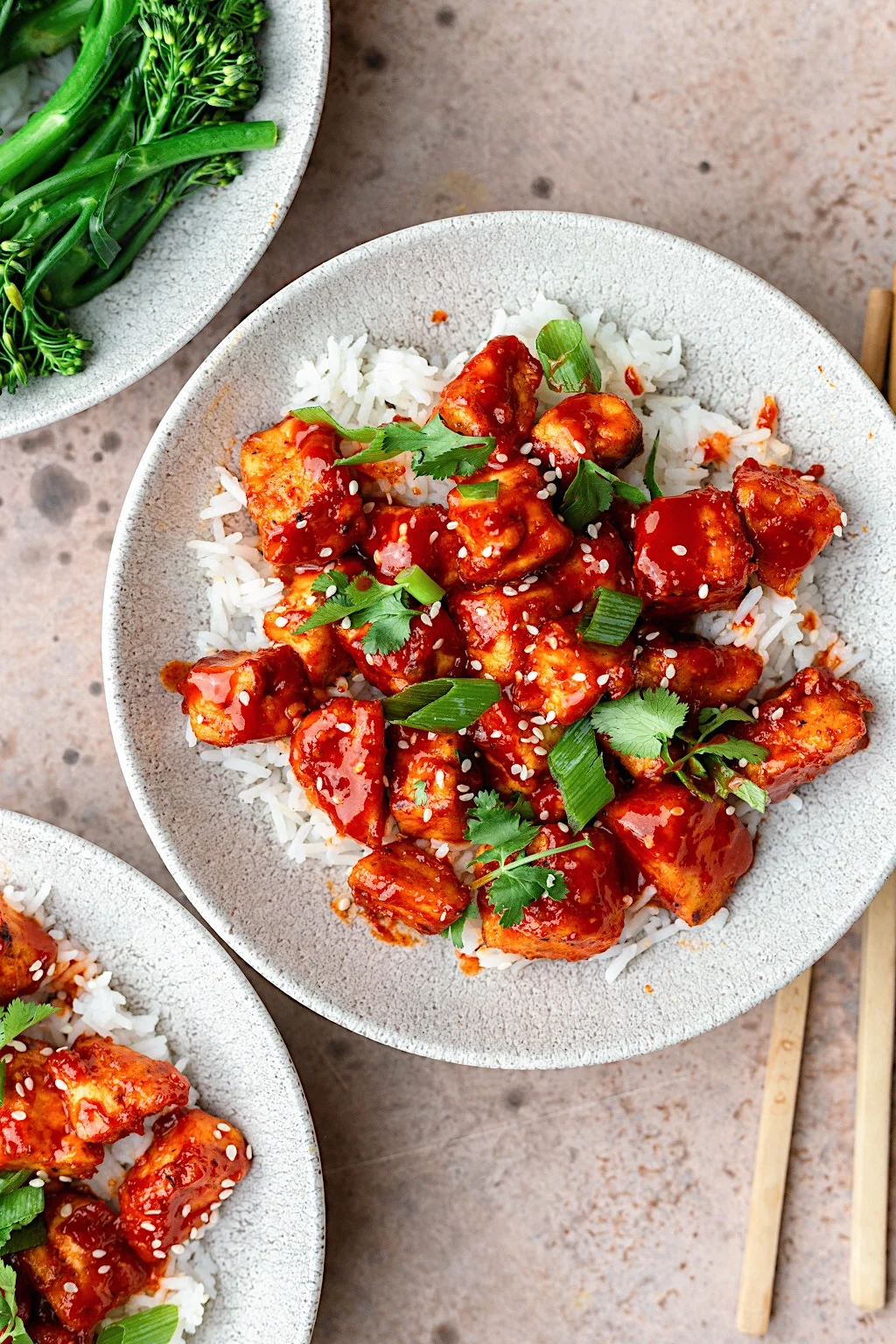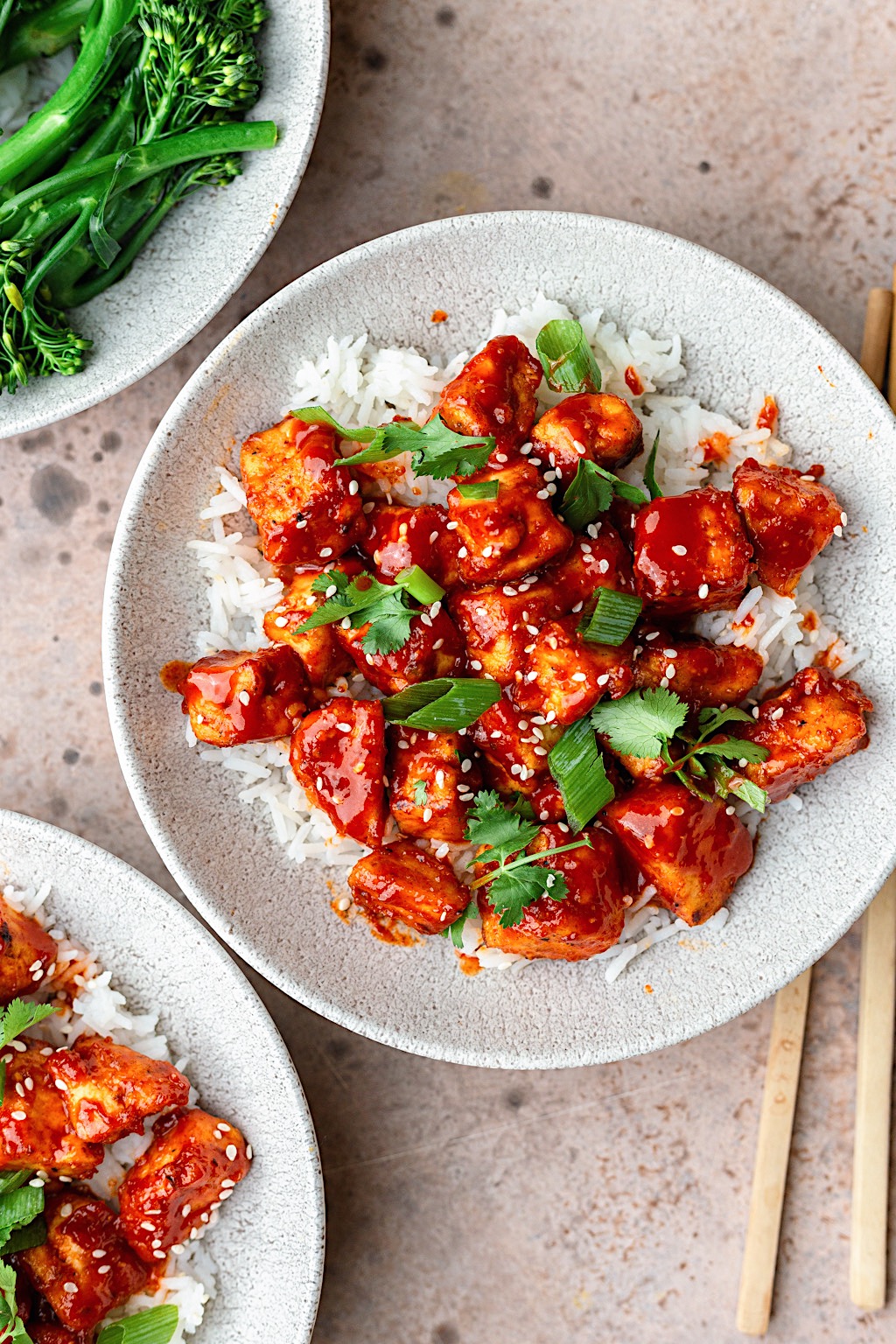 These gochujang tofu bowls come together in 30 minutes and make for a quick and delicious dinner! They would also make a great starter or snack without the rice!
This Korean inspired meal is mouthwateringly good and is perfect for spice lovers. You can adjust the amount of gochujang depending on the spice level you want!
If you aren't familiar with gochujang it is a fermented red chilli paste that is spicy, savoury and sweet. It's ingredients include red chilli, fermented soy beans, glutinous rice and salt.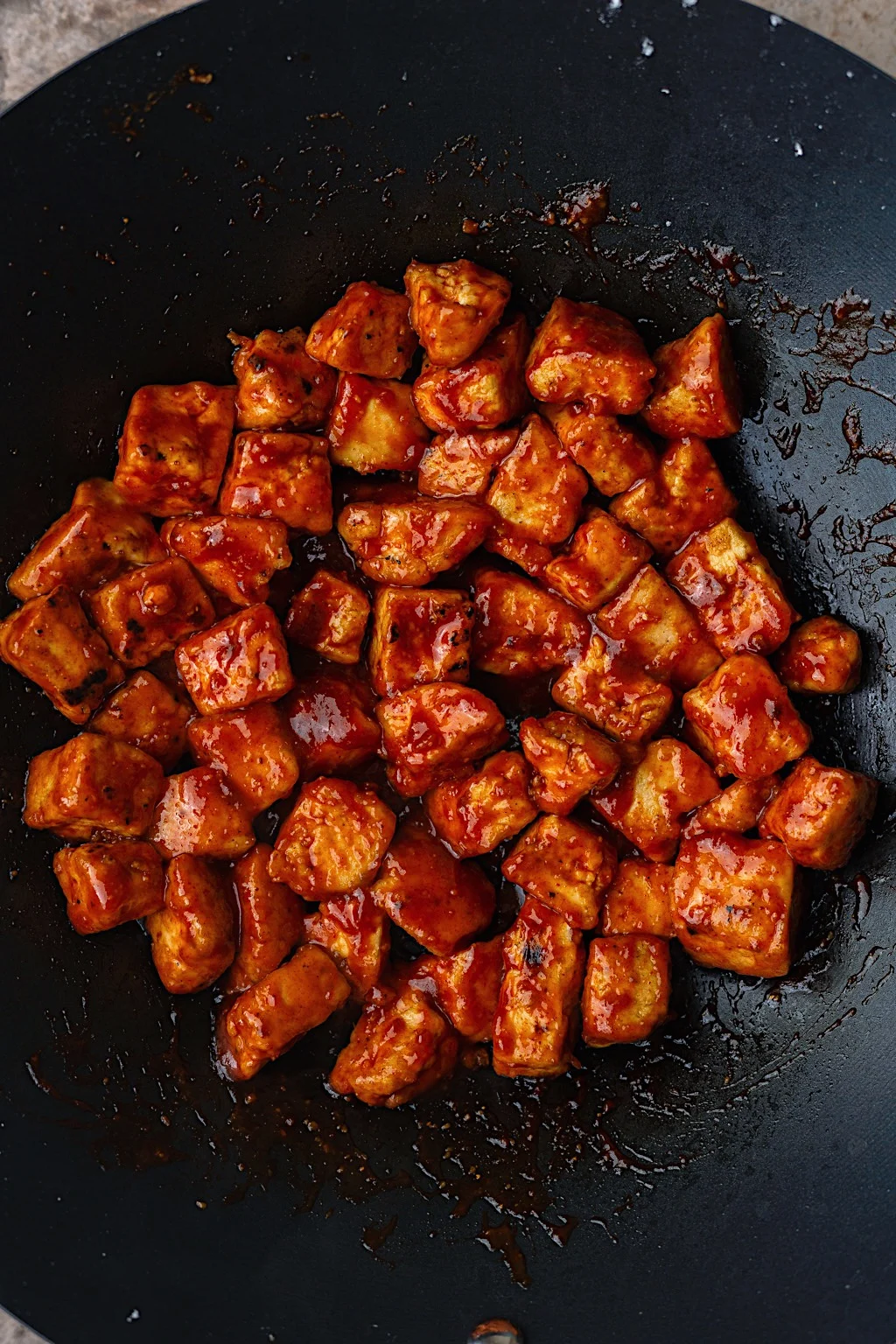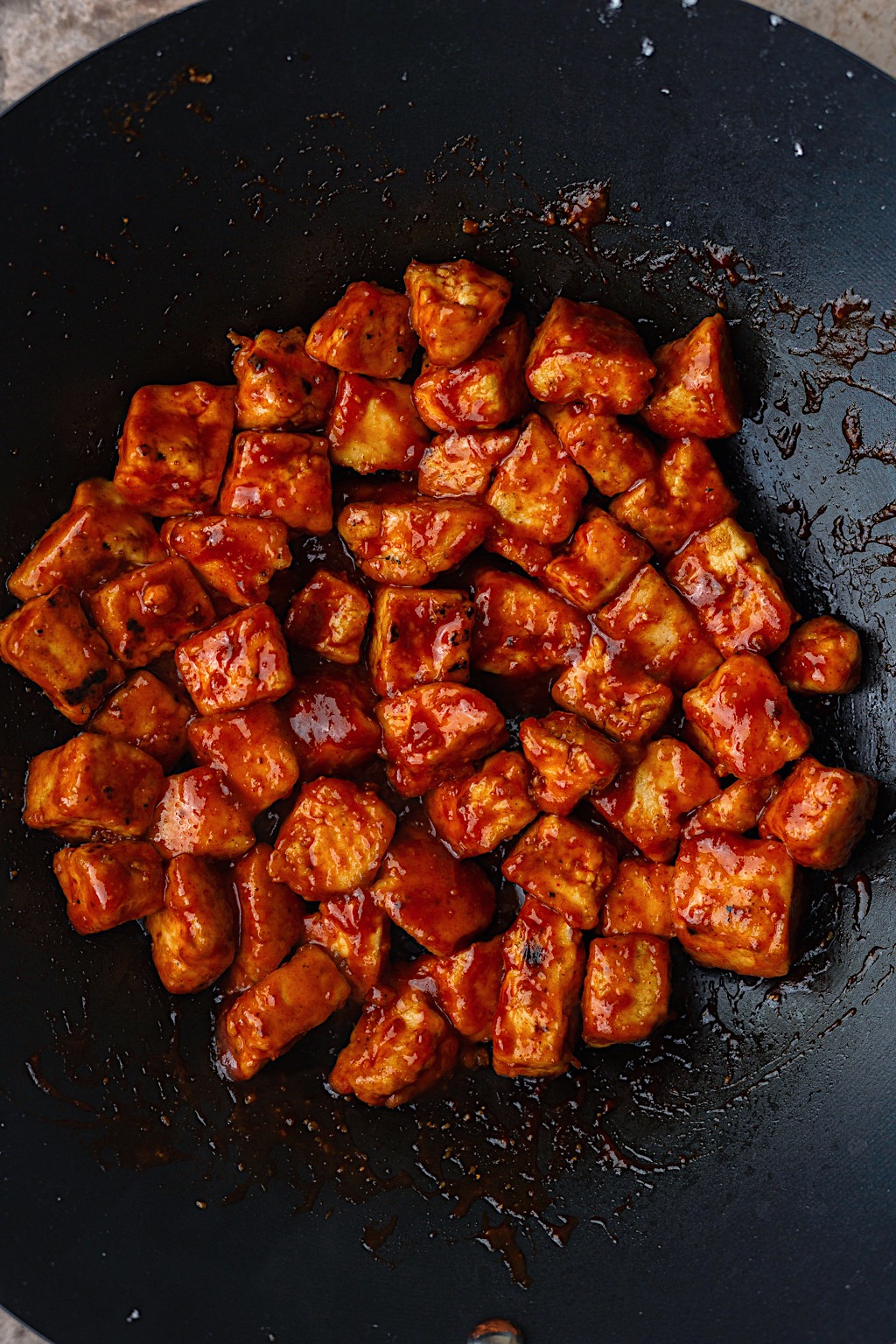 You can find it in most larger supermarkets (I get it from Sainsbury's) or Amazon. It is a great ingredient to have on hand (and will last a few months in the fridge) when you want to add a good punch of flavour to a dish.
One of my favourite ways to use it is mixing it with vegan mayo and using as a dip or sauce (like with these gochujang cauliflower wings)! Super quick and so delicious.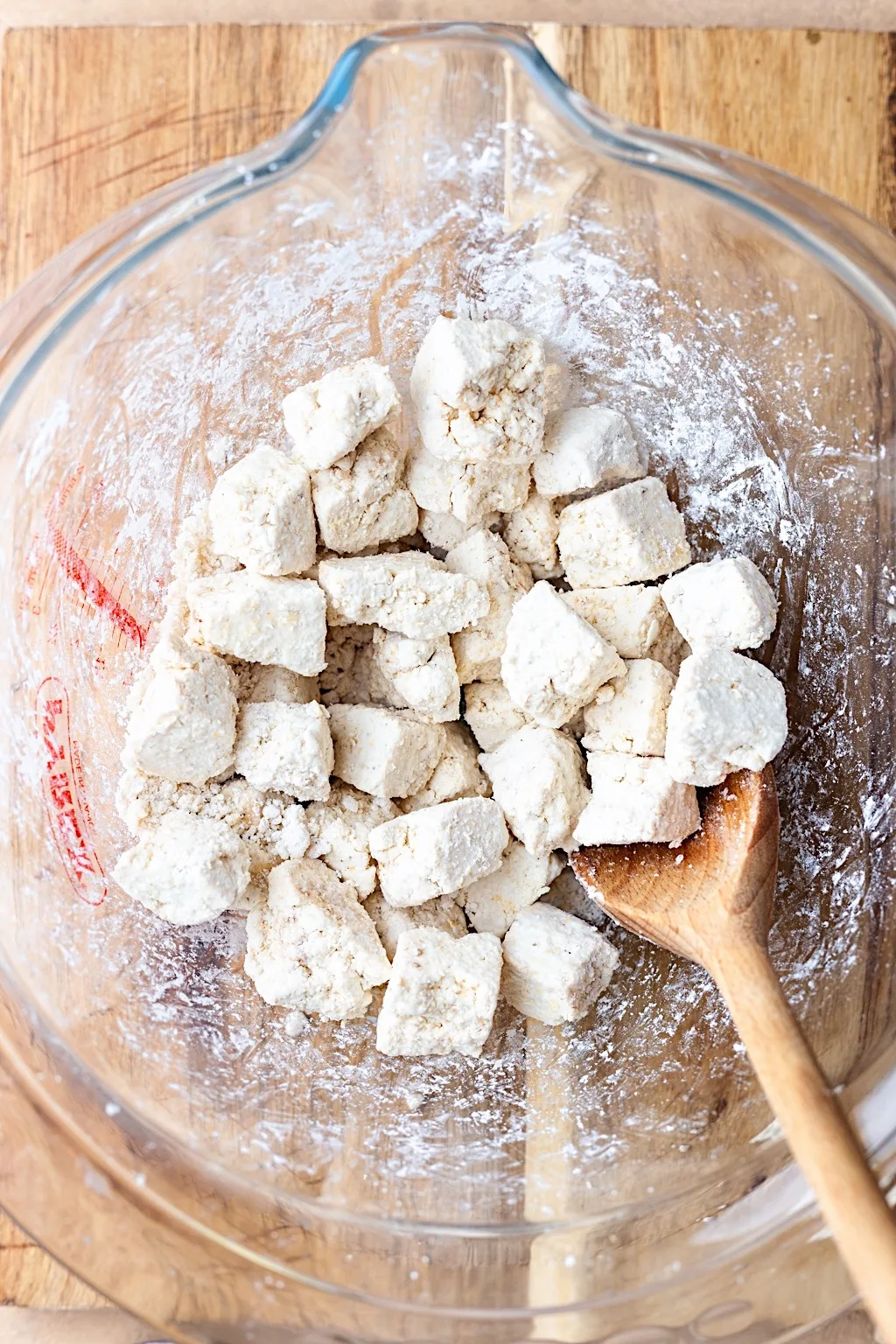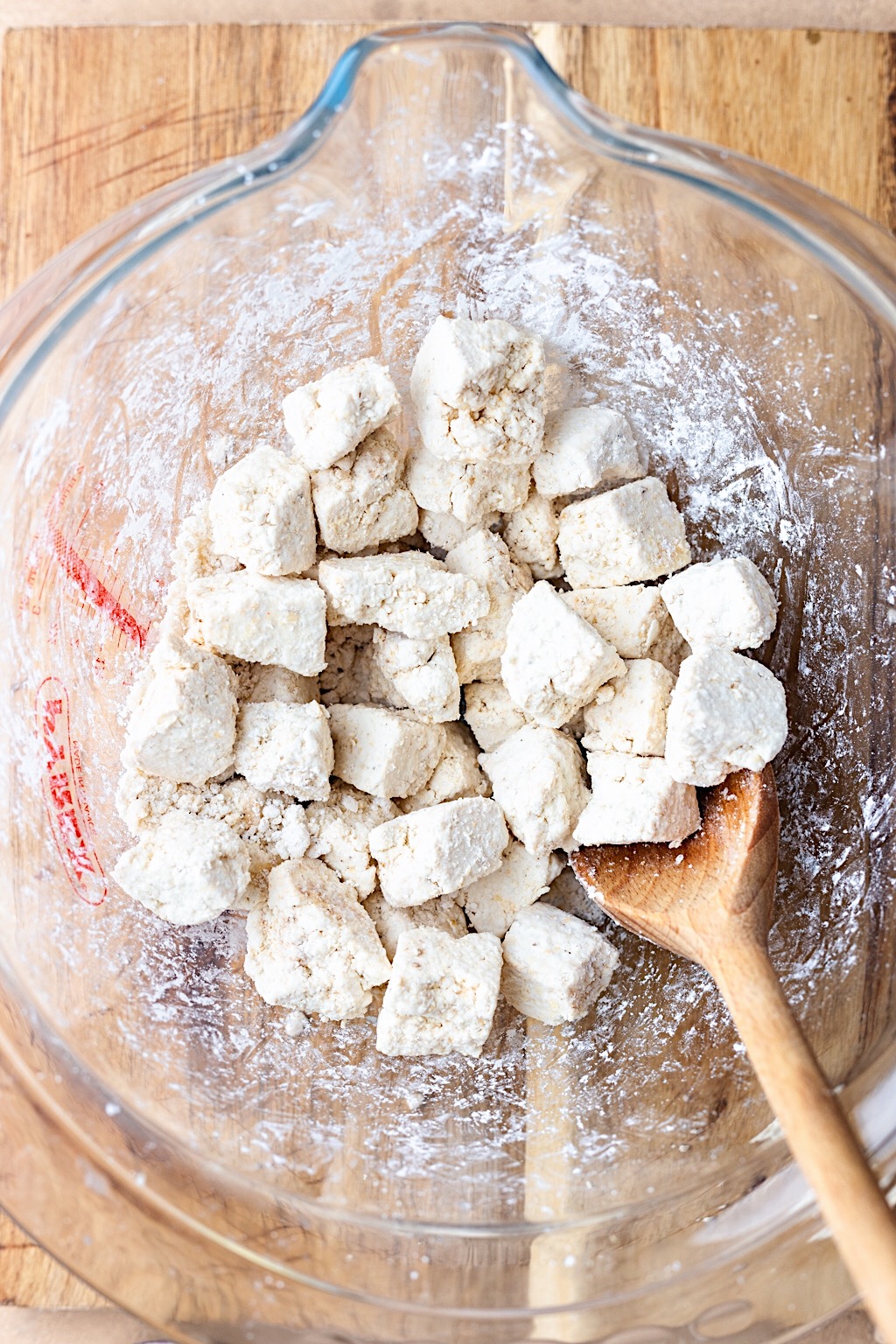 What you'll need for gochujang tofu:
Tofu – you want extra firm or firm tofu so it keeps its shape. I always use the brand Tofoo co.
Cornflour – this is to toss the tofu in. It makes it nice and crispy when fried yet chewy on the inside.
Gochujang paste – you can find this in most larger supermarkets, usually in a red box. It can be kept in the fridge for a few months after opening.
Maple syrup – for sweetness, it is great for balancing out the tangy spiciness from the gochujang
Soy sauce – you can sub for tamari if gf, adds umami salty flavour.
Rice wine vinegar
Ketchup – a quick and easy way to add a sweet tomato flavour
Brown sugar – helps to make the sauce nice and sticky when cooking
Sesame oil – toasted sesame oil for a toasty sesame flavour
Garlic garlic – fresh is best here, but you can sub for 1 tsp garlic powder
Fresh ginger – again, fresh is best but you can sub for 1 tsp ground ginger
Lime – juice of half a lime
To serve:
Basmati rice
Broccoli (or any veg of choice)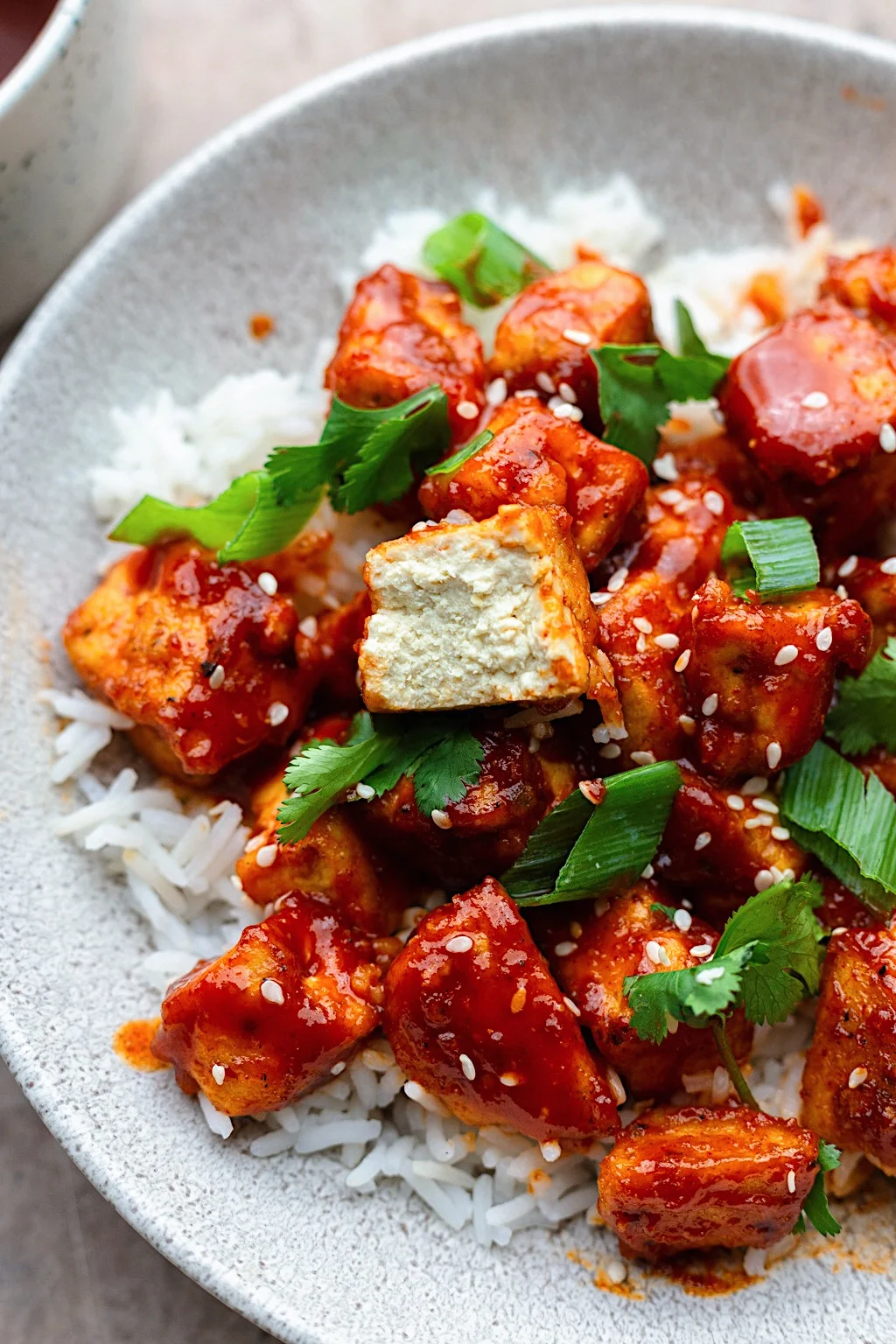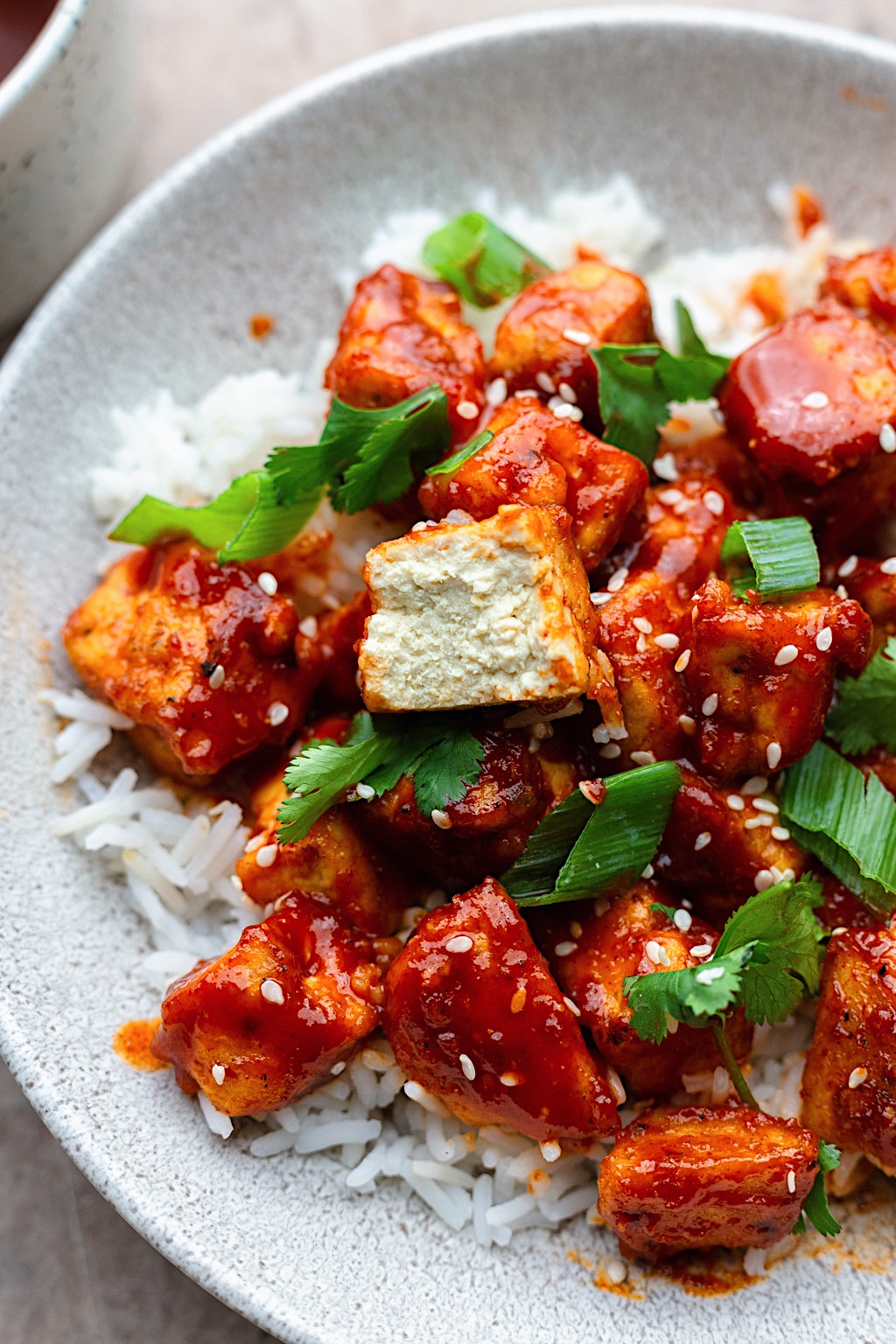 Gochujang is spicy so if you are new to using it/aren't big on heat then I would start with 1 tbsp then add more if you want it spicier.
And of course, if you like is spicier you can add an extra tbsp of gochujang!
How to make gochujang tofu:
[full ingredients and recipe card below, please scroll down]
Start by preparing the tofu. Cut into strips 1 inch wide then tear into 1 inch cubes with your hands. This gives the tofu a rougher edge resulting in crispier tofu.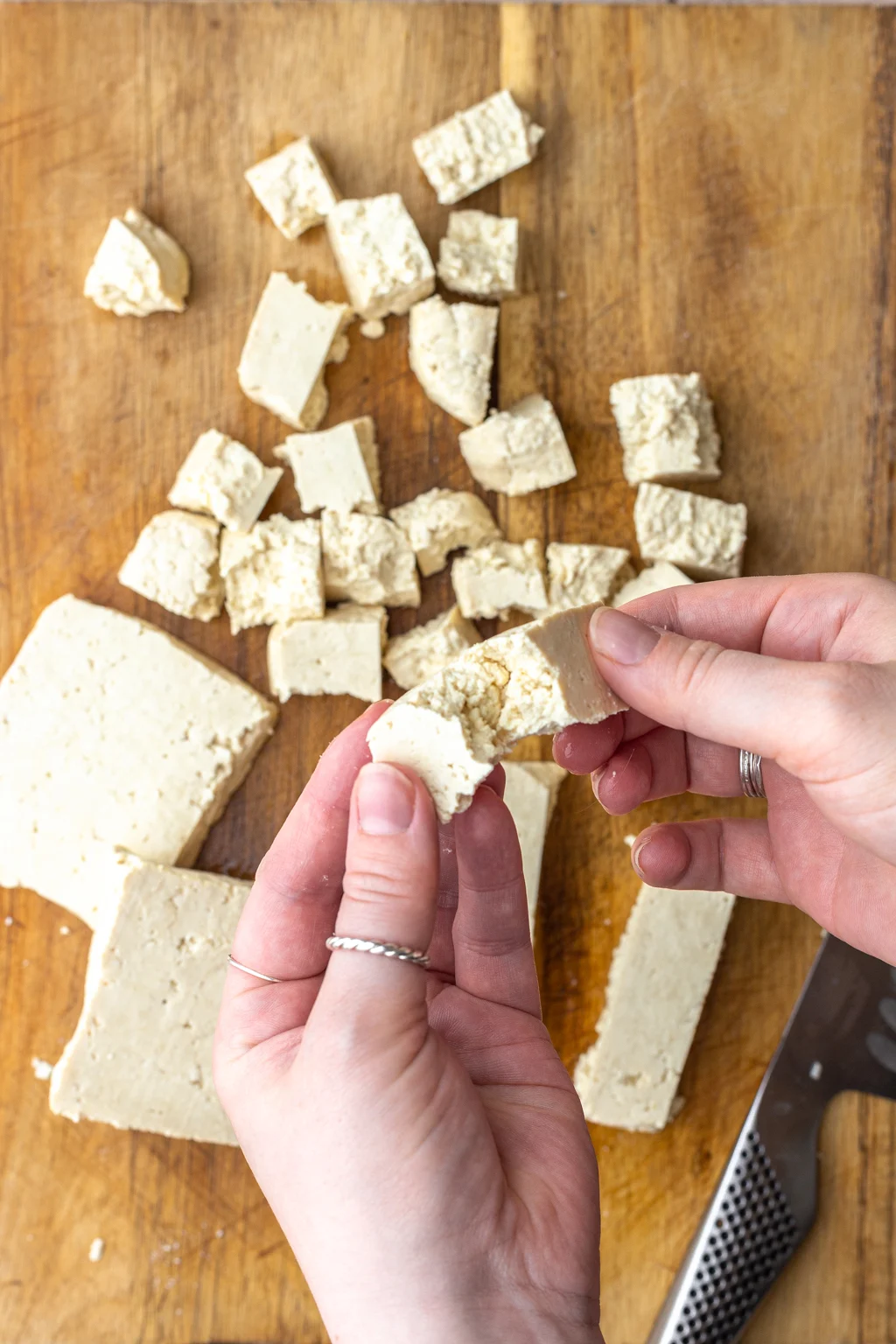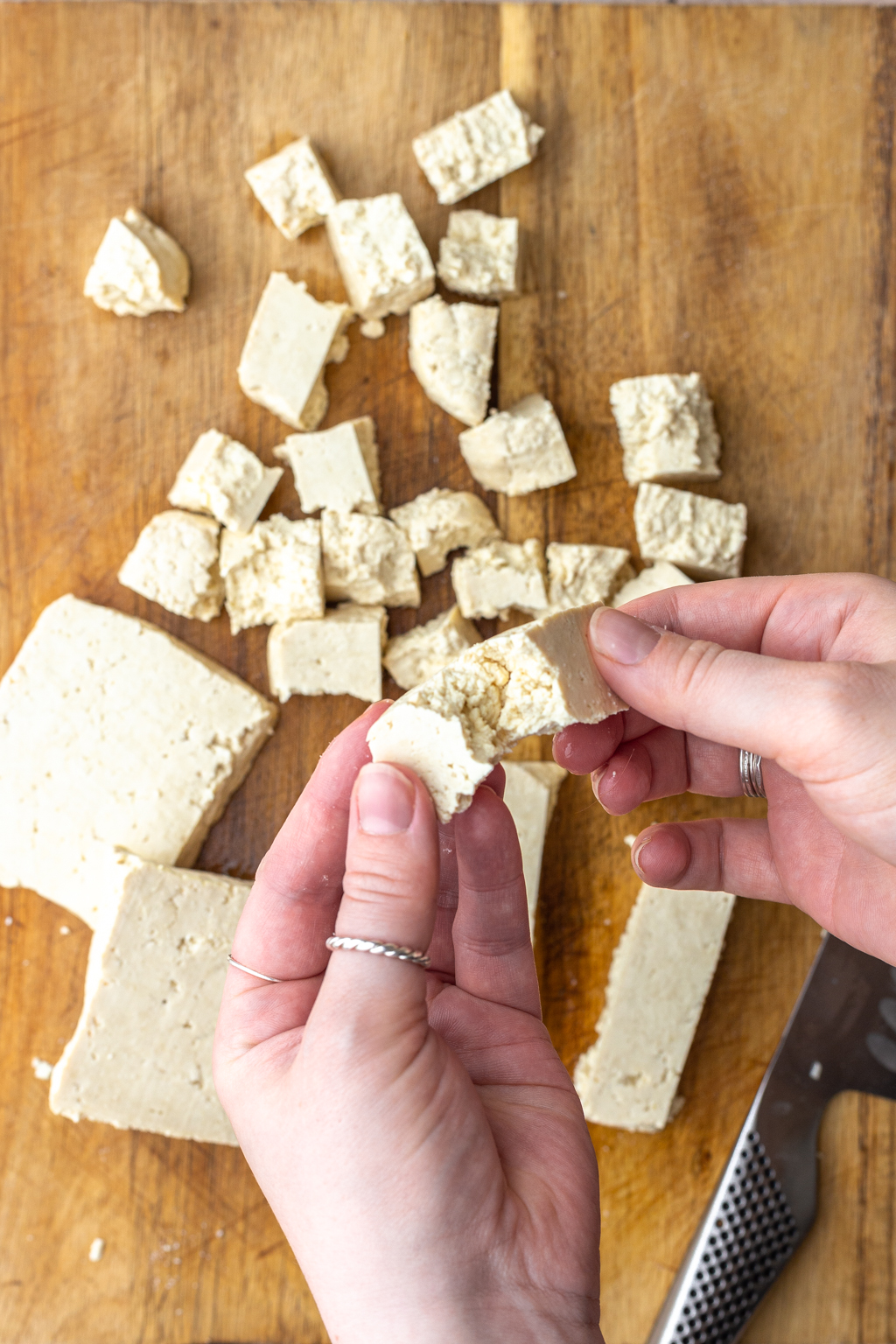 Toss the tofu in cornflour, salt and pepper. Heat 1-2 tbsp vegetable oil in a pan and then add the tofu. You can do this in two batches so it doesn't overcrowd the pan. Fry for 4-5 minutes until golden and crispy on all sides.
Prepare the sauce whilst the tofu is cooking. Place all the ingredients in a bowl and whisk until combined.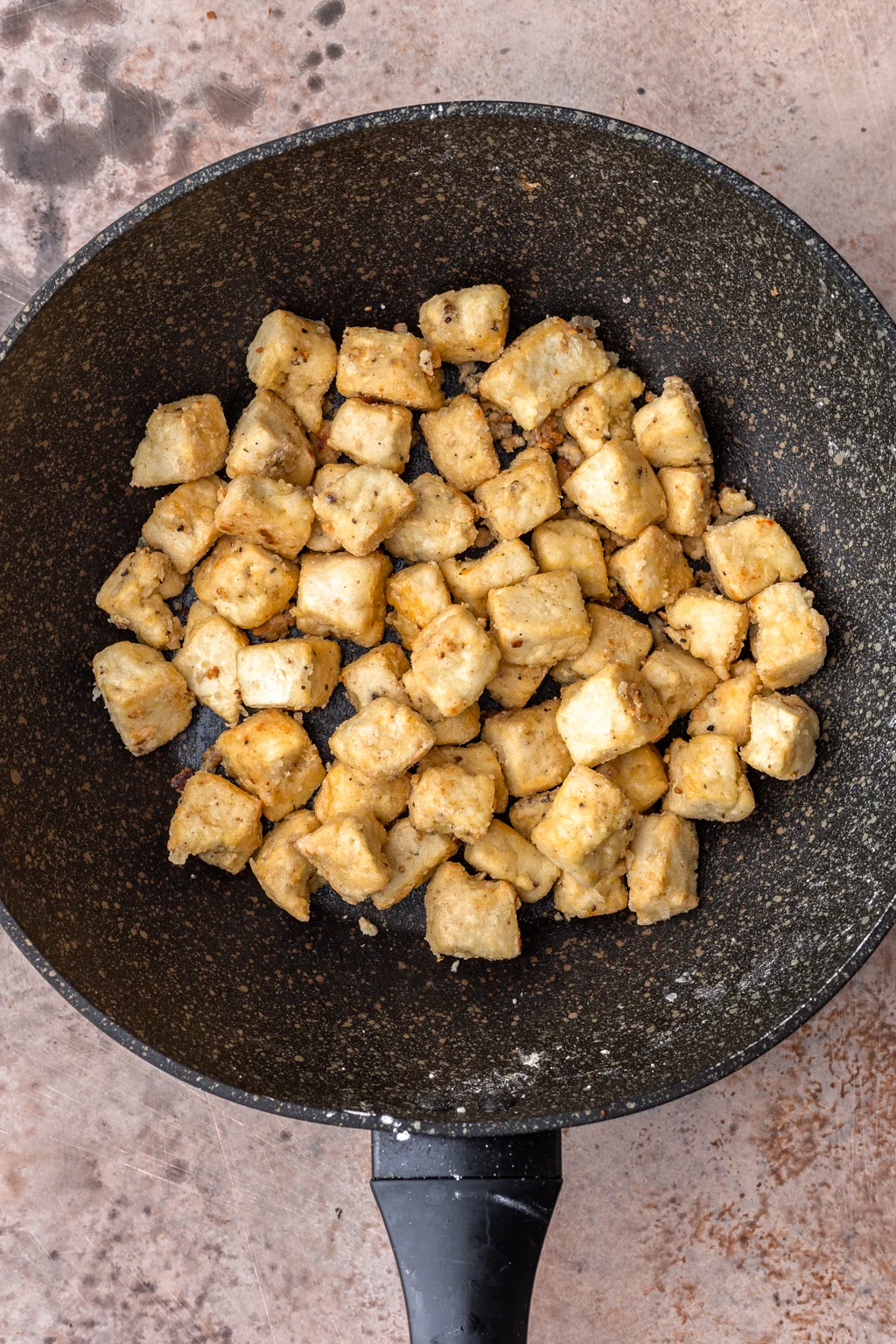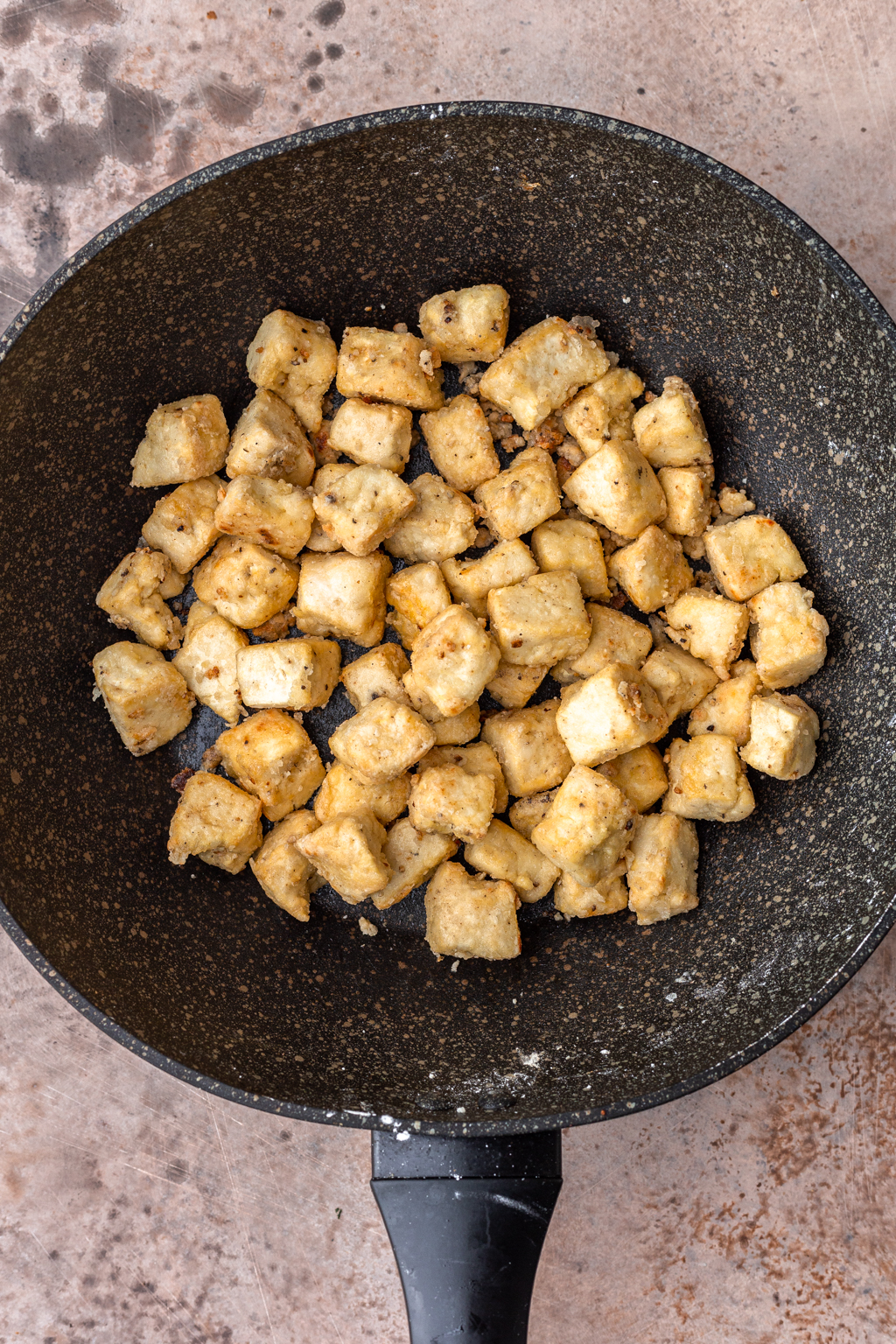 When the tofu is crispy, add the sauce to the pan and let sizzle and thicken for about 30 seconds. You can leave a few tbsp of the sauce aside and drizzle over once serving.
Top with chopped spring onion, fresh coriander and sesame seeds and serve with basmati rice and chopped broccoli (or other greens)!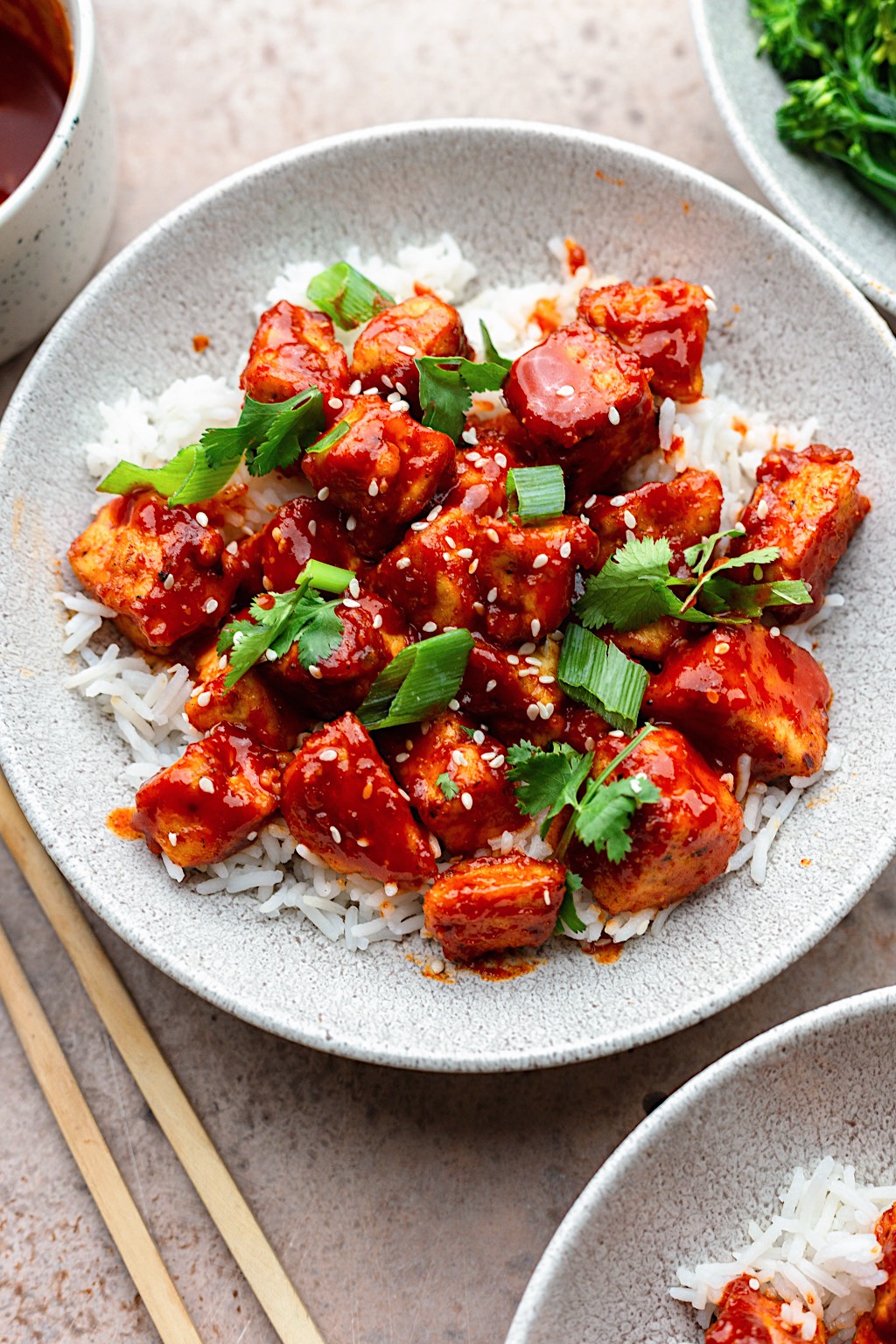 For more tofu recipes you may enjoy these:
As always if you make these vegan gochujang tofu bowls be sure to leave me a comment, rate this recipe and tag me on Instagram. I love seeing all your photos of my recipe recreations!
Don't forget to follow along on Facebook, Pinterest and Instagram – I'd love to see you all there!
---
NEVER MISS A RECIPE! GET MORE VEGAN RECIPES SENT STRAIGHT TO YOUR INBOX – SUBSCRIBE HERE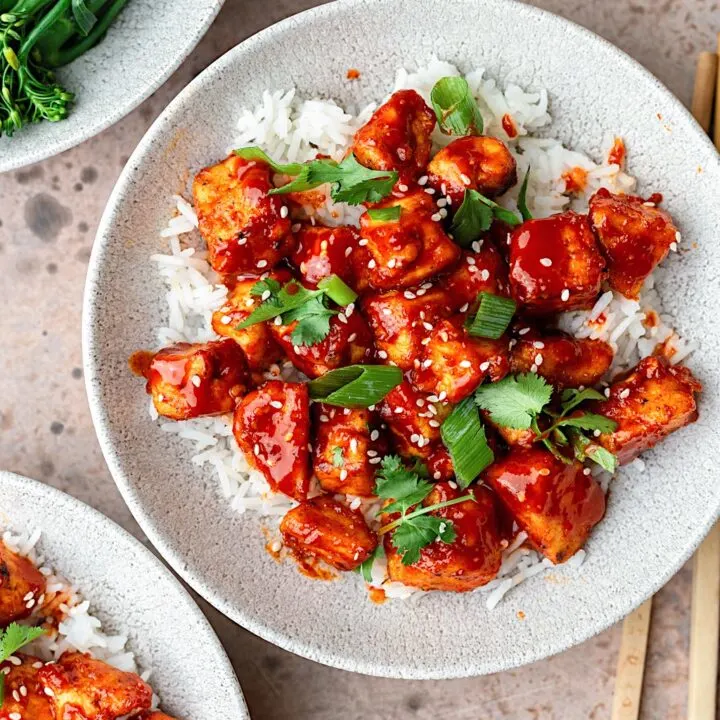 Gochujang Tofu Bowls
This Korean inspired spicy, tangy and sweet vegan gochujang tofu pairs perfectly with rice and broccoli for a flavour packed dinner!
Ingredients
1 block (450g/15.8oz) extra firm tofu
1 heaped tbsp cornflour
2 tbsp gochujang paste*
2 tbsp maple syrup
1 tbsp soy sauce (or tamari if gf)
1 tbsp tomato ketchup
1 tbsp rice wine vinegar
1 tbsp water
1 tsp brown sugar
3 cloves garlic, minced
1 inch fresh ginger, grated
Juice of half a lime
To serve
3 spring onions
Fresh coriander
Sesame seeds
Basmati rice
Broccoli or other green veg
Instructions
Slice the block of tofu in half and then into six strips. Now you can use your hands to break each strip into about four or five chunks, about 1 inch in size. If you find that too tricky you can score a line with the knife first before breaking up, or just cut into cubes. Breaking the tofu is going to result in a crispier exterior.
Place tofu chunks in a bowl with cornflour and season with salt and pepper. Toss until all the tofu is coated.
Heat a tbsp of vegetable oil in a large pan/skillet on medium heat. Place the tofu in and fry for 4-5 minutes until golden and crispy on all sides. Do it in two batches if your pan is too crowded.
Place all the gochujang sauce ingredients in a bowl and whisk until combined. Add to the tofu and let sizzle for about 30 seconds until thick and sticky.
Serve and top with sliced spring onion, fresh coriander and sesame seeds.
Serve with basmati rice and broccoli or your favourite veg!
Notes
*Gochujang paste is spicy so if you are new to using it/can't handle spice then start with 1 tbsp and add more accordingly. Alternatively if you like it really spicy, you can add 3 tbsp!
Recommended Products
As an Amazon Associate and member of other affiliate programs, I earn from qualifying purchases.