The most delicious asian style sweet chilli garlic tofu. It's sticky, full of flavour and will have you going back for more!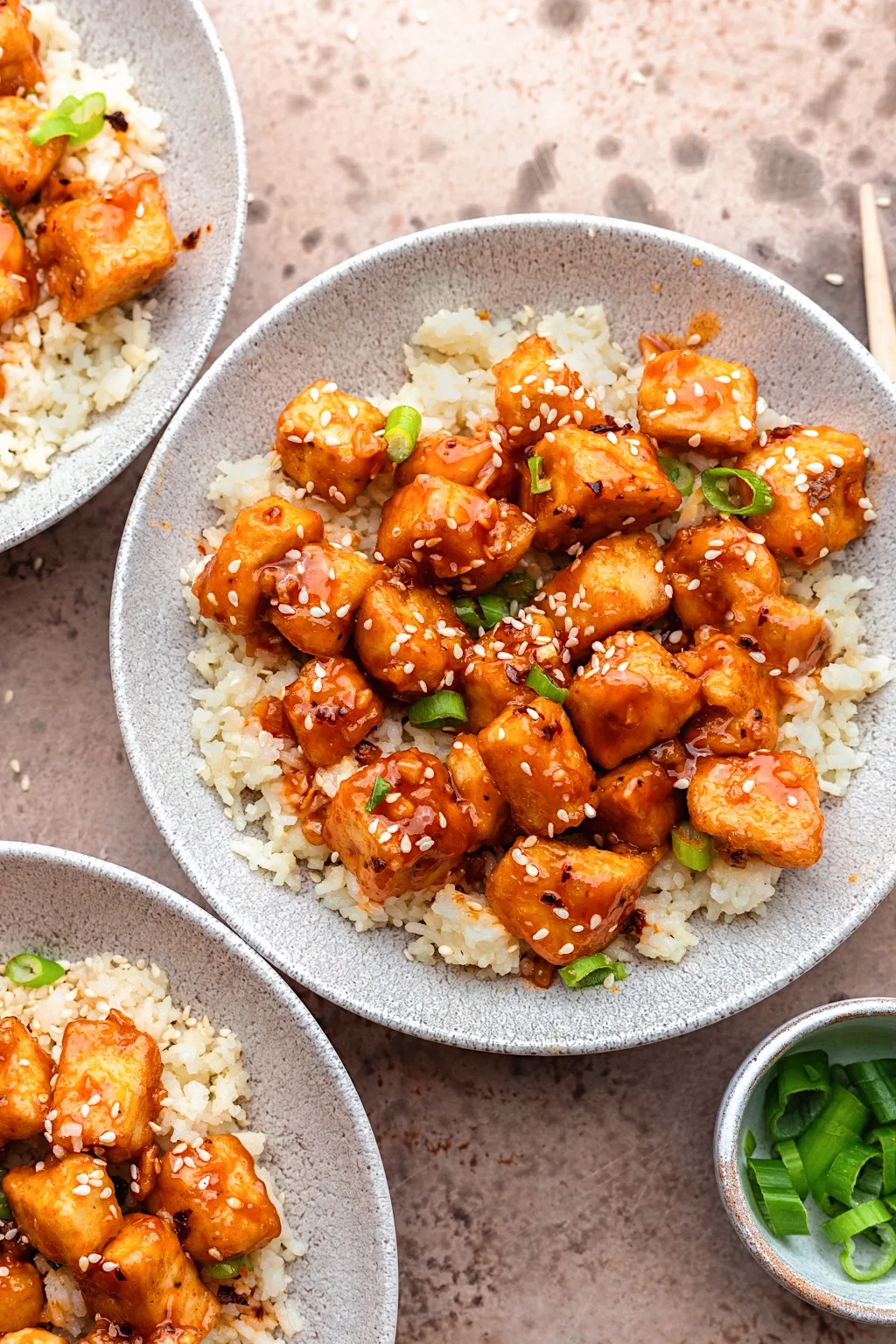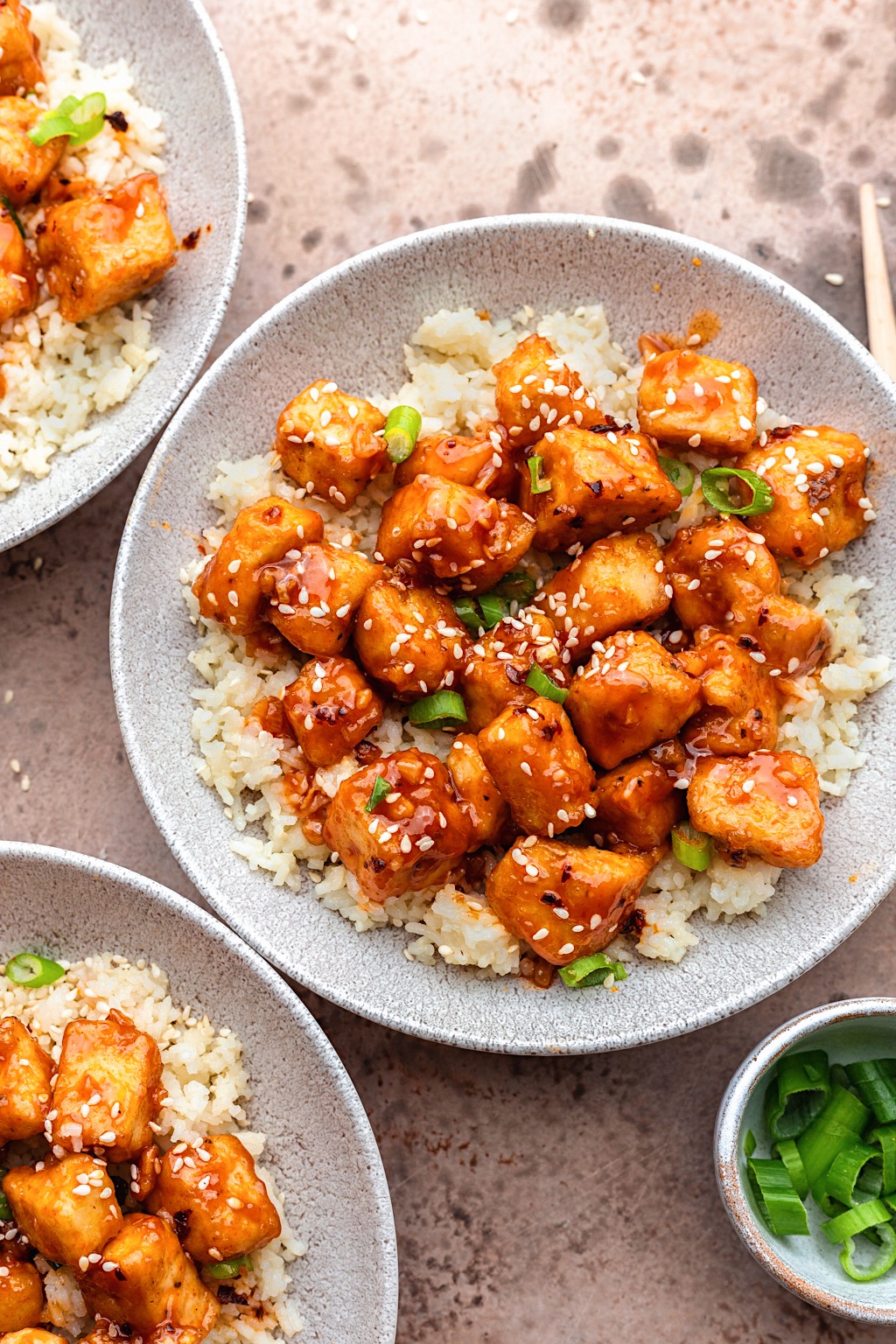 Tofu gets tossed in cornflour and fried until crispy, the easiest way to make tofu 10x more delicious! It then gets coated in a sweet, spicy, salty sauce.
It comes together in 20 minutes which makes this such a quick recipe to throw together, with minimal ingredients!
You can make this tofu as spicy as you want. Without added chilli flakes it's got a decent level of spice, but you can up that if you like things hot!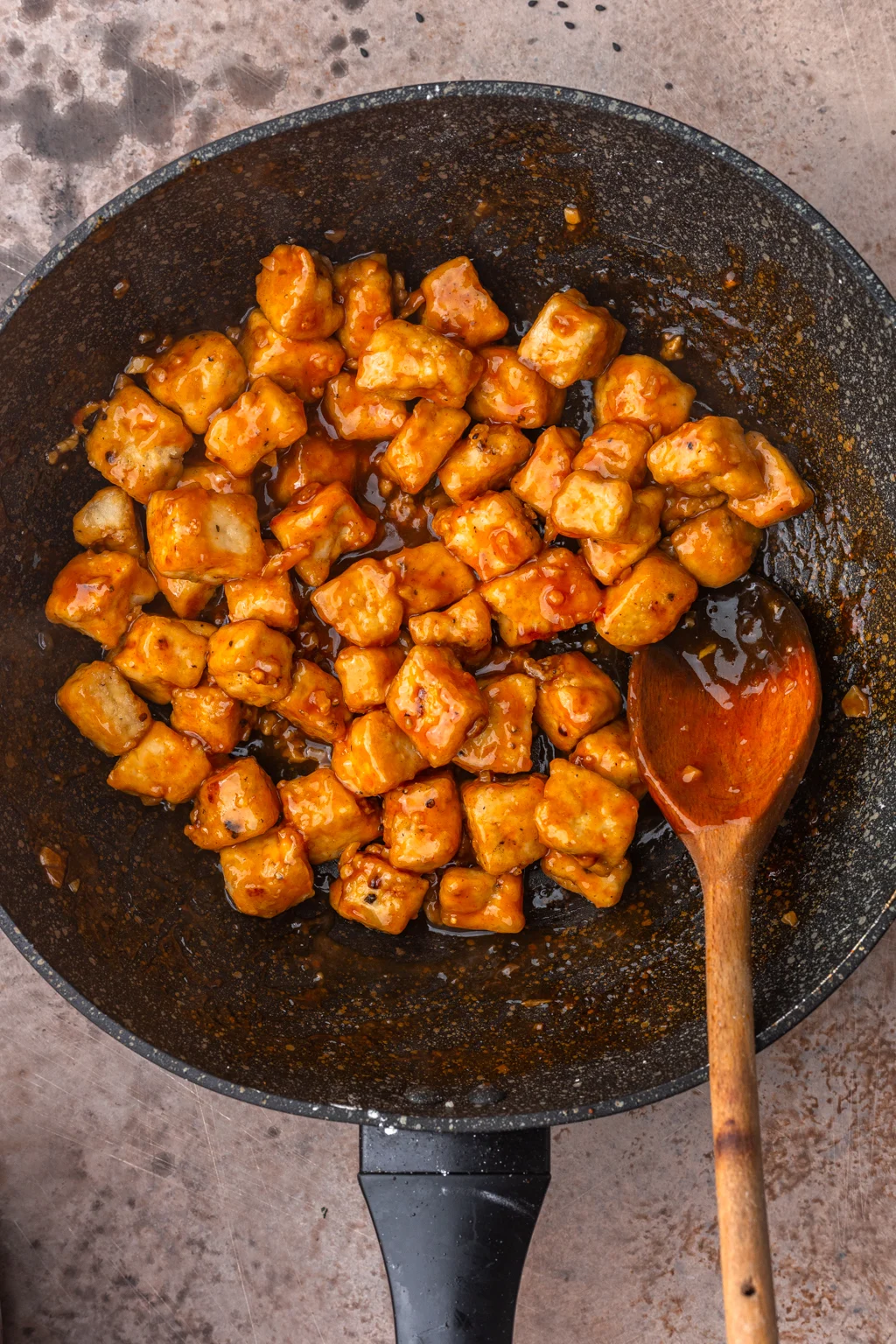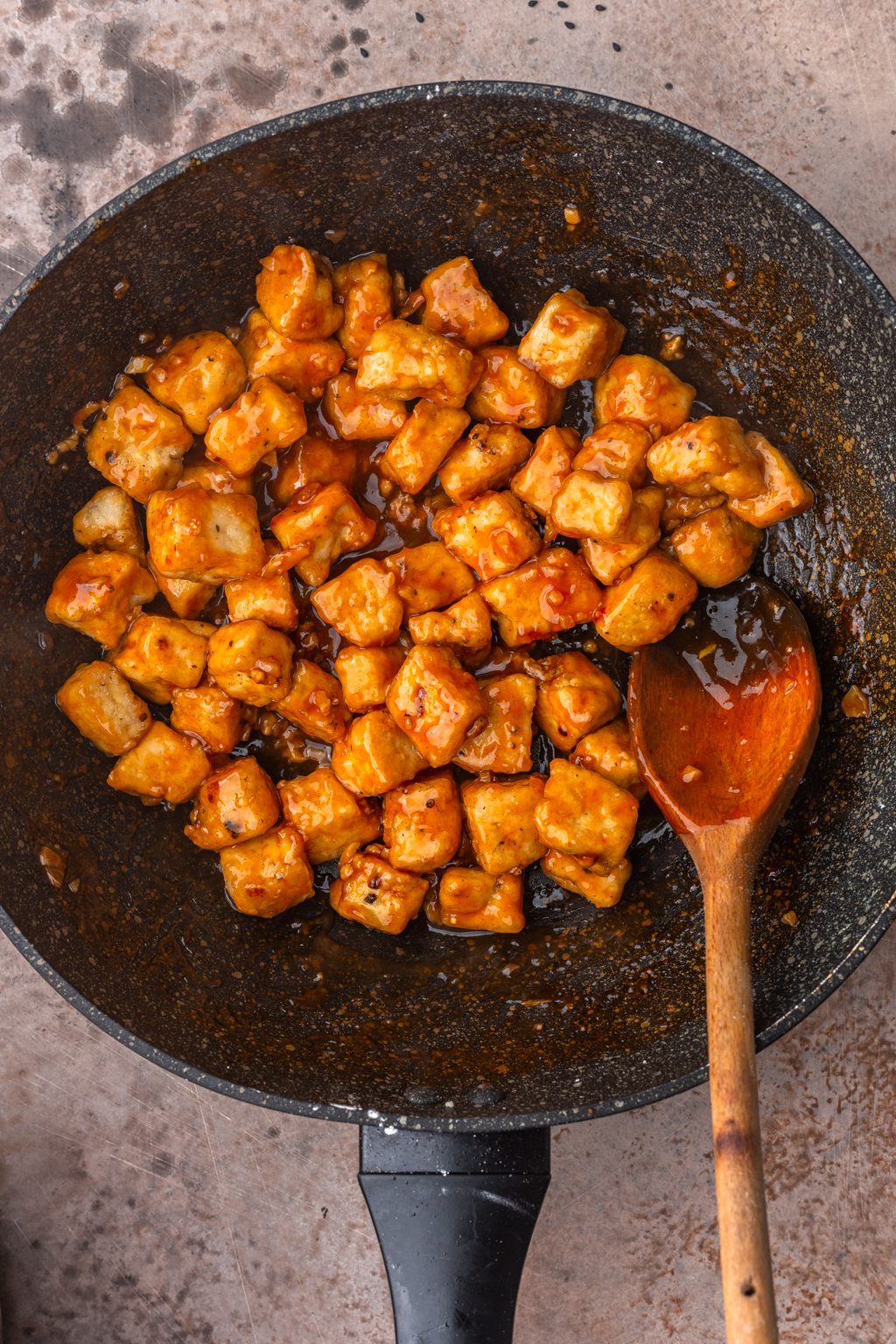 This recipe is perfect for a Friday or Saturday night when you don't want to splash out on take away! It's a sure-fire way to impress friends and family, at home!
What you'll need for this 20 minute sweet chilli garlic tofu:
Extra firm tofu
Cornflour
Toasted sesame oil
Garlic
Fresh ginger
Sriracha
Soy sauce
Brown sugar
Chilli flakes (optional)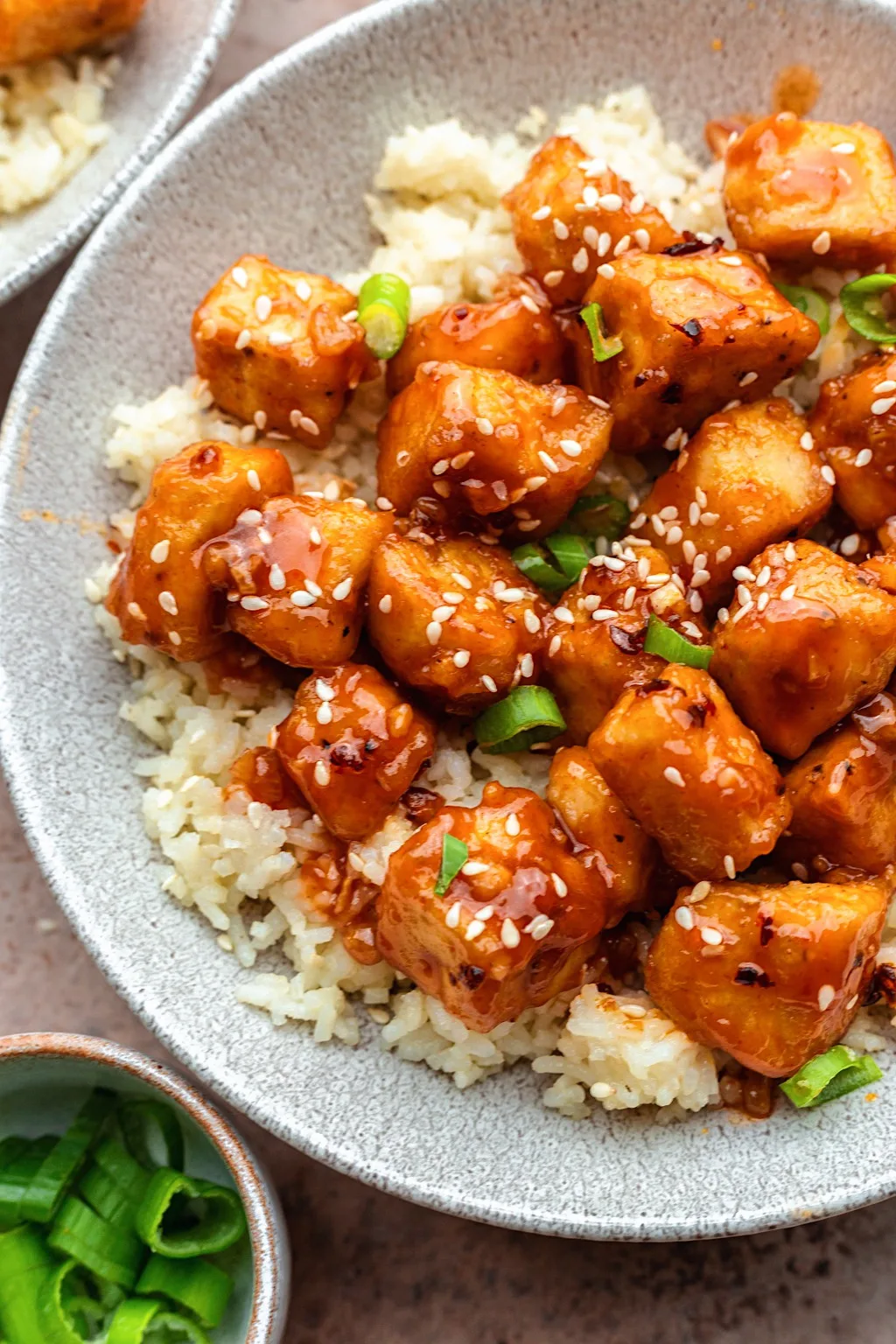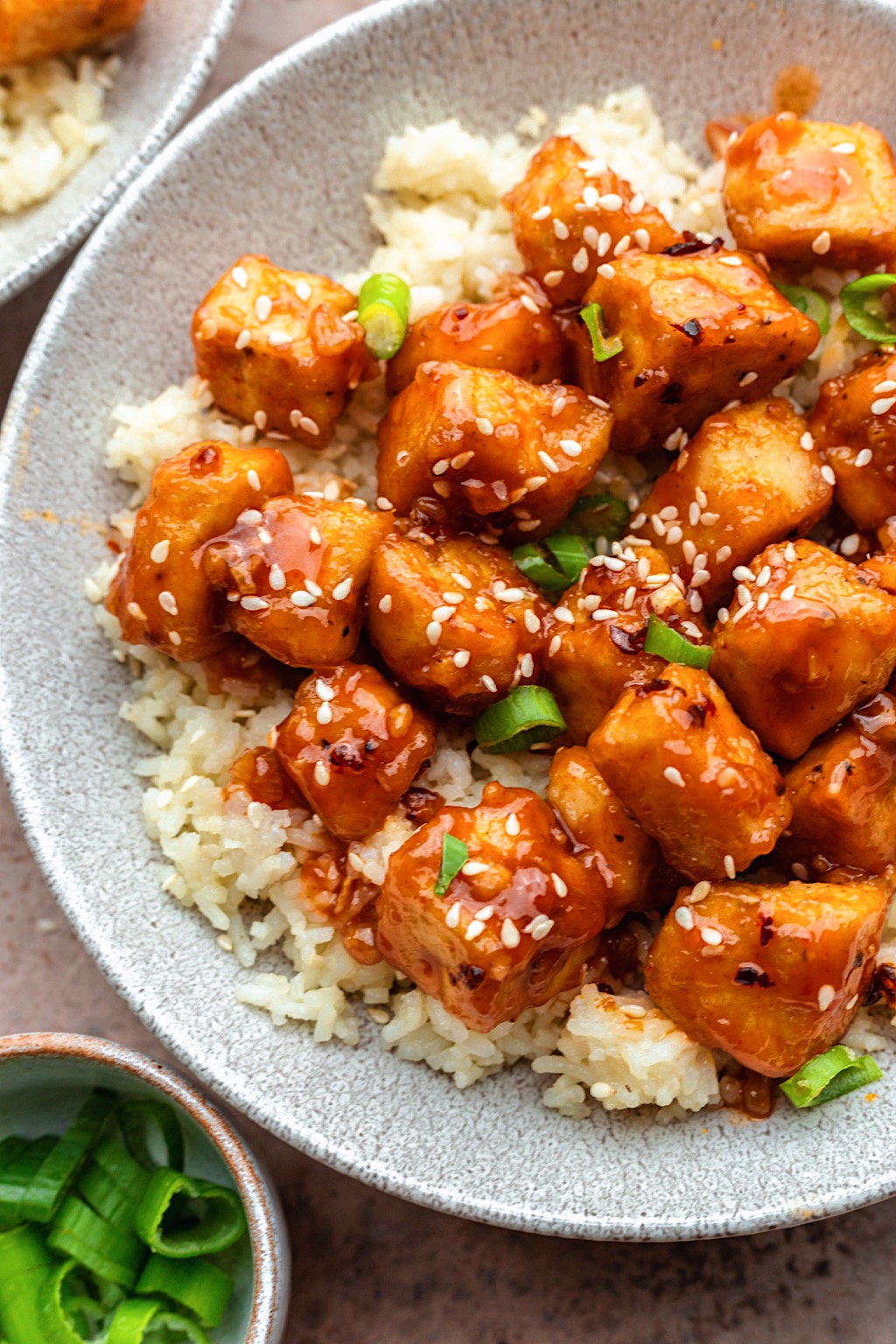 You can add in any veggies you like. I love adding red bell pepper/baby corn/broccoli. Just fry them up separately and add in to the sauce. I also serve it with some basmati or jasmine rice!
How to make sweet chilli garlic tofu:
Start by breaking the tofu into 1 inch pieces. This is going to give the tofu a more rugged edge than cutting it, making it crispier.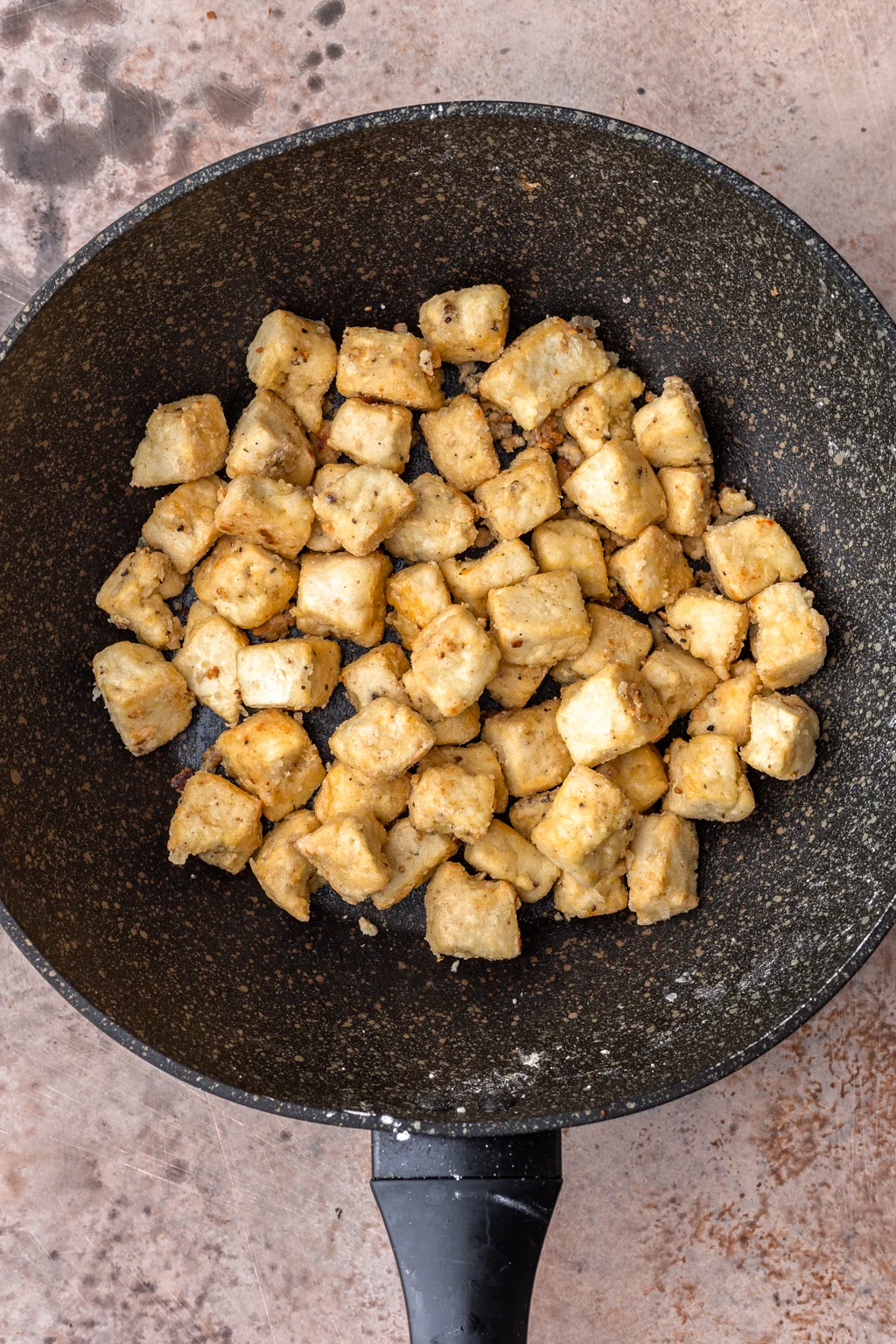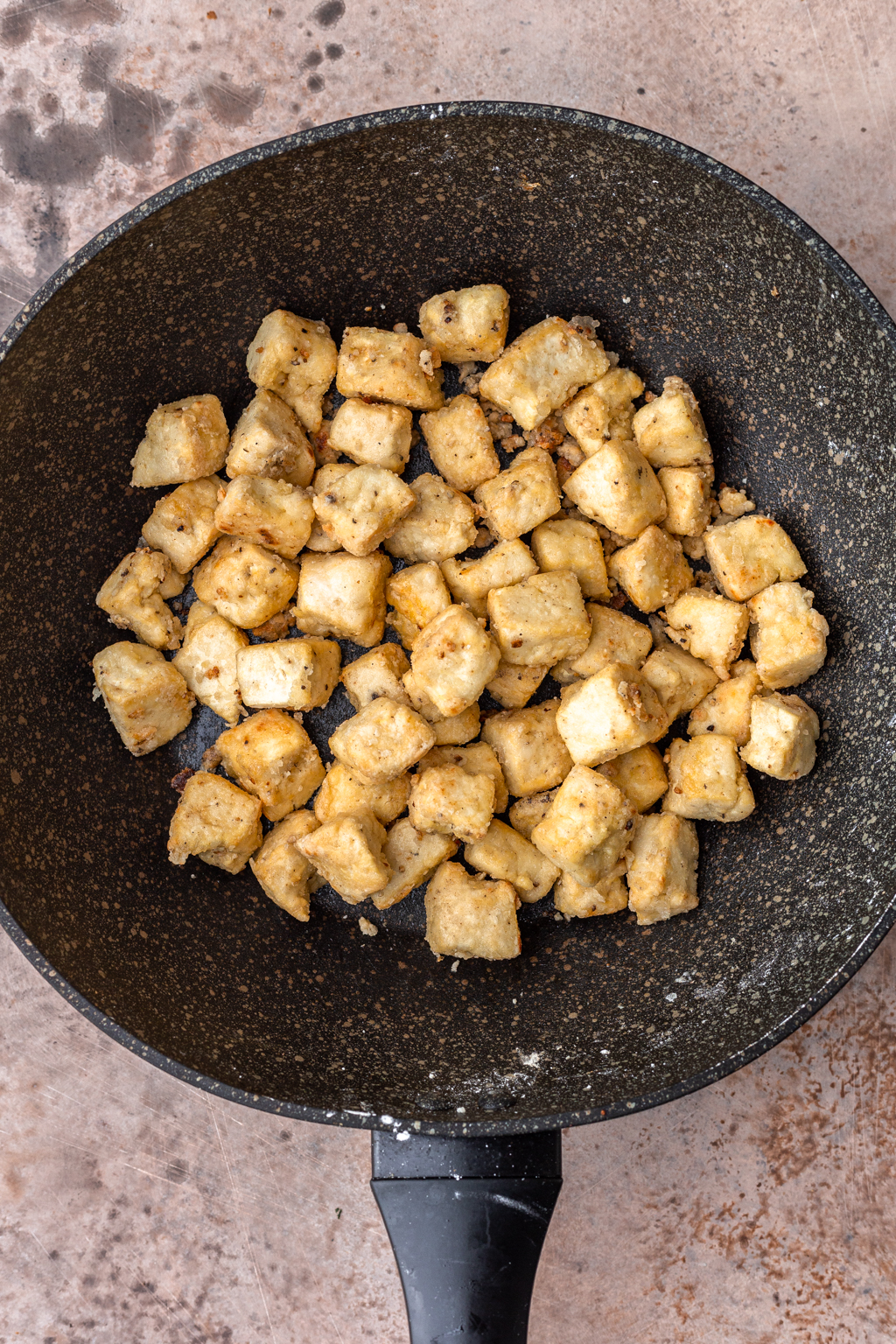 Toss the tofu in cornflour and fry for 5-6 minutes until turning golden and crispy. Set aside and make the sauce.
This sauce comes together quickly so have all the ingredients on hand ready. Heat the toasted sesame oil and then add garlic and ginger. Fry until fragrant and then add the sriracha, soy sauce, sugar, water and chilli flakes if using.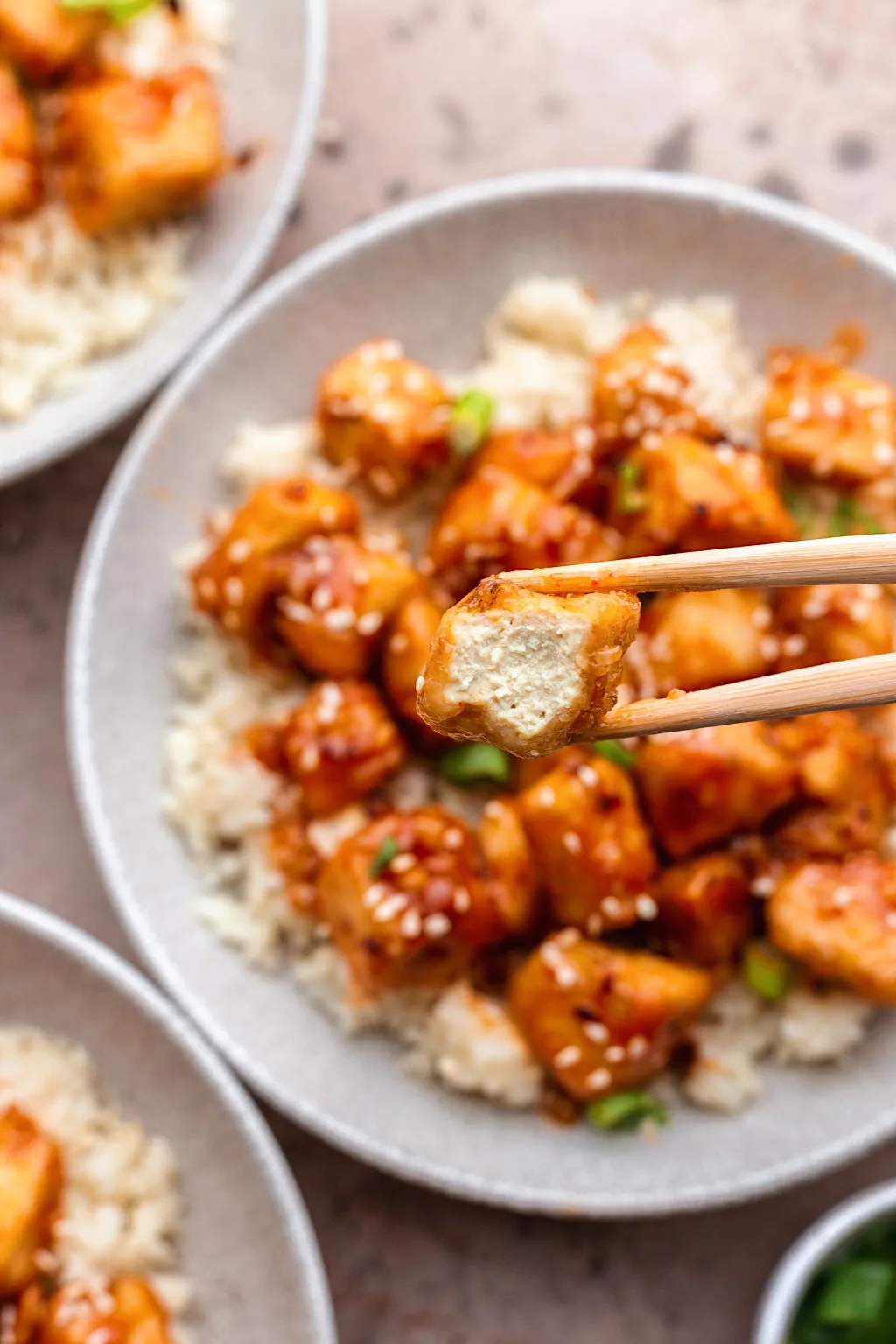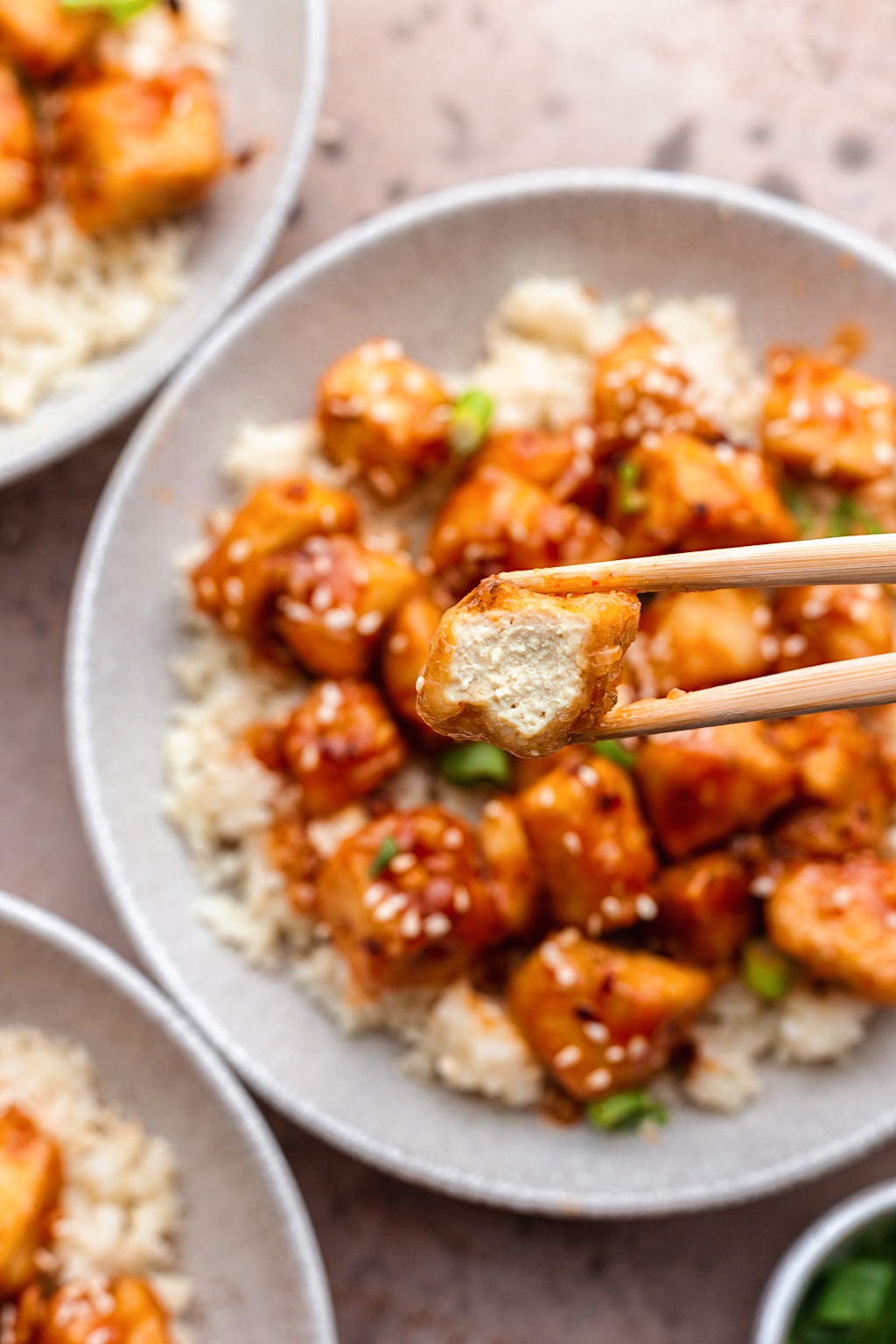 Bring to a medium-high heat so the sauce simmers and thickens. It will be jam like. It won't take long so keep an eye on it, then add the tofu back in to heat up and serve!
See, it really is that simple! Crispy, sweet, spicy tofu ready in just 20 minutes! Serve with any veggies you like and some rice for a super delicious dinner!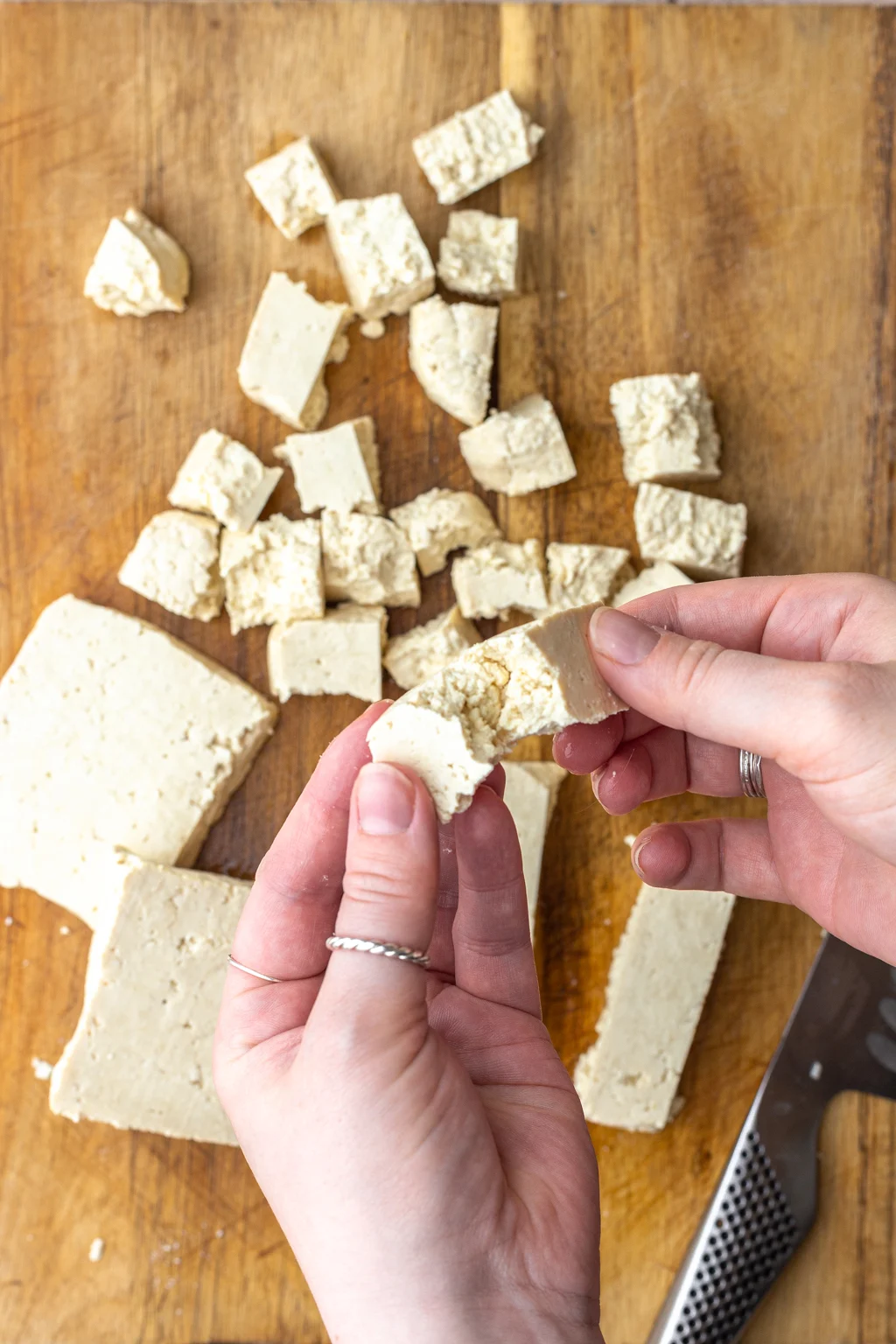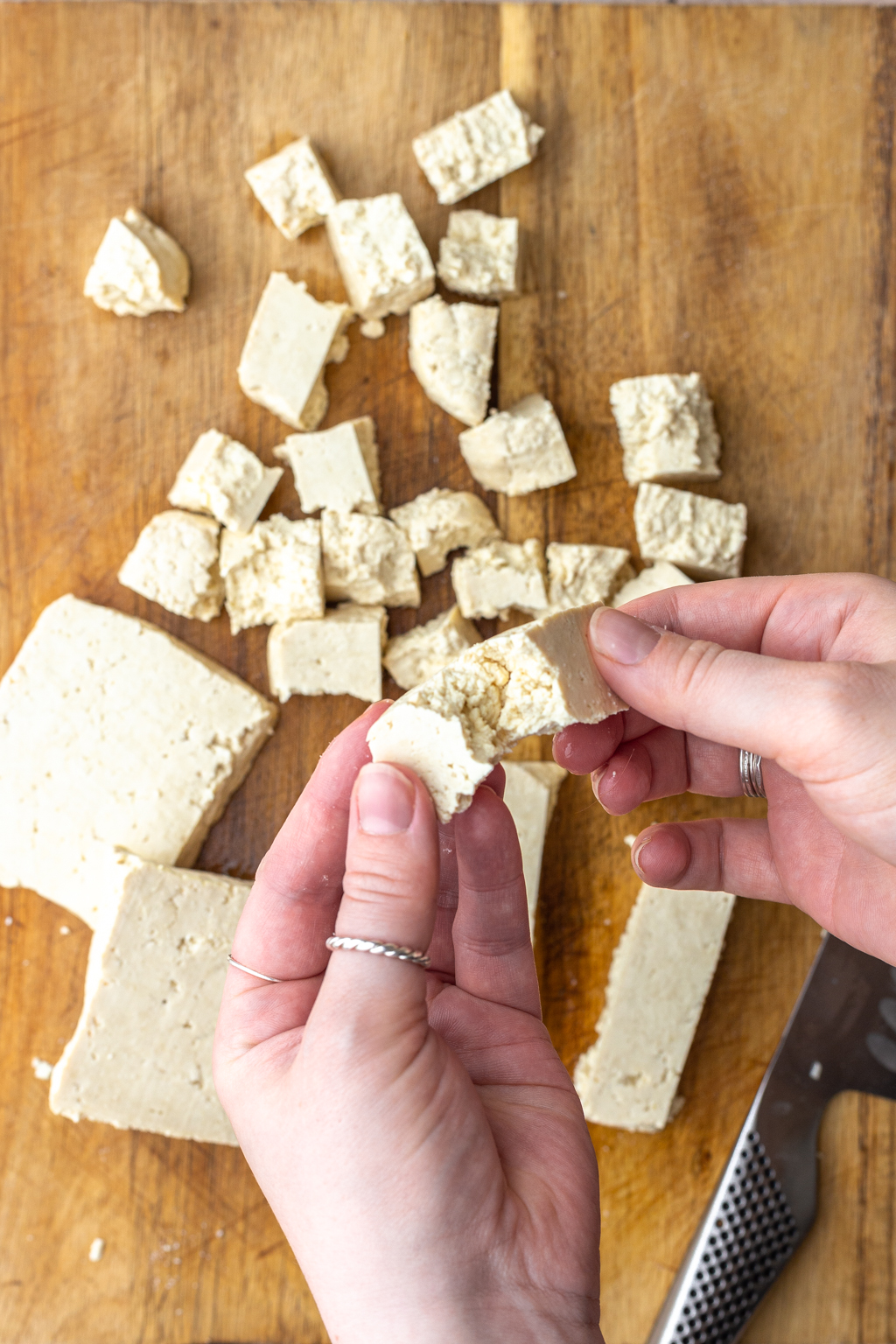 Why you should make this spicy garlic tofu:
It only takes 20 minutes to come together.
It's a great way to convert tofu haters! And a great sub for chicken. When cooked this way it has a crispy exterior and chewy inside.
It's a great alternative to take away and saves you money!
There are only 10 ingredients! Most of which you probably have in the pantry!
Lastly, it's so damn delicious! You don't need any more reasons, just make it asap!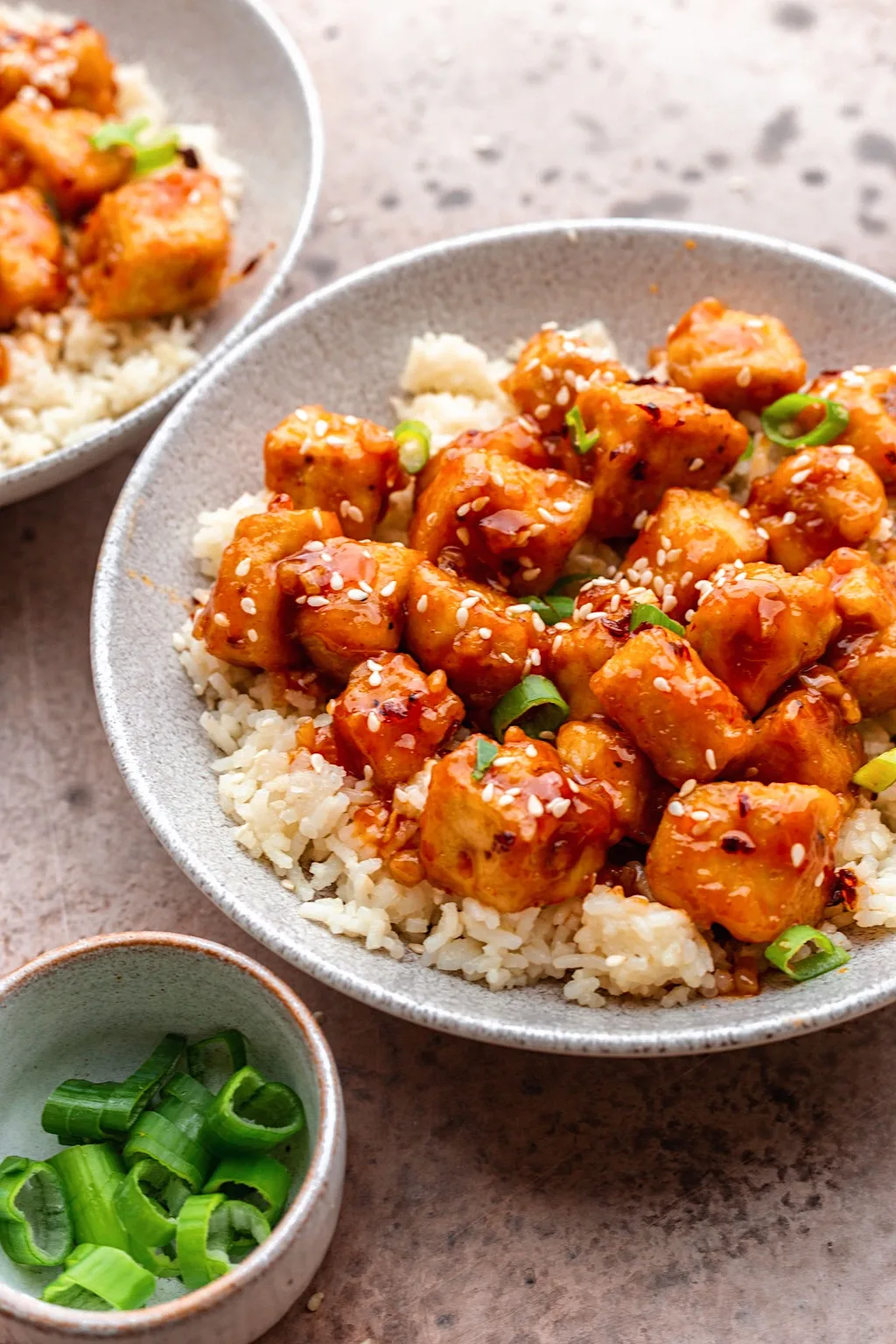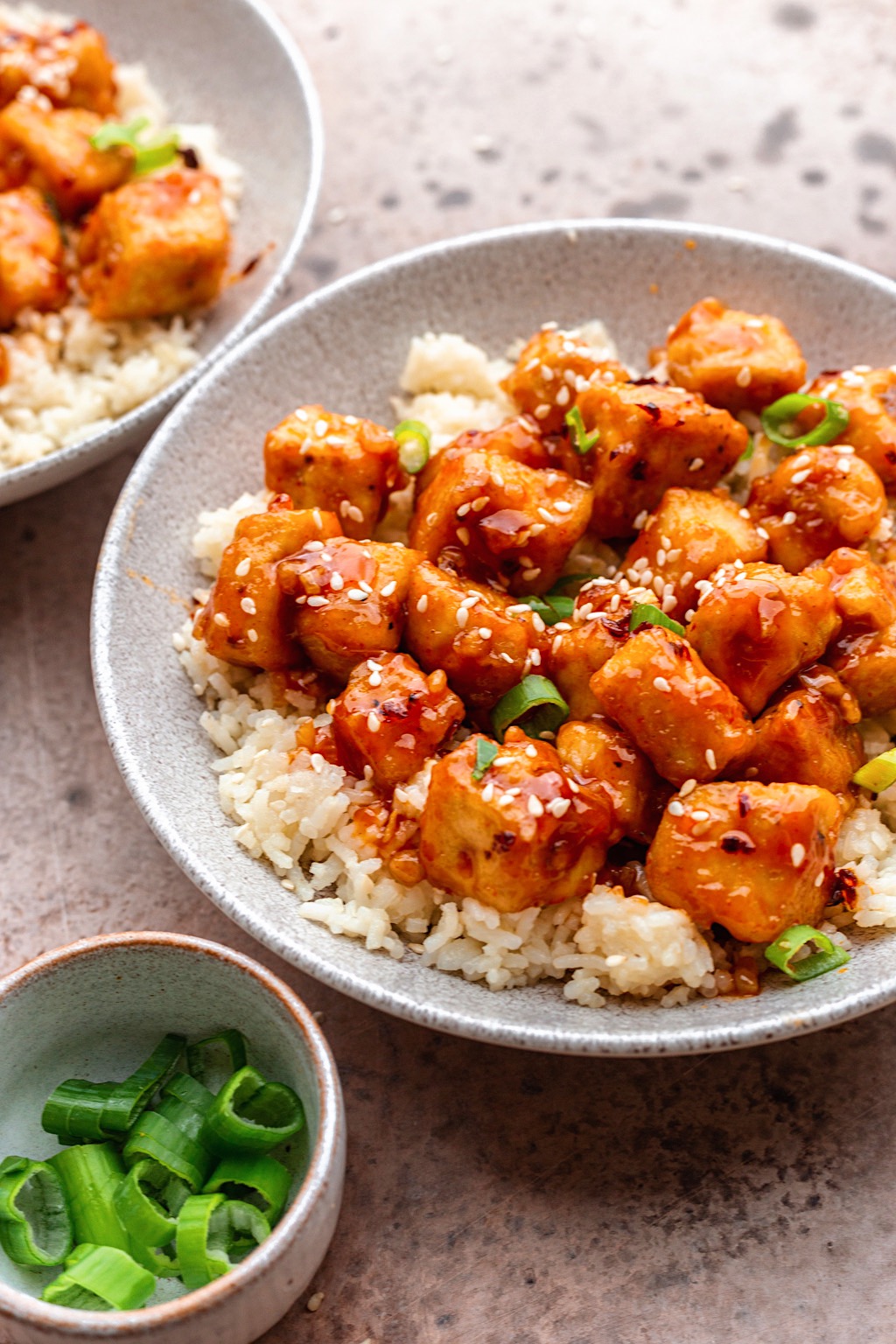 For more asian inspired recipes you may enjoy these:
---
As always if you make this sweet chilli garlic tofu be sure to leave me a comment, rate this recipe and tag me on Instagram. I love seeing all your photos of my recipe recreations!
Don't forget to follow along on Facebook, Pinterest and Instagram – I'd love to see you all there!
---
NEVER MISS A RECIPE! GET MORE VEGAN RECIPES SENT STRAIGHT TO YOUR INBOX – SUBSCRIBE HERE ?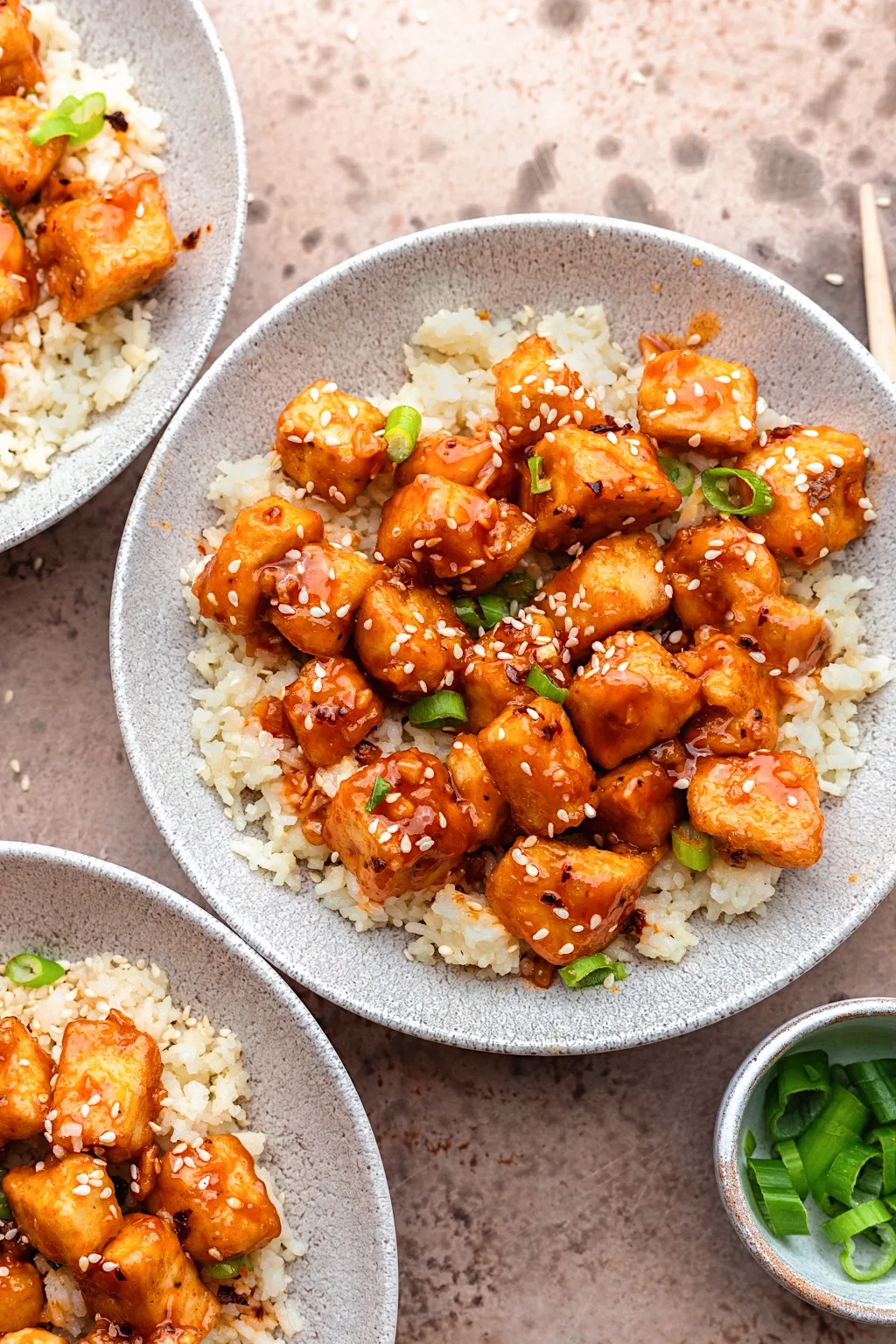 Sweet Chilli Garlic Tofu
The best stir fried sweet chilli garlic tofu. Crispy tofu tossed in a spicy sweet garlic sauce that comes together in 20 minutes. Add in any veggies you like and serve over rice!
Ingredients
1 block (450g/1lb) extra firm tofu
2 heaped tbsp cornflour
1.5 tsp sesame oil
5 garlic cloves, minced
Inch fresh ginger, finely chopped
3 tbsp sriracha
3 tbsp brown sugar
2.5 tbsp soy sauce
175ml/ 3/4 cup water
1/2-1 tsp chilli flakes (optional, for extra spice)
To top
Sliced spring onion/scallions
Sesame seeds
Instructions
Cut or break tofu into 1 inch chunks. Breaking it will give you a more rugged edge and fry up crispier. Cut into strips then break into pieces. It will make around 30 chunks.
Toss tofu in the cornflour and heat up a tbsp of oil on medium heat. Add the tofu and fry for 5-6 minutes until golden and crispy. Transfer to a bowl.
In the same pan heat the sesame oil and then add the ginger and fry until fragrant. Add the sriracha, brown sugar, soy sauce, water and chilli flakes if using.
Increase the heat until simmering and cook for around 30 seconds until thickened. Add the tofu back in to heat through and then serve!
Top with sliced spring onions and sesame seeds.
Notes
Use an extra firm tofu like Tofoo Co.
Up the spice by adding in the chilli flakes. It has a decent level of spice without it but if you like it spicy add the chilli flakes.
Add in any veggies you like, fry them separately then add in with the tofu. You may want to double the sauce if you add in a lot of veggies.