Baked vegan gochujang cauliflower wings with a sweet and spicy mayo dip. They're so addictive, full of umami flavour and the perfect appetiser!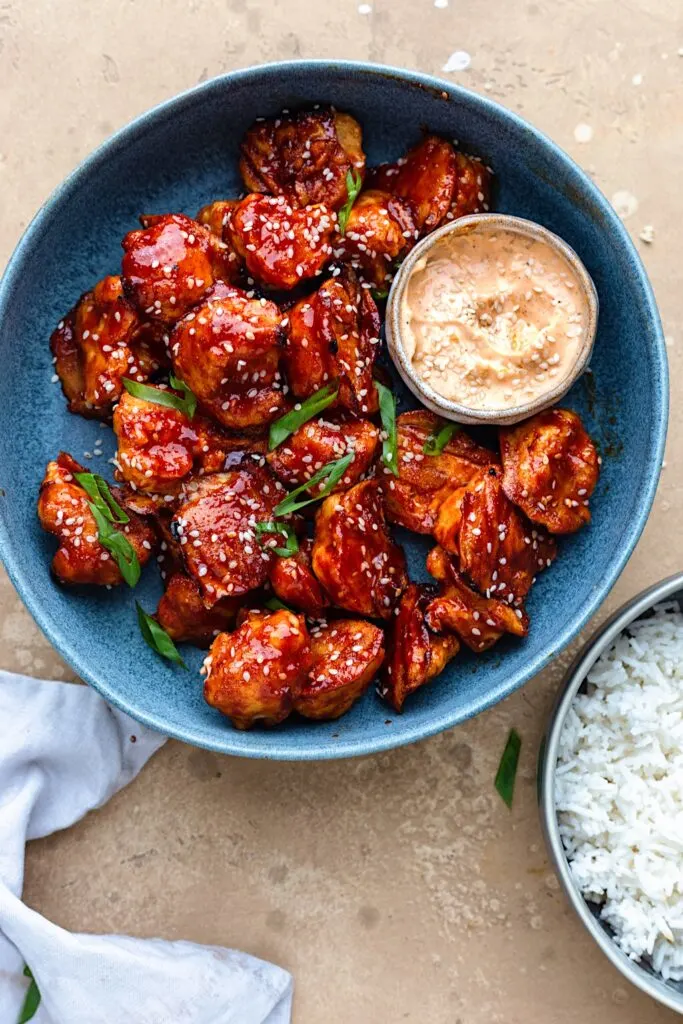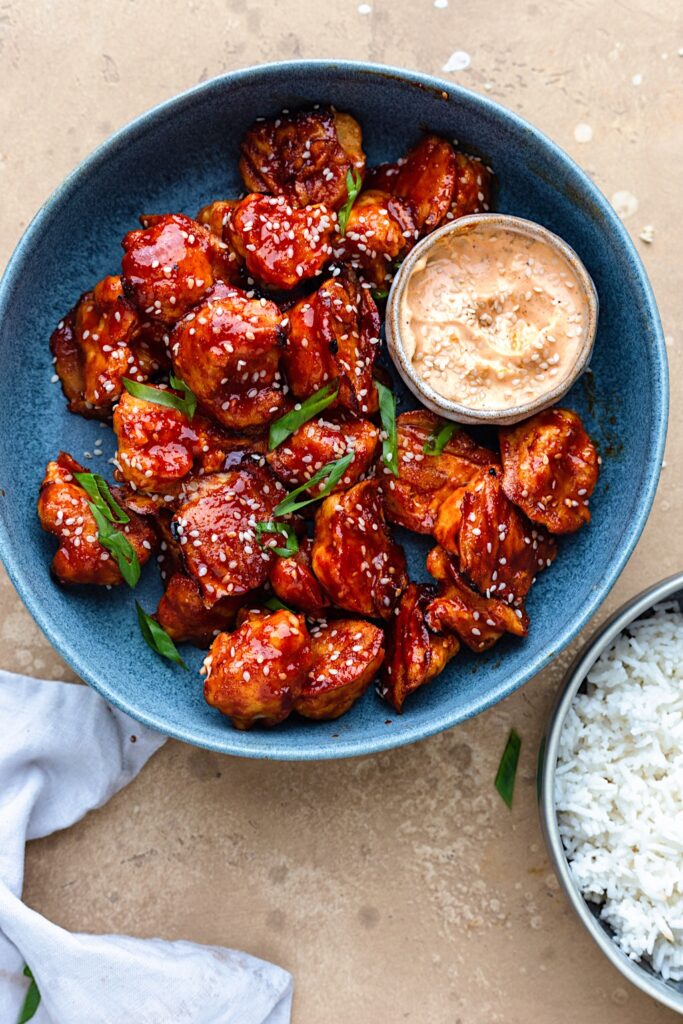 Cauliflower florets are tossed in batter, then baked and drenched in a gochujang sauce.
These wings are korean inspired and gochujang is the base to this recipe . Gochujang is a fermented chilli paste that is sweet, spicy and tangy. It is made up of glutinous rice, red pepper flakes and fermented soy beans.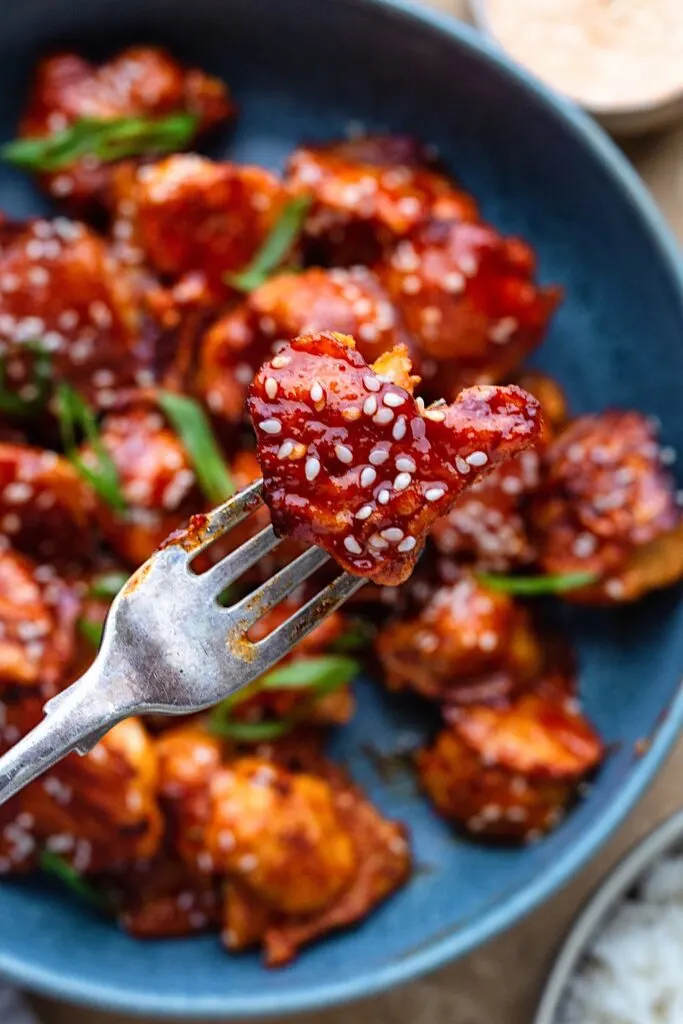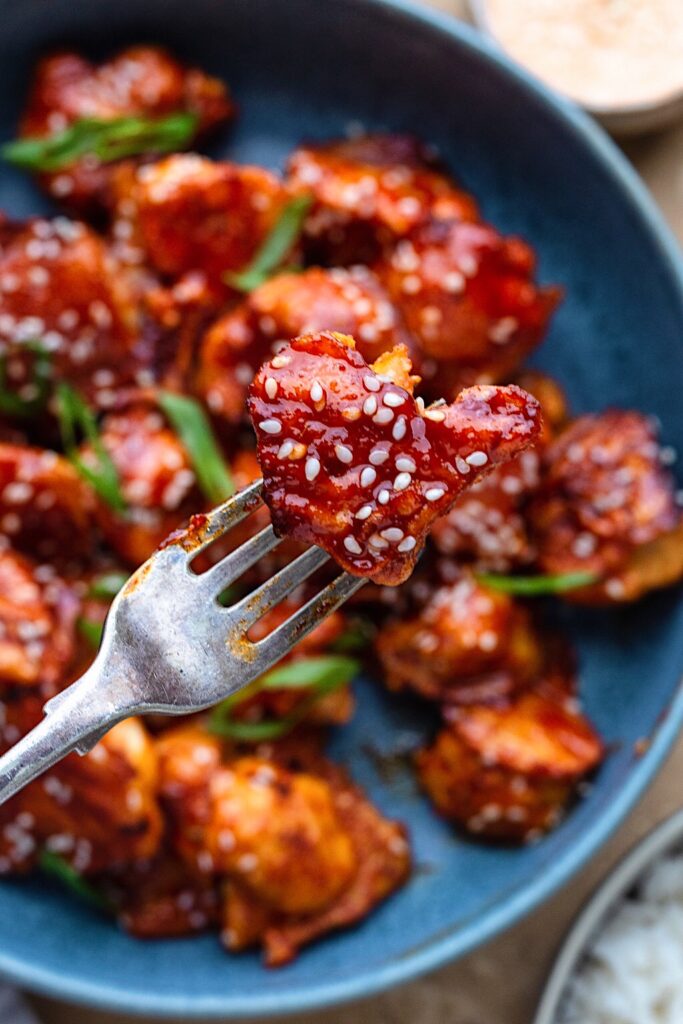 The red chilli gives it its bright red colour and spice. It's a great ingredient to have in the pantry, you can add it to just about anything for a kick of flavour and spice!
You should be able to find it in most large supermarkets or asian supermarkets. I get this one, which you can get from Sainsburys or Amazon.
What you'll need for gochujang cauliflower wings:
Cauliflower
Plain flour
Plant milk (any, unsweetened)
Onion powder
Garlic powder
Gochujang paste
Soy sauce
Agave/maple syrup
Toasted sesame oil
Rice Vinegar
Lime
Sesame seeds
Spring onion/scallions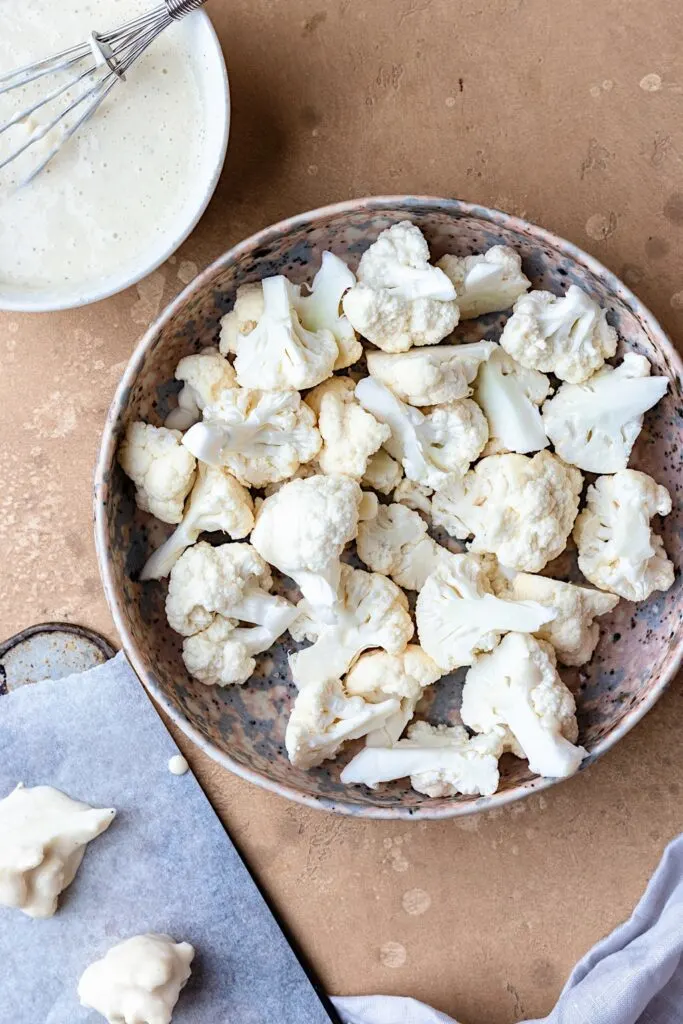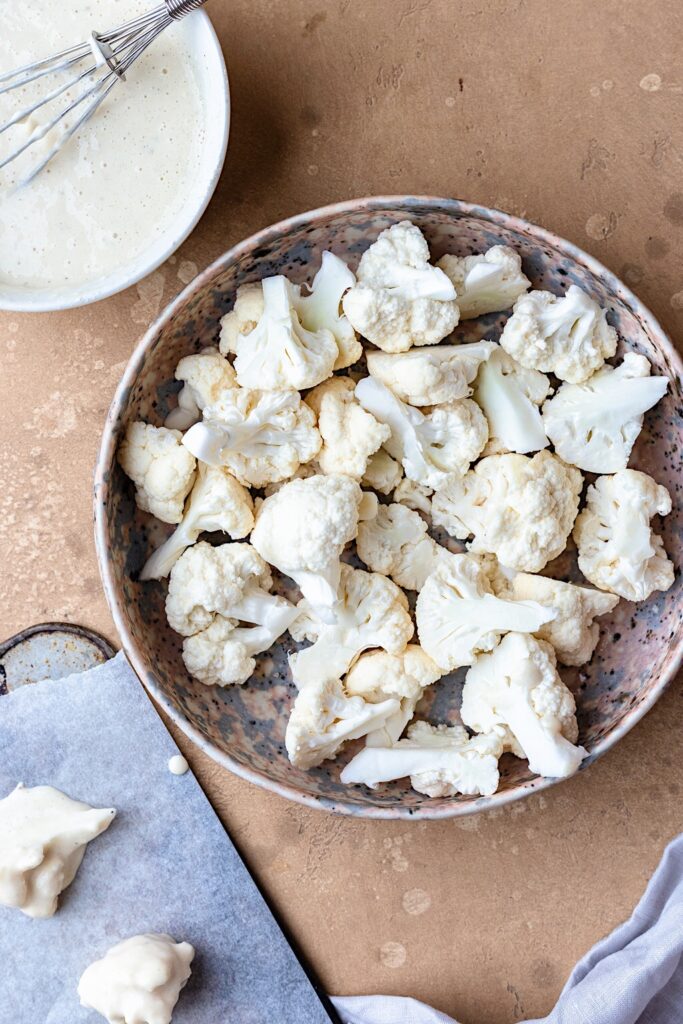 Choose a medium sized cauliflower. It should make between 25-30 wings once you've cut it into bite sized florets.
I used oat milk but you can use any unsweetened plant milk like soya or almond.
For sweetness, we are using agave syrup. It works well as a honey alternative, you can sub for maple syrup if you have this instead. Agave is a more affordable option and I always have some in the pantry.
You'll need to use rice vinegar, don't sub it for ordinary vinegar, it's not the same. It's made from fermented rice and a key ingredient in Asian cooking, another great ingredient to have on hand.
You can use sesame or toasted sesame oil but toasted sesame oil add a greater depth of flavour. A little goes a long way.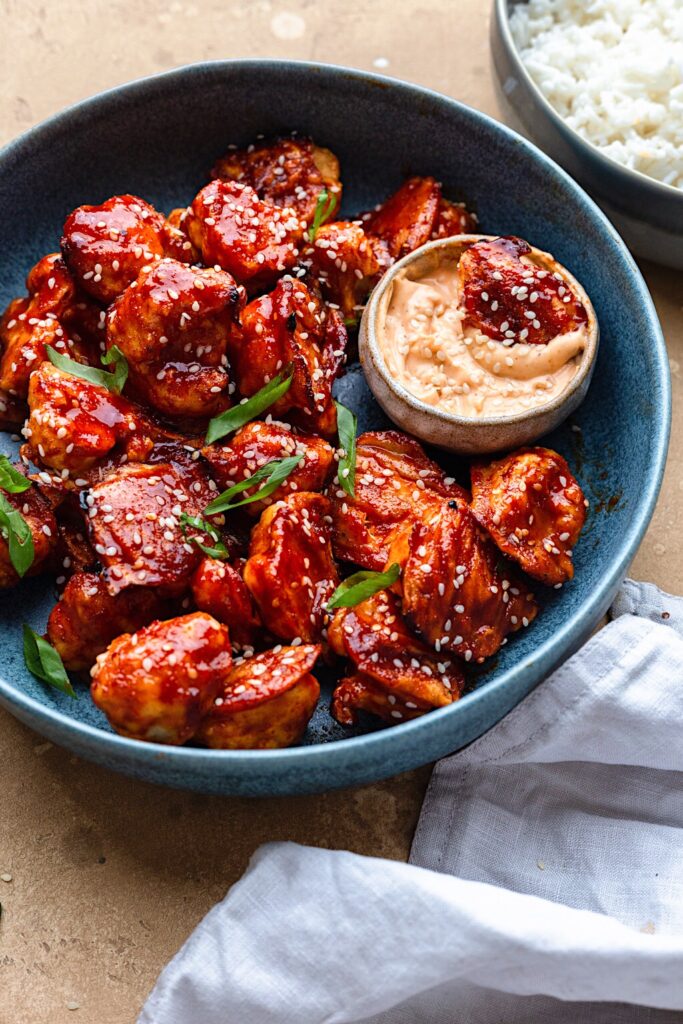 How to make gochujang cauliflower wings:
Start by preparing the cauliflower. Remove outer leaves and cut out the thick core of the cauliflower.
Cut or break into bite sized florets. A medium cauliflower should make around 25-30 pieces. Make sure they are similar in size.
Get your batter ready. Whisk the flour, milk, salt and pepper in a bowl until it is similar to a pancake batter.
Line two baking sheets with parchment paper. Taking a floret at a time, dip it in the batter and make sure it is well coated. Let any excess batter drip off ( find it easiest rest it on a fork) and place on the tray. Repeat until they are all coated.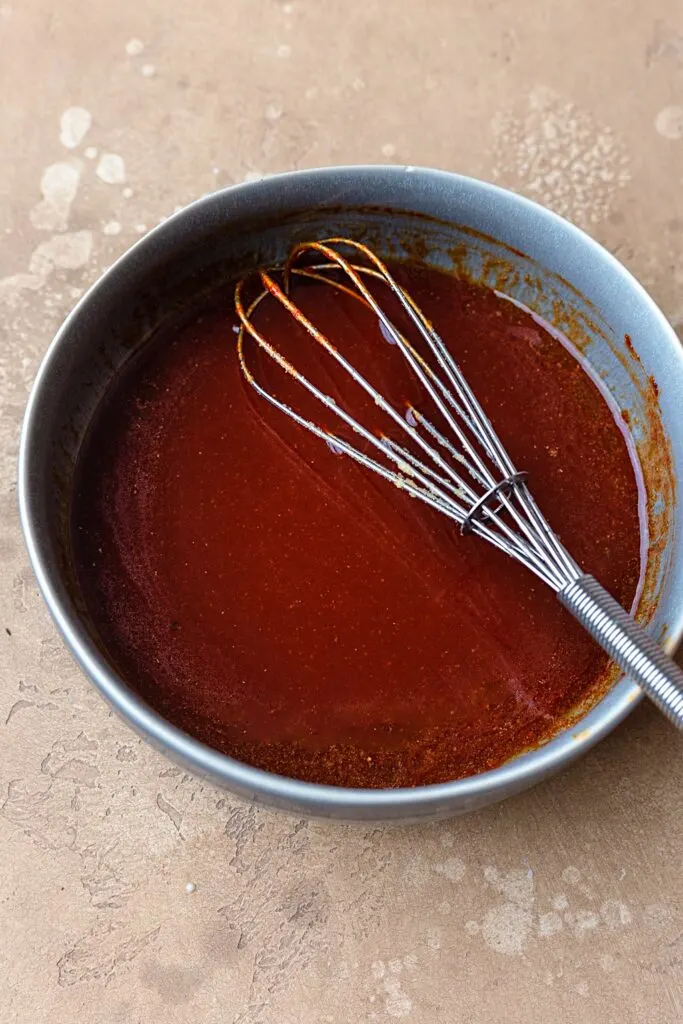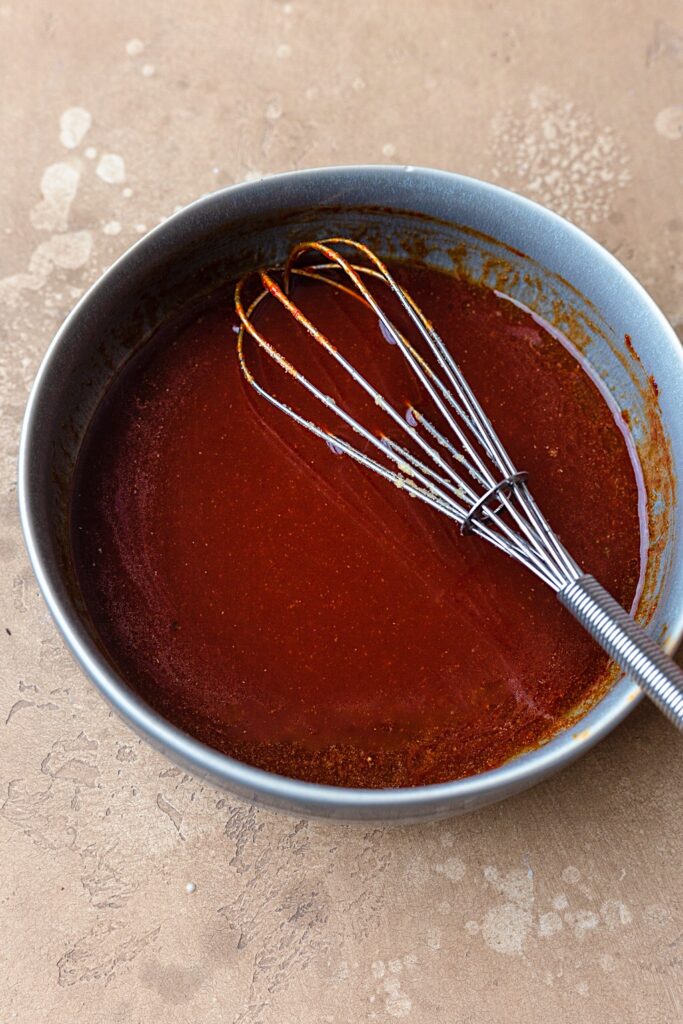 Place in the oven for 10 minutes. Then flip over and bake for another 10 minutes.
Prepare the sauce by mixing all the ingredients in a bowl. After 20 minutes in the oven, use a pastry brush to coat the wings.
Pop back in the oven for 5-10 minutes. If you have extra sauce left over you can pour over after 5 minutes and cook for a further 5 or toss the wings in it after they come out.
To make the gochujang mayo simply mix all the ingredients together and serve alongside!
I like to top these wings with some sesame seeds and finely chopped spring onion/scallion!
Whether you enjoy them as a snack, appetiser or with a salad they are sure to impress!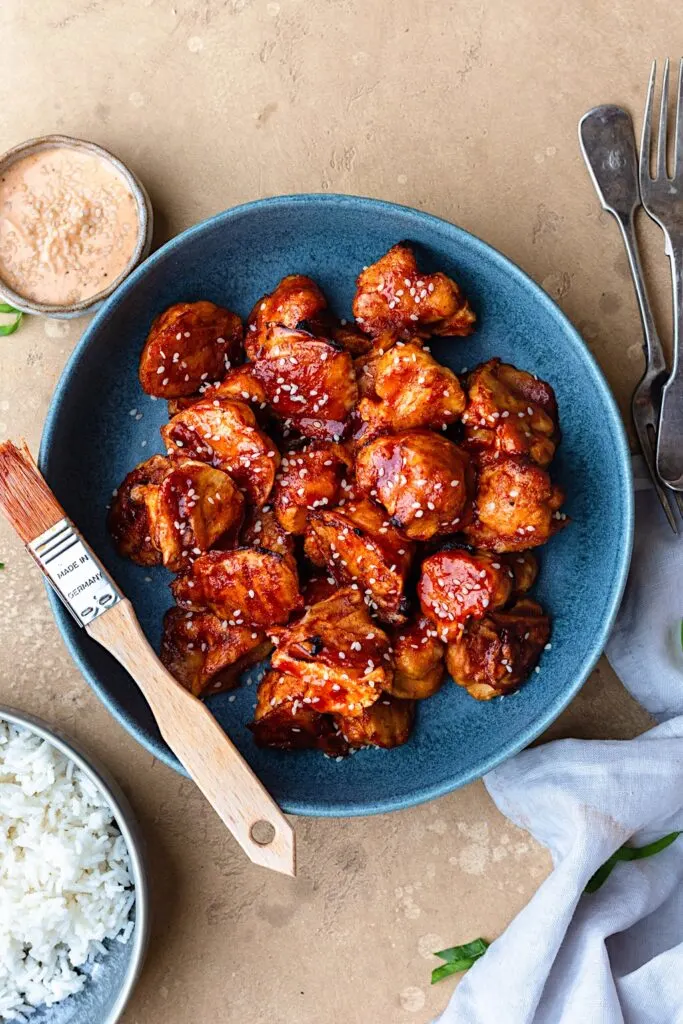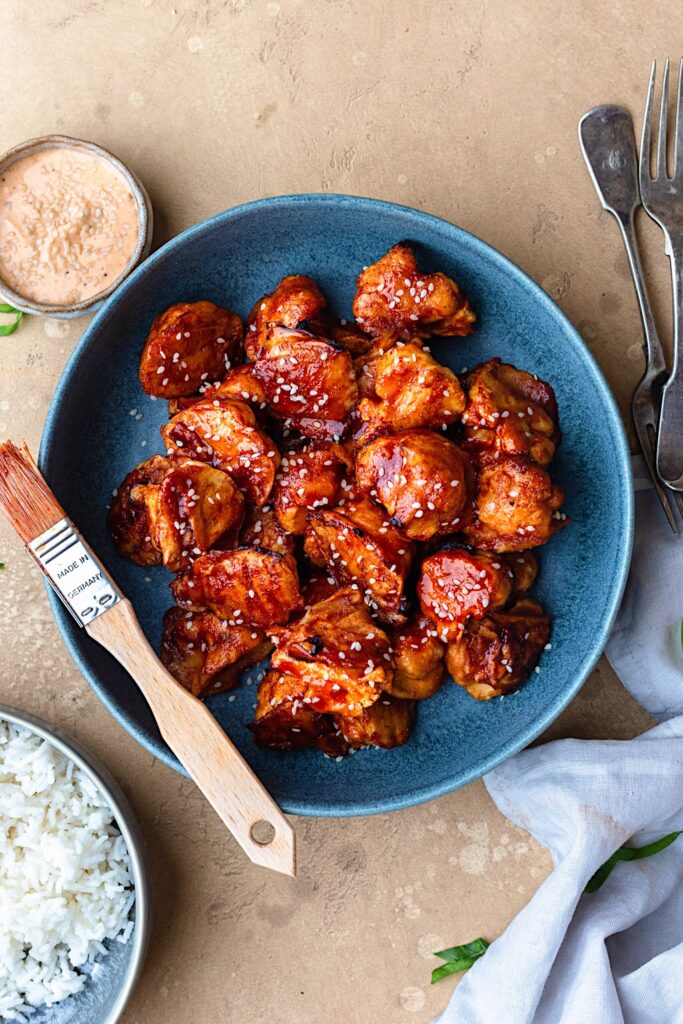 For more cauliflower recipes you may enjoy these:
Maple Sriracha Cauliflower Wings
Thai Sweet Potato and Cauliflower Lettuce Wraps
Creamy Cauliflower and Chickpea Curry
---
As always if you make these vegan gochujang cauliflower wings be sure to leave me a comment, rate this recipe and tag me on Instagram. I love seeing all your photos of my recipe recreations!
Don't forget to follow along on Facebook, Pinterest and Instagram – I'd love to see you all there!
---
NEVER MISS A RECIPE! GET MORE VEGAN RECIPES SENT STRAIGHT TO YOUR INBOX – SUBSCRIBE HERE ?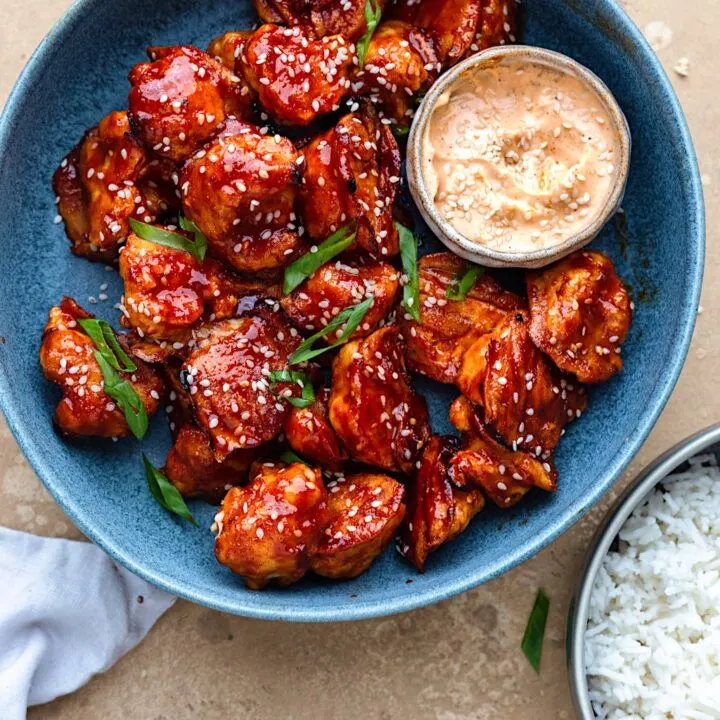 Gochujang Cauliflower Wings
These spicy vegan gochujang cauliflower wings make the perfect snack or appetiser! They're battered and baked in a sweet and spicy gochujang sauce and served with a creamy mayo dip.
Ingredients
Batter
3/4 cup plain flour
1 cup unsweetened plant milk (soya, oat, almond)
1 tsp garlic powder
1/4 tsp salt
Generous sprinkling of black pepper
Gochujang sauce
1/4 cup gochujang sauce
1/4 cup soy sauce
2.5 tbsp agave syrup
1.5 tbsp rice vinegar
1 tbsp toasted sesame oil
1/2 lime
1 tsp garlic powder
1/2 tsp ground ginger
Mayo Dip
1/2 cup vegan mayonnaise
1 tsp gochujang paste
1 tsp agave syrup
Black pepper
To serve
Sesame seeds
2 spring onion/scallions
Instructions
Preheat the oven to 180C/350F.
Cut the cauliflower into bite sized florets (it will make around 25) and line two baking sheets with baking paper.
Place the batter ingredients in a bowl and whisk. It should be like a pancake batter consistency, not too runny.
Using a fork, place the cauliflower florets into the batter making sure to fully coat them. Let any excess batter drip off and then place onto the lined baking sheet.
Continue until they are all coated, make sure they aren't touching.
Place into the oven and set the timer for 10 minutes. Using a spatula carefully flip them over and place in for a further 10 minutes.
Make the gochujang sauce by mixing all the ingredients in a bowl. After 20 minutes in the oven, brush the wings in the sauce.
Place back in the oven for 5-10 minutes. If you have leftover sauce you can give them a second coating or coat once they done.
Make the sauce by mixing all the ingredients in a bowl. Serve with the wings and top with sesame seeds and sliced spring onions.
Recommended Products
As an Amazon Associate and member of other affiliate programs, I earn from qualifying purchases.