You can't beat a classic caesar salad and this vegan chicken caesar salad has it all! Crunchy romaine lettuce, crispy golden croutons, vegan chicken pieces and a creamy mayonnaise caesar dressing!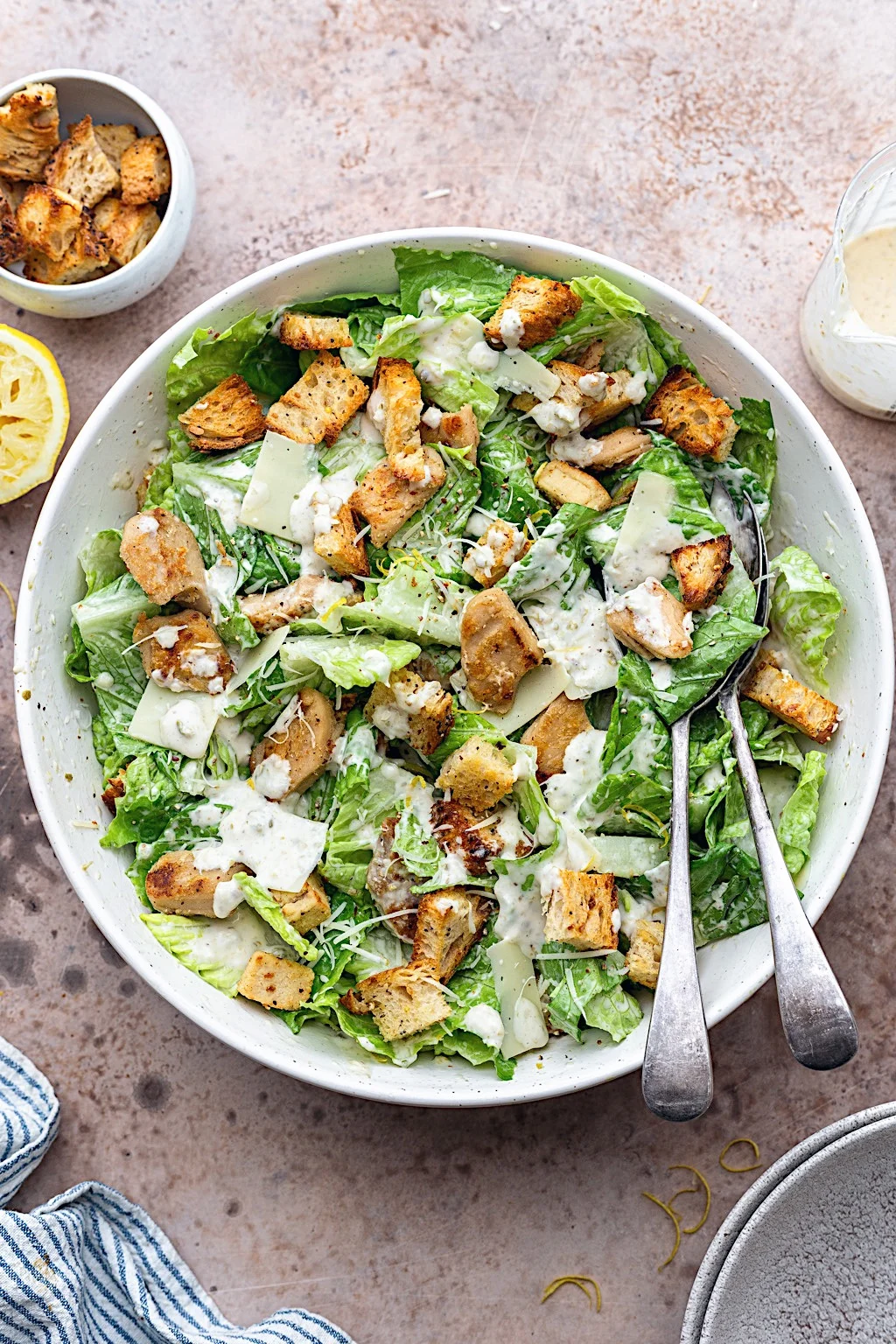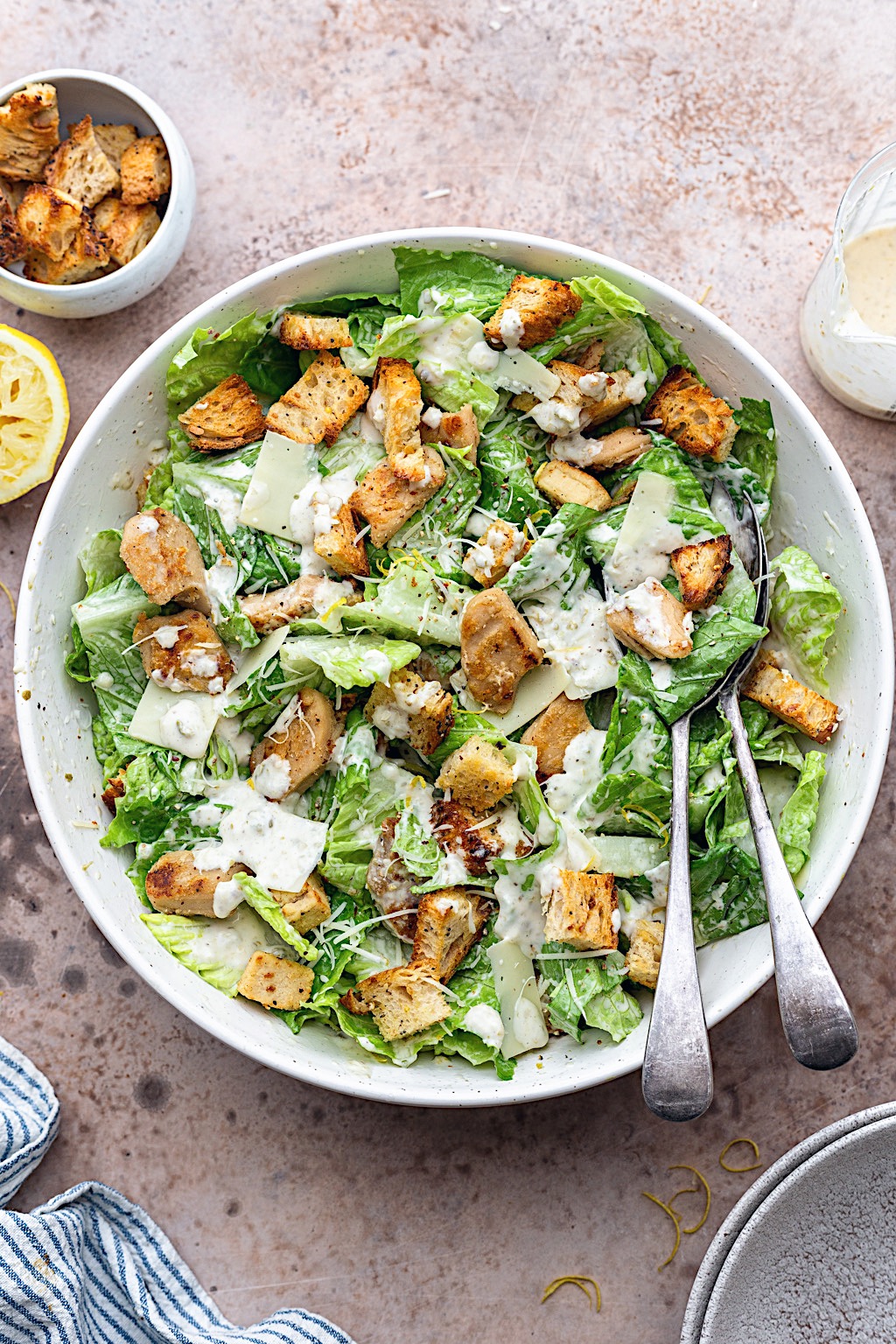 If you're looking for a salad full of texture and flavour this one is for you! It's one of my go to salads when I want one that serves as a whole meal and not just a side salad.
You can really load up with anything you want in this salad. Extra protein, less lettuce, more croutons – or add in any extras. I love adding some juicy cherry tomatoes and subbing some of the lettuce for kale.
Many people think Caesar salad was comes from Julius Caesar but it's actually from an Italian man called Caesar Cardini. He was low on ingredients and used what he did have on hand to create what is now know as a Caesar salad. And boy aren't we all grateful for that!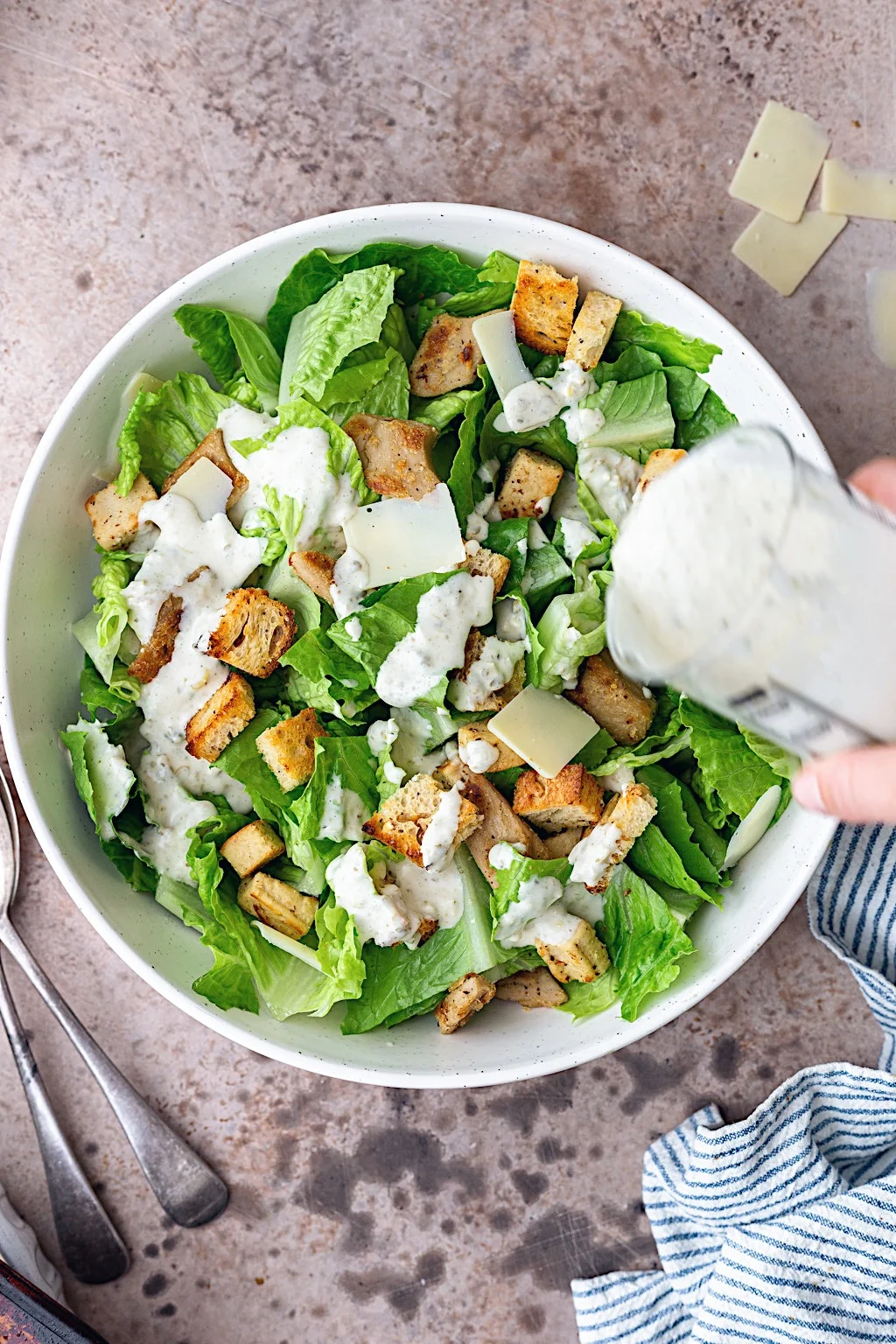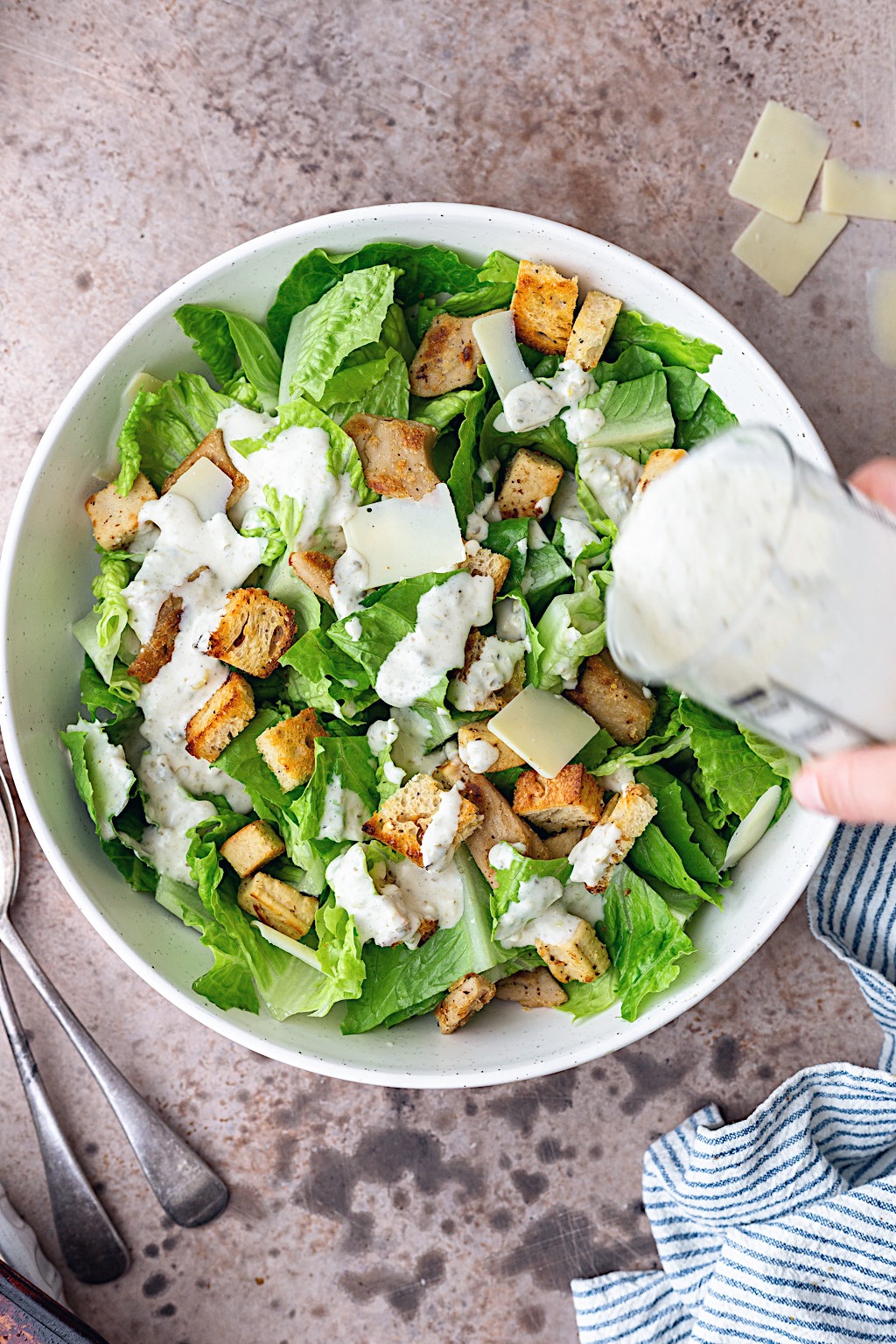 Traditionaly the dressing is made using eggs and oil to create a mayonnaise base along with anchovies. Thankfully there are some great vegan mayonnaise alternatives now. I always use Follow Your Heart in my opinion it's better than every other brand, but use your favourite!
Whilst we don't have a direct substitution for anchovies we are using capers for their salty briney flavour along with vegan Worcestershire sauce. This is readily available in most big supermarkets, I have the brand Biona which I picked up in Waitrose.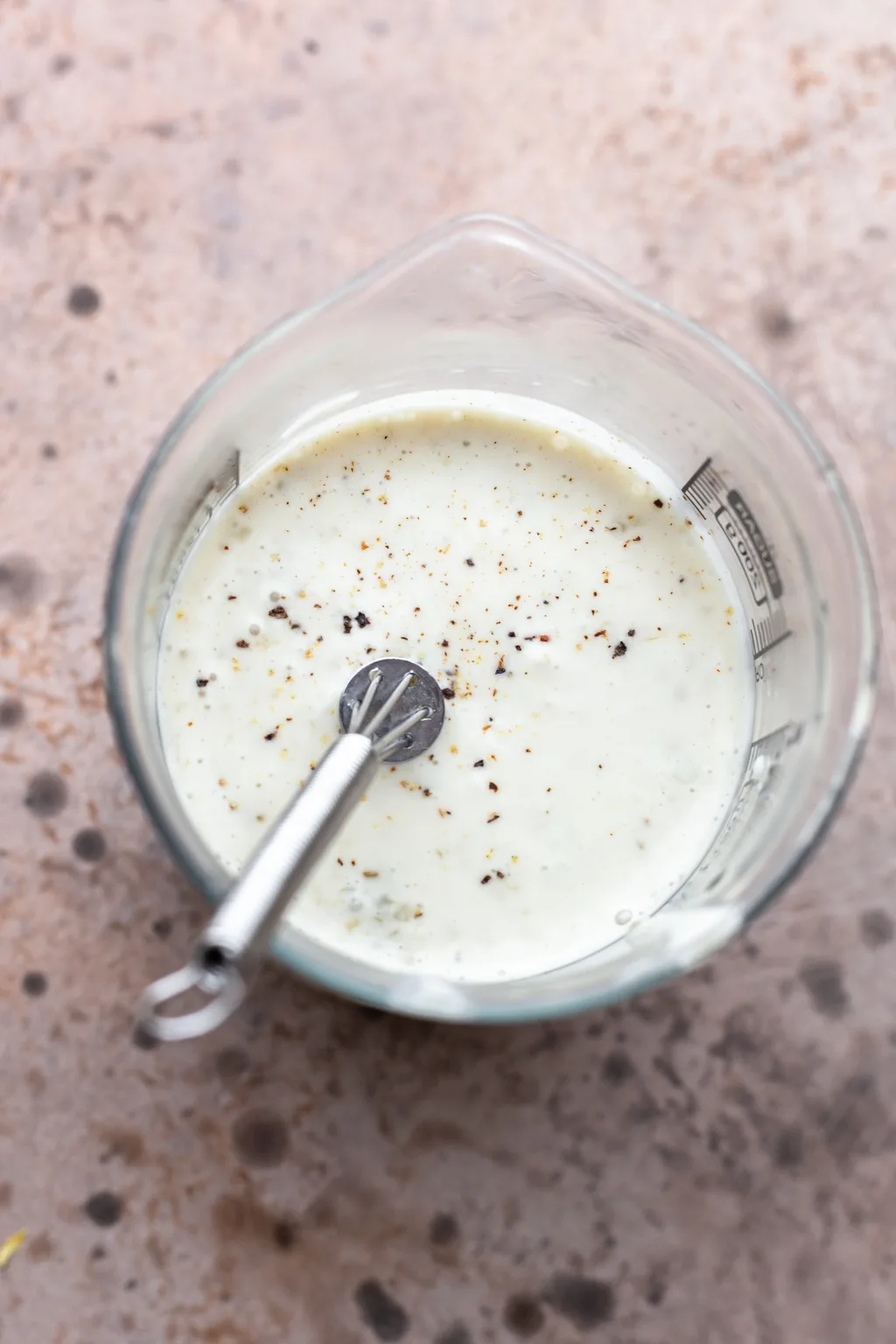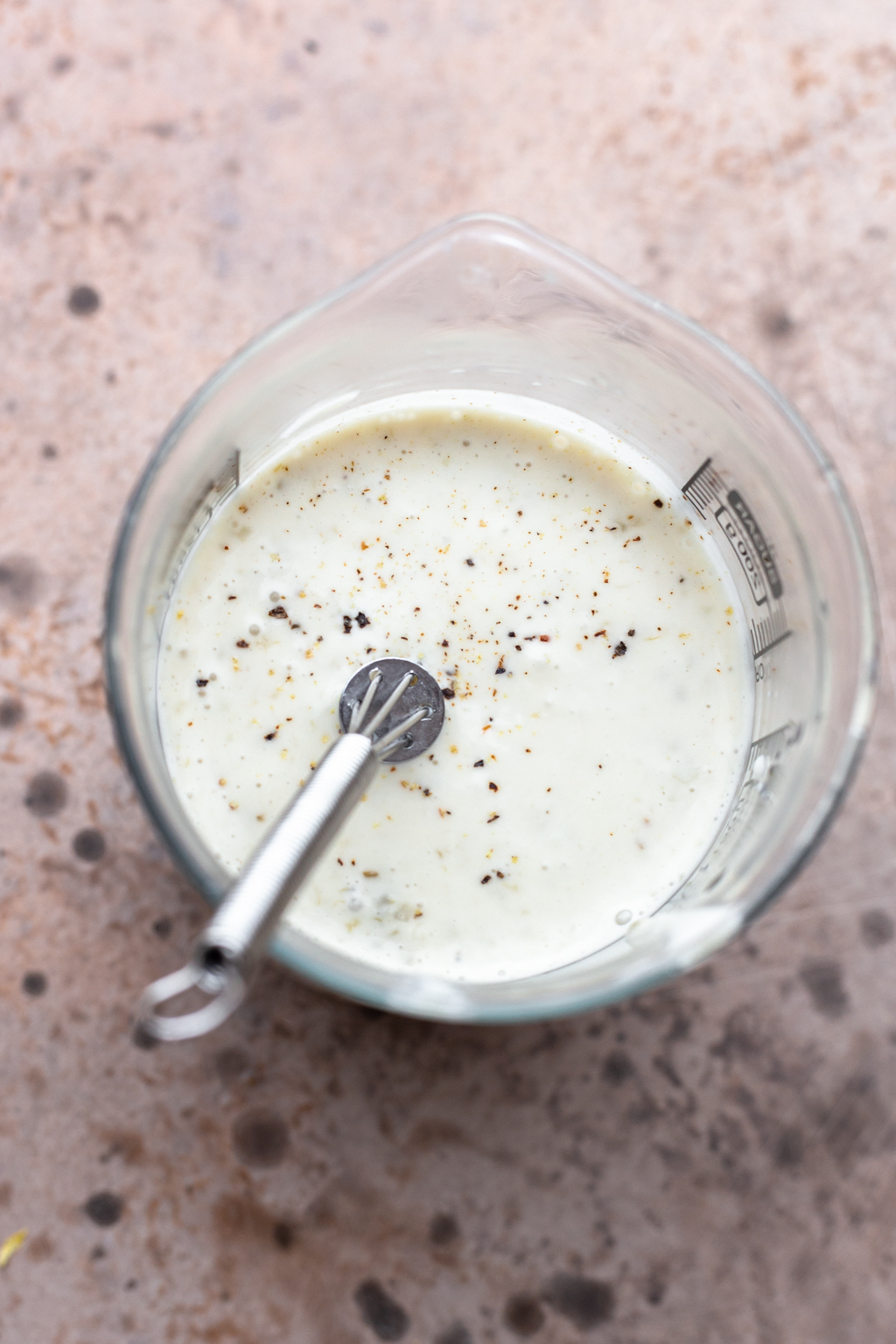 Here's what you'll need for a vegan chicken ceasar salad:
Romaine lettuce
Vegan chicken pieces
Bread (I love using sourdough, but any crusty white bread works well)
Vegan mayonnaise
Lemon
Capers
Vegan Worcestershire sauce
Garlic
Dijon mustard
Vegan parmesan
For the vegan chicken pieces you can use whichever ones you prefer. I like Quorn pieces, Oumph!, Dopsu. Or if you don't want the added vegan chicken simply leave it out!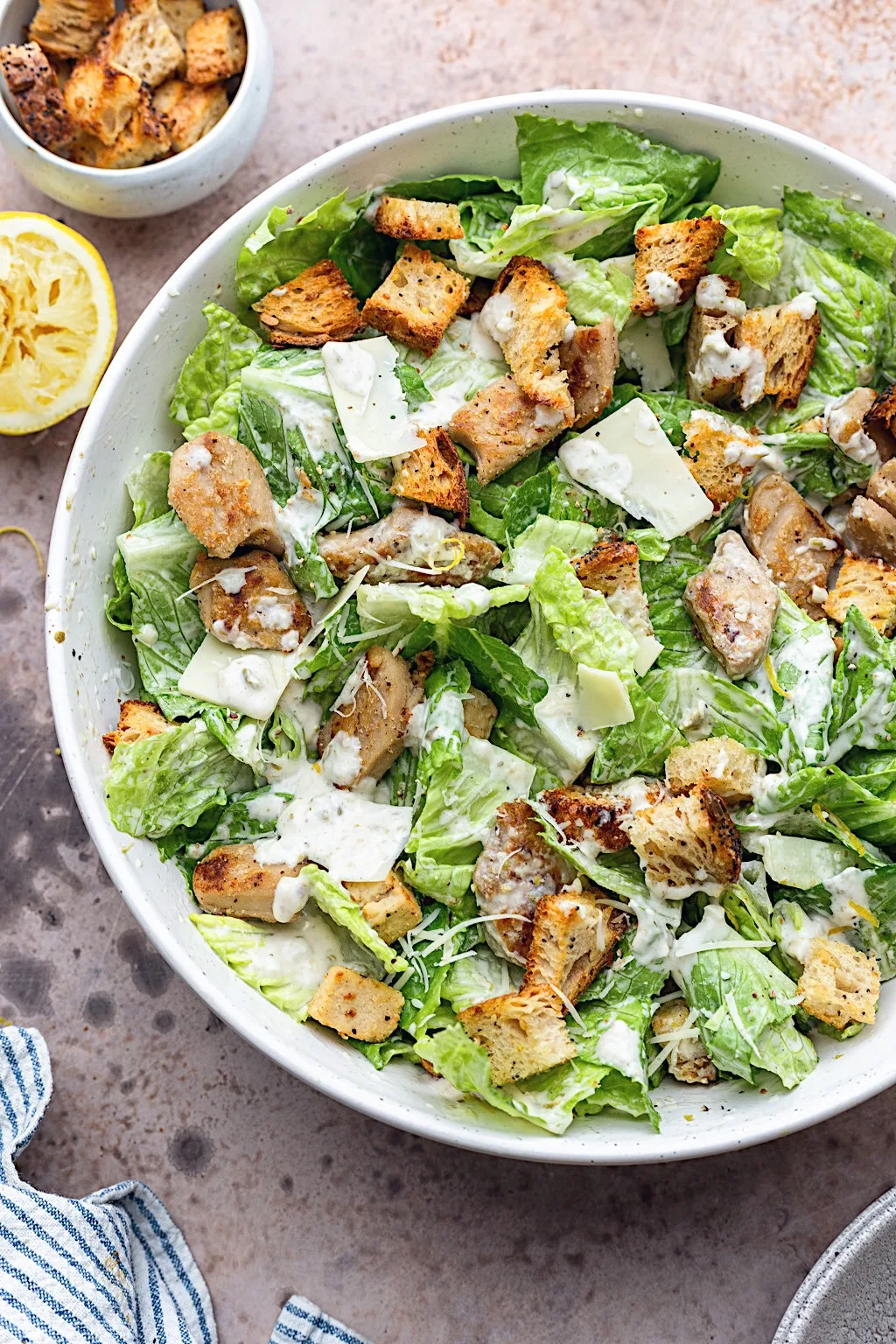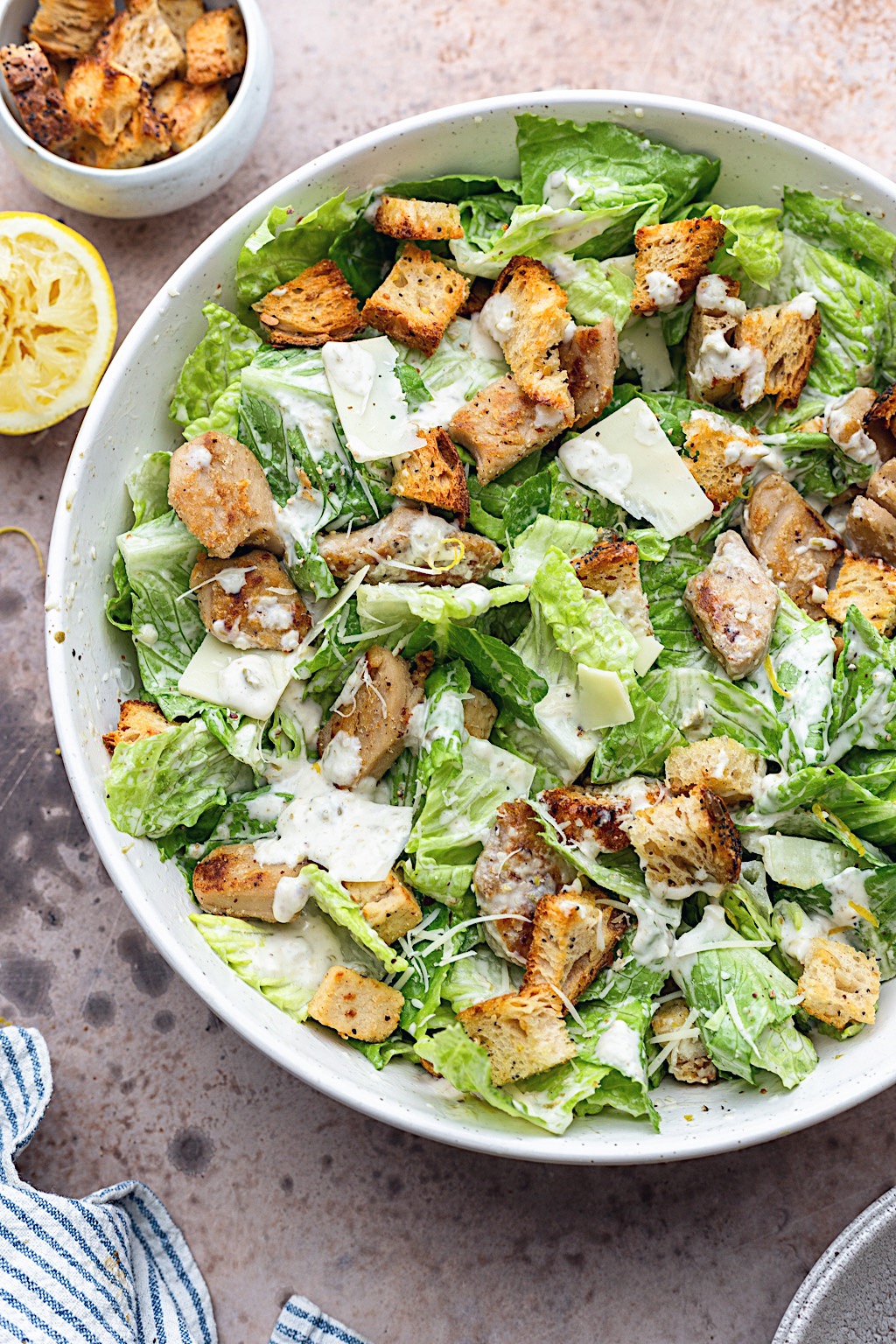 The best vegan pamersan in my opinion is the Violife one. It grates well, slices well and taste really good. If you want those classic parmesan shavings you get in a caesar salad I would go for that one!
Although this salad is super simple to make it does require a bit of cooking for the vegan chicken and homemade croutons. So let's get to preparing it!
How to make vegan caesar salad:
Start by cooking the vegan chicken pieces, fry in a pan with a bit of oil until golden and crispy then set aside.
Tear or cut the bread into 1 inch pieces and place on an oven tray. Toss in some olive oil, sea salt and black pepper and cook for 3-5 minutes. Flip them halfway through to ensure they are golden on all sides.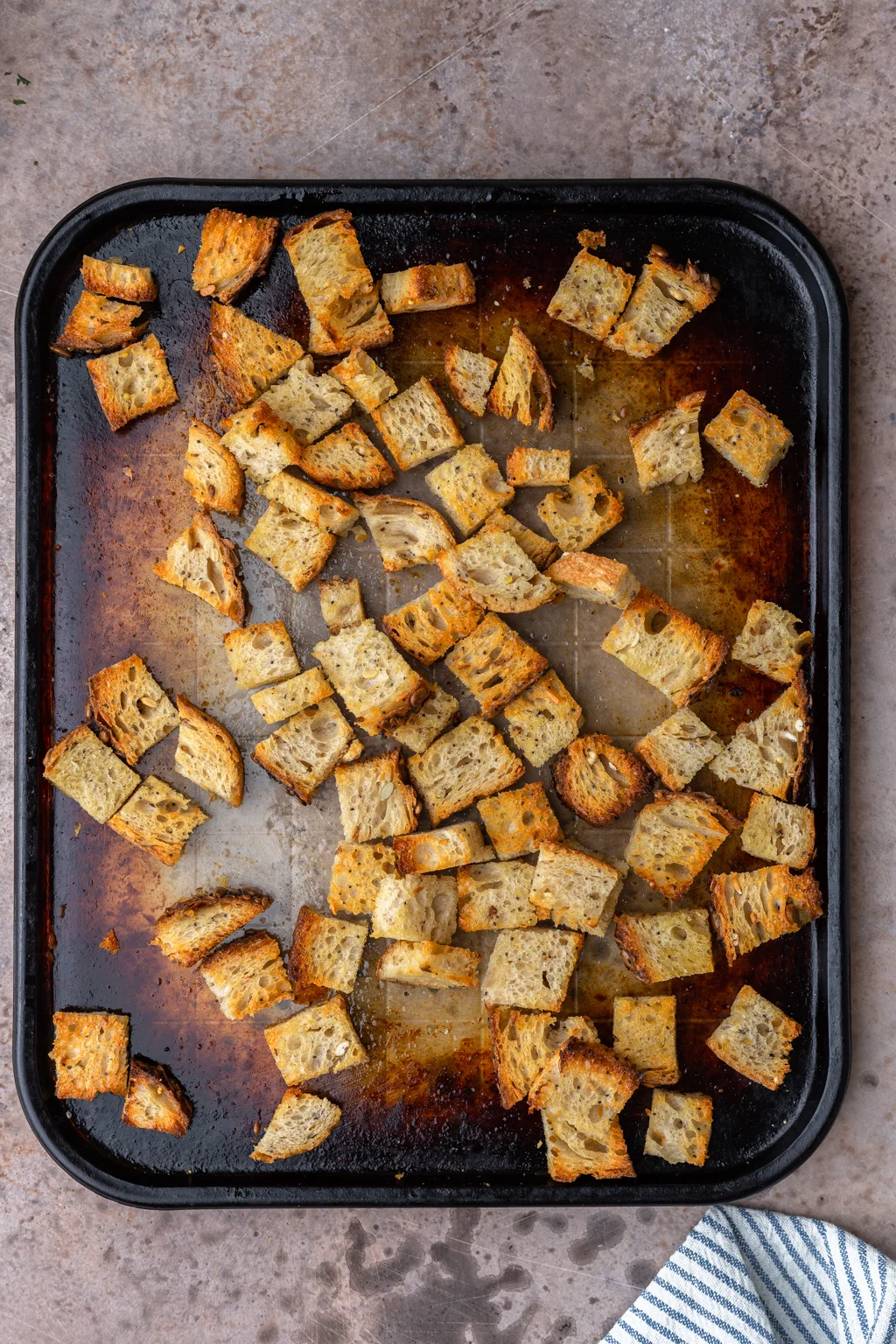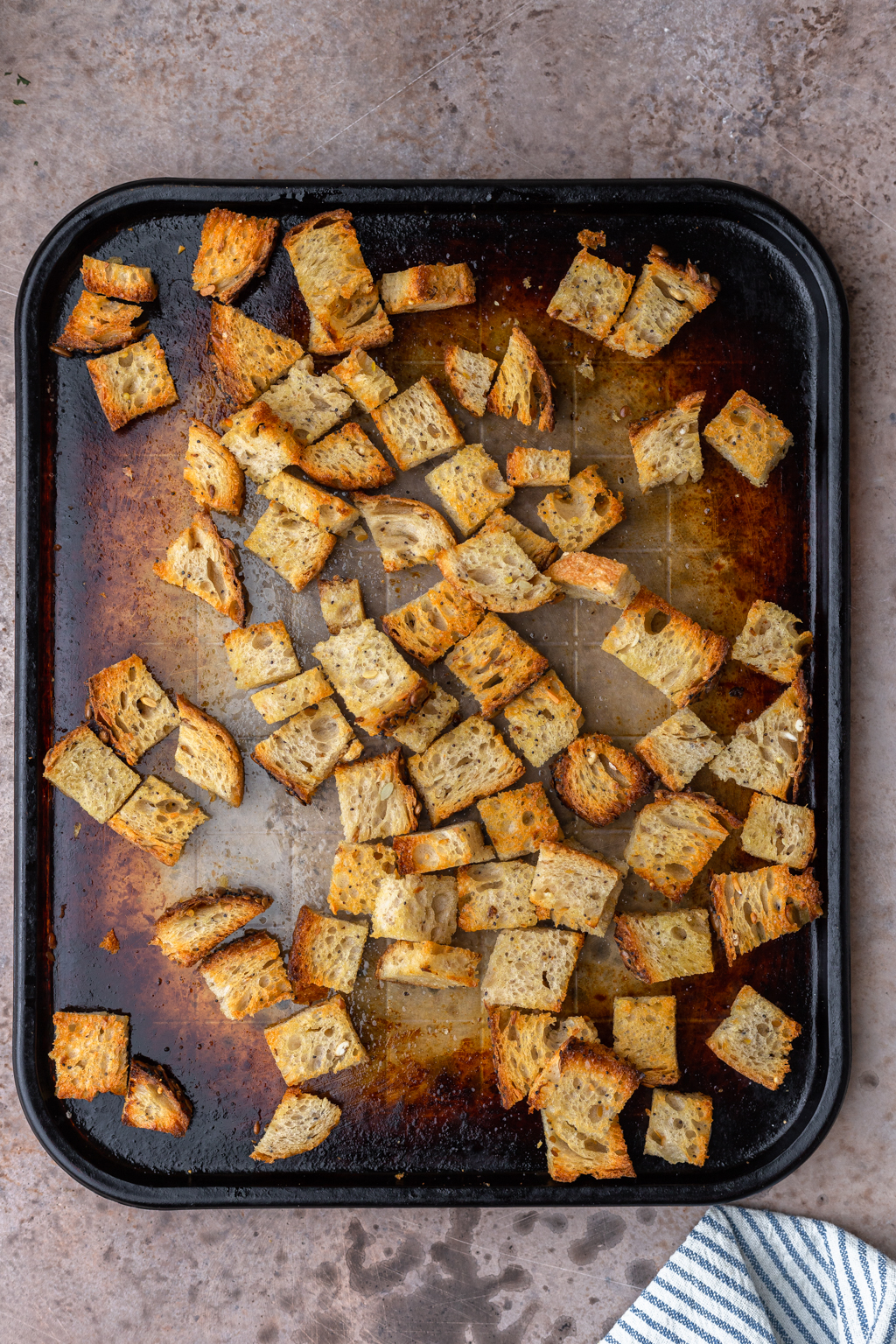 To make the dressing place all the ingredients in a blender (if you want it completely smooth) or food processor until combined.
Wash and cut the lettuce into large chunks and place in a large bowl. Add the vegan chicken and the sauce and mix well. Add the croutons just before serving so they stay crunchy.
I like to leave some dressing aside for people to drizzle extra on. And that is all there is to making the most delicious vegan chicken caesar salad!
It is such a great salad to make for lunch as you don't need to add in any extra protein or bread!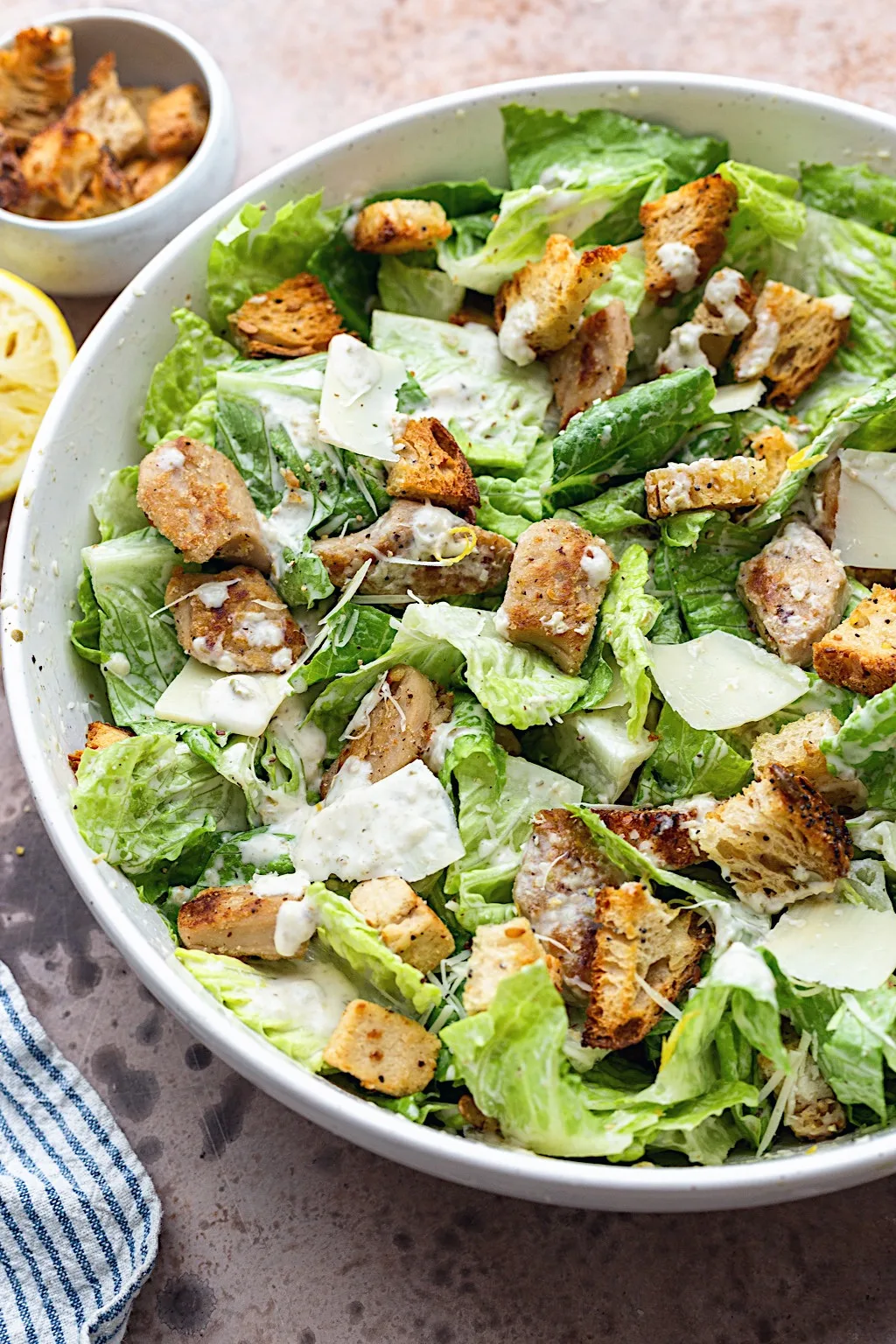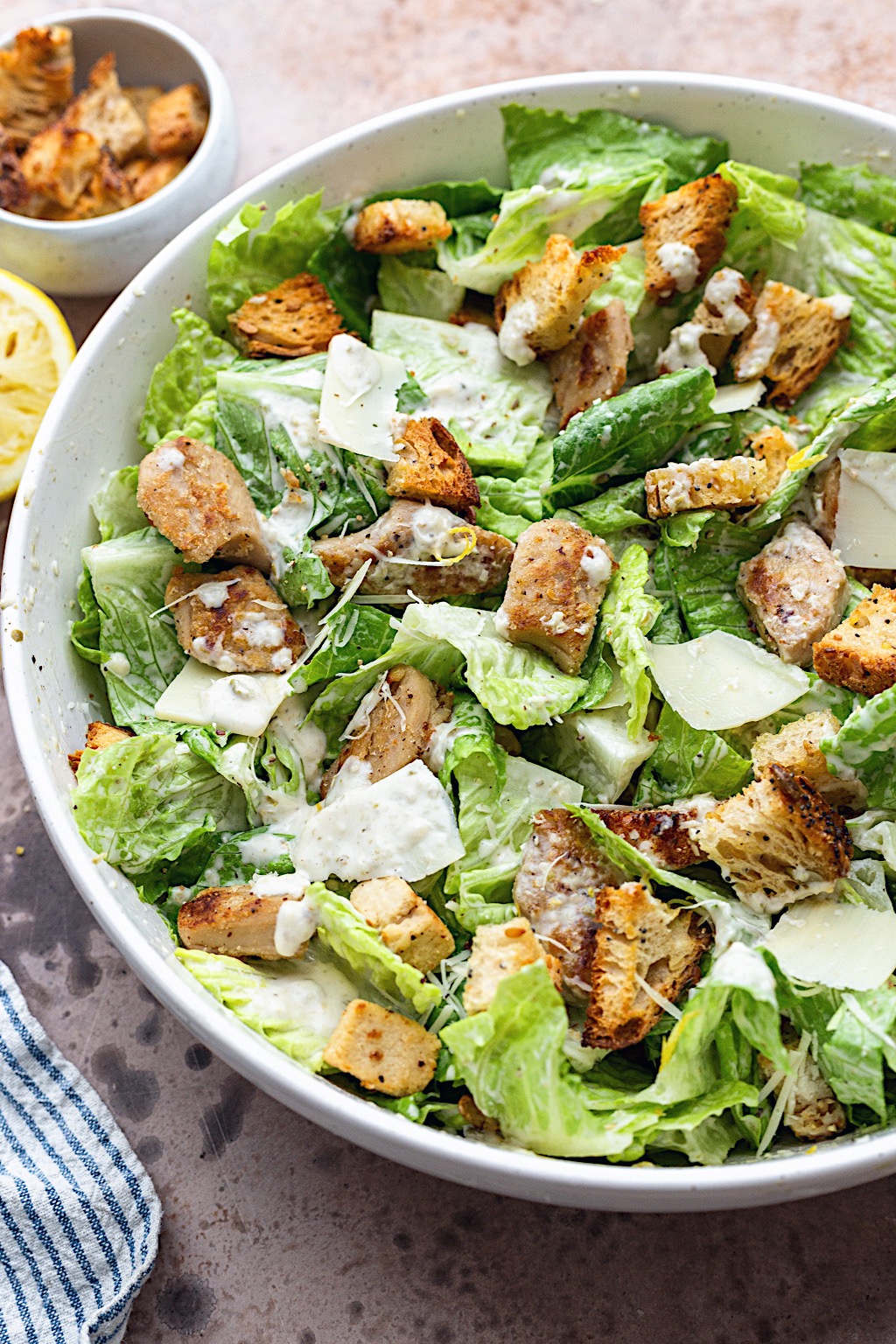 It will keep well in the fridge for a couple of days in an air tight container. Add the croutons before serving.
For more vegan salad recipes you may enjoy these:
Orzo pasta salad with creamy avocado dressing
Shredded brussels sprouts, kale and bacon salad
Moroccan couscous chickpea salad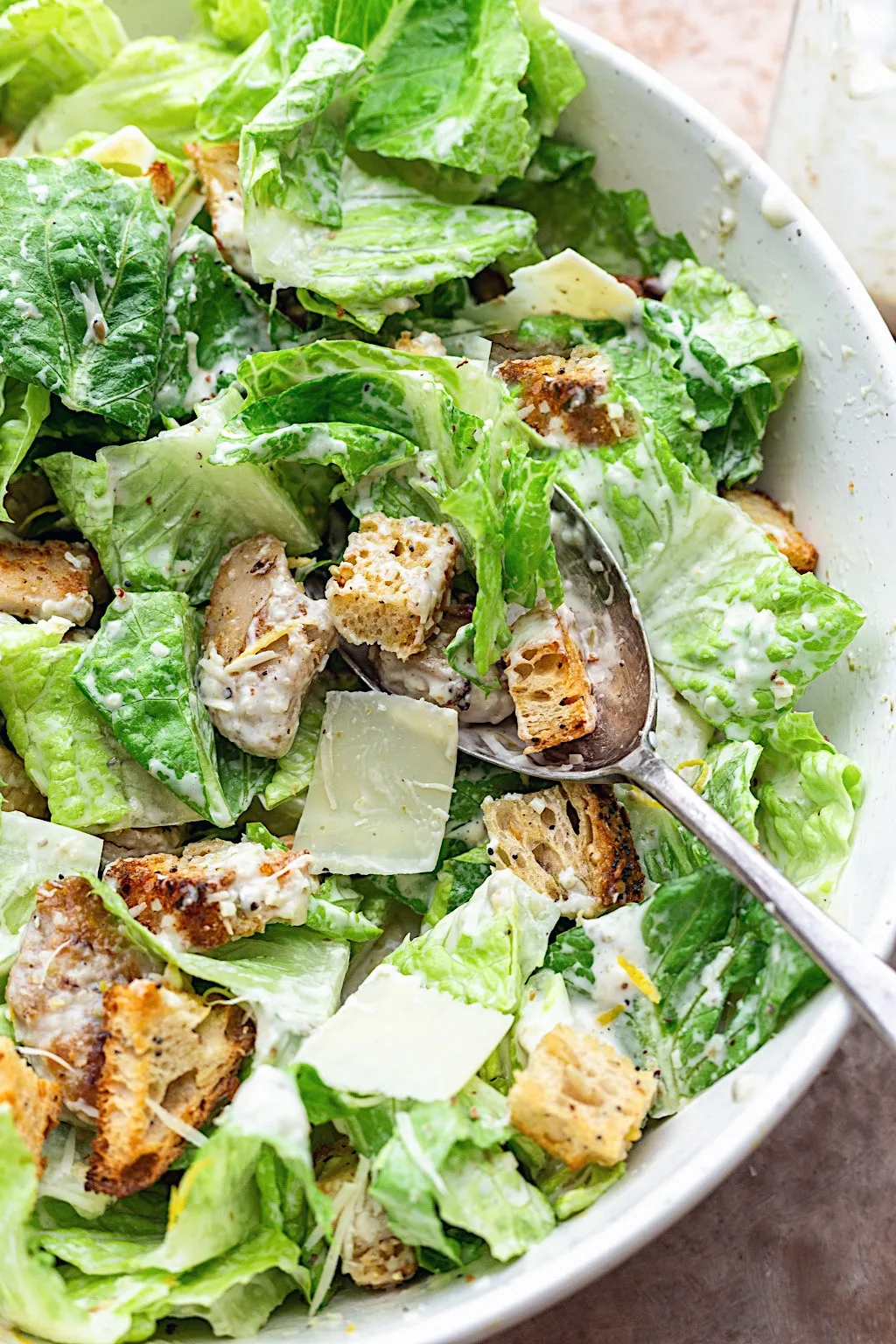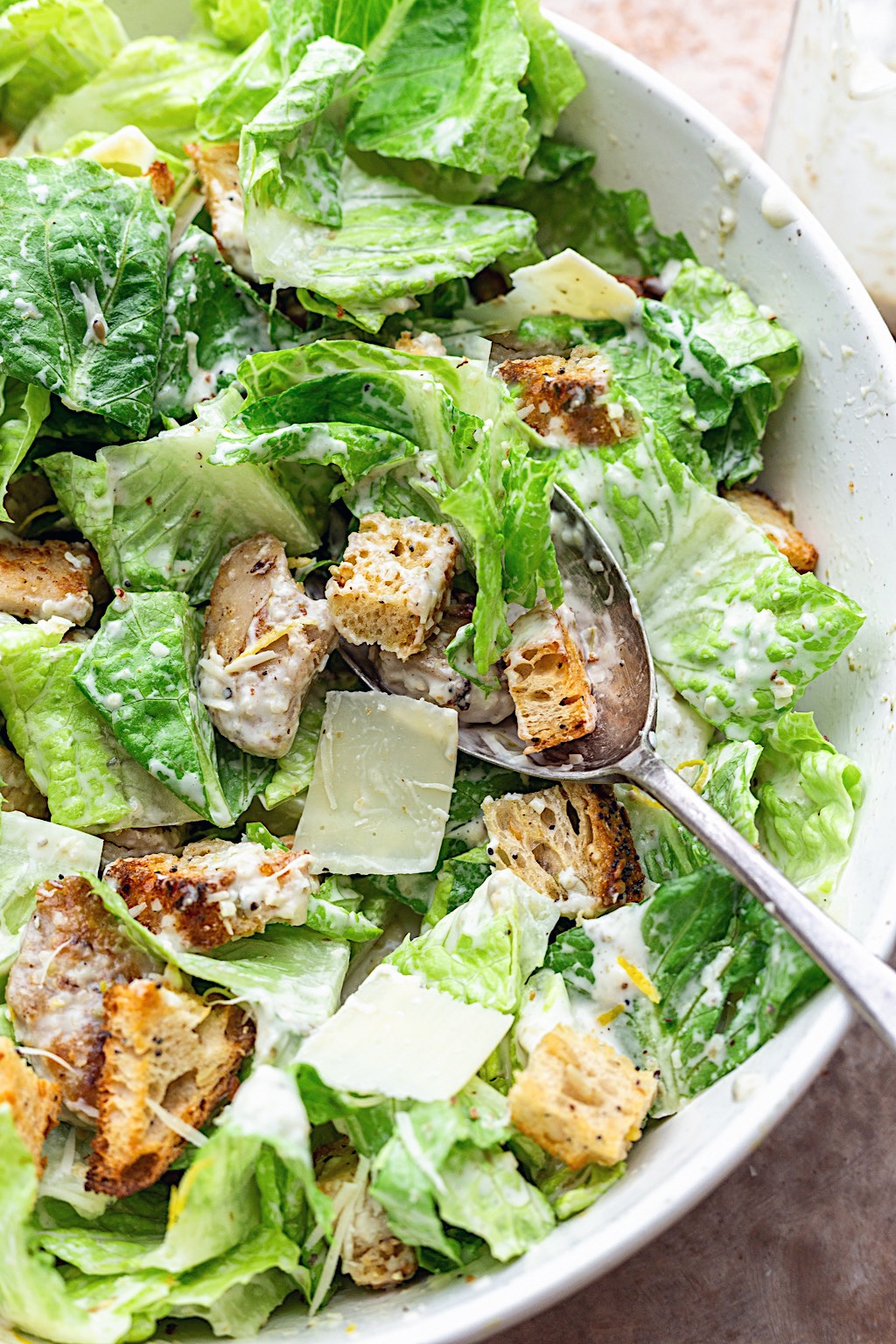 ---
As always if you make this vegan chicken caesar salad salad be sure to leave me a comment, rate this recipe and tag me on Instagram. I love seeing all your photos of my recipe recreations!
Don't forget to follow along on Facebook, Pinterest and Instagram – I'd love to see you all there!
---
NEVER MISS A RECIPE! GET MORE VEGAN RECIPES SENT STRAIGHT TO YOUR INBOX – SUBSCRIBE HERE 🙂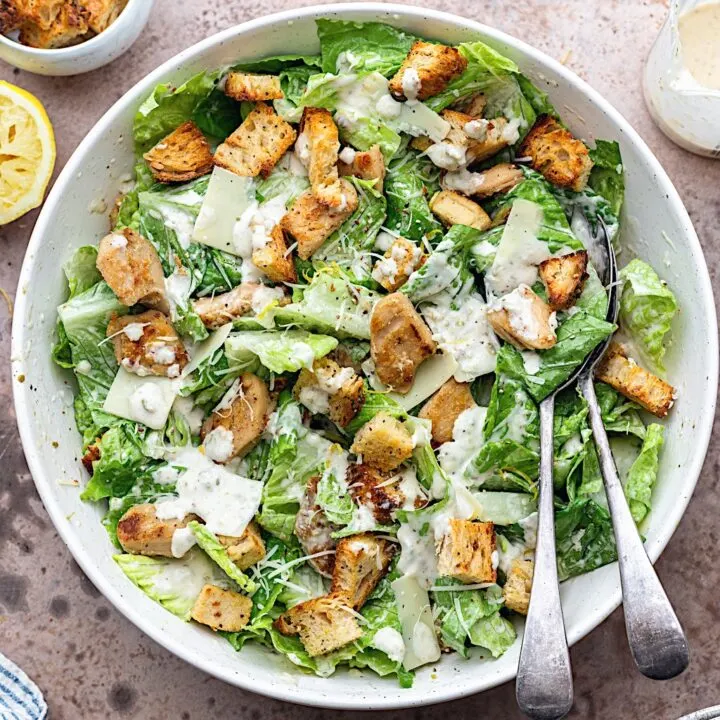 Vegan Chicken Caesar Salad
This classic vegan chicken caesar salad is full of crunchy romaine lettuce, homemade croutons and vegan chicken pieces. Tossed in a creamy caesar salad dressing. The ultimate summer salad!
Ingredients
3-4 slices white bread (sourdough, ciabatta or any thick crusty bread)
200g / 7oz vegan chicken pieces
2 romaine lettuce heads
Vegan parmesan
Dressing
1/2 cup vegan mayonnaise
1 tbsp capers
1.5 tsp Dijon mustard
2 tbsp lemon juice
1 tsp Worcestershire sauce
1 garlic clove
40g / 1/2 cup vegan parmesan or nutritional yeast
Instructions
Cut or tear bread into 1-2 inch pieces and place on a baking tray. Drizzle with olive oil and place in the oven for 4-5 minutes, turning half way until golden on both sides. Remove from oven and set aside.
Fry vegan chicken pieces in a tbsp of oil for 5-7 minutes or according to packet instructions. Set aside.
Add all the dressing ingredients into a blender or food processor. Blitz until smooth. Add a tbsp of water to thin if needed.
Rinse romaine lettuce leaves and dry. Cut or tear into large pieces and place in a large bowl.
Add the chicken pieces and dressing and toss well. Add the croutons before serving and finish with some shavings of parmesan.
Notes
Will keep in the fridge for a few days. add the croutons just before serving so they stay crunchy.
I used Violife parmesan cheese , Follow Your Heart Vegenaise and white sourdough.
It will make about 180ml of dressing.
Recommended Products
As an Amazon Associate and member of other affiliate programs, I earn from qualifying purchases.