If there is any salad you should be making this summer it's this thai tofu noodle salad! It's packed full with veggies, pan fried tofu and noodles tossed in a spicy thai peanut and soy sauce dressing!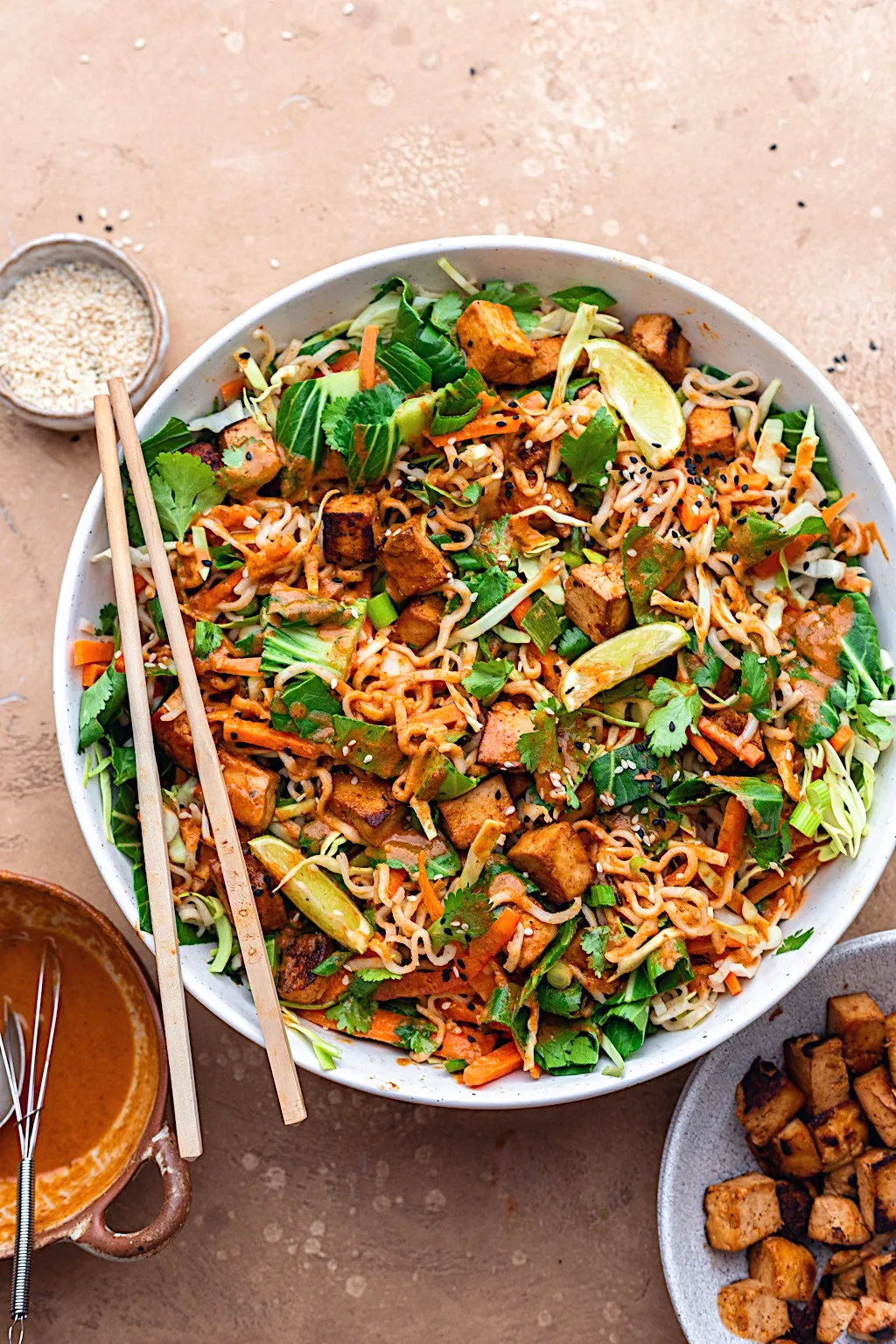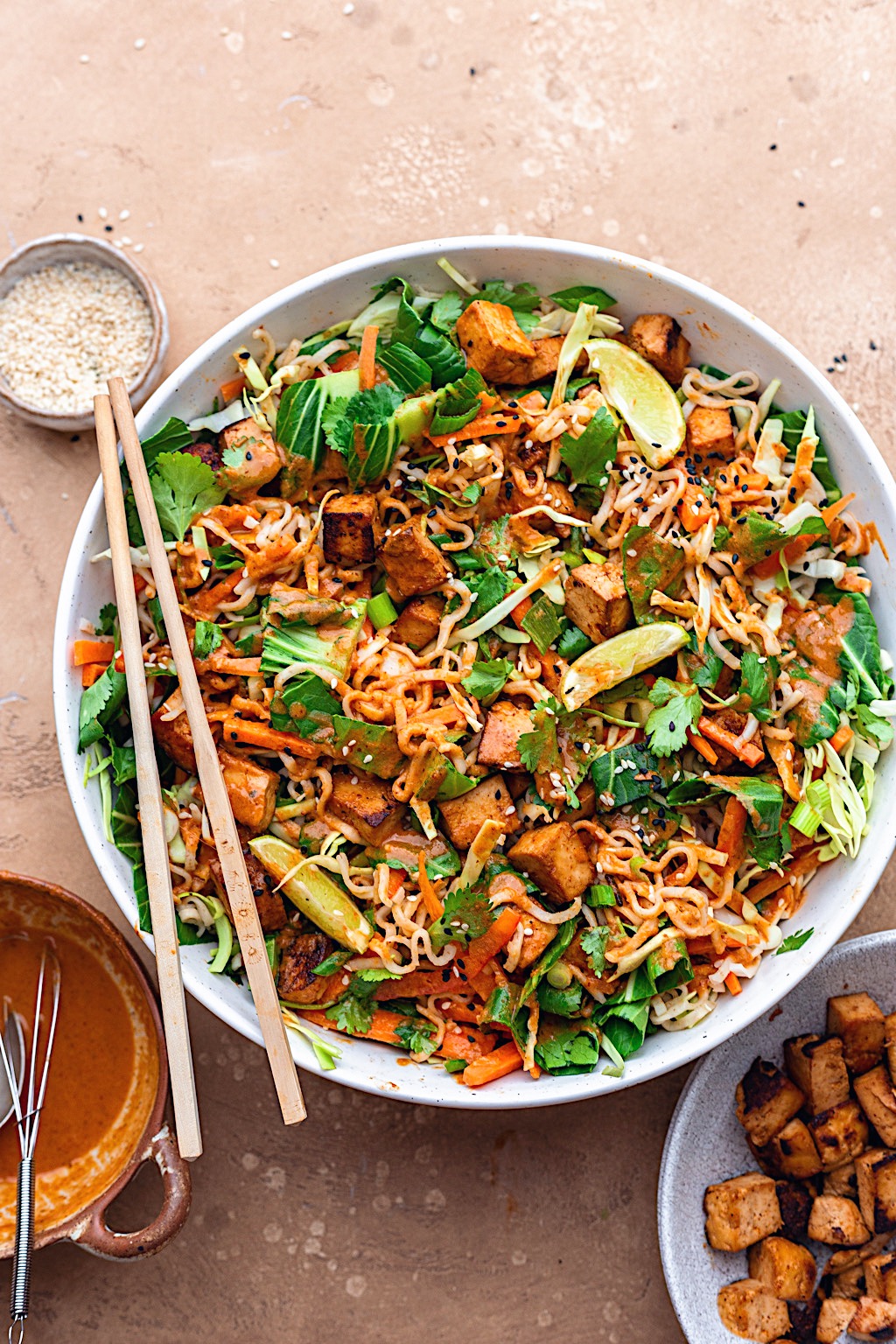 With warm summer days ahead we're all about recipes with minimal cooking but heavy on flavour! This thai noodle salad served cold is refreshing, zingy and full of veggies!
Packed with bok choi, carrots, cabbage, coriander and spring onions. Mixed with noodles, fried tofu and the most delicious thai peanut dressing!
The only cooking needed for this recipe is the noodles and tofu. All the veggies are raw which makes it super easy to put together!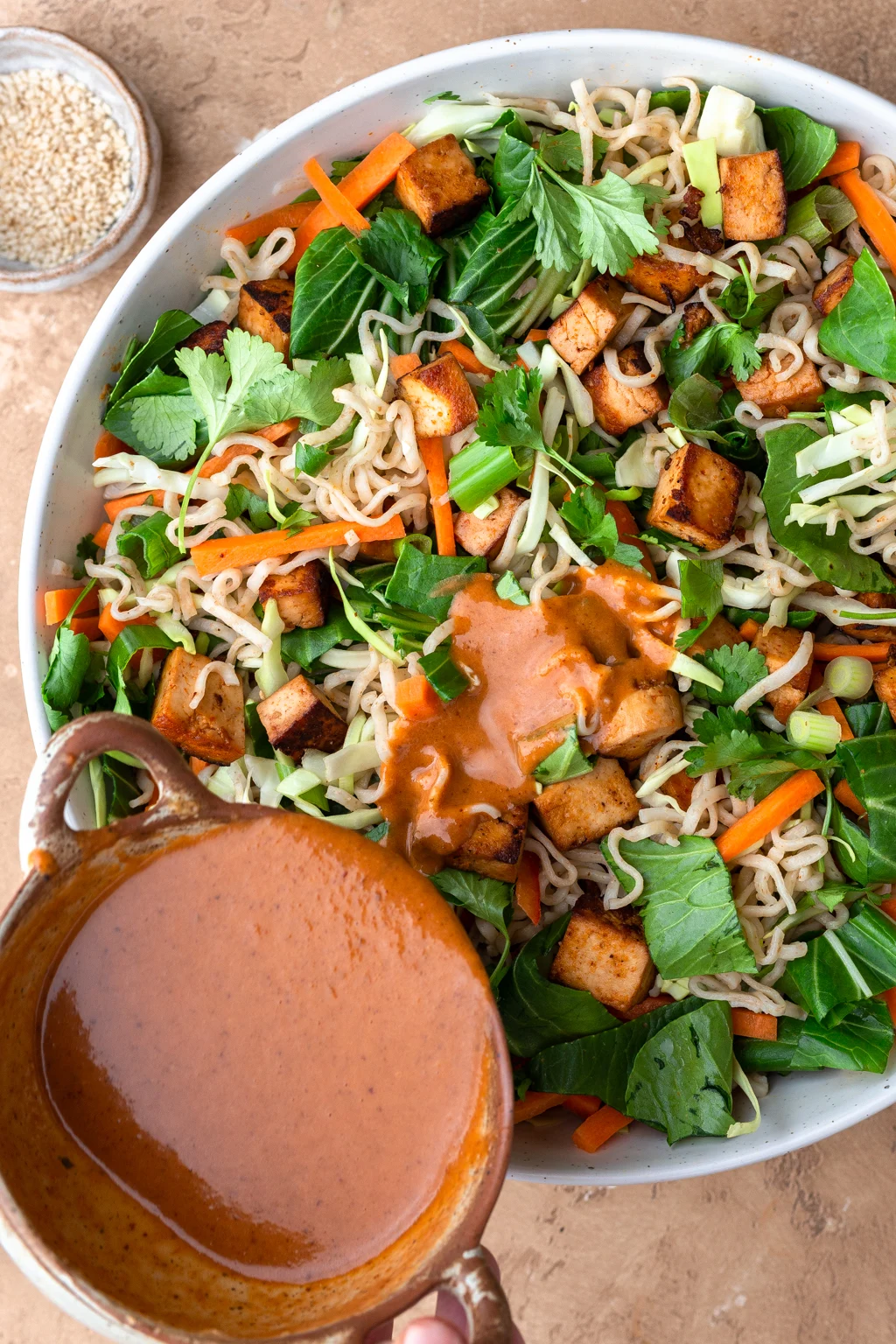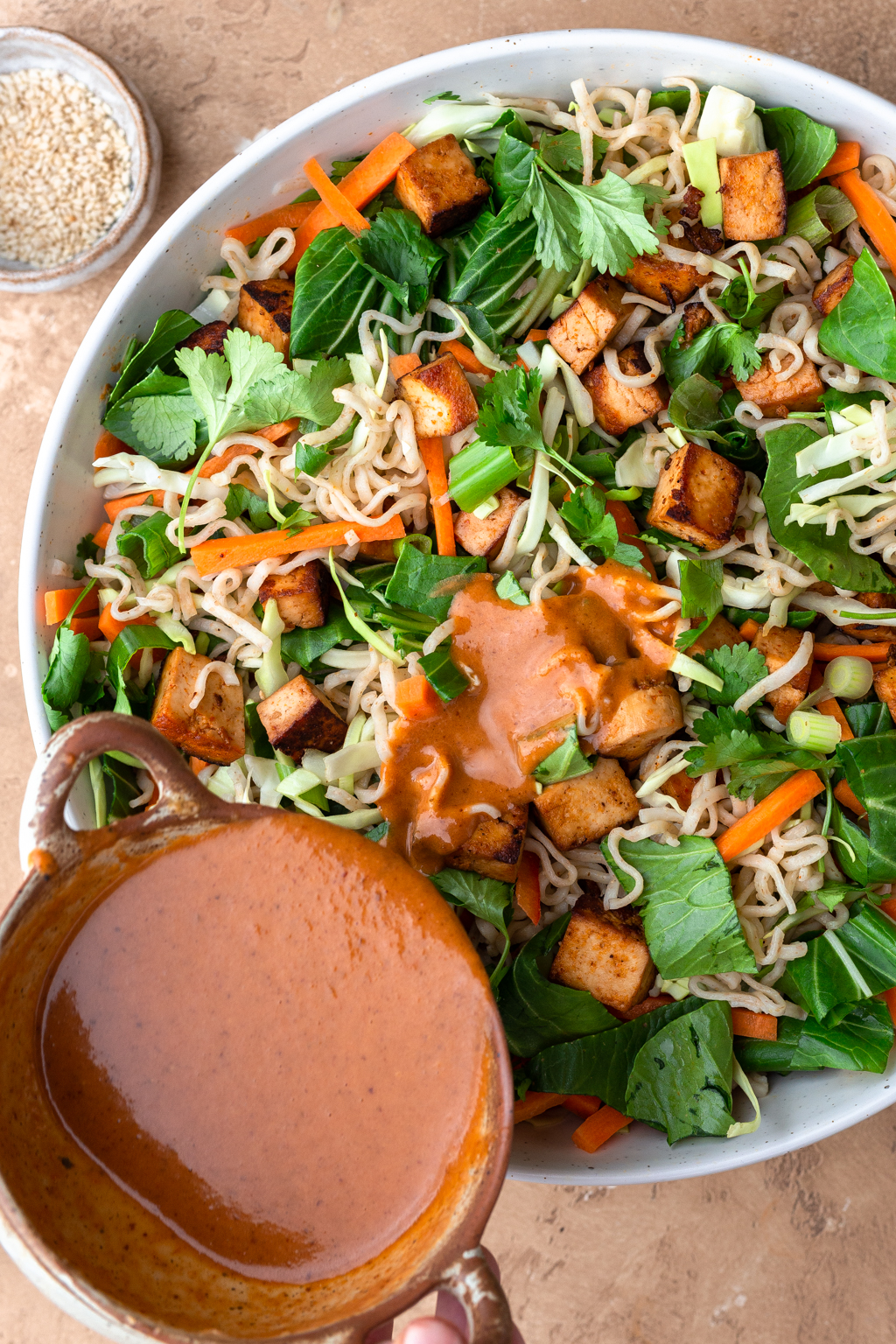 What you'll need for thai tofu noodle salad:
Noodles (I use wholewheat)
Bok choi
Carrot
Napa cabbage
Coriander
Spring onion/scallion
Extra firm tofu
Sesame oil
Soy sauce
Red thai curry paste
Lime
Peanut butter

Maple syrup
You can use your favourite noodle, choose one that will hold well. You want to go for extra firm tofu so it also holds well when fried and tossed in the salad. Firm tofu will work, just squeeze any excess water out first.
Napa cabbage is a Chinese white cabbage, you should be able to find it in most big supermarkets but you can sub for regular green or red cabbage.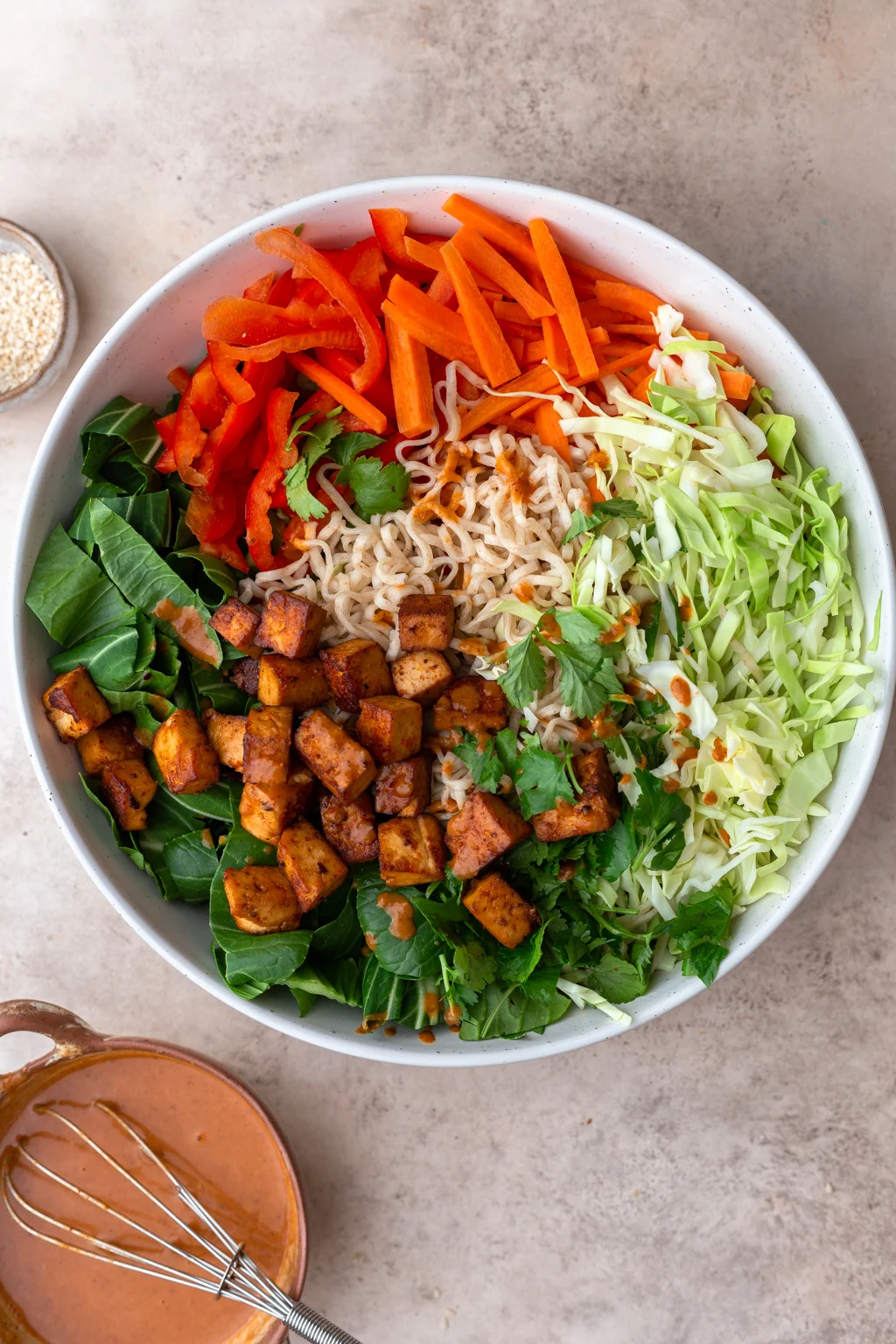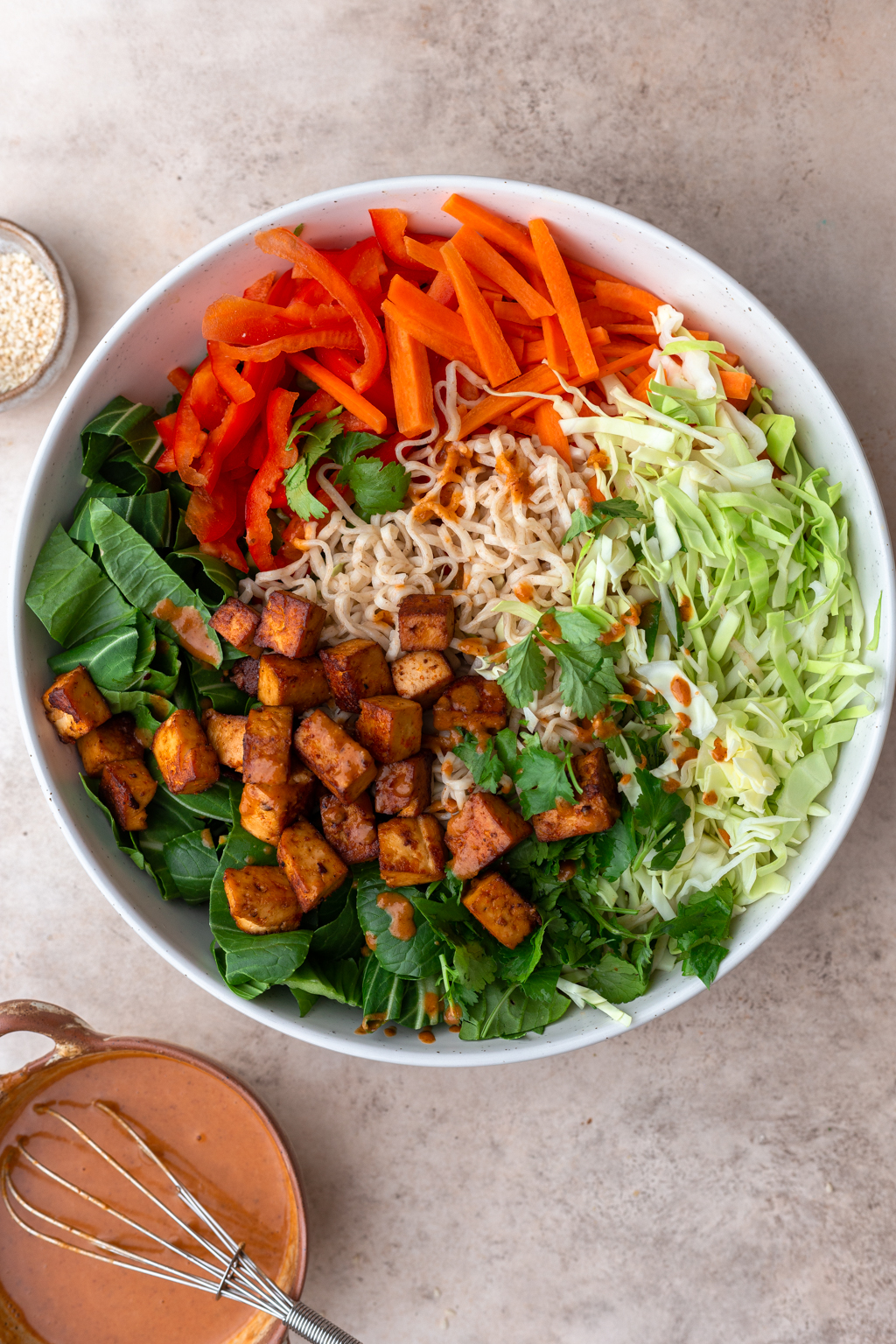 The star of this recipe is the peanut sauce. Just a few staple ingredients and you have a tangy spicy nutty sauce!
Adding red thai curry paste to sauces and marinades is a quick and delicious way to add a lot of flavour. Just make sure the one you use it vegan as some contain fish sauce.
Blue Dragon red thai curry paste pots (not jars) and Thai Taste red curry paste are vegan. I get them in Sainsbury's.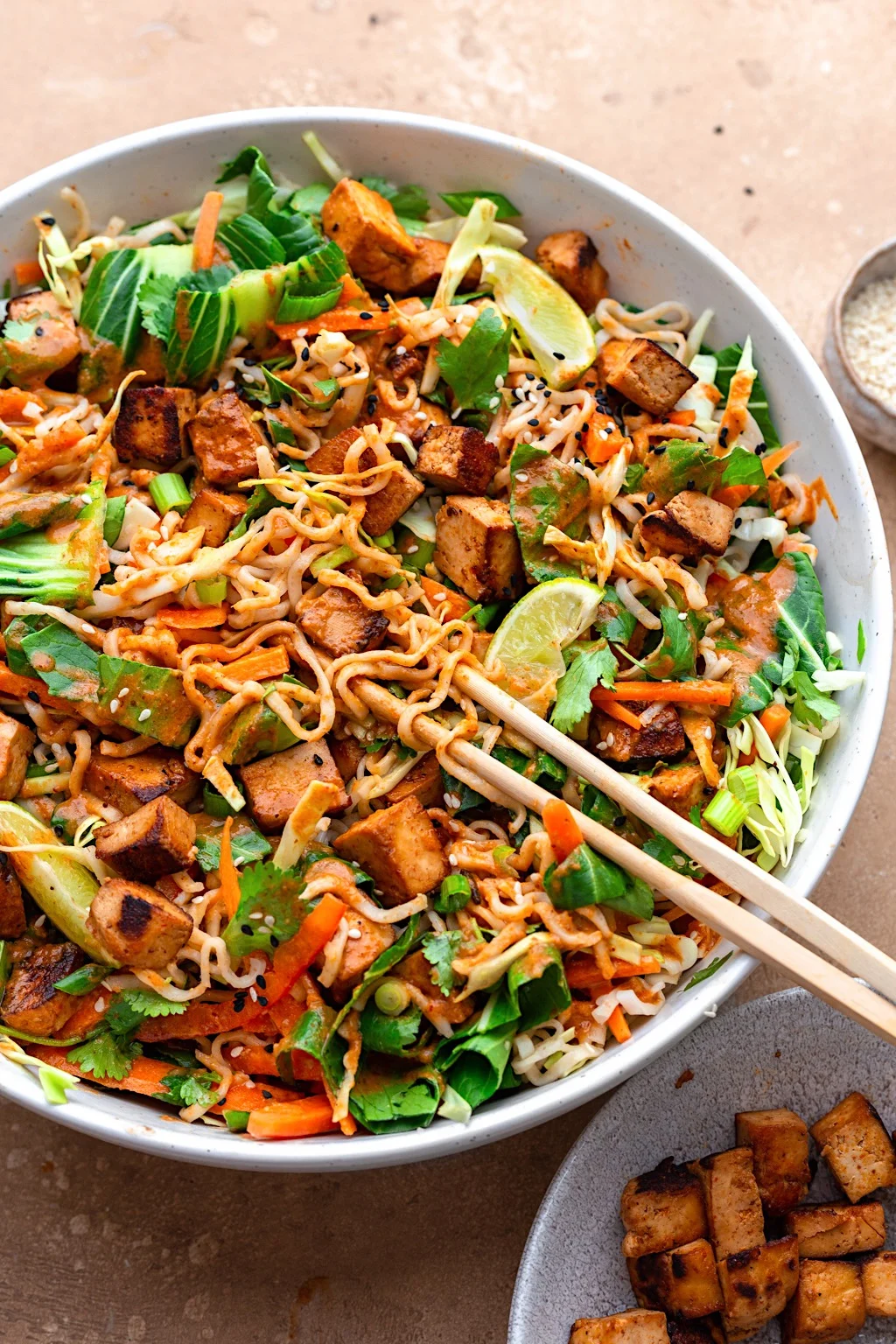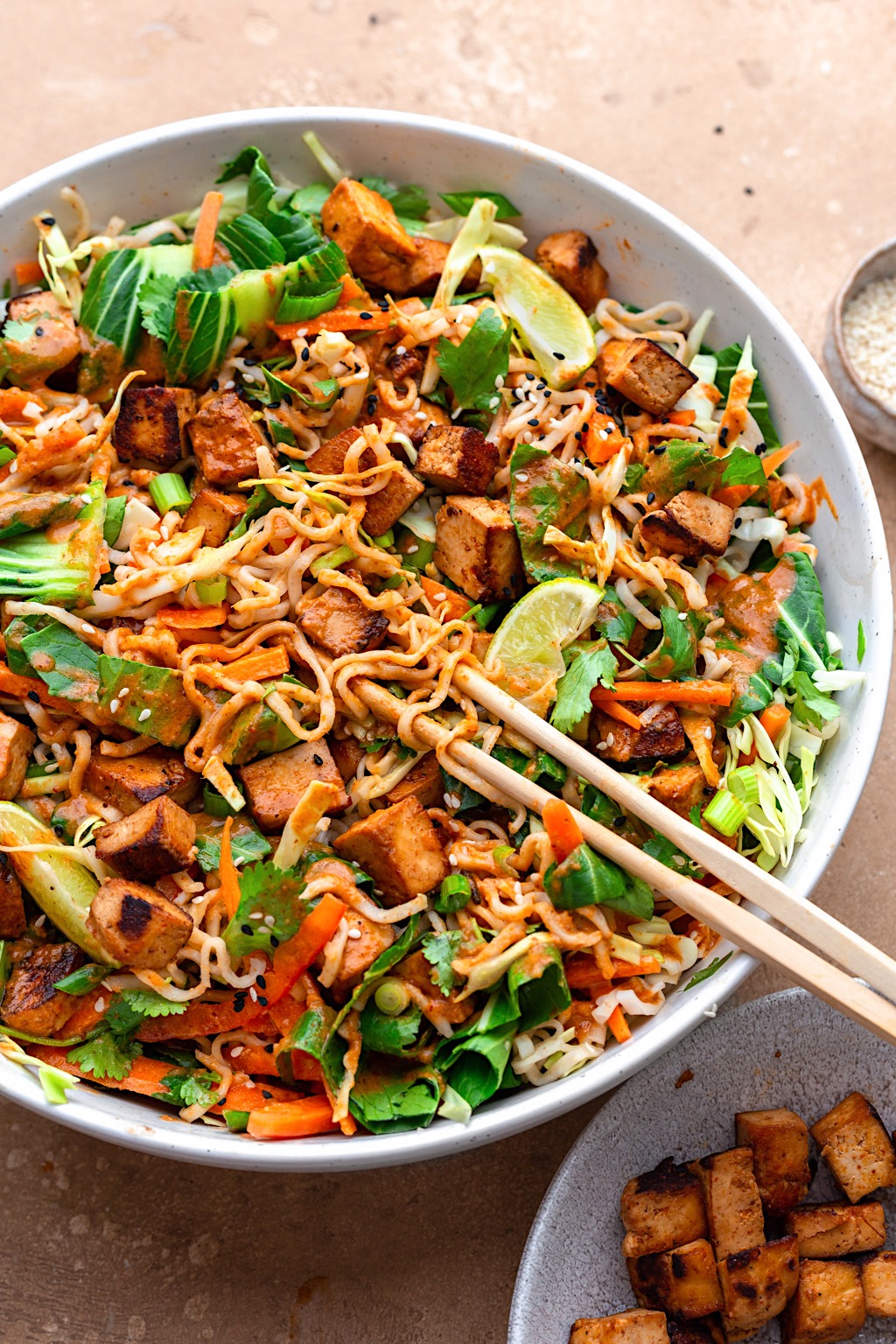 How to make thai tofu noodle salad:
Start by frying the tofu. Cut into 1 inch chunks and fry with sesame oil until browned. Then add soy sauce and red curry paste and fry for a further minute then set aside.
Cook the noodles according to packet instructions then set aside to cool.
Finely chop the bok choi, carrots, cabbage, spring onion and coriander. Place in a large bowl.
Make the dressing by whisking the ingredients in a bowl until smooth. Add the noodles to the veggies along with the tofu and drizzle over the sauce.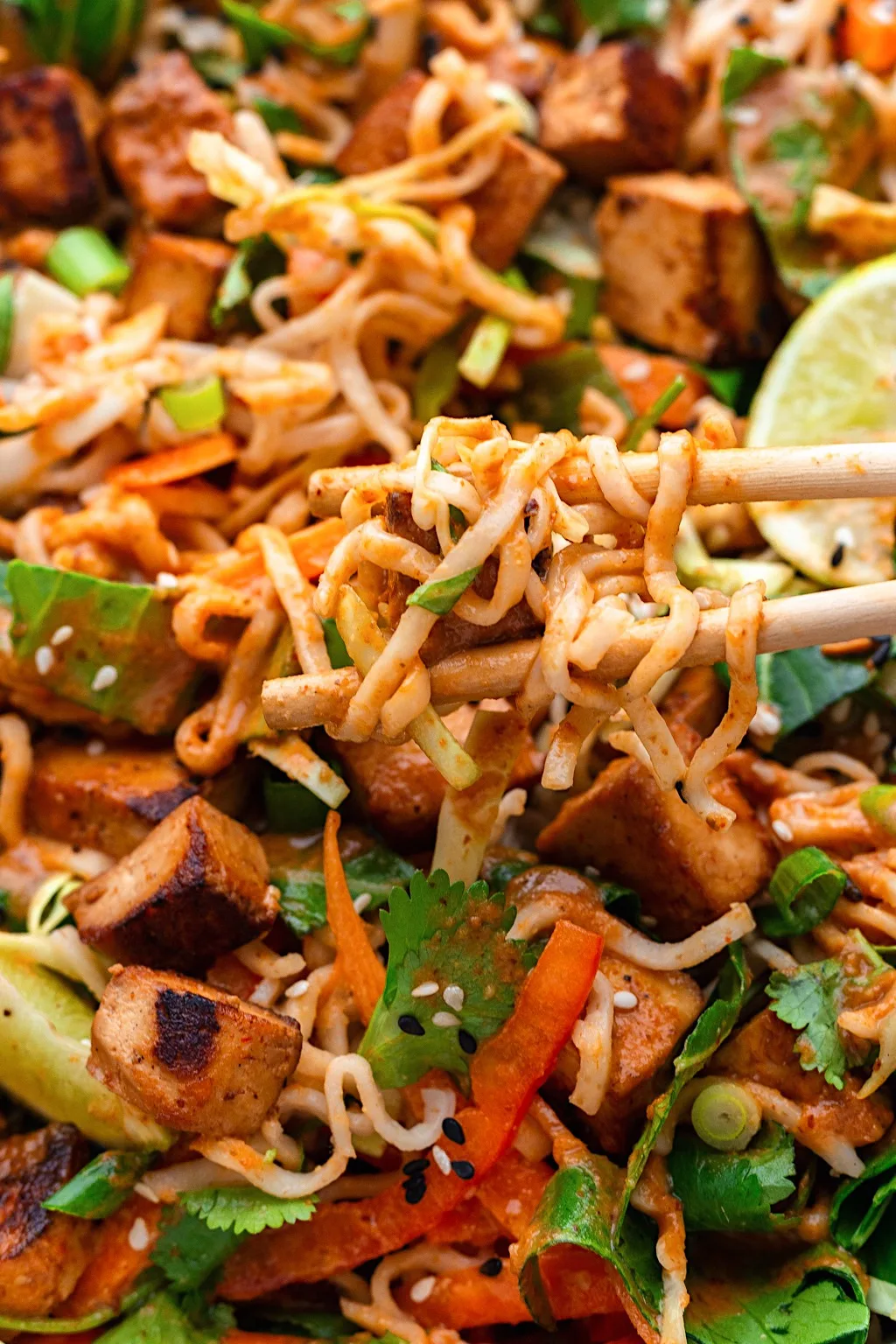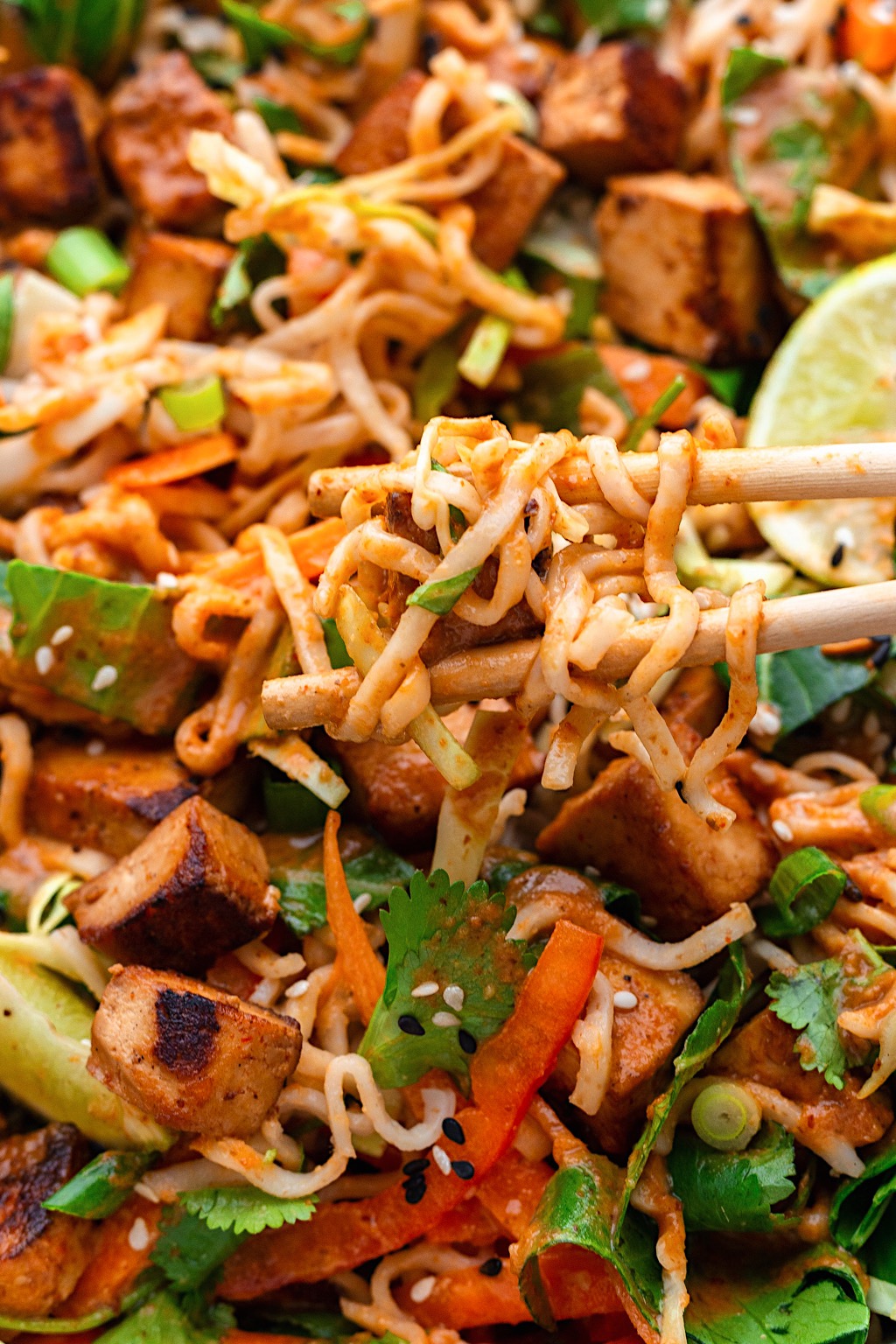 Give it a good mix until all combined. Serve straight away and enjoy! It will keep in an air tight container int he fridge for a few days too.
For more thai inspired recipes you may like these:
Thai drunken noodles (pad kee mao)
Sweet potato and carrot thai soup
Thai sweet potato and cauliflower lettuce wraps
---
As always if you make this thai tofu noodle salad be sure to leave me a comment, rate this recipe and tag me on Instagram. I love seeing all your photos of my recipe recreations!
Don't forget to follow along on Facebook, Pinterest and Instagram – I'd love to see you all there!
---
NEVER MISS A RECIPE! GET MORE VEGAN RECIPES SENT STRAIGHT TO YOUR INBOX – SUBSCRIBE HERE 🙂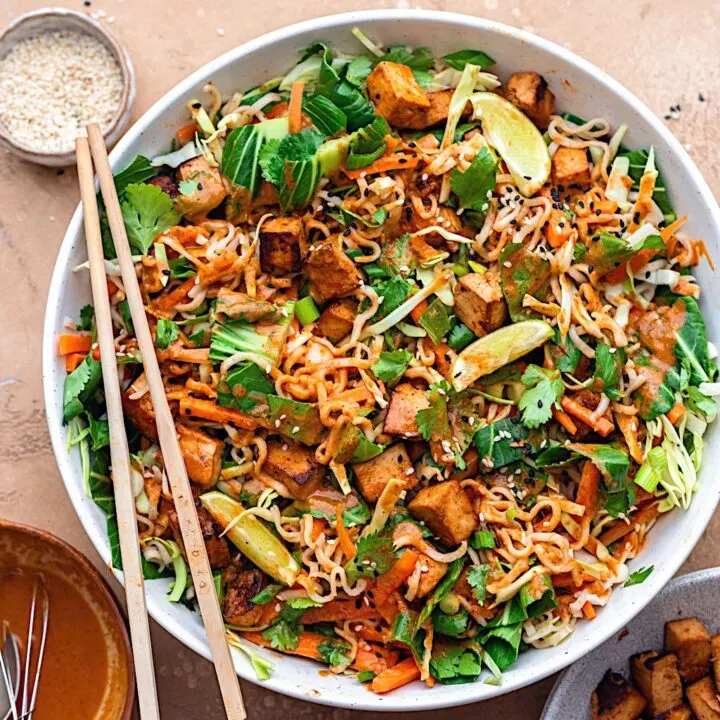 Thai Tofu Noodle Salad
This flavour packed thai tofu noodle salad is full of raw veggies and tossed in a red curry peanut sauce! Makes a great summer salad or lunch on the go!
Ingredients
200g /7oz wholewheat noodles*
2 bok choy
1/2 napa cabbage
4 spring onion/scallions
2 medium carrots
Handful fresh coriander
Tofu
450g/ 1lb block extra firm tofu
1 tbsp sesame oil
2 tbsp soy sauce
1 tbsp red curry paste*
Sauce
1 tbsp sesame oil
2 tbsp soy sauce
1-2 tbsp red curry paste*
1 heaped tbsp peanut butter
Juice of 1 lime
4 tbsp water
1.5 tbsp maple syrup
Garnish
Instructions
Cook noodles according to packet instructions. Drain and set aside to cool.
Prepare the veggies. Thinly slice the bok choy, cabbage and spring onions. Julienne the carrots and roughly chop the coriander. Place them all in a large bowl.
Cut tofu into 1 inch chunks. Heat sesame oil in a pan on medium heat and add the tofu. Fry for a few minutes until browned then add soy sauce and red curry paste and fry for a further minute. Leave to cool.
Make the sauce by whisking all the ingredients in a bowl until smooth. You can add more water to loosen if needed.
Add the cooled noodles and tofu to the veggies and toss. Then pour over the dressing and toss again until combined and well dressed.
Sprinkle over sesame seeds and serve! Will keep for 3-5 days in an airtight container.
Notes
* You can use any noodle you like just make sure it is one that'll hold its shape well
I use Tofoo extra firm tofu,
*Make sure the red curry paste you use is vegan. I use Blue Dragon red curry paste pot (not jar) or Thai Taste red curry paste. Just keep in mind red curry paste can vary in heat so you may need to add less or more depending how spicy you like it.
Recommended Products
As an Amazon Associate and member of other affiliate programs, I earn from qualifying purchases.