This healthy roasted sweet potato, carrot, quinoa and feta salad is veggie filled and perfect for winter days! Mixed with rocket, red onion and toasted seeds tossed in a simple lemon vinaigrette.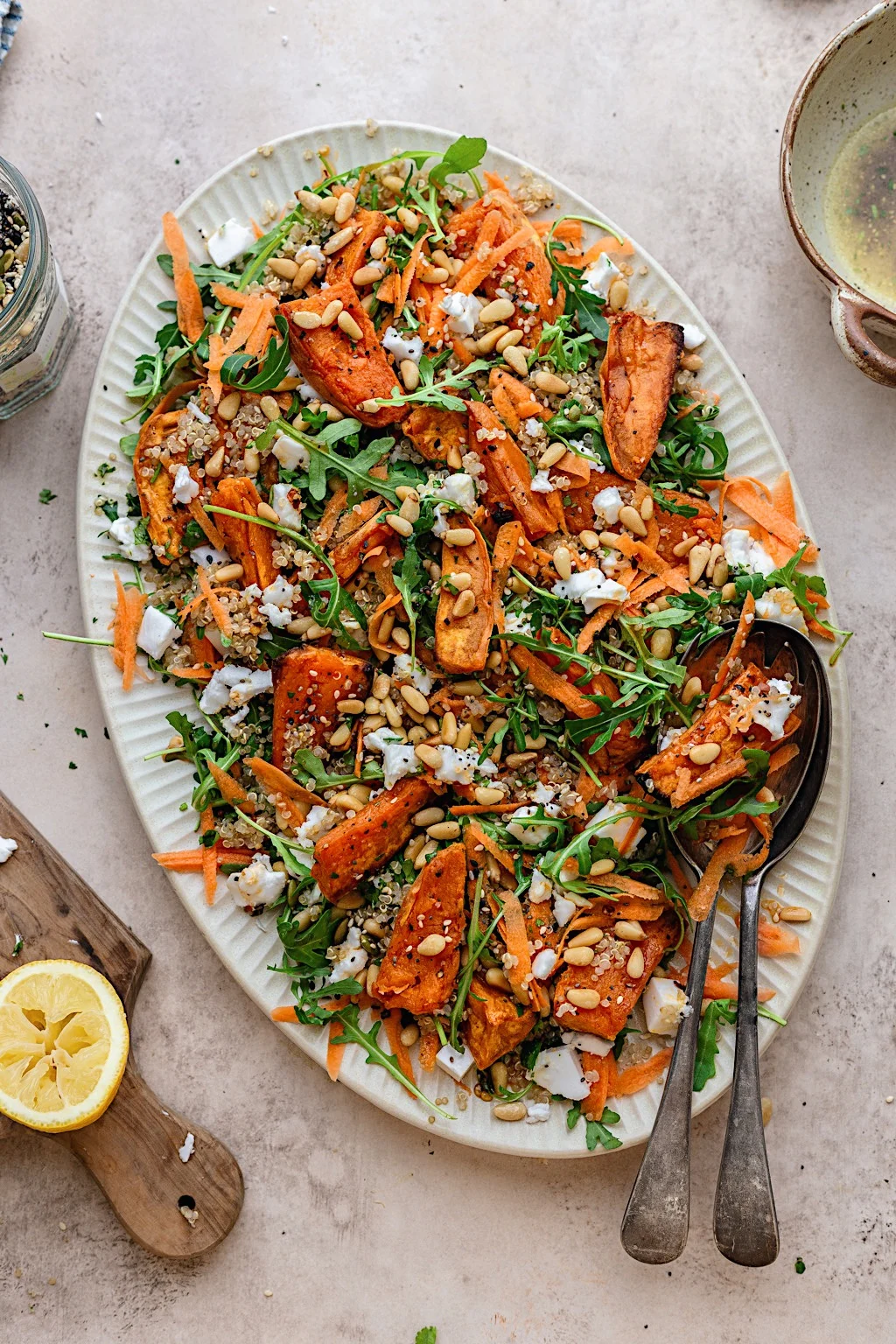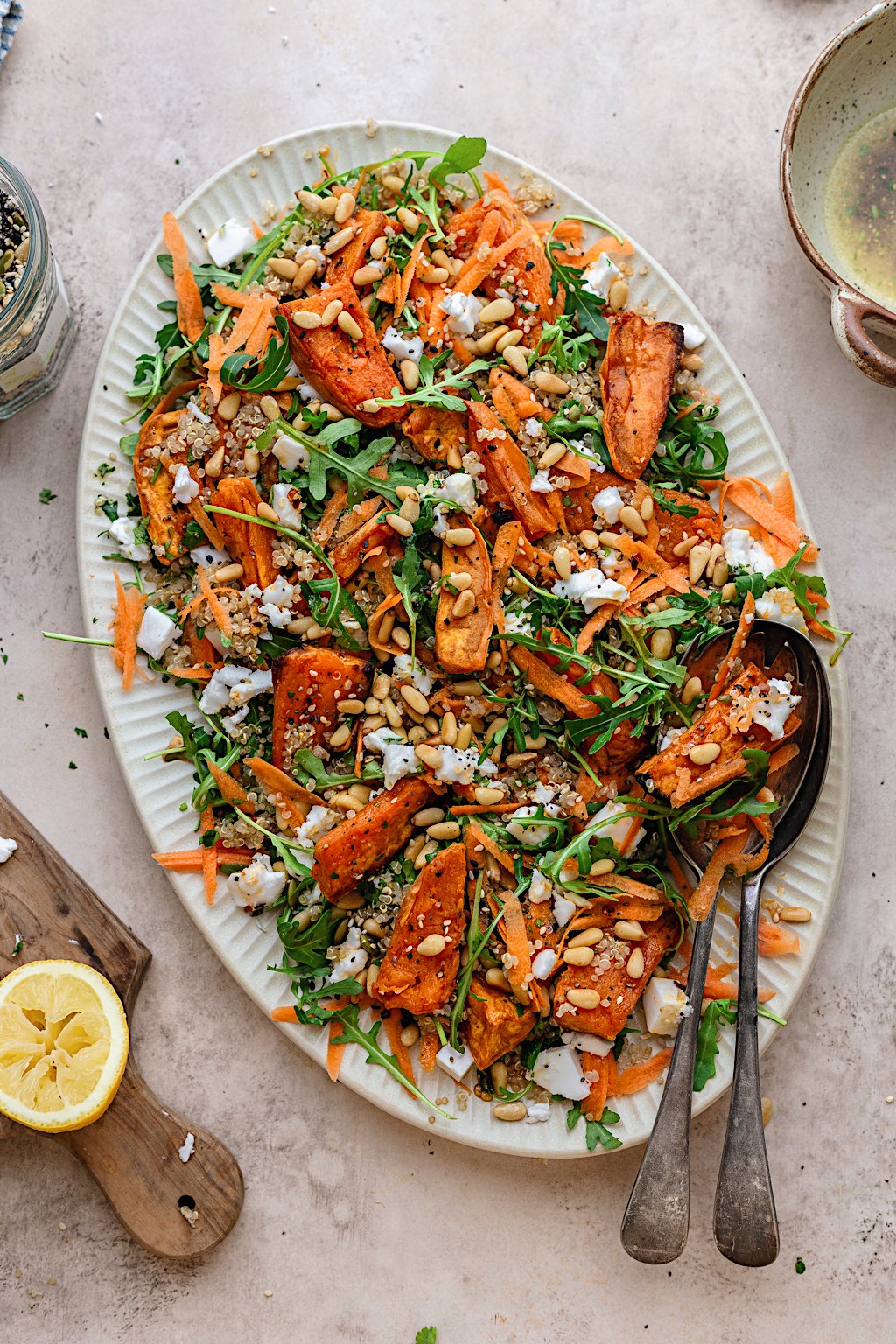 This salad is super wholesome and filling and makes for a perfect lunch or side salad! It's packed with texture which is key for a delicious salad in my opinion!
Roasting the sweet potato helps to caramalise and bring out the sweetness and compliments the tangy creaminess of vegan feta so well.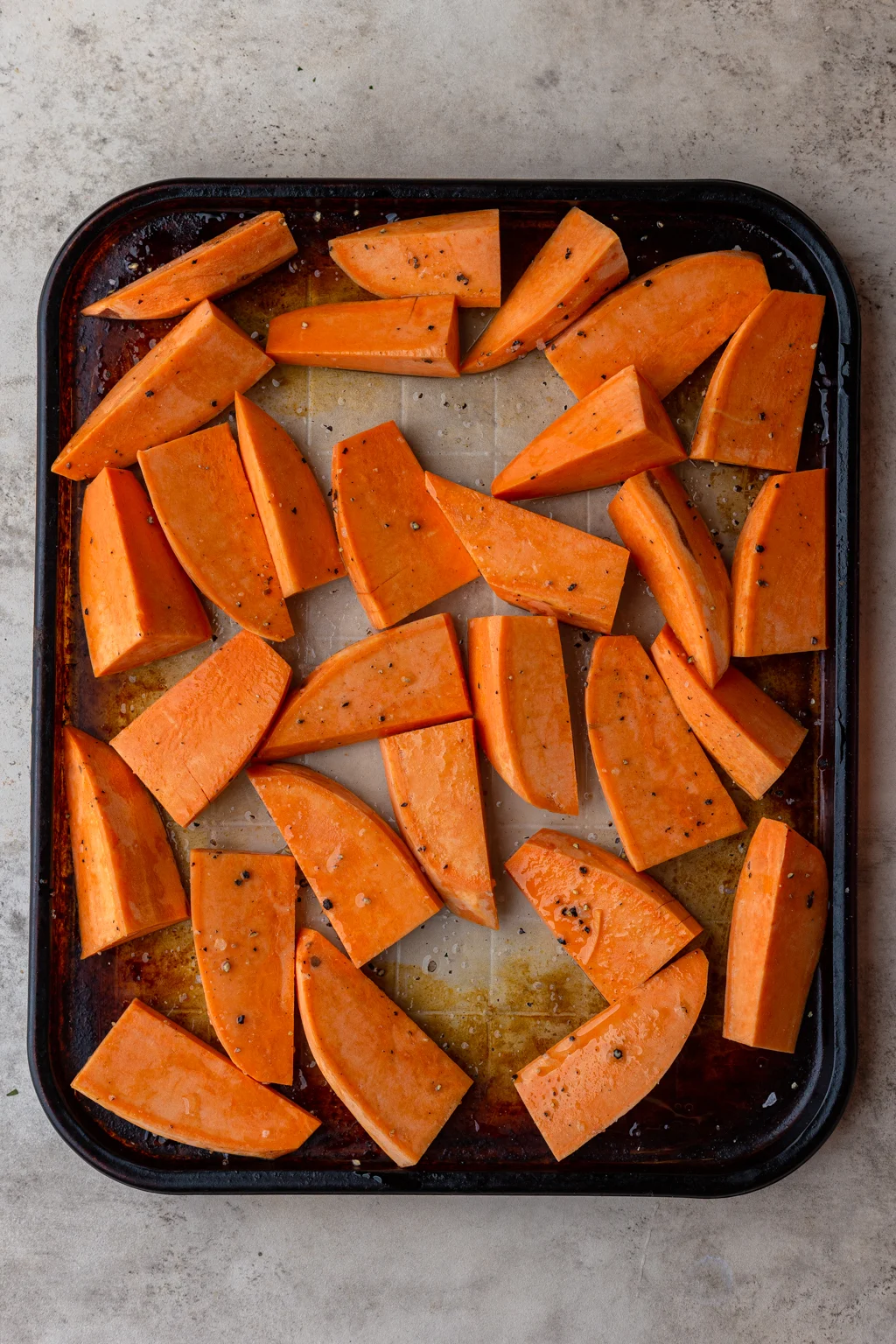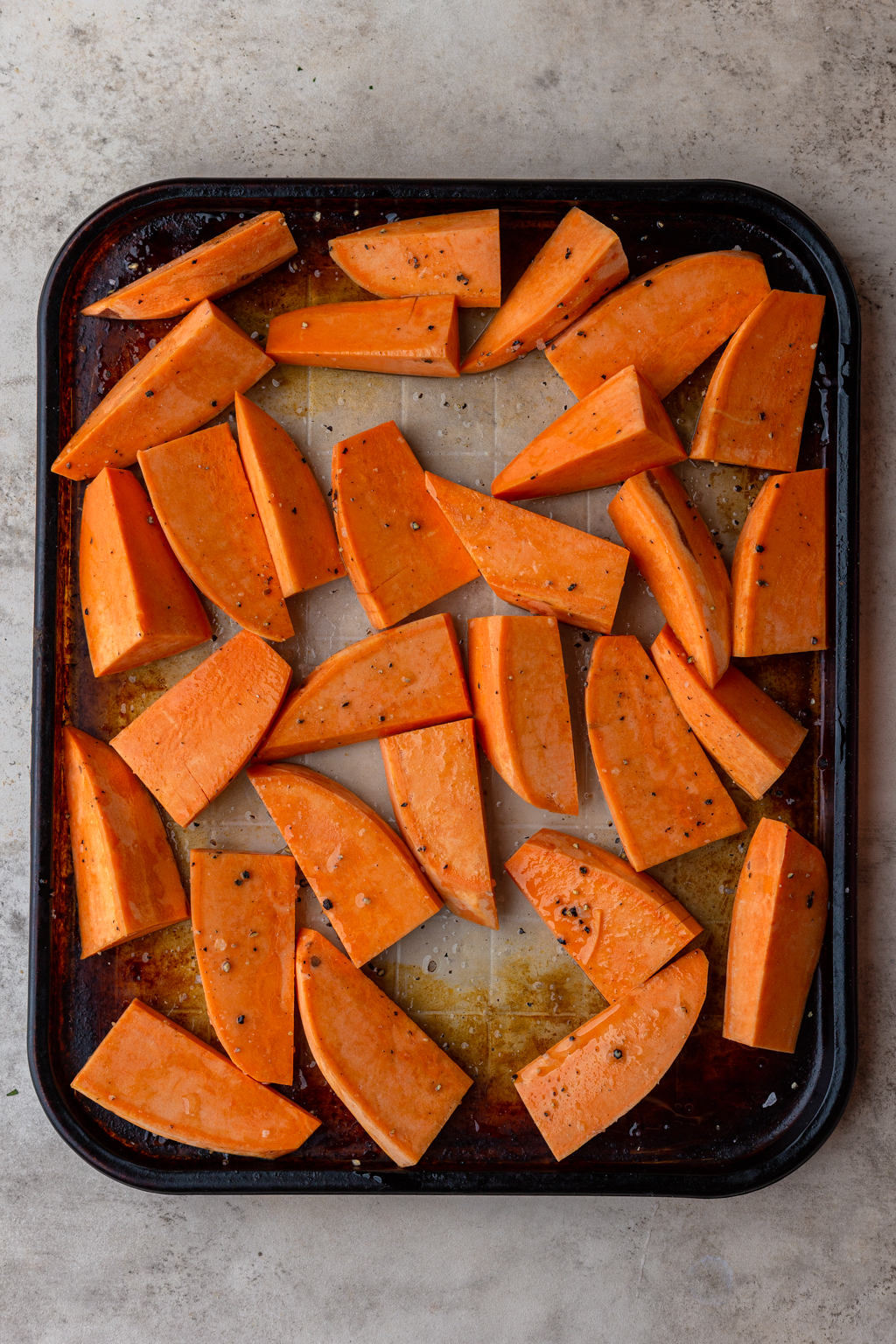 You can cut the sweet potato into any shape you want, I cut into wedge shapes for something slightly different. Just take into account if you do cubes they won't take as long.
There are a few cooking elements to this salad, but don't let that put you off because it only enhances the flavour. First is roasting the sweet potato, second is cooking the quinoa and third is toasting the seeds.
You can buy ready cooked quinoa for convenience but it is more expensive doing it this way.
Toasting the seeds only takes a couple of minutes and really adds flavour to them, a subtle nutiness.
Quinoa is a great addition to salads. It's packed with fibre and naturally gluten free.
I love using tricolour quinoa which you can pick up in most supermarkets. It adds a bit more texture and variety, but regular quinoa works fine too!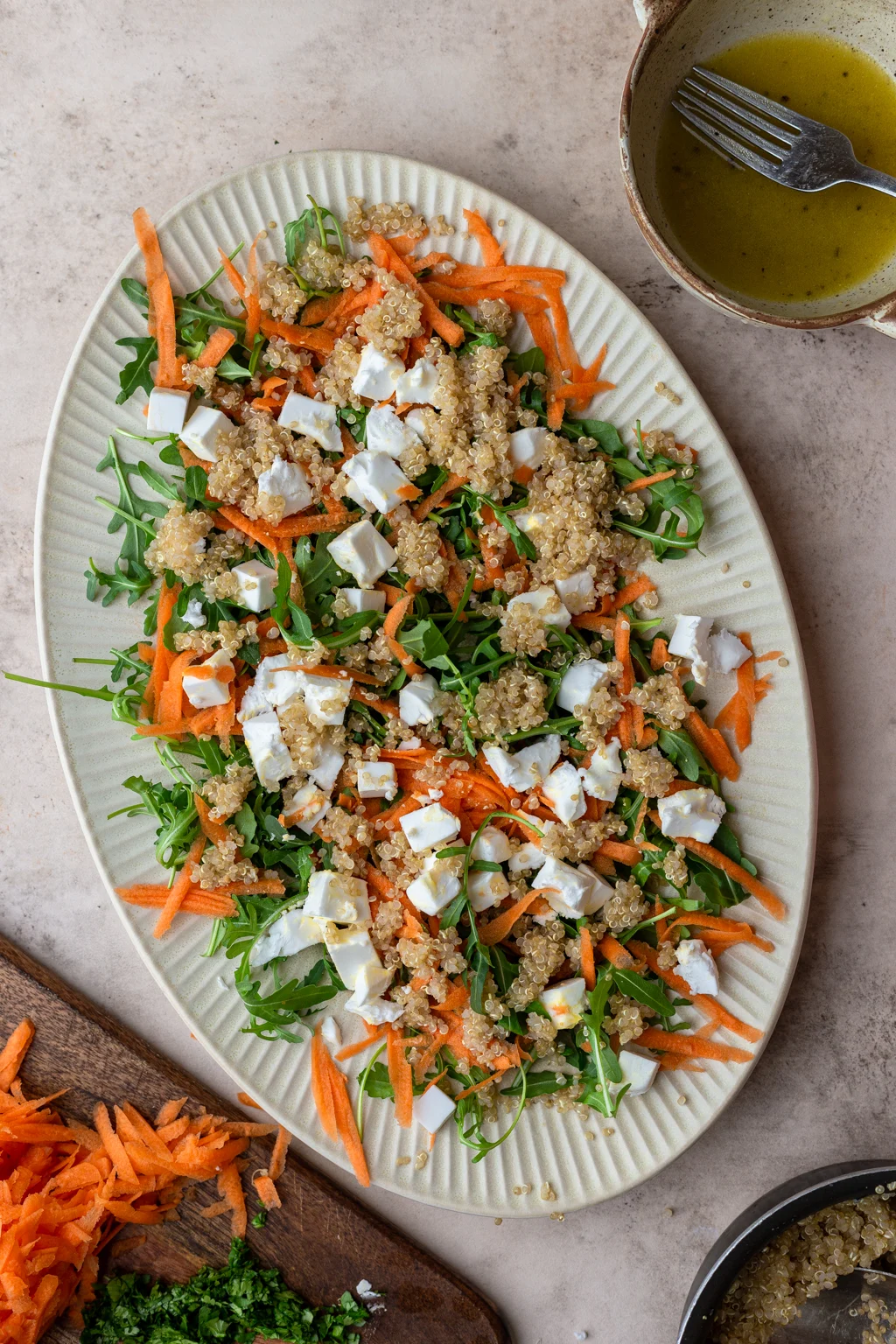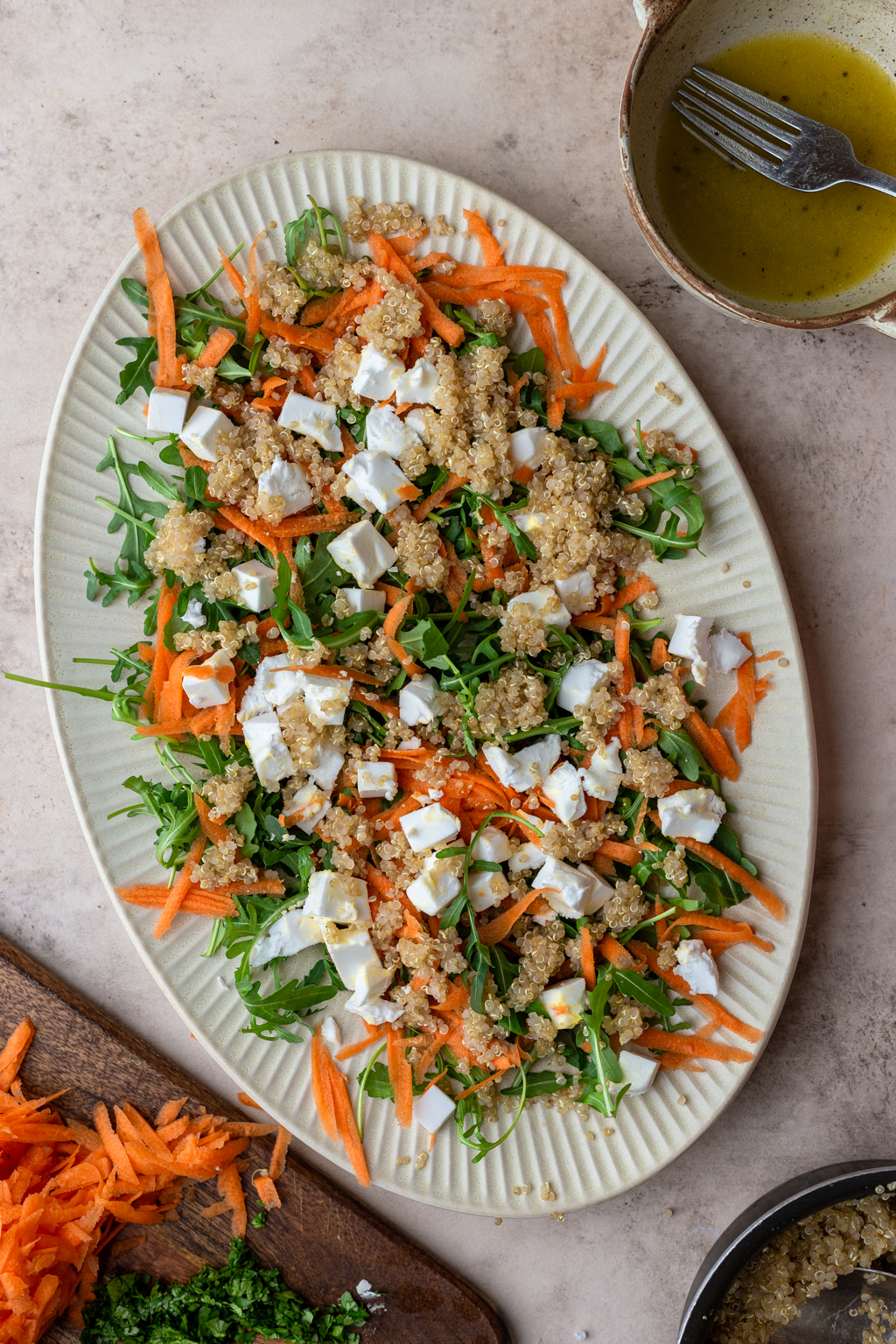 How to cook quinoa:
Rinse quinoa first. It will get rid of any bitterness.
Use a 1:2 ratio of quinoa to water. You shouldn't need to add any more water if you do this and won't need to drain it. So for this recipe, 1/2 cup quinoa and 1 cup water.
Adding a little salt to the water will add a bit of flavour.
Don't have it on a high boil, let it gently simmer until all the water is absorbed and the quinoa is cooked. Leave to cool.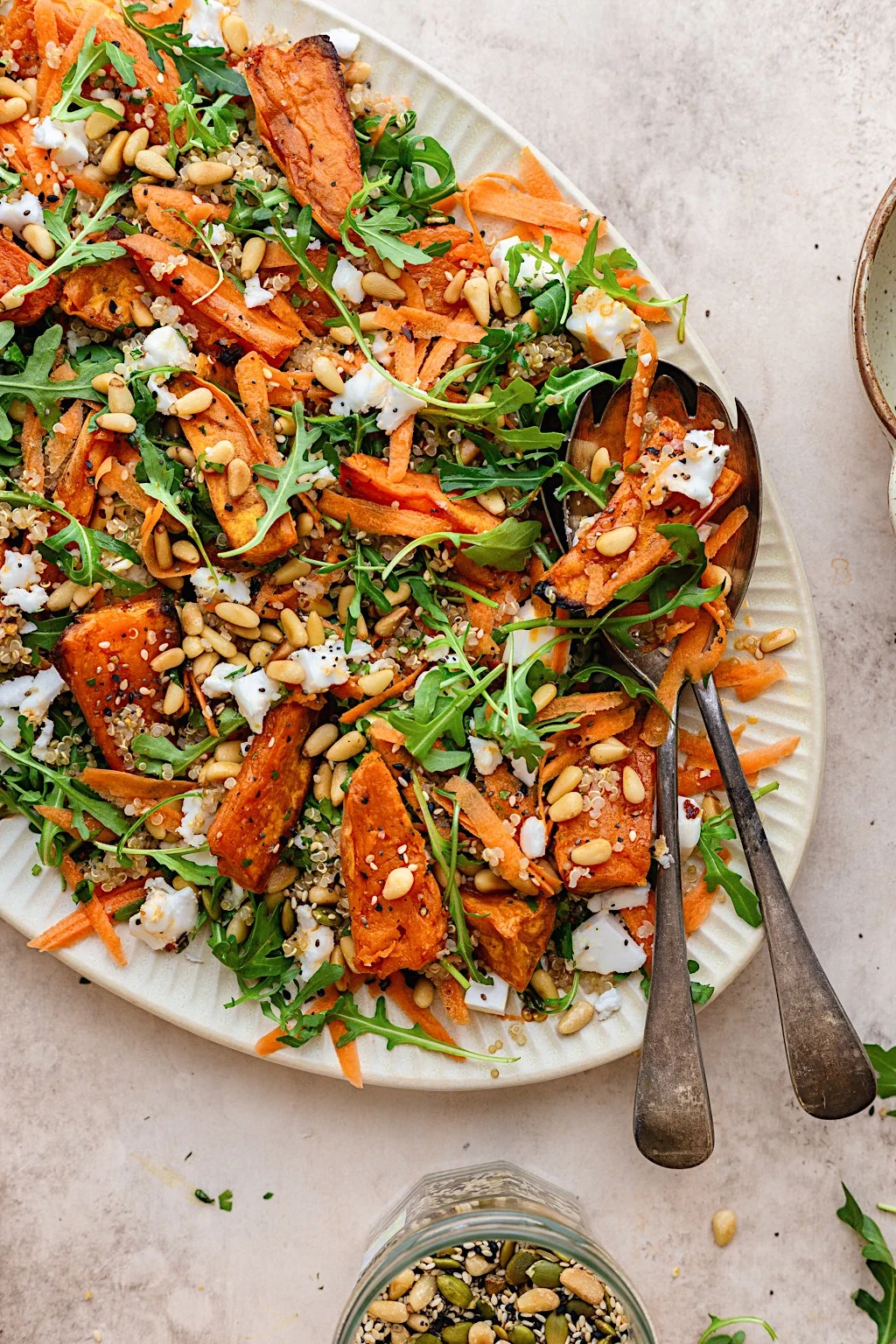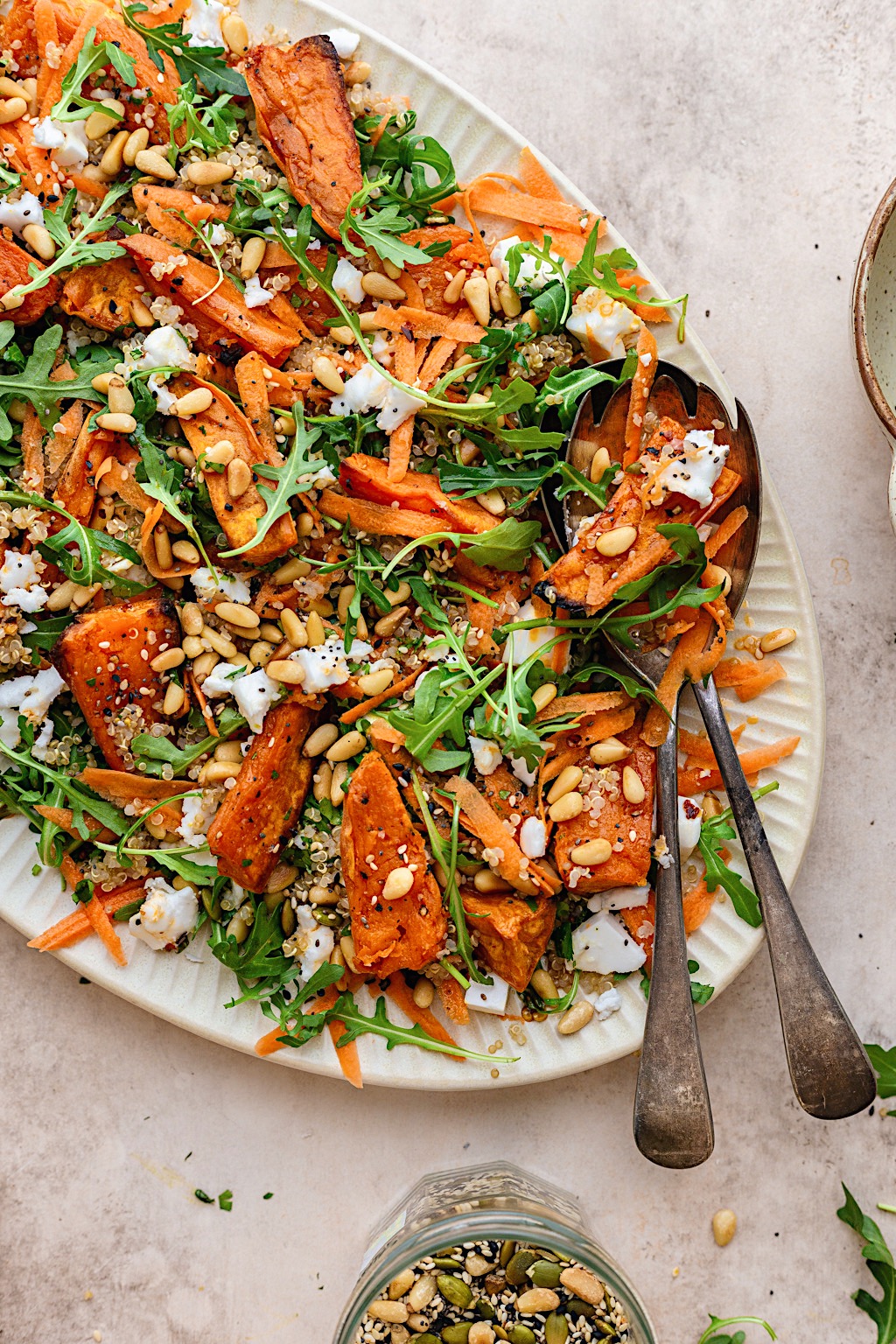 What you'll need for this sweet potato carrot salad:
Sweet potato
Quinoa
Carrot
Rocket/arugula
Vegan feta
Red onion
Pine nuts and seeds of choice (I use sesame seeds, sunflower seeds, chia seeds and poppy seeds)
Lemon
Olive oil
Whole grain mustard
Maple syrup/agave
Salt and pepper
Most of these ingredients are probably already in your pantry or fridge!
Not got sweet potato on hand? Sub for butternut squash and roast accordingly. Also delicious!
You can use any mix of seeds and nuts you like or have on hand. I love toasting a big batch and then having them in a glass jar to top on meals! Curries, stews, salads, pasta!They add crunch and are so good for you too!
I love the Violife vegan feta which you can get in most supermarkets. Use your favourite brand.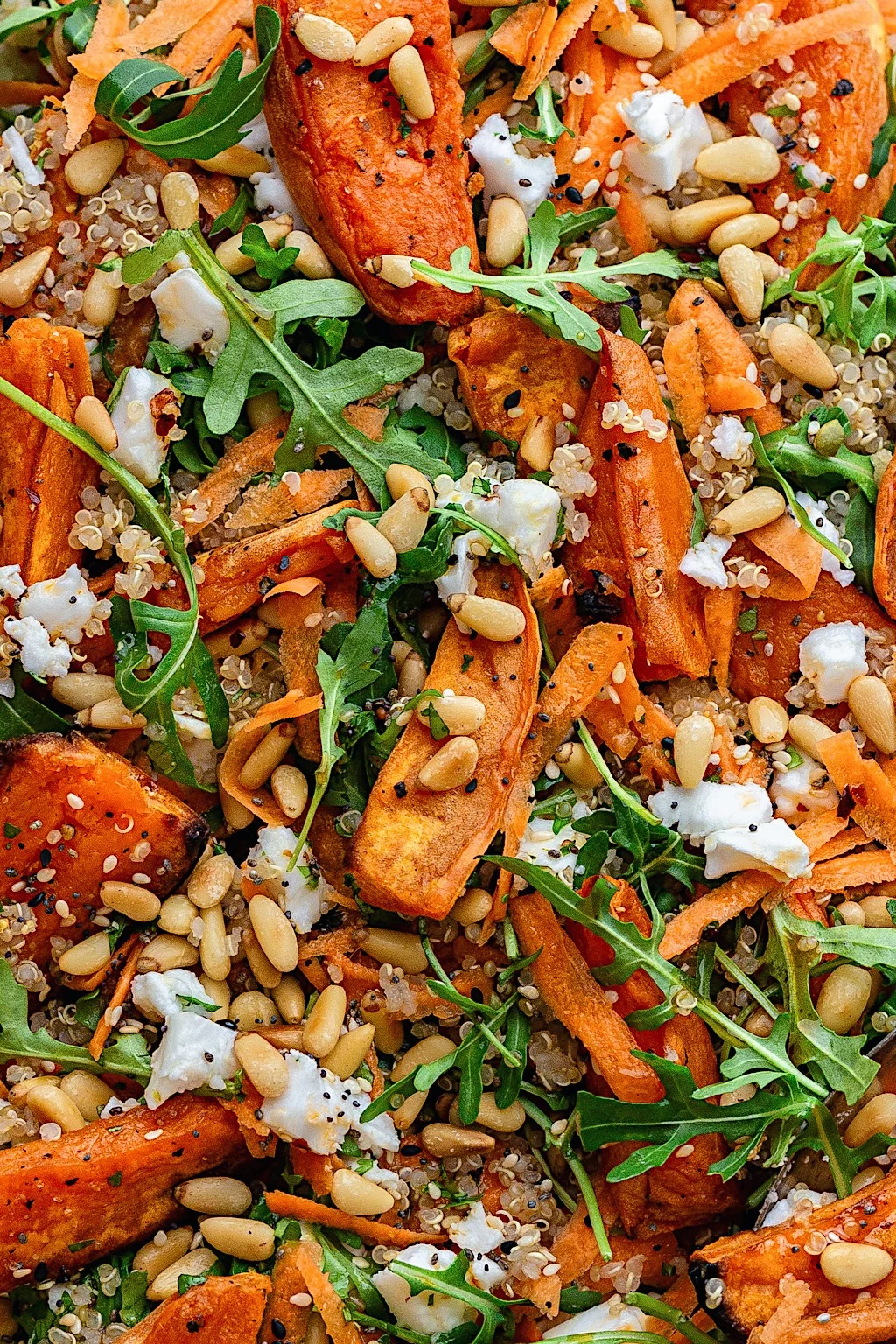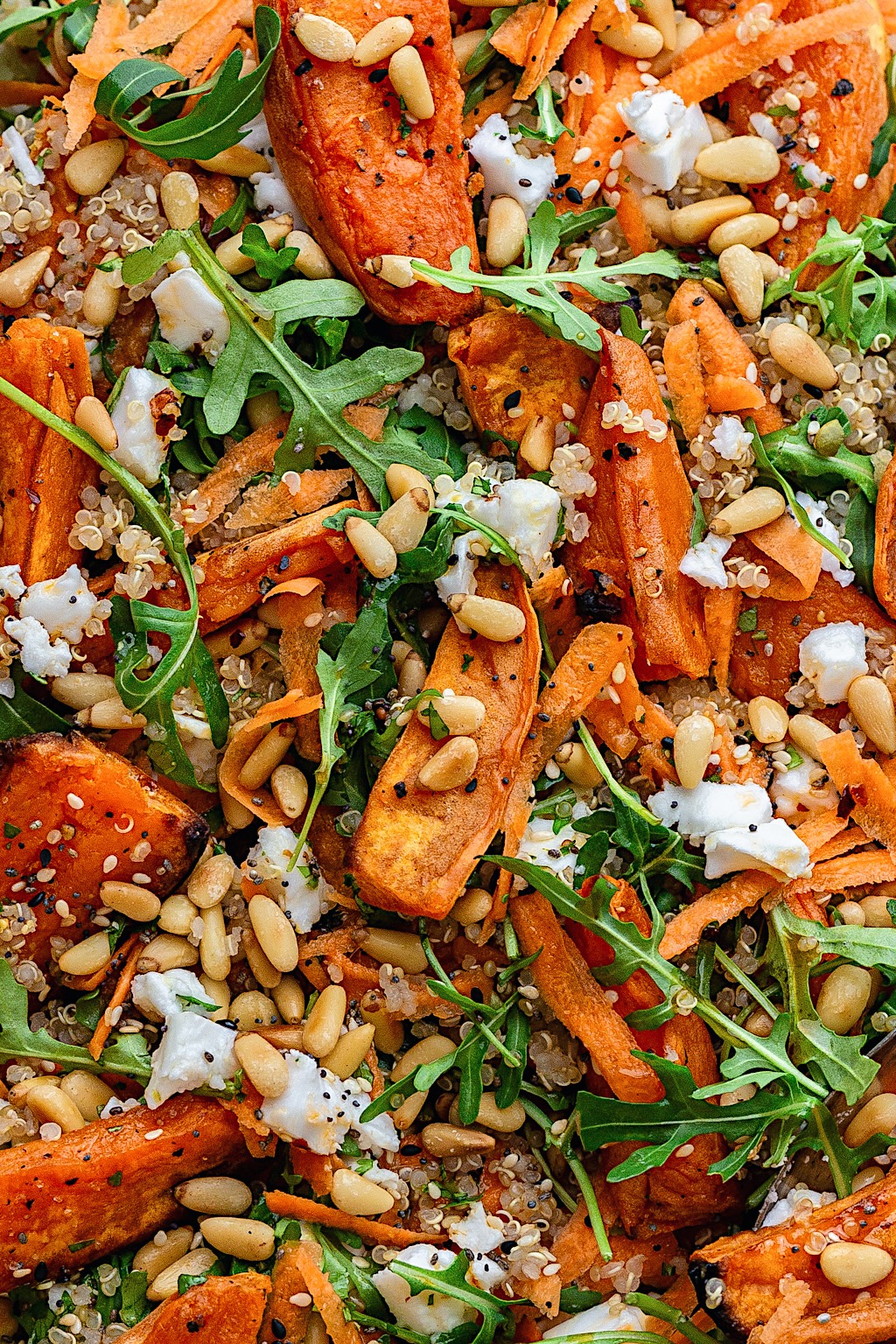 How to make roasted sweet potato and feta salad:
Peel and cut the sweet potato into wedges, toss in oil, salt and pepper and roast for 20 minutes until soft through and starting to crisp on the edges. Once cooked leave to cool.
Cook the quinoa and once cooked, allow to cool. In a large bowl or platter place the rocket, grated carrot, sliced red onion, crumbled feta, quinoa and and sweet potato.
Add the pine nuts and larger seeds to a dry pan and toast for a couple of minutes, then add remaining seeds and toast for a further minute. Careful they don't burn. Scatter over the salad.
Place the lemon dressing ingredients in a jar and shake, or whisk in a bowl. Pour over the salad and toss. Serve as a main or side salad!
For more salads you may enjoy these:
Winter Carrot and Beetroot Salad
Shredded Sprouts, Kale and Bacon Salad
---
As always if you make this vegan roasted sweet potato, carrot, quinoa and feta salad be sure to leave me a comment, rate this recipe and tag me on Instagram. I love seeing all your photos of my recipe recreations!
Don't forget to follow along on Facebook, Pinterest and Instagram – I'd love to see you all there!
---
NEVER MISS A RECIPE! GET MORE VEGAN RECIPES SENT STRAIGHT TO YOUR INBOX – SUBSCRIBE HERE ?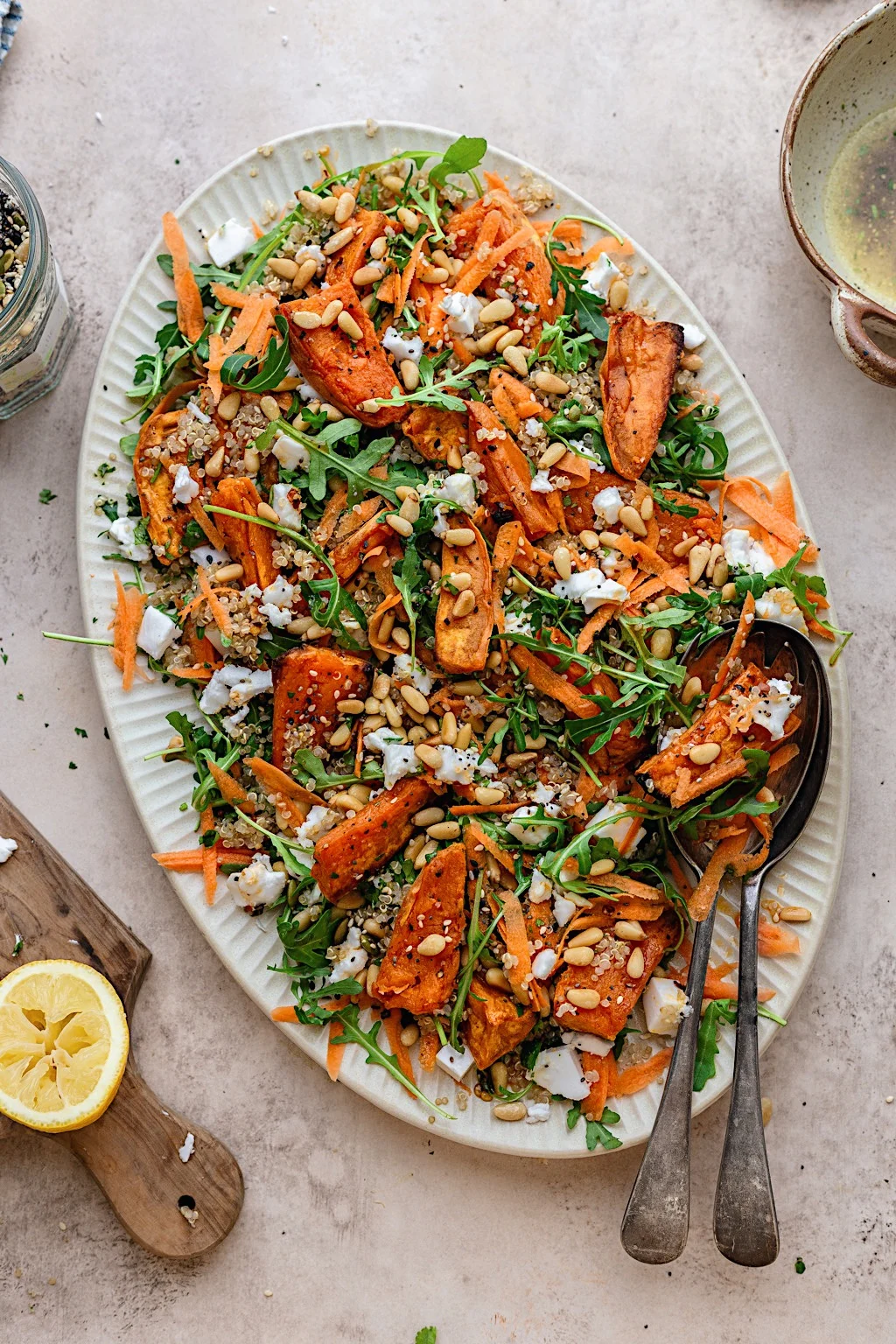 Roasted Sweet Potato, Carrot, Quinoa and Feta Salad
This healthy, veggie packed roasted sweet potato, carrot and feta salad is super comforting and and delicious! With rocket leaves, thinly sliced onion, quinoa and toasted seeds. Tossed in a lemon vinaigrette.
Ingredients
2 medium sweet potatoes (about 750g)
95g / 1/2 cup quinoa
60g / 2.1 oz rocket/arugula
2 carrots, grated
1/2 red onion, thinly sliced
150g / 5.3oz vegan feta
3 tbsp pine nuts
1 tbsp pumpkin seeds
1 tbsp sesame seeds
1 tsp chia seeds
Lemon dressing
Juice of 1 lemon (about 3.5 tbsp)
50 ml / 1/4 cup olive oil
1 tsp whole grain mustard
1 tbsp apple cider vinegar
1.5 tbsp maple syrup
Salt and pepper to taste
Instructions
Pre heat oven to 180C/350F.
Peel and cut sweet potato into wedges. Place on a baking sheet and toss in some oil, salt and pepper. Roast for 20-25 minutes until soft through then remove from the oven.
Rinse the quinoa and add to a pan with 1 cup salted boiling water. Leave it gently simmer, it should be cooked once all the water has gone. Leave quinoa to cool.
Rinse the rocket leaves and place in a large bowl or platter. Add grated carrot, thinly sliced red onion, crumbled vegan feta. Once the quinoa and sweet potato has cooled.
Place the pine nuts and pumpkin seeds in a dry pan on low-medium heat. Toast for a minute or two until lightly golden then add the sesame seeds and chia seeds and toast for 30 seconds more. Scatter over the salad.
Add dressing ingredients to a mason jar and shake well, or to a bowl and whisk. Pour over the salad and toss well.
Notes
I use Violife feta style cheese.