Creamy, smoky, flavourful spicy roasted red pepper hummus. You all know I have a deep love for roasted vegetables and I will try include them in any meal possible. Yes, hummus counts as a meal. I'm pretty sure I am not the only one who has a hummus addiction and could eat a whole bowl of it in one go.
I also eat hummus with at least one meal/snack a day so you'll never see my fridge without hummus in it. It's perfect on toast, with crisps, on a jacket potato, in a burger. Honestly I could eat it with any savoury meal, or by the spoonful. Are you a hummus fiend too?
You have to make this hummus. A technique I discovered from Minimalist Baker a while back was to to microwave the chickpeas with the aquafaba (chickpea water) and garlic cloves for 5 minutes before blending. I kid you not, this makes for the the most creamy hummus. And it is now the only way I will make homemade hummus.
I have made hummus using this method so many times and adults and children have both enjoyed it. When I worked in a nursery I made a plain version of this hummus with the kids and they loved it. It's funny because as I showed them the ingredients they would all say 'yuck' but when its turned into hummus? They want seconds and thirds!
Anyway, what I'm trying to say is that this recipe is so delicious and you should go make it for all your family because they will thank you for it.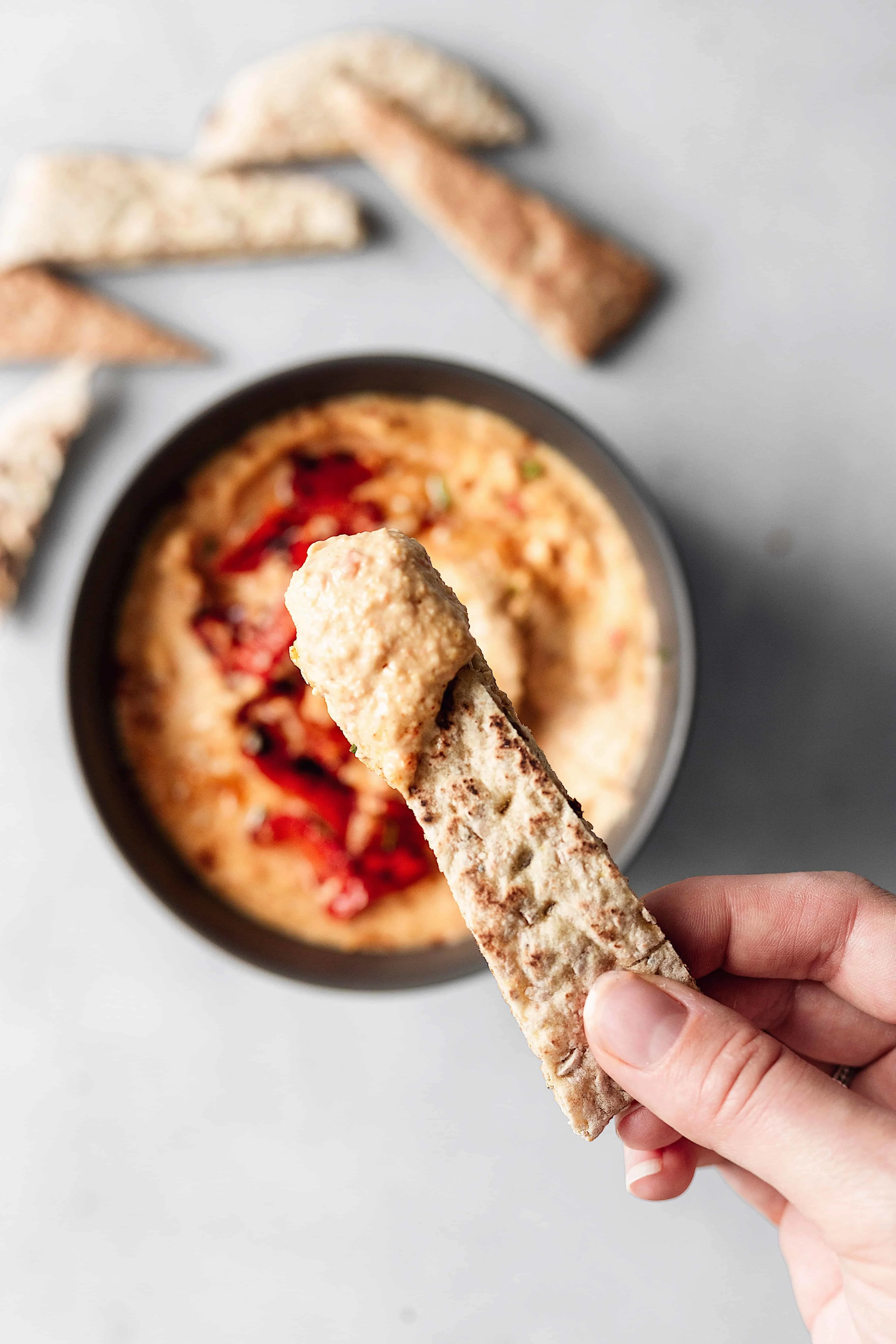 And the star of this recipe is roasted peppers. You can also grill them if you want to make it quickly. You want them to be soft when you put a knife through and the skin starting to brown/char. If you don't have red peppers you could also use yellow or orange peppers but red peppers have the sweetest flavour.
I have had so many failed attempts making hummus, it never tasted as good as the shop bought ones. It was lumpy, wasn't creamy or lacked flavour. So I had always favoured shop bought hummus over homemade humus, until I discovered from Minimalist Baker that the secret ingredient is the aquafaba!
If you don't have a microwave you could do this on the hob, just let it simmer for a few minutes so the chickpeas go soft. An added bonus is that you aren't wasting that magical chickpea water. I'm pretty sure 9/10 times it goes down peoples sinks. It still amazes me what can be made with aquafaba.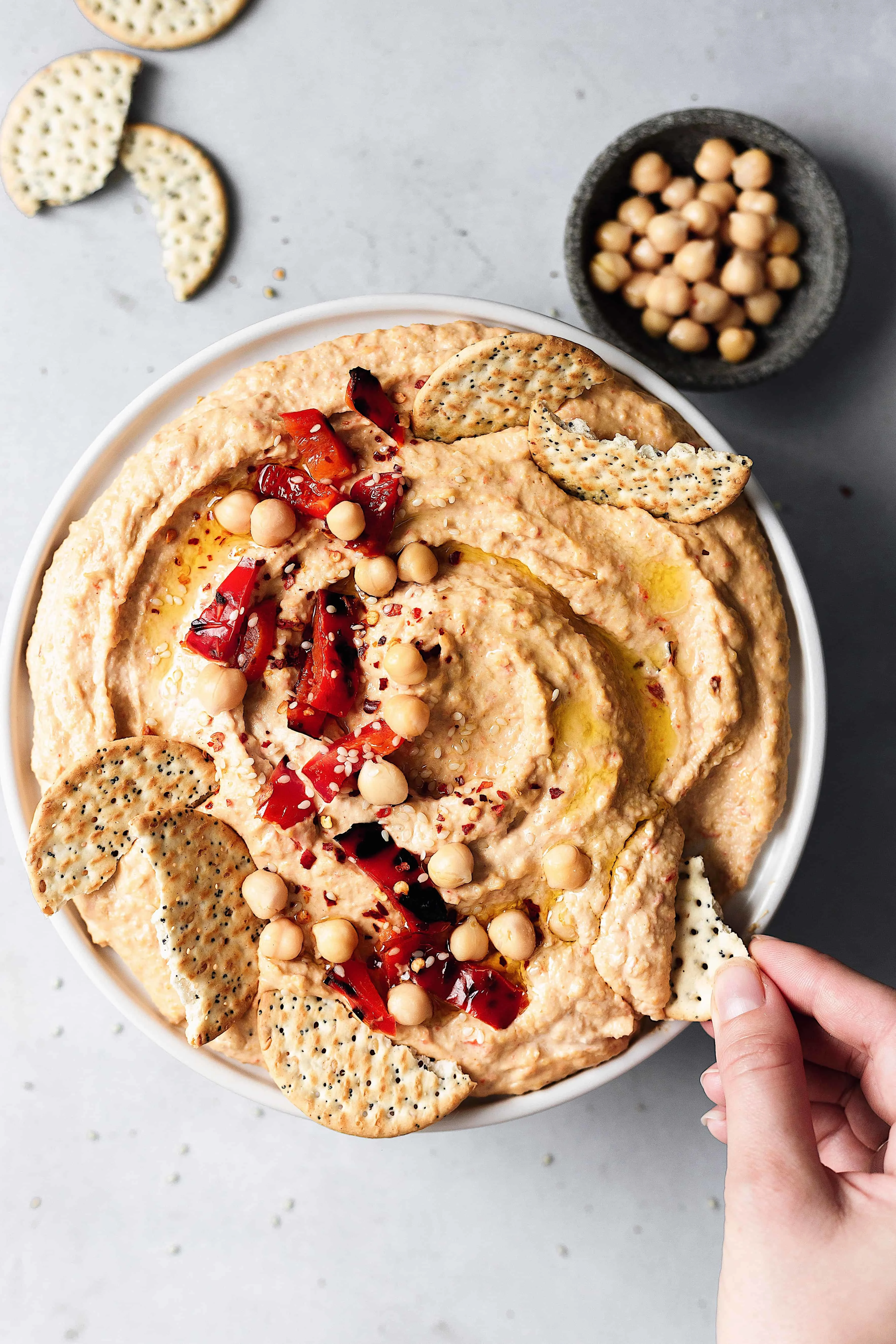 The spiciness in the hummus comes from smoked paprika and hot chilli powder. They work so well together and alongside the roasted red pepper. If you are sensitive to spice you can either add extra smoked paprika or use 1/4-1/2 tsp chilli powder.
This hummus would be delicious on my black bean, kale and sriracha burgers or with my mexican tofu burrito bowls.
As always if you make this recipe be sure to leave me a comment, rate this recipe and tag me on Instagram. I love seeing all your photos of my recipe recreations!
Don't forget to follow along on Facebook, Pinterest and Instagram – I'd love to see you all there!
Spicy Roasted Red Pepper Hummus
Flavour packed spicy roasted red pepper hummus. It's creamy, smoky, spicy and healthy! Totally addictive and the perfect dip with some crudités or crisps.
Ingredients
1 red pepper
1 tin chickpeas
4 garlic cloves
1/2 cup tahini
3/4 tsp salt
Juice of half a lemon
1 tsp hot chilli powder
1 tsp smoked paprika
4 tbsp / 1/4 cup rapeseed oil
Instructions
Pre heat the oven to 180C/350F or turn on the grill.
Cut the red pepper into 2 inch pieces, place on a baking tray and drizzle with some oil, salt and pepper. Place in the oven for 20 minutes, or under the grill for 5-10 minutes.
When the pepper is starting to brown/char and is soft in the middle remove from the oven.
Place the chickpeas along with the chickpea water into a bowl with 4 peeled garlic cloves. Heat on high for 5 minutes.
Place the ingredients from the bowl in a blender with the red pepper, tahini, salt and spices. Slowly pour in the rapseed oil and blend until creamy.
Serve straight away or keep in the fridge in an air tight container for 2-3 days.
Notes
Start with 1/4-1/2 tsp hot chilli powder if you don't want it as spicy.
Nutrition Information:
Yield:

6
Serving Size:

1
Amount Per Serving:
Calories:

278
Total Fat:

21g
Saturated Fat:

2g
Trans Fat:

0g
Unsaturated Fat:

18g
Cholesterol:

0mg
Sodium:

328mg
Carbohydrates:

20g
Fiber:

4g
Sugar:

7g
Protein:

6g