Light, fluffy and decadent vegan no bake chocolate cream pie. With a layer of chocolate biscuit, chocolate mousse filling and vanilla whipped cream. Perfect for any celebration and it's completely vegan!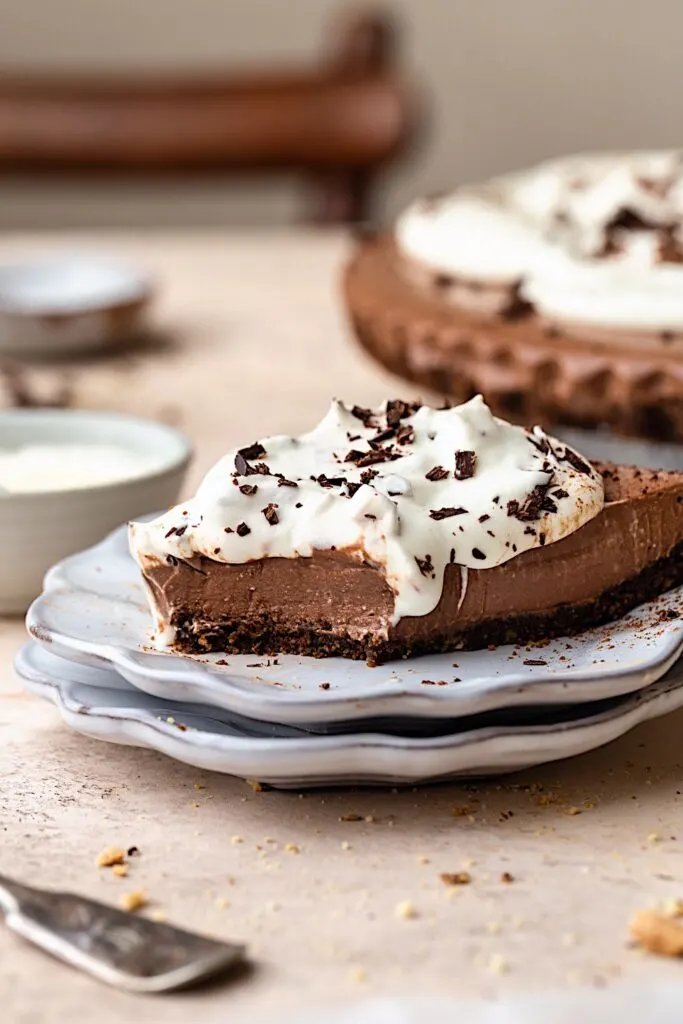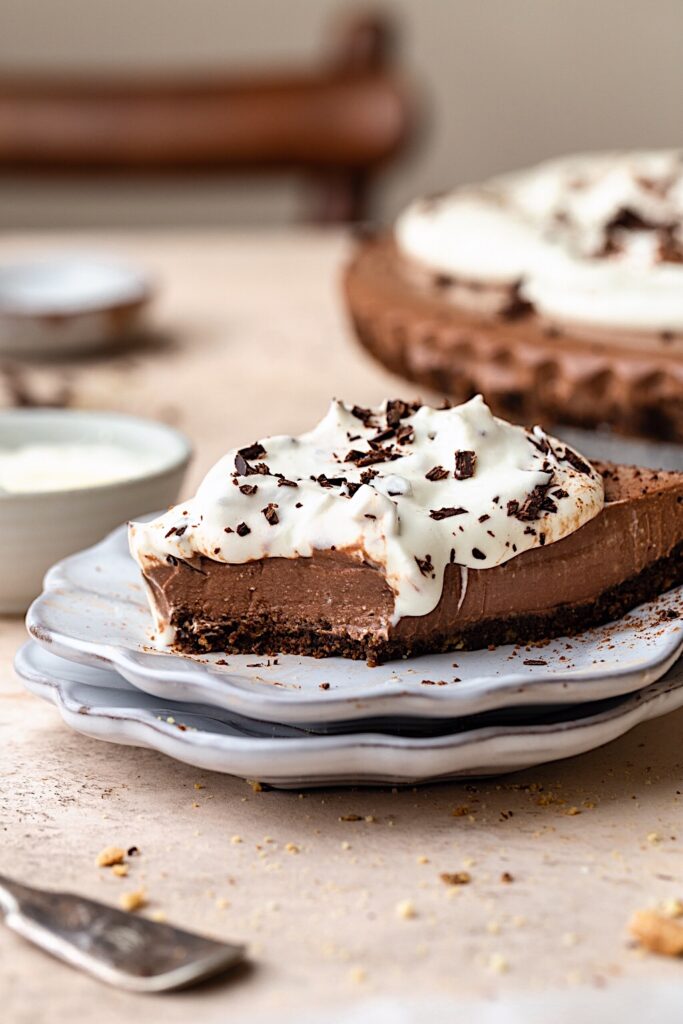 This easy no bake pie is simple to make and only requires a handful of ingredients. With three layers this pie is ideal for special occasions and will please everyone!
No one will know this chocolate cream pie is vegan. It's creamy, light, fluffy and so delicious!
It's the kind of dessert that melts in your mouth, with all that chocolate and creamy goodness. A slice doesn't last long, let's put it that way!
The biscuit layer has just three ingredients – digestive biscuits, cocoa powder and vegan butter. You can sub the digestive biscuits for any type of plain biscuit you want.
If you're in the UK just check the brand of digestives you get are vegan as some contain milk. Most supermarket own brand ones are vegan.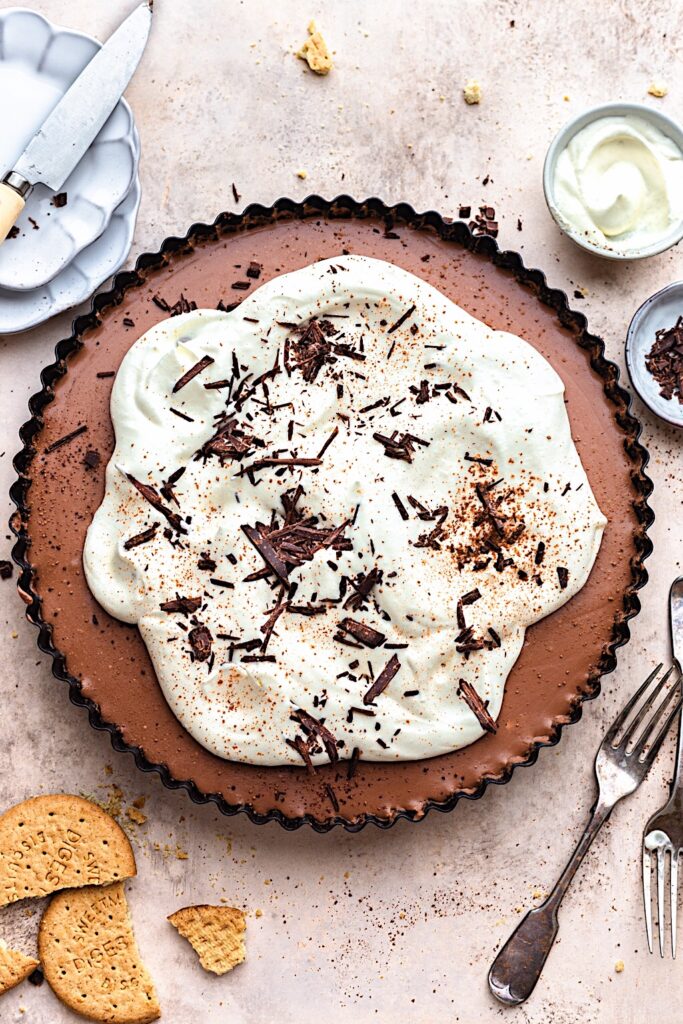 What you'll need to make this vegan chocolate cream pie:
Digestive biscuits
Cocoa powder
Vegan butter
Coconut milk
Dark Chocolate
Vegan double cream
Icing sugar
Vanilla
That's just 8 ingredients, most of which you probably have in your pantry already!
For the coconut milk, you want to chill it for at least 8 hours so that the fat separates from the water.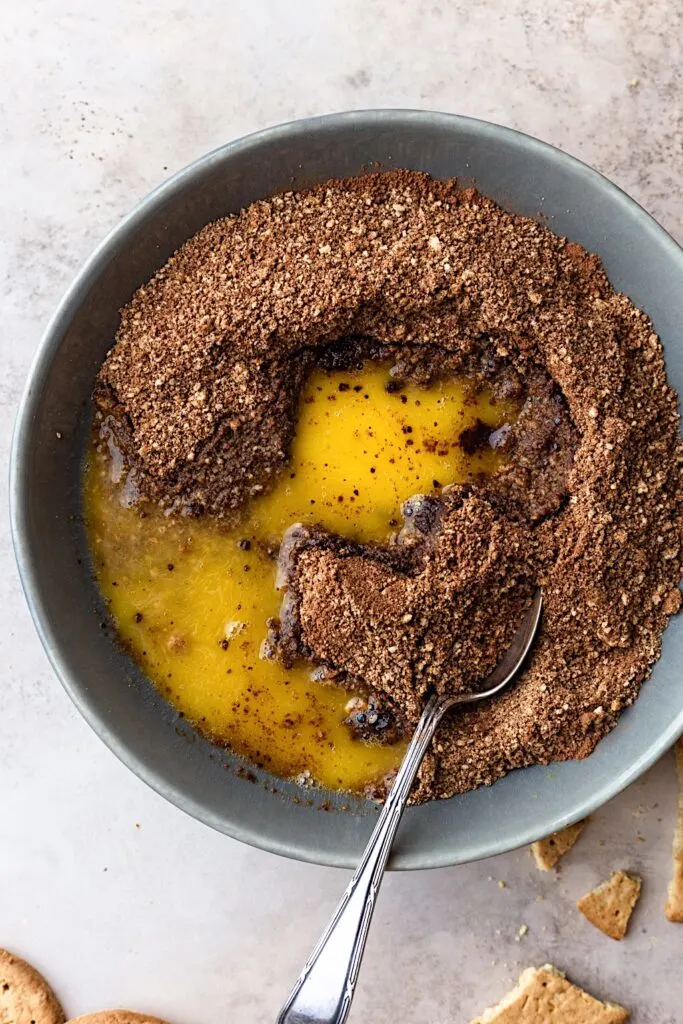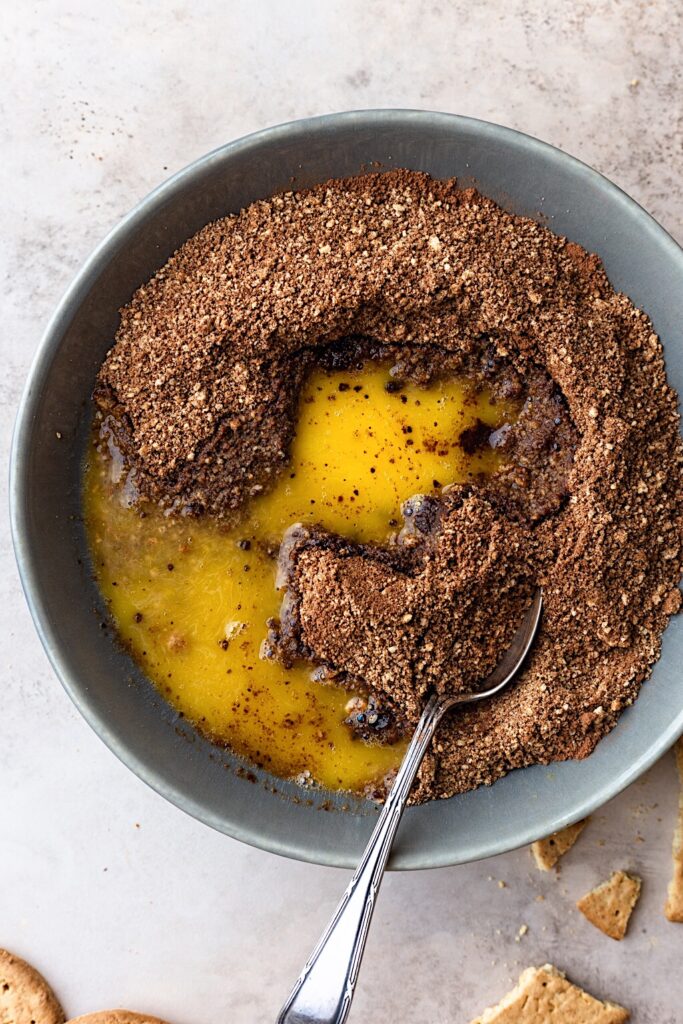 For the mousse filling you want to use a good quality dark chocolate. You'll notice the difference if you opt for a cheap one. I use 70% dark chocolate which I find is the right amount of sweetness.
How to make chocolate cream pie:
Start with the crust. Place the biscuits in a food processor and blitz until broken down into fine crumbs.
Add the cocoa powder and melted vegan butter and blend again.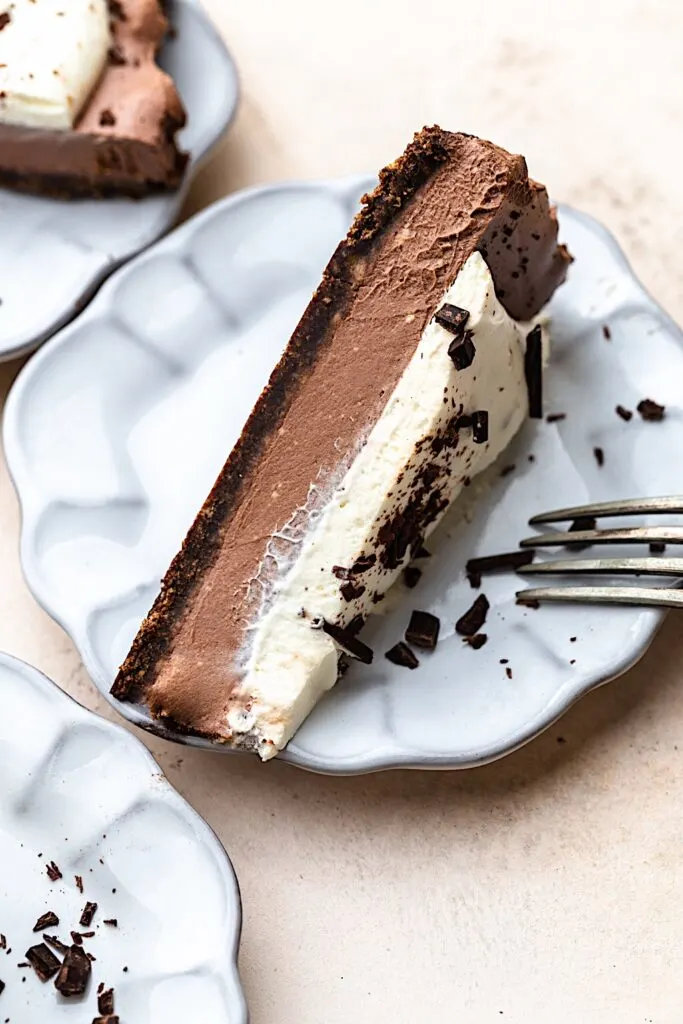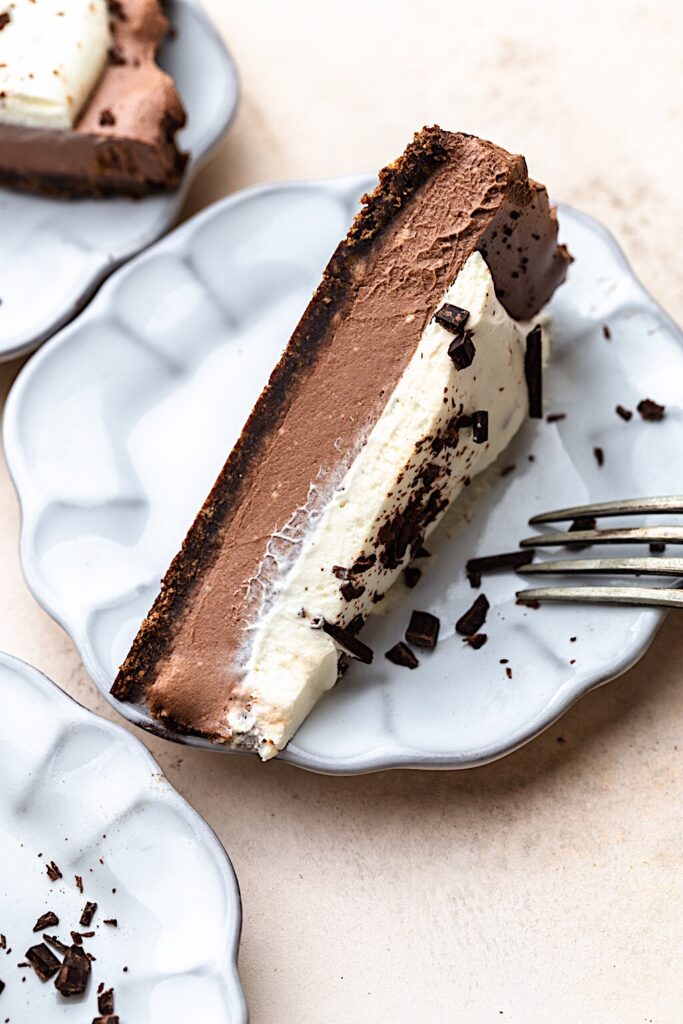 Line a 9 inch loose bottom pie dish. Pour the biscuit mixture in and press down with your hands. You can either press the mixture up the sides or just keep it on the base (it will be thicker if you do this).
Use a flat bottom glass to push down and make sure it's evenly spread. Place it in the fridge whilst you make the filling.
Take the two chilled coconut milk tins out of the fridge and scoop out the solid white fat into a bowl. It should be at the top of the tins, with the water at the bottom. Discard the water or use in another recipe.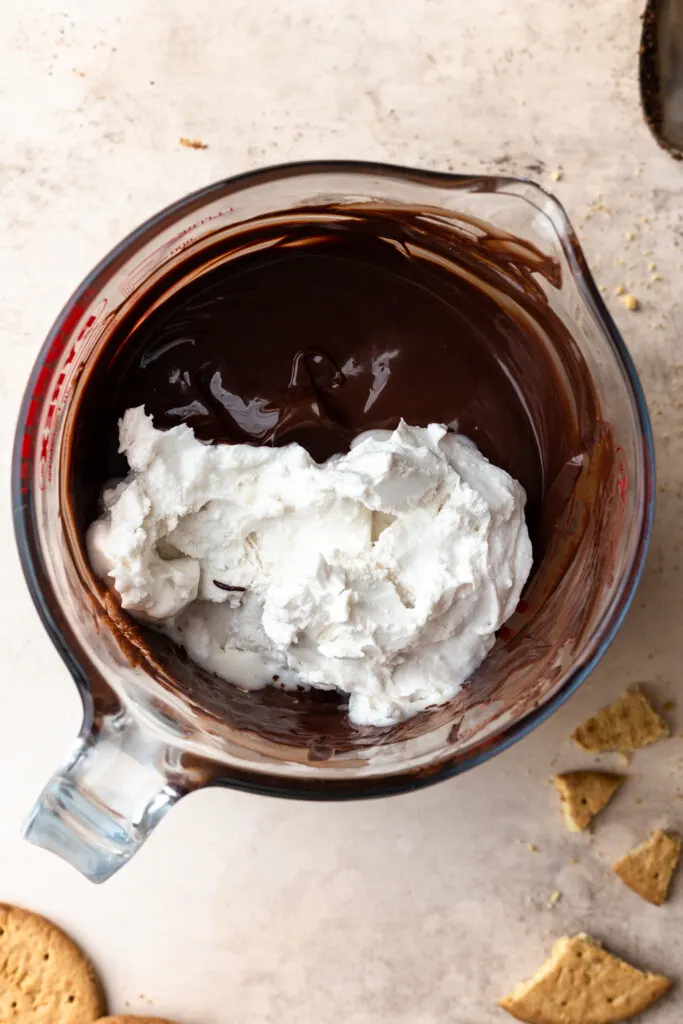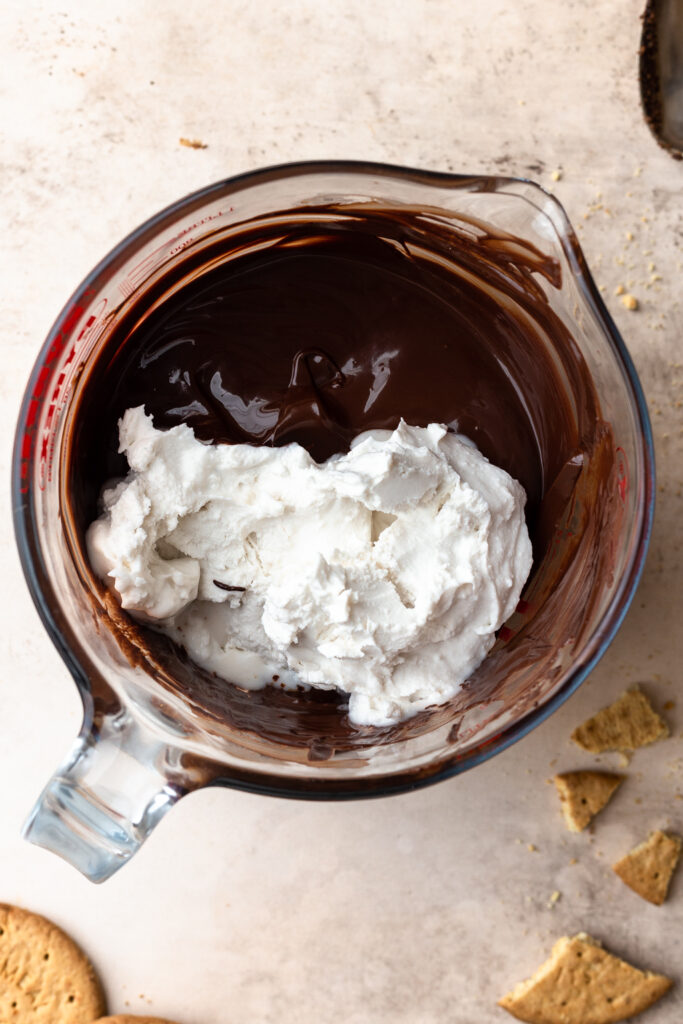 In a bain-marie melt the dark chocolate, then add to the coconut milk along with the agave/maple syrup.
Use a whisk or hand held mixer to mix until fluffy and comined. It should be a lovey milk chocolate colour.
Pour on top of the biscuit crust, tap the tin gently on the surface to remove any air bubbles and even out. Place back in the fridge.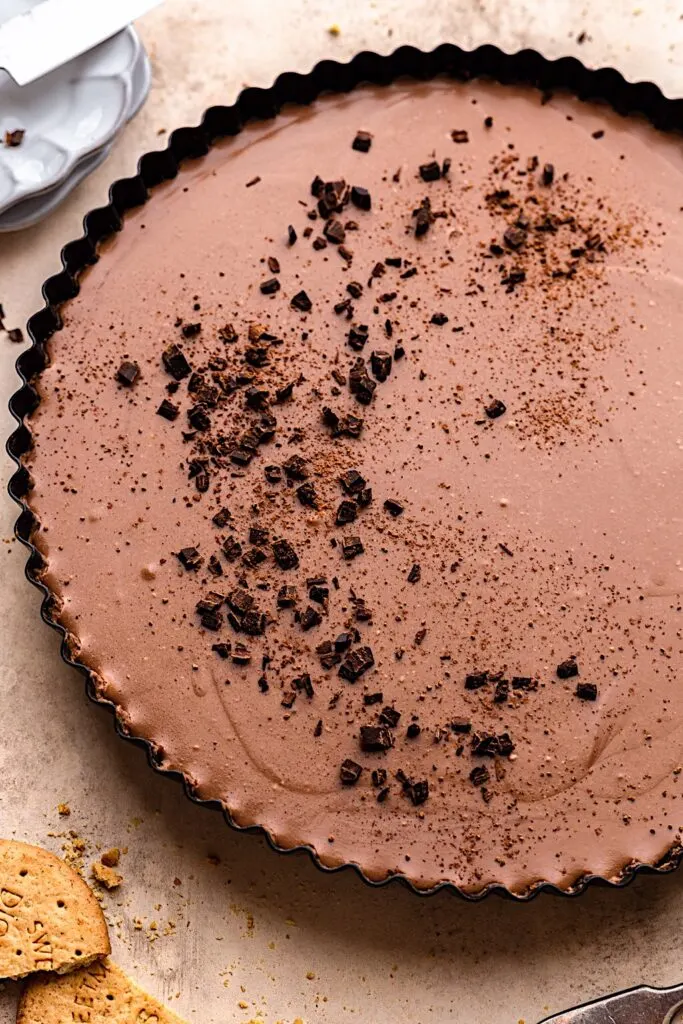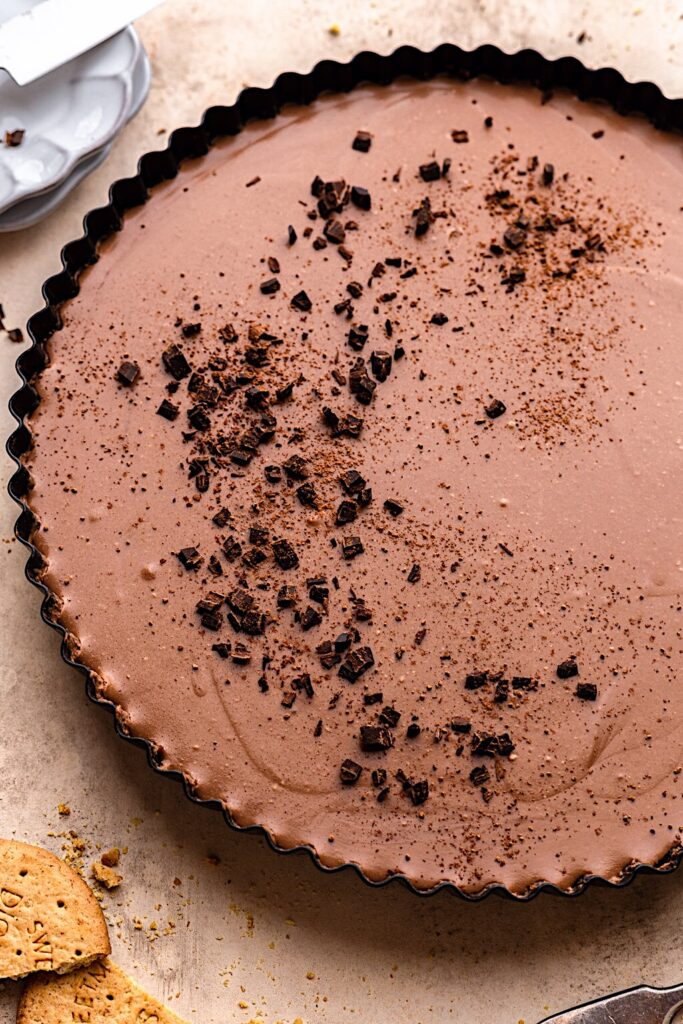 Lastly you can make the whipped cream topping. Pour 270ml of vegan double cream (one that is suitable for whipping, I use Elmea plant), icing sugar and vanilla in a bowl and whisk with a hand held mixer for 3-5 minutes until thickened and fluffy.
Spoon onto the pie, top with some chocolate shavings and serve! If you are making ahead of time then do the first two layers and make the whipped cream before serving as it will deflate a little.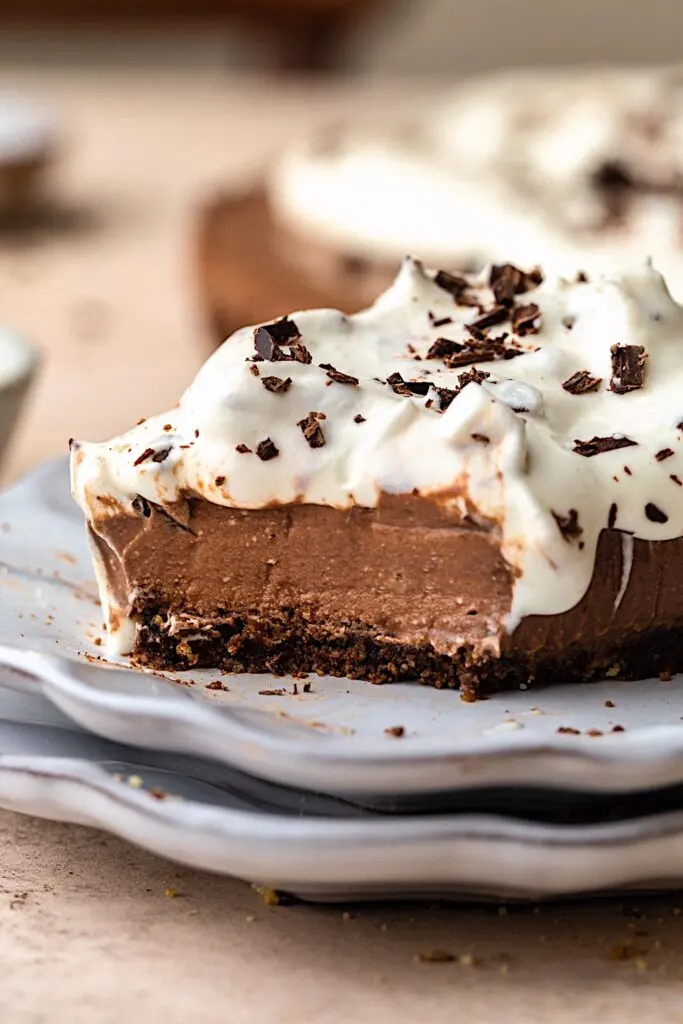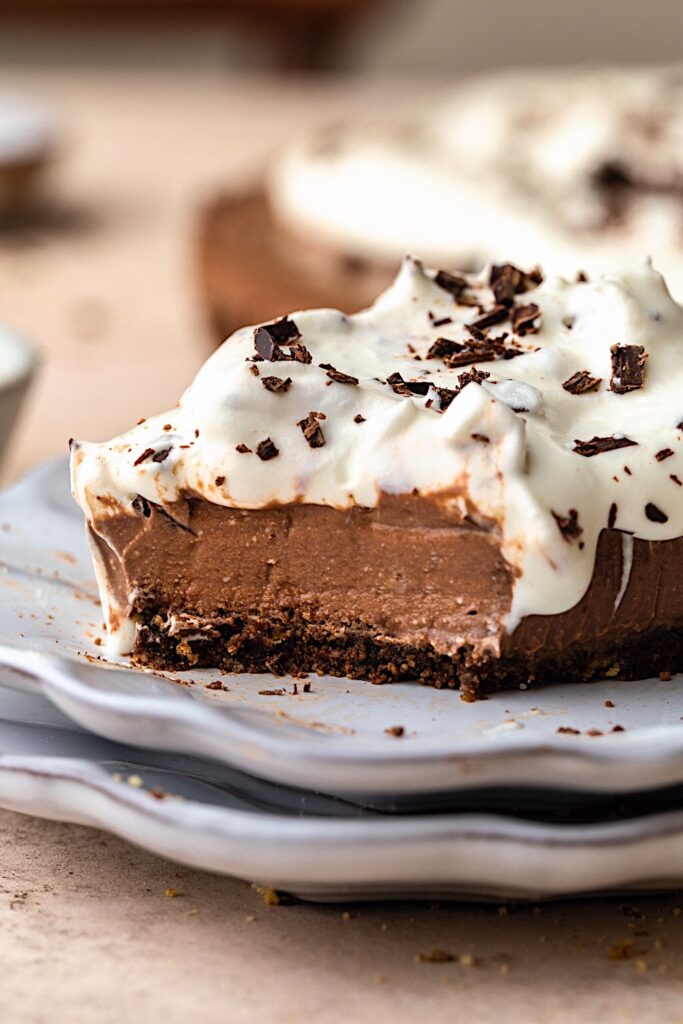 For more chocolate treats you may enjoy these:
Chocolate, vanilla and coconut flapjacks
---
As always if you make this vegan no bake chocolate cream pie be sure to leave me a comment, rate this recipe and tag me on Instagram. I love seeing all your photos of my recipe recreations!
Don't forget to follow along on Facebook, Pinterest and Instagram – I'd love to see you all there!
---
NEVER MISS A RECIPE! GET MORE VEGAN RECIPES SENT STRAIGHT TO YOUR INBOX – SUBSCRIBE HERE ?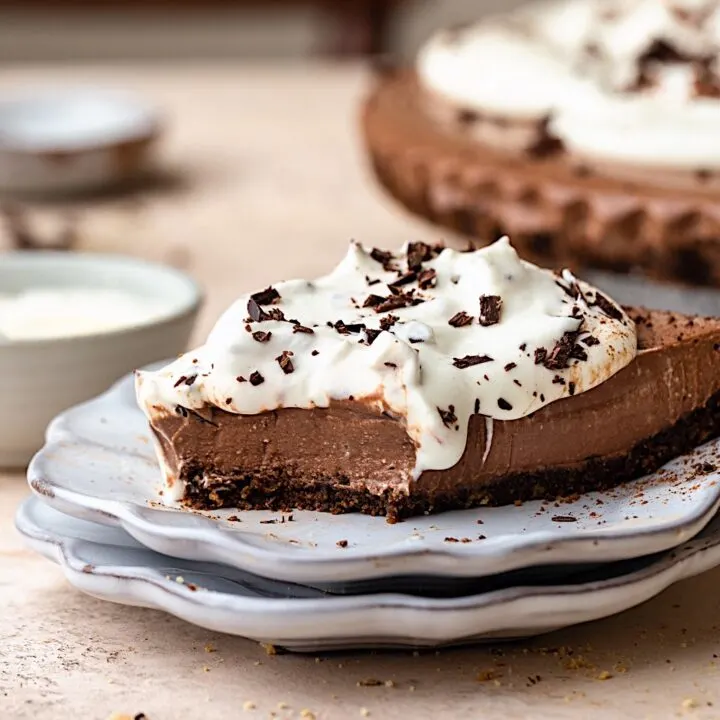 Vegan Chocolate Cream Pie
Total Time:
2 hours
30 minutes
This vegan no bake chocolate cream pie is the ultimate dessert! With a chocolate biscuit crust, chocolate mousse filling and whipped cream topping. Impress your guests with this easy but delicious sweet treat!
Ingredients
Base
240g digestive biscuits
30g cocoa powder
115g vegan butter, melted
Filling
200g good quality 70% dark chocolate
2 tins/800ml coconut milk, chilled
6 tbsp agave/maple syrup
Topping
270ml vegan double cream*
4 tbsp icing sugar
1 tsp vanilla bean paste/essence
Instructions
Place digestive biscuits in a food processor and blitz until fine crumb. Add melted vegan butter and cocoa powder and blitz again until combined.
Line a 9 inch loose bottomed pie dish. Pour biscuit mix in and use hands/flat bottom glass to flatten and push up the sides. You can just keep it as a base and not up the sides if it is easier, it will just be thicker. Pop it in the fridge.
Break up dark chocolate and melt over a bain-marie. Once melted remove from the pan.
Remove the white coconut fat from the tins of chilled coconut milk. It should be at the top of the tins with the water at the bottom. Add to the melted chocolate and whisk until fully combined and smooth. Spoon/pour onto the biscuit base, gently tap on the work surface to release any air bubbles. Place in the fridge for around 2 hours until set and chilled.
Place the double cream, icing sugar and vanilla in a bowl. Whisk with a hand held mixer for 3-5 minutes until thick and fluffy. Spoon on top of the pie and finish with some extra grated dark chocolate. Serve immediately and enjoy!
Store in the fridge, will keep for 3-4 days.
Notes
*Make sure you use a vegan double cream suitable for whipping, like Elmea Plant. If you can't get hold of any, you can leave it off or sub for a whipped coconut cream.
If making ahead of time, do the first two layers and make/add the whipped cream before serving or it will deflate a bit.
Recommended Products
As an Amazon Associate and member of other affiliate programs, I earn from qualifying purchases.