Soft and chewy vegan vanilla, coconut and chocolate flapjacks. These sweet oaty bakes are perfect for an afternoon pick me up with a cup of tea!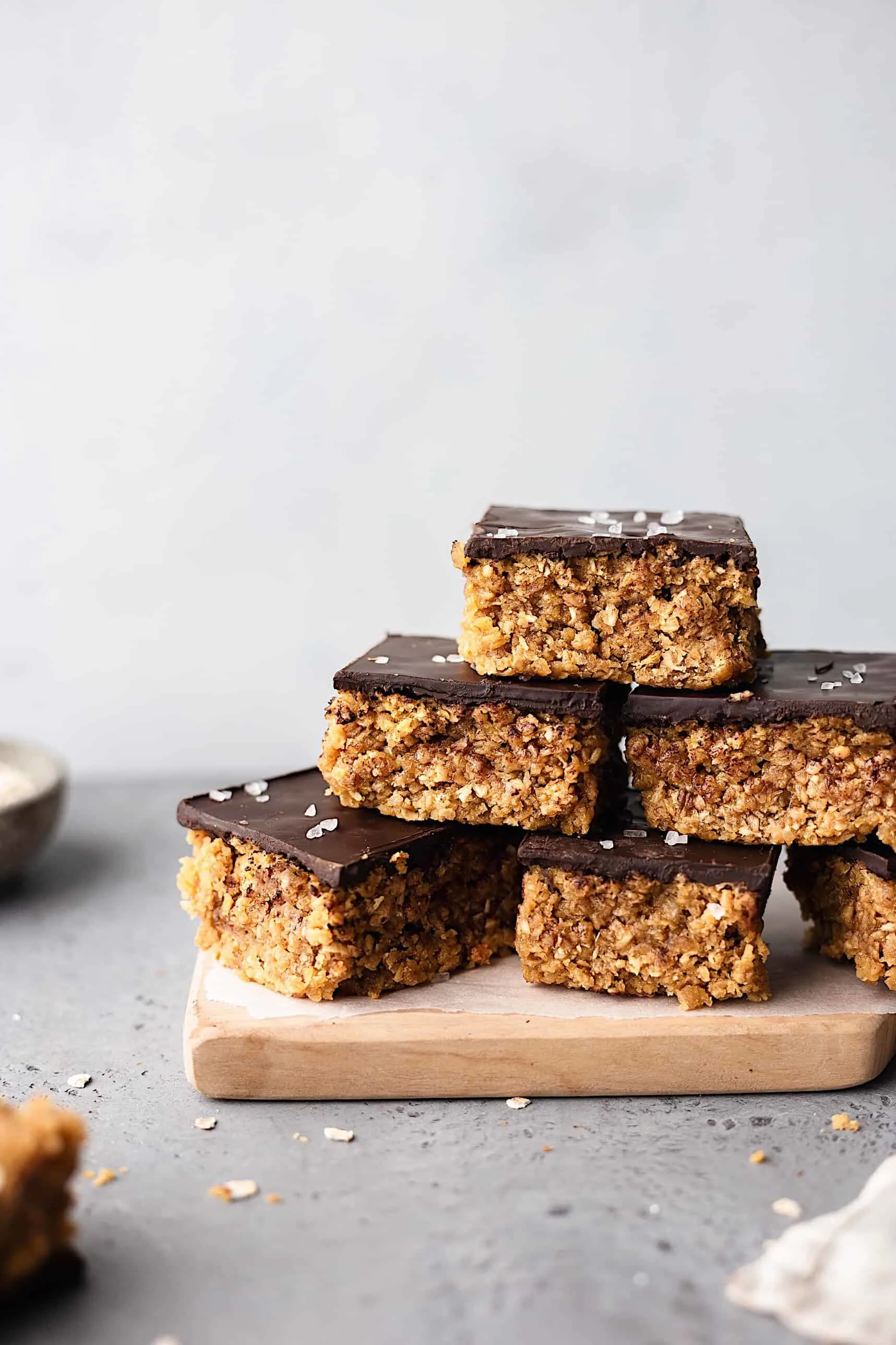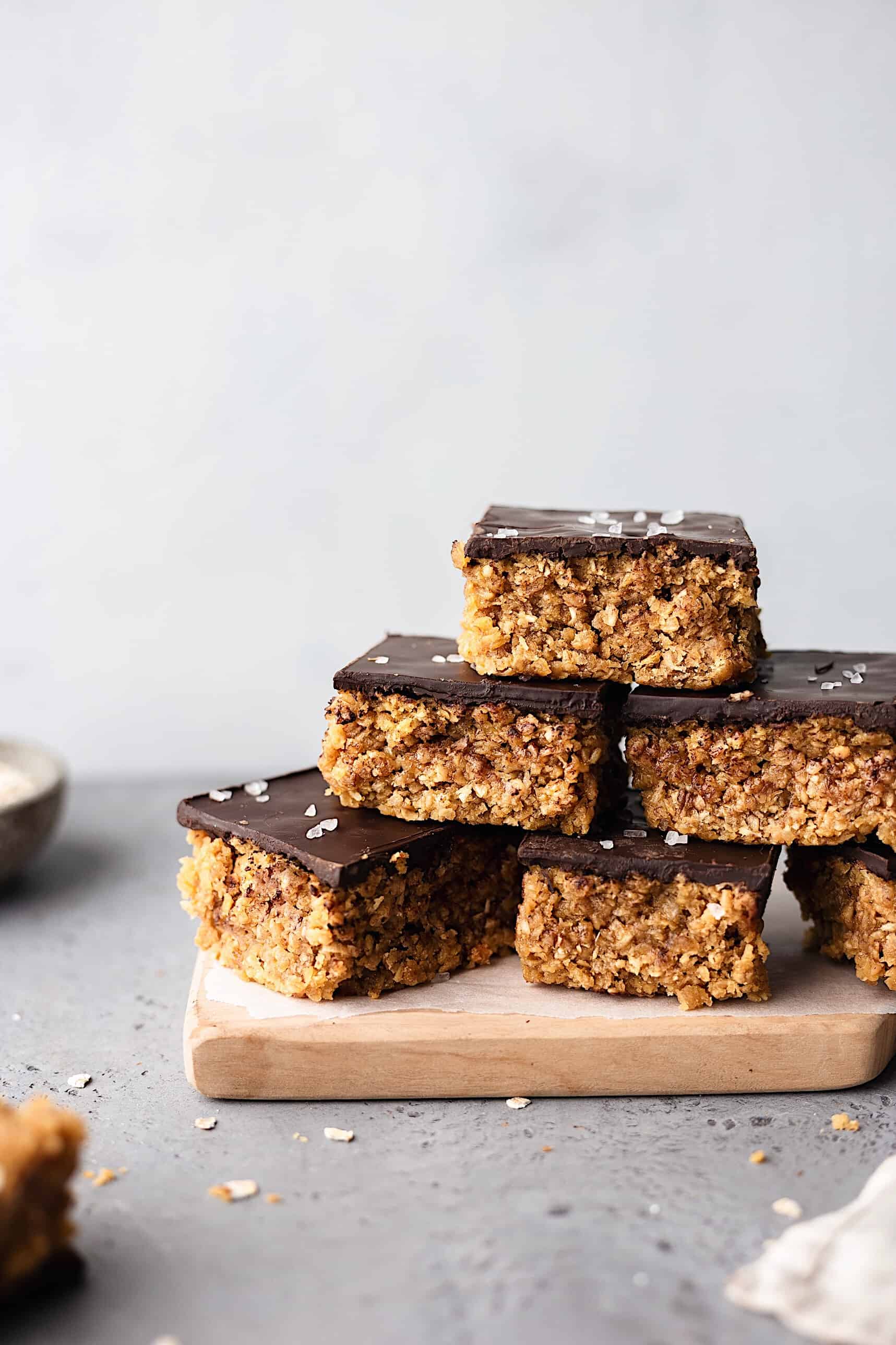 The base of a flapjack recipe is really simple and easy to make vegan. The main ingredients are vegan butter, golden syrup, light brown sugar and oats.
Just four ingredients and you can make yourself a delicious sweet treat!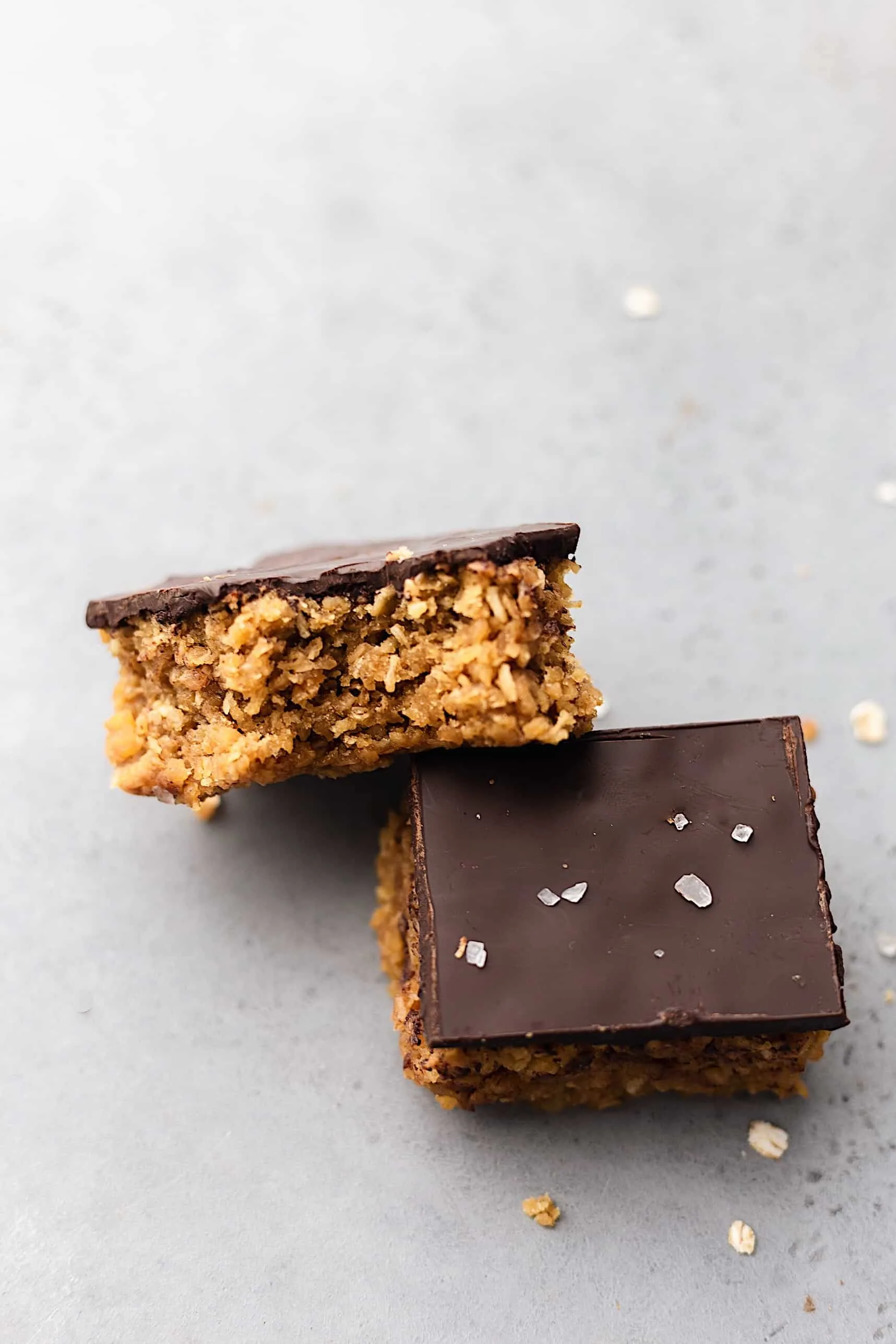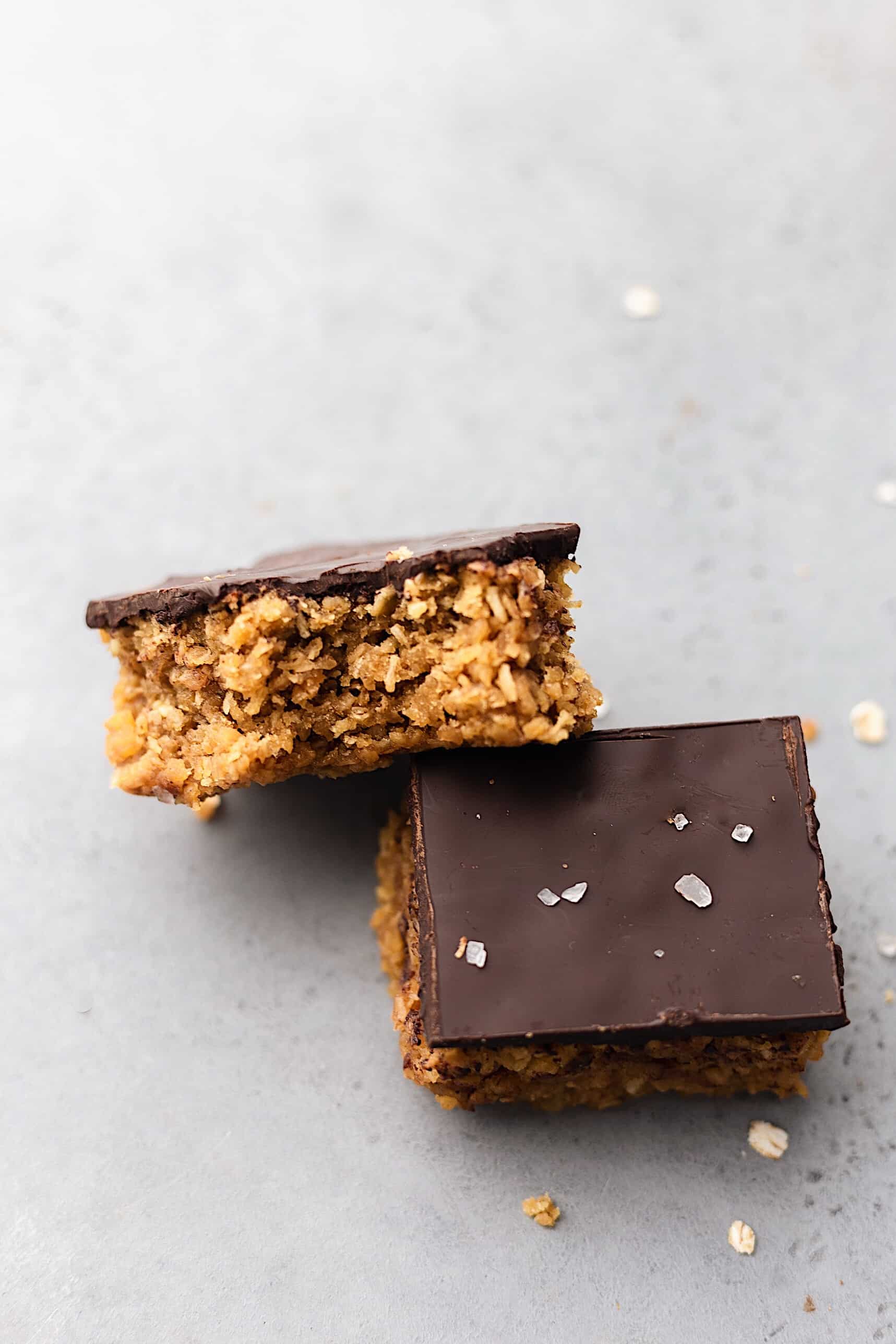 To this we've added vanilla, desiccated coconut and dark chocolate. Because those three ingredients alone are incredible, but added to a flapjack? The BEST.
I think flapjacks we're one of the first recipes I baked when I was younger and they will always be nostalgic to me! Mum used to buy a box of flapjacks from the supermarket and they never lasted long!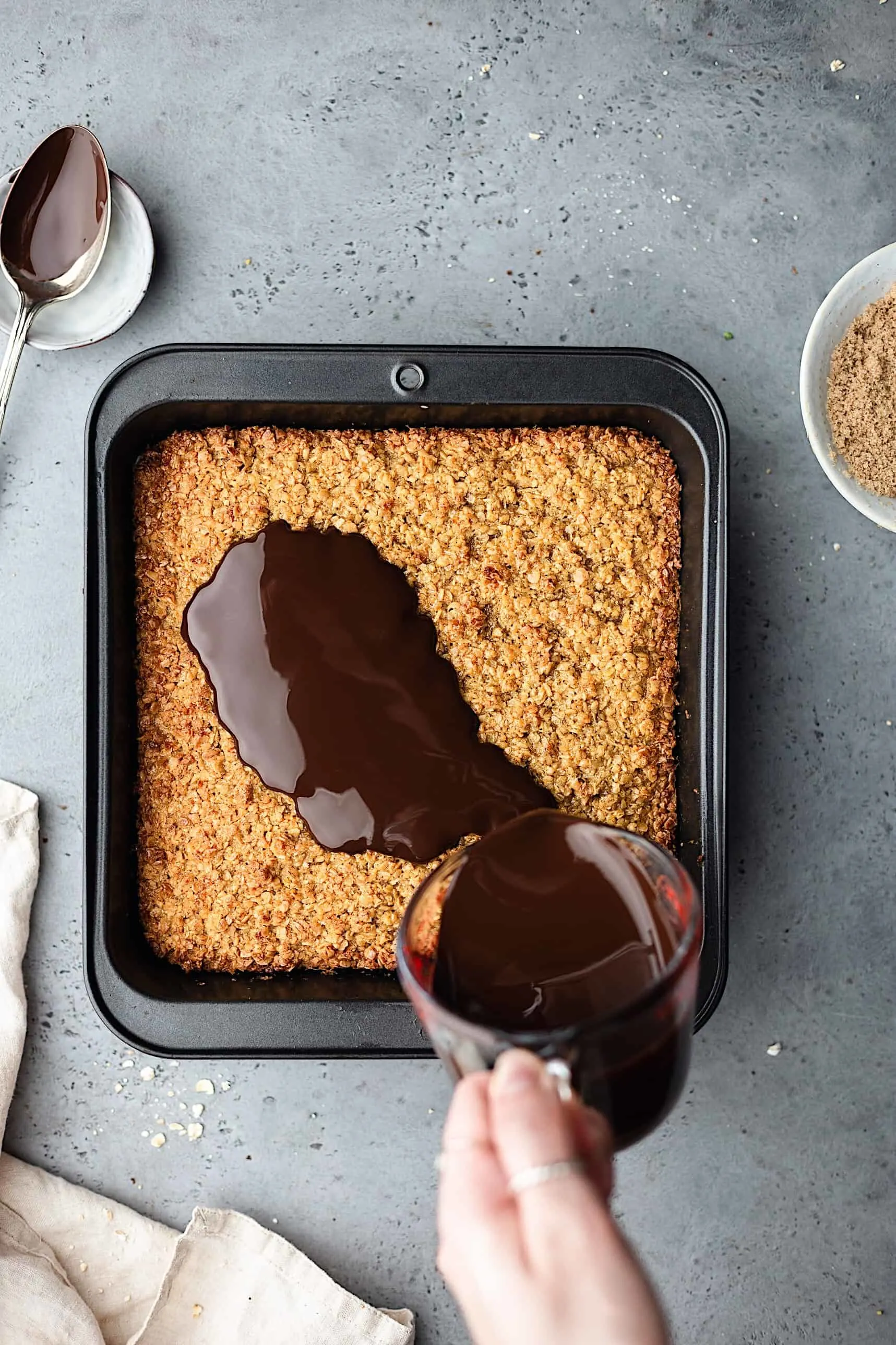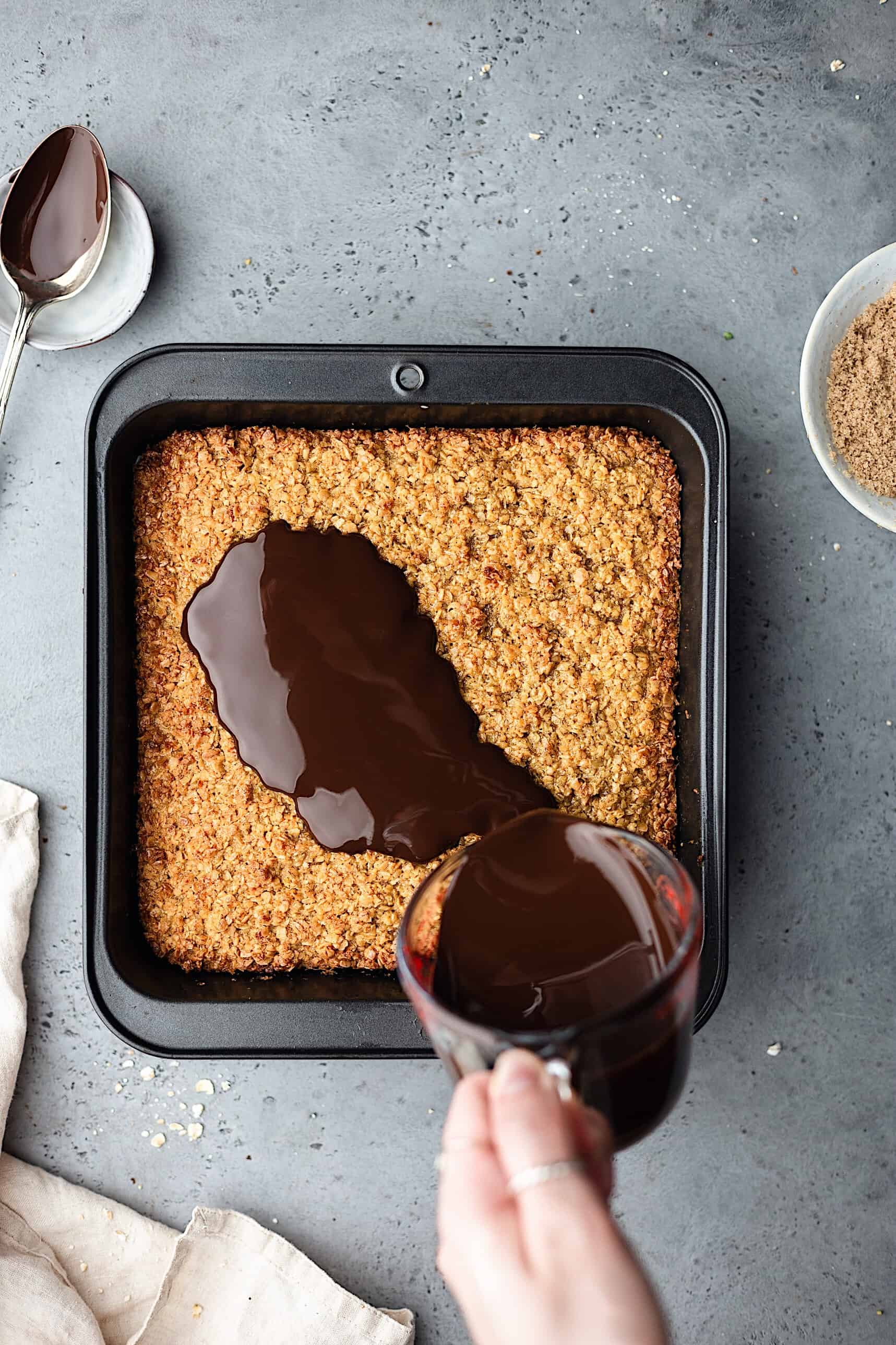 How to make flapjack:
The recipe starts by melting the vegan butter, sugar and golden syrup on the hob and then adding the oats, vanilla and coconut.
It's then transferred to a square cake pan and baked for 20 minutes until its beautifully golden brown and starting to crisp on the edges.
There is a little waiting involved whilst the flapjack cools, but I promise it is worth it!
The chocolate topping can easily be skipped of course, if you can't wait that long!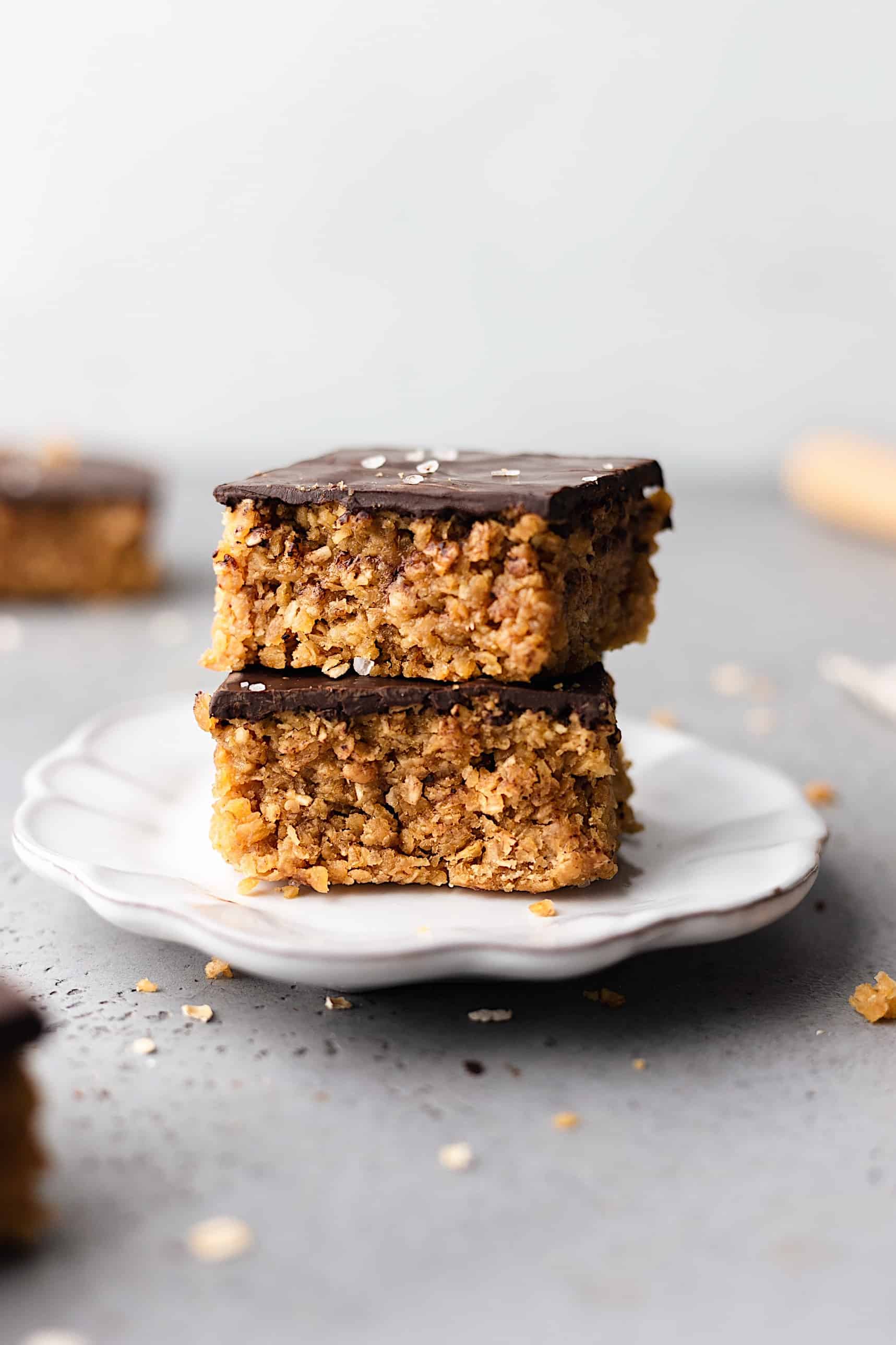 My favourite dark chocolate is 70% cocoa as it's sweet and rich but not too bitter. You could also use a vegan milk chocolate if you don't like dark chocolate.
I love Green and Blacks 70% dark chocolate but I've recently discovered Sainsbury's Swiss 72% dark chocolate and it is really really delicious and so silky!
Once the flapjack is cooled and the chocolate has been melted its time to pour it over the top. Then pop it into the fridge for an hour to set.
Top tips:
There are a couple of tips to making sure the chocolate doesn't crack when you cut it. Because I've been there and it's so annoying!
First is to add a tbsp of oil, coconut oil in this case which will help to soften it. But a neutral flavour oil like canola or rapeseed will also work.
Second is to warm the knife with some warm water before cutting. Then simply wipe the knife and warm again to get a clean cut every time.
An 8×8 inch square cake pan will make 16 square flapjacks. You could cut into rectangles or smaller squares if they're for little ones!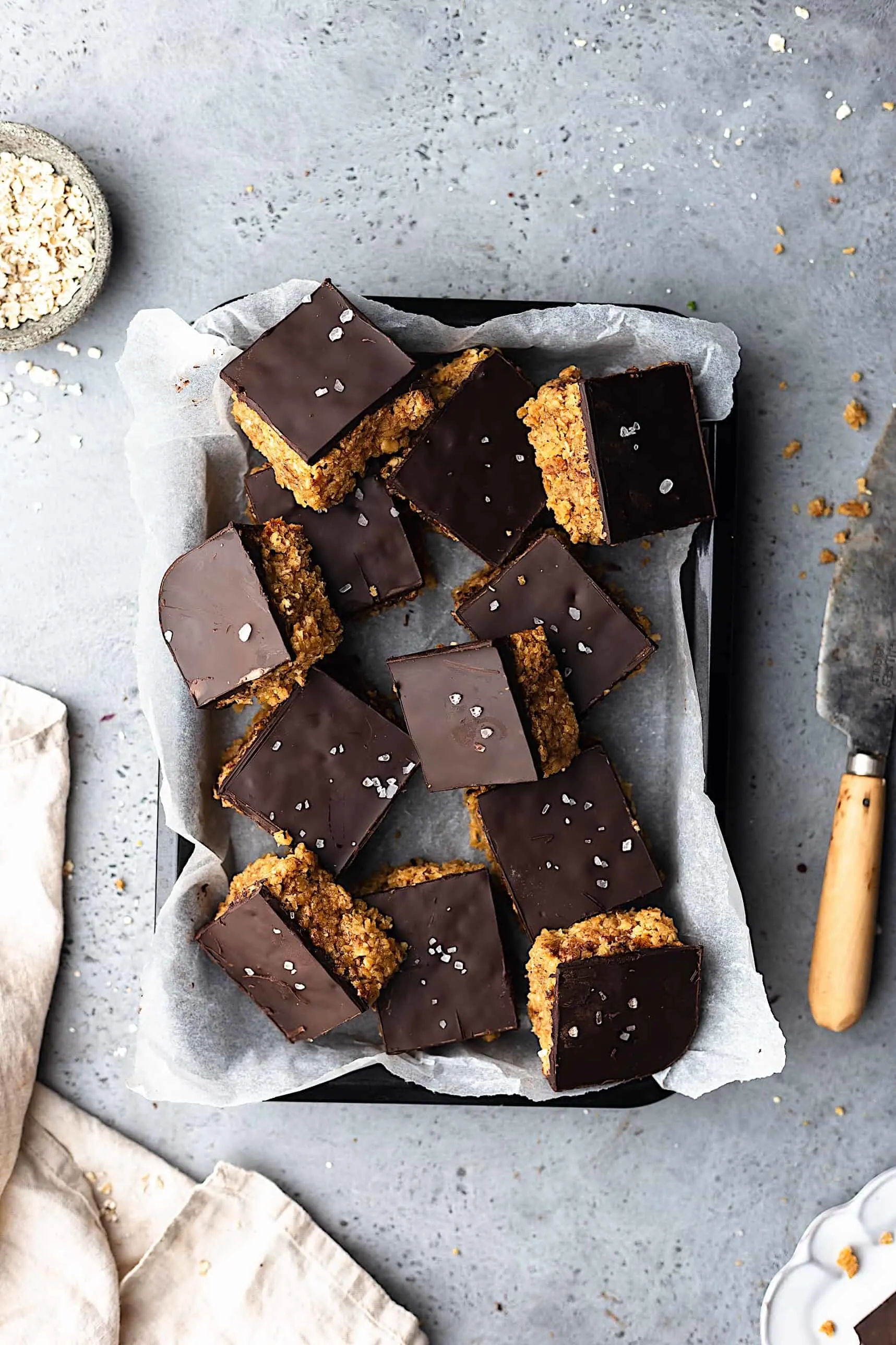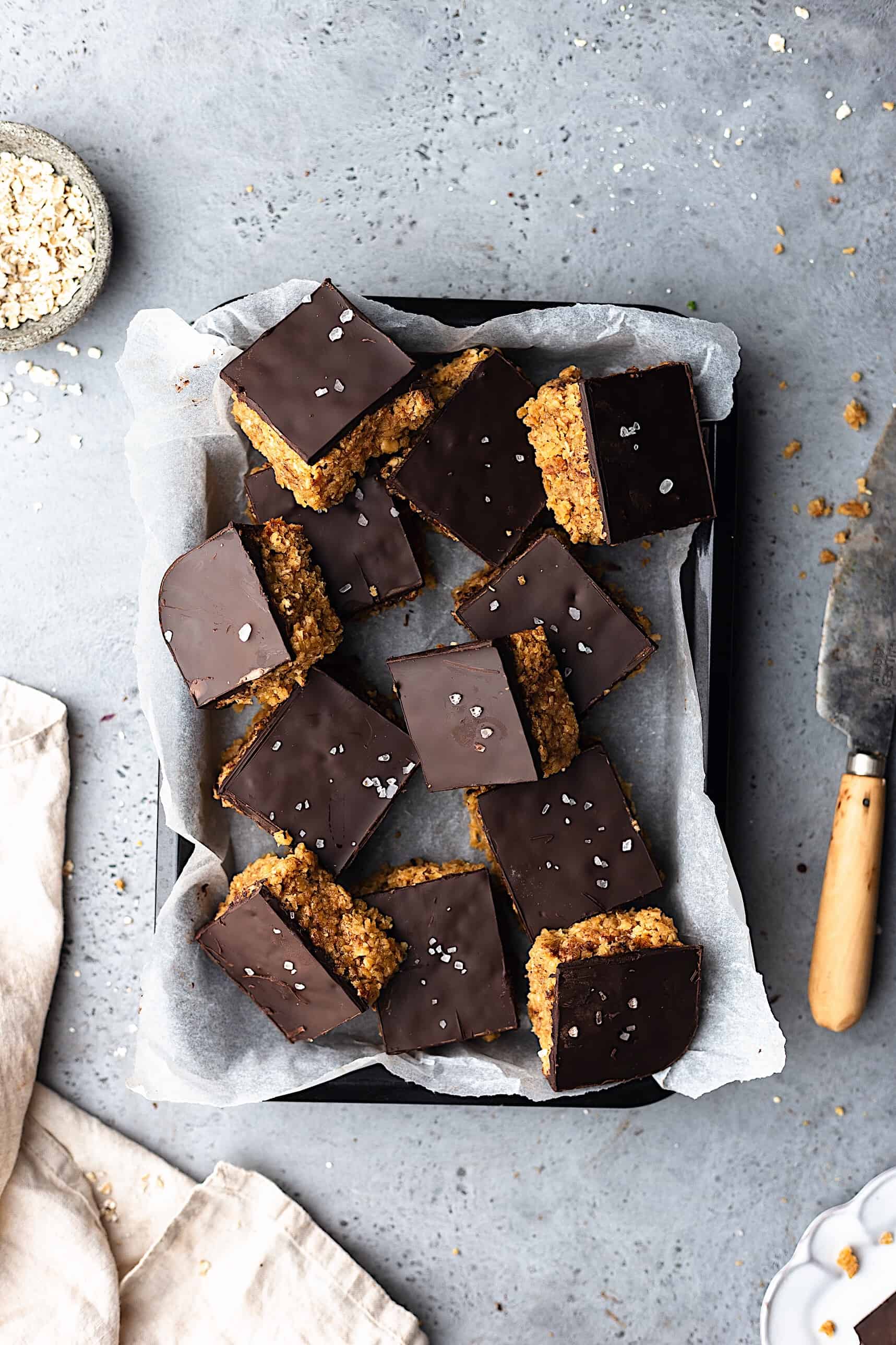 For more chocolatey treats you may enjoy these:
Double Chocolate Peanut Butter Cookies
Creamy Chocolate Orange Mousse
I've already eaten three pieces whilst writing this so I'm off to eat a proper meal before having more flapjack for dessert!
As always if you make these coconut flapjacks be sure to leave me a comment, rate this recipe and tag me on Instagram. I love seeing all your photos of my recipe recreations!
Don't forget to follow along on Facebook, Pinterest and Instagram – I'd love to see you all there!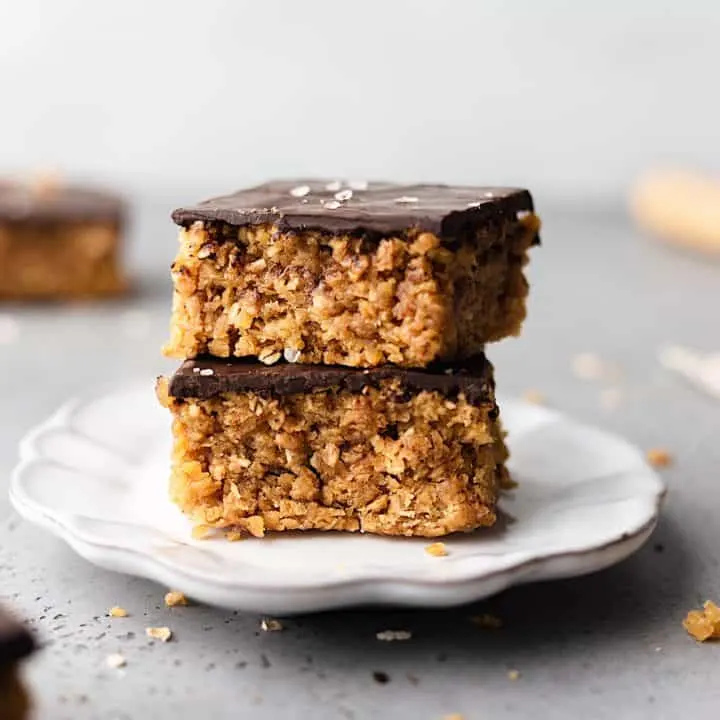 Vanilla, Coconut and Chocolate Flapjacks
Total Time:
1 hour
30 minutes
Soft and chewy vegan vanilla, coconut and chocolate flapjacks. Perfect for an afternoon pick me up with a cup of tea! They're irresistible!
Ingredients
250g vegan butter
150g light brown sugar
250g/175ml golden syrup
1 tbsp vanilla bean paste
320g porridge oats
50g desiccated coconut
200g good quality 70% dark chocolate
1 tbsp coconut oil
Sea salt flakes
Instructions
Preheat the oven to 180C/350F. Grease and line an 8x8 inch cake pan.
In a pan on low-medium heat place the butter, sugar, golden syrup and vanilla. Stir and when it is all melted take off the heat.
Add the oats and coconut and mix well. Transfer to the cake pan and smooth with the back of a spoon, into the corners until is it level.
Place into the oven for 20 minutes. It should be golden brown and starting to crisp on the edges, but still be quite soft in the middle. This is what will make it chewy, if you overbake it it will be too dry.
Leave to cool in the pan for 10 minutes and then transfer to a cooling rack and once cool prepare your chocolate.
Melt the chocolate and coconut oil over a bain marie until smooth. Place the flapjack back into the cake pan and then pour the chocolate over the top.
Make sure the chocolate is evenly spread, use a spoon or tilt the pan so it gets into all the corners. Sprinkle some sea salt on top.
Place into the fridge to set for at least an hour.
Carefully run a knife round the edge of the chocolate and then transfer to a chopping board.
Using a large sharp knife cut into 4 equal rows and then turn and repeat to make 16 squares.
Eat straight away or store in an air tight container for 3-4 days.
Notes
Golden syrup is a british ingredient and I've heard it is more difficult to source in America. Although I haven't tested this recipe with a substitute, corn syrup is said to work well.
Recommended Products
As an Amazon Associate and member of other affiliate programs, I earn from qualifying purchases.
Nutrition Information:
Yield:

16
Serving Size:

1
Amount Per Serving:
Calories:

278
Total Fat:

20g
Saturated Fat:

13g
Unsaturated Fat:

6g
Sodium:

163mg
Carbohydrates:

23g
Fiber:

2g
Sugar:

16g
Protein:

2g