These chocolate heart lollipops are the perfect edible homemade gift for your loved ones. Whether it's for your mum, girlfriends, boyfriend or yourself these chocolate heart lollipops are the cutest way to say 'I love you'.
Because we could all do with a bit more love in the world. You can top these with whatever you fancy but I used crushed Oreos, vegan white chocolate and freeze dried raspberries. The flavours and colours worked perfectly together.
The freeze dried raspberries have the brightest pink colour which I couldn't resist using, and are perfect for Valentine's. You should be able to pick some up at your local supermarket, look in the baking section. If you live in the UK you can get them from Waitrose here.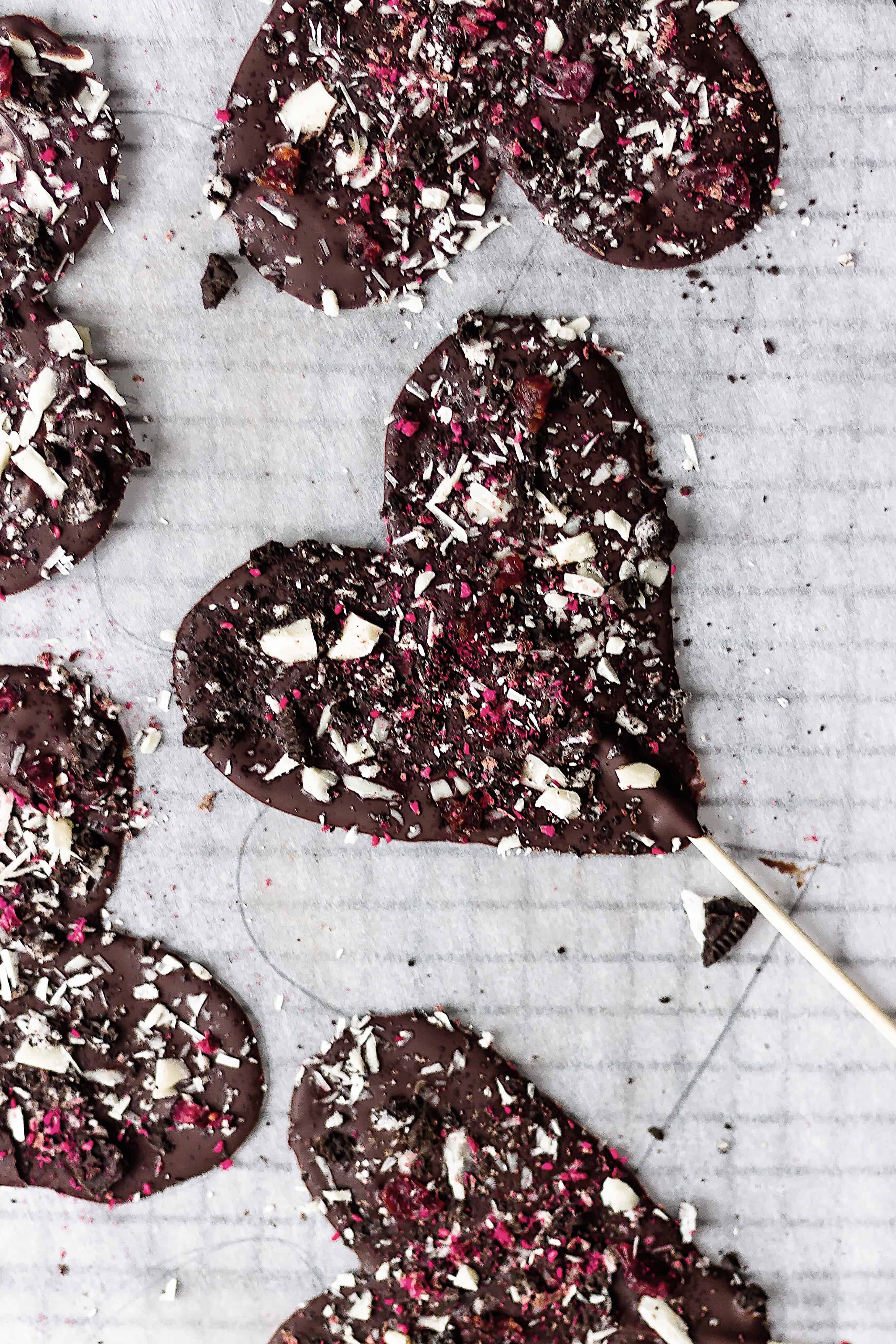 If you are looking for vegan white chocolate I can't recommend i-choc enough. They have a range of flavours and their white chocolate taste like Milky Way and is so creamy and delicious. You can pick them up in health food shops or on Amazon. Our favourites are White Vanilla and Choco Cookie, and they don't last longer than a day in our house!
These lollipops are super easy to make, you just need to be patient and wait for them to cool and set. They should last for a week or two in an air tight container, but I am sure they will not last long than that!
They would be super cute wrapped in some cellophane and some pretty pink ribbon to give as a gift!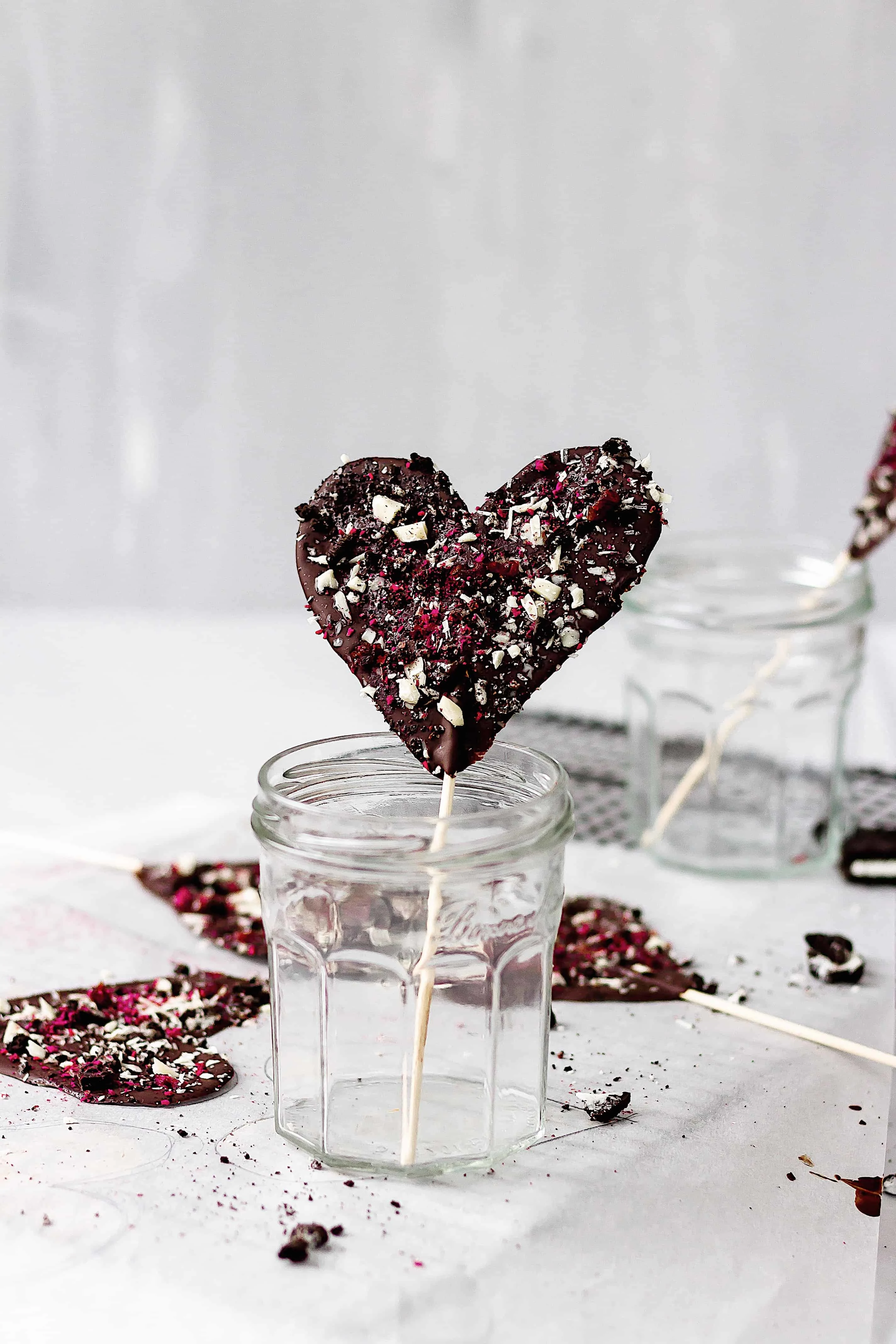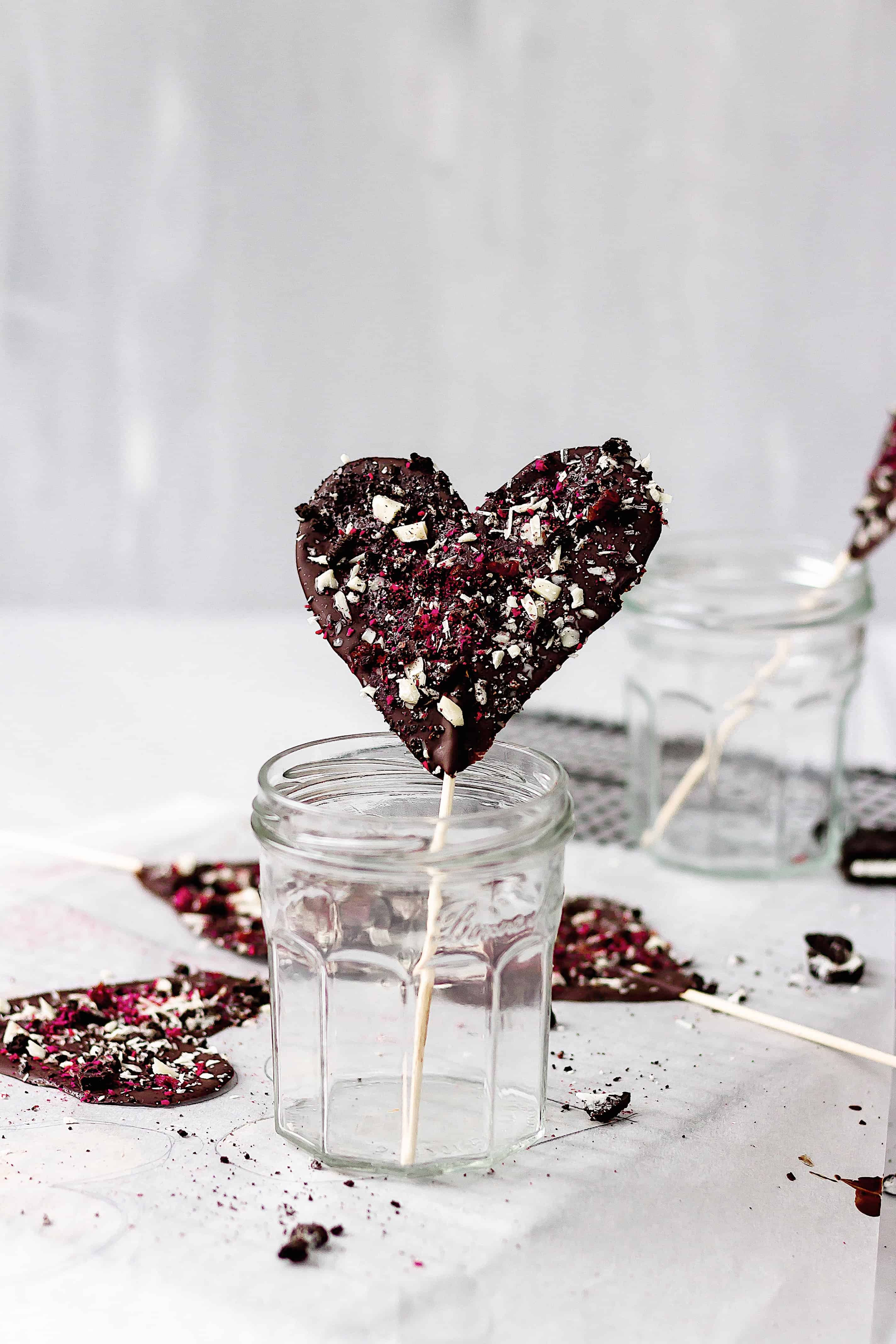 As always if you make these chocolate valentines lollipops be sure to leave me a comment, rate this recipe and tag me on Instagram. I love seeing all your photos of my recipe recreations!
Don't forget to follow along on Facebook, Pinterest and Instagram – I'd love to see you all there!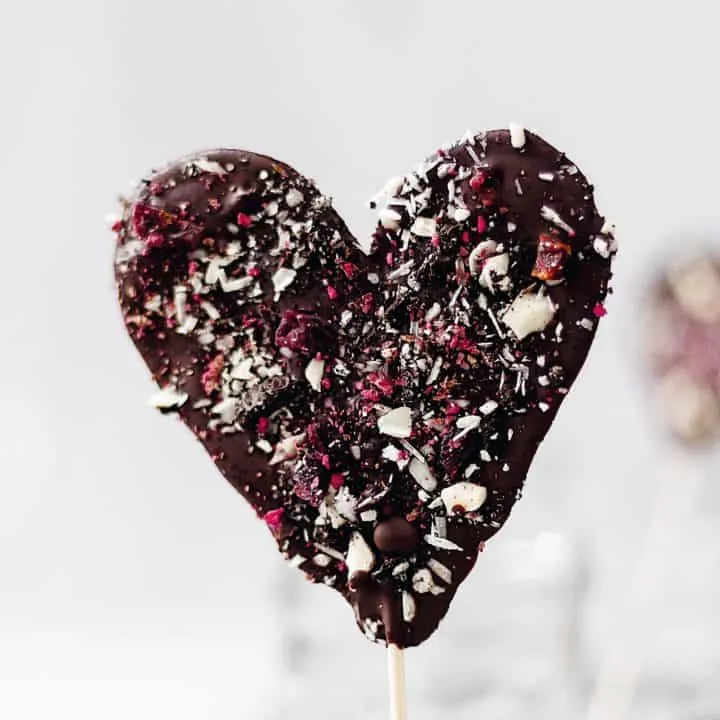 Cute Valentine's Chocolate Heart Lollipops
Total Time:
2 hours
5 minutes
Make these adorable chocolate heart lollipops for the loves in your life. Top them with your favourite toppings and you have an edible homemade gift this Valentine's.
Ingredients
1 bar (100g) good quality dark chocolate
4 squares (25g) of vegan white chocolate
2 oreos/vegan biscuits
1-2 tsp freeze dried raspberries
Instructions
Make a heart template on a piece of card and cut out. Lay out some baking paper on a flat surface and stencil some heart shapes with a pencil. Make sure you press fairly hard as you will be turning the baking paper over, and need to be able to see them. Also make sure you leave enough room for your sticks too. I made two rows of 3 (back to back) and mine were 10x10cm in size.
Turn the baking paper over and back onto a flat surface (a large baking sheet or chopping board will work).
Melt your dark chocolate in a bain-marie. Once melted, allow to cool slightly and then gently spoon with a teaspoon onto the heart shapes and use the back of the spoon to spread and fill the shape. Repeat this until all your hearts are filled/you have used all the chocolate. You want the chocolate to be a couple mm thick, if you aren't sure, wait for it to cool a little and then spoon some more on.
Place your lollipop sticks about 1/3 into the heart and roll over so its covered in chocolate.
Grate or cut the white chocolate and Oroes up and sprinkle on top, along with the freeze dried raspberries.
Leave to cool for a couple of hours at room temperature.
If these are for a gift, wrap the chocolate in some cellophane and tie with string!
Recommended Products
As an Amazon Associate and member of other affiliate programs, I earn from qualifying purchases.