youCraving pizza, but want a healthier low-carb version? Welcome to my lentil crust pizza. Told you I loved lentils. This crust is so so easy, I remember making cauliflower crust once and it was such a faff and took way longer.
If you're anything like me, when I want pizza, I want it fast! This can be whizzed up in under a minute, then all you need to do is fry it like a pancake, and you're good to go.
I really wanted to make my own vegan cheese on this and I found this cashew ricotta recipe from Fooduzzi. I used smoked garlic granules instead of regular and it was DELICIOUS. I also topped it with spinach, oyster and portobello mushrooms, sun dried tomato and basil.
Use what you have, it'll be delicious. Vegan mozzarella, tomatoes and pesto is also a great combo!
If you're a pizza lover like me you may also like this cheesy buffalo 'chicken' pizza!
As always if you make this lentil crust pizza be sure to leave me a comment, rate this recipe and tag me on Instagram. I love seeing all your photos of my recipe recreations!
Don't forget to follow along on Facebook, Pinterest and Instagram – I'd love to see you all there!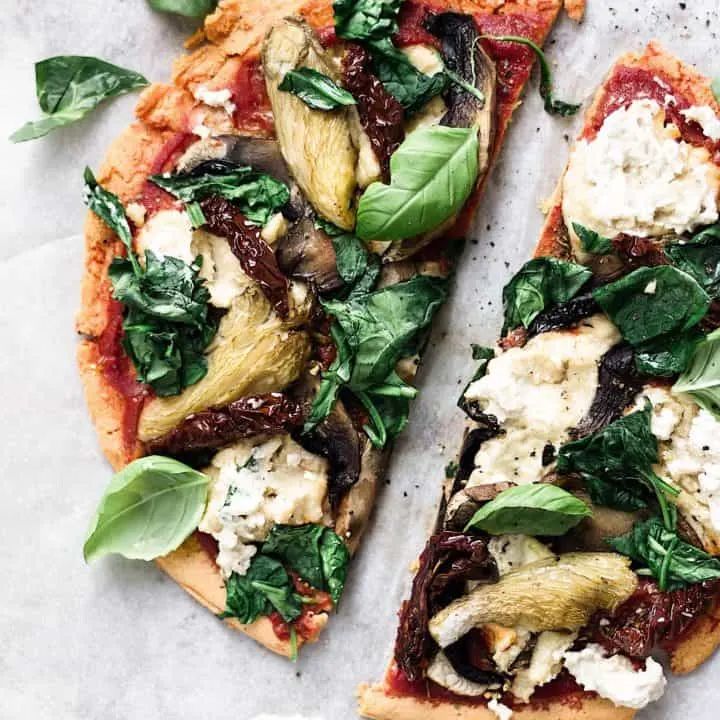 Lentil Crust Pizza
Vegan, healthy, low-carb lentil crust pizza. 4 ingredient, quick weeknight dinner that's ready in 25 minutes. Just add your toppings, and make it your own!
Ingredients
1 1/2 cups dried red lentils
1 1/2 cups water
3 garlic cloves
1 tbsp dried mixed herbs
Toppings of your choice
Instructions
Rinse the lentils and then put in a blender the the water, garlic and herbs and blend until it becomes thick, like a pancake batter. I use a nutribullet and it takes about 30 seconds.
Pour a little oil into a frying pan on medium heat. Once hot, pour in half the batter. Spread it out so that there is a layer about 1/4 cm thick. Once little bubbles start to appear, flip it over. Make sure none is stuck to the pan or it will break. Fry on the other side for a few minutes. Repeat this with the rest of the batter, so you have two bases.
Remove from the hob and carefully place on a pizza baking tray. Add toppings of your choice. Cook for about 12 minutes.
I like to finish mine off with some pesto, chilli flakes and garlic oil.
Notes
If you are making less/more just make sure you use the same ratio of water to lentils.
Nutrition Information:
Yield:

2
Serving Size:

1
Amount Per Serving:
Calories:

178
Total Fat:

1g
Saturated Fat:

0g
Trans Fat:

0g
Unsaturated Fat:

0g
Cholesterol:

0mg
Sodium:

363mg
Carbohydrates:

31g
Fiber:

12g
Sugar:

3g
Protein:

14g