I remember my sister teaching me how to make tofu scramble when I was about 16, she was clearly ahead of the game. Tofu has been a staple in my household for as long as I can remember and it is so versatile.
My mum used to make a tofu shepherds pie with crumbled tofu and is a great way to switch things up or use as an alternative to mince. I went off eggs quite a few years ago, before turning vegan, the thought and look of them made my stomach turn.
If you need an alternative to scrambled eggs, or need a new breakfast recipe then give this a go. Tofu can take on pretty much any flavour you want and it's texture means it can be cooked in so many ways!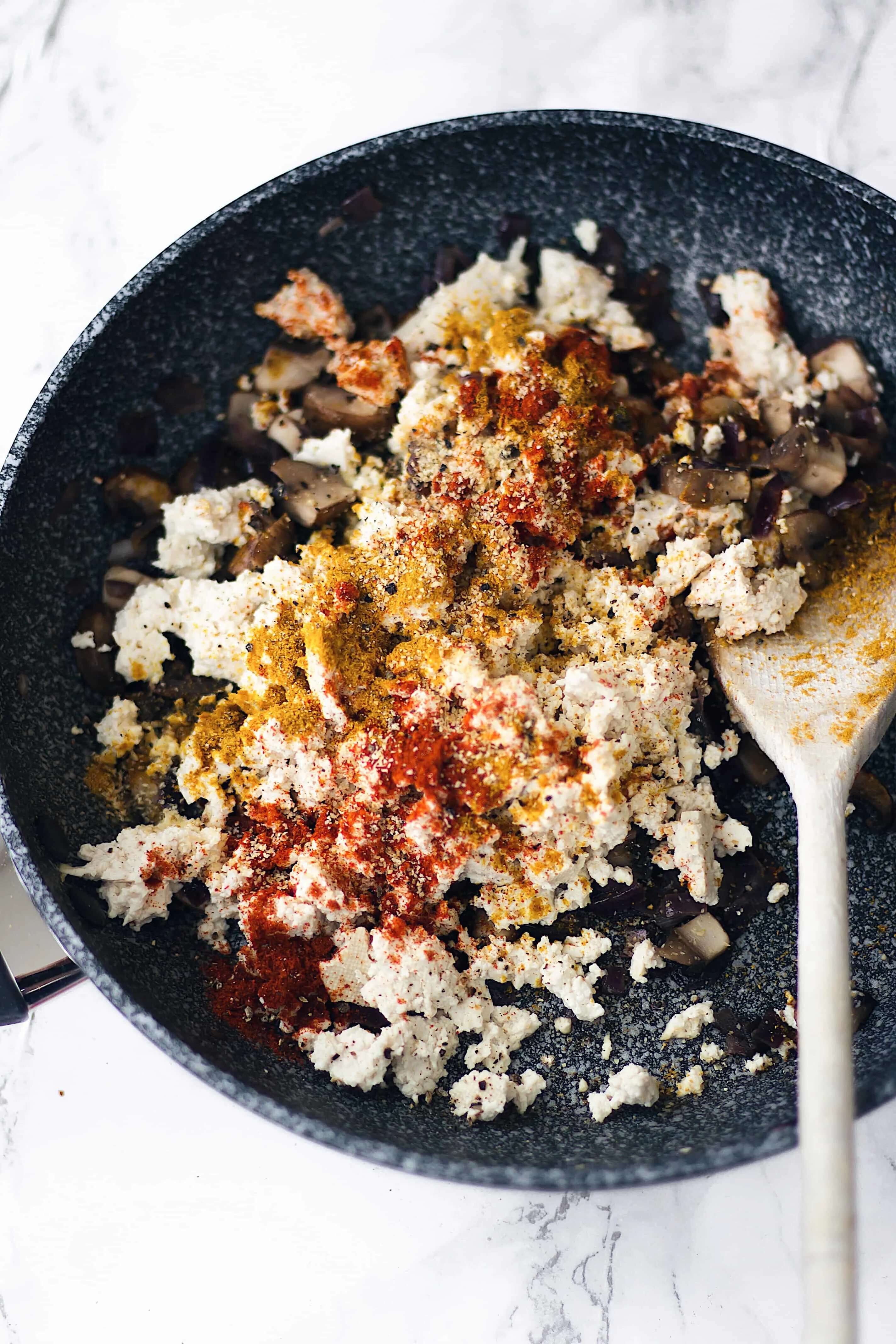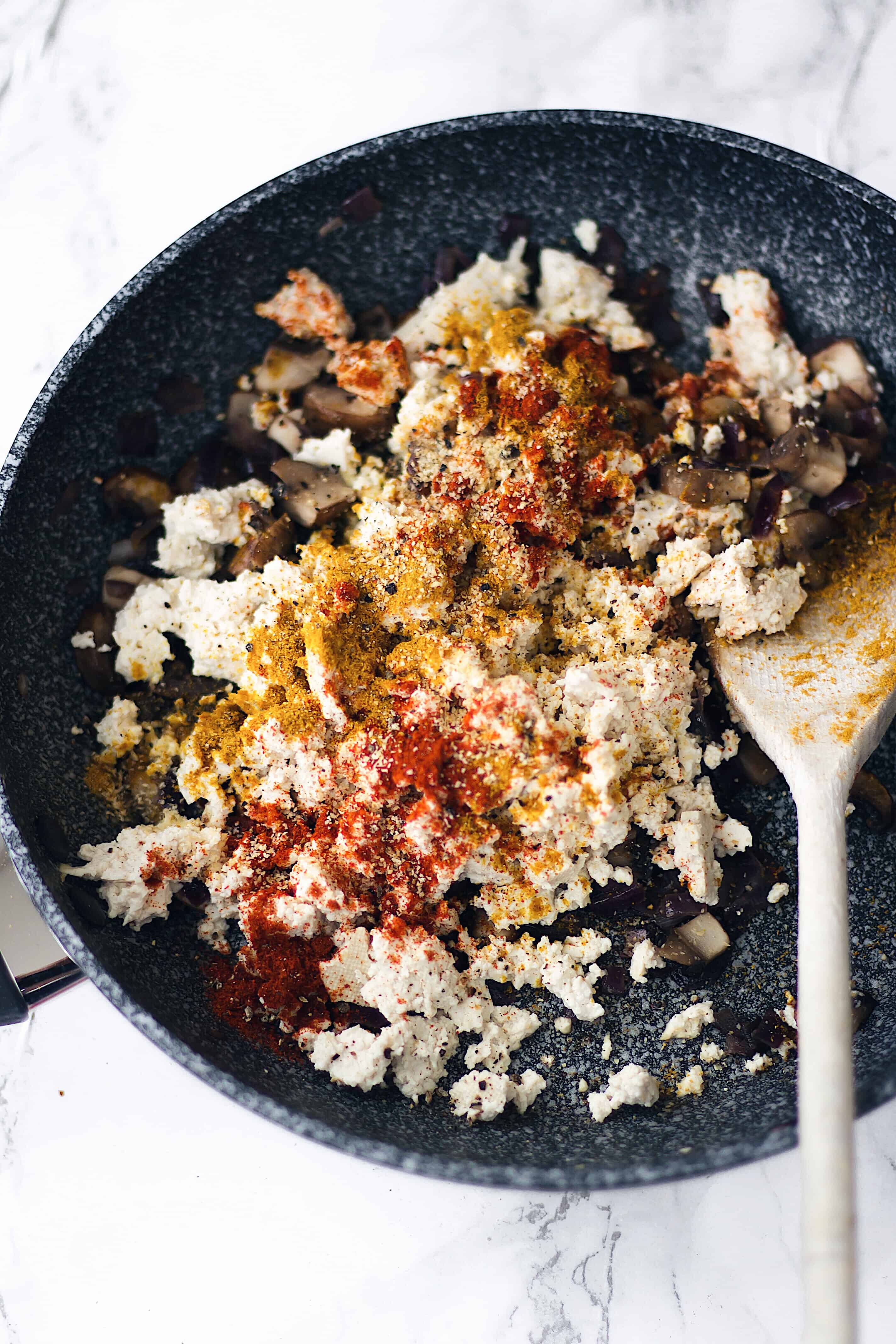 This recipe comes together in 25 minutes and is perfect for when you want a hot breakfast or brunch and don't want to be cooking for ages. Throw some hash browns in the oven before you start and you have a (mostly) healthy vegan fry up! I used onions, mushrooms and sweetcorn but these can be switched for your favourite veggies, or what ever you have in the fridge.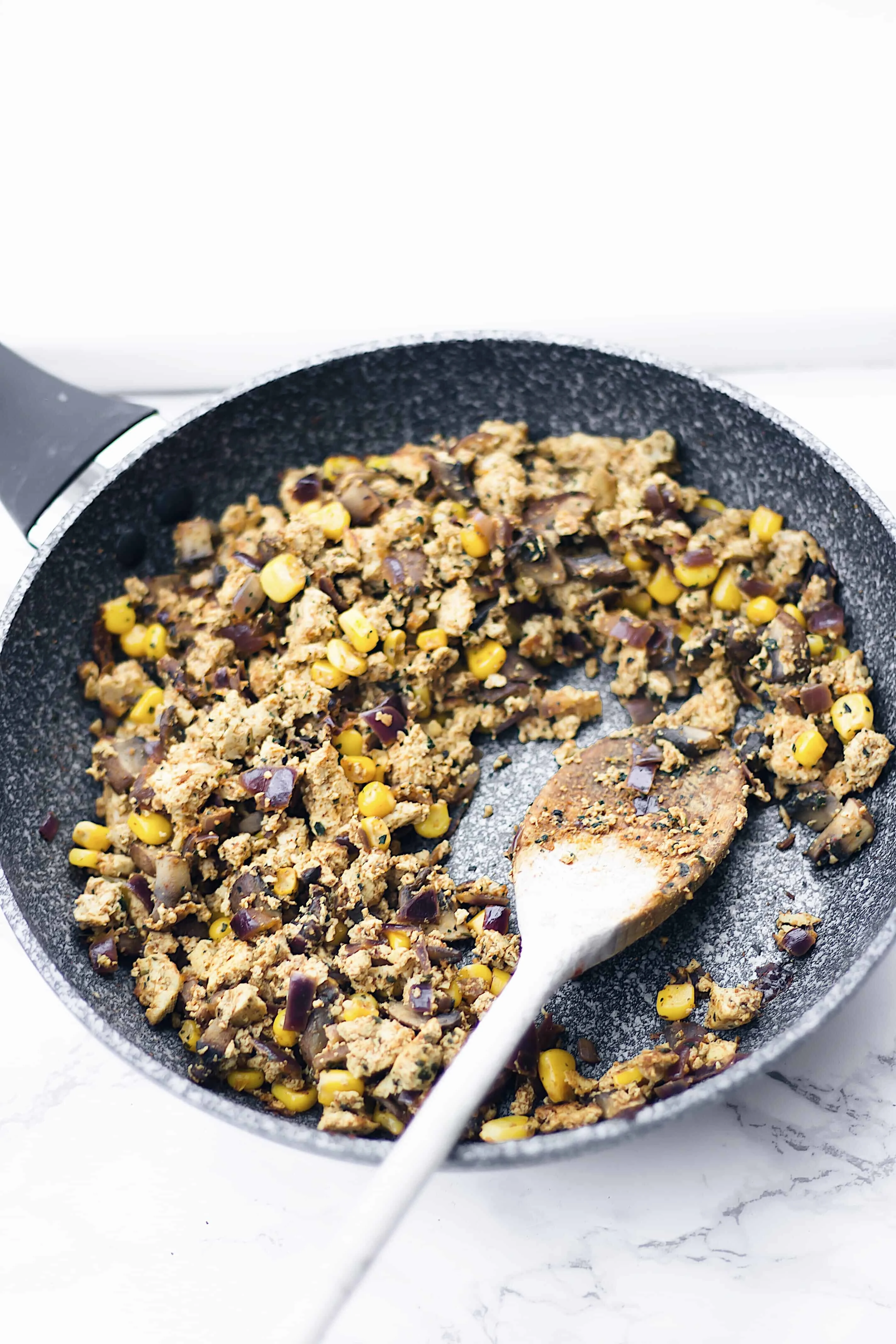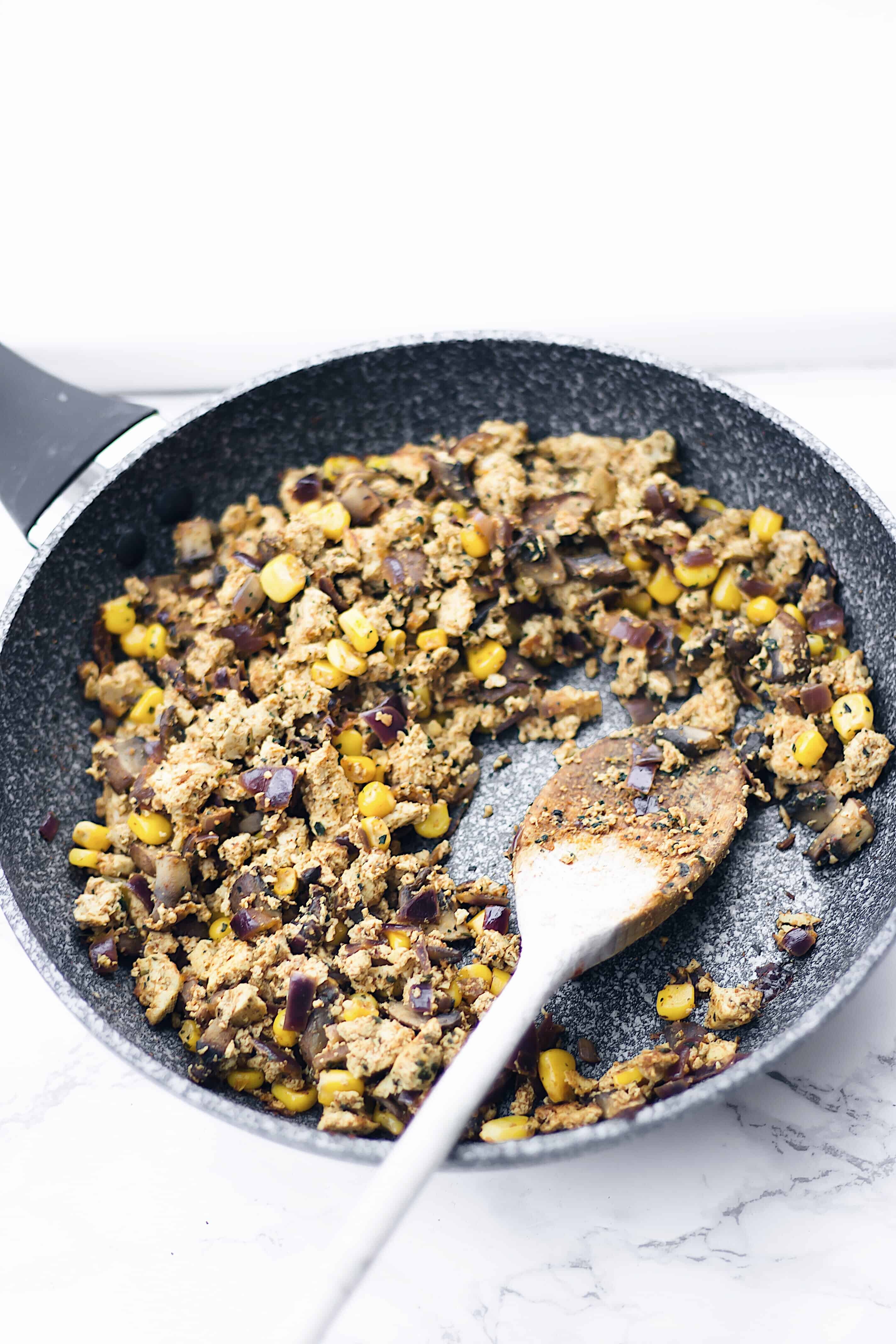 Although it is not essential, squeezing the water out of the tofu beforehand means it can absorb the spices much better. I have made this in a hurry and skipped this step, so if you're short on time just skip it. I saw recently that they sell tofu presses, but a chopping board and heavy bottles/books does the job!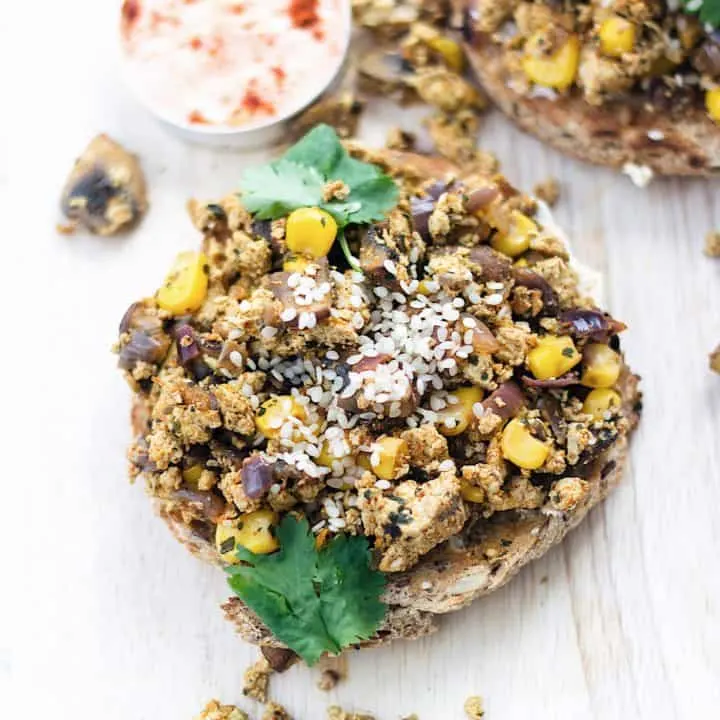 Curried Tofu Scramble with Creamy Sriracha Sauce
Curried tofu scramble ready in 25 minutes. Quick and easy vegan breakfast. Serve on buttery bagels with a creamy spicy sriracha sauce.
Ingredients
Scrambled Tofu
1/2 block firm plain tofu
1 small red onion
100g mushrooms (chestnut, portobello)
2 tsp curry powder
1 tsp paprika
1 tsp smoked garlic granules
1/4 cup sweetcorn
2 bagels
1/2 a lime
Handful of coriander
Sauce
2 tsp Oatly creme fraiche
1 tsp sriracha
Instructions
Cut a block of tofu in half (roughly 200g) and place in between two small chopping boards with some heavy bottles/books on top. I place it on the drainer next to the sink so that you can just wipe the excess water into it.
Finely cut the onion and mushrooms and place into a frying pan with some vegetable oil on medium heat. Once the onions are translucent and the mushroom water is evaporated add the curry powder, paprika and garlic.
After about 10/15 minutes, check the tofu and there should be a fair amount of excess water. Give it a good squeeze over the sink with your hands and then crumble it into the pan. Also add the sweetcorn.
Give the ingredients a good mix so the tofu is covered.
Pop some bagels into the toaster and then spread with some vegan butter
To make the sauce, mix the Oatly creme fraiche and sriracha together with a teaspoon.
To serve, place spoonfuls of the tofu scramble on the bagels, squeeze 1/4 of a lime on top with a sprinkle of coriander and some ground pepper. Drizzle the sauce on top or spoon it on the side.