Comforting and healthy lentil and courgette shepherd's pie with white and sweet potato cheesy mash!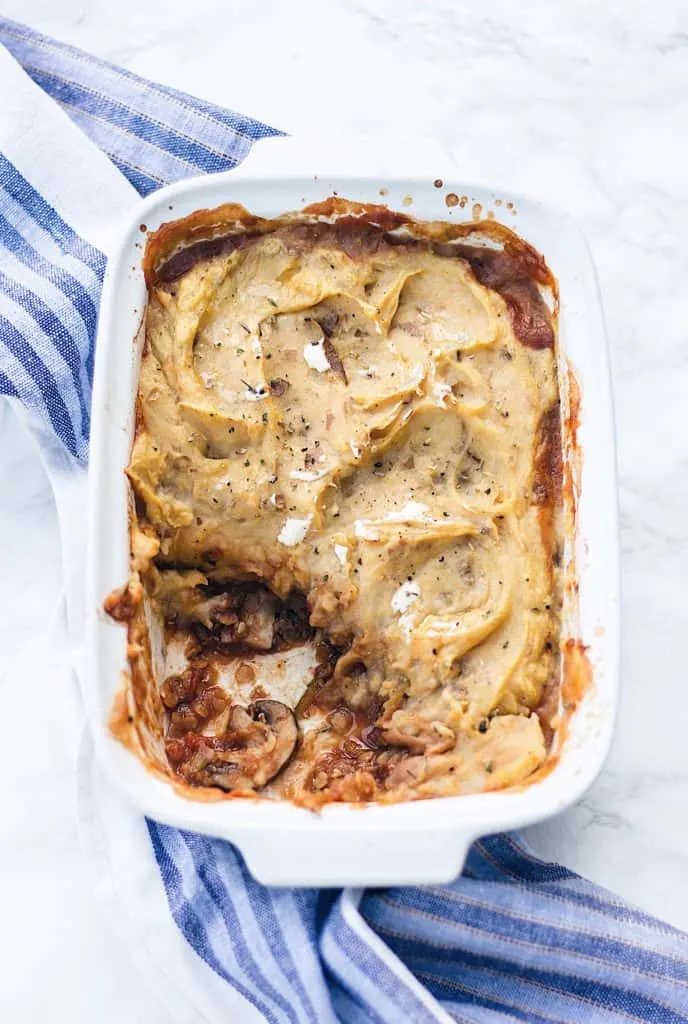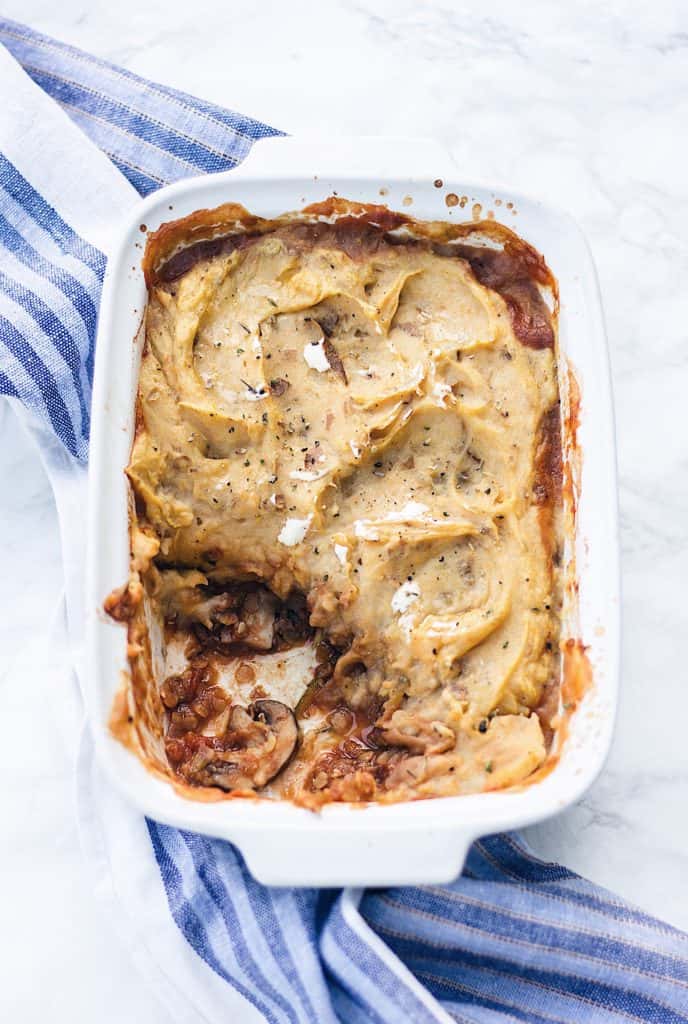 How did it get to September already? I swear it was only July last week and Christmas a few months ago?! Not that I'm complaining, Christmas is probably my favourite time of the year.
And if you follow me on Instagram you'll have seen I've been making damson gin, which will be ready in time for, yep you guessed it, Christmas!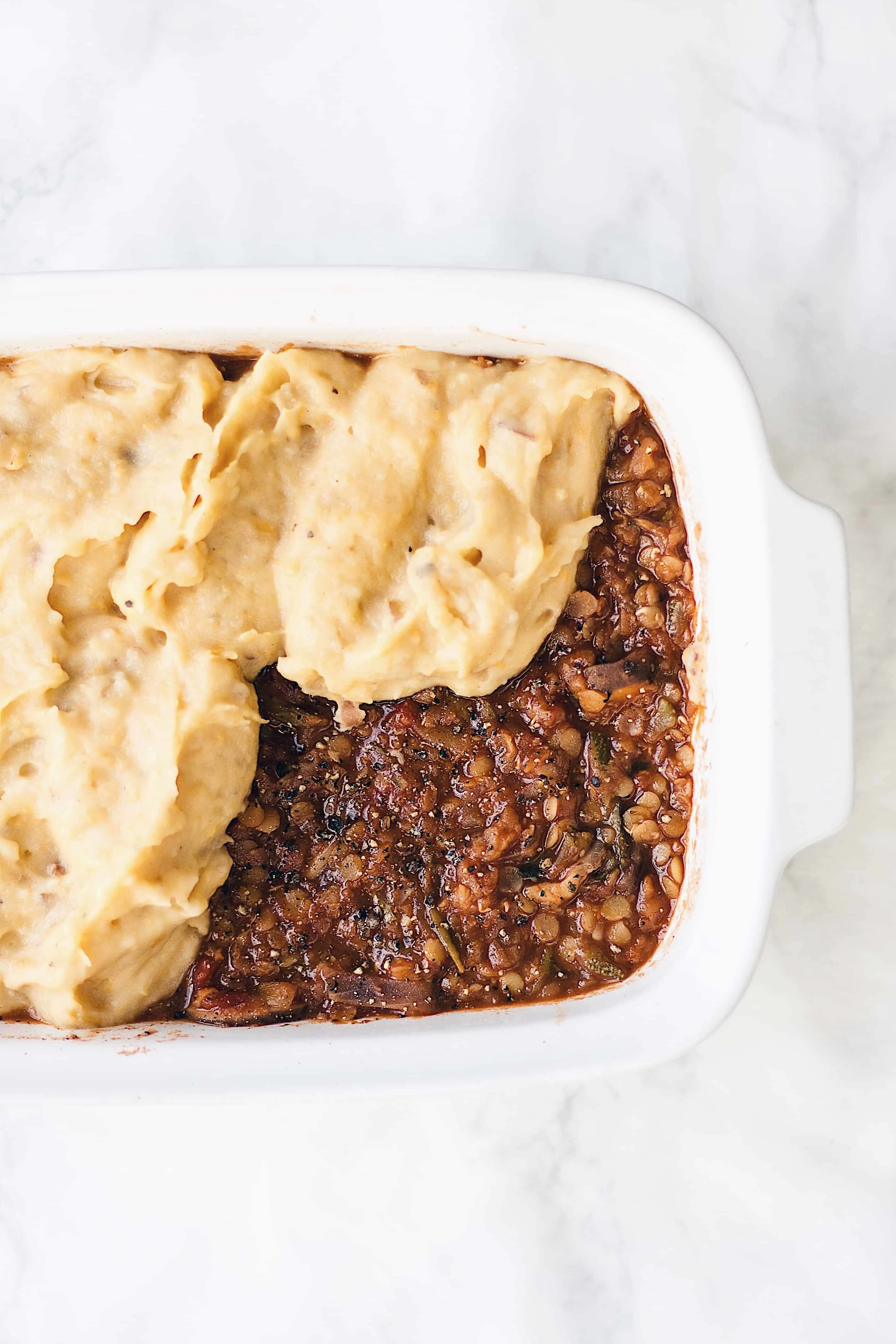 Anyway, this meatless Shepherds Pie is high in protein and is just what is needed as the weather gets cold. My mum used to make this amazing lentil bake when we were growing up so this is my vegan friendly version recreated into a lentil and courgette Shepherds Pie with a mixed potato crispy topping.
I'm a big lover of potatoes and growing up I would always hope there would be some kind of potato dish for dinner. When we were younger mum used to give me and my sisters the saucepan after she'd made the mash and we would scrape out the last remaining bits with a big wooden spoon.
It always tasted better that way, and meant we got an extra helping of mash before dinner time. Mums are the best! I've kept the skins on in this recipe and used sweet and regular potatoes for extra nutrients and flavour.
If you prefer one potato over the other, just use one, it'll still be delicious. If you have leftovers, keep in the fridge and eat over the next couple of days or freeze in an air tight container for a later date.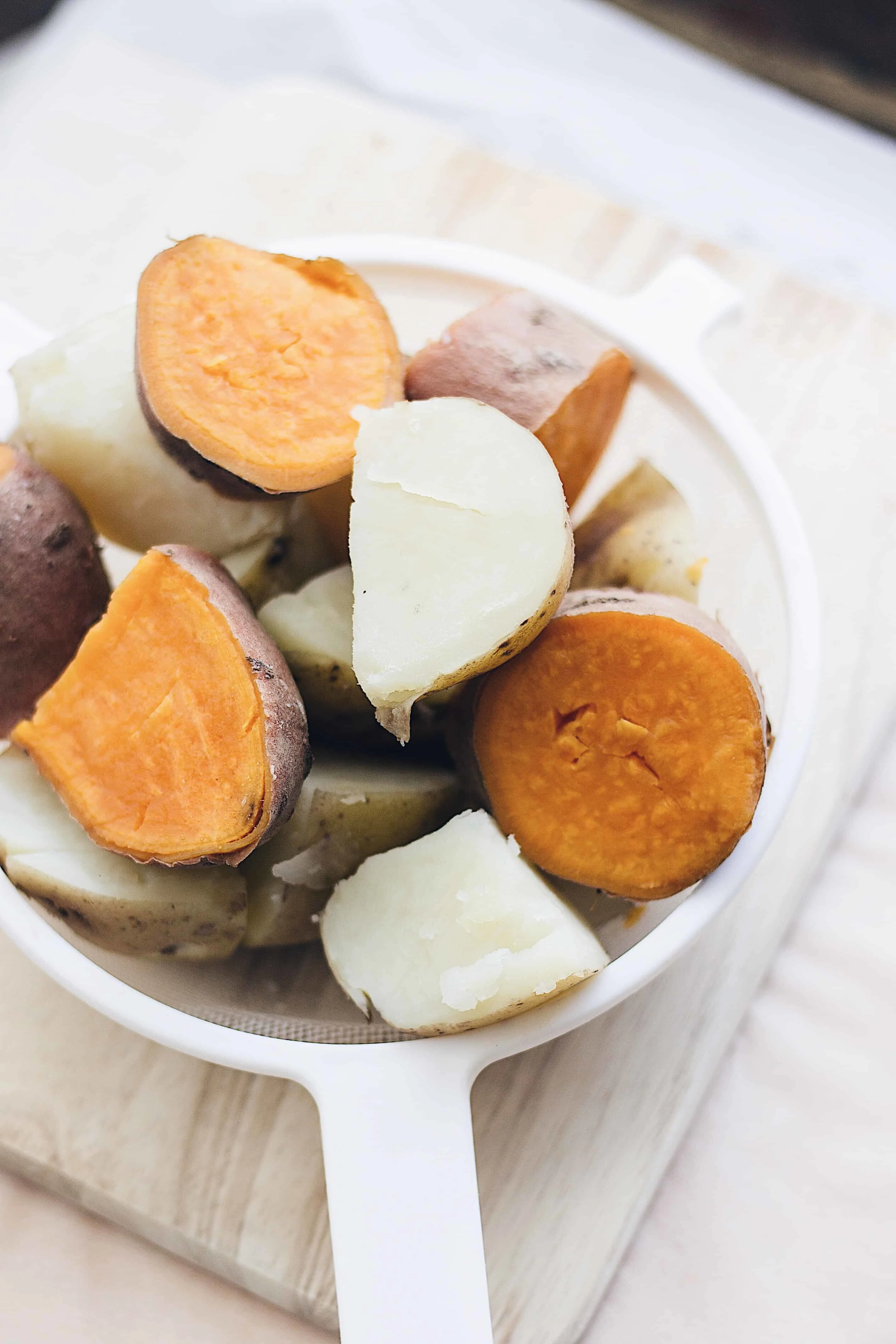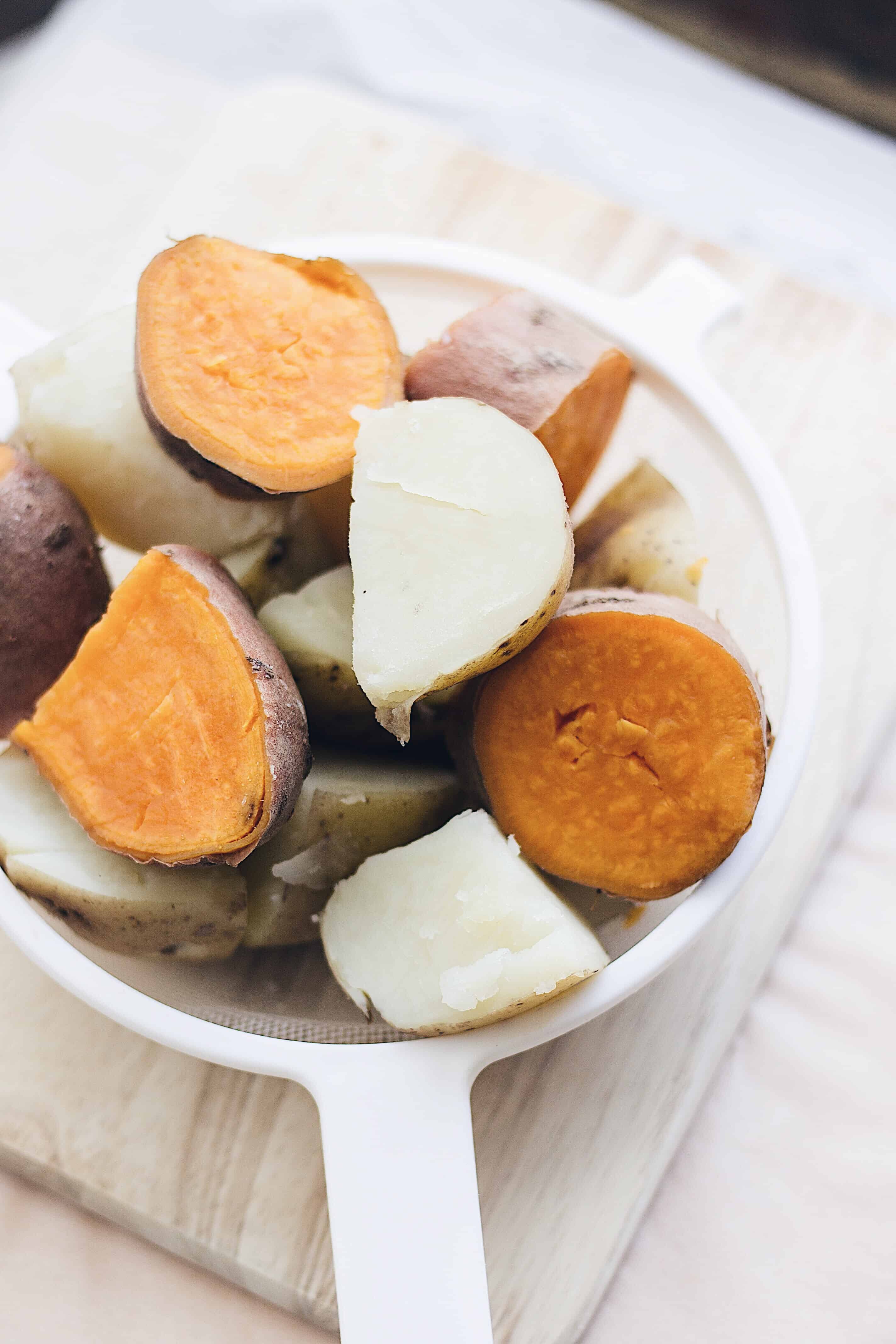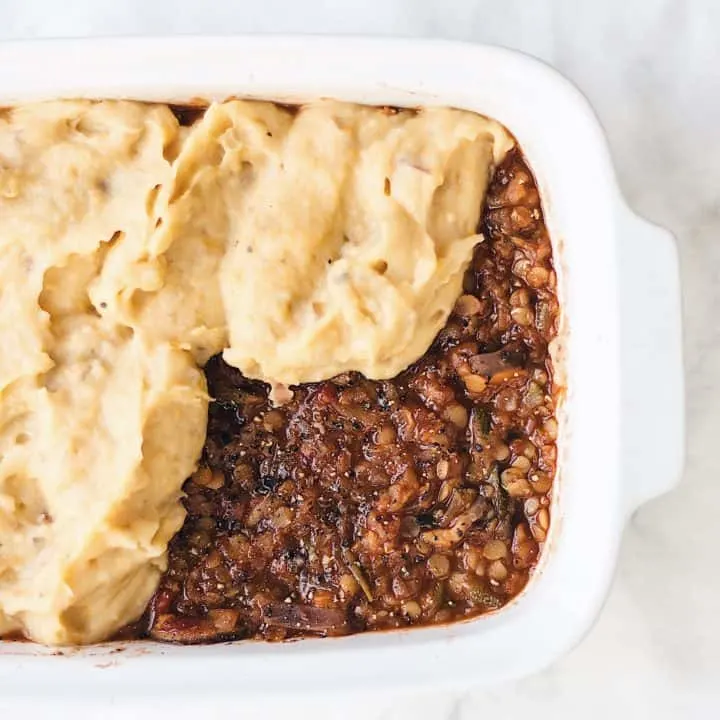 Lentil and Courgette Shepherd's Pie
Vegan lentil and courgette shepherds pie with a two potato mash.
Ingredients
2 red onions
2 courgettes
100g mushrooms
1 tin chopped tomatoes plus water
1/2 cup red wine
1 cup dried red lentils (about 200g)
1 tbsp tomato puree
1 veg stock cube
1 tsp cumin
1 tsp smoked paprika
1 tsp marmite
Mash:
2 lb potatoes – mix of sweet and normal
1/3 cup almond milk
2 tbsp vegan spread
Pinch of cinnamon
Instructions
Pre-heat the oven to 180°c.
Put a large pan of water on the hob to boil. Leave the skin on your potatoes and cut into quarters. If you are using sweet and regular, add the sweet potatoes about 5-10 minutes after as these cook quicker. I used one large sweet potato, and three regular.
Heat some oil in a saucepan on medium heat. Cut your onions in half and thinly slice and add to the pan. Do the same with the mushrooms. Leave for a few minutes.
Grate the courgettes and add to the pan along with the stock cube, cumin, paprika, marmite and red wine if using. Add the tin of chopped tomatoes and then fill the empty tin with water and pour in too. Rinse the red lentils and add these to the mix too.
Let this gently simmer for about 25 minutes until the lentils are cooked and have soaked up most of the liquid. Add more water if needed.
Check the potatoes, they will take about 25 minutes. They should be ready when the skins are starting to peel off and are soft when you insert a knife.
Drain and put back into pan with the almond milk. Mix with a masher or handheld electric mixer. Once smooth, add the vegan butter and pinch of cinnamon.
Pour the lentil mix into an ovenproof dish and then top with the mash. Make swirls with a spoon or use the back of a fork to make lines, this will make the mash potato go nice and crispy.
Transfer to the oven for about 20 minutes.
It's ready when the juice is bubbling and creeping up the sides and the mash is starting to brown.
Notes
Red wine is optional but I think it gives it a nice rich flavour and deep colour. I used Sainsbury's Padthaway Cabernet Sauvignon, Taste the Difference.
Any plant milk/vegan butter will work for the mash, I used Alpro almond milk and Pure Olive spread.
Nutrition Information:
Yield:

4
Serving Size:

1
Amount Per Serving:
Calories:

358
Total Fat:

2g
Saturated Fat:

0g
Trans Fat:

0g
Unsaturated Fat:

1g
Cholesterol:

0mg
Sodium:

371mg
Carbohydrates:

71g
Fiber:

12g
Sugar:

10g
Protein:

14g