Crispy, crunchy fried cajun popcorn tofu that rivals any take out! Served with a sweet and spicy mayo dip.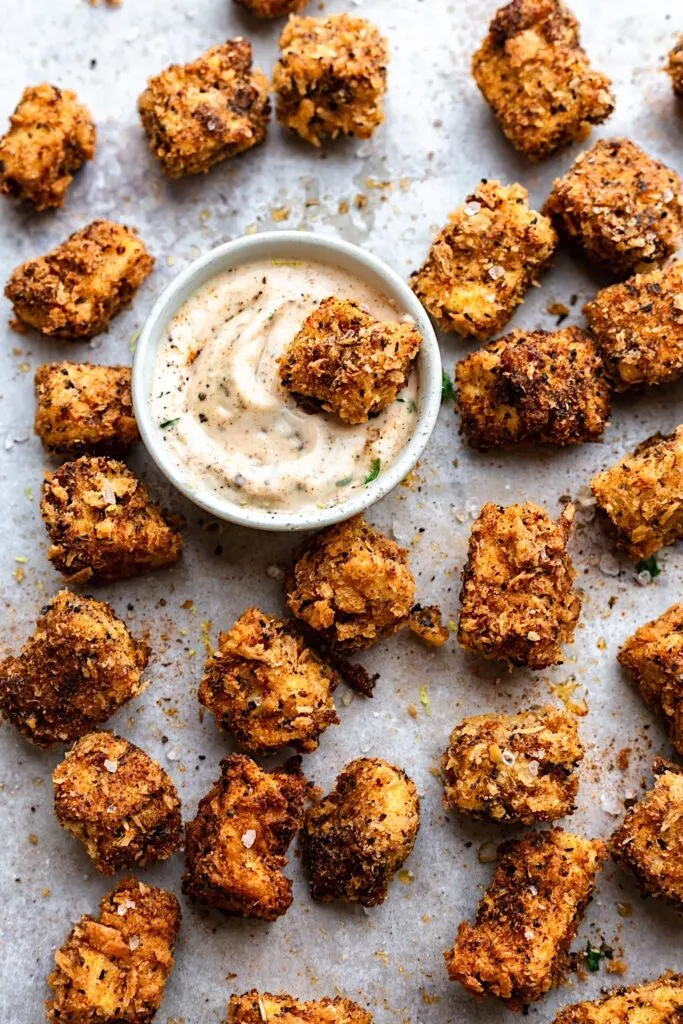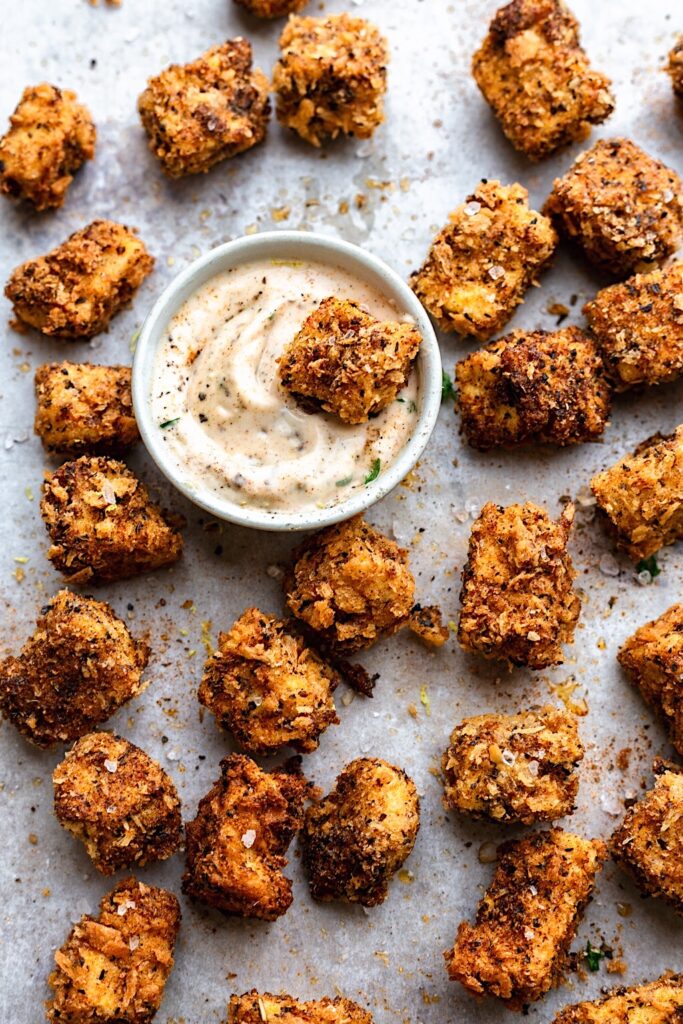 To get the tofu really crispy and crunchy it gets deep fried and is my recommended way of cooking but you can oven cook these. They won't be as crunchy but the flavour is still there, so you do you!
These popcorn tofu bites wouldn't be the same without the dip. Dips are everything and they take these to the next level.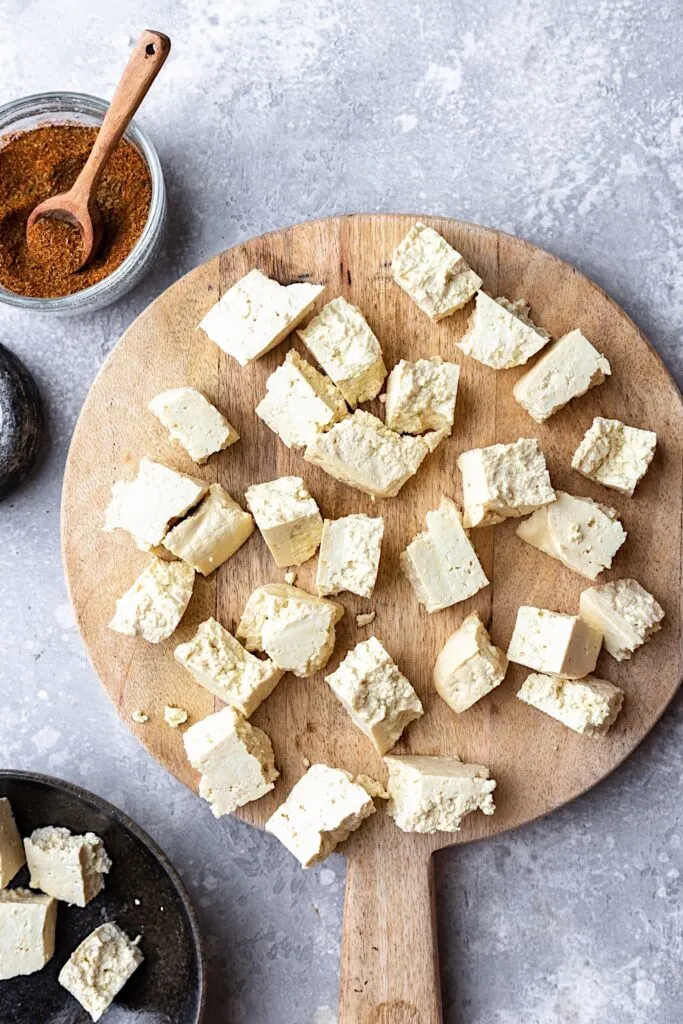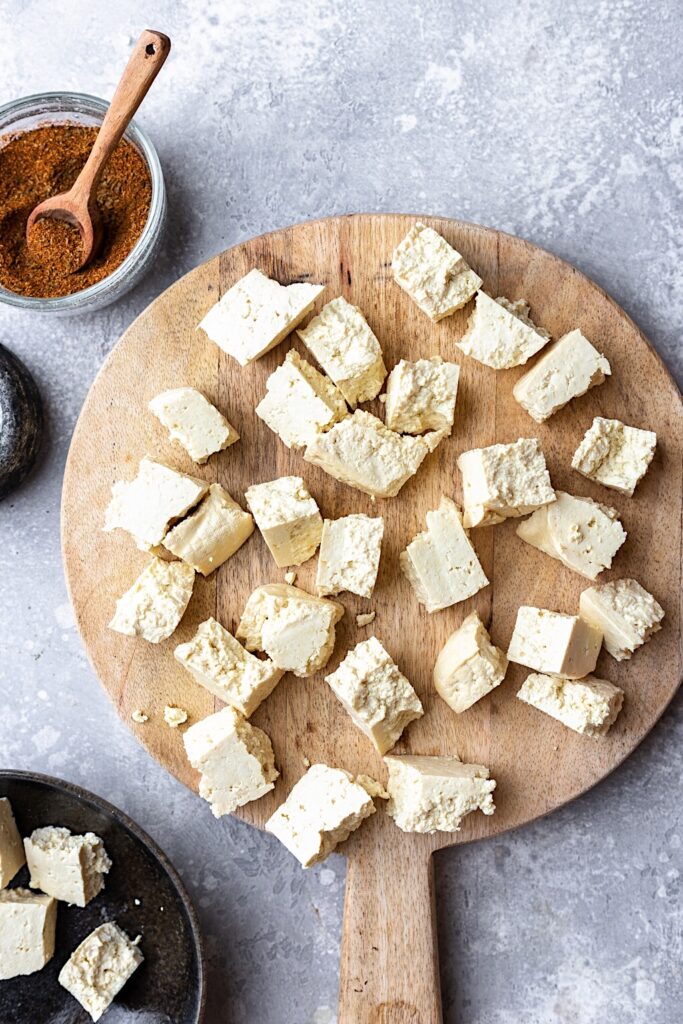 I knew I wanted a creamy dip to compliment the tofu and so it's a sweet, spicy mayo based dip.
With more cajun spice for heat, maple syrup for sweetness, lemon for acidity and mayo for creaminess. It's the best combo and would make a great dip for other things!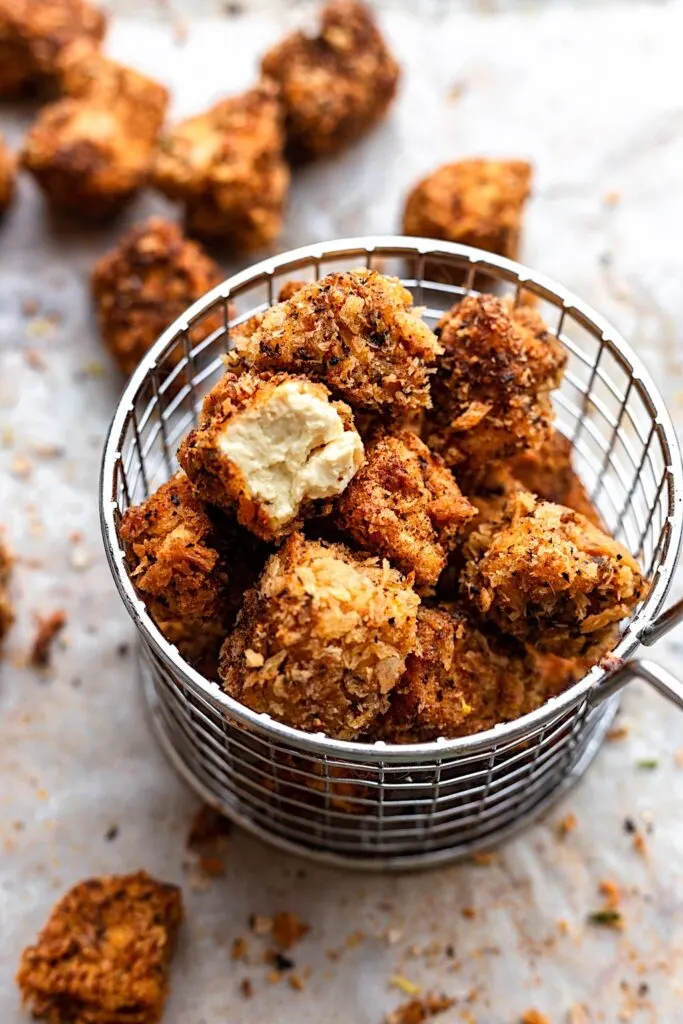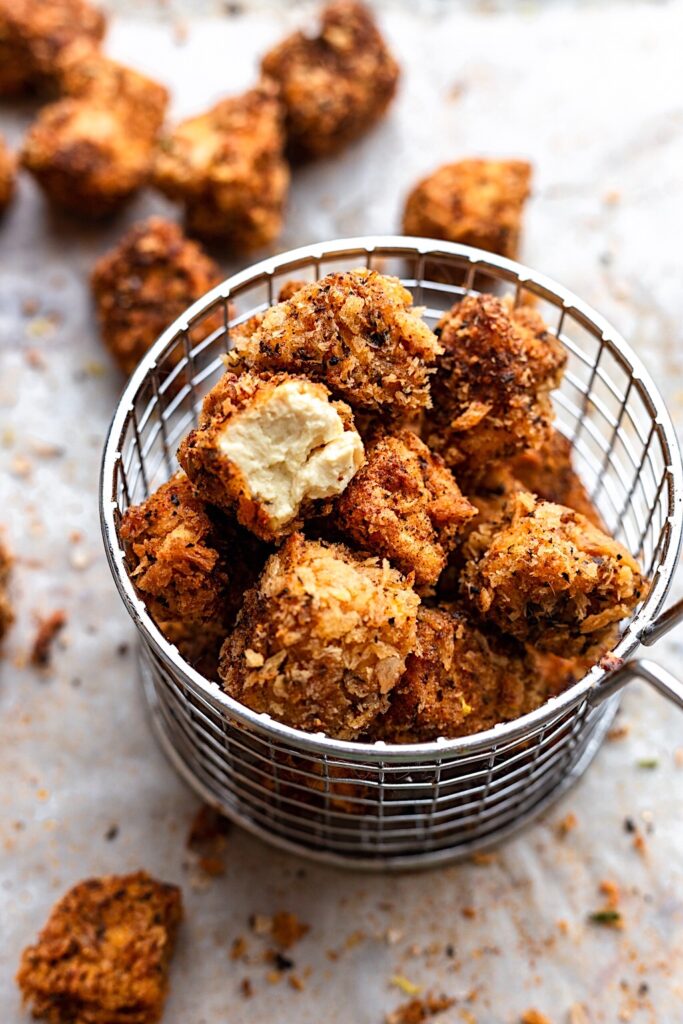 What you'll need for these cajun popcorn tofu:
Extra firm tofu
Panko breadcrumbs
Cajun spice
Garlic powder
Smoked paprika
Nutritional yeast
Salt
Black pepper
Unsweetened almond milk (or other plant milk)
Plain flour
Oil for frying
You're going to want to buy extra firm tofu, or firm tofu if you can't find any. Squeeze out any excess water by wrapping in kitchen paper then placing some heavy books on top.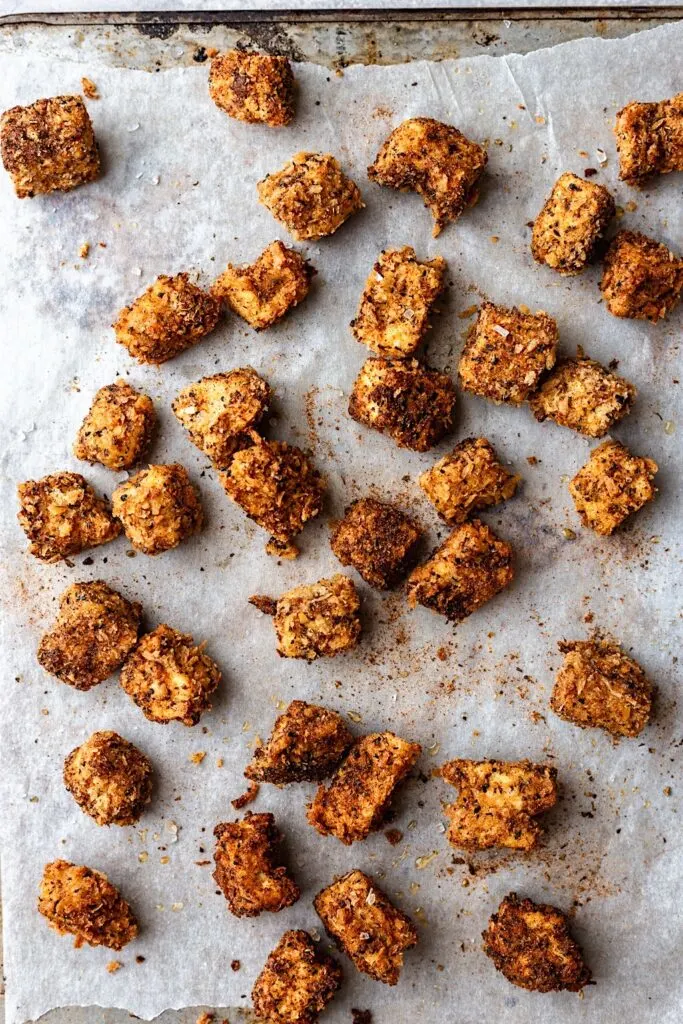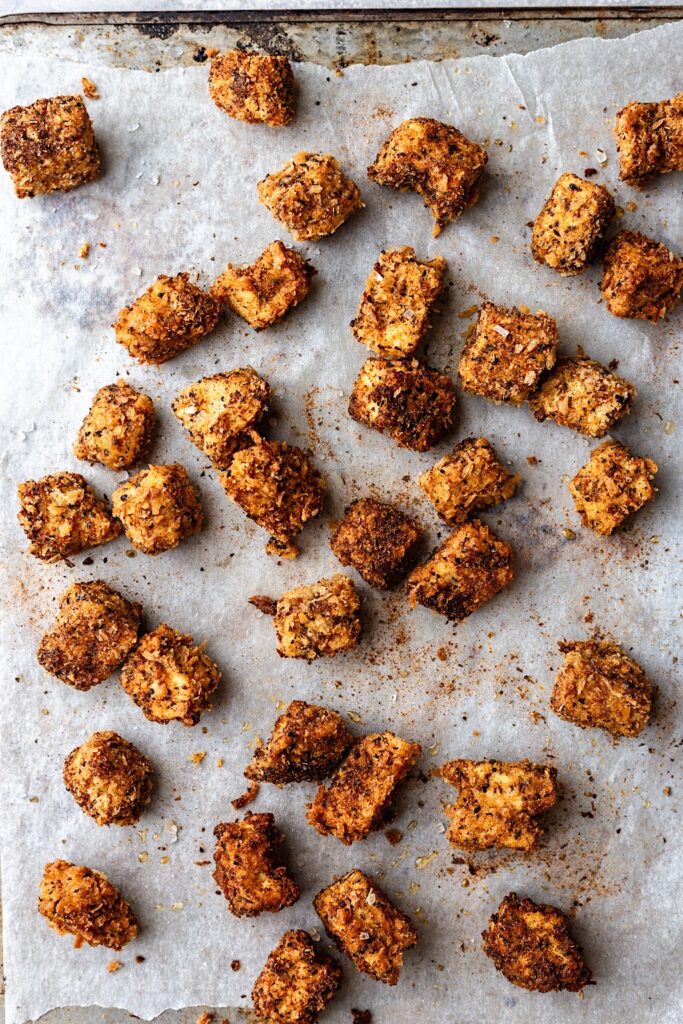 We want the tofu to be as dry as possible so it gives it a more chewy texture and it doesn't crumble. If you're in the UK my favourite is the Tofoo brand.
You should be able to pick up cajun spice in any supermarket or health food shop. I get it from Holland and Barrett. You can always make your own if you can't find any.
How to make cajun popcorn tofu:
Make sure you have squeezed out any excess water from the tofu. Cut the tofu into strips about 1 inch wide.
Then with your hands break them into bite sized pieces. I made about 30 pieces from 450g/1lb tofu.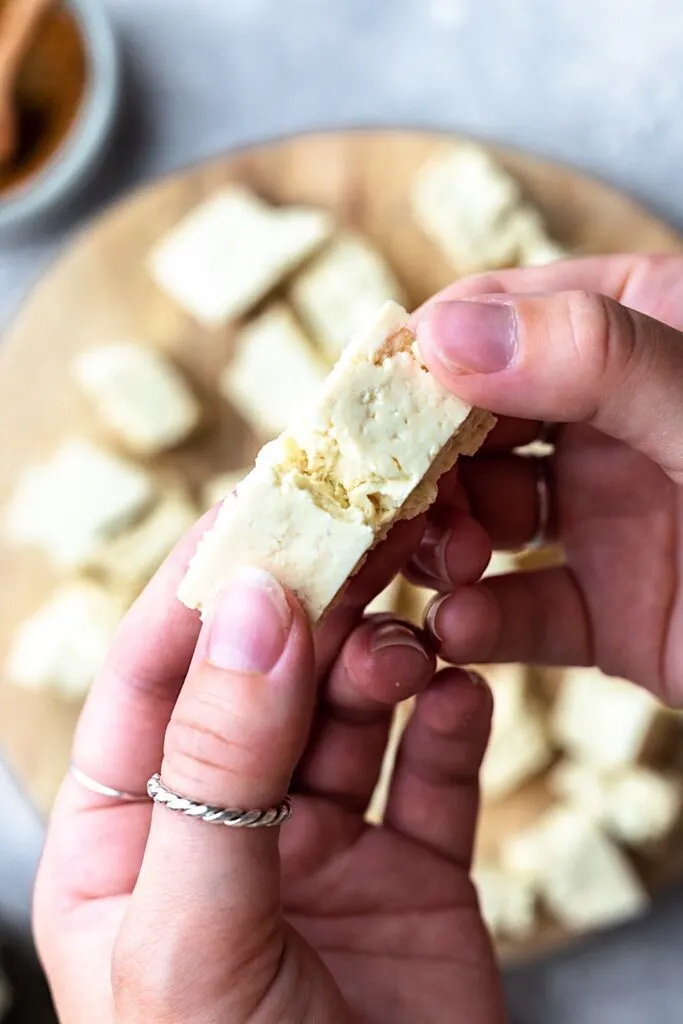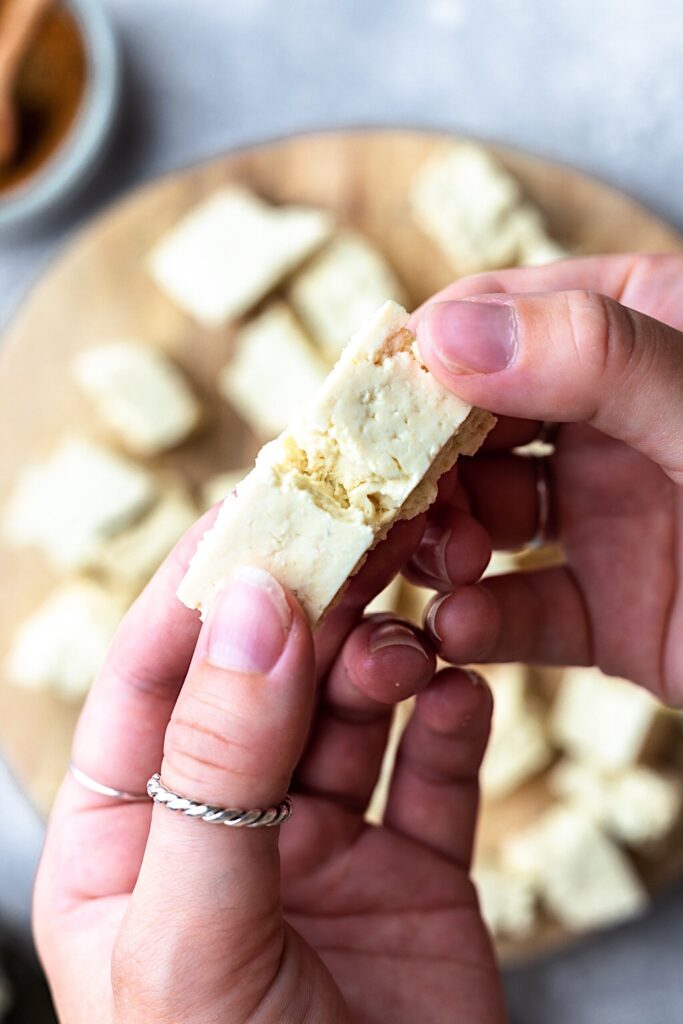 Breaking the tofu with your hands gives for a more meaty shape and the rough edges make crispier edges.
Next get three bowls ready. One for the breadcrumb mix, one for the plant milk and one for the flour.
With one hand place the tofu into the flour, making sure it is fully coated on all sides then into the milk. Flip it over so it is fully coated in the milk.
Place into the breadcrumb mix and with the other hand coat with the breadcrumbs, make sure you don't miss any bits. Place on a plate and repeat with all the tofu pieces.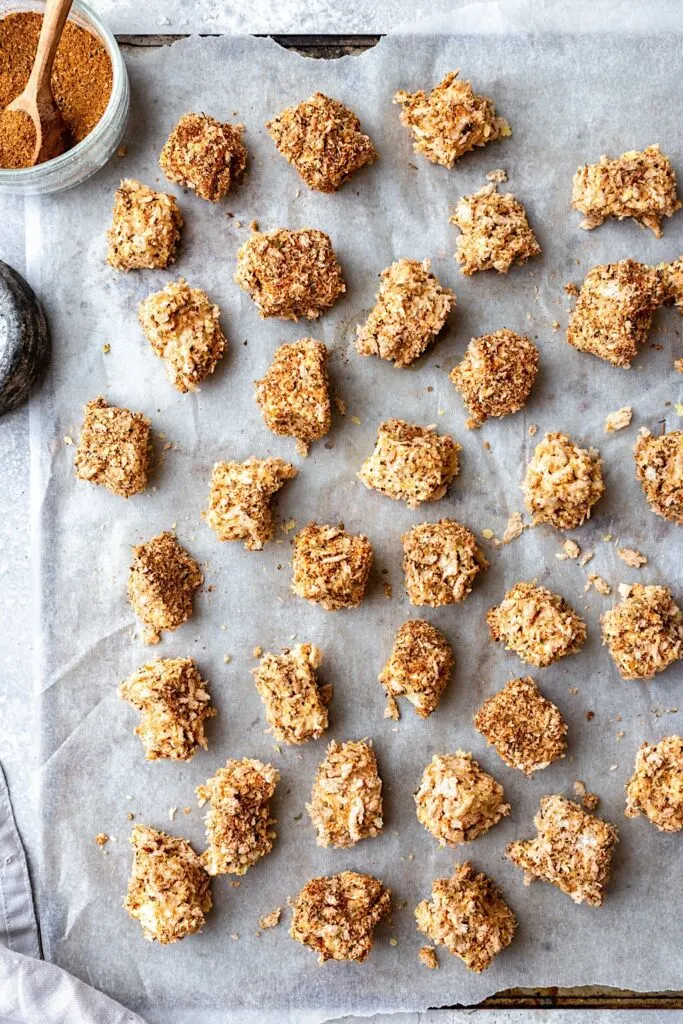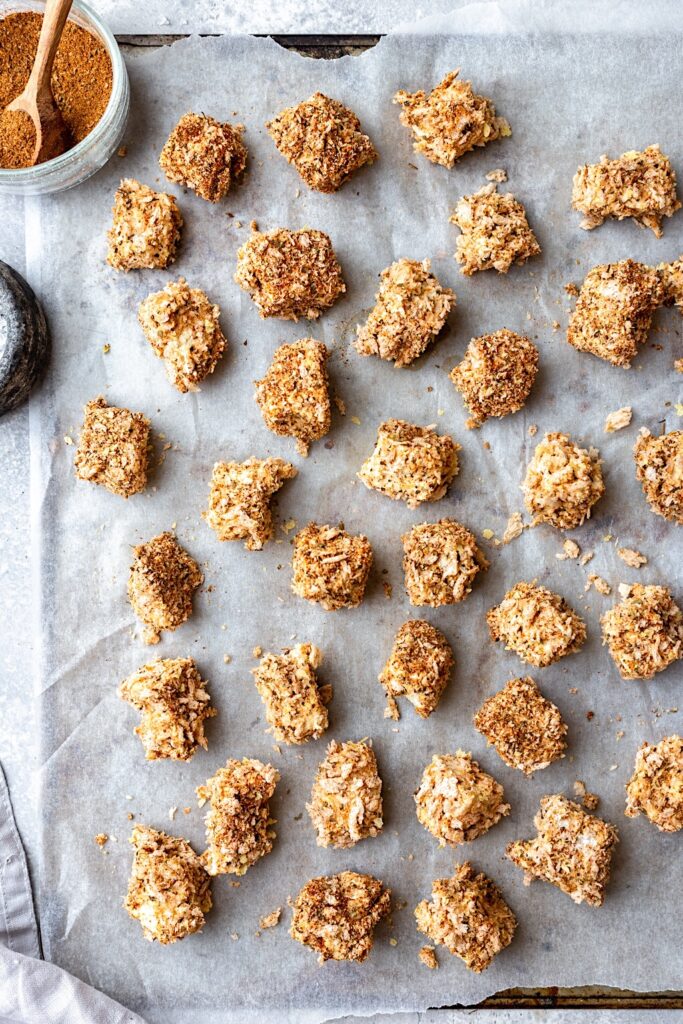 Once all the pieces are coated you can heat your oil and make the dip. Place 2 cups of vegetable oil into a saucepan. The oil should be deep enough to fry the tofu pieces without them touching the bottom.
Make the creamy cajun maple dip – mix all the ingredients together in a bowl and leave to the side.
To check the oil is hot, place the handle of a wooden spoon into it. If bubbles appear around it then it is hot enough.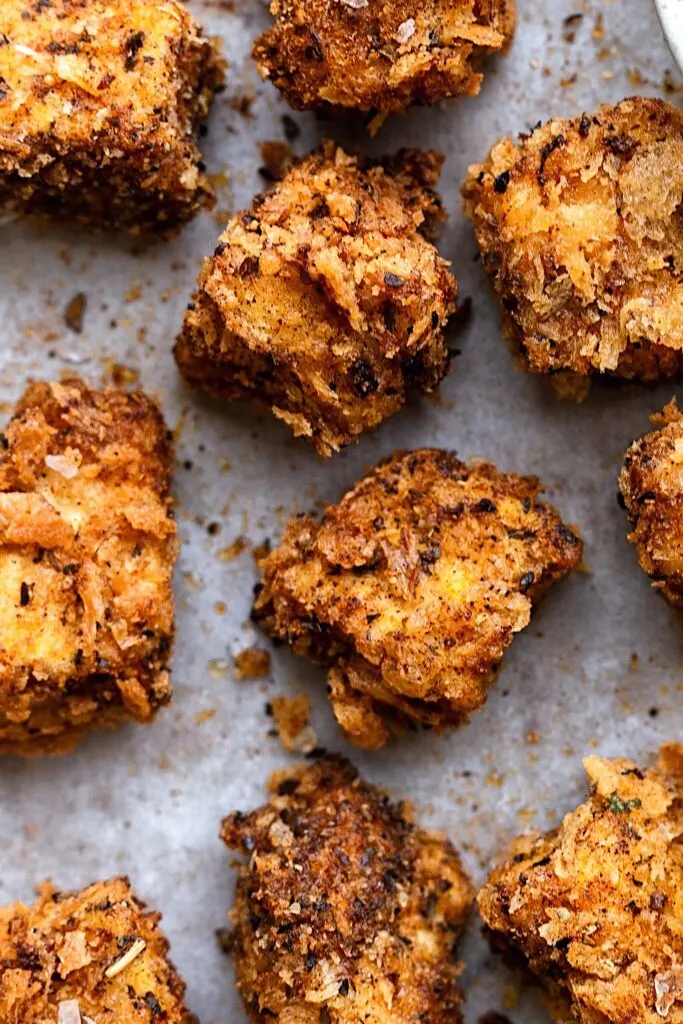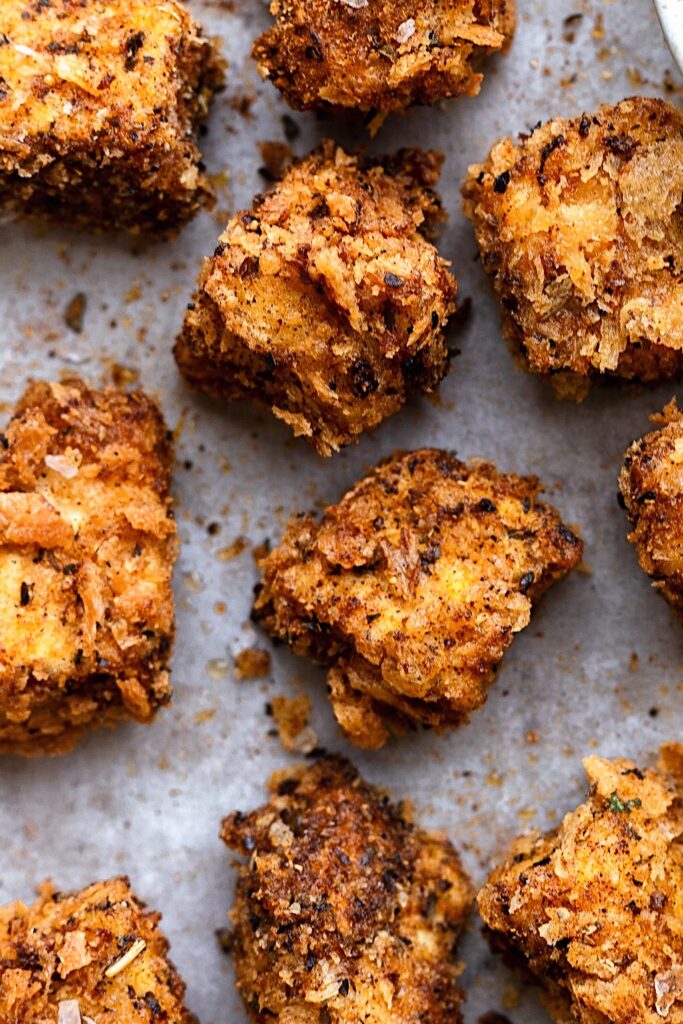 Carefully place 3-4 pieces of tofu in at a time (depending how big your pan is). Don't overcrowd the pan or the oil will cool down.
Use a fork or spoon to gently place them in. Leave to cook for a minute or two until golden brown, they won't take long. You can always test one to start with.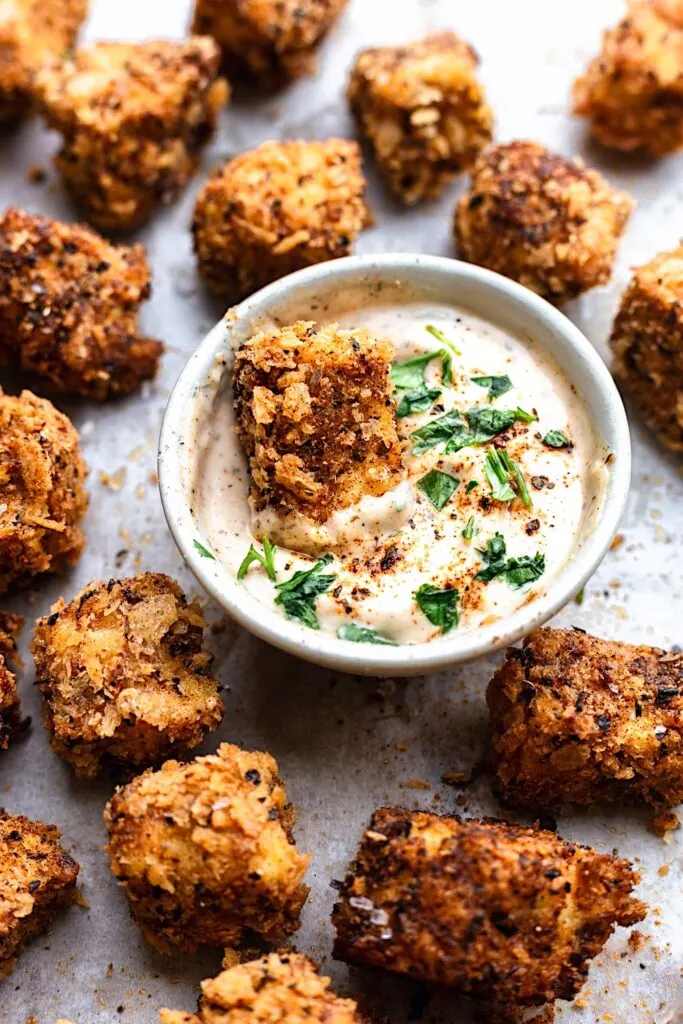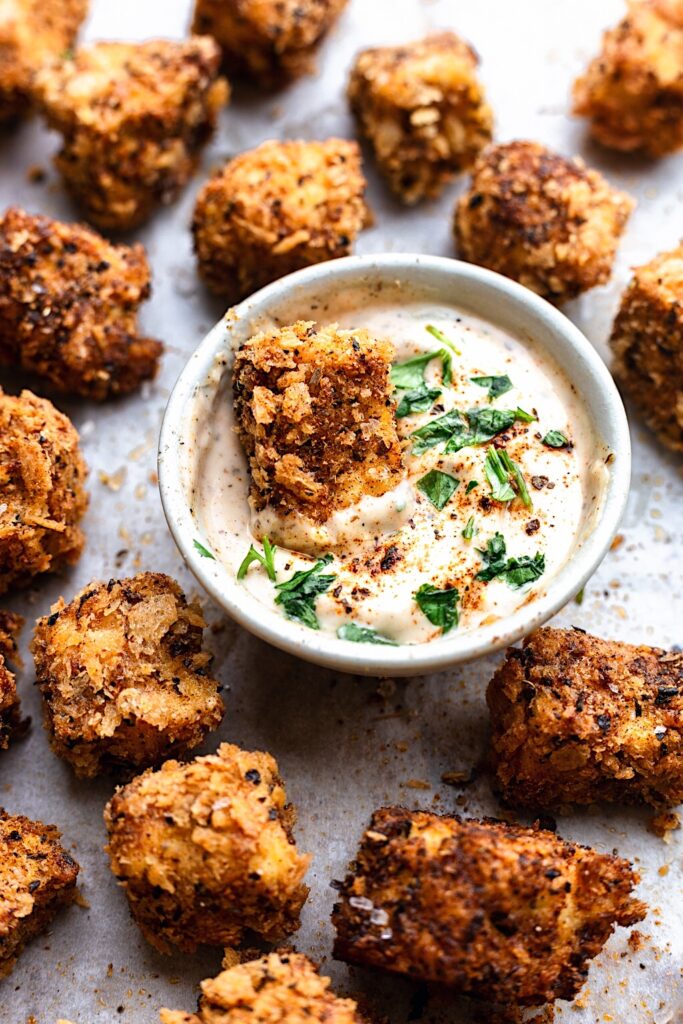 Keep the oven on low so you can keep the cooked ones warm whilst you cook the rest.
TO BAKE – heat the oven to 200C/400F. Place coated popcorn tofu on a lined baking sheet (you may need two). Spray with some oil and cook for 20-25 minutes until golden, flipping half way.
These cajun popcorn tofu bites make for the perfect snack or appetizer. Just make sure you make a big batch if you plan on sharing them!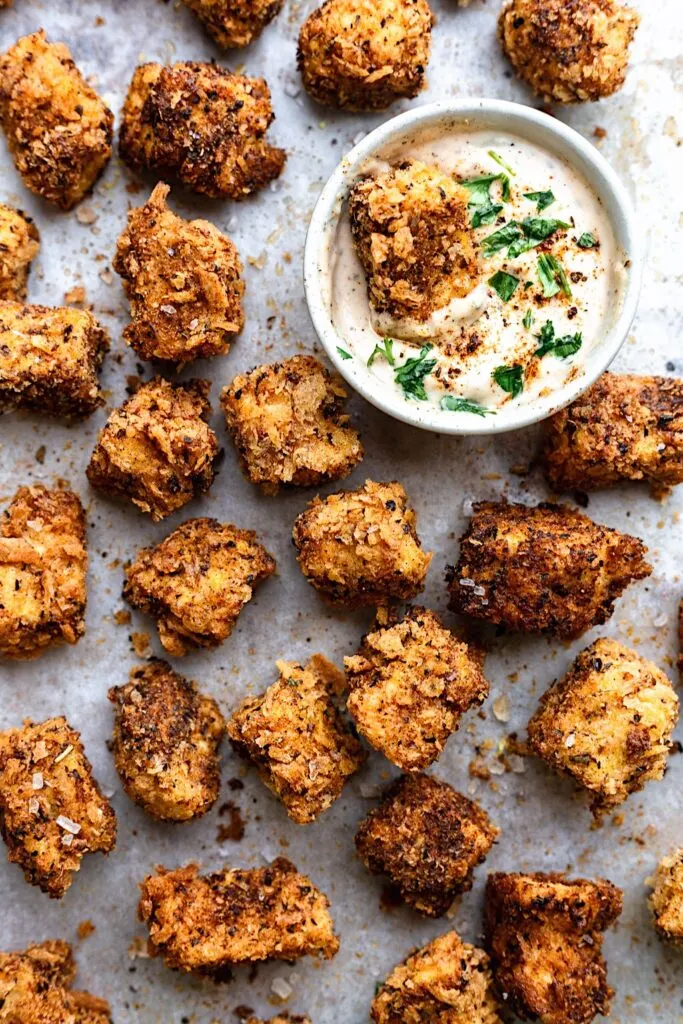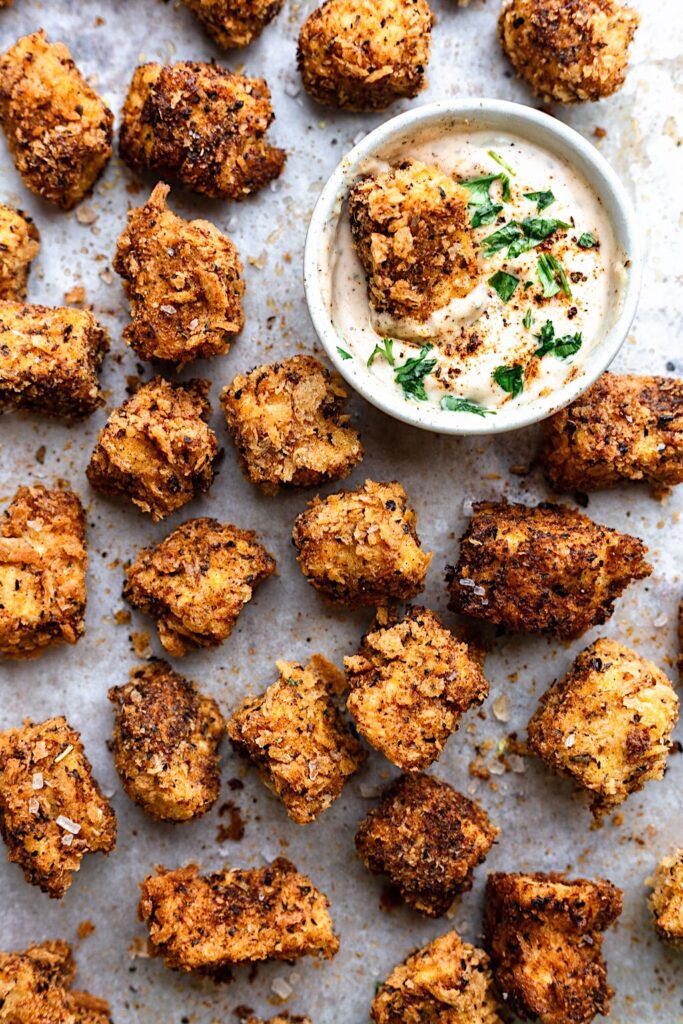 For more tofu recipes you may enjoy these:
---
As always if you make this vegan fried cajun popcorn tofu be sure to leave me a comment, rate this recipe and tag me on Instagram. I love seeing all your photos of my recipe recreations!
Don't forget to follow along on Facebook, Pinterest and Instagram – I'd love to see you all there!
---
NEVER MISS A RECIPE! GET MORE VEGAN RECIPES SENT STRAIGHT TO YOUR INBOX – SUBSCRIBE HERE ?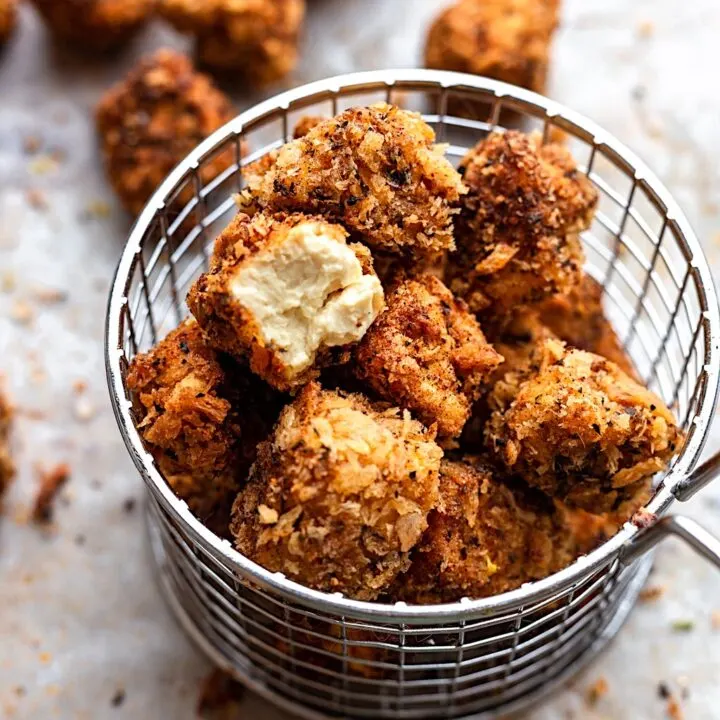 Vegan Cajun Fried Popcorn Tofu
Crispy fried cajun popcorn tofu that's perfectly crunchy and so flavourful. Served with a cajun maple mayo dip.
Ingredients
Popcorn tofu
1lb / 450g extra firm tofu
1 cup panko breadcrumbs
2 tbsp cajun spice
1 tsp smoked paprika
1 tsp garlic powder
2 tbsp nutritional yeast
1/2 tsp salt
Black pepper
1/2 cup unsweetened almond milk
1/2 cup plain flour
2 cups vegetable oil
Cajun maple dip
1/2 cup vegan mayo
2 tbsp lemon juice
1 tbsp cajun spice
2 tsp maple syrup
Salt and pepper to taste
Instructions
Squeeze any excess water out of the tofu, if you use extra firm tofu there may only be a tiny bit. Use a tofu press or wrap in kitchen towel, place on a chopping board and place heavy books on top for 20 mins.
Cut into 1 inch slices then tear into bite sized pieces with your hands. It will make about 30 pieces.
Get three bowls out. In one place the breadcrumbs, cajun spice, smoked paprika, garlic, nutritional yeast, salt and pepper. Mix until combined.
In the next bowl place the almond milk and in the third bowl place the flour.
Using one hand place the tofu into the flour and then into the milk. Make sure they are fully coated at each step. Then drop into the breadcrumb mix.
With the other hand toss the tofu in the breadcrumb mix until fully coated. Then place on a plate ready to fry. Continue until all the popcorn pieces are coated.
[To bake - place on a lined baking sheet, spray with some oil and cook at 200C/400F for about 20 minutes. Flip halfway.]
Heat 2 cups of vegetable oil in a saucepan on medium heat. Depending on the size of the pan you use, you may need less or more. It should be deep enough that the tofu will float and not touch the bottom.
Whilst it heats up, make the dip. Mix all the ingredients together in a bowl and place to the side. Taste and season with salt and pepper.
To check the oil is hot, place the handle of a wooden spoon in. If bubbles appear around it then it's hot enough.
Place 3-4 popcorn tofu pieces into the oil. Don't overcrowd the pan, the oil will cool down. Use a fork or spoon to carefully place them in.
Fry for a minute or two until golden brown. Place cooked pieces on a baking tray with some kitchen towel to soak up excess oil. Keep on a low heat in the oven to keep warm.
Repeat until all the pieces are cooked. Sprinkle with some extra cajun spice and salt and pepper and serve!
Notes
Be careful when deep frying as the oil will be really hot. You can test a piece before you start to practice.
You can use any type of unsweetened plant milk.
I use Follow Your Heart vegan mayo.
Recommended Products
As an Amazon Associate and member of other affiliate programs, I earn from qualifying purchases.