This homemade vegan tofu katsu curry will cure all your takeaway cravings, and leave you wanting more! With crispy panko breaded tofu in a creamy carrot based curry sauce.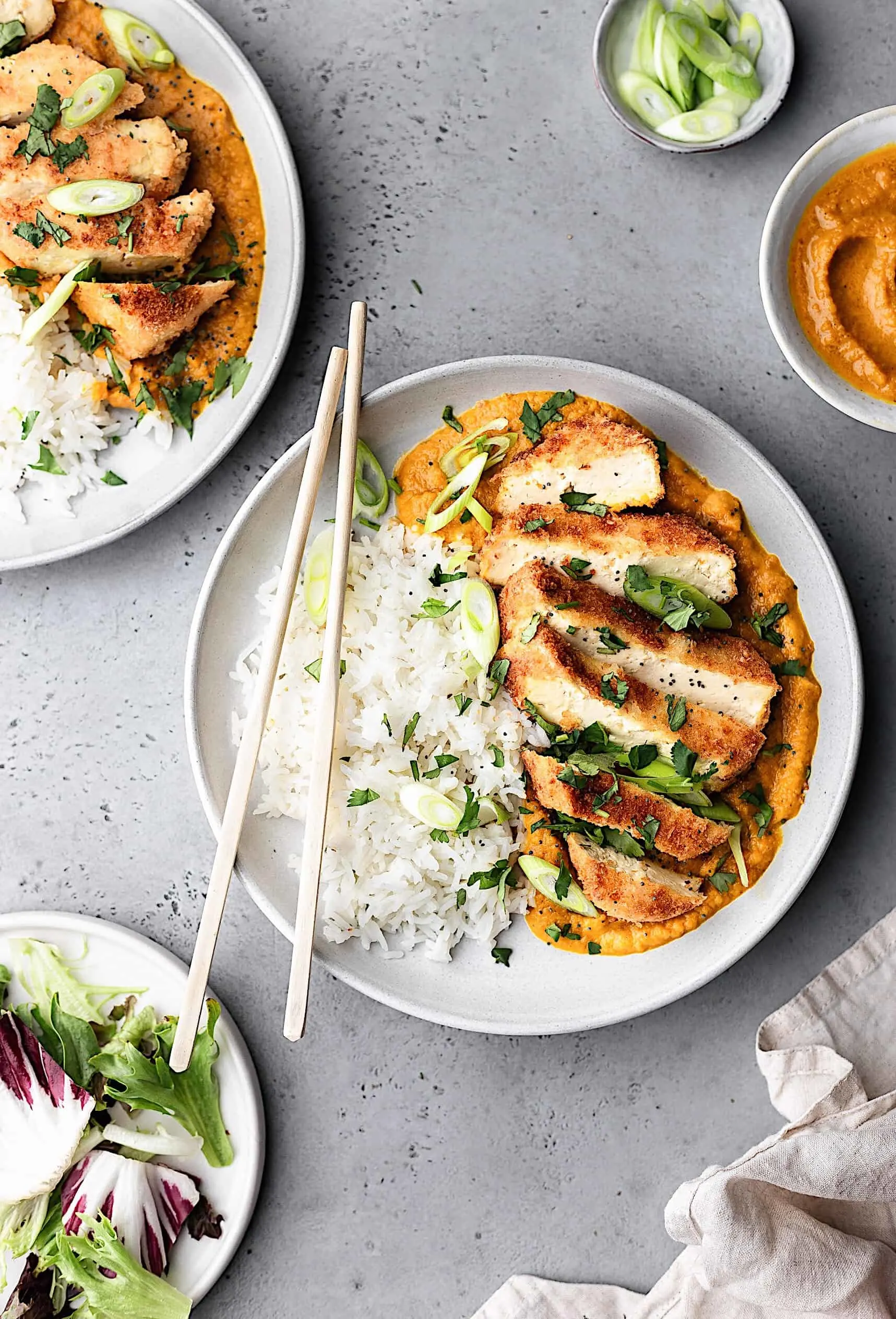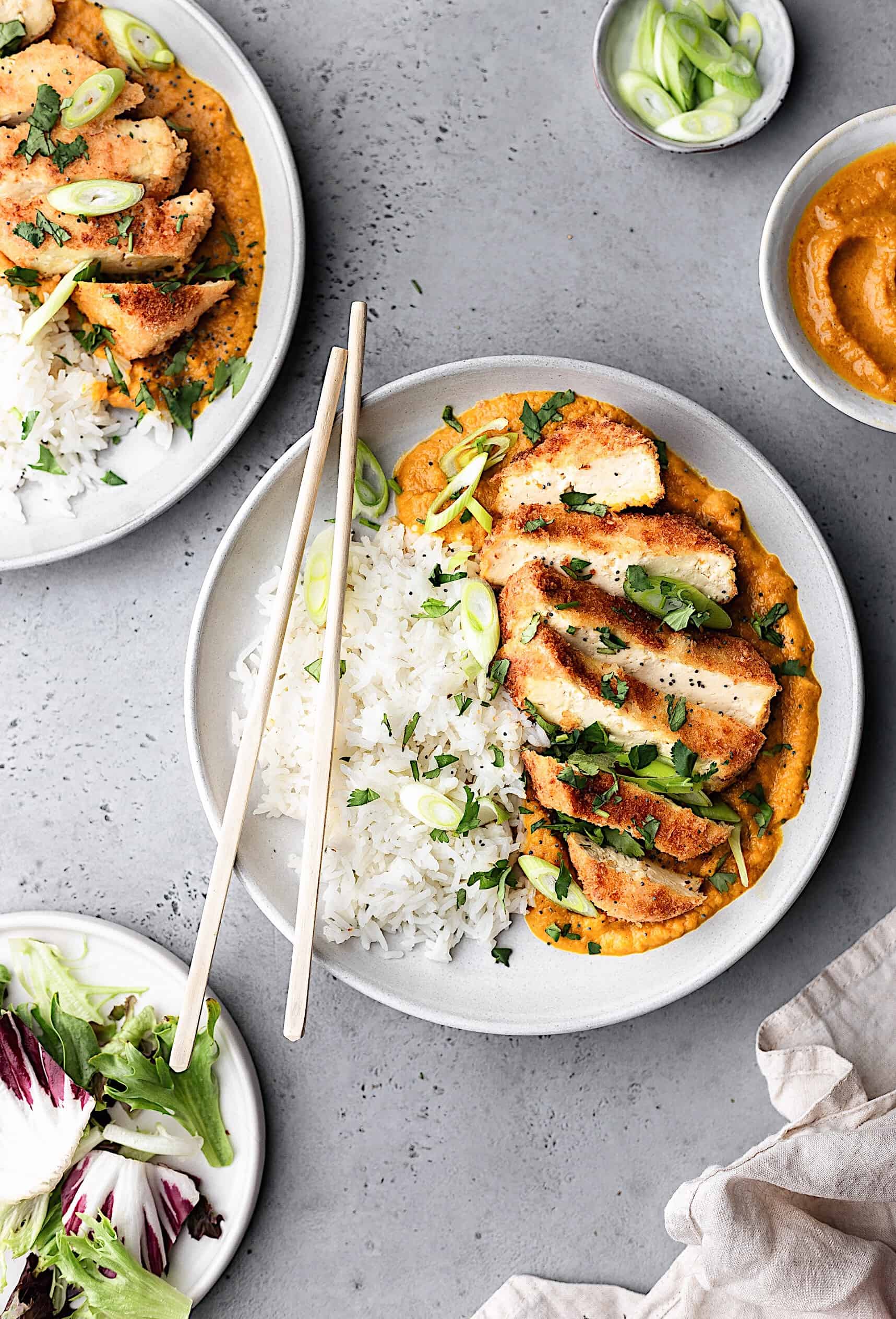 Katsu curry is one of my all time favourite meals and I will always order it if I see it on the menu! If you don't order a katsu curry at Wagamama's, I'm not sure we can be friends. Just kidding we can, if you make this one!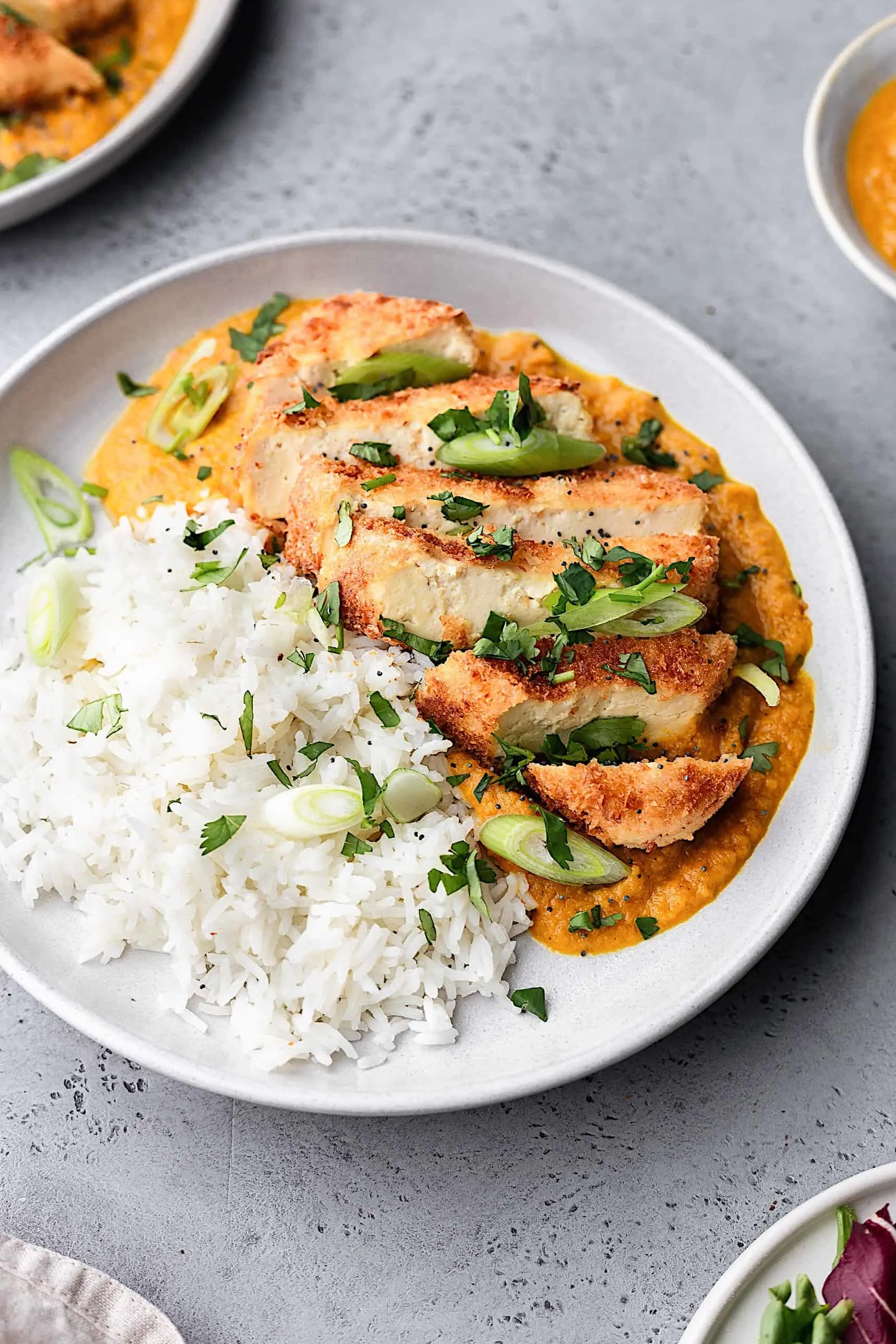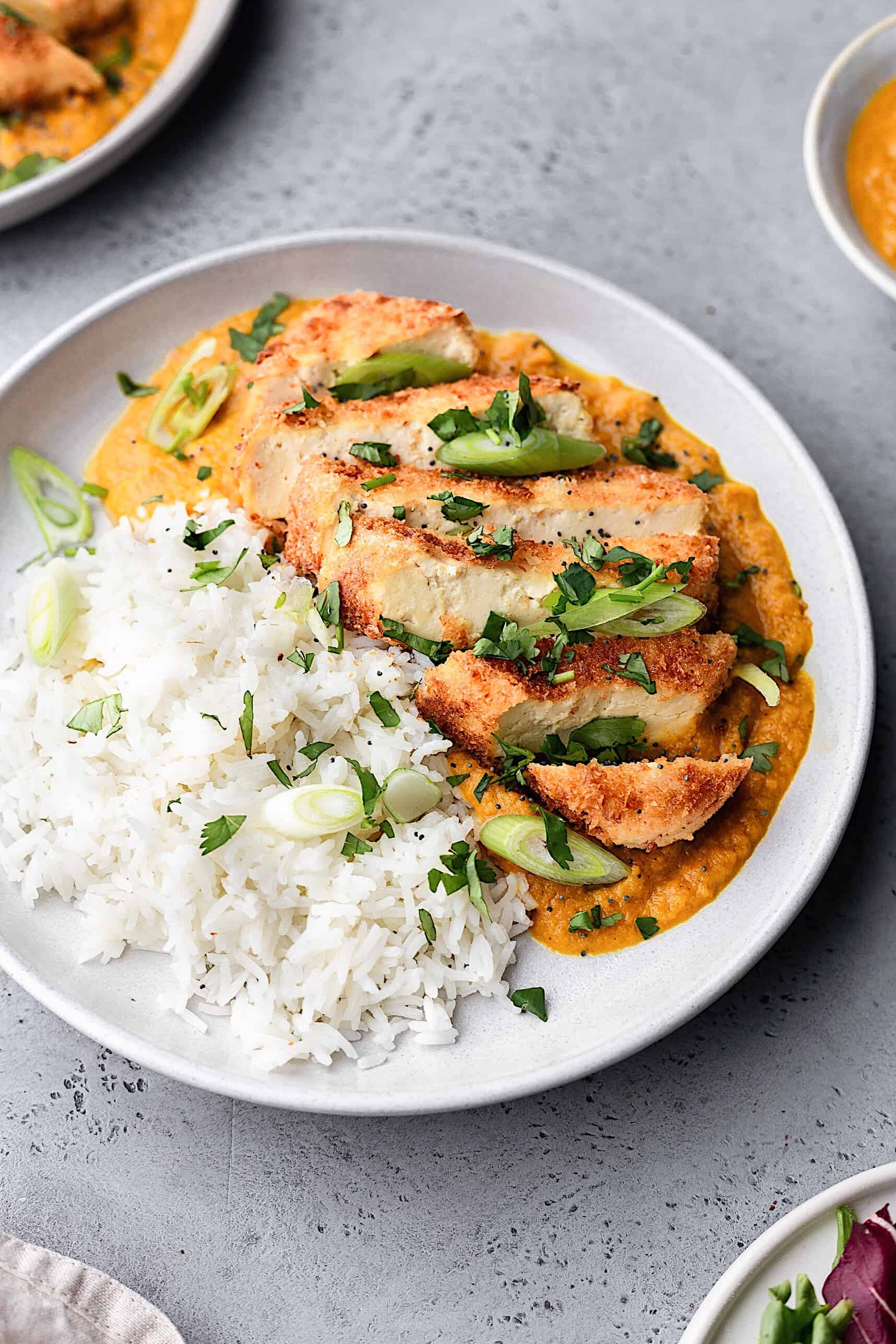 This recipe is fairly straight forward, there are just a few elements to it.
What is katsu sauce made from?
This katsu curry sauce starts by frying onion, garlic, ginger and carrot. Then comes the spices, mirin (japanese sweet wine), tomato puree, soy sauce and vegetable stock.
The sauce is probably my favourite part of this curry and I'll always order an extra side of it. In my opinion, you can never have too much sauce, especially when it tastes this good.
Once the sauce has simmered, you'll blitz it until smooth, or chunky it you prefer it that way. Next comes the breaded tofu. This is the part of the recipe that is a bit more fiddly and messy.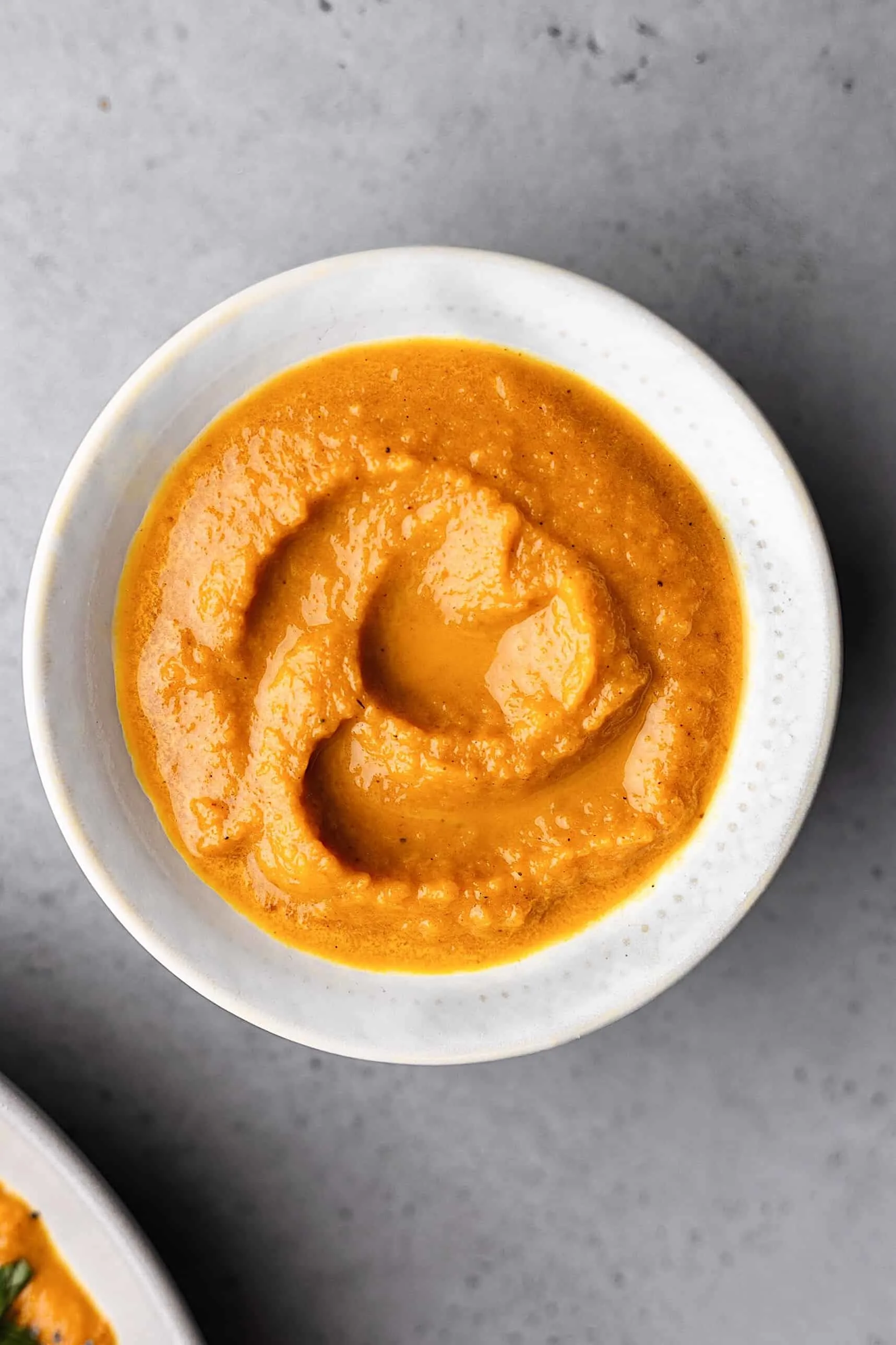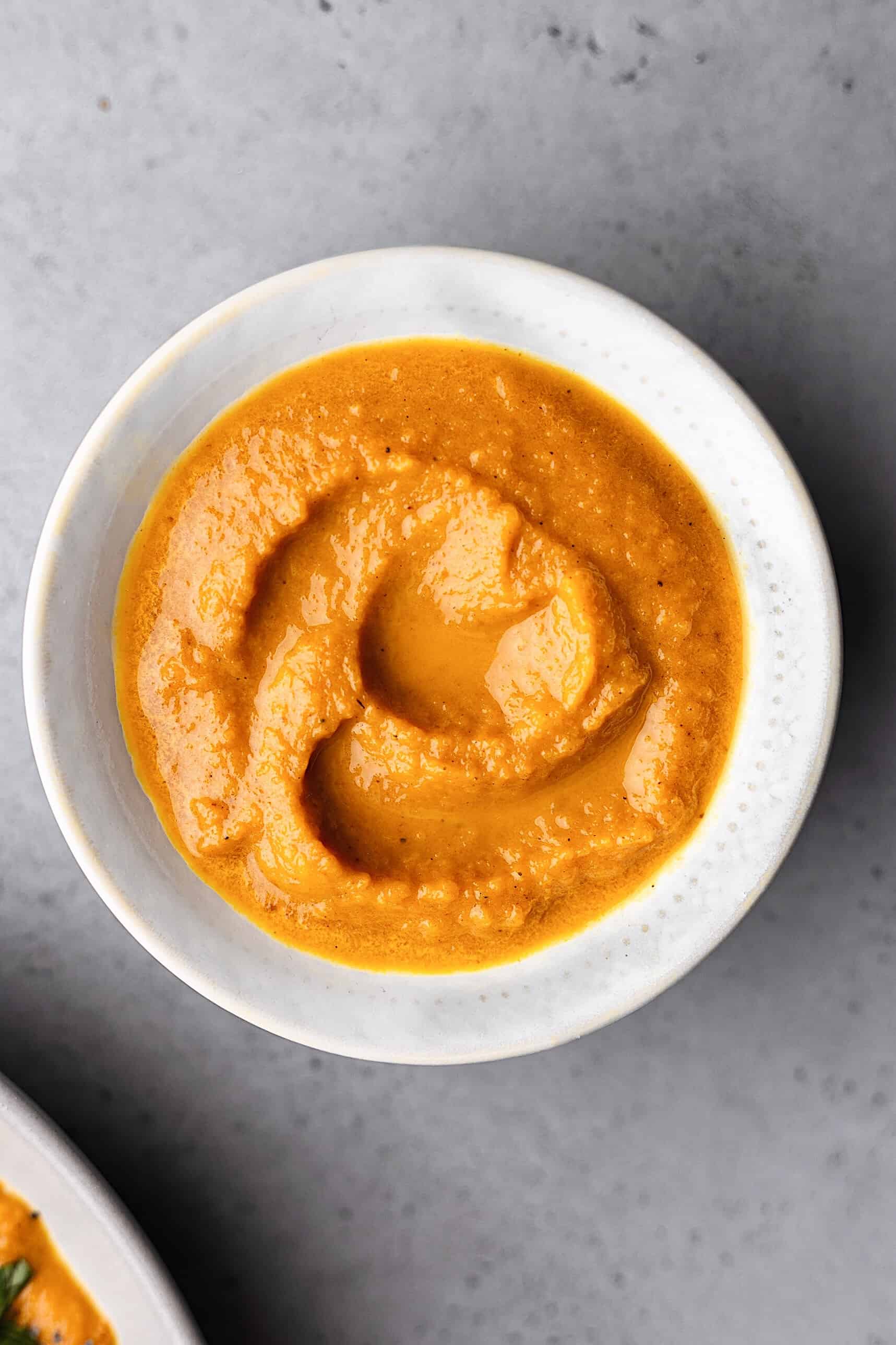 You'll want to use extra firm tofu for this, you don't want a soft tofu that is going to break apart. If you're in the UK I buy the Tofoo extra firm tofu.
If you cant find any extra firm tofu, make sure you squeeze out as much water as you can with a tofu press. Alternatively, you could use seitan which will give more of a meaty texture.
In three separate bowls you'll place flour, plant milk and panko breadcrumbs. The slice of tofu gets coated in flour, then milk and then breadcrumbs.
This is where it may get a little messy so you can either use a spoon to help or use different hands for the wet and dry ingredients.
Once the tofu is coated it's time to fry them! You'll heat some vegetable oil (I use rapeseed) on medium-high heat in a frying pan.
Once it's hot you can place the tofu in, I did two at a time. After a few minutes on each side it should be brown and crispy.
To fry the sides, use some tongs to carefully turn the tofu, it should stand on it's side. If not just hold it there for a couple of minutes until it is golden and crispy all over!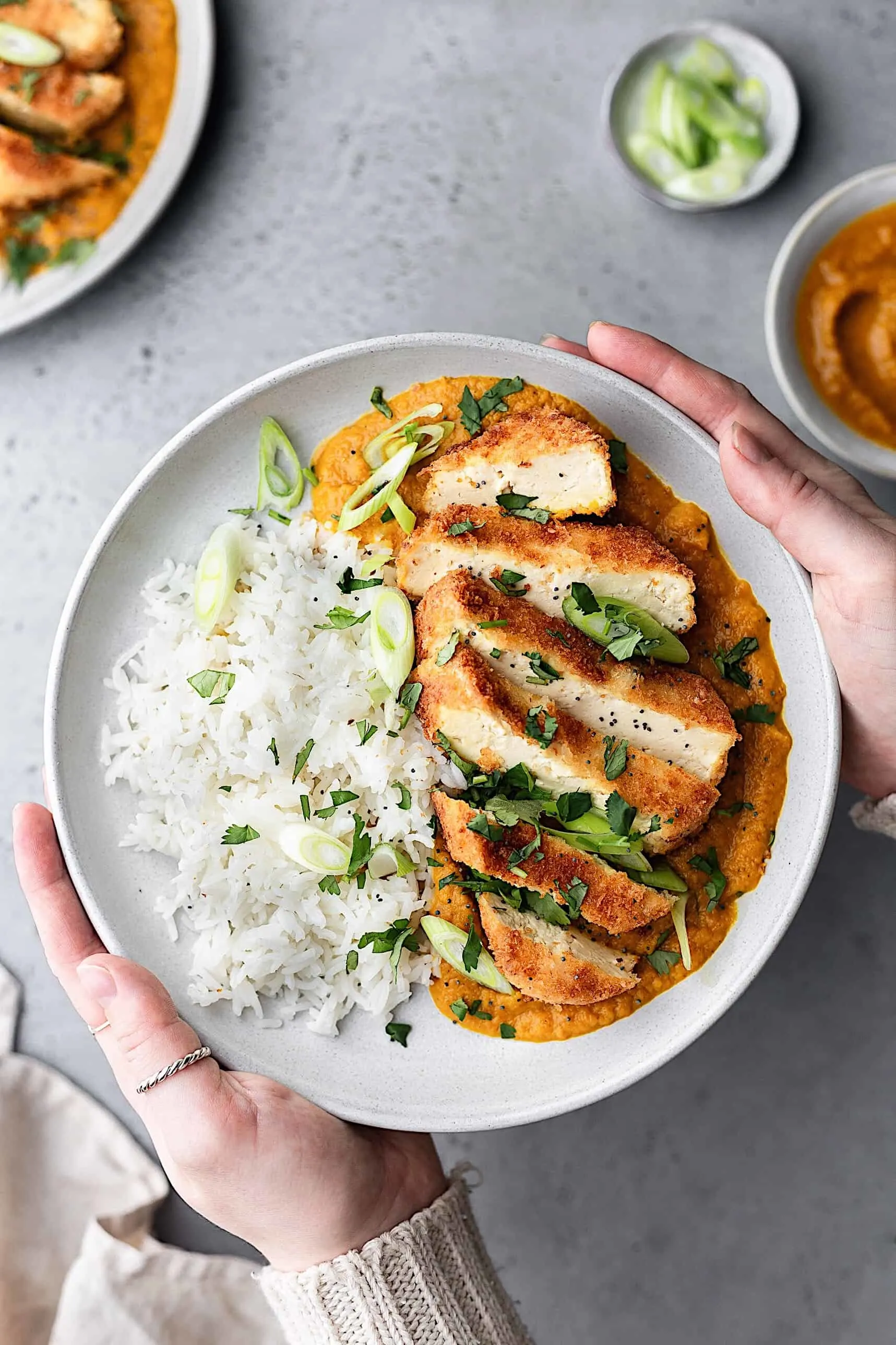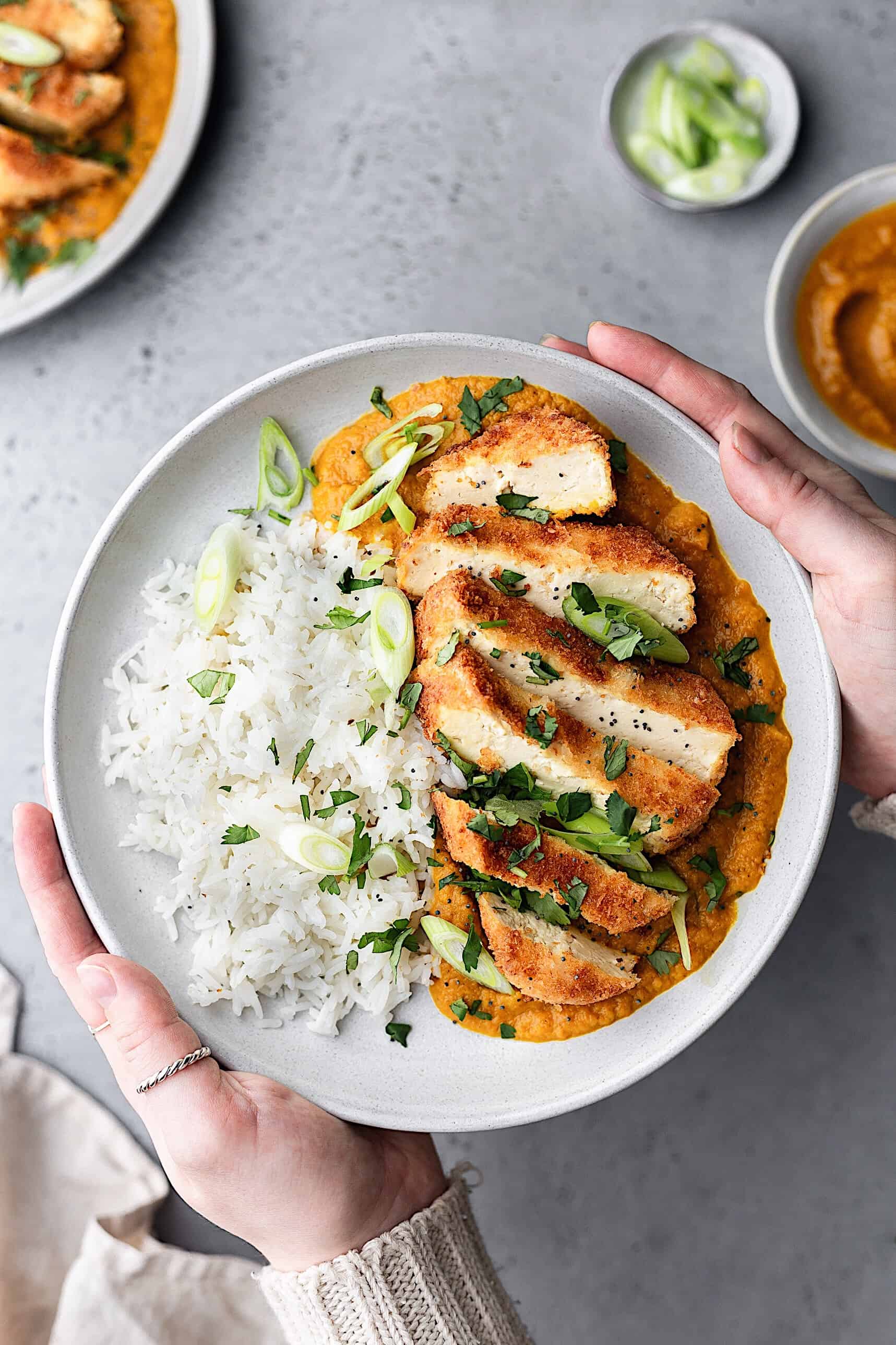 For the rice, I used basmati but you could also use sushi rice, brown rice, quinoa or cauliflower rice for something lighter! This recipe serves 4 although I definitely could eat two servings in one!
To save time, you can make this katsu curry sauce ahead of time. It will keep for 3-4 days in an airtight container in the fridge, or you could make a big batch and freeze it.
If you're thinking the breaded tofu is too time consuming (it is worth it I promise) and you want a simpler and quicker alternative you could use some vegan 'chicken' nuggets. Quorn, Fry's and most supermarkets do own brand ones.
For more tofu recipes you may enjoy these:
Thai Tofu Satay with Peanut Sauce
Mushroom and Tofu Tikka Masala
Grilled Cajun and Orange Tofu Skewers
---
As always if you make this vegan tofu katsu curry be sure to leave me a comment, rate this recipe and tag me on Instagram. I love seeing all your photos of my recipe recreations!
Don't forget to follow along on Facebook, Pinterest and Instagram – I'd love to see you all there!
---
NEVER MISS A RECIPE! GET MORE VEGAN RECIPES SENT STRAIGHT TO YOUR INBOX – SUBSCRIBE HERE ?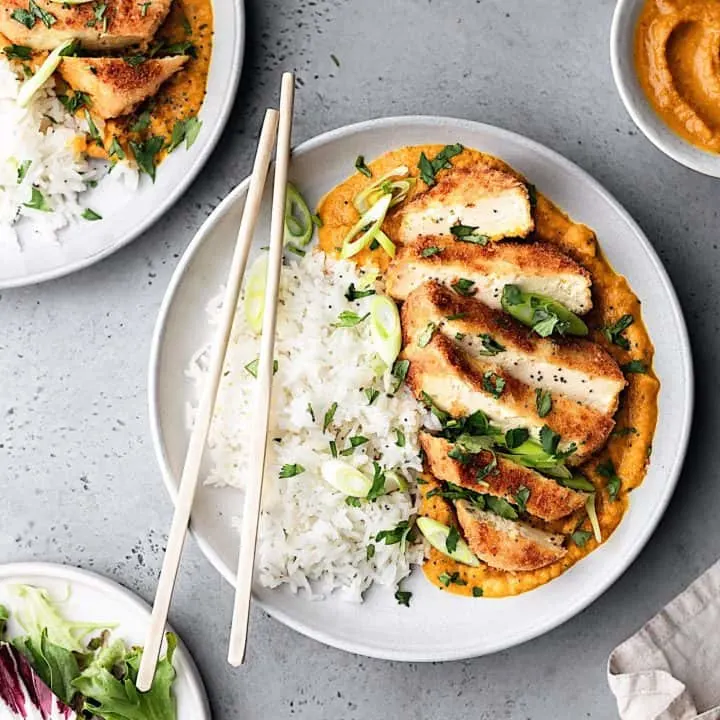 Tofu Katsu Curry
Total Time:
1 hour
5 minutes
This vegan katsu curry rivals any take out! With crispy panko breaded tofu, a flavourful curry sauce and served over rice.
Ingredients
Sauce
1 onion
4 garlic cloves
2 carrots
Inch of ginger
1 tbsp curry powder
1/4 tsp ground turmeric
1/2 tsp garam masala
1 tbsp mirin (or maple syrup)
2 tbsp soy sauce
1 tbsp tomato puree
550ml vegetable stock
Tofu
550g extra firm tofu
2 tbsp plain flour
50ml unsweetned almond milk
1 cup panko breadcrumbs
Salt and pepper
To serve
Rice of choice (sushi, basmati, brown)
2 spring onion
Fresh coriander
Optional - side salad
Instructions
Heat a tbsp of oil in a large frying pan on medium heat. Finely dice the onion and add.
Stir and let cook for a few minutes, then add the crushed garlic, grated ginger and peeled and sliced carrot.
Let this cook for 5 minutes then add the curry powder, garam masala and turmeric. Stir and cook for a further minute.
Add the mirin, soy sauce, tomato puree and vegetable stock and leave to simmer for 10-15 minutes. The carrot should be soft.
Transfer to a blender or use a hand blender to blitz until smooth, around 30 seconds.
Place it back in the pan on a low heat and leave for later. If you want the sauce a bit thinner, add some extra water.
In three separate bowls place the flour, milk and breadcrumbs. Season the breadcrumbs with some salt and pepper.
Cut the tofu into 4 slices so they are rectangular in shape. Use a paper towel to pat them dry.
Place the tofu into the flour, then the milk and lastly the breadcrumbs. Make sure they are well coated at every stage. Gently shake off excess breadcrumbs and place to the side until each tofu slice is coated.
In a frying pan add 2-3 tbsp vegetable oil on medium-high heat. Once hot, place the breaded tofu in, one or two at a time depending on the size of your pan. Fry on each side for a few minutes until golden brown. To fry the sides, use some tongs to carefully flip the tofu onto its side until golden brown all over. Place on some kitchen paper to soak up any excess oil.
Whilst the tofu is cooking, cook the rice according to packet instructions.
Slice the breaded tofu diagonally using a sharp knife and serve with the rice and curry sauce.
Top with some fresh coriander, sliced spring onion and a side salad!
Notes
I use Tofoo extra firm tofu.
*Sauce recipe adapted from Cassie Best.
Recommended Products
As an Amazon Associate and member of other affiliate programs, I earn from qualifying purchases.
Nutrition Information:
Yield:

4
Serving Size:

1
Amount Per Serving:
Calories:

403
Total Fat:

13g
Saturated Fat:

3g
Trans Fat:

0g
Unsaturated Fat:

9g
Cholesterol:

2mg
Sodium:

1167mg
Carbohydrates:

53g
Fiber:

6g
Sugar:

8g
Protein:

22g