Quesadillas are one of my favourite 'treat' meals and I'm so excited to share these with you. I mean, they're a treat because I fill them with lots of vegan cheese and sour cream but really, they're pretty healthy. Think grilled crispy tortillas packed with roasted sweet potato and lentils in a smokey-spicy tomato sauce and heaps of melted vegan cheese. Topped with lots of fresh coriander and vegan sour cream. I mean, its what dreams are made of. Am I right?
This recipe makes for an easy weeknight meal and it serves 6. Not got 6 people to
feed? Save the mixture for later in the week, or lunch the next day and then grill the quesadillas up when you want them. Or if you wanted to have lunch on the go, fill the tortillas and roll into a wrap. Easy, huh? So what are you waiting for! Make them, share them, eat them and thank me later.
As always, if you make this recipe be sure to tag me on Instagram and use the #cupfulofkale. I love seeing your creations and adaptations of my recipes!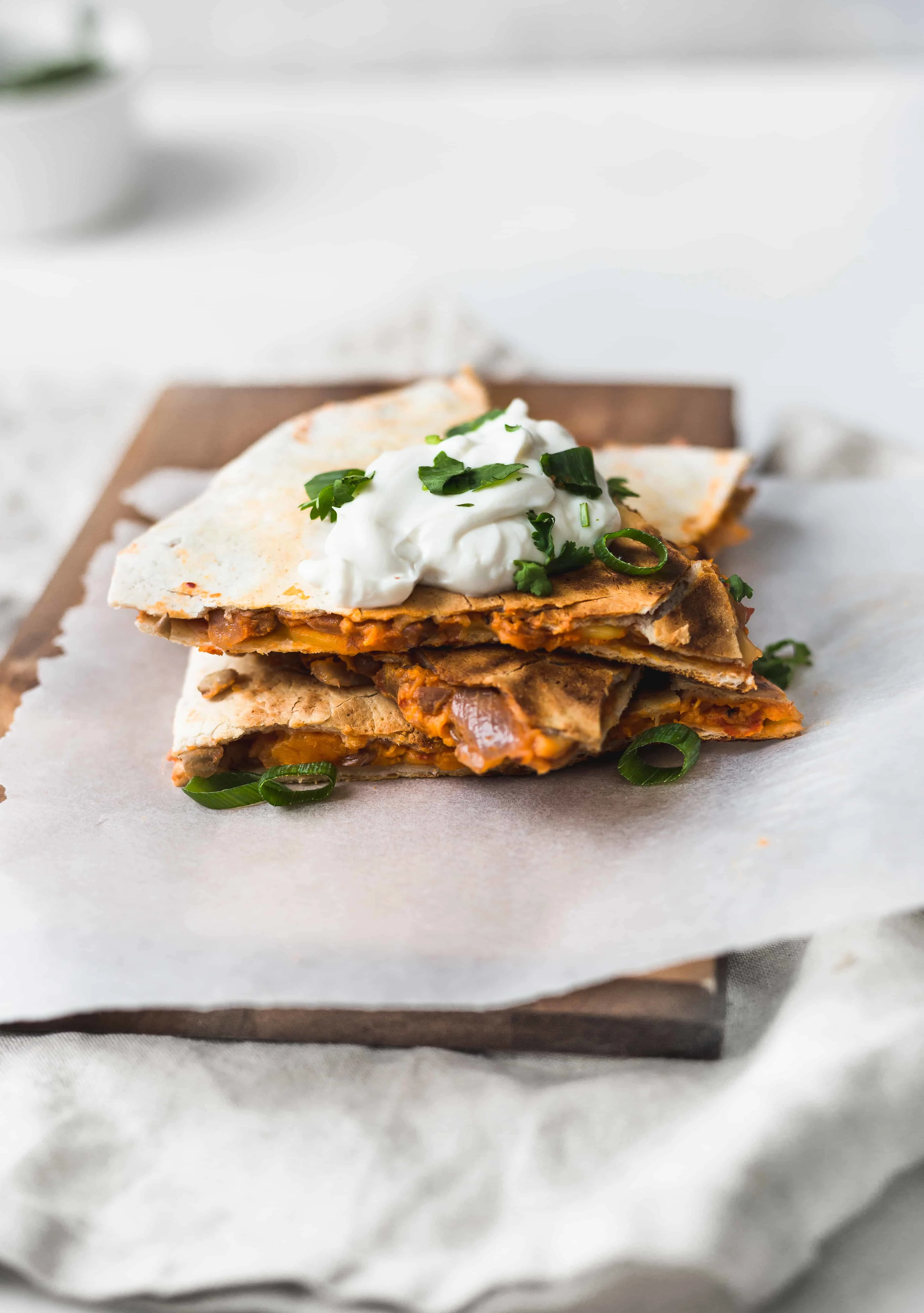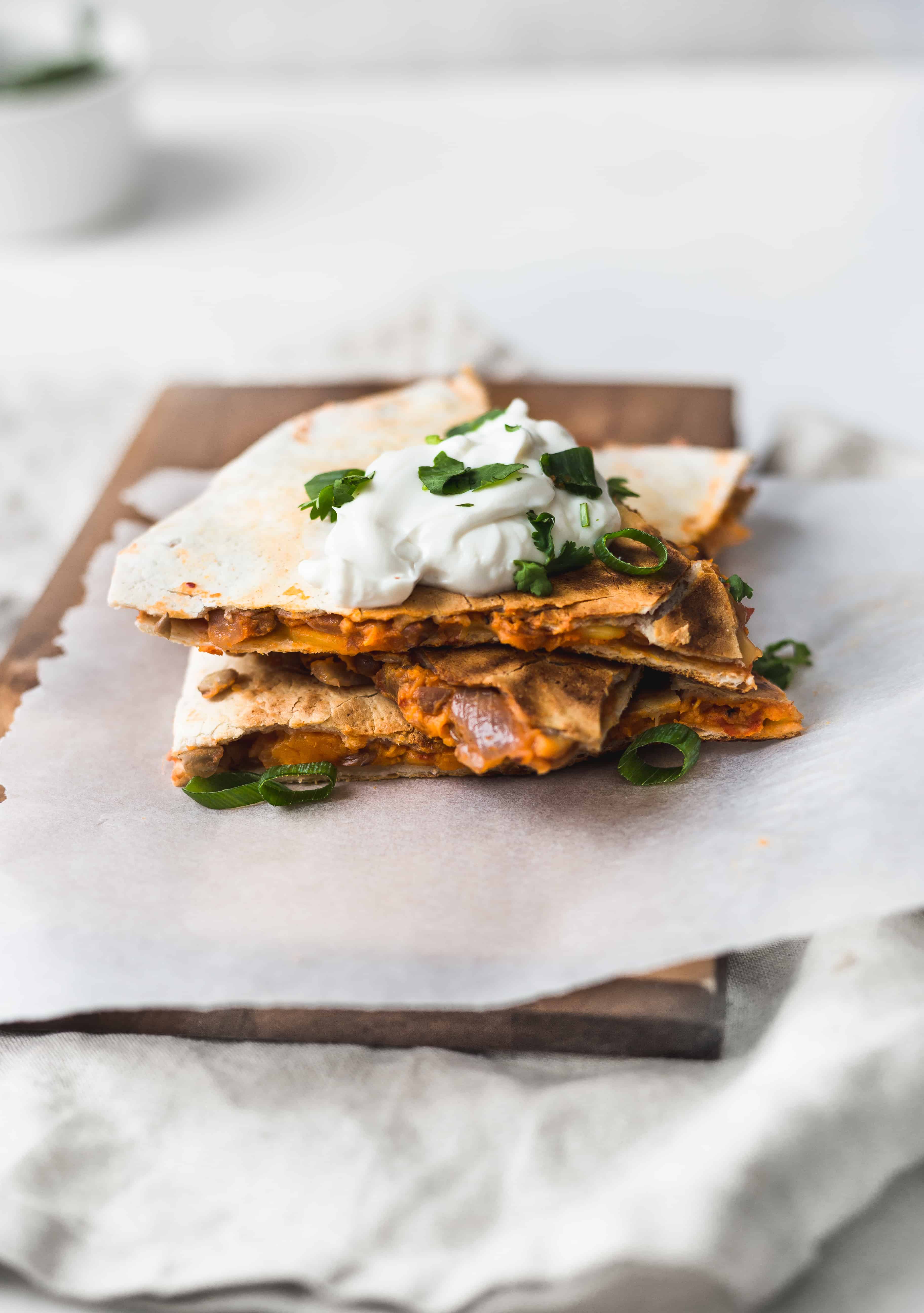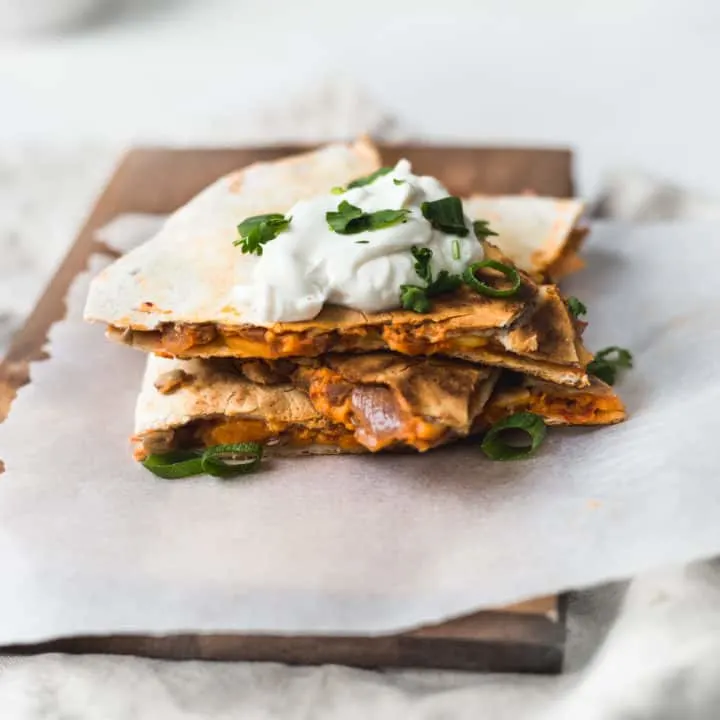 Vegan Roasted Sweet Potato and Lentil Quesadillas
Vegan crispy quesadillas packed with roasted sweet potato and lentils in a smoky-spicy tomato sauce and oozing vegan cheese. Topped with lots of vegan sour cream and fresh coriander. Ready in 45 minutes.
Ingredients
3 large sweet potatoes
2 red onions
2 cans cooked green lentils
1 tsp ground cumin
1 tsp smoked paprika
1-2 tsp hot chilli powder
1 tin chopped tomatoes
1/2 cup vegetable stock
200g vegan 'cheddar' cheese
Large handful of coriander
Vegan sour cream
12 plain tortilla wraps
Instructions
Heat the oven to 200C/400F and prick the sweet potatoes. To speed up the cooking, place them in the microwave on high for 6-8 minutes. Then place in the oven on a baking tray.
Finely chop the onion and cook in a little vegetable oil in medium heat in a pan. Once translucent, add the cumin, paprika and chilli and mix.
Drain the lentils and add to the pan with the vegetable stock. Gently simmer until most of the liquid is absorbed and then add the tinned tomatoes. Leave to simmer for about 10 minutes until it had turned thick.
Check the sweet potatoes, when they are soft to touch and a knife enters easily remove from the oven. Scoop out the flesh and add to the pan. Give it a good mix.
Dry heat a separate pan (big enough for the size of your tortillas) on medium-high heat. Place one tortilla in the pan and top with some grated cheese. Then add a few tablespoons on the mixture, spread it evenly and and top with some more cheese. Let cook for a couple of minutes and then check the bottom of the tortilla. Once it is golden brown, add another tortilla on top of the mixture and flip over. Cook again for a few minutes until golden.
Repeat with remaining tortillas and mixture. Keep the cooked quesadillas on a low heat in the oven to keep warm.
Cut each quesadilla into 6 slices and top with fresh coriander, scallions and sour cream.
Nutrition Information:
Yield:

6
Serving Size:

1
Amount Per Serving:
Calories:

770
Total Fat:

24g
Saturated Fat:

10g
Trans Fat:

0g
Unsaturated Fat:

12g
Cholesterol:

33mg
Sodium:

1133mg
Carbohydrates:

113g
Fiber:

11g
Sugar:

8g
Protein:

26g