5 minute cheese sauce I hear you say. In fact, it probably takes more like 2 minutes. Creamy, cheesy, velvety, smoky and of course vegan! Everything I look for in a vegan cheese sauce is in this, and you probably have all the ingredients already. All you need is a blender! If you want to nab the recipe, find it at the bottom of the page!
So, when Froothie contacted me to try their latest Optimum Vac2 Vacuum Blender the decision was easy. My current blender was on its way out and I was so intrigued by its vacuum feature that I had to try it for myself. I have already made countless recipes with it, and make smoothies in it daily. But I've also tried nut butters, soups, pasta sauces, you name it. I've had it for a little over a month and I wanted to be sure I had used all its features before I gave you the full rundown.
What's in the box? Blender base, 2L jug with 6 blade assembly, two-part lid, tamper tool, two spare vacuum seals, three spare vacuum seal buttons and instruction manual. It also comes with a recipe book with over 70 mainly vegan recipes.
This blender has 8 different speed settings and has some preset buttons that will set the time and speed for you – smoothie, veg, pulse, nuts, soup, smoothies. Alternatively just turn the dial and then set the time yourself. It will show up on the blue LED screen, you just need to press the on/off button when you're ready to go! To use the vacuum setting you need to place the overhead sucker in the hole at the top of the jug and then press the vacuum button before going ahead to blend. The control panel is really simple to use and operate.
This is what it looks like all put together: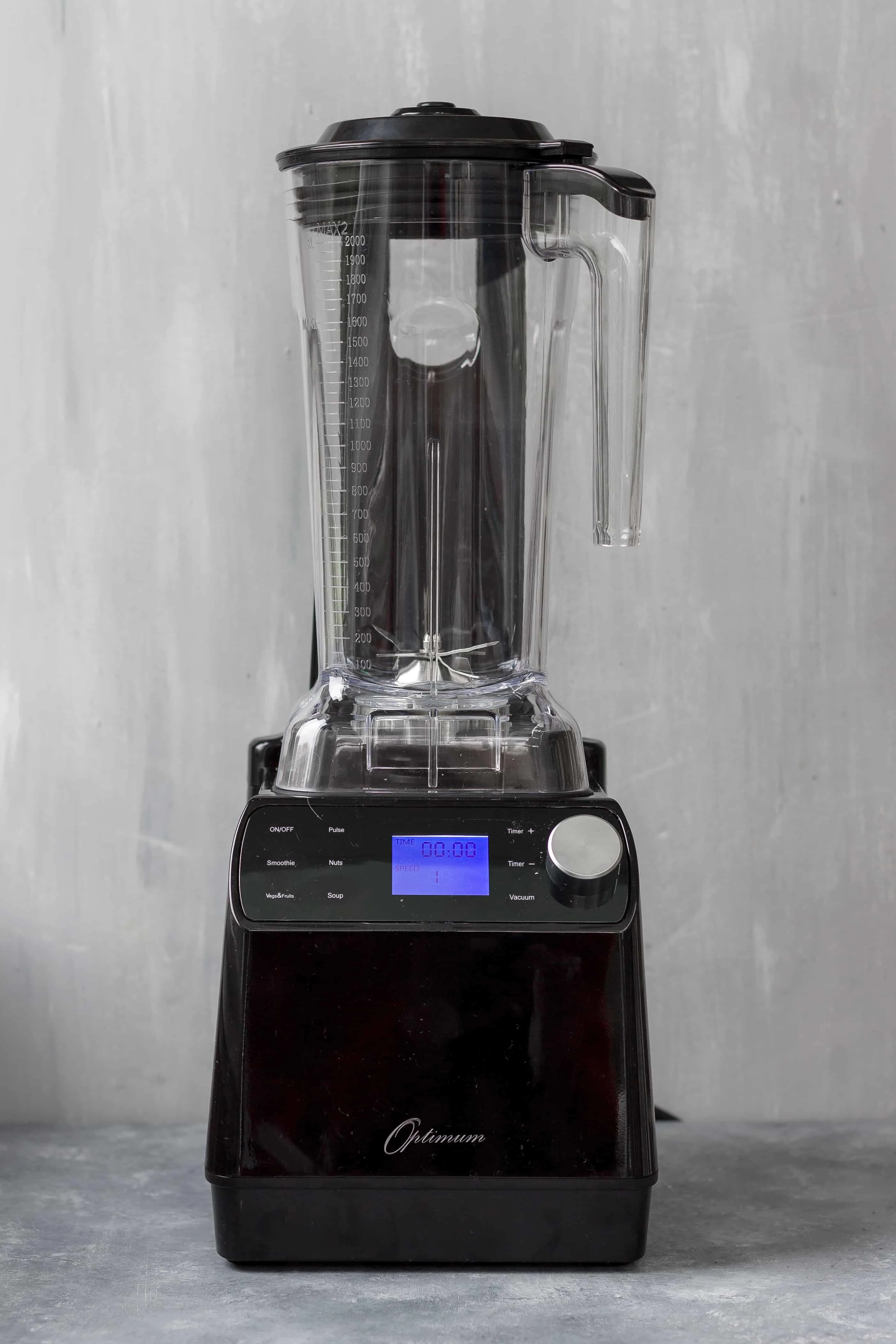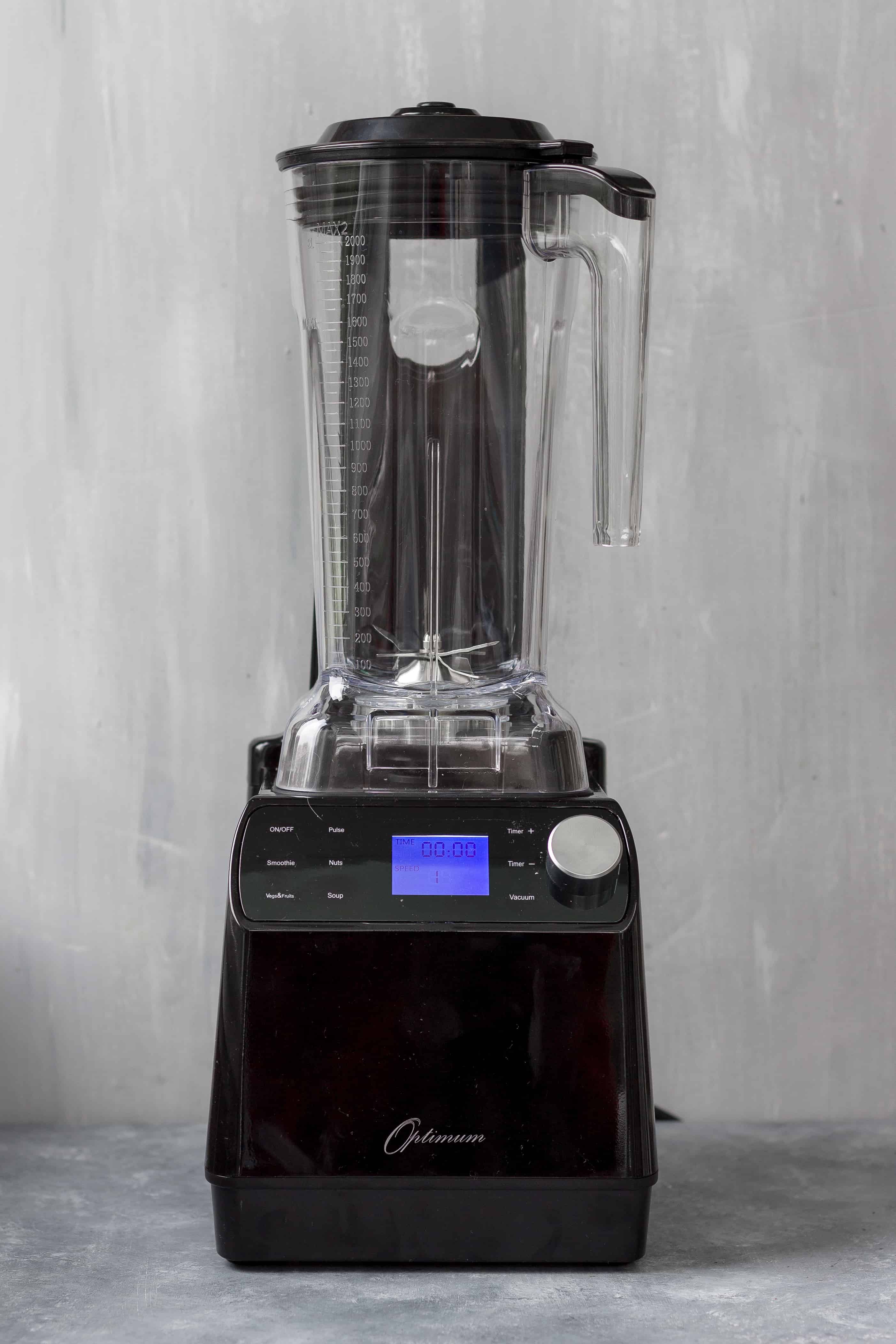 So, what is a blender with an air vacuum? This blender has an overarm sucker that essentially draws all the air out of the jug before blending. Why? Because it helps reduce oxidization and keep in nutrients. Say you want to make a smoothie for later in the day or you are shooting them if you're a photographer. It's great for both because the smoothie will not start to discolour, I've tested it and I have actually left it overnight and it has remained pretty much the same colour. This feature is optional and slides neatly behind if you don't want to use it.
As you can see from the picture this blender is a bit of a beast. It IS heavy so find a spot for it in your kitchen and keep it there (if you have the space). You want to try and avoid moving it constantly because of its weight. The reason it is so weighty (I believe) is because this is such a powerful blender, it has a maximum motor power of 2238W. If you're deciding between this and the Vitamix here is a handy comparison chart: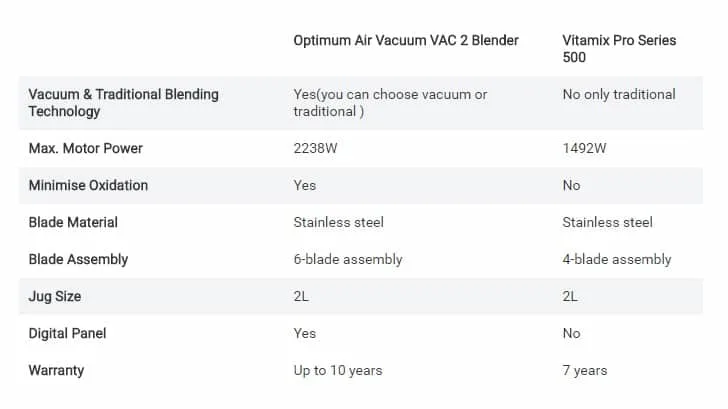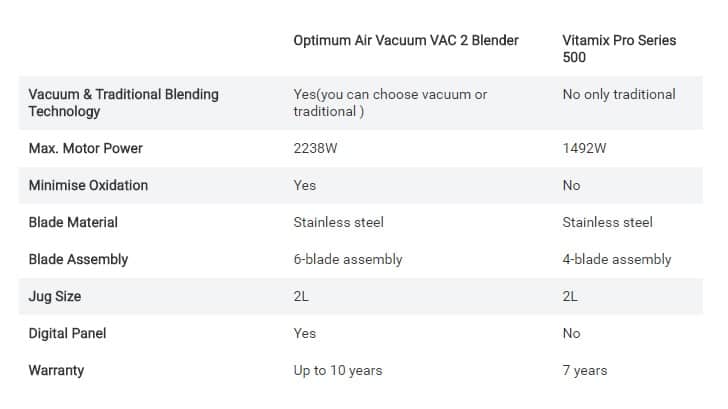 Taken from – https://froothie.co.uk/optimum-vacuum-blender
The other thing I want to tell you about is its noise. Again, this is a powerful blender and on its highest setting (speed 8) it does make quite a noise. This is just something to consider, especially if you have neighbours/housemates! But you will get used to it, and as far as I am aware this is not uncommon in high speed blenders. Just a pre-warning 🙂
So, what can I make in it? Pretty much anything. I've made juices, smoothies, flours, sauces, soups, cheeses, plant milks, dressings. The only recipe I have struggled with is nut butter. I know other people have made them perfectly fine but I find it too fiddly to scrape the butter out between the blades, with such a large jug. That being said, this blender is incredibly powerful and will blitz cashews up without needing to soak them, which is a lifesaver for me. The cheese sauce recipe below came together in two minutes and was perfectly soft and smooth. One of the great features of this blender is that you can make a soup in 6 minutes AND it heats it up at the same time.
To clean out the jug, simply add some water and a squirt of washing up liquid and blend on high for 10-20 seconds. You will need to wash the lid again separately as doing this won't wash it out completely.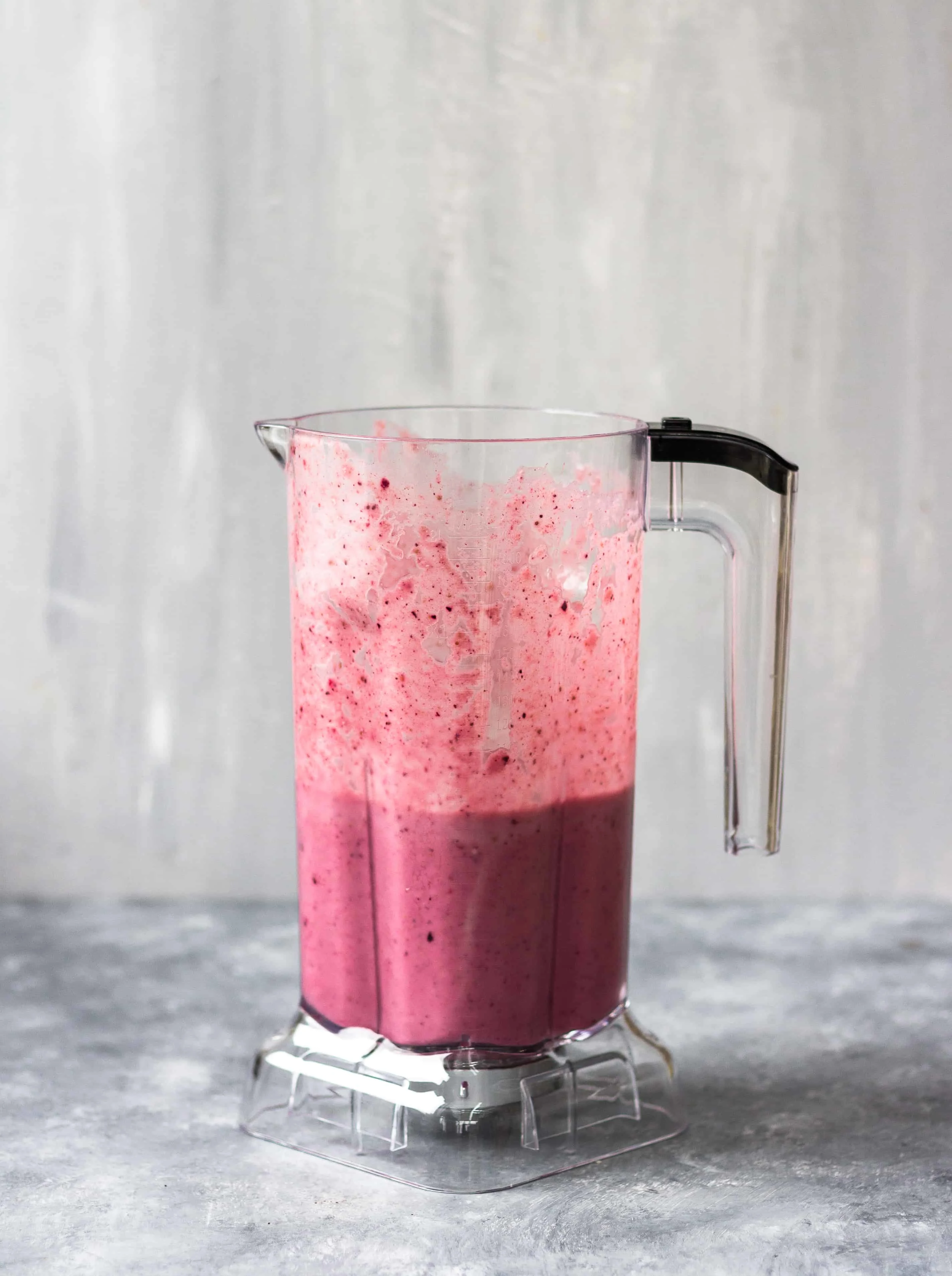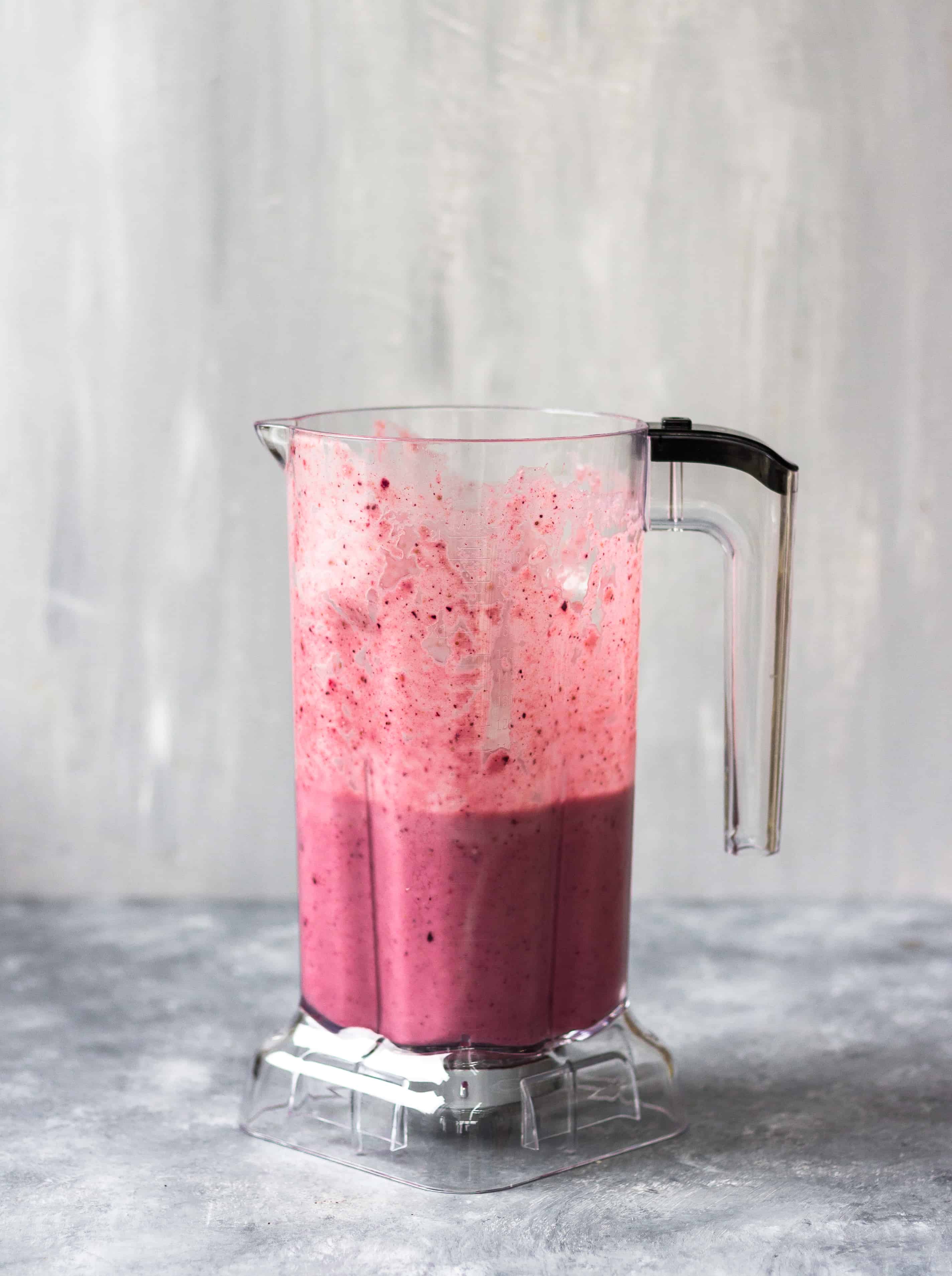 TOP TIP for stains! After making a turmeric soup and 6 minutes of blending the jug went completely yellow BUT I managed to get it sparkly clean again by using a baking soda, apple cider vinegar and water mixture and then leaving in the sun which helps break it down. So don't fear is this does happen, like I did!
Here are some other recipes I have made with this blender:
Ultimate Berry Breakfast Smoothie
All in all, this is a fabulous blender and I am so grateful that it now belongs in my kitchen, because I don't know how I lived without it! It gets a lot of use as a recipe developer so I am using it almost daily.
If you are interested in purchasing this blender or any other Froothie products, you will receive free delivery with my affiliate code '5306 free delivery', just enter it into the promo code box.
If you have any questions please leave a comment below, email me via the contact page or message me on Instagram @cupfulofkale.
Please note, I got this blender sent for free and all opinions are my own! Using the above affiliate link means I will receive a small commission, at no extra cost to you.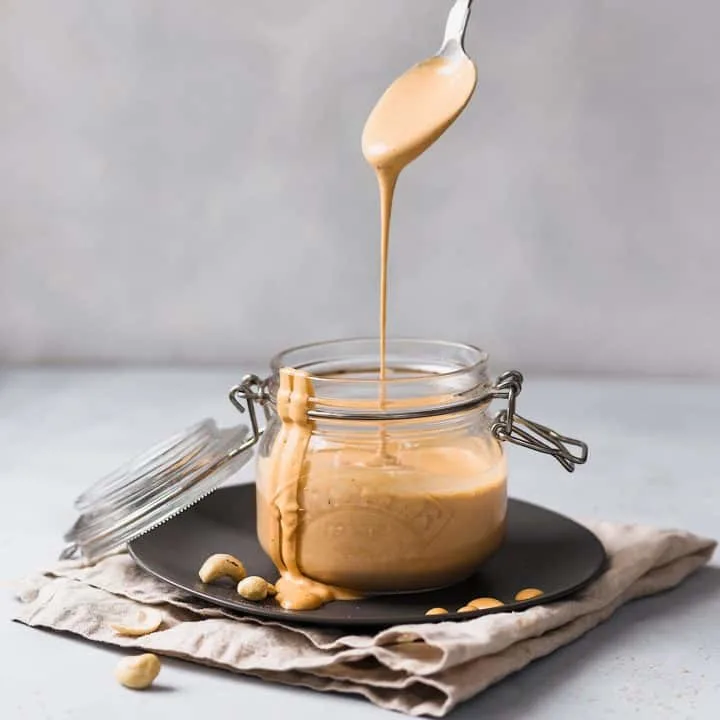 5 Minute Vegan Cheese Sauce
This 5 minute vegan cheese sauce is perfectly smooth and is packed with smoky cheesy flavours. Add it to macaroni, pizza, burgers, and lasagne or use it as a dip. The possibilities are endless!
Ingredients
1 cup cashews
1 cup unsweetened almond milk
6 tbsp nutritional yeast
1 tsp smoked paprika
1 tsp mustard powder
1 tsp smoked garlic granules
Salt and pepper
Instructions
Blend the cashews and almond milk in a high speed blender, for about a minute. If you don't have one, soak the cashews in hot water for half an hour beforehand, then drain.
Once smooth, add the remaining ingredients and blend again.
Enjoy straight away or keep in the fridge in a sealed container. Keep in mind it will thicken when chilled, and may need thinning with some more almond milk.
Notes
Smoked garlic granules give a deeper, smoked flavour but regular garlic granules will work too.
Nutrition Information:
Yield:

4
Serving Size:

1
Amount Per Serving:
Calories:

251
Total Fat:

18g
Saturated Fat:

3g
Trans Fat:

0g
Unsaturated Fat:

13g
Cholesterol:

0mg
Sodium:

302mg
Carbohydrates:

17g
Fiber:

5g
Sugar:

2g
Protein:

11g