So, you're craving spaghetti bolognese and pizza? Well you've come to the right place because so was I. Simple solution? Make this spicy bolognese pizza. Yes I don't know why I hadn't thought of it sooner.
Whip up a quick bolognese sauce, add it to your pizza, top with some vegan cheese and let the oven finish it off. Or maybe you have some bolognese sauce leftover and you don't want pasta again. I'm solving solutions here but really you should just go ahead and make this whether you have leftover bolognese sauce or not!
My spicy bolognese sauce comes together in 20 minutes and the main ingredients are chestnut mushrooms and vegan soy mince. They work together perfectly for a 'meaty' texture as well as sneaking some veg in. It packs a punch with some chilli and smoked paprika but if you don't fancy the heat you can switch for more smoked paprika.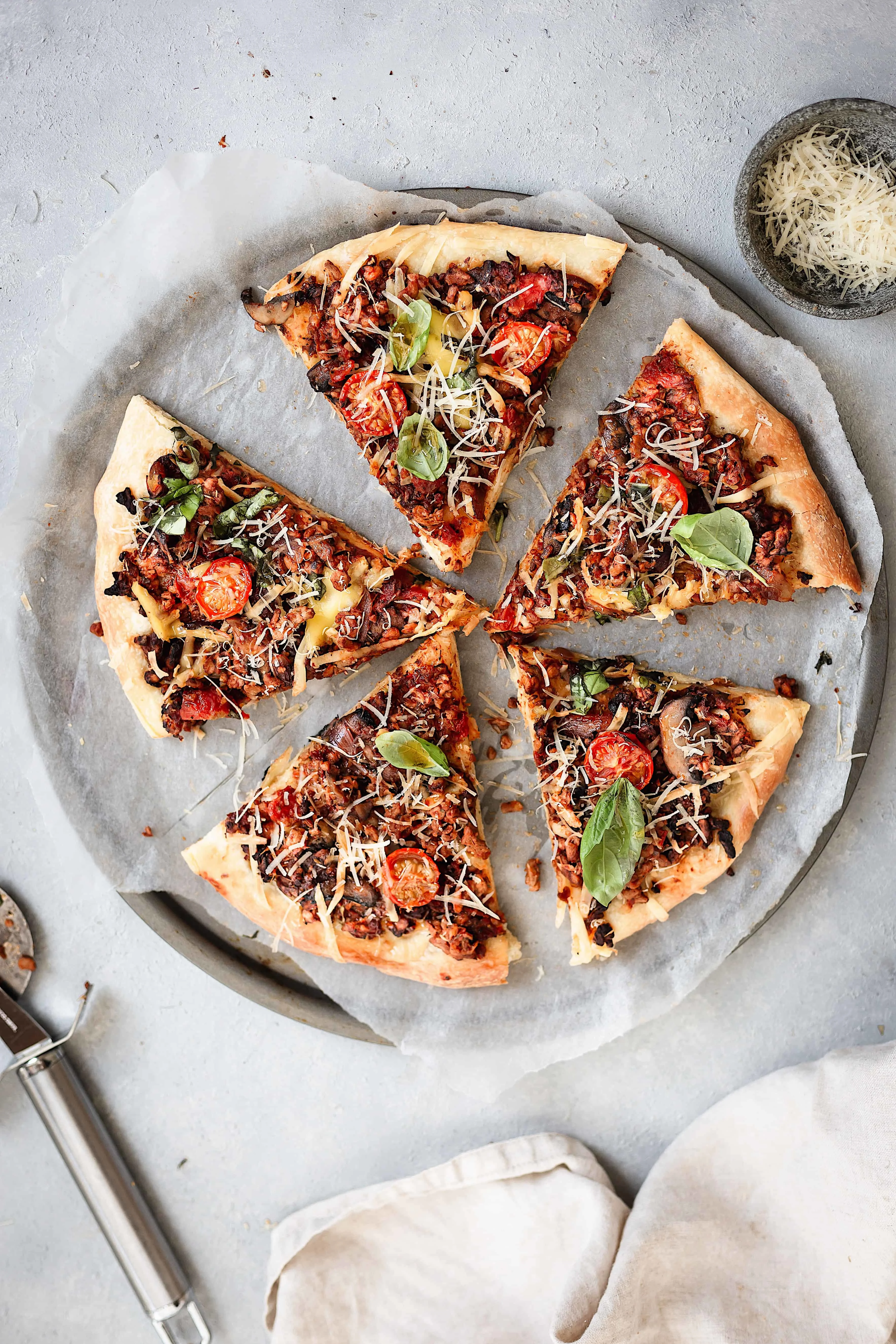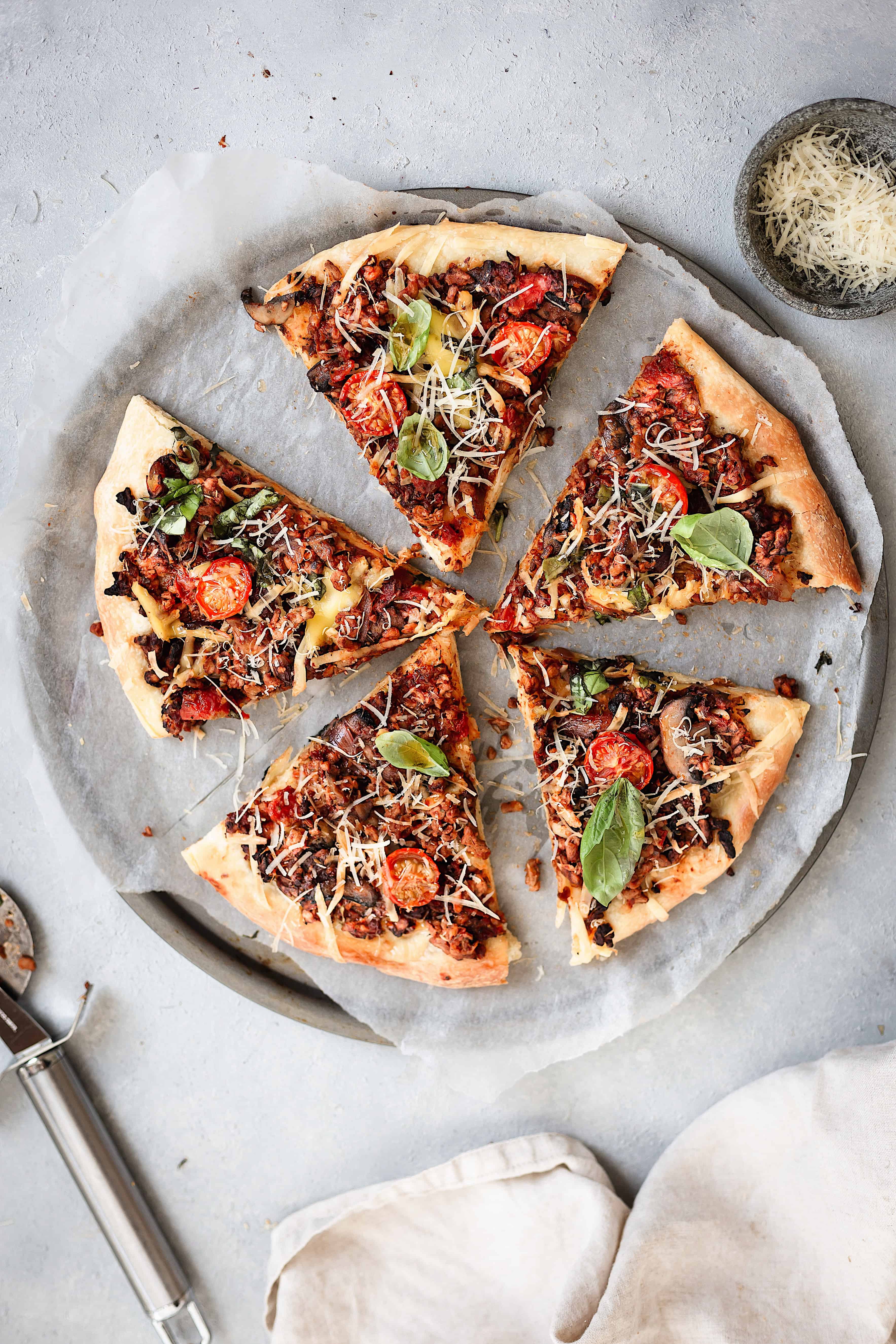 I used shop bought sourdough pizza dough for this recipe but if you have the time to make your own I can highly recommend my friend Eva's overnight pizza dough.
I used it for my buffalo 'chicken' pizza which you should also check out! If you're looking for a lighter healthier pizza then take a look at my lentil crust pizza.
This pizza is quite filling so you may find that half a pizza serves 1 so just bare that in mind! I struggled to finish a whole one and I LOVE pizza! Now I need your help. What other foods combos should I make!? Let me know in the comments below!
As always if you make this recipe be sure to leave me a comment, rate this recipe and tag me on Instagram. I love seeing all your photos of my recipe recreations!
Don't forget to follow along on Facebook, Pinterest and Instagram – I'd love to see you all there!
Spicy Bolognese Pizza
This is what pizza dreams are made of! Combine two of your favourite meals in one with this spicy vegan bolognese pizza! Ready in 30 mins.
Ingredients
2 pizza bases
1 red onion
2 garlic cloves
100g mushrooms (I use chestnut)
200g / 1 1/2 cups vegan mince
1 tsp smoked paprika
1/2 tsp hot chilli powder
1 tbsp soy sauce
1 tbsp mixed dried herbs
1 tin chopped tomatoes
250g / ~2 cups grated vegan cheddar or mozzarella
8 cherry tomatoes
1 red chilli
Instructions
Preheat the oven to 200C/400F.
Place your two pizza bases on pizza trays.
Heat some oil in a medium sized frying pan on medium heat. Finely chop your onion, mince your garlic and add both to the pan.
Once the onion has cooked, thinly slice the mushrooms and add to the pan.
Once the mushrooms have cooked and the water is absorbed add the paprika, chilli powder, dried herbs and soy sauce. Give it a good stir.
Add the mince and cook until slightly browned.
Add the chopped tomatoes, season with salt and pepper and let simmer for about 10 minutes.
Place half the mixture on each of the pizza bases and top with grated cheese and halved cherry tomatoes.
Cook in the oven for 10-12 minutes.
Serve with chopped fresh red chilli or chilli oil and fresh basil.
Nutrition Information:
Amount Per Serving:
Calories:

0
Total Fat:

0g
Saturated Fat:

0g
Trans Fat:

0g
Unsaturated Fat:

0g
Cholesterol:

0mg
Sodium:

0mg
Carbohydrates:

0g
Fiber:

8g
Sugar:

0g
Protein:

0g