This summer roasted vegetable toasted sandwich is perfect for summer. Topped with roasted sweet peppers and zucchini, juicy yellow tomatoes, sun dried tomatoes and hummus. Yes there is hummus underneath all those vegetables I promise. If any sandwich screams summer, it's this one.
I'm actually not usually a sandwich person but I have been eating a lot of ciabatta (and sourdough) recently – aren't they two of the best kinds of bread? Anyway, when the ciabatta is toasted or grilled and smothered in melted butter it's the best.
If you read my blog regularly, you'll know roasted veg is my all time fav. And I'll choose vegetables over fruit any day – always been a savoury gal. Well, apart from chocolate but that's a whole different category. The peppers and zucchini are roasted in oil, salt and pepper for about 20 minutes until they are soft and crispy on the edges. It's the only bit of cooking required (apart from grilling the ciabatta) but once you've put them in the oven you can forget about them whilst you prep the rest.
You can use homemade or shop bought hummus for this sandwich, depending how much time you have. My all time favourite hummus recipe is this one by Minimalist Baker.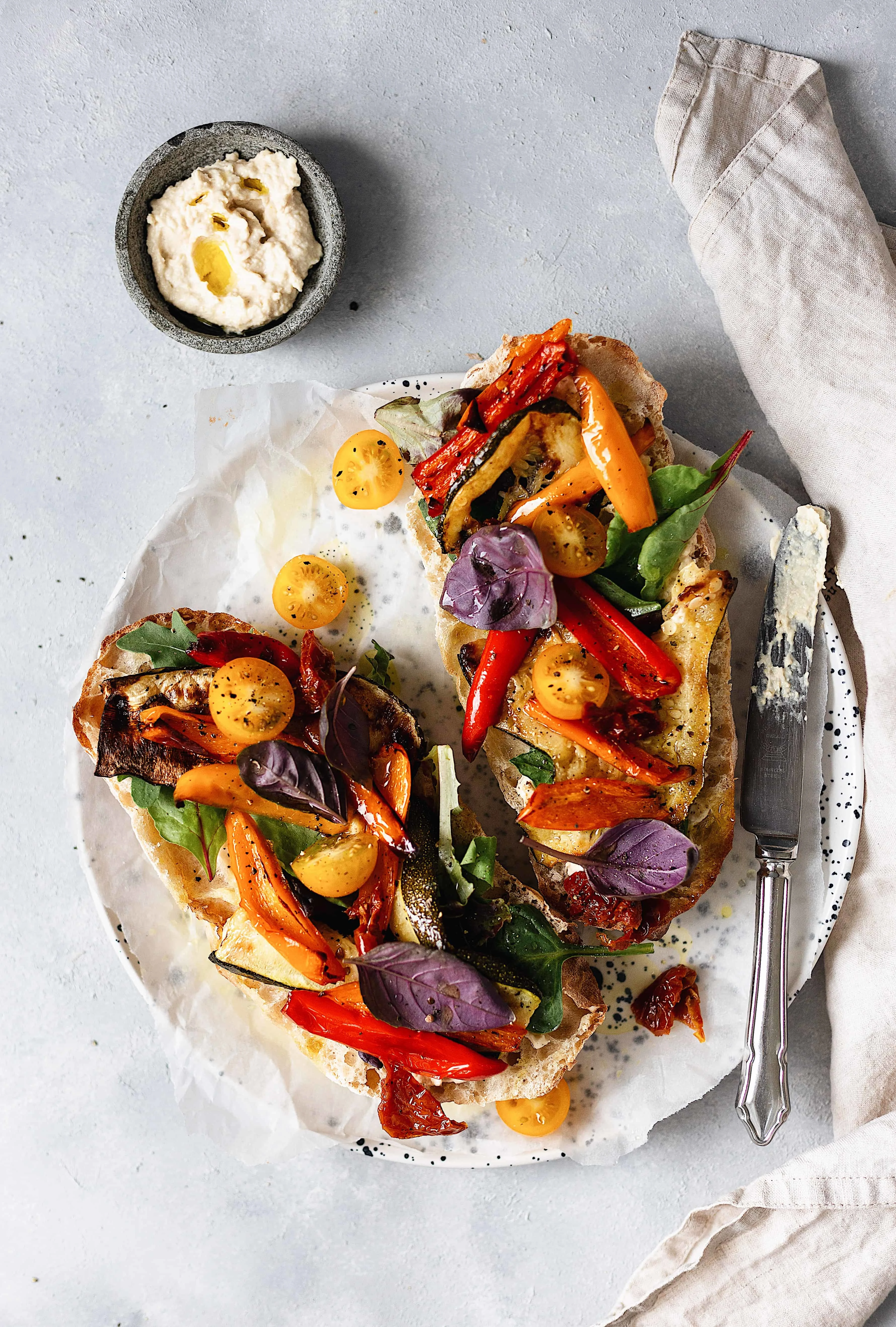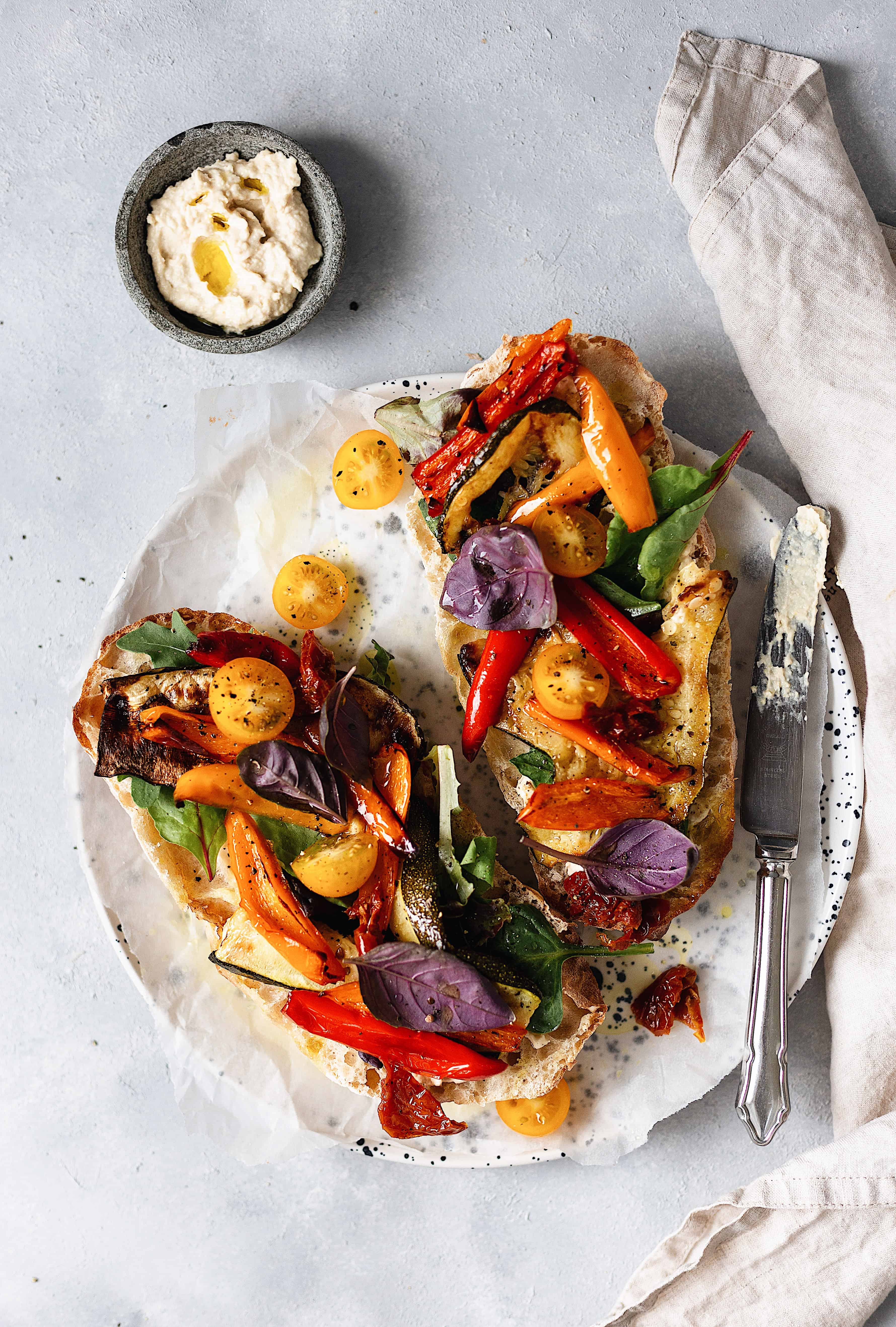 You can make this as an open sandwich like I have in the photos or as a proper sandwich. Probably best if you aren't eating it right away and are taking it with you for lunch. You'll just want to make sure to layer it all fairly evenly and flat so it doesn't fall out when you go to eat it.
I have made this with and without vegan cheese and I love it both ways but if you want to go ahead and add some do it when you grill the ciabatta so it goes all melty and bubbly. Vegan cheddar or mozzarella will work best.
Tomorrow I'll be making packing my bags for the weekend as it's my birthday on Monday. I am off to Hastings (on the South coast of England) for the weekend and I cannot wait. It's full of antique shops, cute little cafes and the most beautiful beaches. No doubt I'll come back with a few extra bags of shopping, because you can't walk out of an antique shop empty handed right? I'll be sharing our adventures on my stories!
As always if you make this recipe be sure to leave me a comment, rate this recipe and tag me on Instagram. I love seeing all your photos of my recipe recreations!
Don't forget to follow along on Facebook, Pinterest and Instagram – I'd love to see you all there!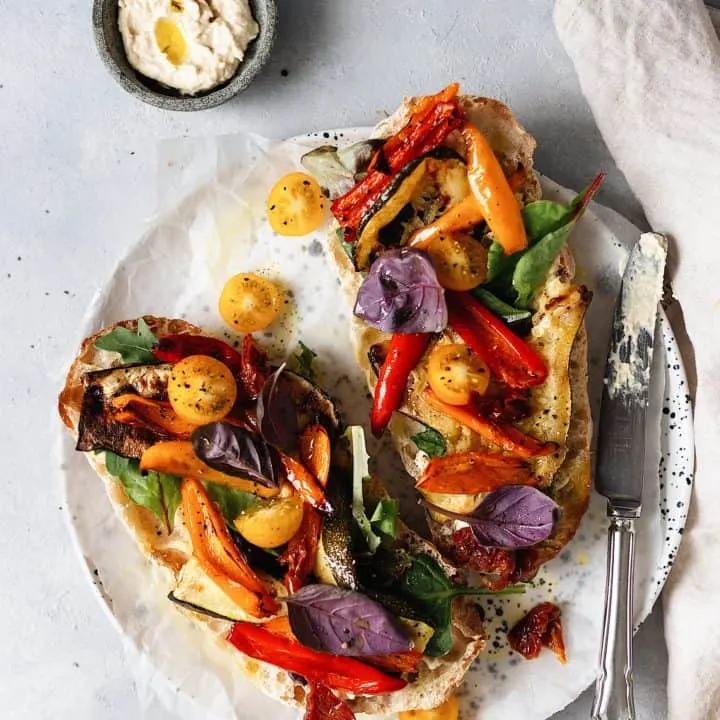 Summer Roasted Vegetable Toasted Sandwich
Make the most out of summer vegetables with this roasted vegetable toasted ciabatta sandwich. Full of colour, texture and flavour this if the perfect lunch sandwich. Vegan, 30 minutes.
Ingredients
1 red/orange pepper
1 courgette
6 cherry tomatoes - yellow or red
1/4 cup hummus
6 basil leaves
4 sun-dried tomatoes
Handful of mixed salad leaves
1 ciabatta roll
1 tbsp vegan butter
Optional - 2 slices vegan cheese
Instructions
Preheat the oven to 180C/350F.
De-seed the peppers and cut into slices. Slice the courgette into slices lengthways. Place on a baking tray, toss in oil liberally and sprinkle with sea salt and black pepper. Put in the oven for around 20 minutes.
Slice the ciabatta in half, spread with some vegan butter and cheese if using. Place on a baking tray.
Once the vegetables are cooked, turn the oven to grill and place the ciabatta in. Keep an eye on it so it doesn't burn and take it out when it is lightly toasted and the butter and cheese is melted if using.
Spread the hummus on top of the cheese, place the peppers and courgette on top and then the cherry tomatoes, sun dried tomatoes, salad leaves and basil. Sprinkle some sea salt and pepper on top.
Serve as an open sandwich or gently place one half on top of the other and push down.