Fragrant, spicy and creamy vegan thai green curry with tofu and vegetables. Made with a fresh, better than store bought, homemade curry paste!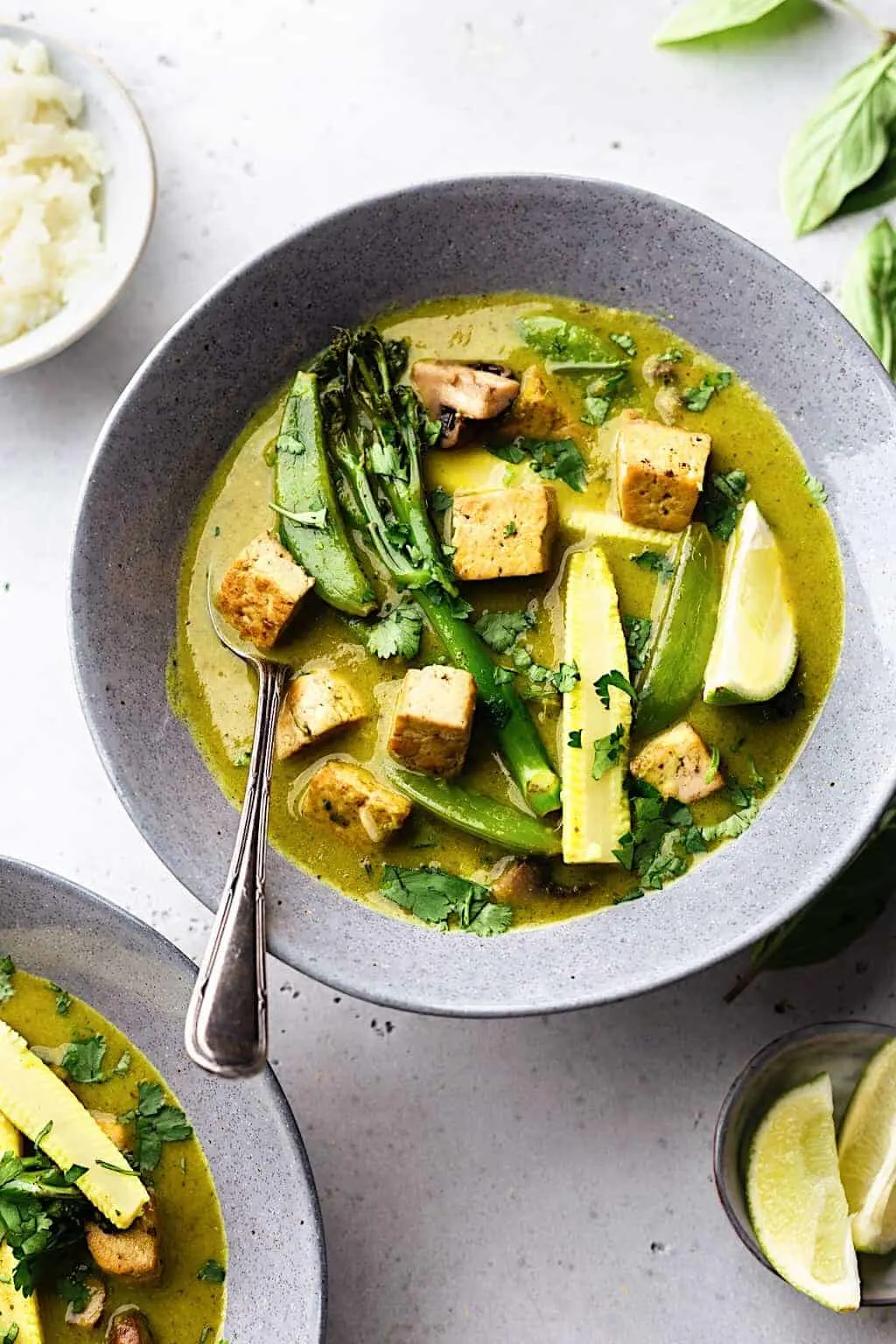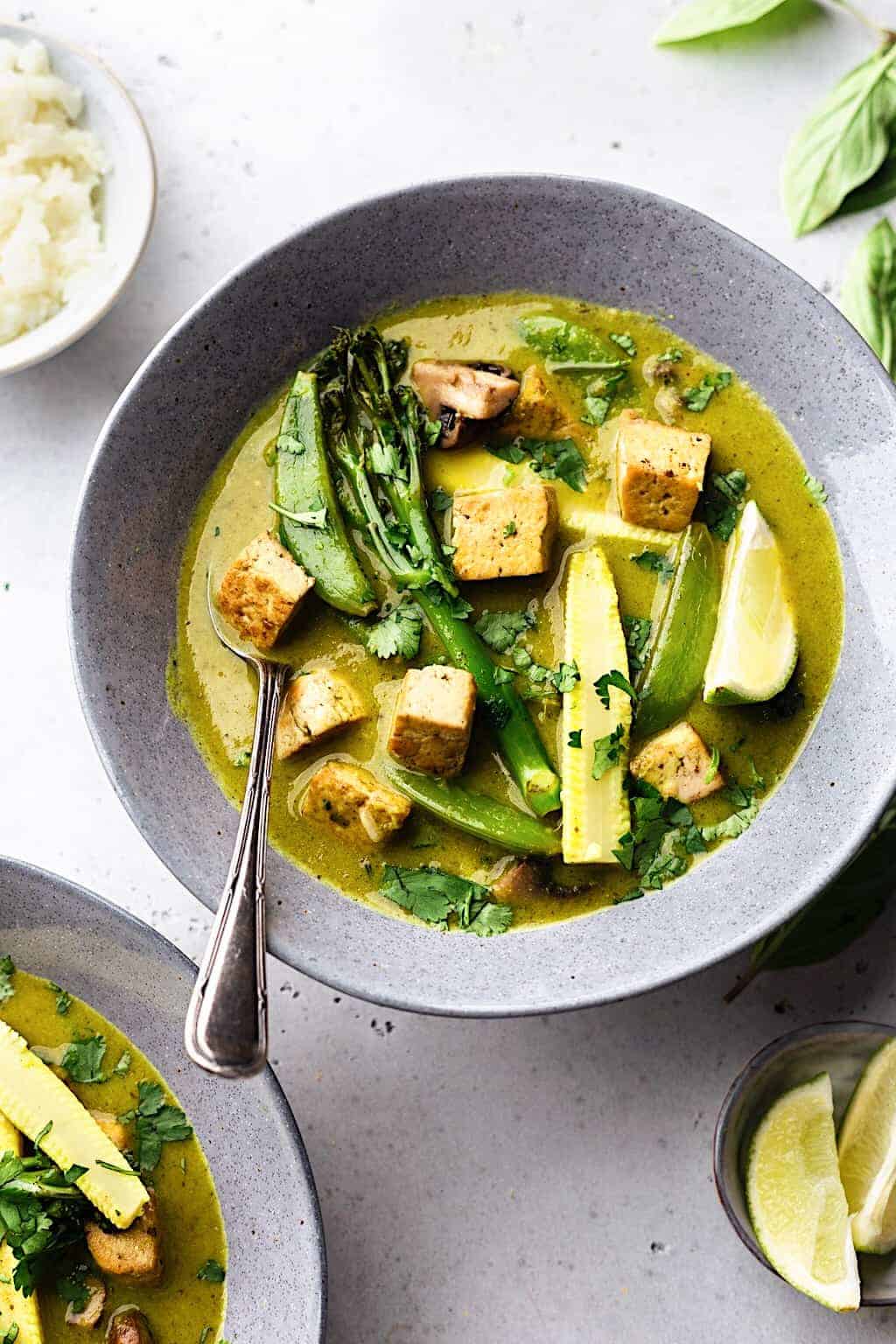 It's one of the best thai curries out there and I have it very regularly, so I can't wait to share this with you!
I've chosen to use tofu as the protein in this curry and is usually my go to but you could swap for chicken style pieces, seitan, tempeh or just leave it out and add more veggies!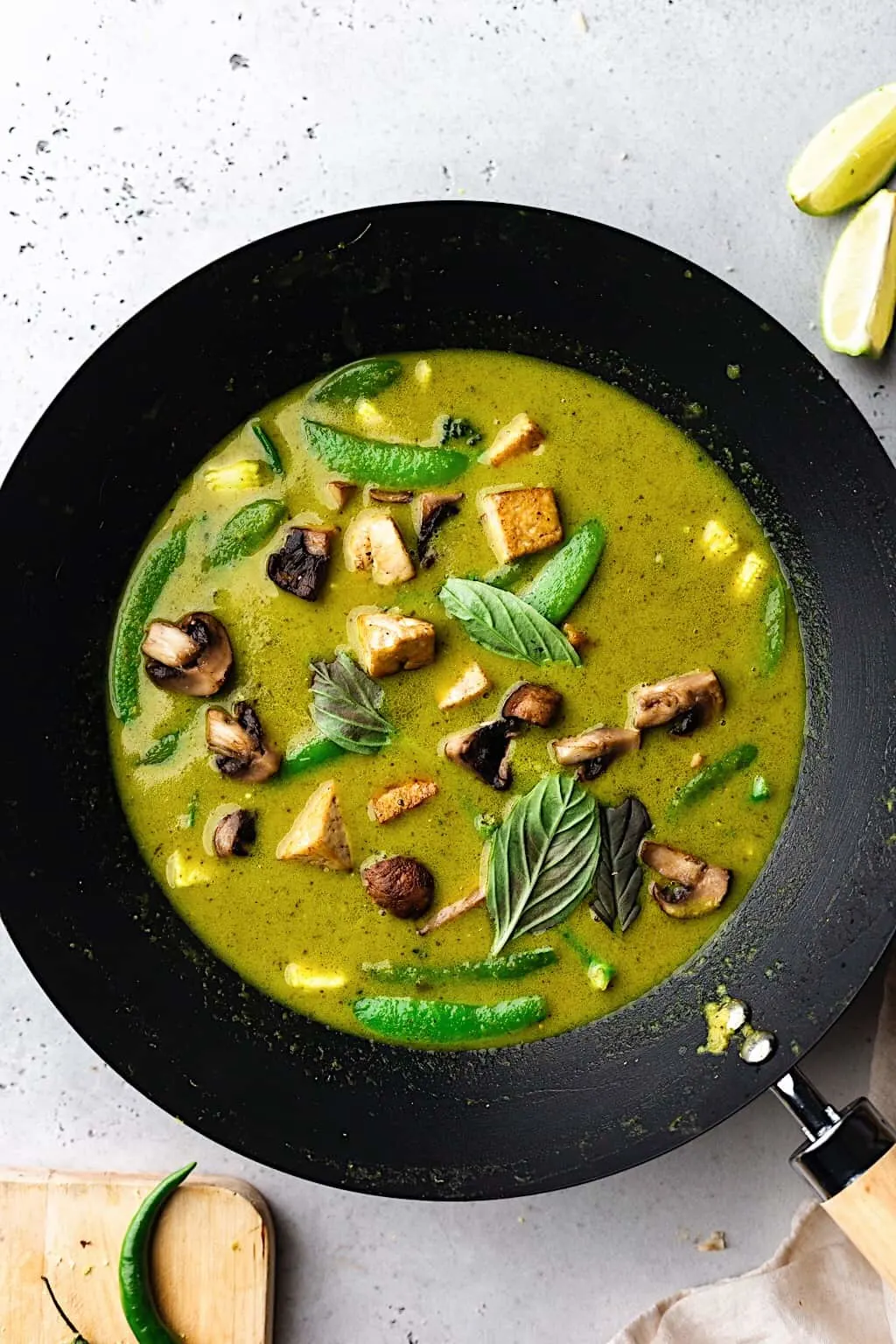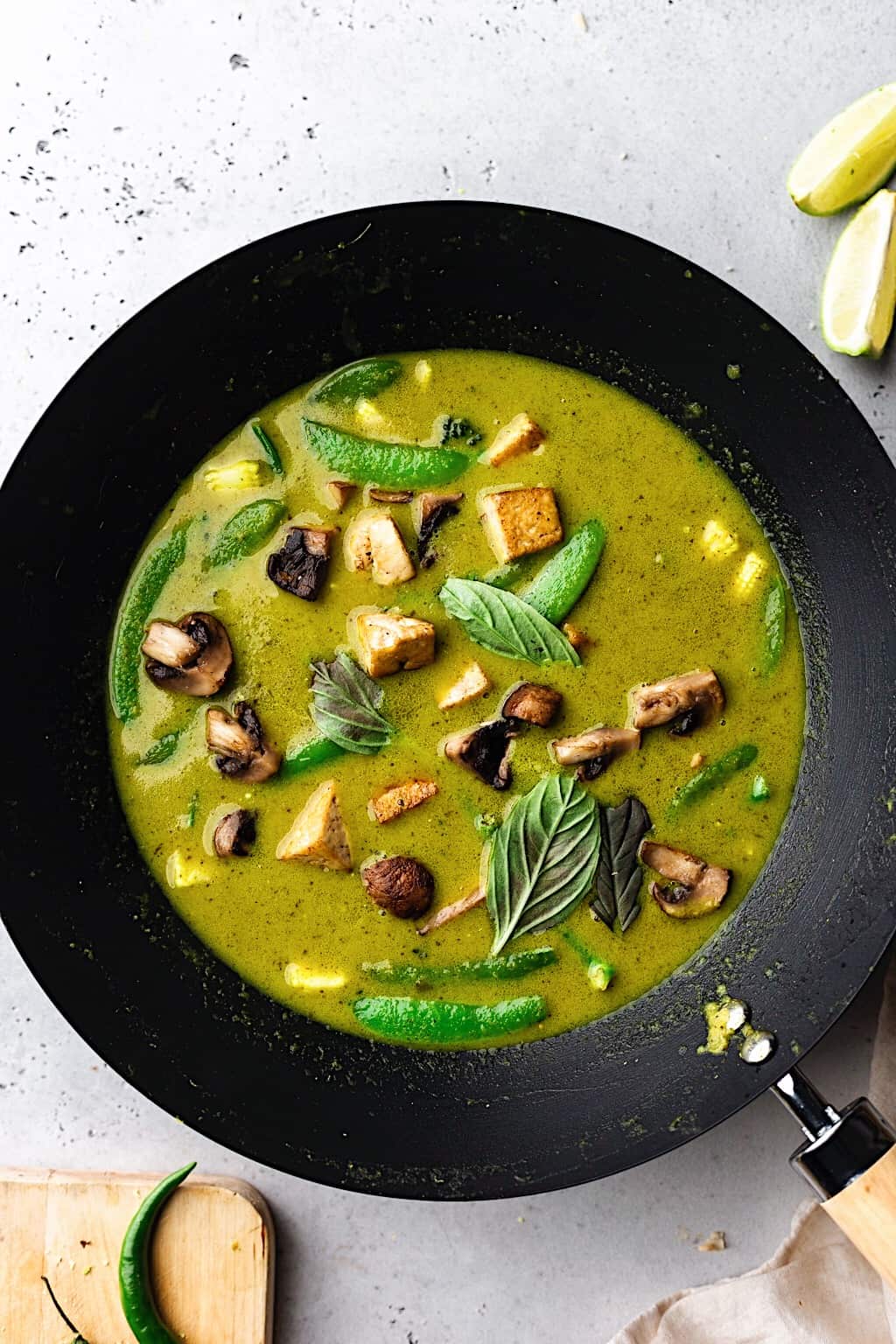 For the veggies we've got tenderstem broccoli, sugar snap peas, baby corn and mushrooms. I love the texture and flavour these add, but again you can switch for whatever you have on hand or prefer!
How to make thai green curry paste:
Making your own curry paste is made easy now you can get all the ingredients in most large supermarkets! This is really handy if you don't have an asian supermarket near you!
Here is what you'll need: fresh coriander, lemongrass, galangal, ginger, thai green chillies, shallot, garlic, lime zest, vegan fish sauce, ground turmeric, ground coriander, ground cumin, salt and pepper.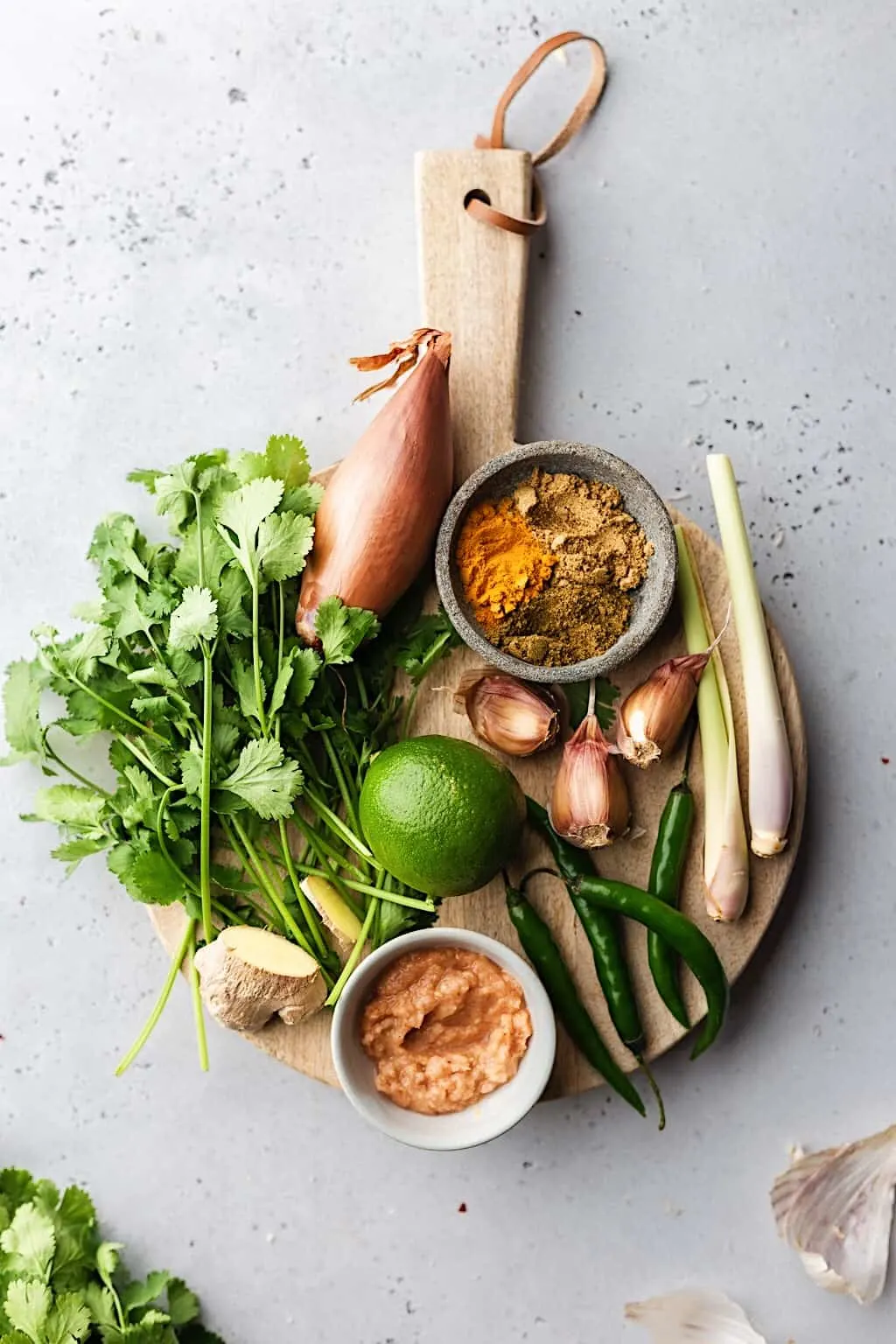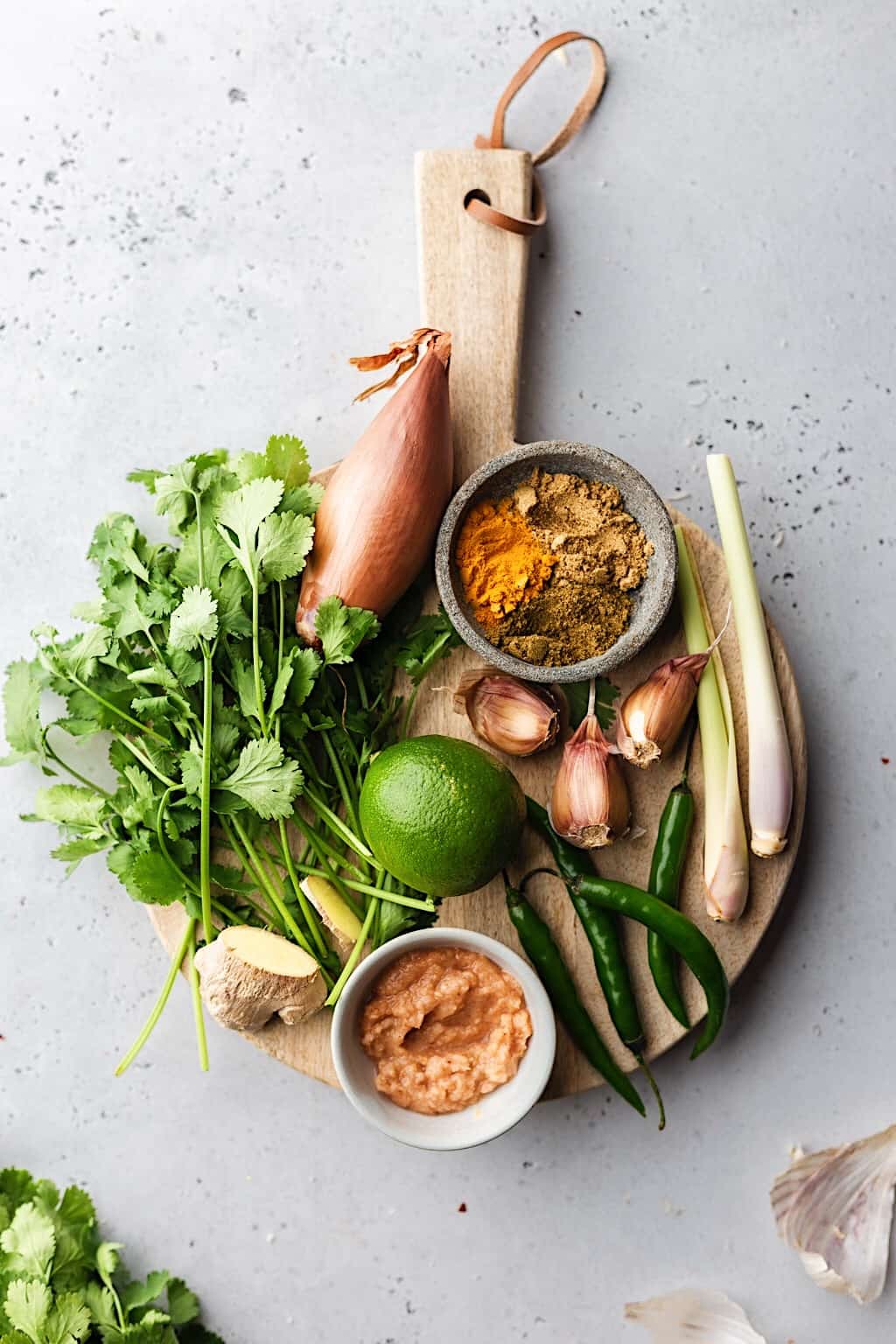 It may sound like a long list but you probably have some of them in your pantry already.
I have found all these ingredients in Waitrose or Sainsburys, the one that might be harder to find is the vegan fish sauce.
Waitrose sell a brand called Thai Taste and it's called vegetarian fish sauce. It's a great ingredients have for asian cooking as a lot of recipes call for it.
To make the paste we are going to roughly chop the bigger ingredients and place in a food blender. Use a blender if you have one, a food processor might struggle with the tougher ingredients and the paste won't be as smooth.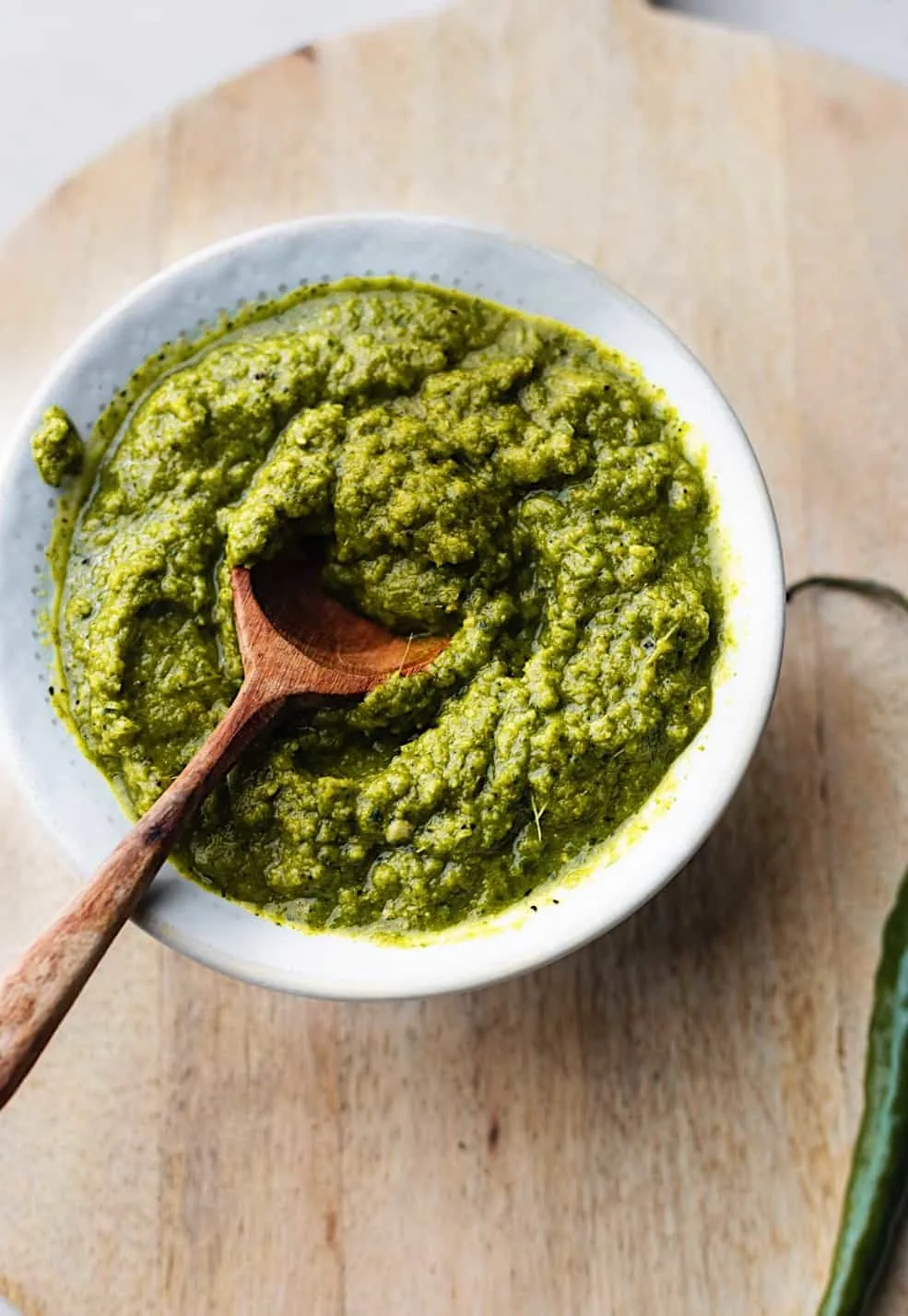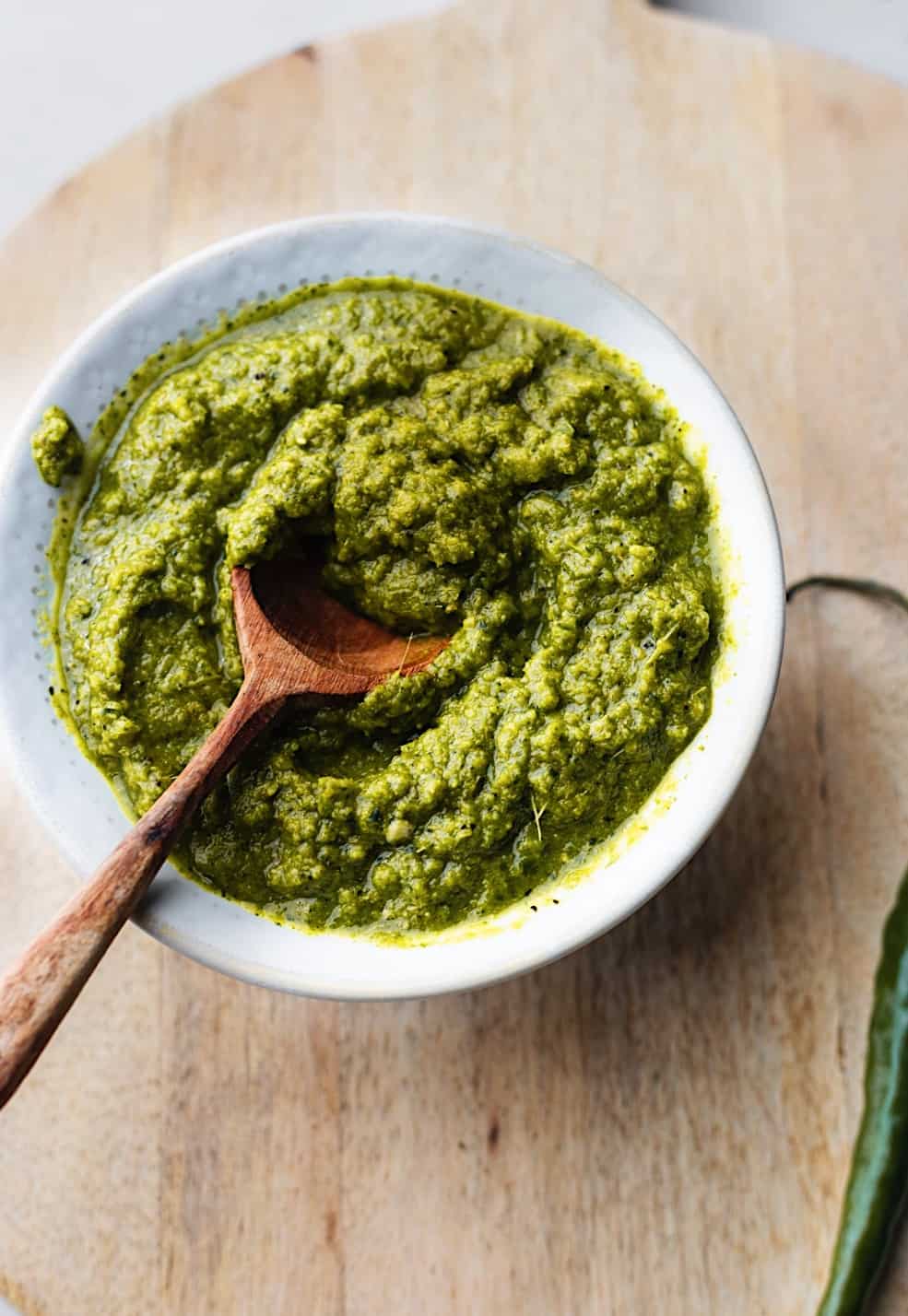 Add a splash of water if needed to loosen it. It will be a beautiful vibrant green colour, but don't be tempted to try it as it will be spicy!
You can adjust the spiciness as you wish. Thai green curry is meant to be spicy and I find two green chillies give the right amount of spice. If you're cautious, you can deseed them. If you love spice, add another green chilli!
How to make vegan thai green curry:
Now it's time to start the curry. In a medium size frying pan, fry the tofu and mushrooms in a bit of oil. Fry them for around 10 minutes, until the tofu is golden on all sides.
Have your veg ready to go, the babycorn, broccoli and sugar snap peas will only need a few minutes in the sauce to cook.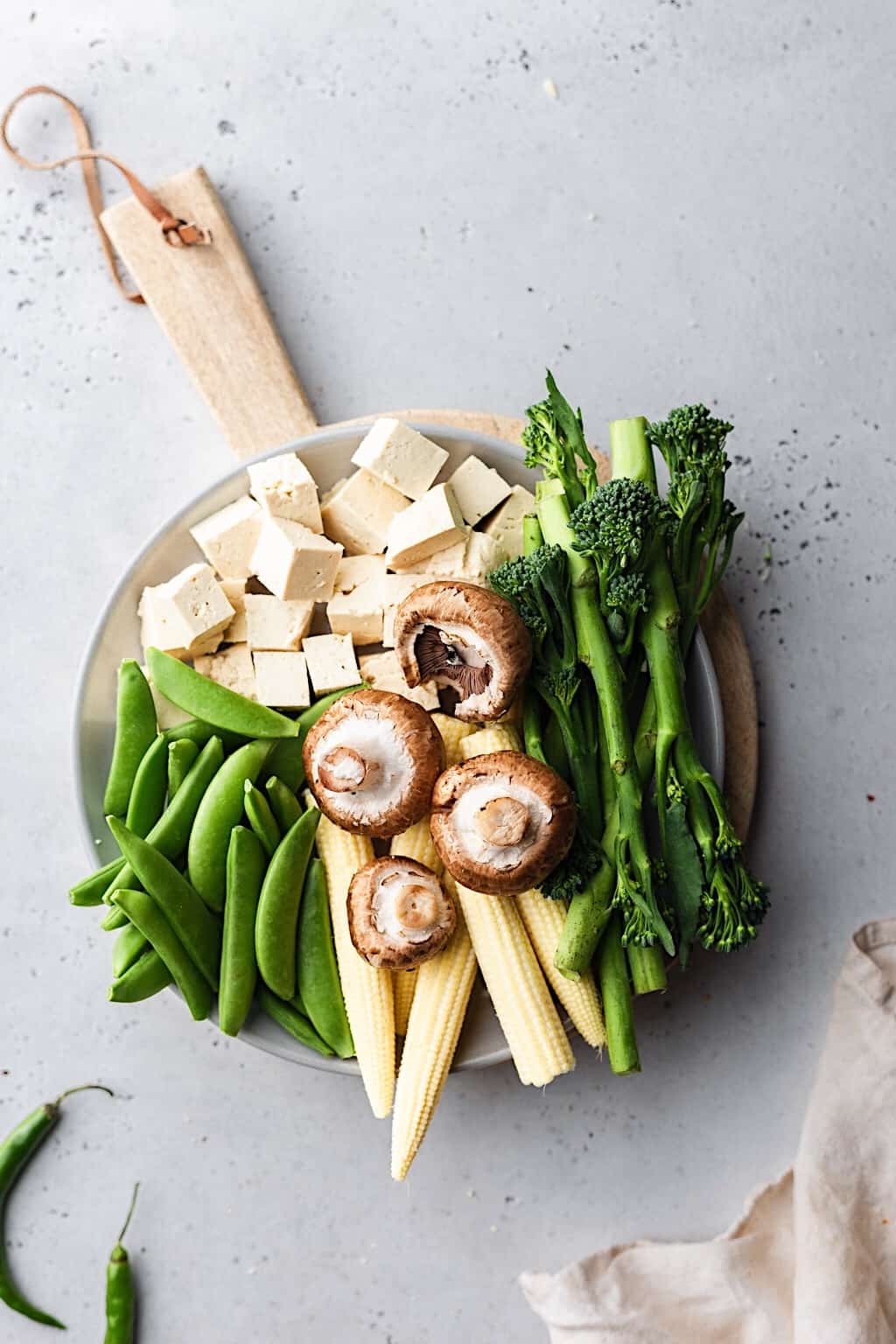 In a wok or skillet place the homemade curry paste and let fry off for a couple of minutes until fragrant and dried out a bit.
Add the coconut milk, vegetable stock, vegan fish sauce. sugar and kaffir lime leaves. Let this gently simmer for around 8 minutes and then add the veggies.
You want to make sure you are using full fat coconut milk for this, you won't get the same richness otherwise.
Add in a few thai basil leaves and the juice of half a lime at the end. Taste and season with salt and pepper as needed.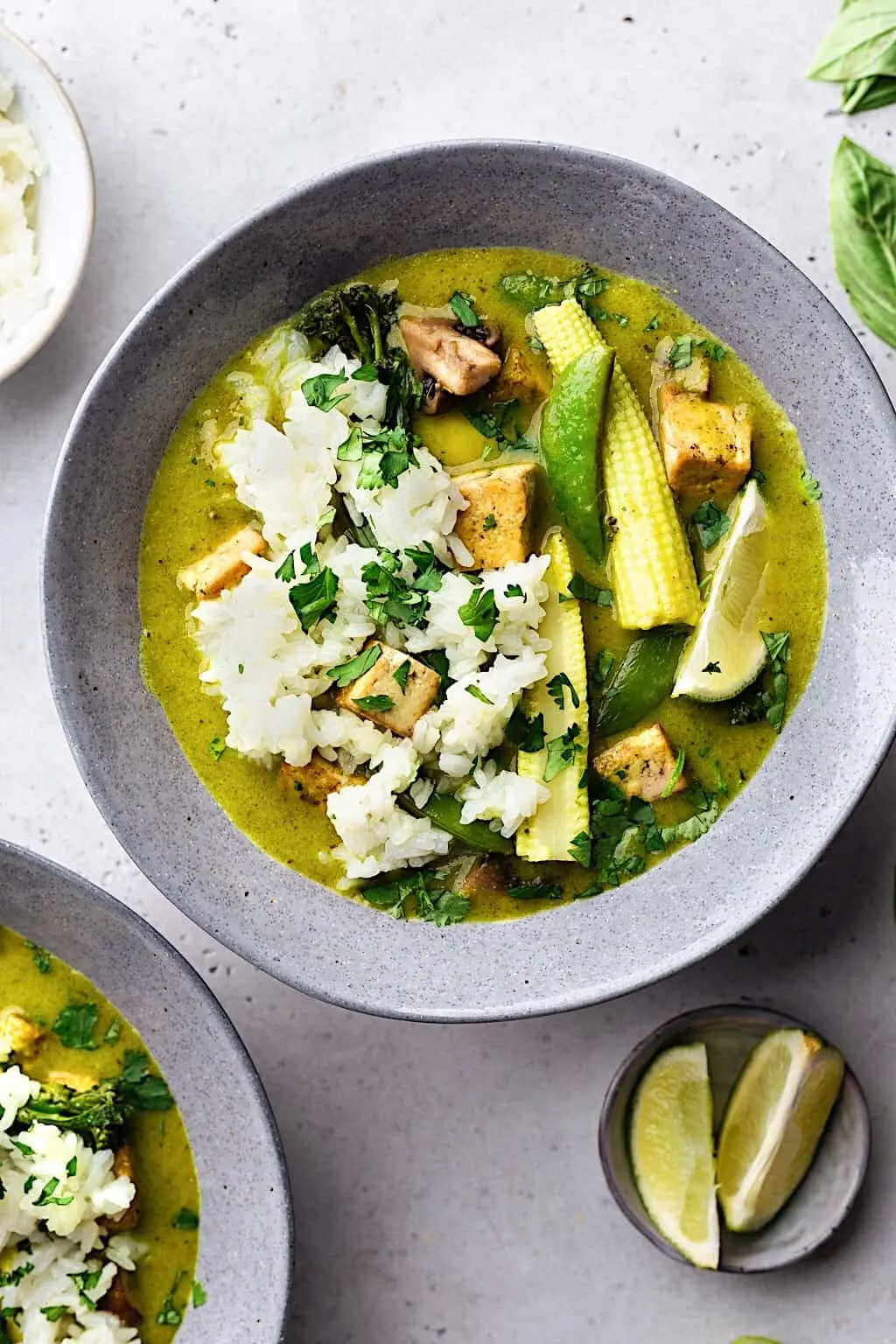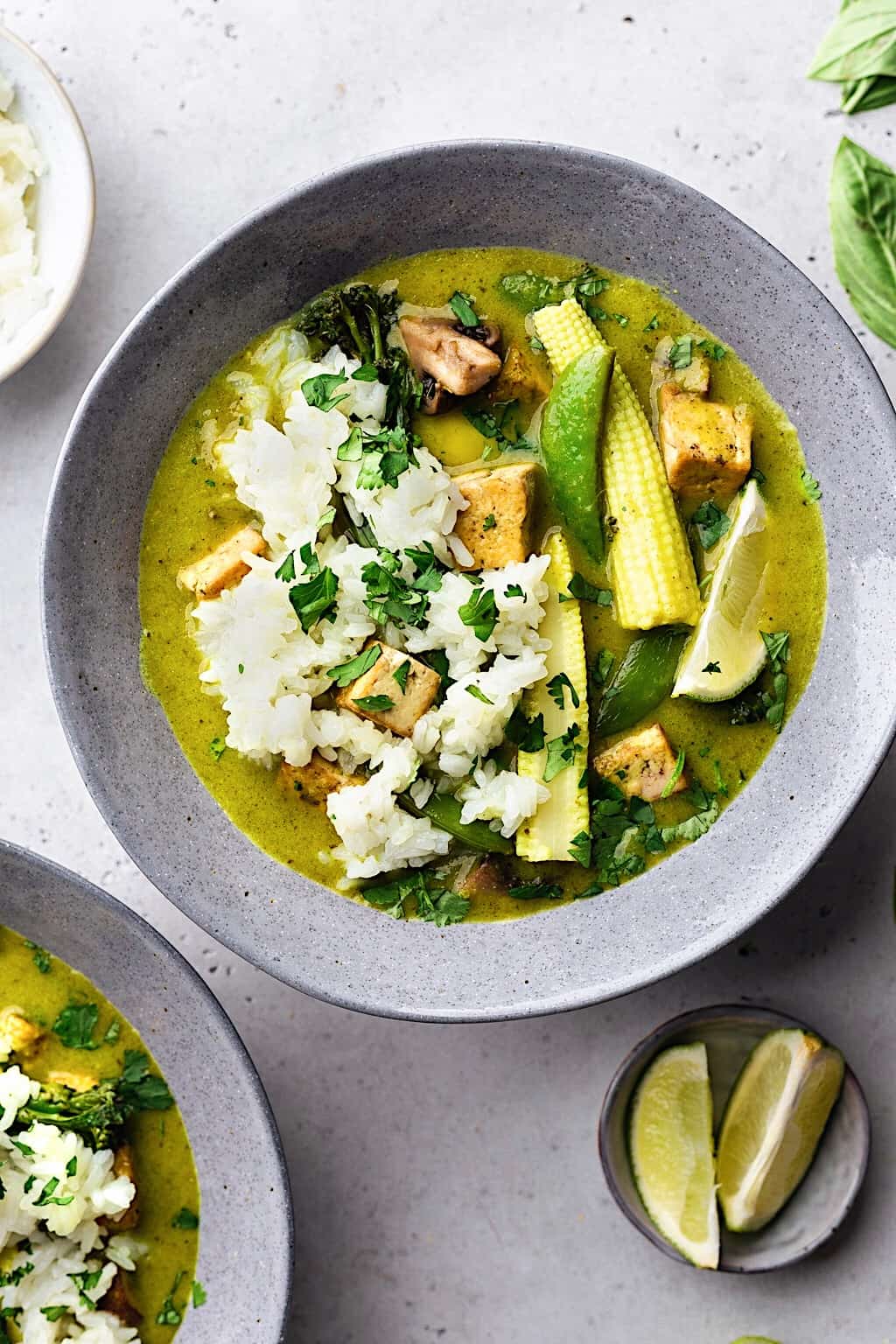 Why you should make this thai green curry:
It's fresh and healthy and way tastier than a shop bought curry or curry paste.
It's FULL of flavour, you'll be wanting seconds or thirds!
You can adjust the spiciness as you wish.
For more thai inspired recipes you may enjoy these:
Thai Sweet Potato and Cauliflower Lettuce Wraps
Thai Tofu Satay with Peanut Sauce
Thai Sweet Potato and Carrot Soup
---
As always if you make this vegan thai green curry be sure to leave me a comment, rate this recipe and tag me on Instagram. I love seeing all your photos of my recipe recreations!
Don't forget to follow along on Facebook, Pinterest and Instagram – I'd love to see you all there!
---
NEVER MISS A RECIPE! GET MORE VEGAN RECIPES SENT STRAIGHT TO YOUR INBOX – SUBSCRIBE HERE 🙂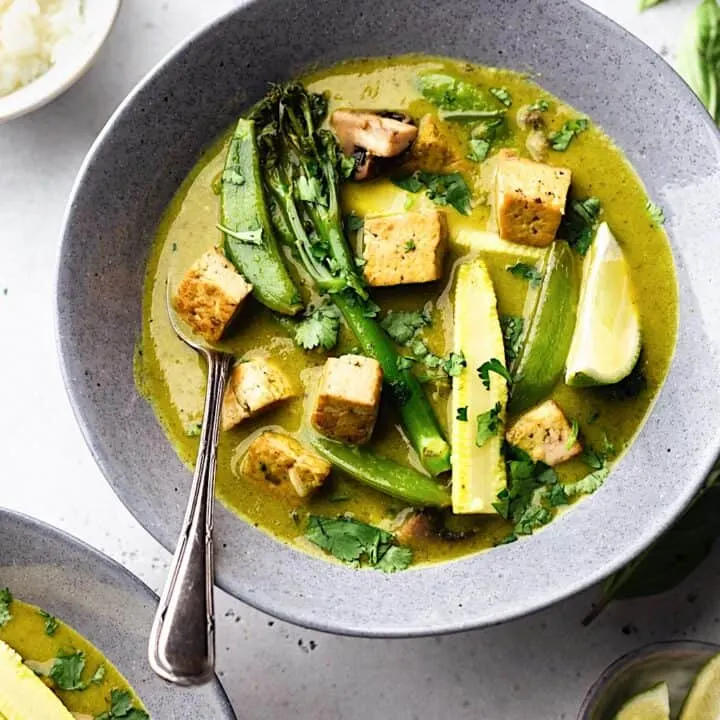 Thai Green Curry with Homemade Curry Paste
Tofu and vegetable vegan thai green curry with a homemade curry paste. It's full of flavour, fresh and healthy! Perfect any day of the week!
Ingredients
Green Curry Paste
1/2 cup packed coriander (or generous handful), leaves and stalks
3 garlic cloves
1 shallot
1/2 inch ginger
2 thai green chillies (see notes)
2 lemongrass stems
1/2 inch fresh galangal
1 tbsp lime zest
1 tsp ground cumin
1/2 tsp ground turmeric
1/2 tsp ground coriander
1 tbsp vegan fish sauce
1-2 tbsp water to loosen
Thai Green Curry
300g tofu, firm
125g mushrooms
150g babycorn
100g tenderstem broccoli
75g sugar snap peas
1 tin coconut milk, full fat
1 cup / 240ml vegetable stock
2 tsp brown sugar
2 keffir lime leaves
1 tbsp vegan fish sauce
1/2 tsp salt
Juice of 1/2 lime
4 thai basil leaves
To Serve
Jasmine Rice
Extra coriander
Instructions
Remove the tough outer layers of the lemongrass and roughly chop the stems. Roughly chop the shallot, ginger, garlic and chillies. Grate the galangal.
Add to a food blender with all the remaining ingredients. Blitz until smooth, add some water to loosen if needed.
Cut the tofu into 1/2 inch squares, quarter the mushrooms. Place in a frying pan on medium heat with 2 tbsp of oil. Fry for 10 minutes until the tofu is golden all over and the mushrooms are sauteed.
In a wok or skillet add the thai green curry paste and let cook for a couple of minutes on medium heat. It should be nice and fragrant and dried out a little.
Add the coconut milk, stock, sugar, vegan fish sauce and keffir lime leaves.
Bring to a gentle simmer for 8 minutes. Then add the babycorn (cut in half lengthways) , sugar snap peas and broccoli.
Simmer for another 3 minutes until the veggies are soft but still have a bit of crunch.
Add in the tofu, mushrooms, juice of half a lime and thai basil, stir and taste. Season with salt and pepper as needed.
Serve with jasmine rice and some extra coriander.
Notes
Adjust the spiciness as desired. Thai green chillies are spicy, I find 2 to be the right amount of heat. But you can deseed them or add more!
You can sub the fresh galangnal for 2 tbsp galangal paste. If you can't find any, sub for some extra ginger.
You can sub the tofu for seitan, chicken style pieces or tempeh. Sub veggies for anything you have on hand or prefer!
The paste can be made ahead of time and frozen in an air tight container.
Curry paste recipe adapted from Recipe Tin Eats
Recommended Products
As an Amazon Associate and member of other affiliate programs, I earn from qualifying purchases.