This sunflower seed red pepper romesco is a nut free twist on the classic spanish condiment! It's sweet, smoky and rich with flavour.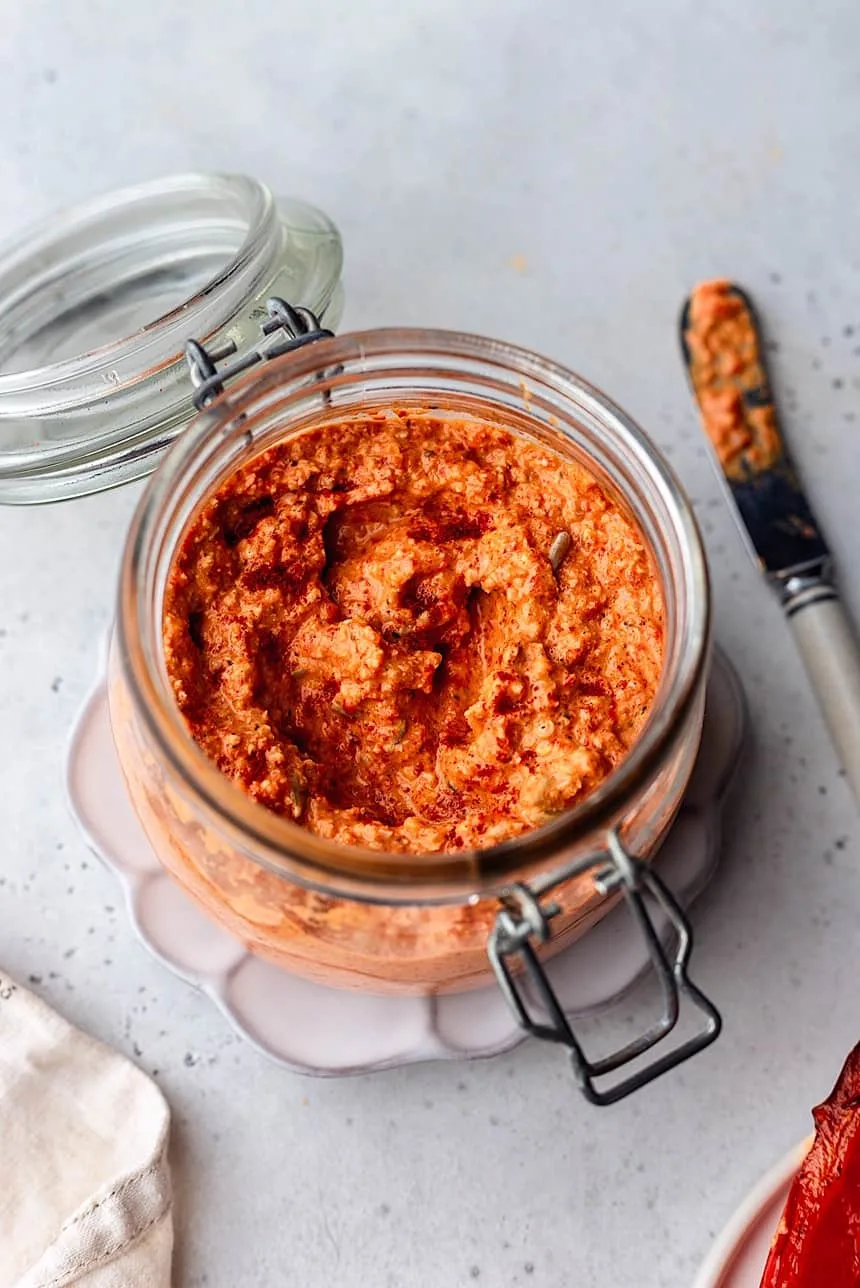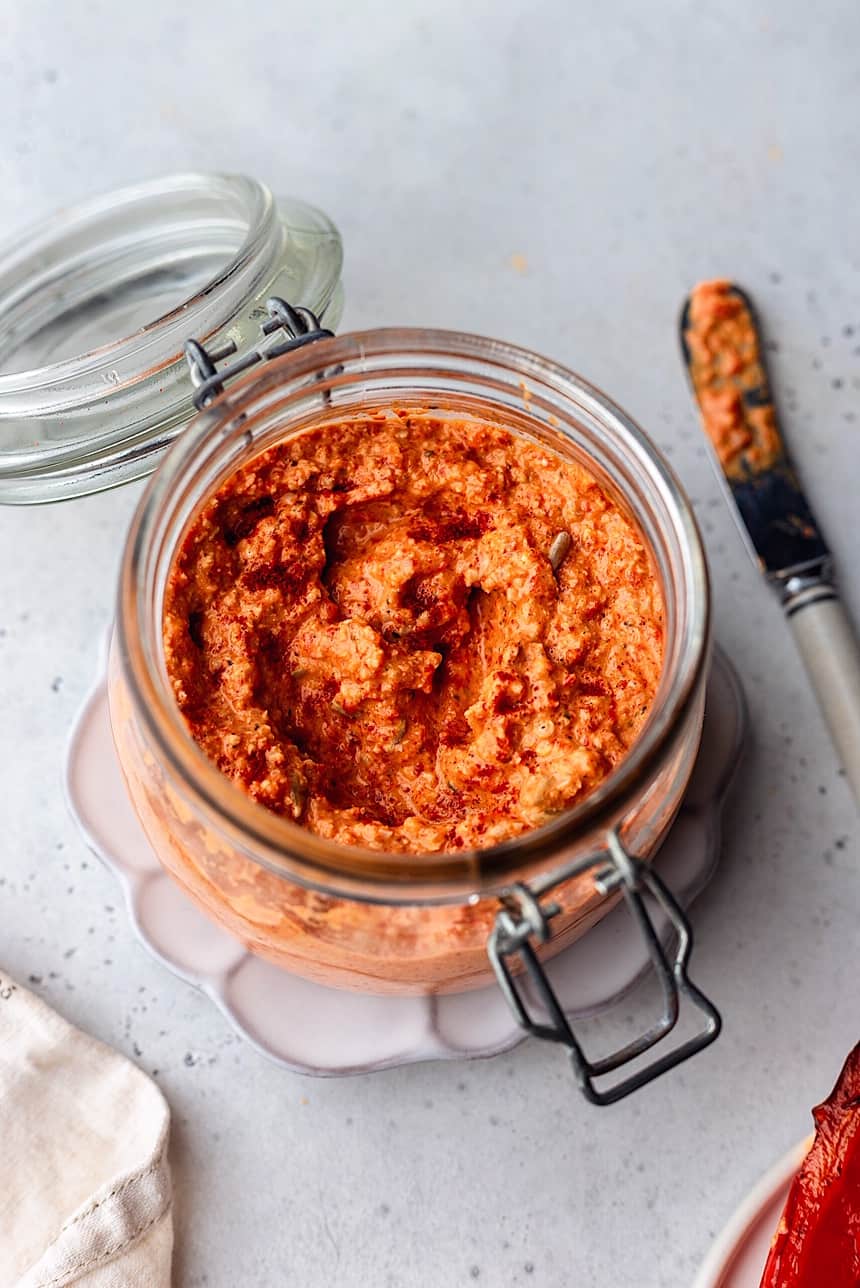 This sauce is perfect for spreading on toast, jazzing up veggies or adding to salads. It's so so simple and you probably already have all the ingredients to make it!
Traditionally romesco is made with almonds but I wanted to make a nut free version and oh my I'm so glad I did! Sunflower seeds have a mild nutty flavour and made for a great sub for almonds in this recipe.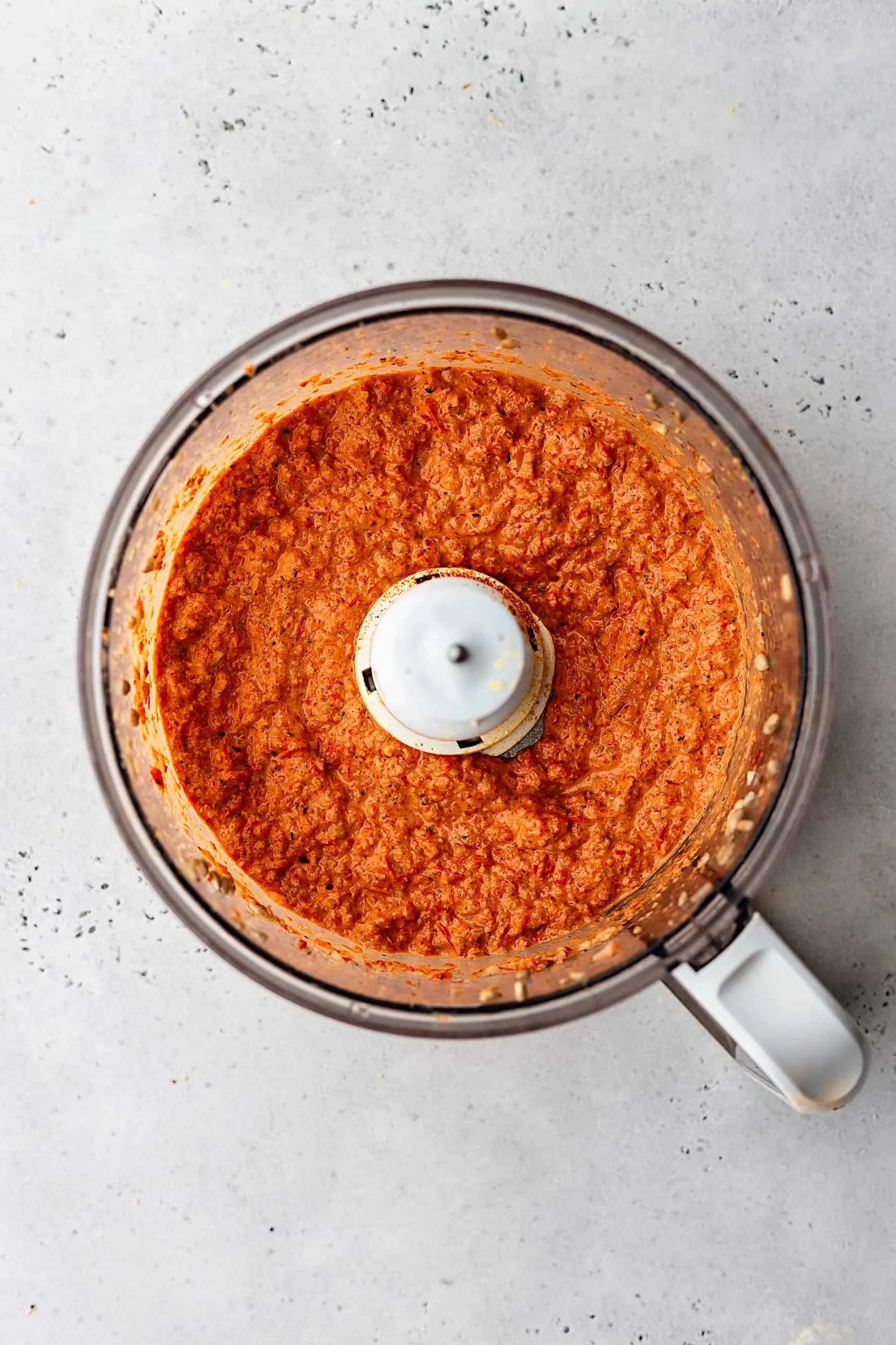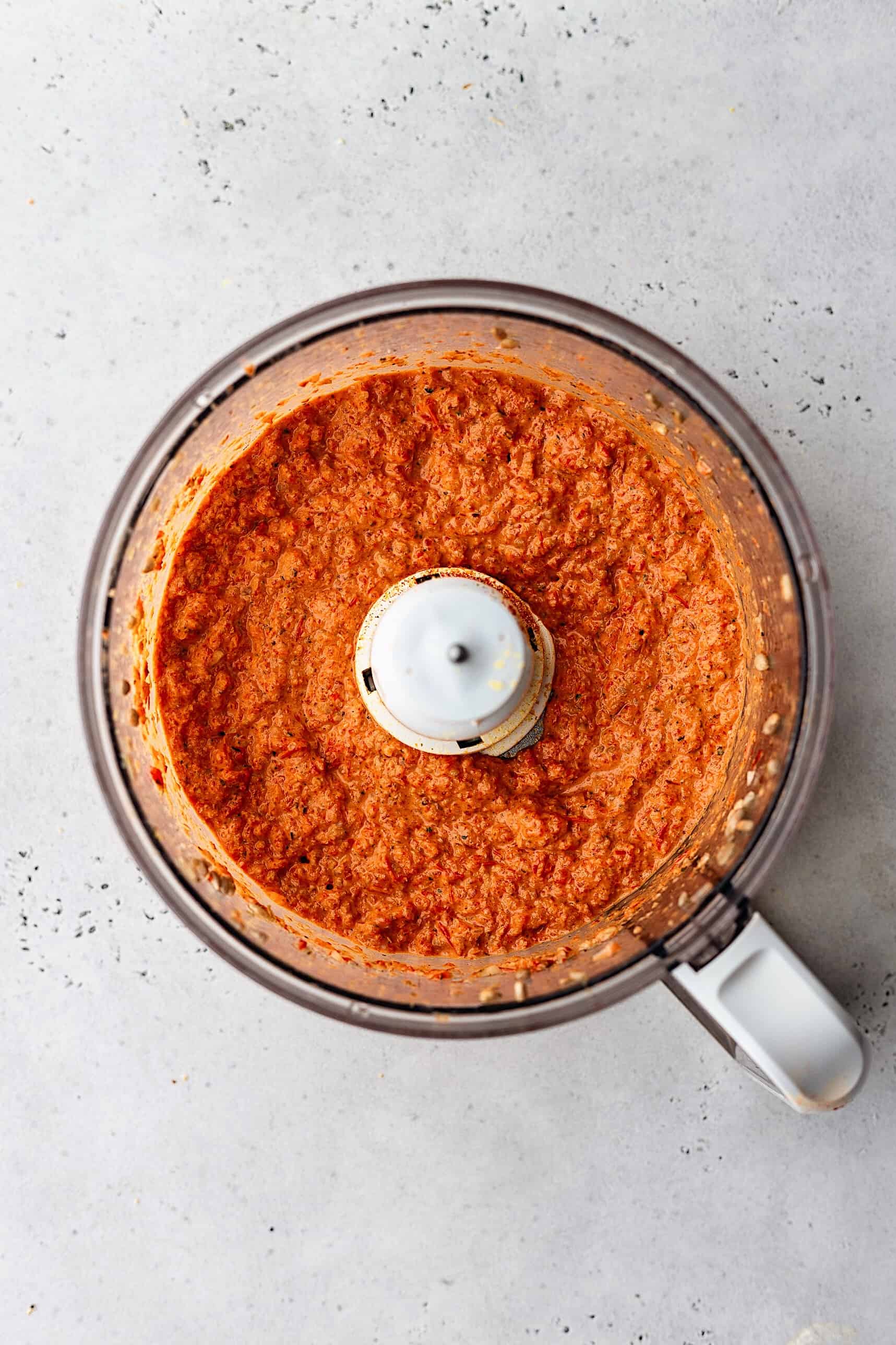 So what do you need? Red pepper, garlic, sunflower seeds, parsley, olive oil. red wine vinegar, lemon juice, salt and pepper! I also tested adding some nutritional yeast which is optional but I love the cheesy flavour it added!
Firstly we are going to roast the red pepper. Pick some that are nice and red they are sweeter and will give the sauce that lovely red colour.
Slice the peppers in half, de-seed and place on a baking tray with some oil, salt and pepper. These go into the oven at 200C/400F for 20-25 minutes until the skin is starting to brown and they are really soft (check by piercing with a knife).
Whilst the peppers are roasting you can get everything else ready and place them in a food processor. You can also do this in a blender if you don't have a food processor but you will need to scrape the sides down a few times whilst blending.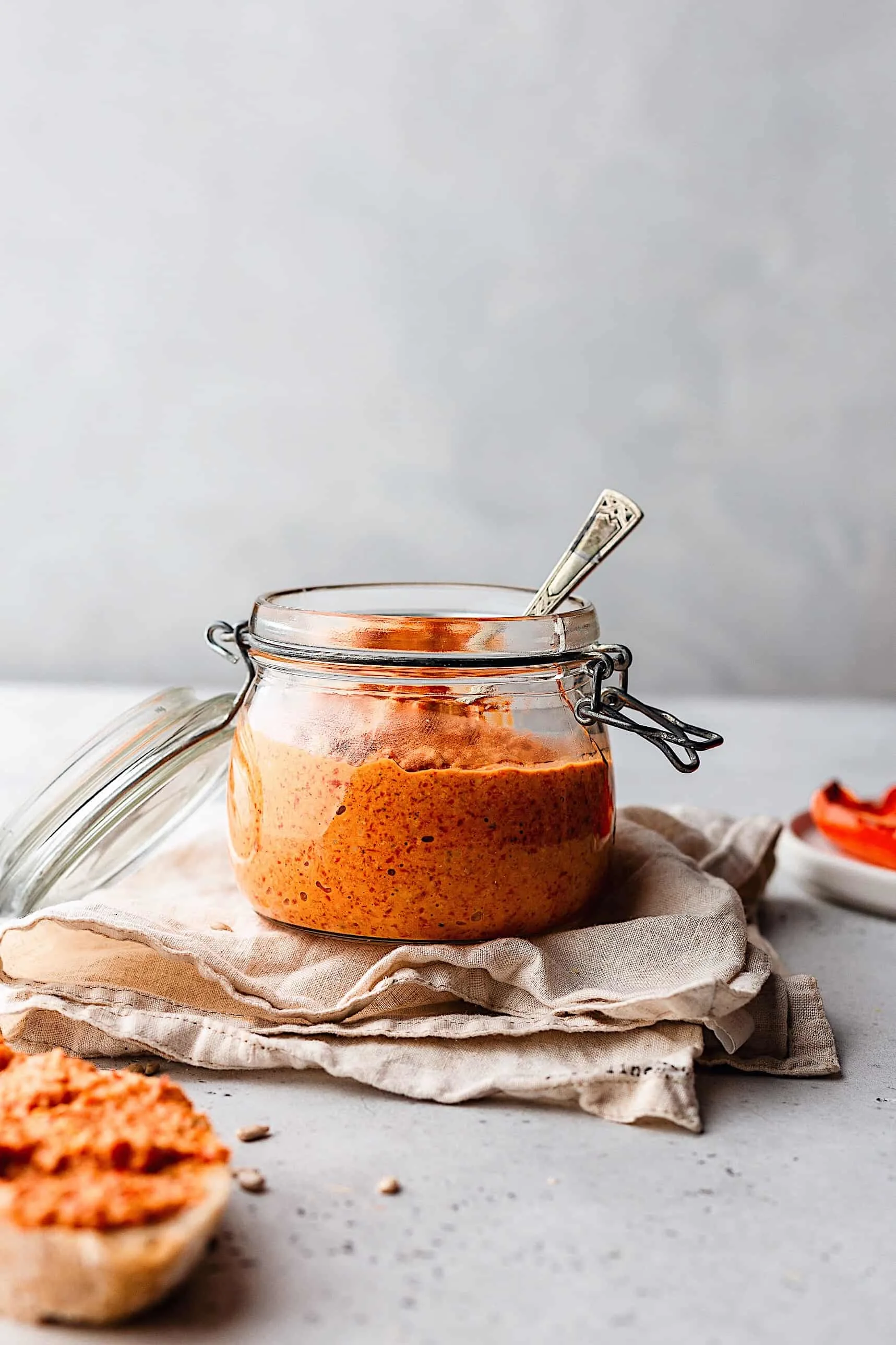 Into the food processor place all the ingredients and the roasted red pepper and then blitz in 20 second intervals. You may need to scrape down the sides.
I like to leave this romesco sauce with some texture but if you want it smoother then blitz for longer, or transfer to a food blender.
Why you should make this sunflower seed romesco:
It's vegan, nut free and gluten free!
It makes for a great sandwich spread, dip, pasta sauce or buddha bowl topping. The options are endless! Think of it like a pesto or hummus – two things which I could add to just about everything!
It's SO simple and easy to make! If you don't want to roast the peppers yourself, use jarred ones! Less than 5 minutes and no cooking!
I've been enjoying this sunflower seed romesco on toasted sourdough for breakfast, you can't beat it! I plan on having it on top of a baked potato for dinner too!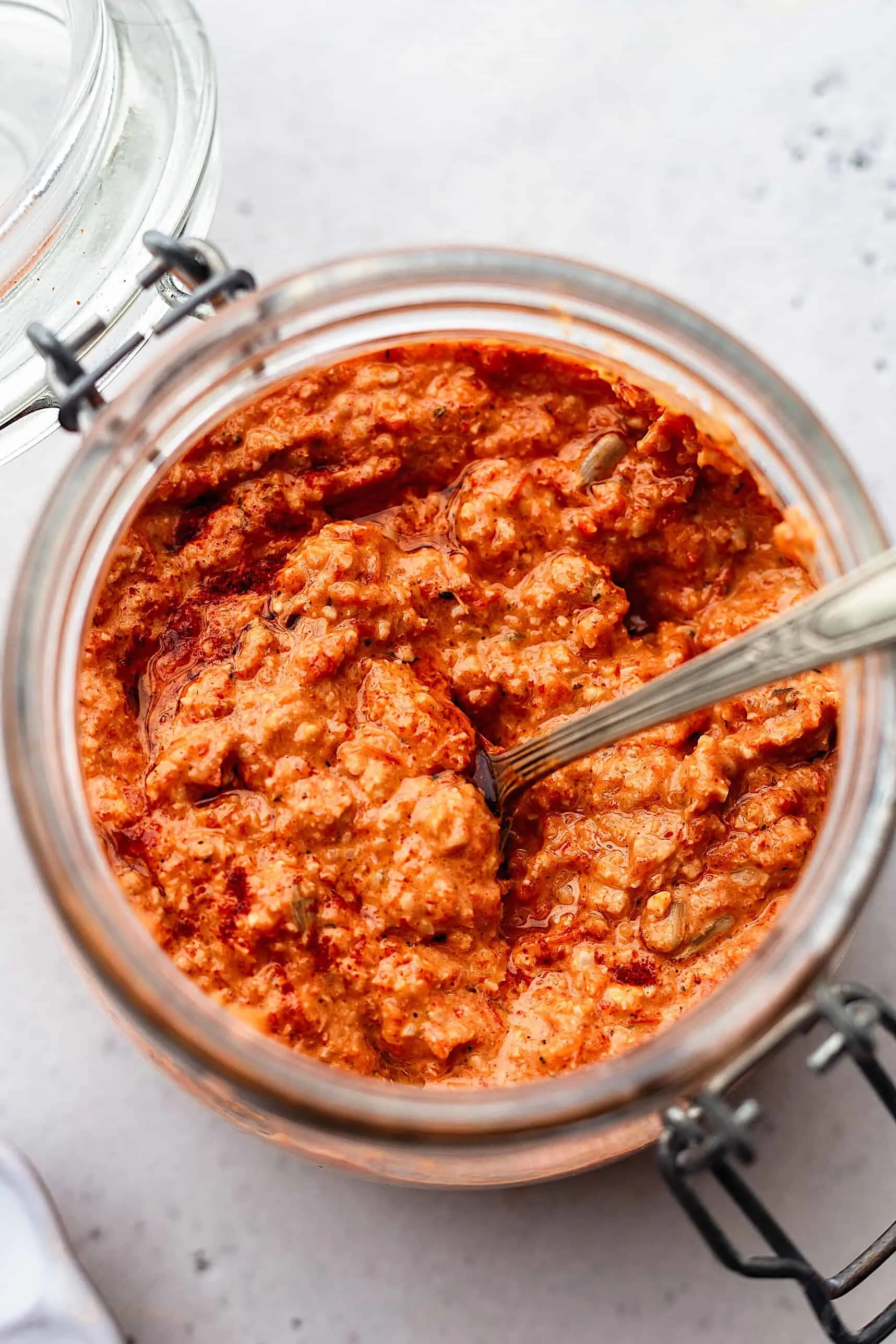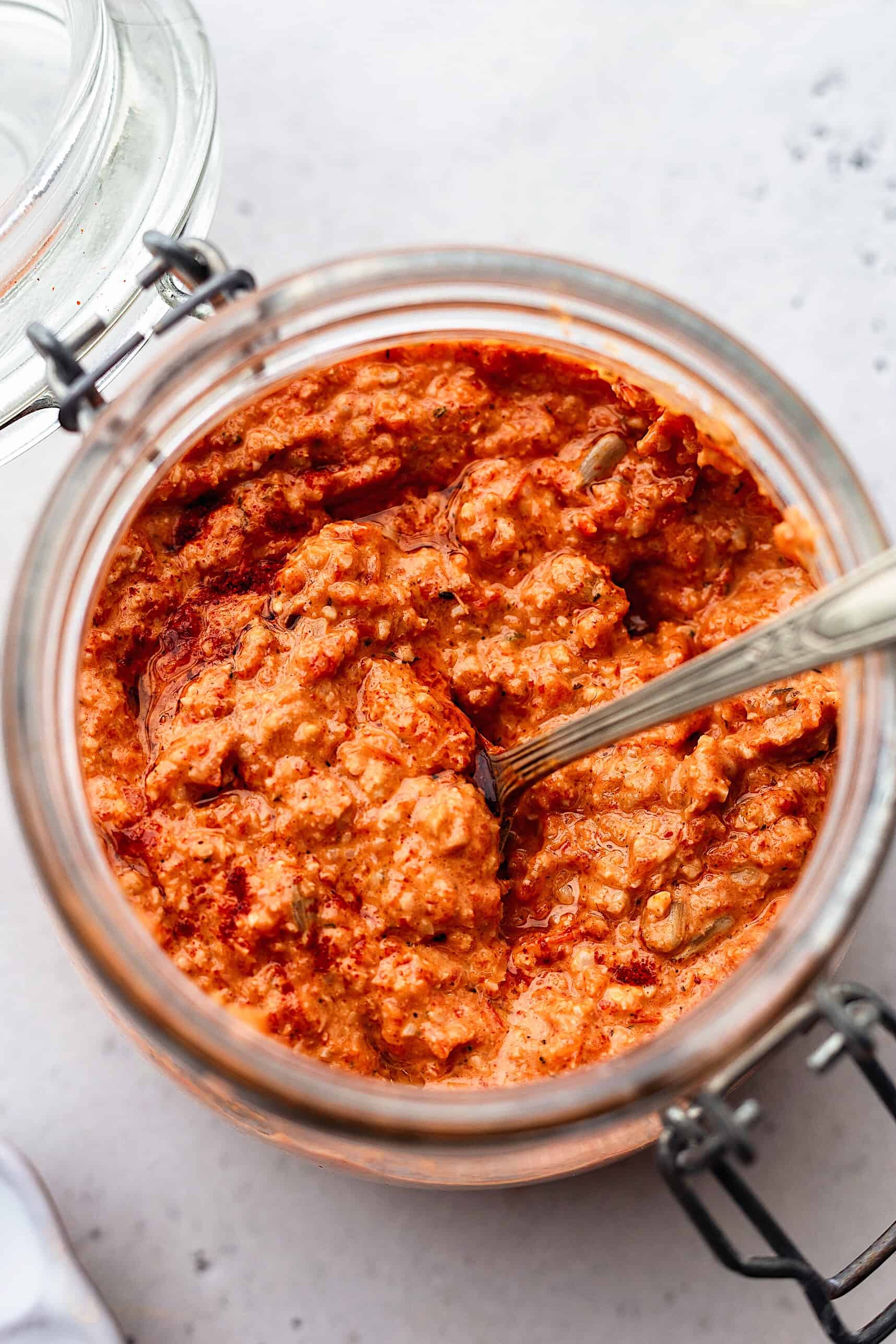 The inspiration behind this recipe comes from my recent visit to Spain where I was catering at a yoga retreat. My friend who runs them is nut free and I really wanted to incorporate as many Spanish recipes as I could.
So I knew I had to make romesco and make it nut free! Luckily everyone enjoyed it and I'm excited to share it with you!
I have a few other Spanish recipes planned for the blog but I already have a chorizo and veggie paella on the blog! Everyone I've made this for has loved it!
For more dips and sauces you may enjoy these:
As always if you make this sunflower seed romesco be sure to leave me a comment, rate this recipe and tag me on Instagram. I love seeing all your photos of my recipe recreations!
Don't forget to follow along on Facebook, Pinterest and Instagram – I'd love to see you all there!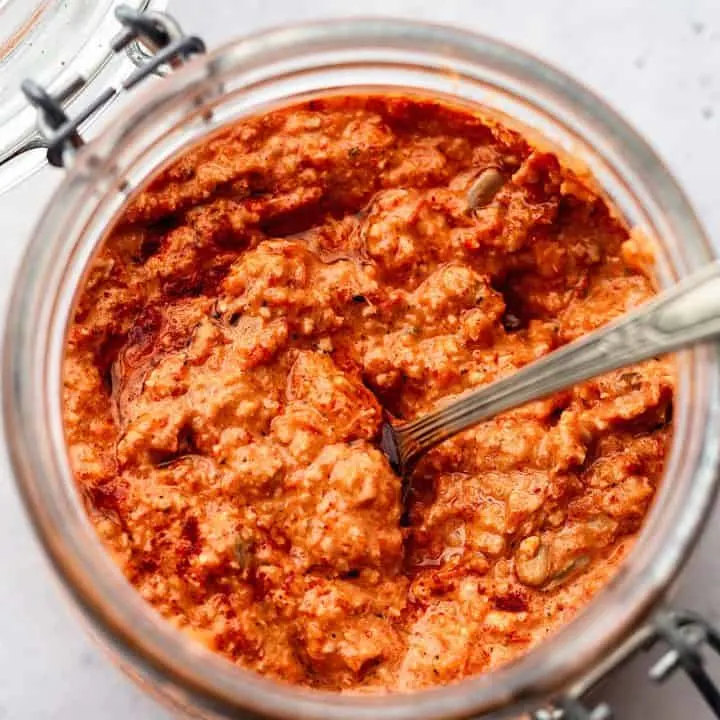 Sunflower Seed Red Pepper Romesco Sauce
This sunflower seed red pepper romesco is a nut free take on the spanish classic! It's sweet, smoky, rich and so addictive!
Ingredients
2 large red peppers
3 garlic cloves
1/2 cup hulled sunflower seeds
1 tbsp red wine vinegar
1 tsp dried mixed herbs
2 tbsp fresh lemon juice
1 tbsp smoked paprika
1 tsp salt
1/2 cup extra virgin olive oil
2 tbsp nutritional yeast (optional)
Instructions
Preheat oven to 200C/400F.
Slice peppers in half lengthways, deseed and place on a baking tray. Toss in some oil, salt and pepper and place in the oven for 25 minutes.
Place remaining ingredients into a food processor.
Once the red pepper is soft (check by piercing with a knife) and starting to char remove from the oven and place into the food processor too.
Blitz in 20 second intervals, scraping down the sides if needed. I like to leave some texture in the sauce, but if you want it smoother keep blitzing or transfer to a food processor.
Enjoy straight away or keep in an air tight container in the fridge for 3-5 days!
Recommended Products
As an Amazon Associate and member of other affiliate programs, I earn from qualifying purchases.