This creamy, garlicky and smoky roasted eggplant dip is the perfect snack. Spread it on toast, use it as a dip for crudités or add to a buddha bowl.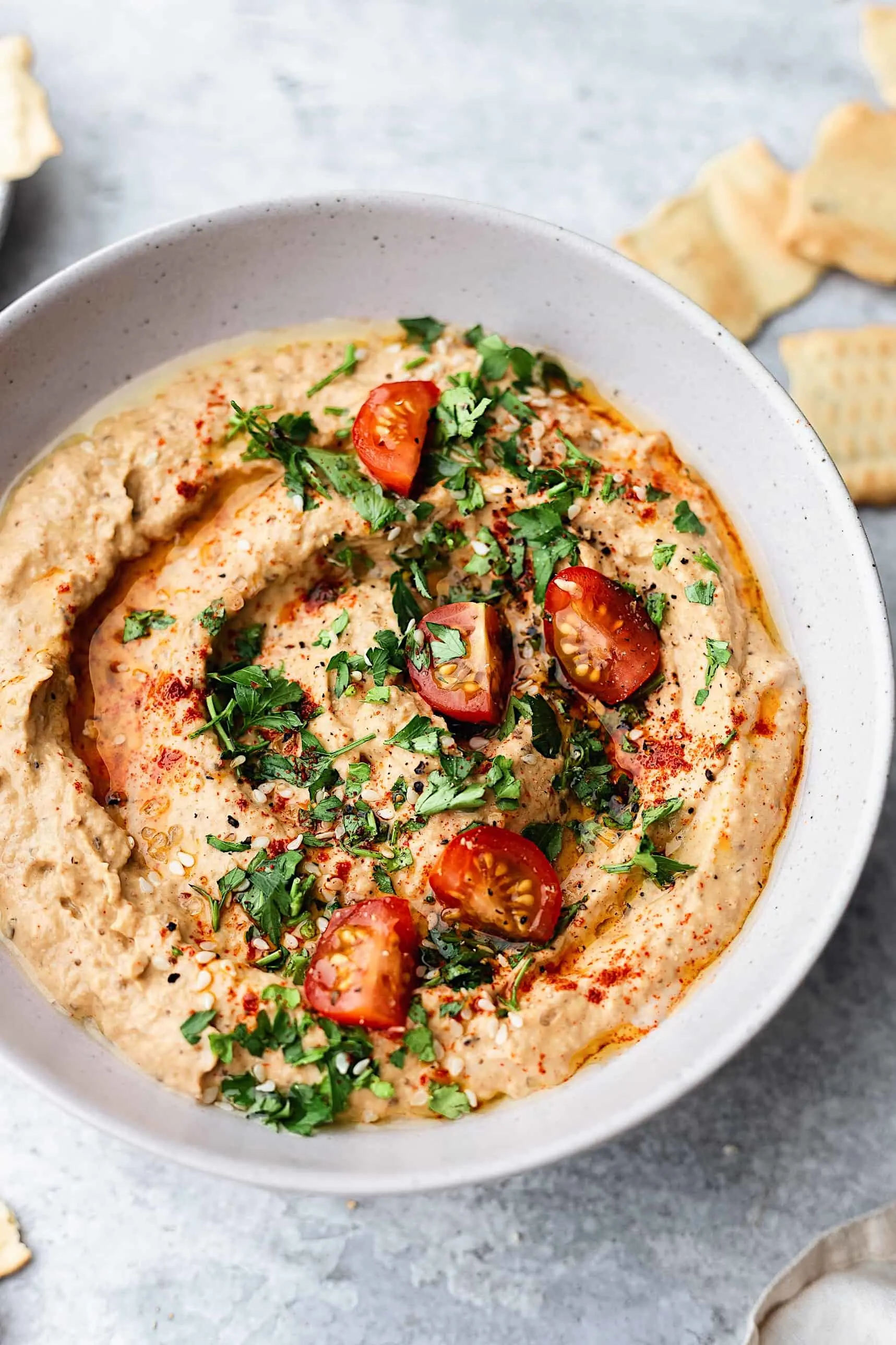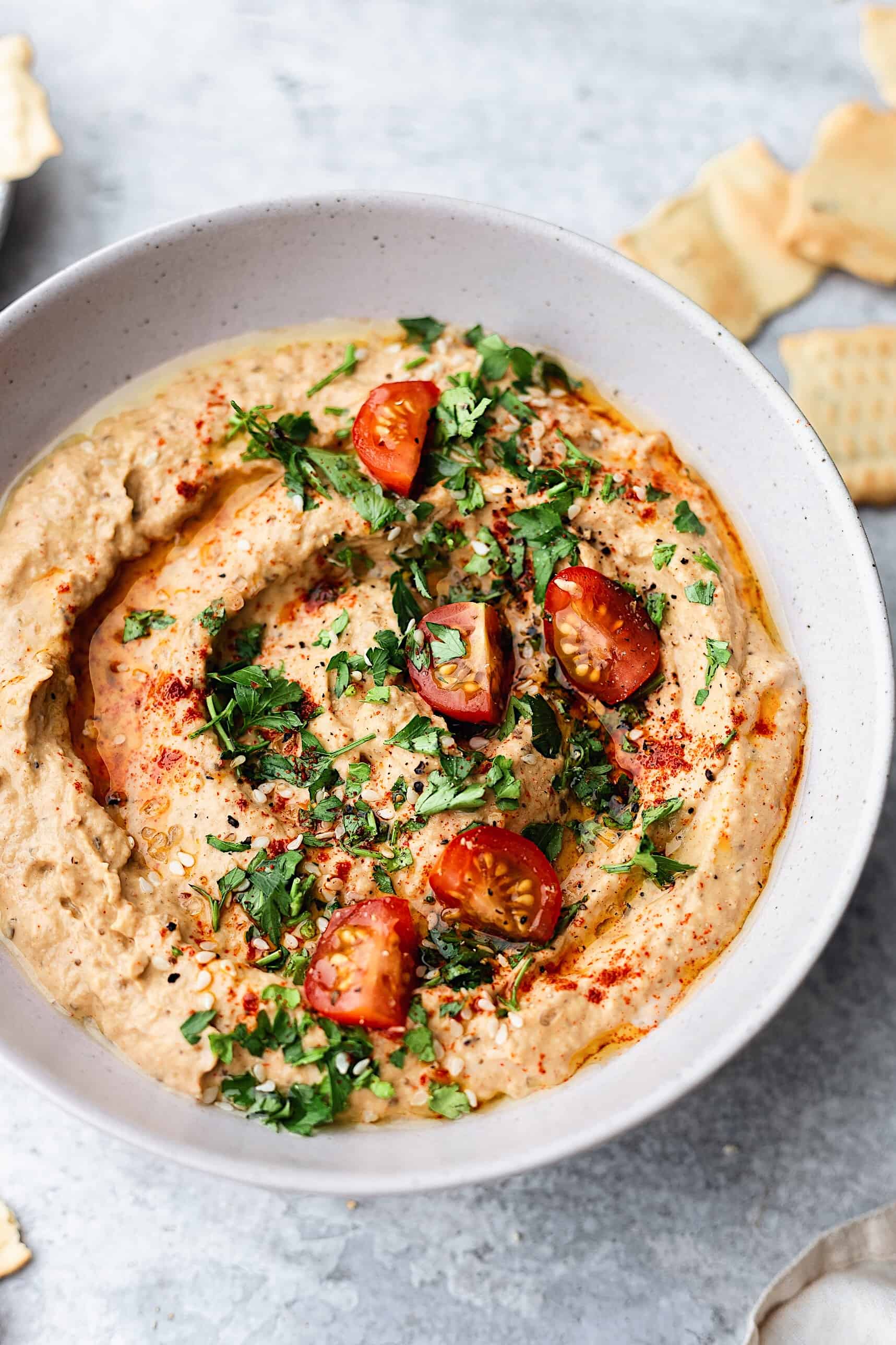 This eggplant dip is really simple to make and is a great way to use up some summer produce!
It comes together in 40 minutes and is naturally gluten free and obviously vegan!
Eggplant is one of my favourite vegetables but truth is I sadly don't eat it as much as I would like!
My mum doesn't like it (one day I'll convert her) so I tend to only eat it when I'm cooking for myself.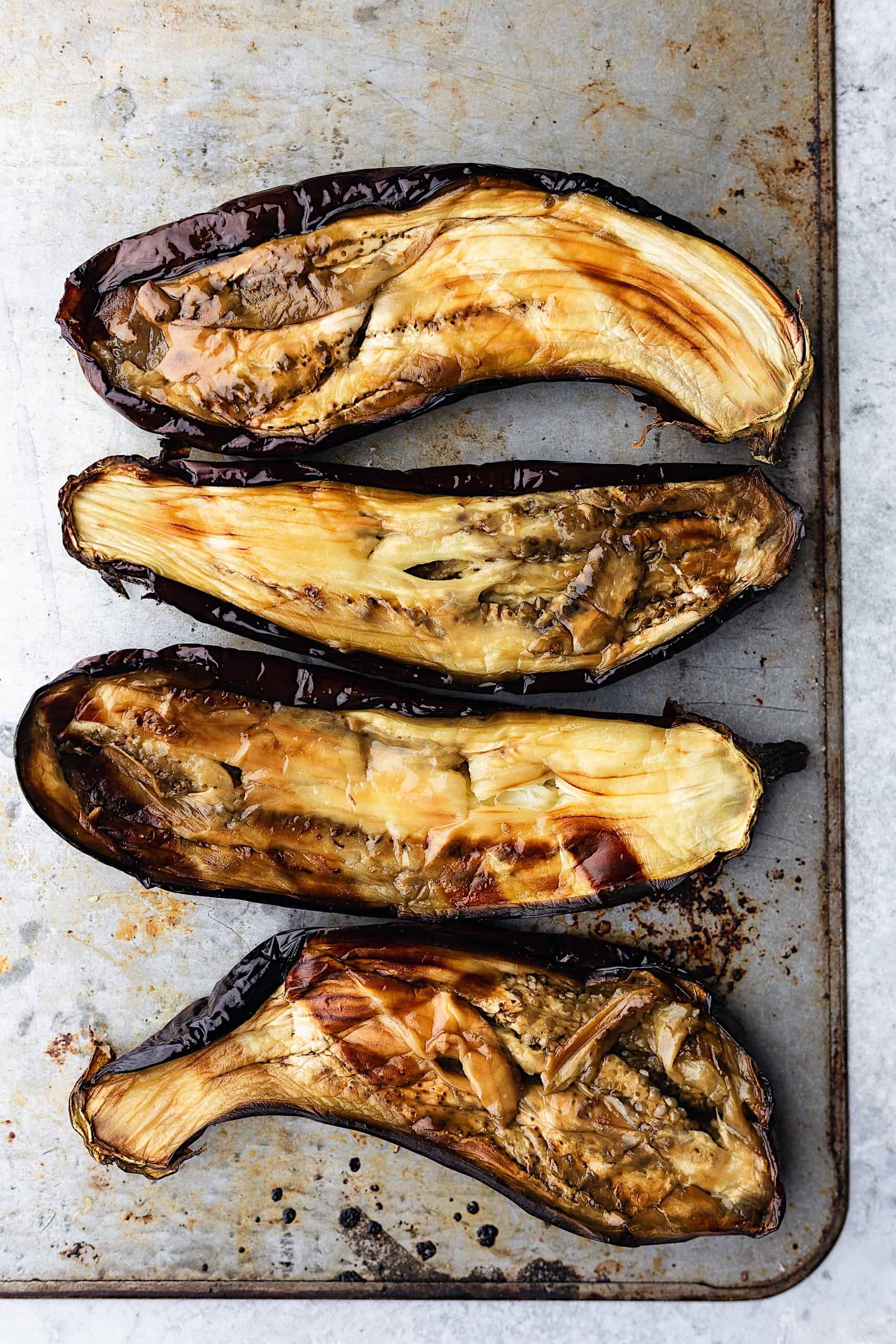 This recipe starts by roasting the eggplant. We pierce and slice the eggplants in half length ways, brush in some oil and place in the oven for 25 minutes.
The eggplant gets roasted until it is deflating, the skin is wrinkled and the flesh is super soft.
At this point the flesh gets scooped out and put into a food processor with the remaining ingredients.
To the roasted eggplant we add garlic, salt, lemon, smoked paprika, tahini, and yoghurt (the yoghurt is optional but makes this dip extra creamy!).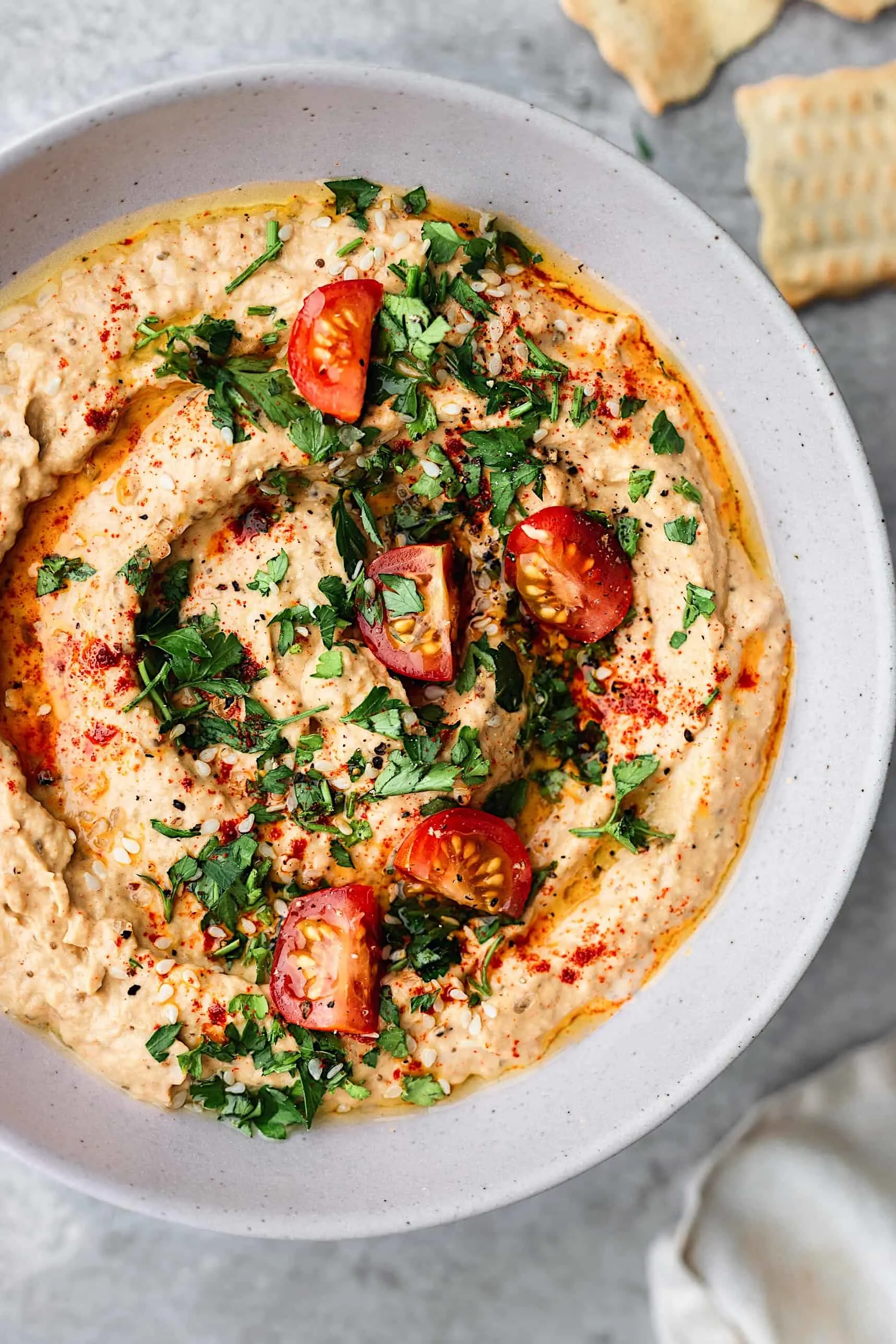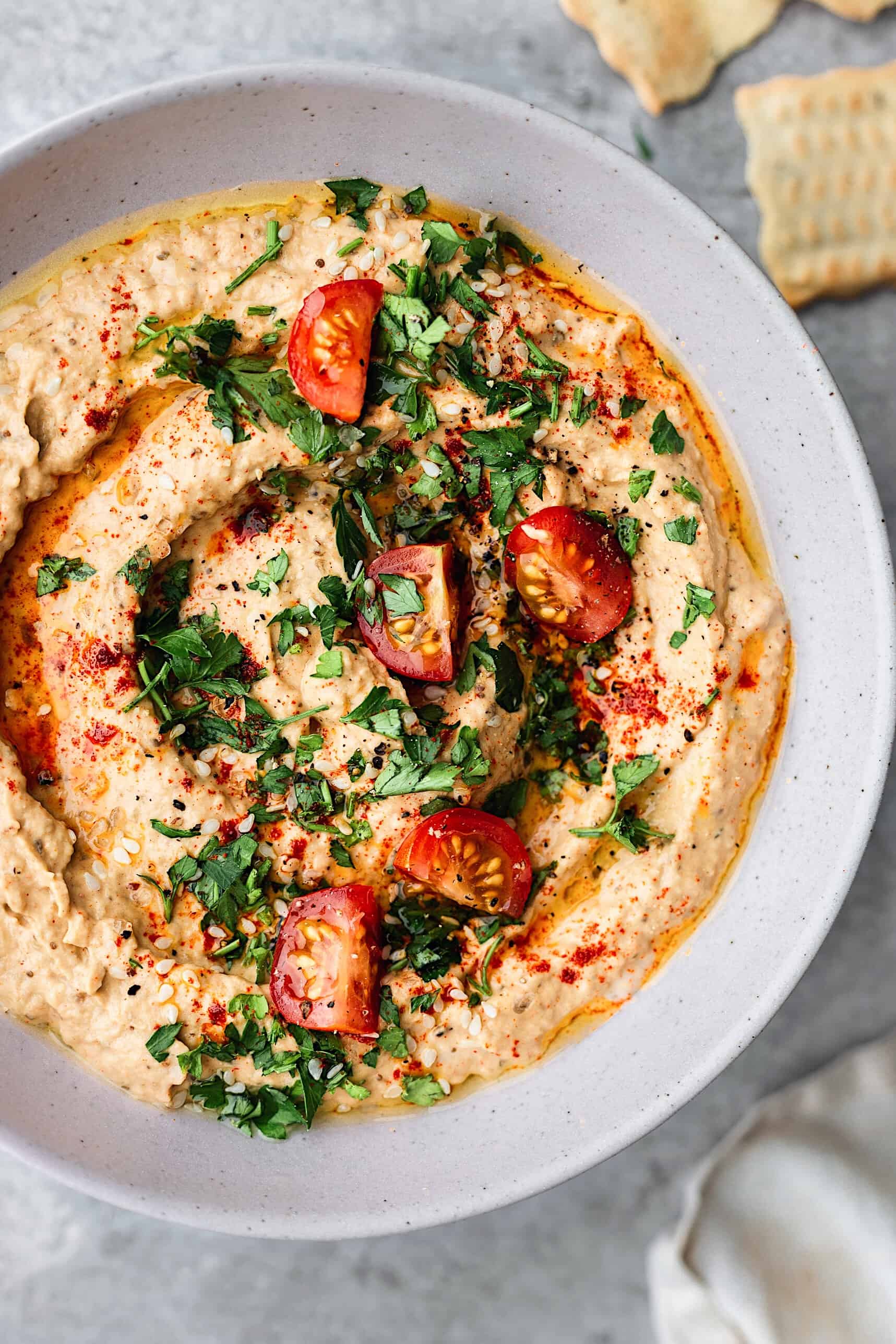 The inspiration behind this recipe is baba ganoush. However because this isn't a traditional baba ganoush recipe with regards to the method and ingredients I haven't called it that.
I'm a huge fan of baba ganoush but 1. I don't have a hob that allows me to grill on an open flame and 2. I love adding different spices and add ons!
All we need for this eggplant dip is an oven and a food processor so if you have those this dip can be yours!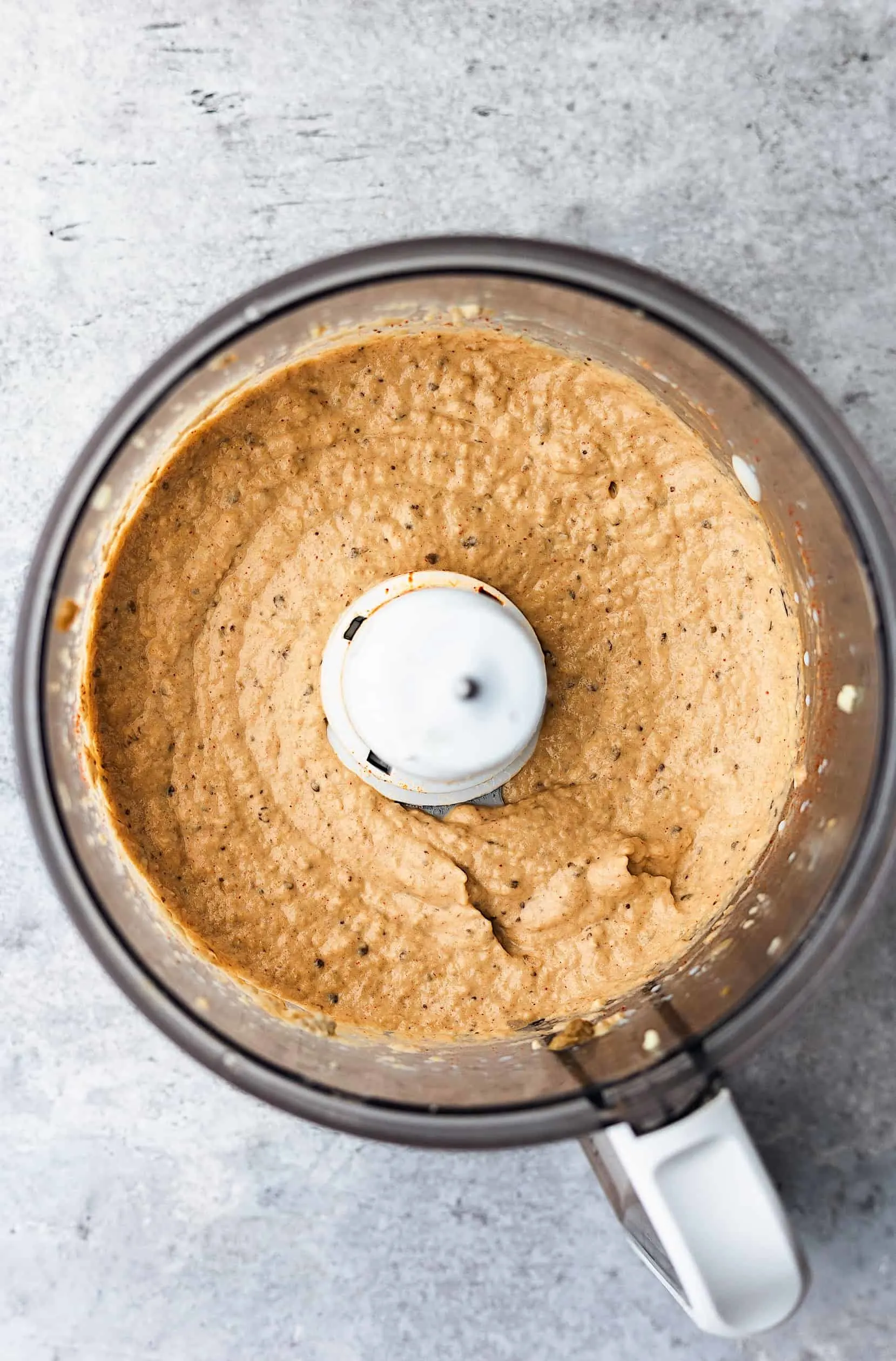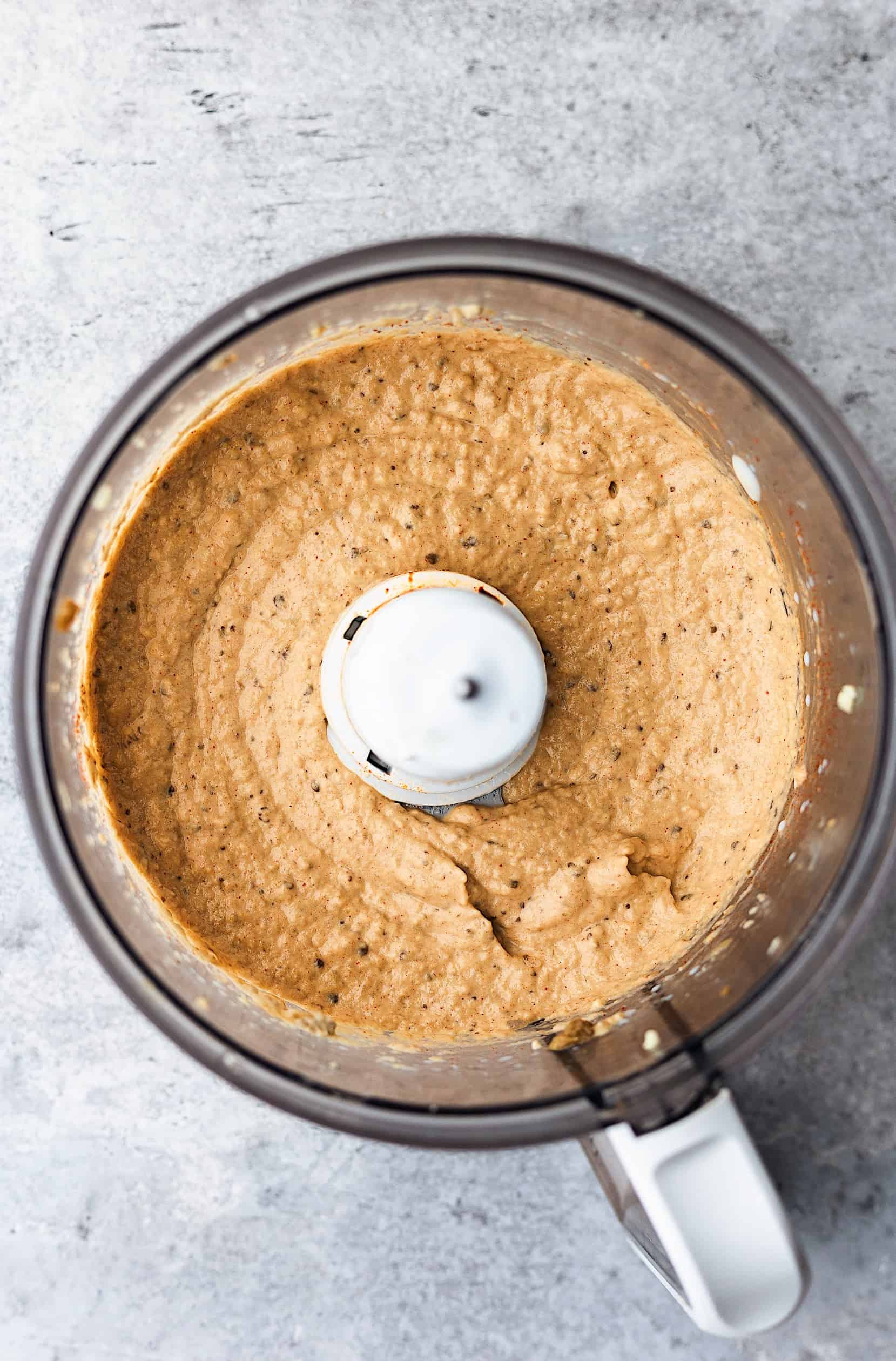 I am a hummus addict, I eat it pretty much every day. But it's nice to switch it up and that's when I'll make something like this eggplant dip!
I've been enjoying it on toasted sourdough, with cucumber sticks and on a baked potato! And also by the spoonful because it's so hard not to!
This eggplant dip is quite garlicky, I am one of those people who will always double the garlic in a recipe I make.
Because, can you really ever have enough garlic? I don't think so. But if you don't want it super garlicky use 1-2 cloves.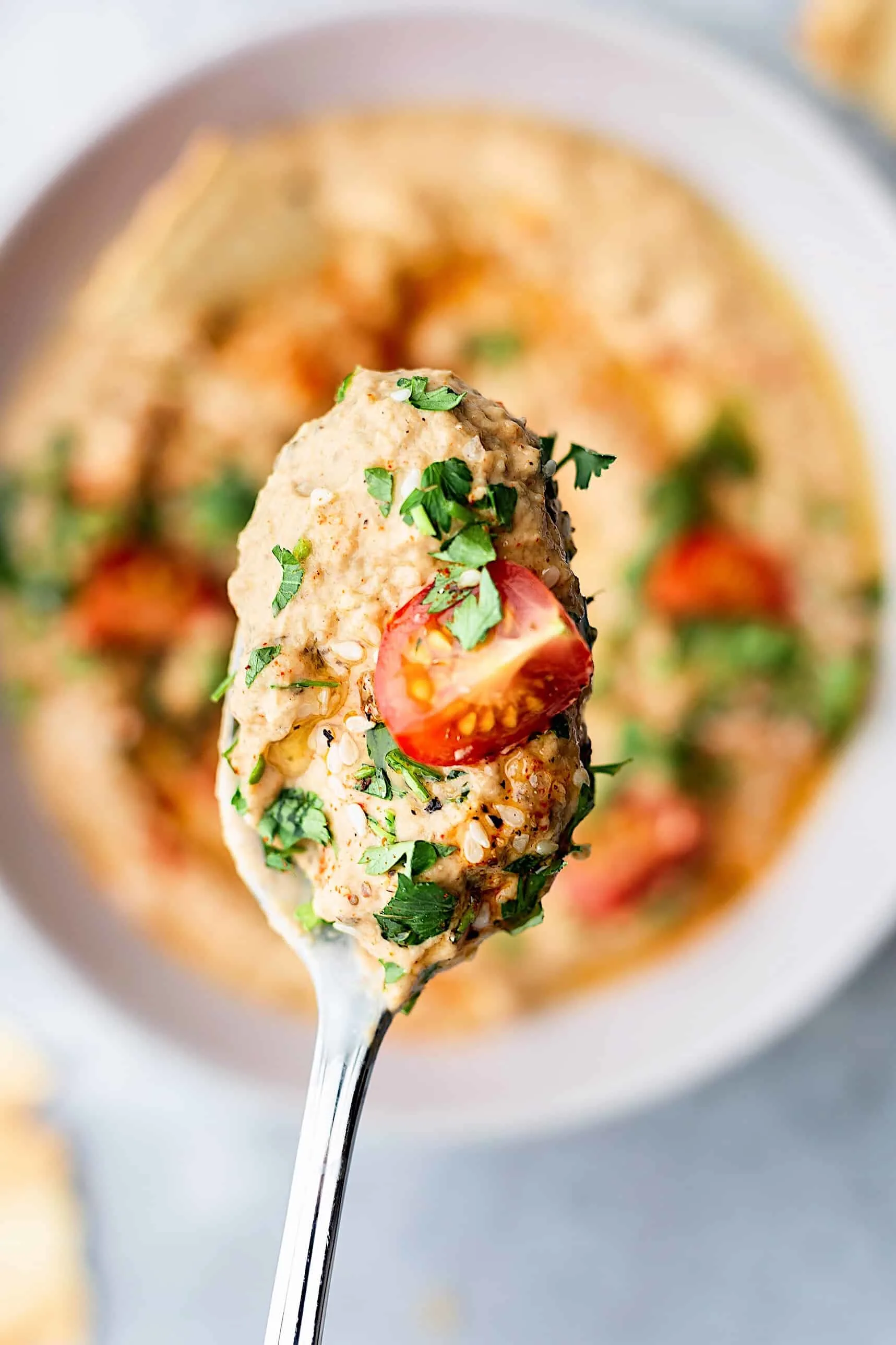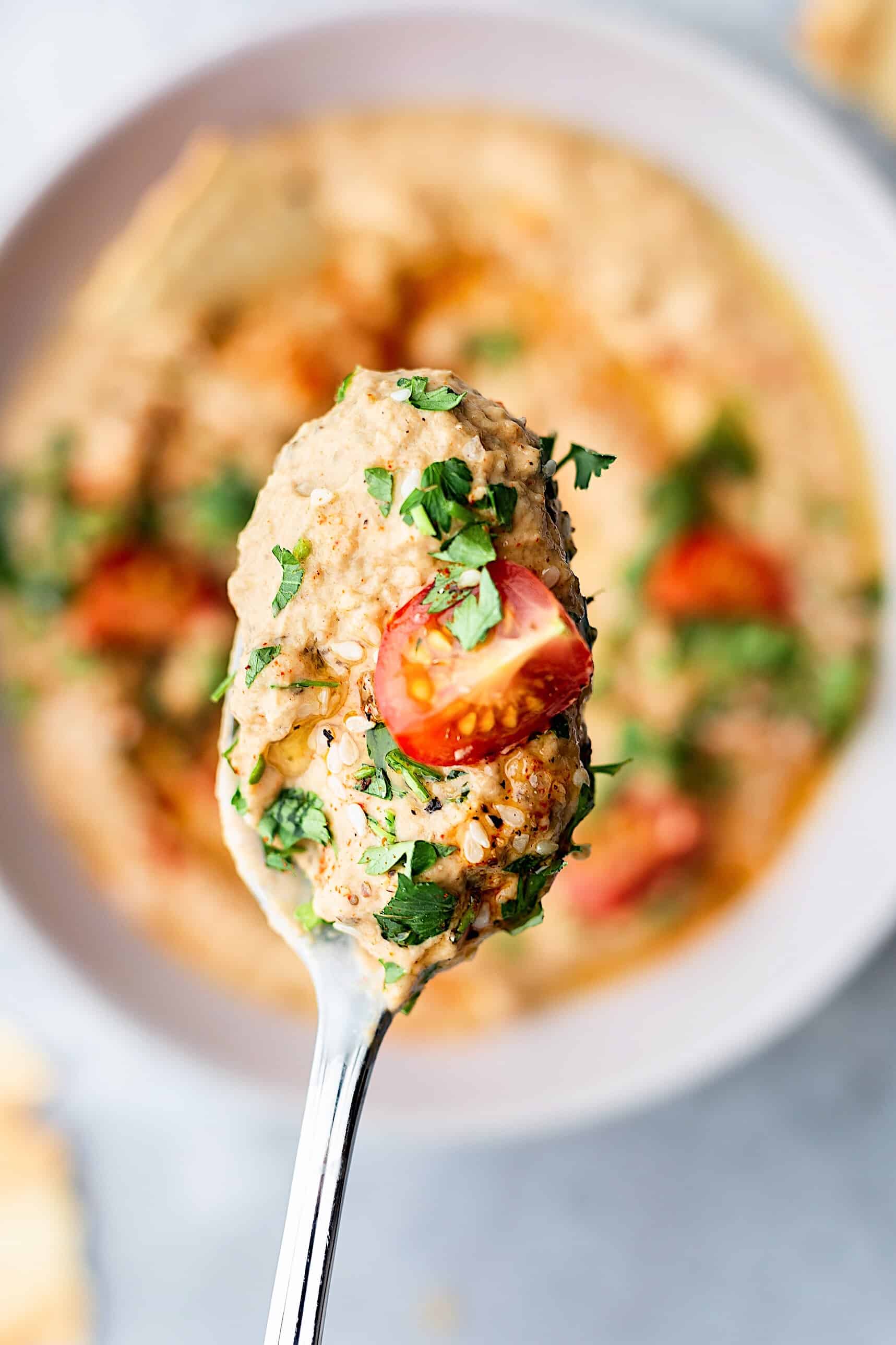 For more vegan dips you may enjoy these:
For more eggplant recipes you may enjoy this marinated teriyaki eggplant or roasted aubergine and chickpea curry!
---
As always if you make this smoky roasted eggplant dip be sure to leave me a comment, rate this recipe and tag me on Instagram. I love seeing all your photos of my recipe recreations!
Don't forget to follow along on Facebook, Pinterest and Instagram – I'd love to see you all there!
---
NEVER MISS A RECIPE! GET MORE VEGAN RECIPES SENT STRAIGHT TO YOUR INBOX – SUBSCRIBE HERE 🙂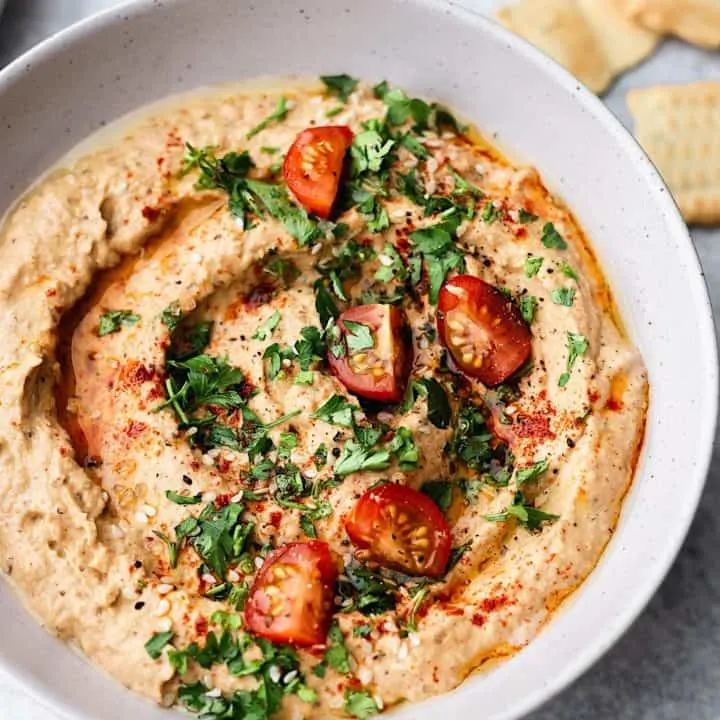 Smoky Roasted Eggplant Dip
Additional Time:
5 minutes
Creamy, garlicky and smoky roasted eggplant dip! Add it to sandwiches, salads or as a dip for toasted pitta and crudites. It's naturally gluten free and vegan.
Ingredients
2 eggplants/aubergines (~500g)
3 garlic cloves
3 tbsp lemon juice
1 tsp salt
1 tsp smoked paprika
1 tbsp tahini
1 tbsp extra virgin olive oil
1-2 tbsp unsweetened vegan yoghurt/creme fraiche (optional)
Topping
Handful flat leaf parsley
2 tsp sesame seeds
6 cherry tomatoes
Instructions
Preheat oven to 200C/400F.
Slice eggplants in half length ways, pierce the skin a few times and lightly coat in some oil. Place flesh side down on a baking tray and place in the oven for 35 minutes.
The skin should be starting to deflate, be wrinkled and the flesh really soft. Place a knife through to check, leave in for a few more minutes if it needs it.
Leave to cool and then scoop the flesh into a food processor using a spoon, discard the skins.
Add roughly chopped garlic, salt, smoked paprika, tahini, lemon juice and olive oil.
Blend until smooth, taste and season with some pepper. Add the yoghurt if using and blend once more.
Serve straight away or place in the fridge, the flavours will meld if left longer.
Top with chopped parsley, cherry tomatoes and sesame seeds!
Recommended Products
As an Amazon Associate and member of other affiliate programs, I earn from qualifying purchases.