Sweet, sticky and salty marinated teriyaki eggplant is a quick and easy dinner recipe. In just 30 minutes you can have yourself a better than take out meal!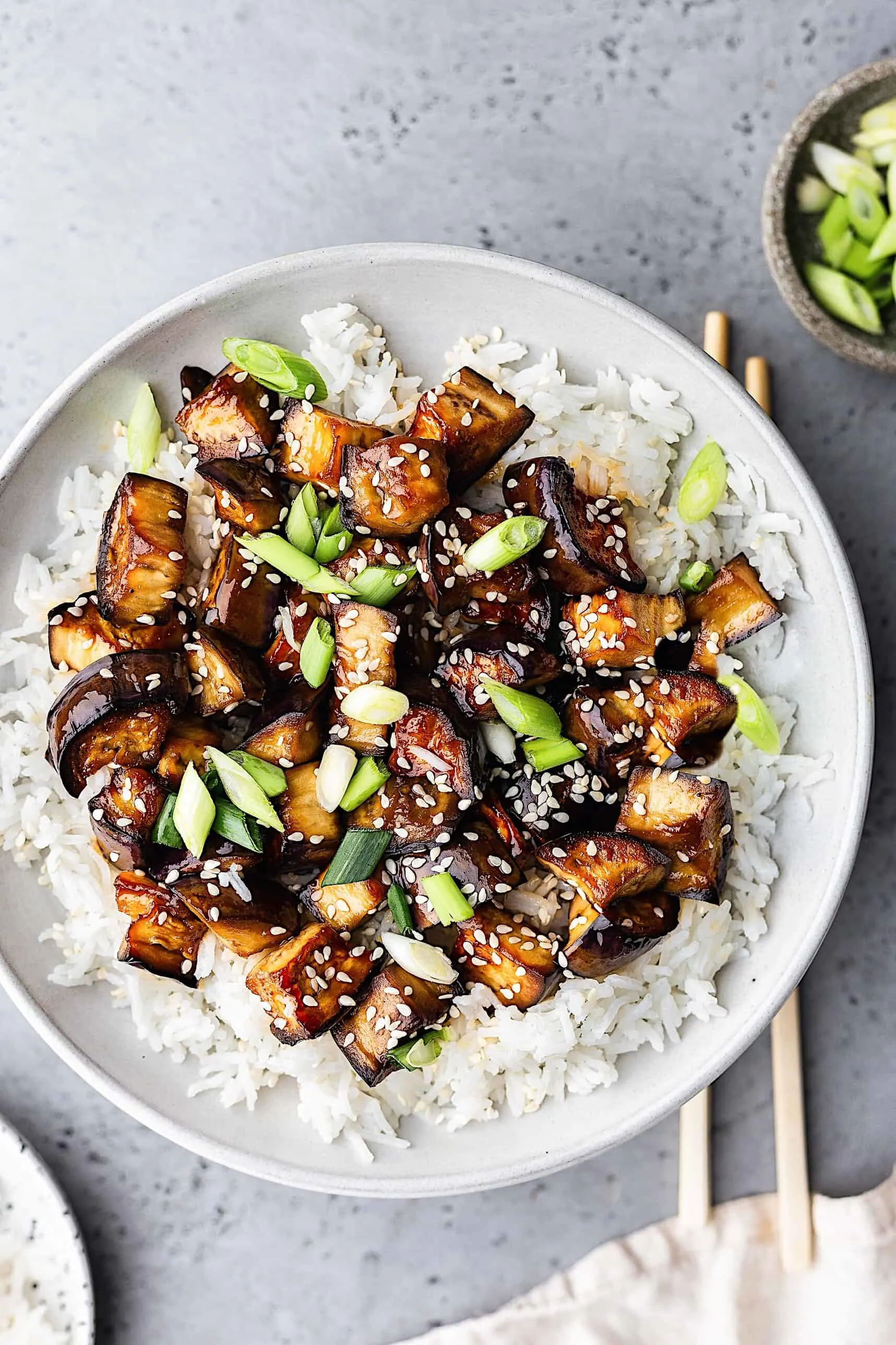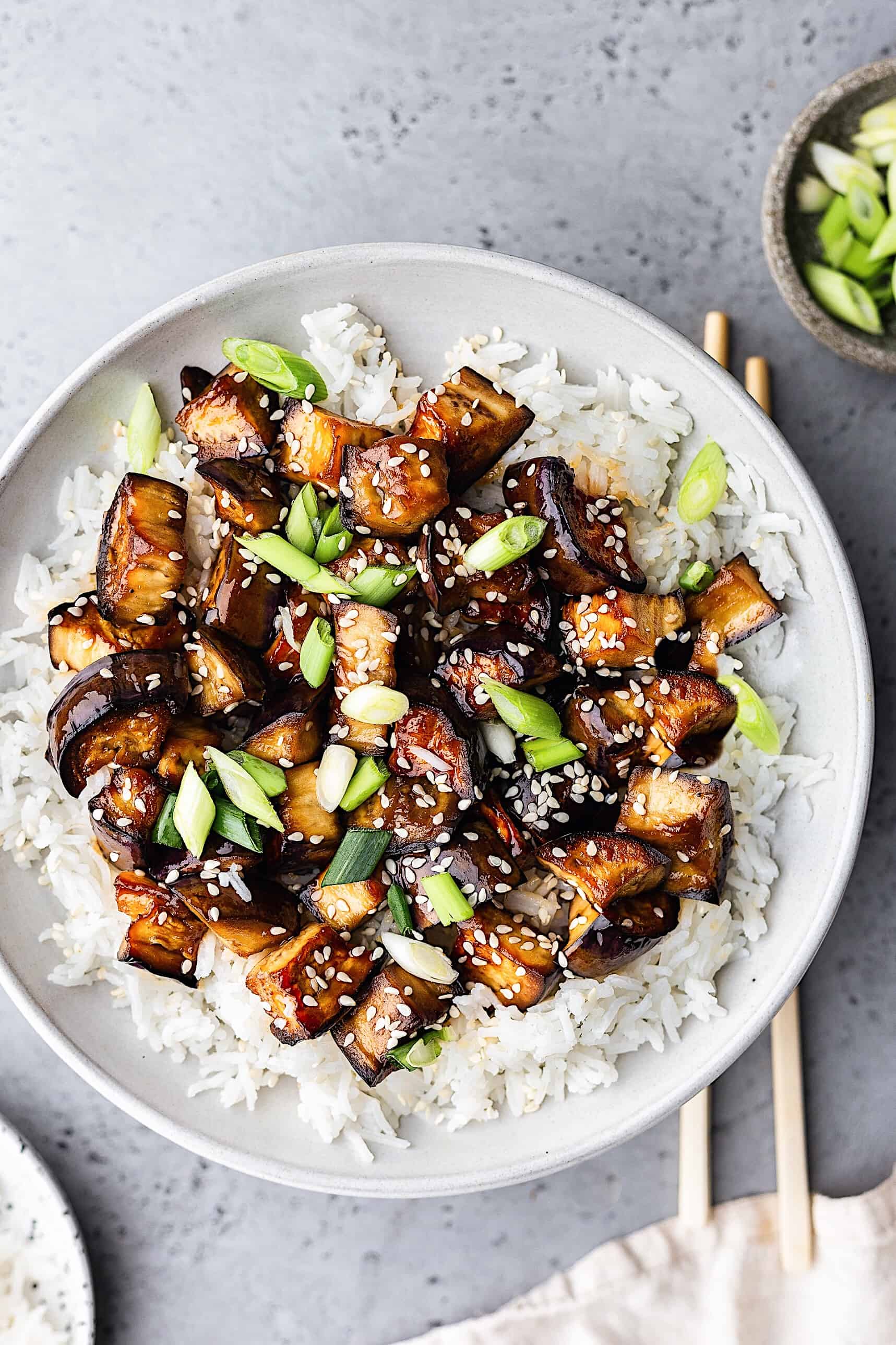 Whether you enjoy it as a main or a side it's sure to satisfy your Japanese food cravings! And if you've never had it before, well, you're in for a treat!
Eggplant (/aubergine) is a great vegetable for marinating, it takes on the flavour really well, in this case the teriyaki sauce.
I love using it in vegan recipes, especially roasted or grilled, it works great as a meat substitute.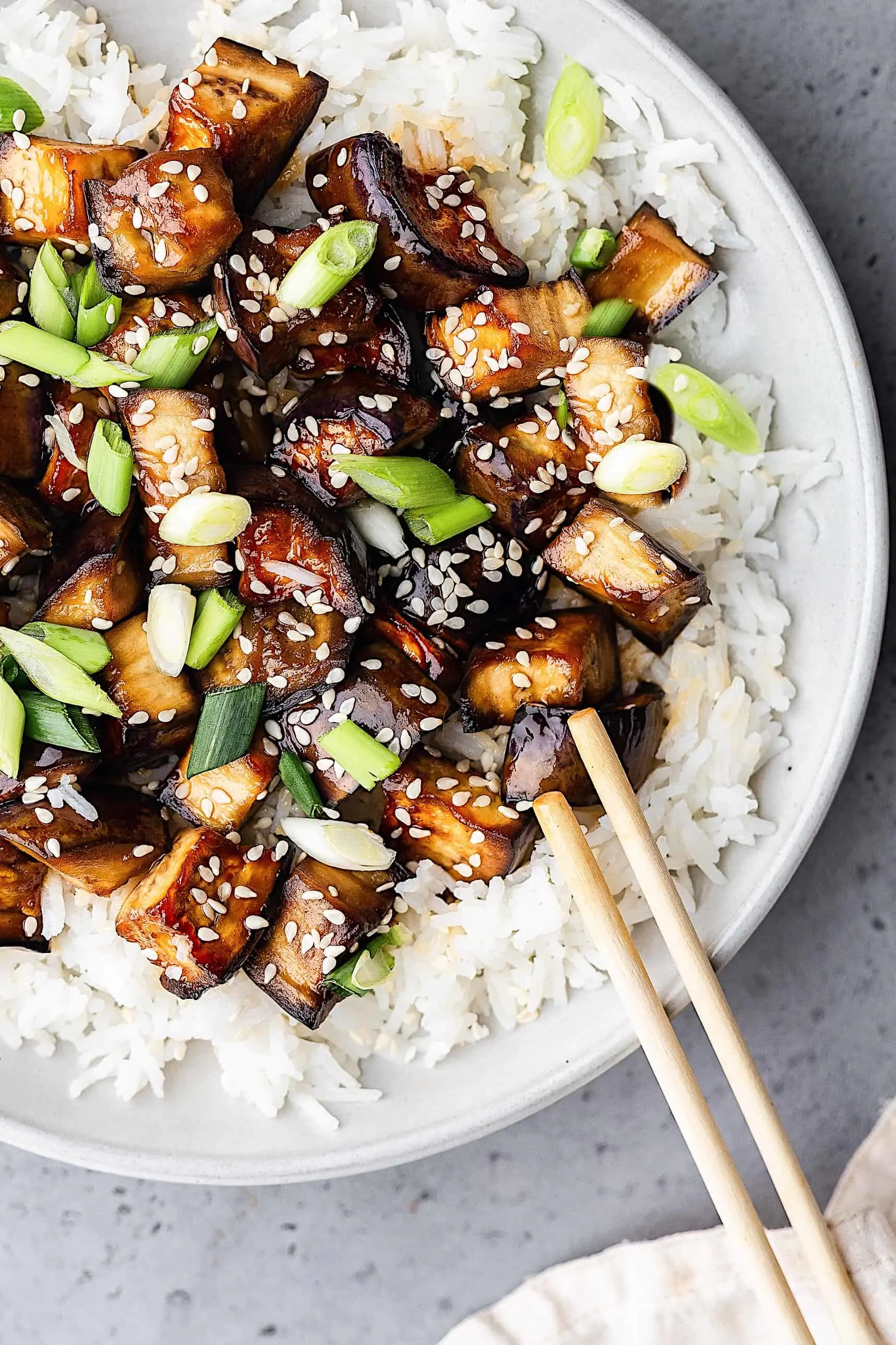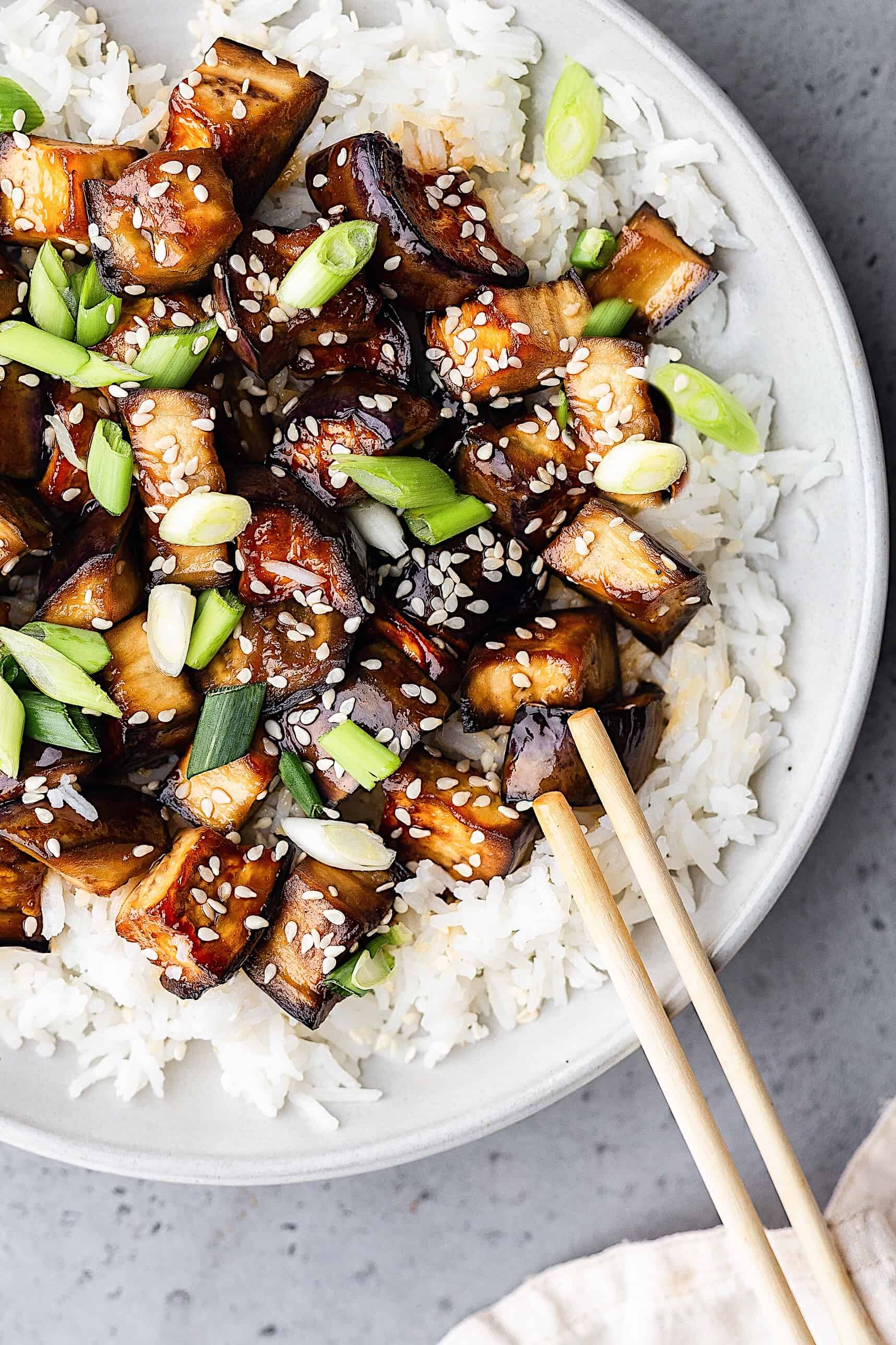 How to make teriyaki eggplant:
To start we are going to make a simple teriyaki sauce, the base ingredients of this are soy sauce, mirin (sweet japanese wine) and brown sugar.
To this we are going to add some garlic and ginger. It's that simple, and is packed with flavour.
Once the eggplant is cut into small chunks it is left to marinade for 20 minutes, just throw it all in a bowl and you can prep your rice or other accompaniments.
The longer you leave it to marinade the better, but 20 minutes does the job.
You'll notice the eggplant starts to change colour and turn an orange/brown colour, that's what you want. Now you're ready to grill/fry it.
I used my griddle pan for this, it gives it a nice charred brown coating. You could also use a non stick frying pan if you don't have a griddle pan.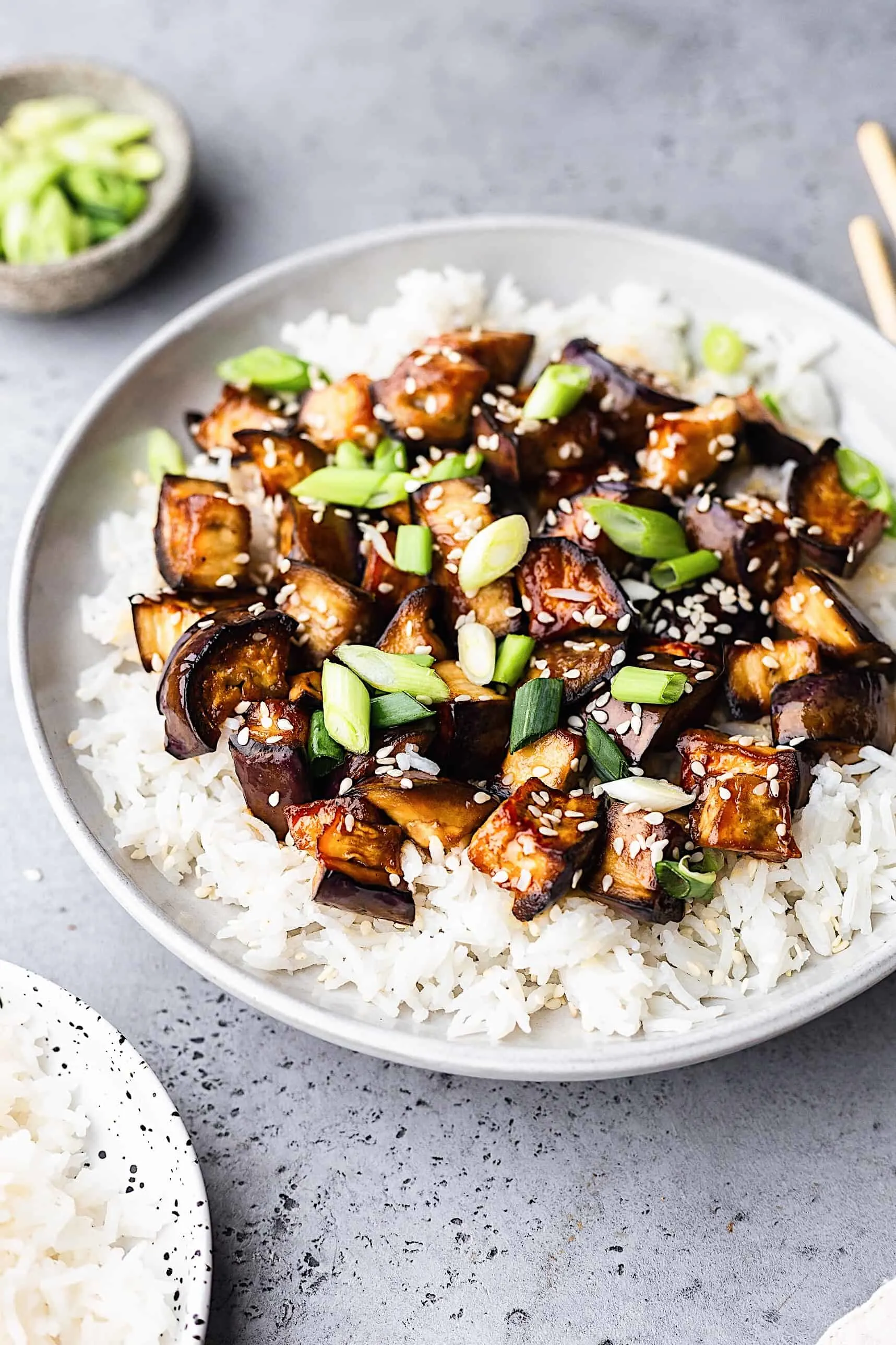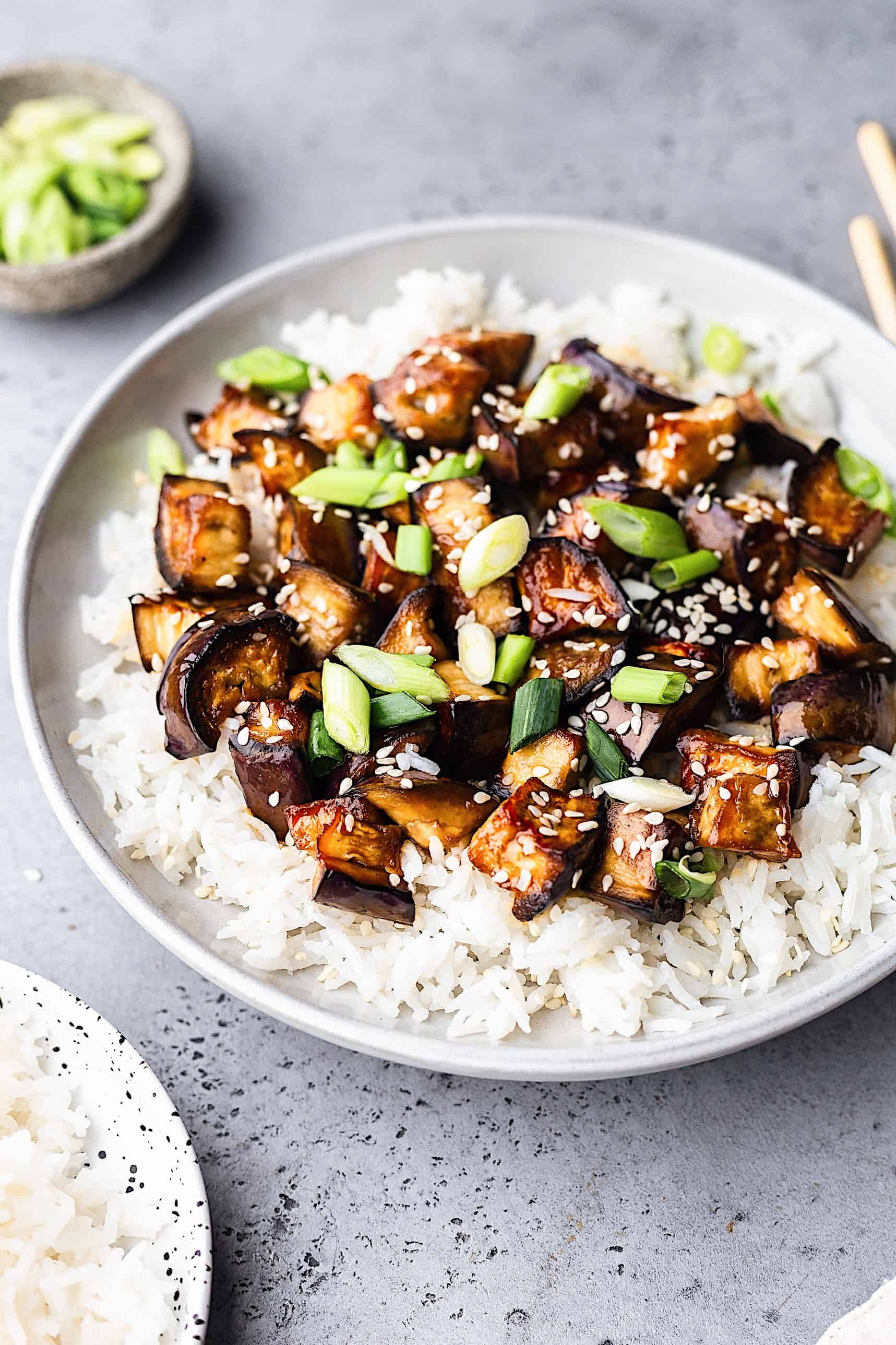 Heat the griddle pan for a few minutes before you start to ensure it is hot all over and then place your marinated eggplant in.
You may need to do it in two batches depending on how big your pan is, keep the first batch on a low heat in the oven.
Teriyaki actually refers to the method of cooking rather than the recipe itself. It is the method of broiling or grilling meat/vegetables in a sauce.
Why you should make this teriyaki eggplant:
Its super easy to make! Once you have the staple ingredients you can make it over and over fuss free!
It's ready in half an hour – cure your japanese cravings at home, and save money on a take away!
It's packed with flavour and will turn even those you dislike eggplant!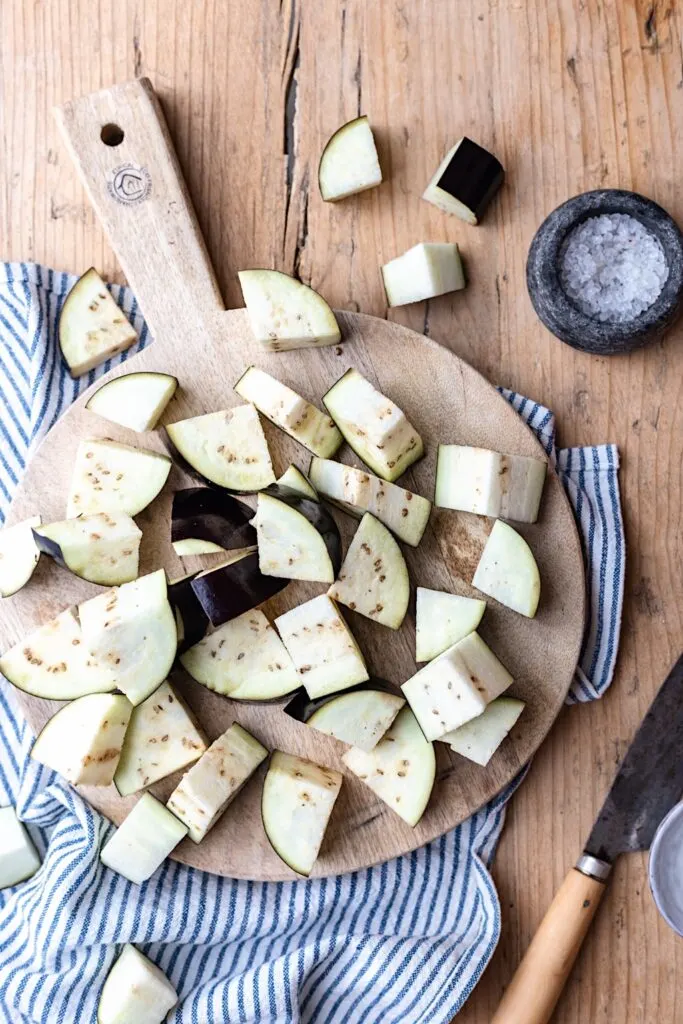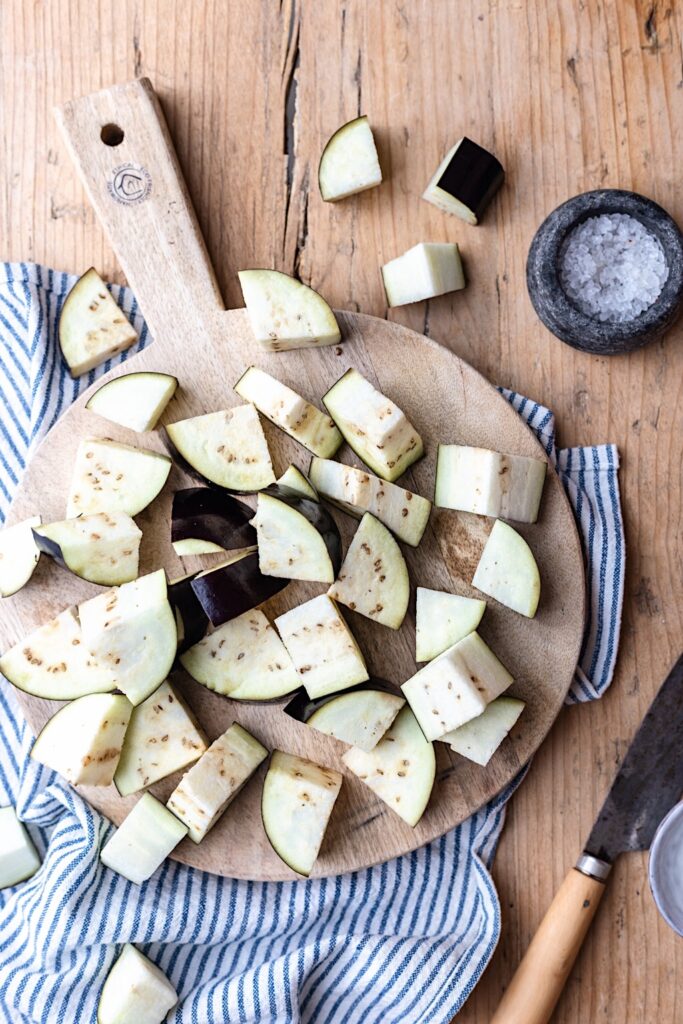 Japanese dishes like this teriyaki eggplant are my favourite kind, I'm all for saucy foods packed with flavour. I could eat a big bowl of this teriyaki eggplant on its own and be very happy.
I'm one of those rare people that doesn't like sushi and I don't even really know why. I think its because it's cold and I love hot food. Maybe I'm weird, anyone else not like sushi?
So I know eggplant can be a bit like marmite and you either love it or hate it. I used to hate it I always thought it was soggy and flavourless.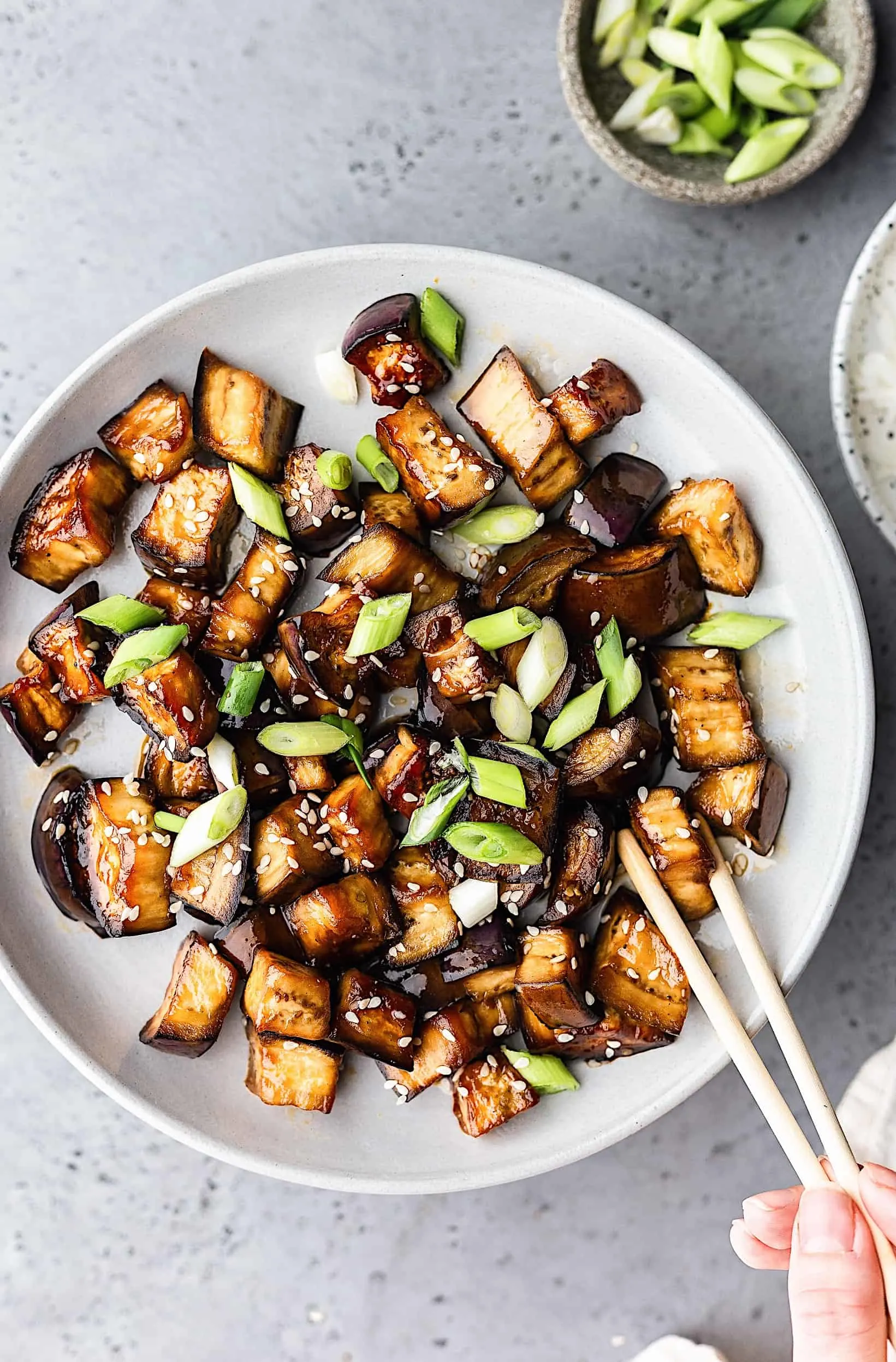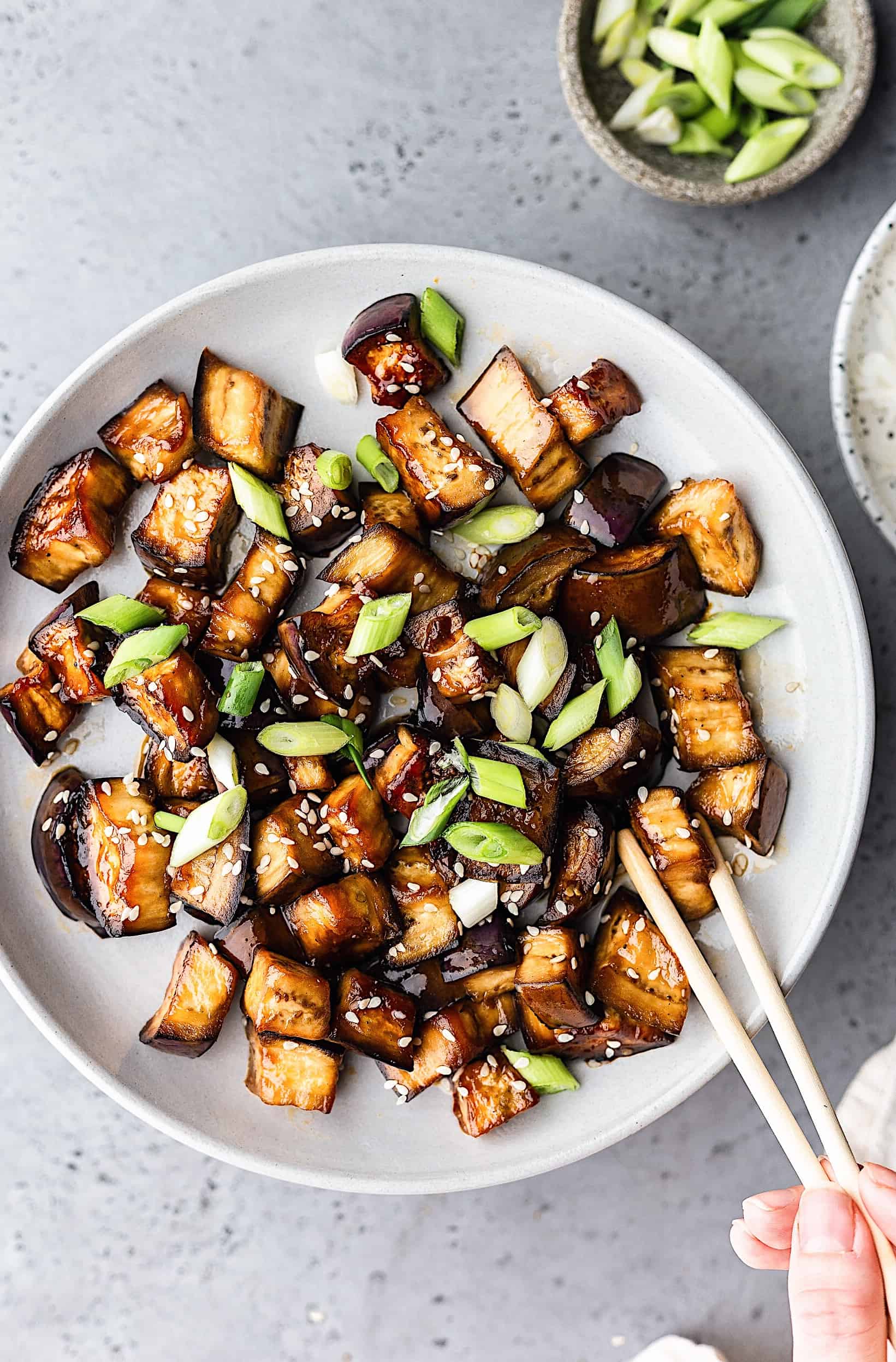 However I'd actually just never had it prepared nicely, it's SO good roasted with some salt and pepper.
It has a great 'meaty' texture which makes it great for lots of vegan recipes.
If you or someone you know doesn't like it, make them this and I'm almost convinced they'll like it!
My favourite way to serve this teriyaki eggplant is with some sesame seeds, spring onion and sticky rice! You can't beat it!
For more eggplant recipes you may enjoy these:
Roasted aubergine and chickpea curry
---
As always if you make this marinated teriyaki eggplant be sure to leave me a comment, rate this recipe and tag me on Instagram. I love seeing all your photos of my recipe recreations!
Don't forget to follow along on Facebook, Pinterest and Instagram – I'd love to see you all there!
---
NEVER MISS A RECIPE! GET MORE VEGAN RECIPES SENT STRAIGHT TO YOUR INBOX – SUBSCRIBE HERE 🙂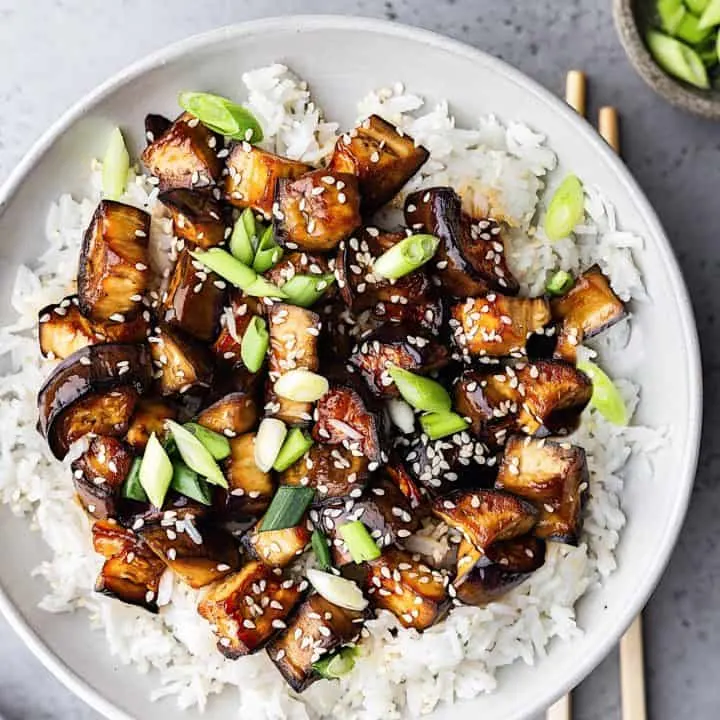 Marinated Teriyaki Eggplant
Sweet, sticky and salty marinated teriyaki eggplant! Grilled to perfection this vegan Japanese recipe is quick and easy and tastier than take out!
Ingredients
Teriyaki Marinade:
1/2 cup soy sauce
1/4 cup mirin
1 tbsp rice wine vinegar
1-2 tbsp brown sugar
1 inch ginger, grated
3 garlic cloves, minced
To serve:
Sushi/short grained rice
Sesame seeds
Spring onion
Instructions
Whisk the sauce ingredients in a bowl, making sure the sugar is dissolved.
Cut the eggplant into small chunks, place in a large bowl and then pour the marinade over the top. Stir and make sure it is all coated, set aside.
Let marinate for at least 20 minutes, stirring a few times.
Place a griddle pan on the hob over medium-high heat. Once hot place the marinated eggplant in.
Pour over any excess marinade over the top whilst cooking. You may need to do it in two lots so you can keep the first lot on a low heat in the oven.
Cook for a few minutes on each side until brown and starting to char from the griddle lines.
Serve straight away with rice or as a side and top with sesame seeds and sliced spring onion!
Notes
Mix it up by adding different vegetables or adding tofu for extra protein.
Recommended Products
As an Amazon Associate and member of other affiliate programs, I earn from qualifying purchases.
Nutrition Information:
Yield:

2
Serving Size:

1
Amount Per Serving:
Calories:

342
Total Fat:

7g
Saturated Fat:

1g
Trans Fat:

0g
Unsaturated Fat:

6g
Cholesterol:

0mg
Sodium:

3510mg
Carbohydrates:

56g
Fiber:

3g
Sugar:

24g
Protein:

10g