These sweet potato and corn falafels are perfect for summer lunches, picnics and snacks!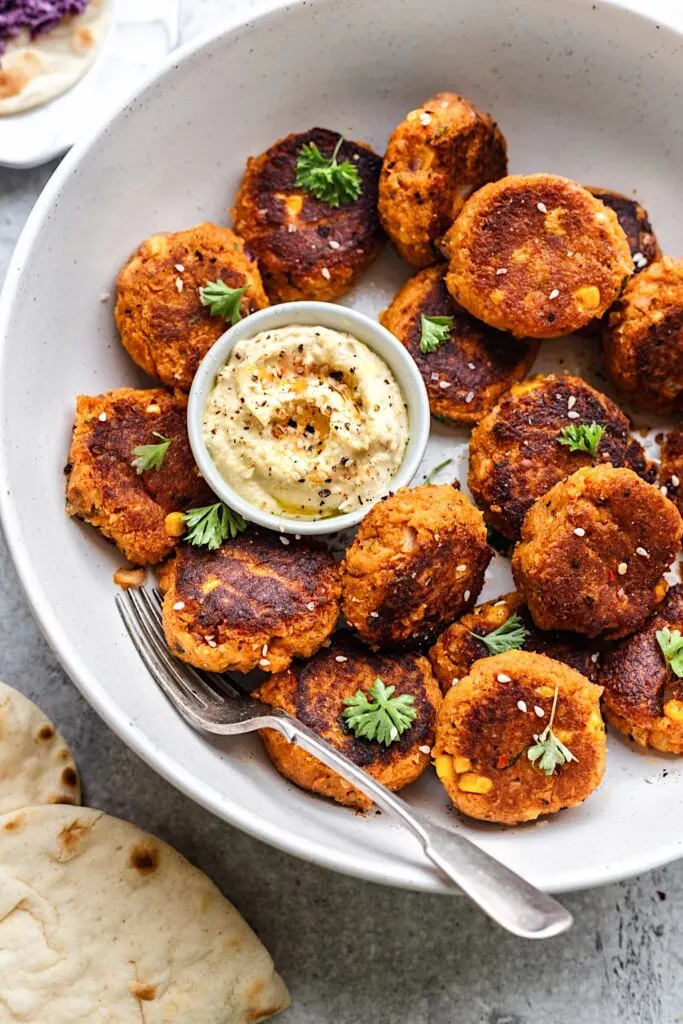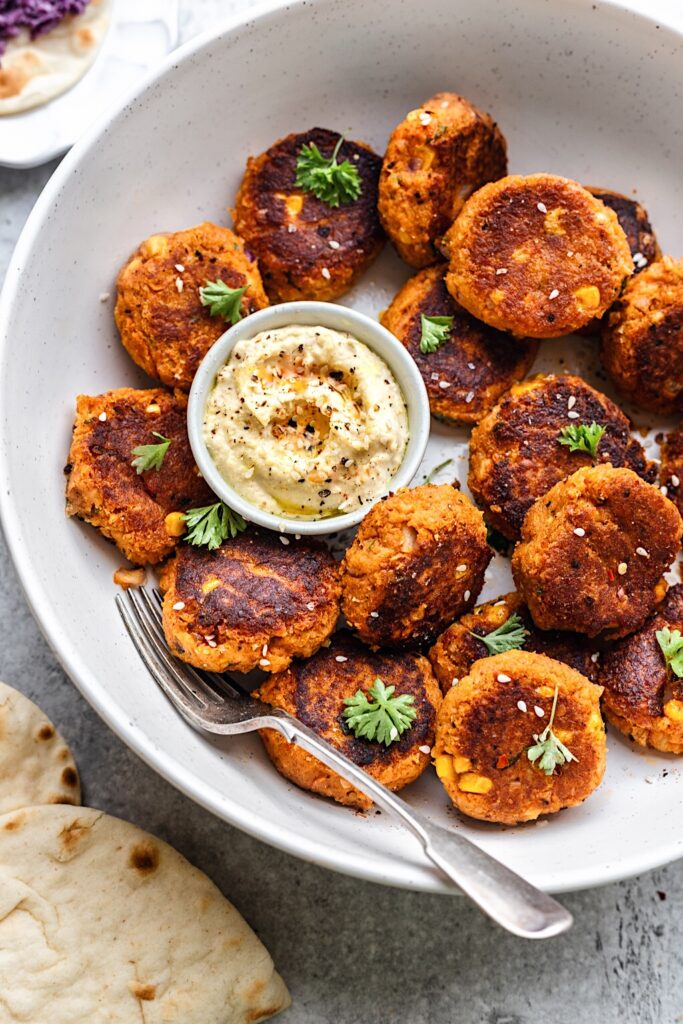 They're packed with flavour and texture and simple to make! They're also naturally gluten free and vegan.
These aren't traditional falafels as such – I've mixed the ingredients up and adapted them. But for the better! They have added spices and of course the addition of sweet potato and sweetcorn.
I've also used tinned chickpeas for convenience but if you want to soak dried chickpeas the night before then even better!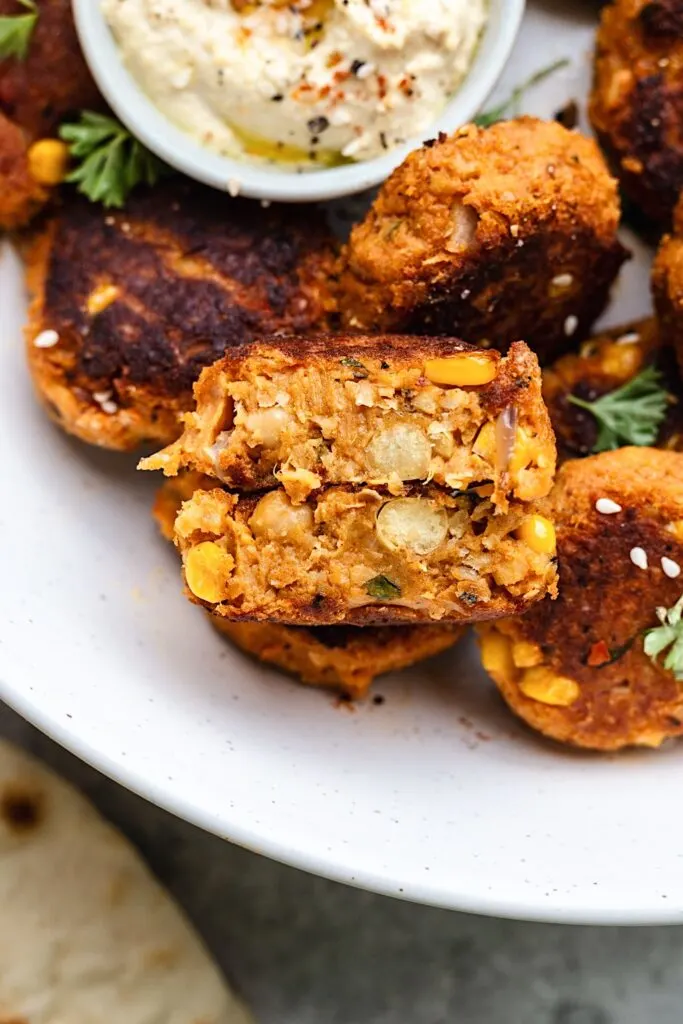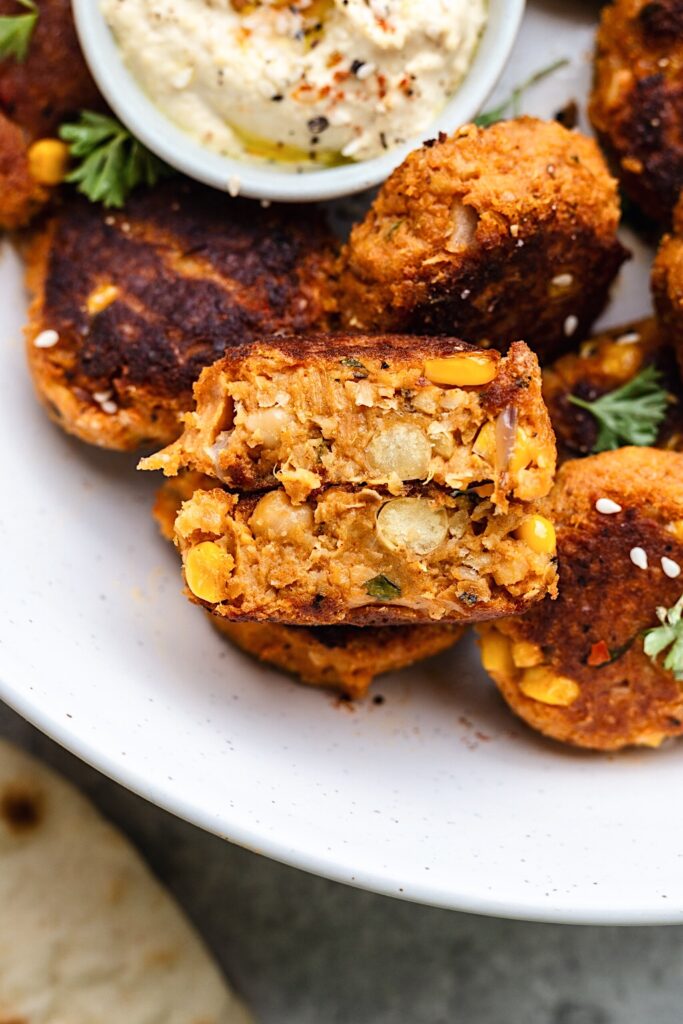 What you'll need for these falafels:
Sweet potato
Chickpeas
Red Onion
Sweetcorn
Oats
Nutritional yeast
Smoked paprika
Ground cumin
Sriracha
Fresh coriander
Fresh parsley
How to make sweet potato and corn falafels:
To start, we need to cook the sweet potato. For convenience and speed, pierce the sweet potato and place in the microwave for 10 minutes or until soft through.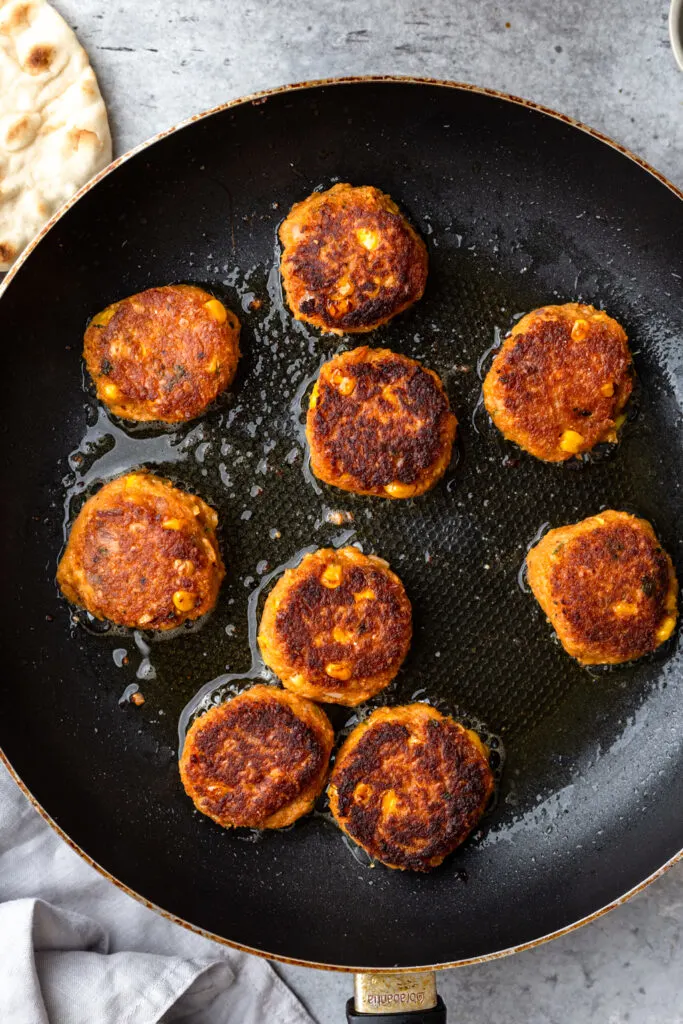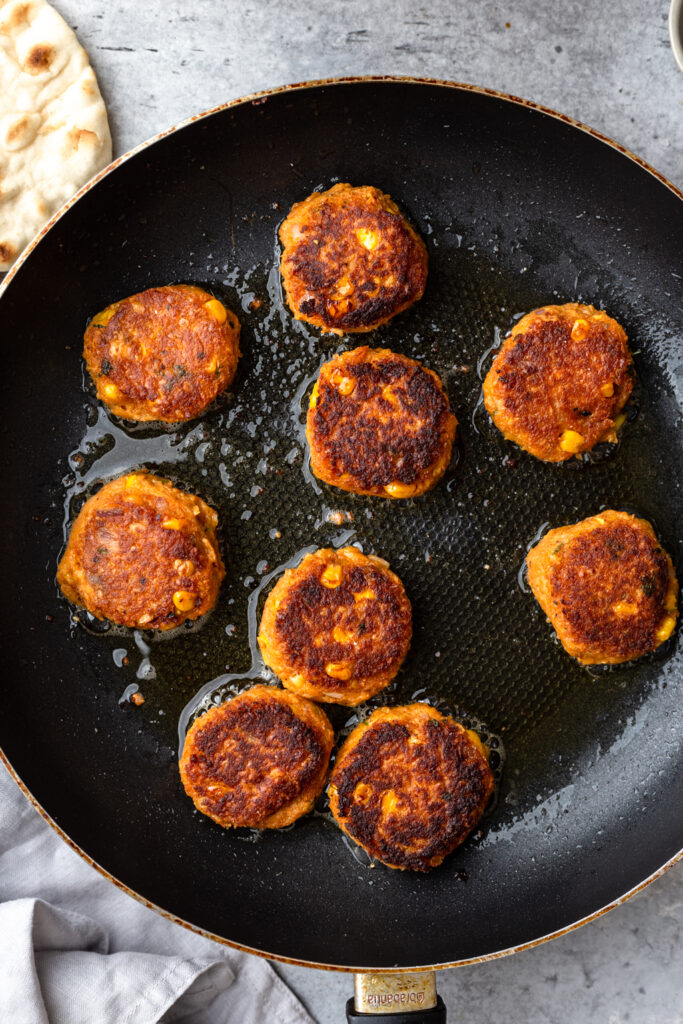 Whist it's cooking, place the oats in a food processor and blitz until it resembles a flour.
Add the chickpeas, onion and herbs. Blitz until most of the chickpeas are blended. I like to leave some chunky bits for texture.
Transfer to a bowl then add all the spices and remaining ingredients.
Once the sweet potato is cooked, cut it in half lengthways and scoop out the flesh. Add to the bowl and mix well. The potato will be really hot so be careful.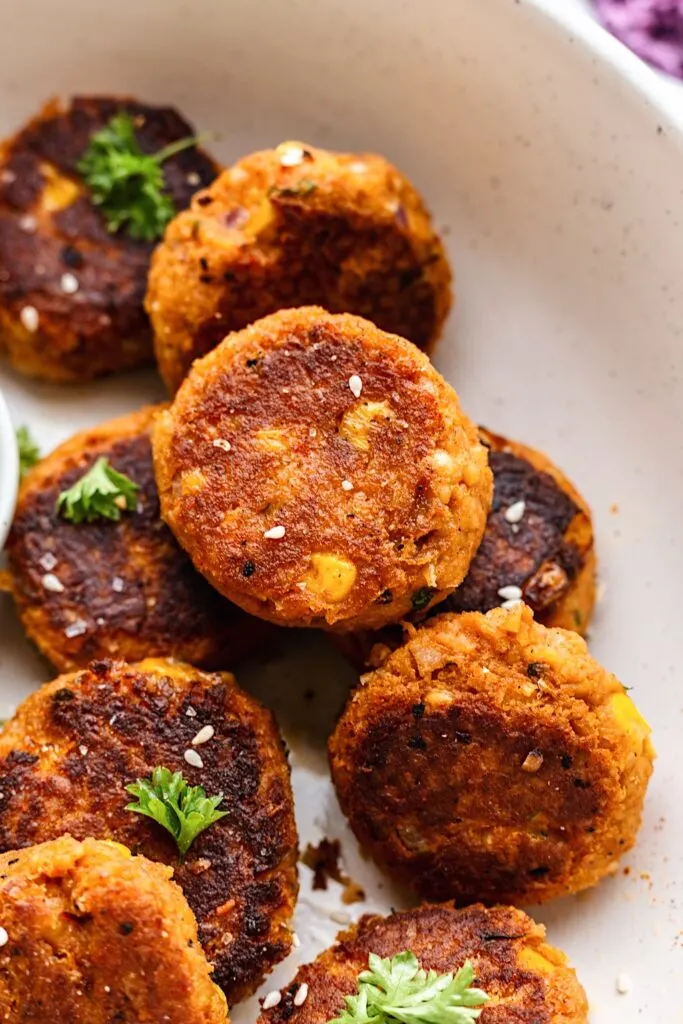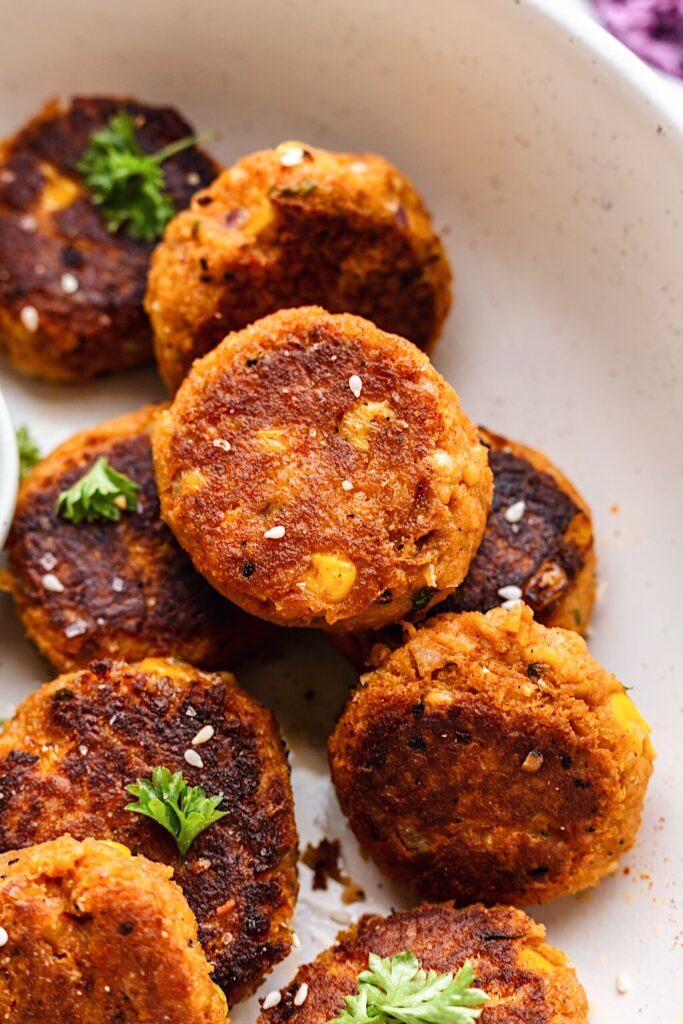 It should now resemble a falafel consistency but it will be quite soft and warm because of the sweet potato.
Pop it in the fridge for 30 mins to firm up and get a large saucepan or skillet ready to fry them.
We aren't deep frying these falafels, instead we are going to shallow fry them. Pour oil into the pan until there is a shallow layer.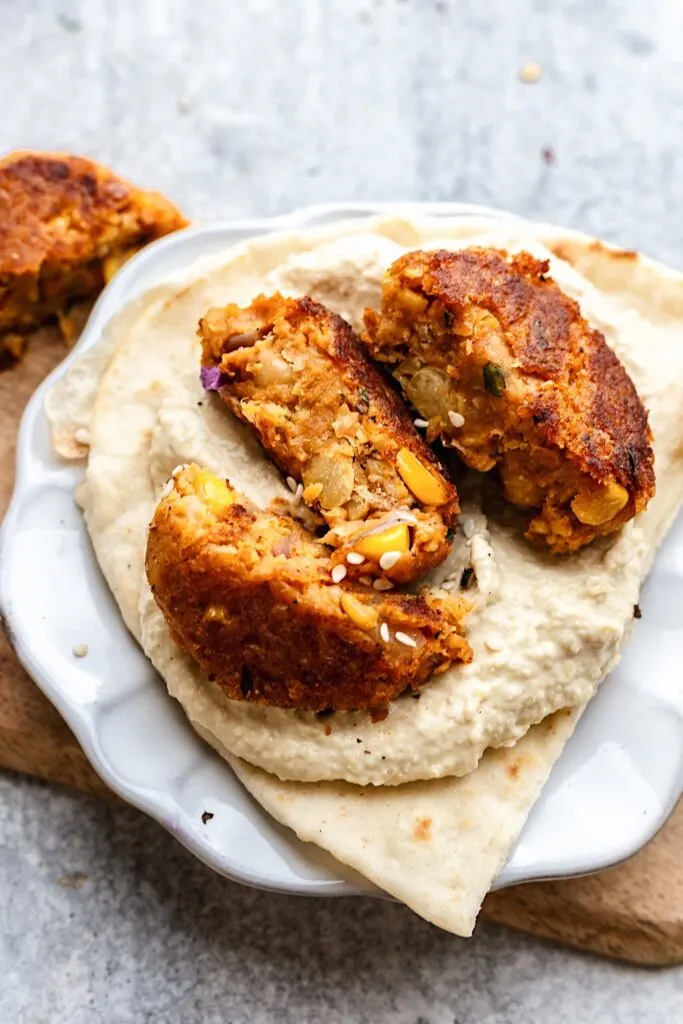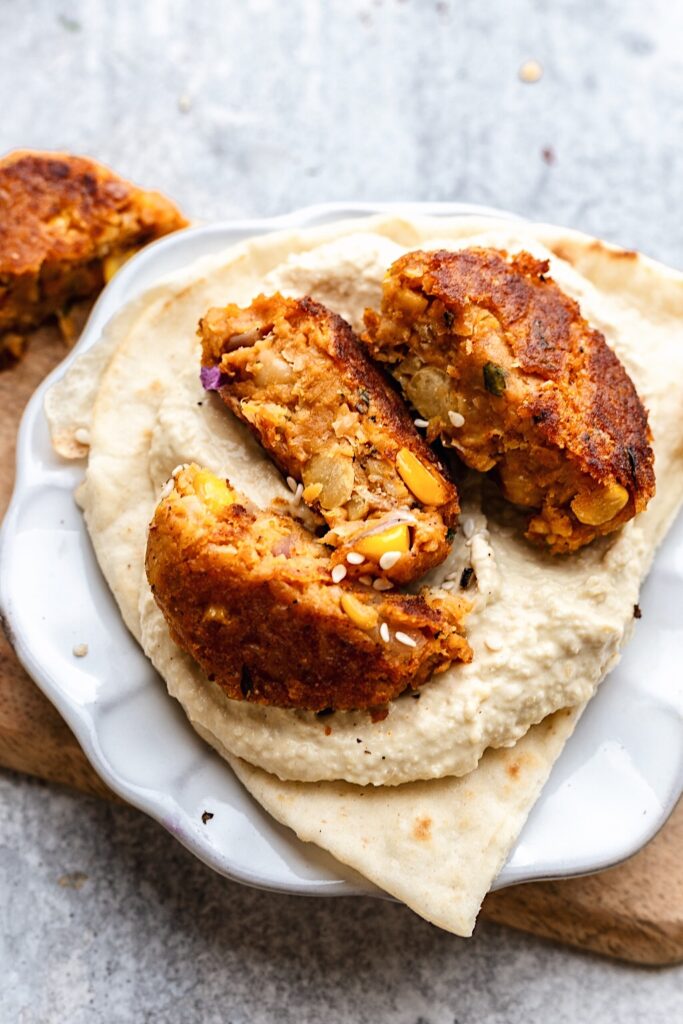 You want it to be on medium heat. If it's too hot it will burn on the bottom and not cook all the way through.
This mixture will make about 18-20 falafels. Once out the fridge, take a tablespoon or cookie scoop of mixture and roll into a ball.
Keep doing this until all the mixture is gone. Place them on a plate until you're ready to cook them.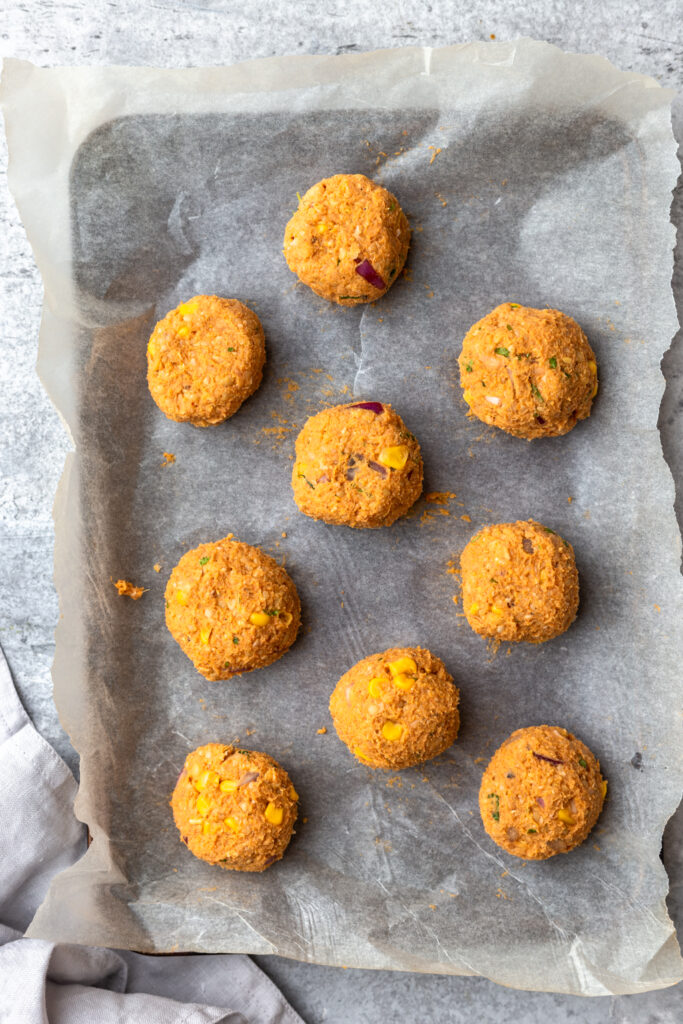 Place them in the frying pan, you may need to do this in batches so keep the oven on low to keep the first lot warm.
Gently push the balls down on top so they are like a flattened ball. This will help them to cook better.
What to serve with these sweet potato falafels:
Stuff them in a pitta, sandwich or flatbread.
Add hummus, coleslaw, spinach or rocket.
Snack on them as they are!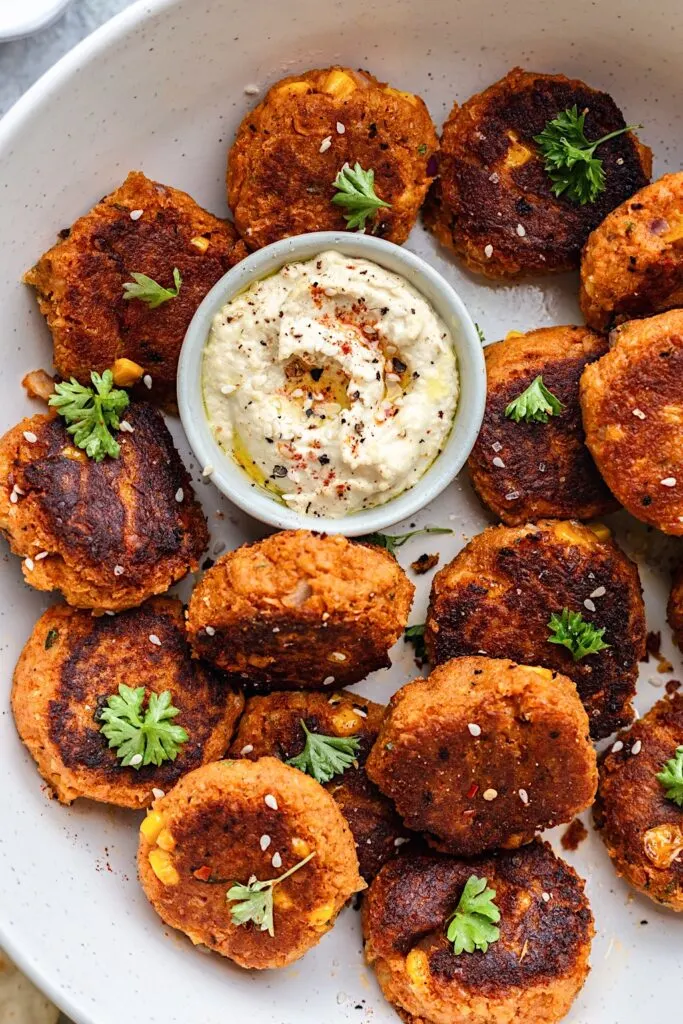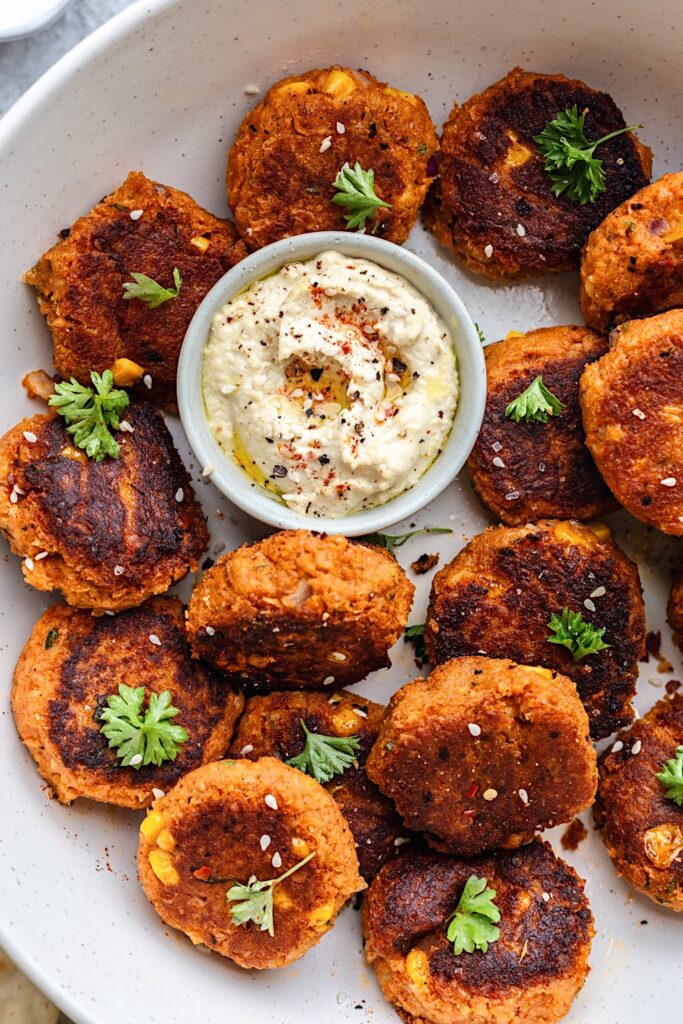 For more sweet potato recipes you may enjoy these:
Black bean and sweet potato enchiladas
Thai weet potato and cauliflower lettuce wraps
Sweet potato and coconut curry soup
Curried sweet potato and chickpea patties
---
As always if you make these sweet potato and corn falafels be sure to leave me a comment, rate this recipe and tag me on Instagram. I love seeing all your photos of my recipe recreations!
Don't forget to follow along on Facebook, Pinterest and Instagram – I'd love to see you all there!
---
NEVER MISS A RECIPE! GET MORE VEGAN RECIPES SENT STRAIGHT TO YOUR INBOX – SUBSCRIBE HERE ?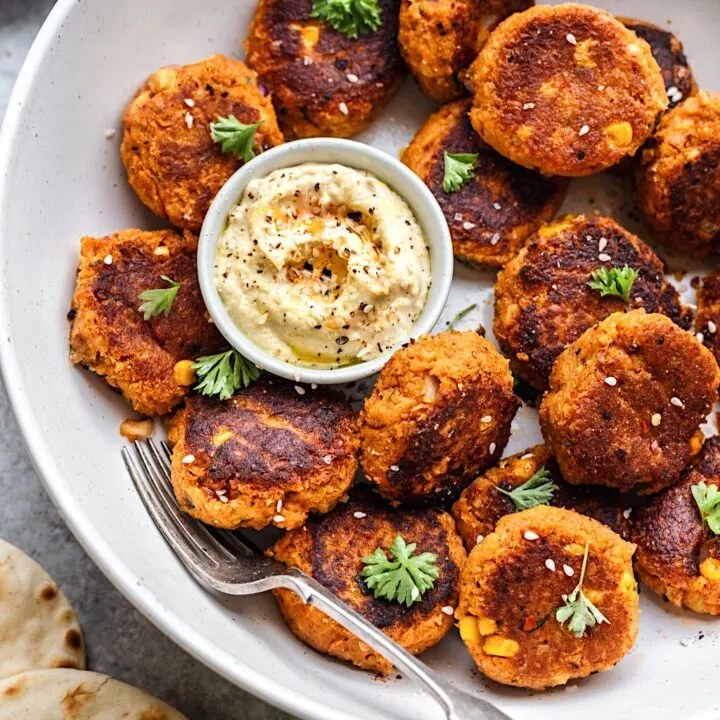 Sweet Potato and Corn Falafels
Additional Time:
30 minutes
Jazz up your falafels with this sweet potato and corn version! Packed with flavour and texture they make the perfect pitta filler, picnic addition or snack!
Ingredients
1 medium-large sweet potato
1/4 cup/25g oats
2 tins (800g) chickpeas, cooked
1 red onion
2 garlic cloves
3/4 cup/130g sweetcorn, drained
1 tsp ground cumin
1 tsp smoked paprika
1/2 tsp salt
Black pepper
1-2 tsp sriracha
4 tbsp nutritional yeast
Handful fresh coriander, finely chopped
Handful fresh parsley, finely chopped
Instructions
Pierce the sweet potato and place in the microwave on high for 10 minutes or until soft through. If you don't have a microwave, peel and then boil until soft.
Place the oats in a food processor and blitz until it resembles flour. Add the drained chickpeas, roughly chopped onion and garlic. Blitz until chickpeas are mostly broken down. I like to leave some chunky bits.
Transfer them mixture to a bowl and add the remaining ingredients. Once the sweet potato is cooked, cut in half lengthways and scoop out the flesh. Add to the bowl and mix everything together.
Pop the mixture in the fridge for half hour to firm up if it seems too soft. If the mixture seems too wet, add a little flour. If it's dry add a little water.
In a large saucepan/skillet heat a thin layer of oil on medium heat.
Take a tablespoon of mixture roll into a ball and place on a plate. Repeat until all the mixture had gone.
Place 6-8 falafels in at a time, or however many you can fit it whilst allowing space around them.
Flatten them down with the back of a spatula and cook on each side for 3-4 minutes until golden brown.
Keep cooked falafels in an oven on low heat whilst the others cook.
Best eaten fresh but will keep in the fridge for 3-4 days in an airtight container.
Notes
You can sub the sriraha for ketchup if you don't want the spice.
Recommended Products
As an Amazon Associate and member of other affiliate programs, I earn from qualifying purchases.