Perfectly spiced vegan cinnamon and apple cake with maple icing. With autumn in full swing and an abundance of apples this is the perfect fruity bake.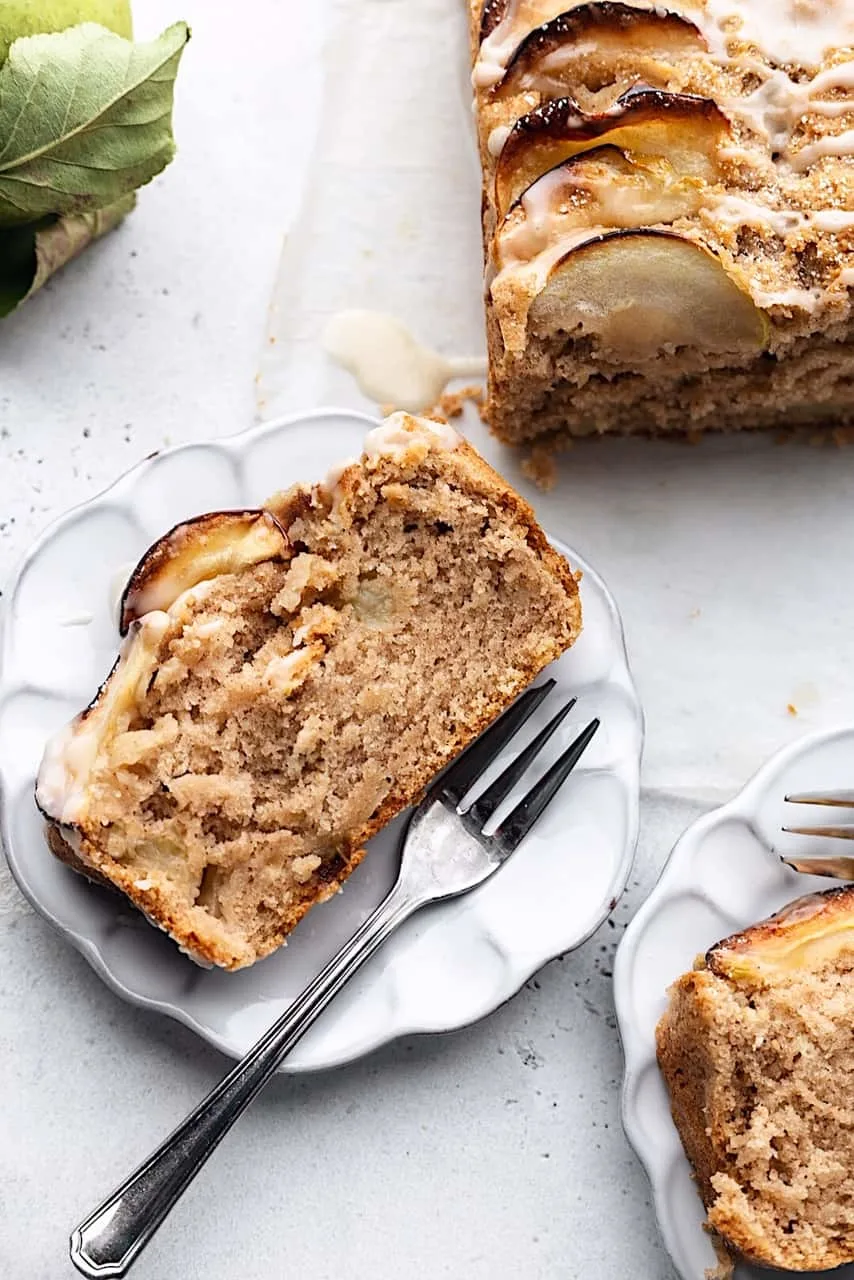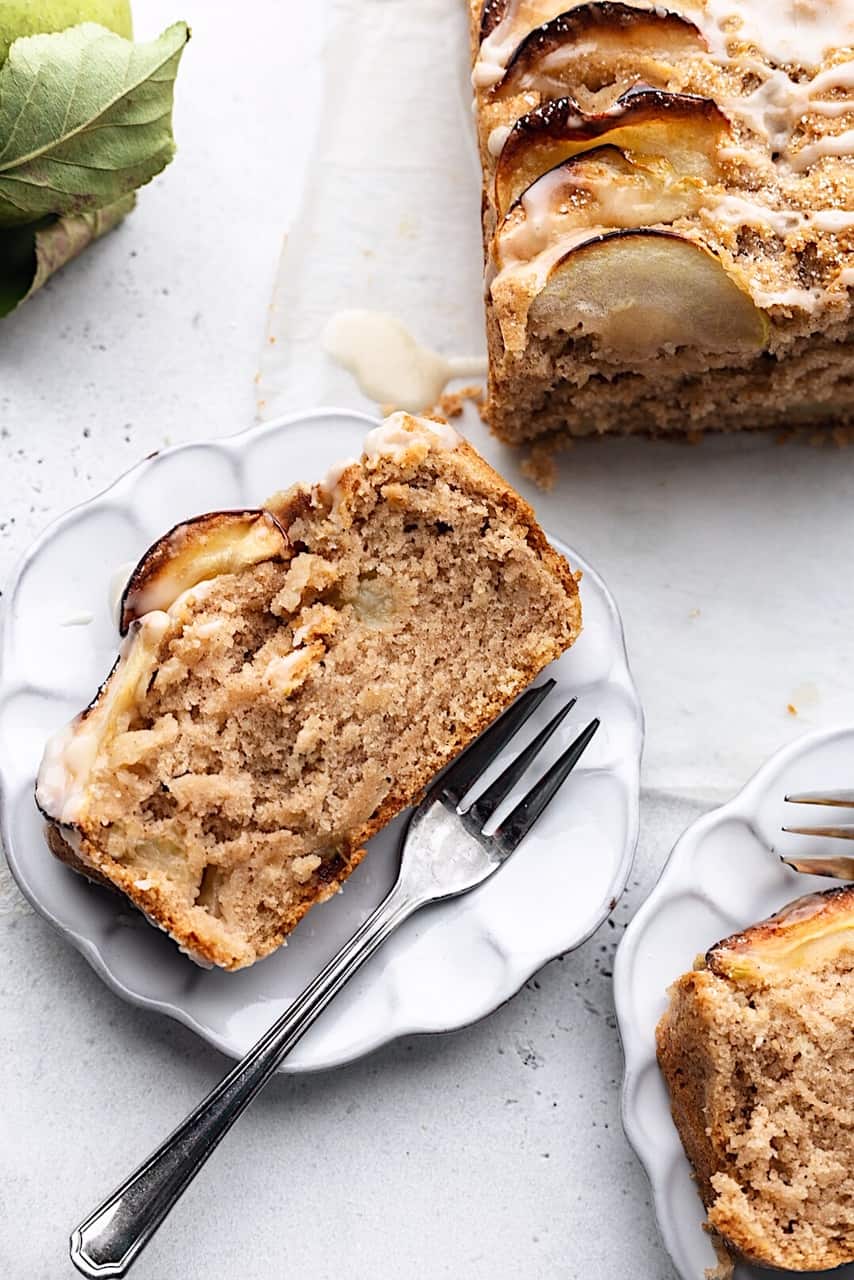 And is there anything better than the smell of a freshly baked cake on a cold autumn day? I wish my house smelled of apple and cinnamon all year long!
We all know cinnamon and apple are a match made in heaven and it was an easy combo for this cake!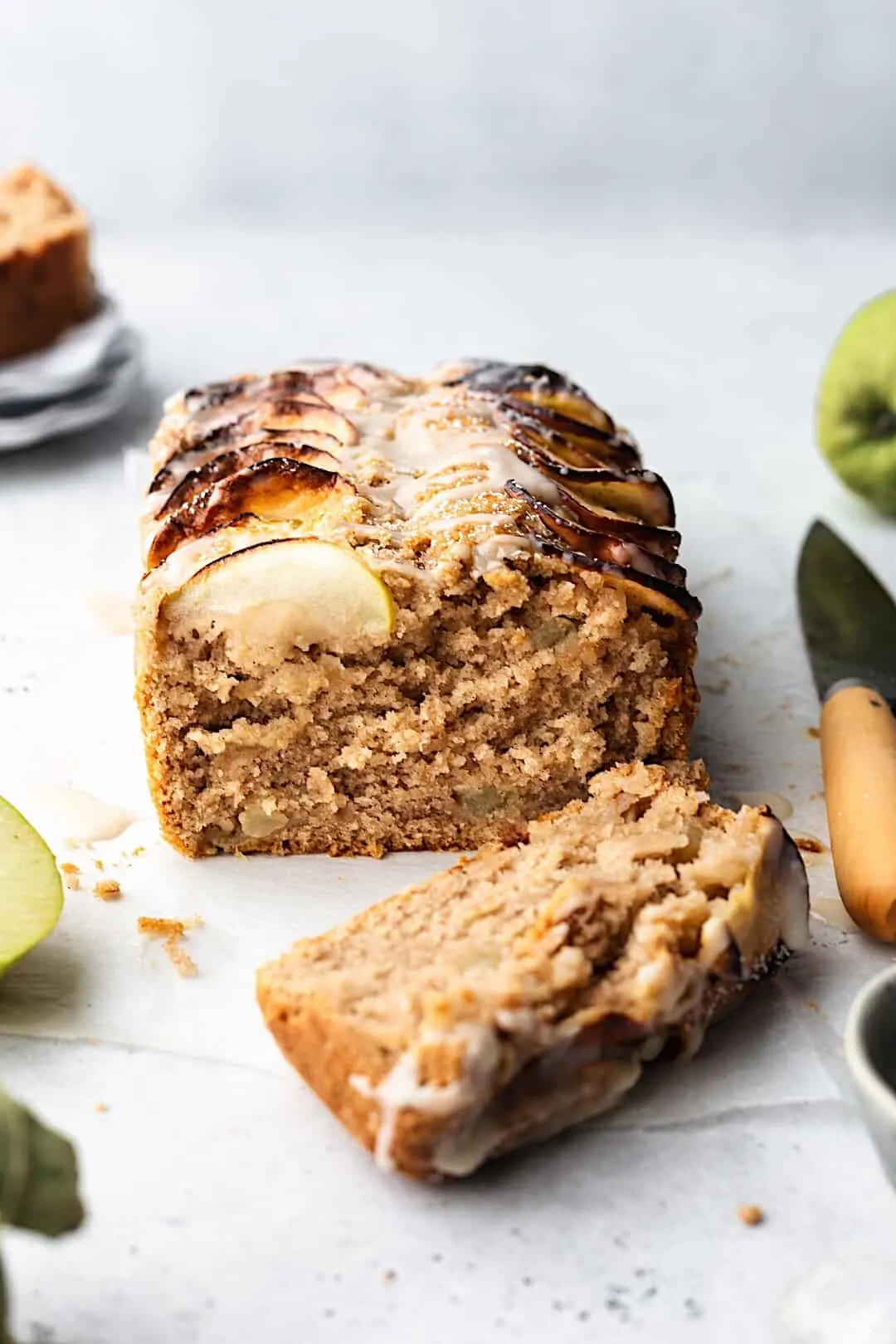 Plus I realised I didn't have a single apple recipe on the blog! Which might be because I'm not a huge apple lover unless they're in baked goods like cake!
For this recipe you want to make sure you're using cooking apples. They hold their shape better when baked and won't go mushy (the last thing you want in a cake!). I used bramley apples for this recipe, the most popular cooking apple.
How to make a vegan cinnamon apple cake:
Firstly, mix your dry ingredients together – self raising flour, baking powder, sugar and spices. Along with cinnamon we are also using a bit of ground ginger and nutmeg.
In a separate bowl mix together the vanilla essence, oil (I used rapeseed, you want a neutral flavoured oil) and unsweetened almond milk (or other plant milk, just make sure it's not sweetened).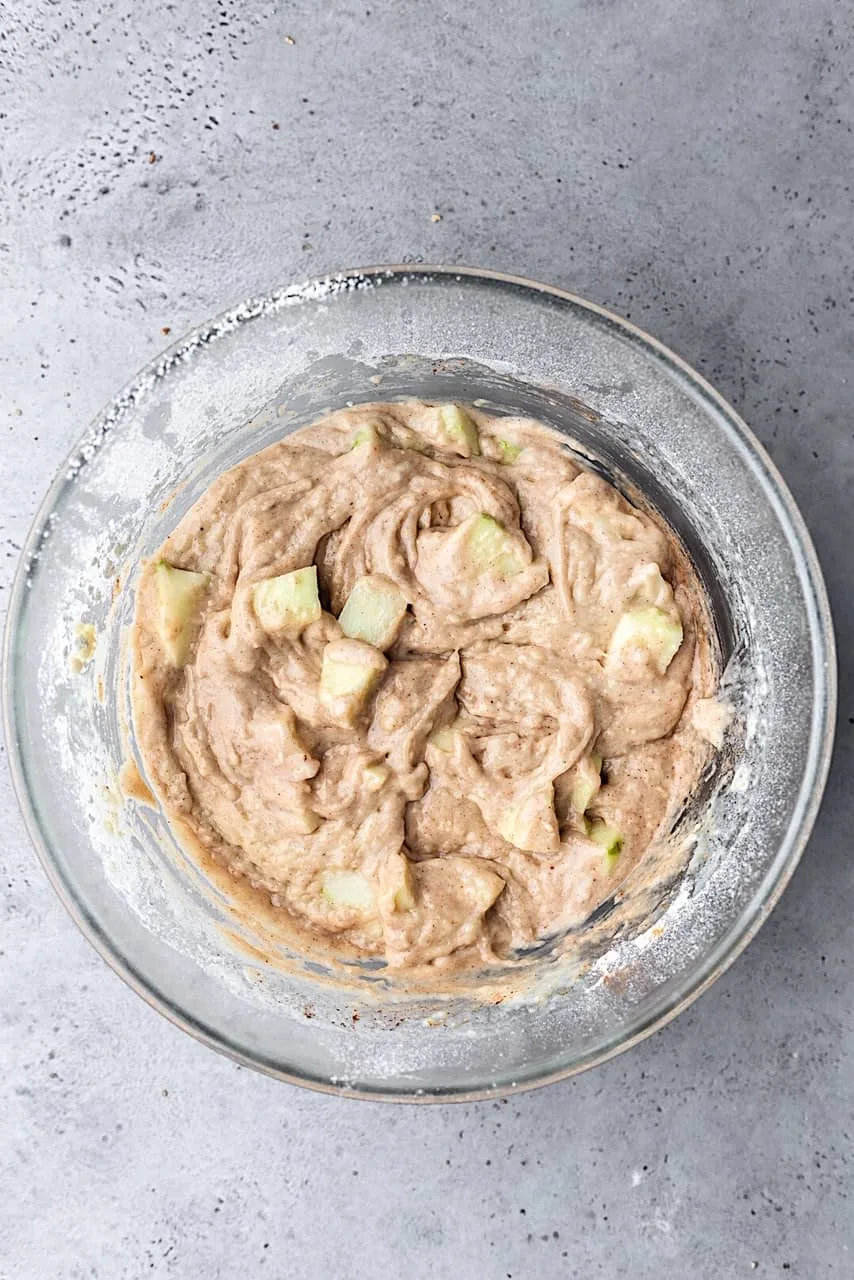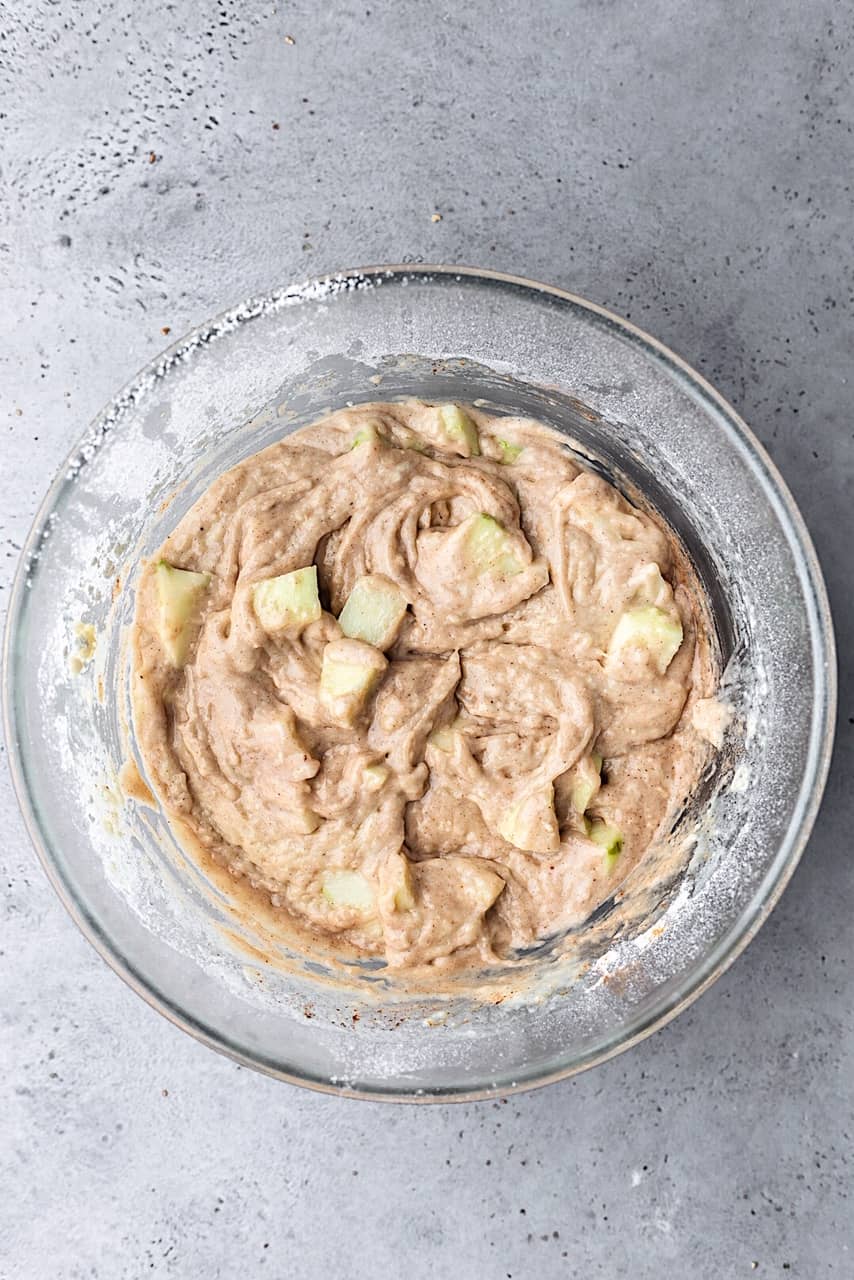 The oil and almond milk are going to replace any dairy or egg. You don't need butter or eggs to make a fluffy moist sponge. No one will know this is a vegan cake!
Pour the wet ingredients into the dry ingredients and fold together being careful not to overmix.
Peel one of the apples, quarter and remove the core. Cut the flesh into 1cm chunks.
Add to the cake mix and gently mix until coated and evenly distributed.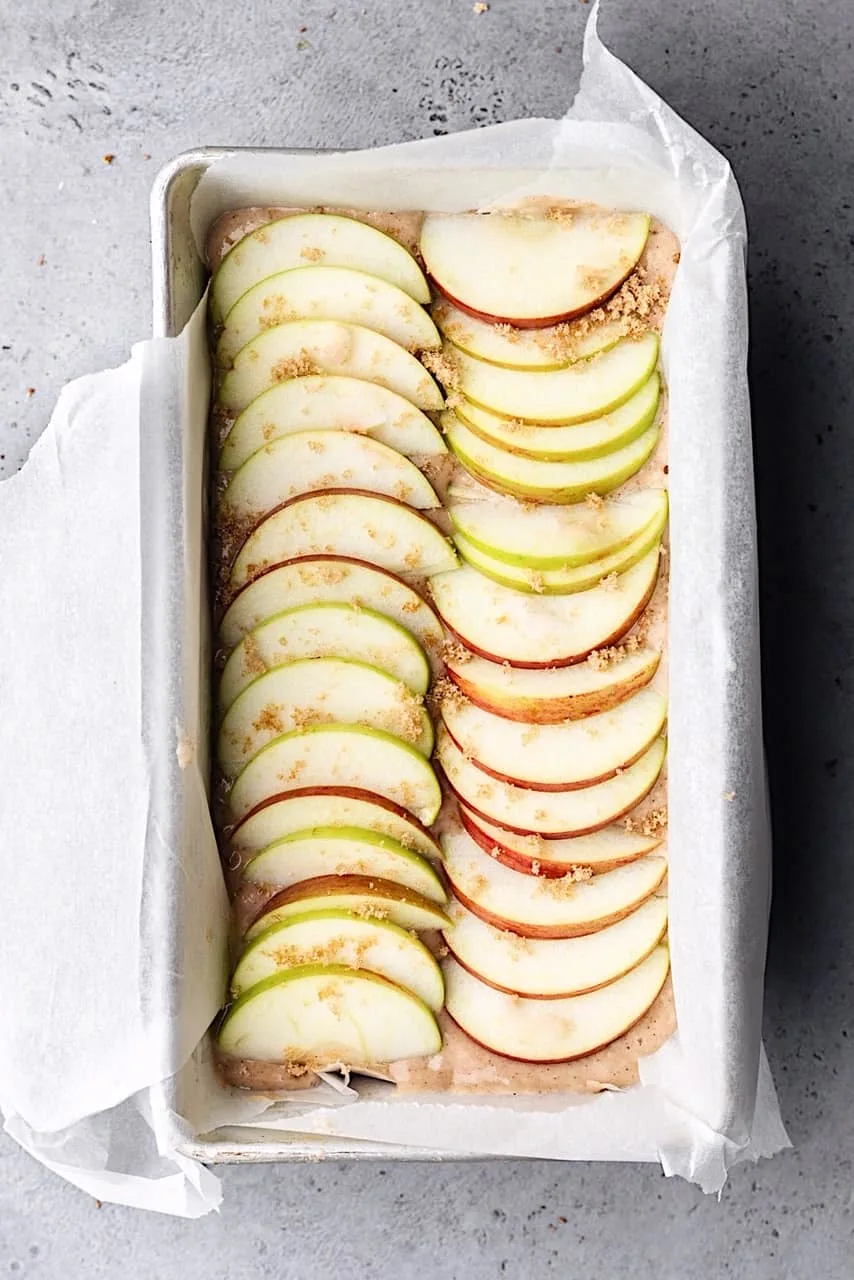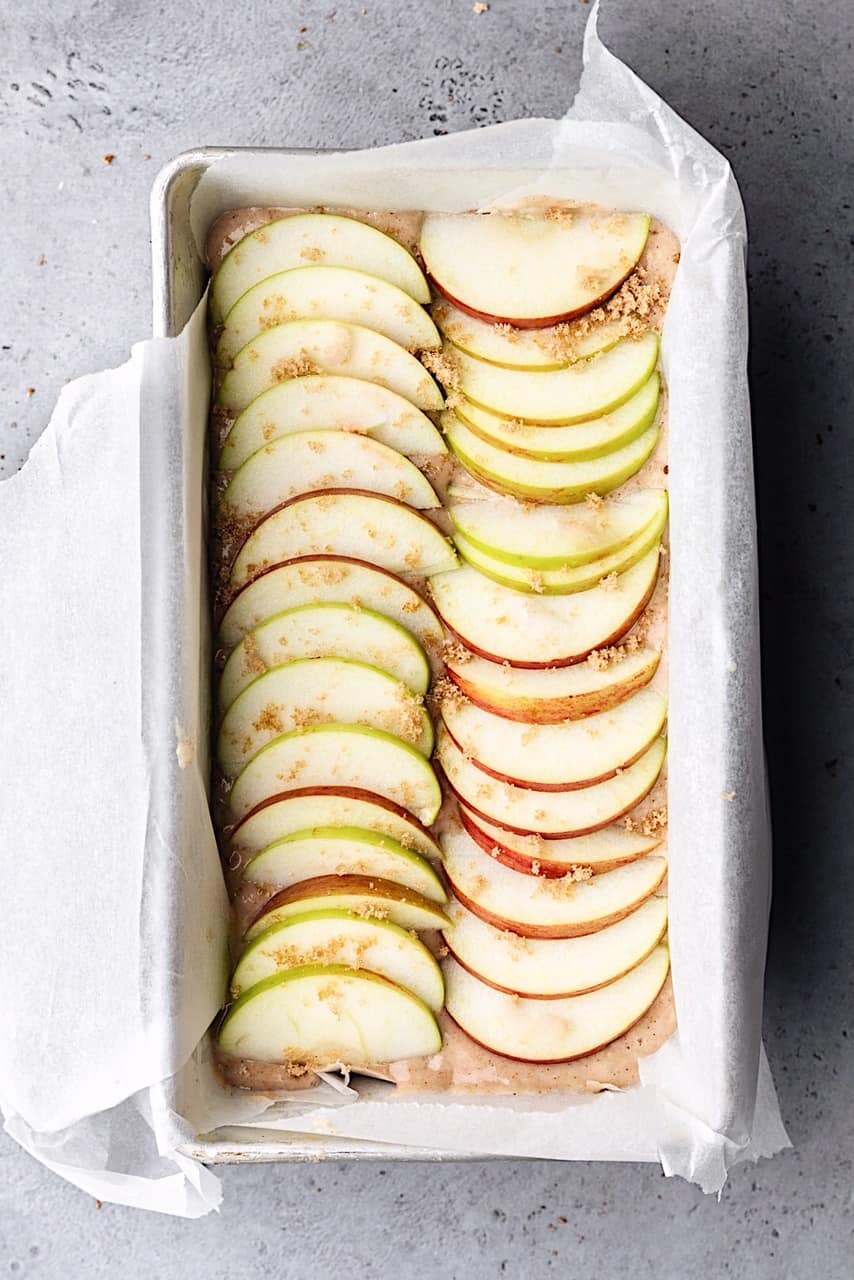 Grease and line a 9×5″ loaf tin and pour the mixture in. Gently tap the tin on the surface to release any air bubbles.
Place the thinly cut apple slices on top in rows or any arrangement you like. Place in the oven for 25-35 minutes and prepare your icing.
The maple icing is super simple – just mix icing sugar, maple syrup and a dash of water together until thick but runny.
Once the cake is cooked leave it to cool before spooning the icing on top. I drizzled it in a zig zag motion on top so you still get to see some of the apple and it drips nicely down the side. So yummy!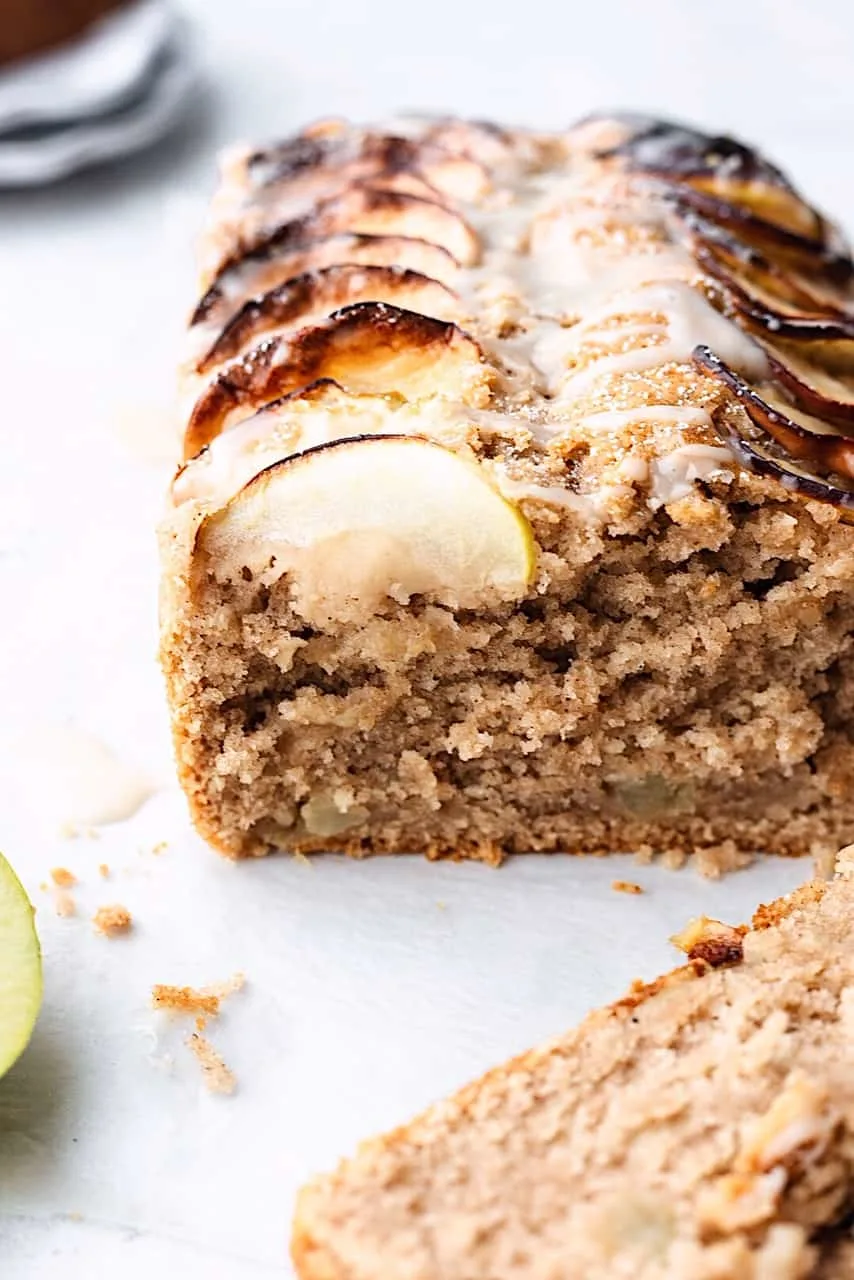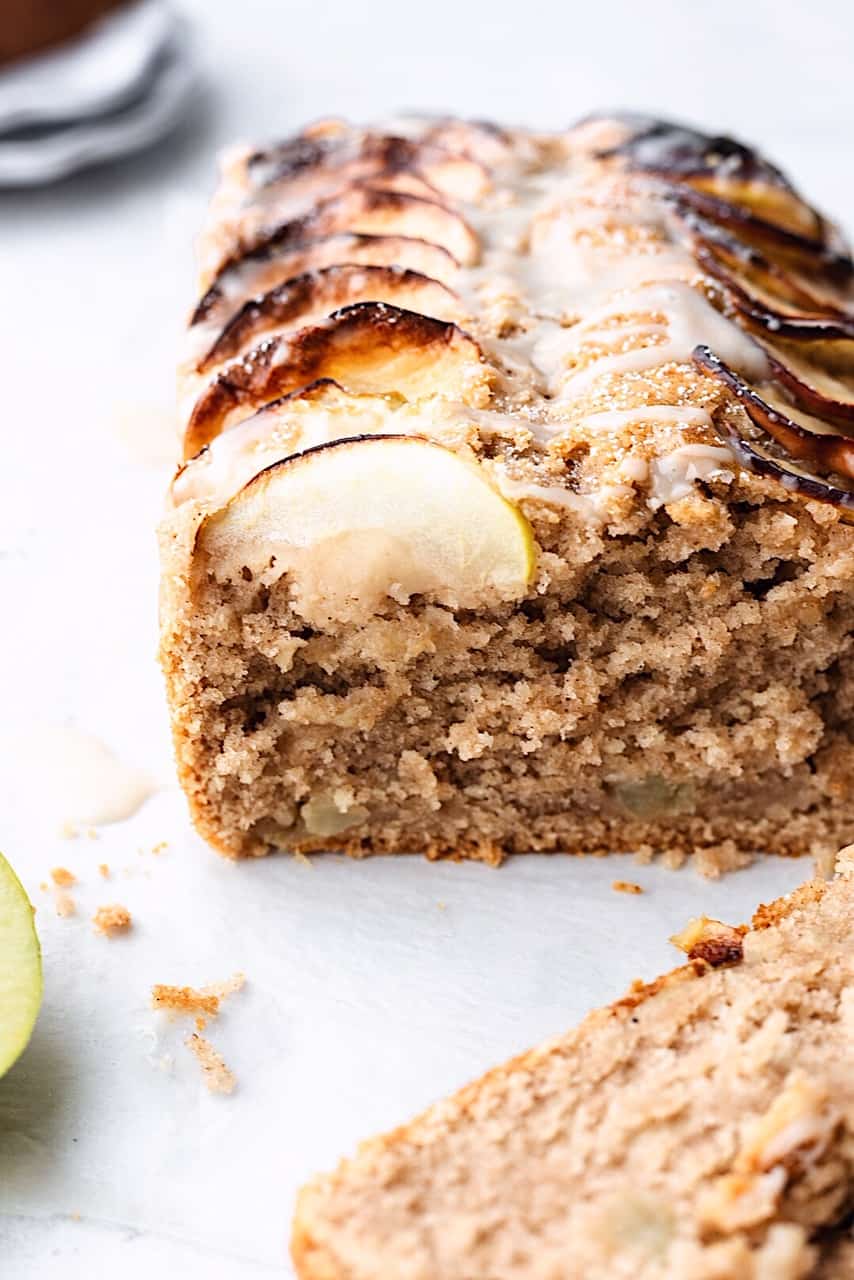 The one thing I love about loaf cakes is how easy they are to make and decorate! Just one cake tin and no layering required! Transfer straight from the loaf tin and then drizzle the icing on top and it's good to go!
So if you're after a quick and easy cake to make this fall, this cinnamon and apple loaf is the one! Best served with a large cup of coffee or tea with friends and family!
For more vegan cakes you may enjoy these:
Upside-down pear and almond cake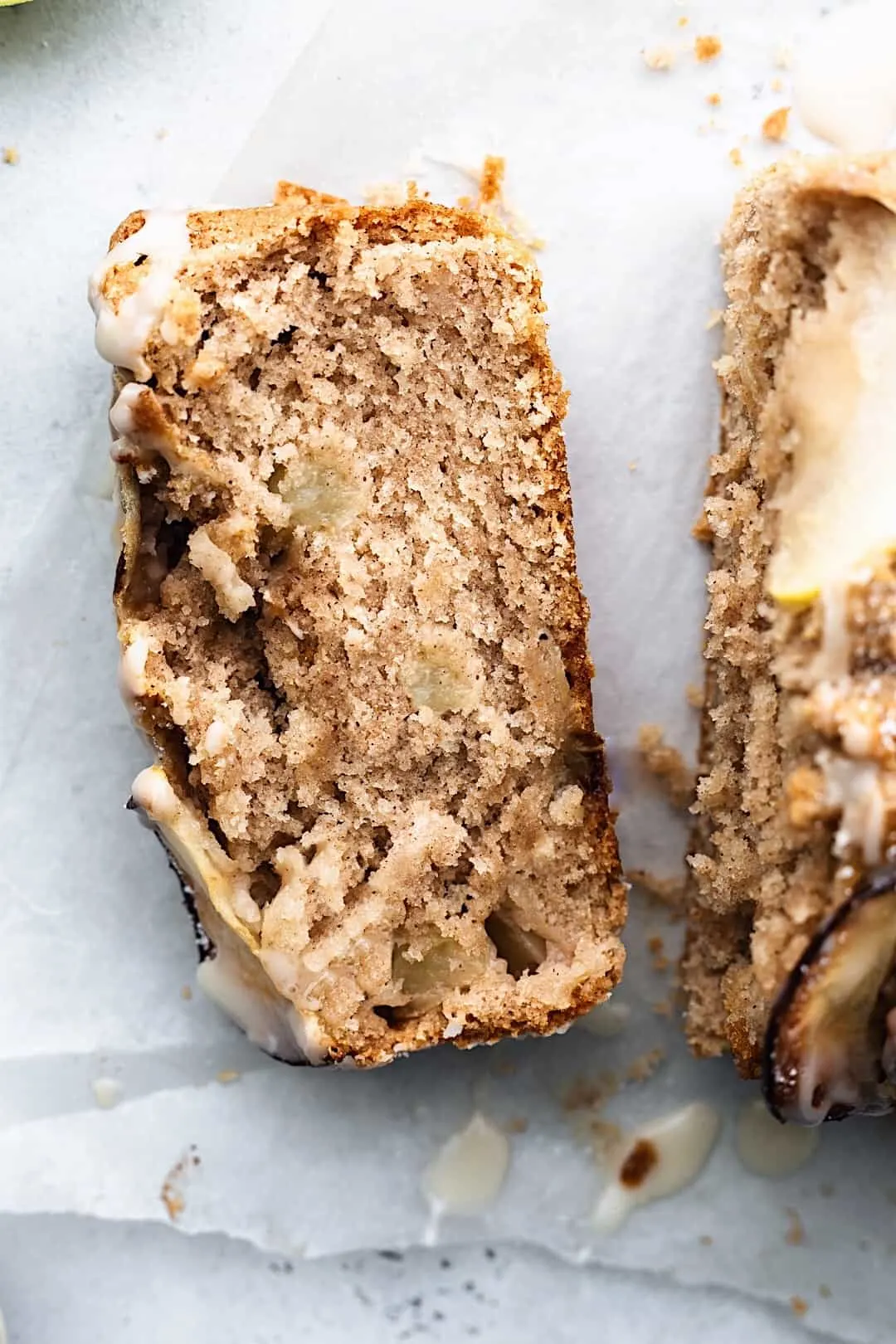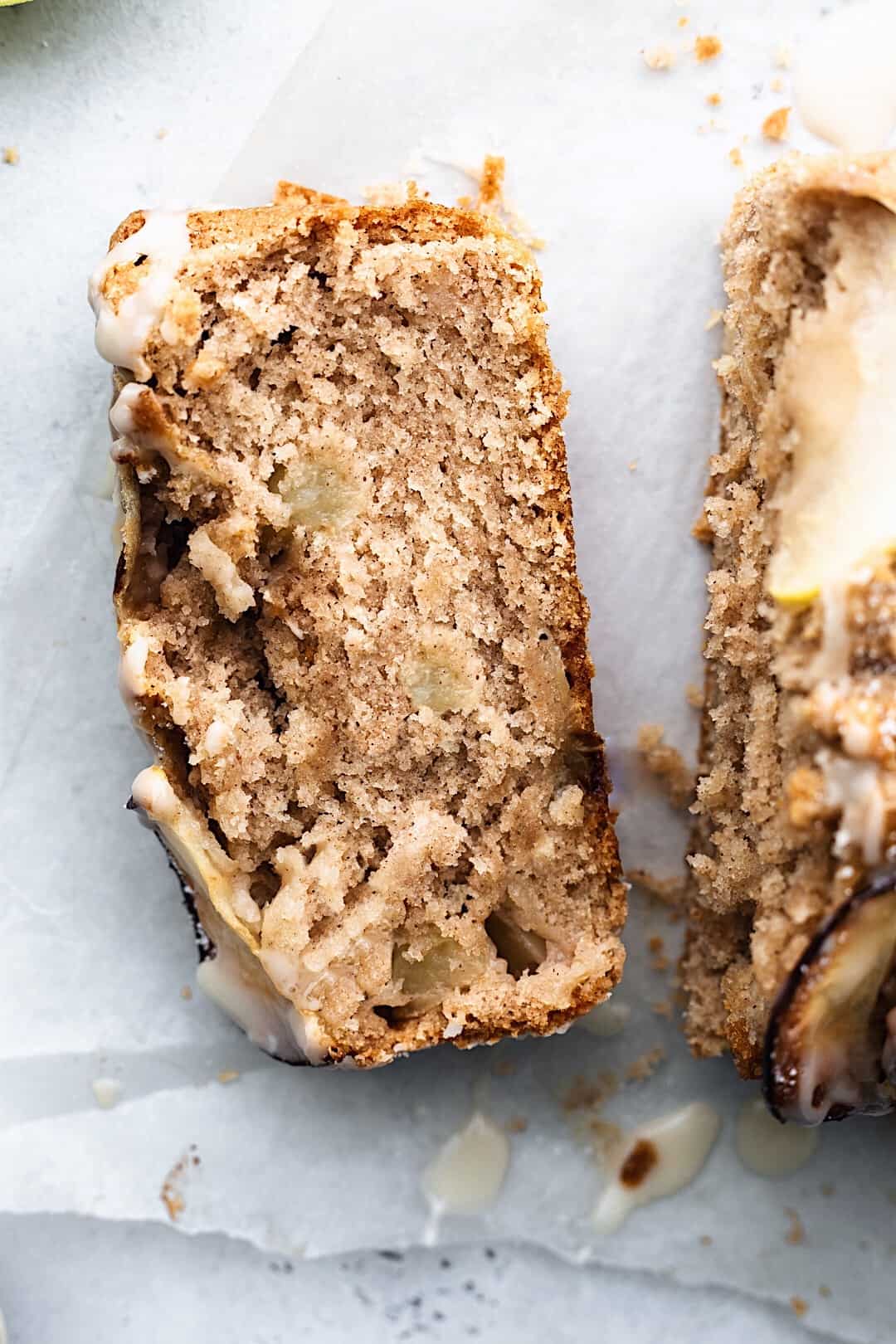 ---
As always if you make this vegan cinnamon apple cake be sure to leave me a comment, rate this recipe and tag me on Instagram. I love seeing all your photos of my recipe recreations!
Don't forget to follow along on Facebook, Pinterest and Instagram – I'd love to see you all there!
---
NEVER MISS A RECIPE! GET MORE VEGAN RECIPES SENT STRAIGHT TO YOUR INBOX – SUBSCRIBE HERE 🙂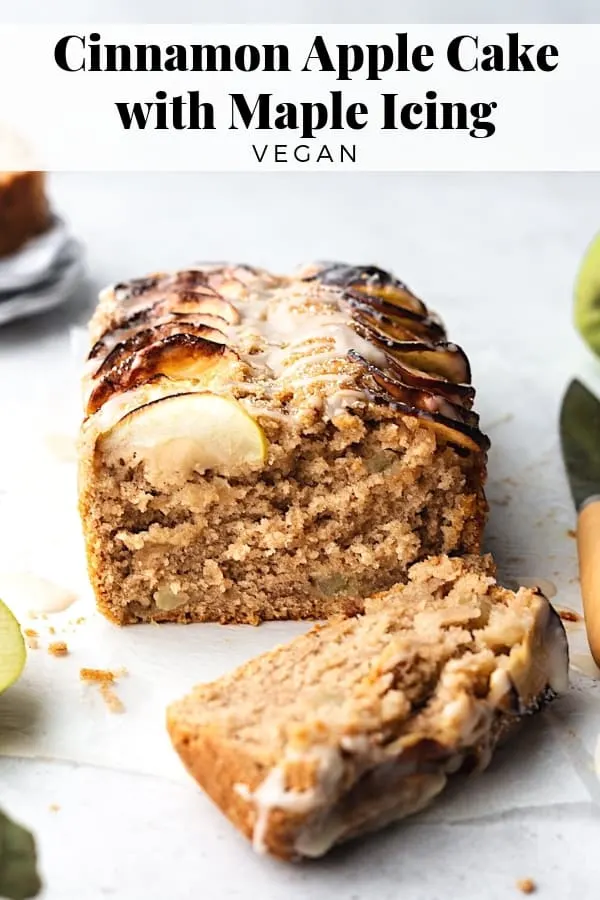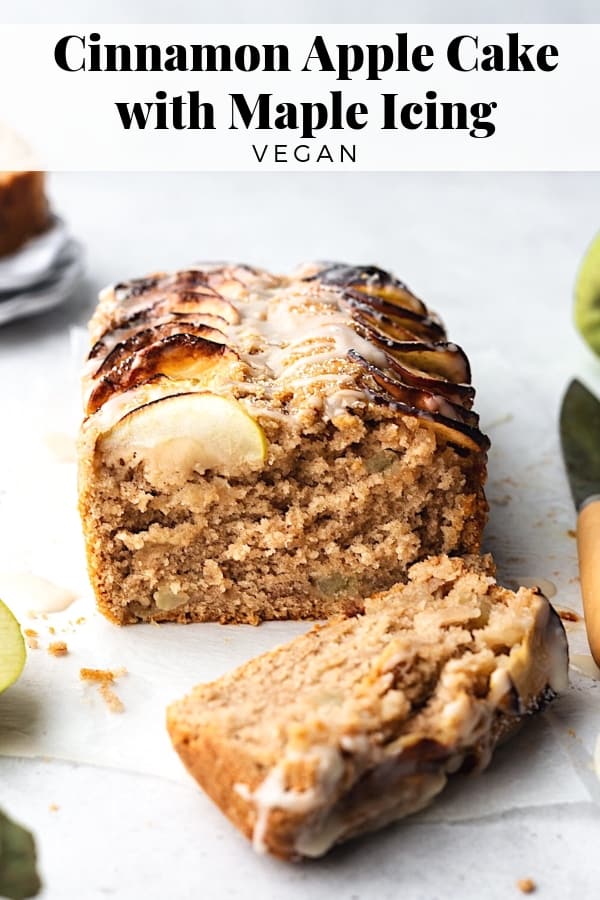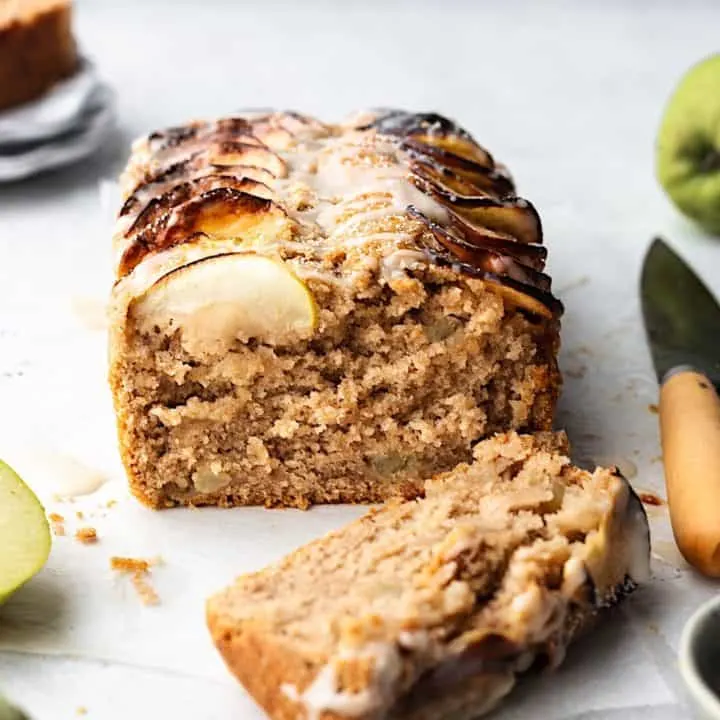 Cinnamon Apple Cake with Maple Icing
Lightly spiced cinnamon and apple loaf cake with a simple maple icing. It's the perfect vegan fruity cake for autumn!
Ingredients
225g self raising flour
1 tsp (5g) baking powder
1.5 tsp ground cinnamon
1/2 tsp ground nutmeg
1/2 tsp ground ginger
140g caster sugar
100ml rapeseed oil (or other neutral flavoured oil)
175ml unsweetned almond milk
1 tsp vanilla essence
2 large cooking apples
Maple Icing
65g / 1/2 cup icing sugar
45g / 1/4 cup maple syrup
Splash of water
Instructions
Pre heat oven to 180C/350F. Grease and line a 9x5" cake tin.
Sift the flour into a bowl and add the baking powder, sugar and spices. Mix to combine.
In a separate bowl mix the wet ingredients together - oil, milk and vanilla.
Peel one of the apples and cut into 1cm sized chunks. With the other apple, quarter and cut into thin slices.
Pour the wet ingredients into the dry ingredients and mix until combined, don't over mix. Add the chopped apple and mix until evenly distributed.
Pour into the lined loaf tin and then gently tap on the work surface to release any air bubbles.
Arrange the sliced apple on top, I did two rows but you can arrange however you like.
Place in the oven for 30-40 minutes. Keep an eye on it as this may vary depending on ovens. Place a skewer in the middle, if it comes out clean it's ready.
Transfer to a cooling rack and prepare your icing. Mix the icing sugar and maple syrup together until smooth, add a splash of water to thin it.
Drizzle on top once the cake is cooled and serve!
Notes
I used bramley cooking apples. Will keep for 2-3 days in an air tight container.
Recommended Products
As an Amazon Associate and member of other affiliate programs, I earn from qualifying purchases.