Creamy vegan mushroom stroganoff served with wild rice and garlic bread. There's no need to miss out on this traditionally dairy recipe when it's easy to make vegan!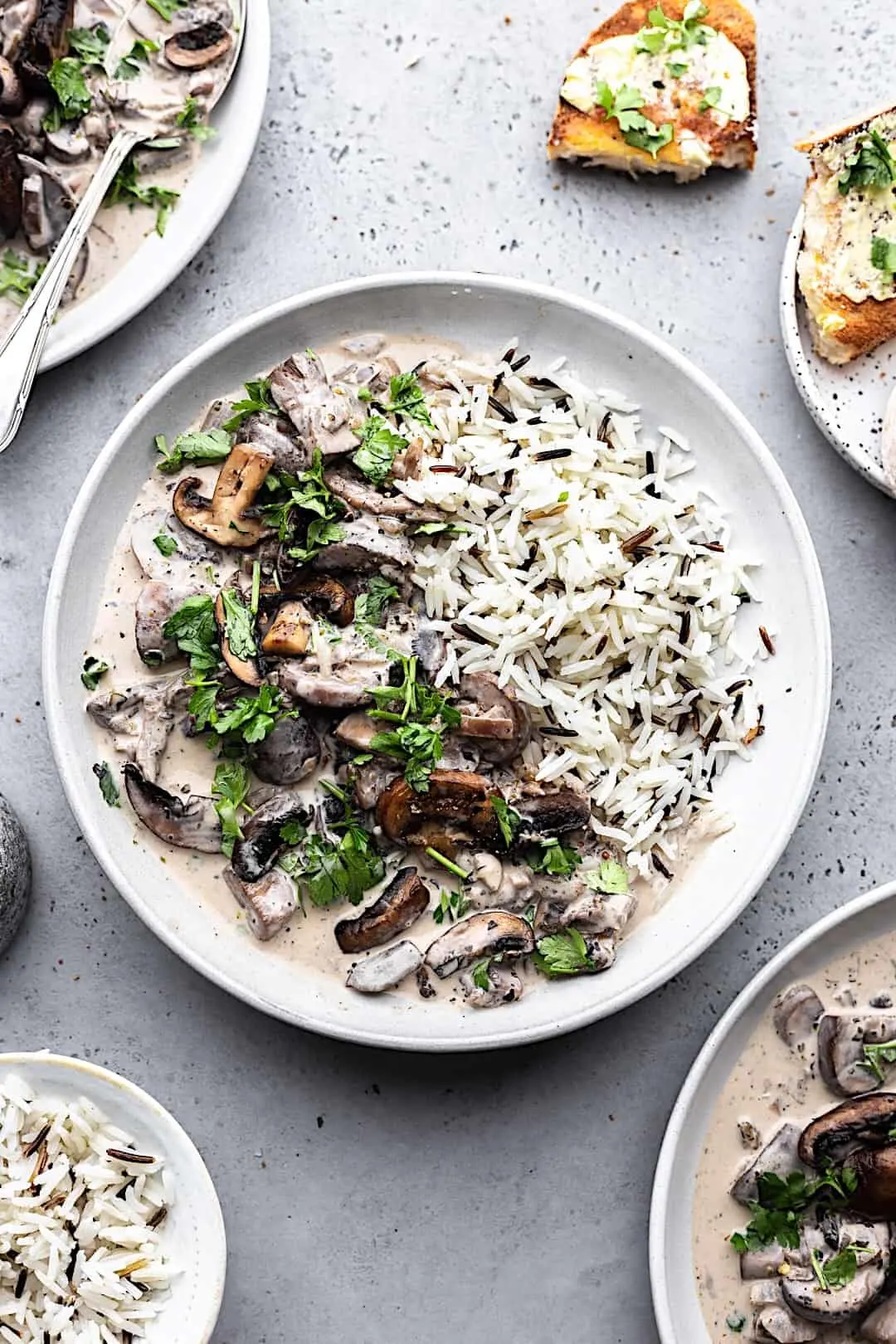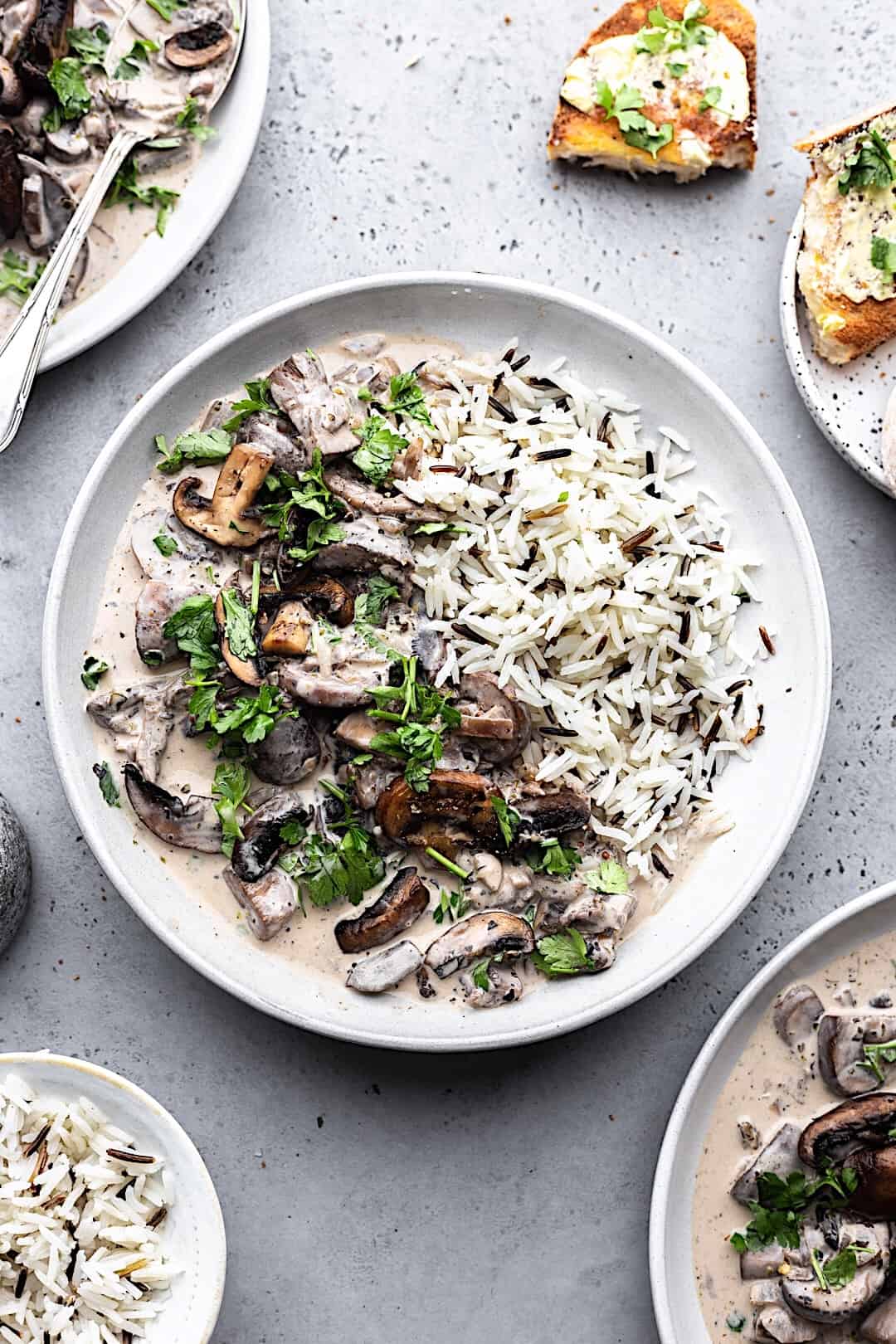 A mix of chestnut, oyster, portobello and king oyster mushrooms are cooked in a rich and creamy sauce. I love using a mix of mushrooms for stroganoff as they all lend different flavours and textures to the dish.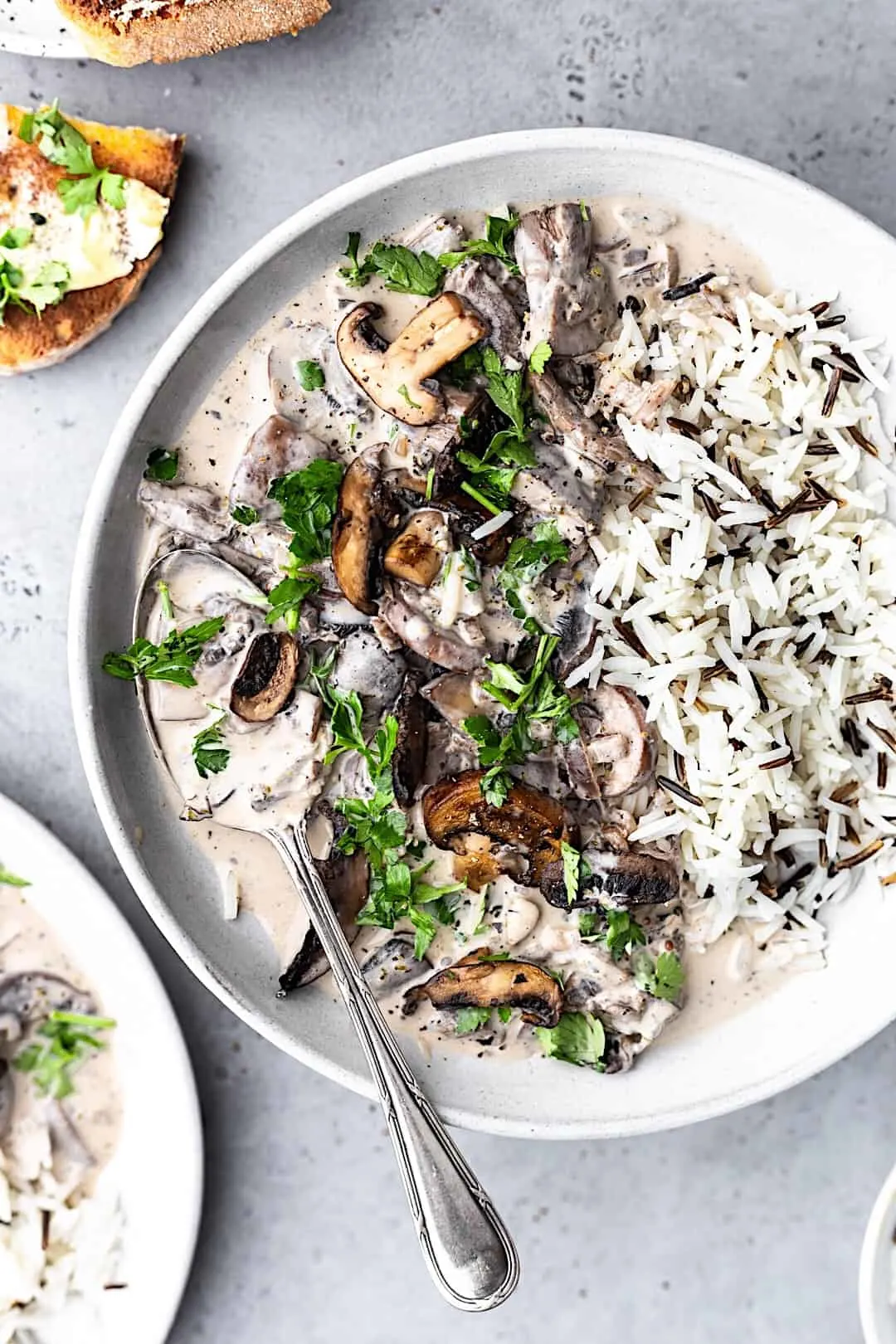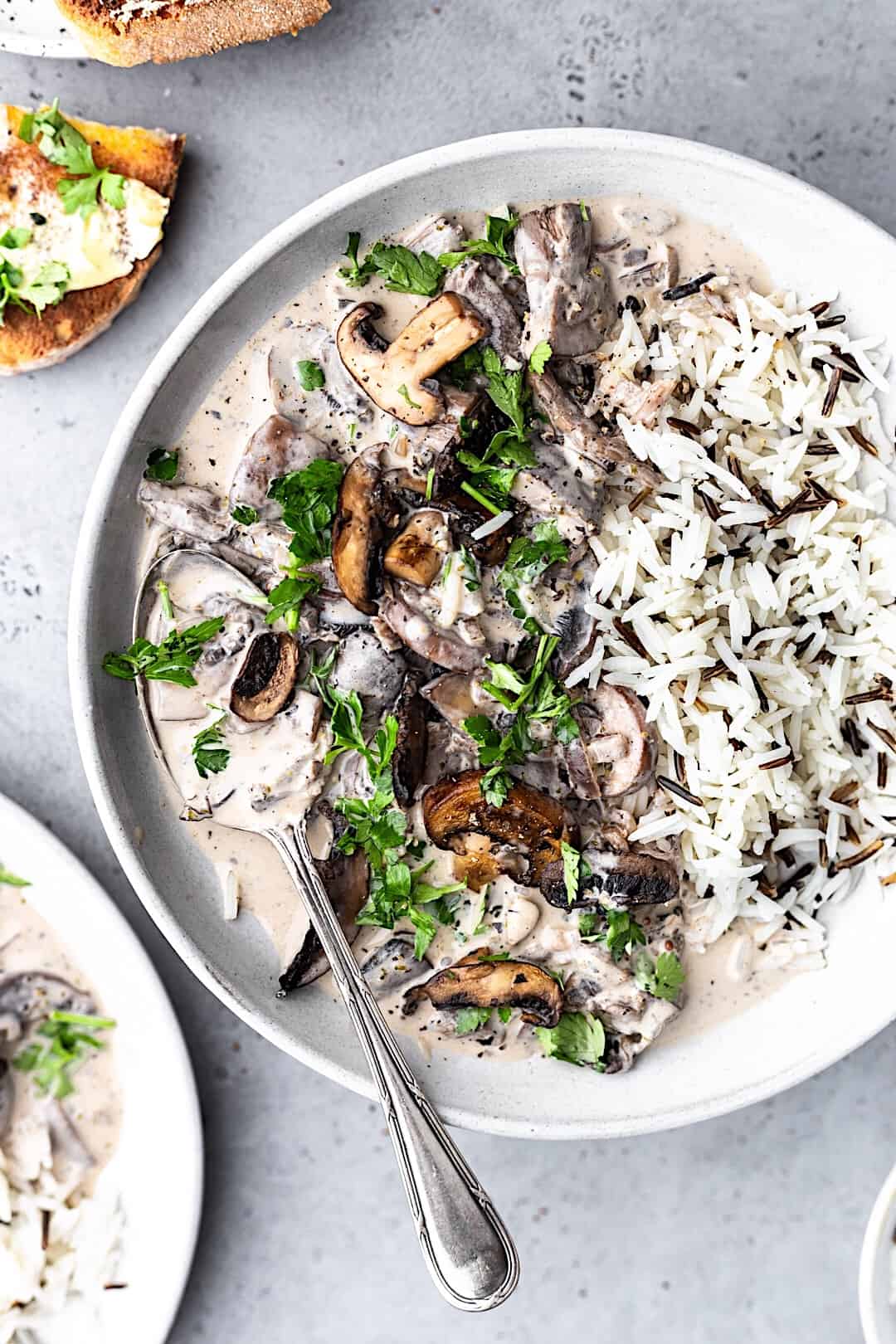 You can use just one type of mushroom but I really recommend buying a few different varieties for this recipe. Supermarkets have a much wider variety now and although some are a bit more expensive they are totally worth it!
Mushrooms are one of my favourite ingredients and you probably notice them in a lot of recipes here at Cupful of Kale. They're great for adding a chewy or meaty texture to dishes and are so versatile. Plus they just taste incredible!
How to make vegan mushroom stroganoff:
To start, we are going to fry shallots and garlic in some oil or vegan butter. Once these have cooked for a few minutes and the onion is soft we can add the mushrooms.
If you're using a mix of mushrooms, cut or slice them so they are roughly the same size. With the king oyster mushrooms, I shredded the stalks for added variety in texture.
You'll want to use a large frying pan for this so the mushrooms have space to cook, they will reduce a lot in size. Add them to the onion and garlic and then cook on medium heat for about 15 minutes.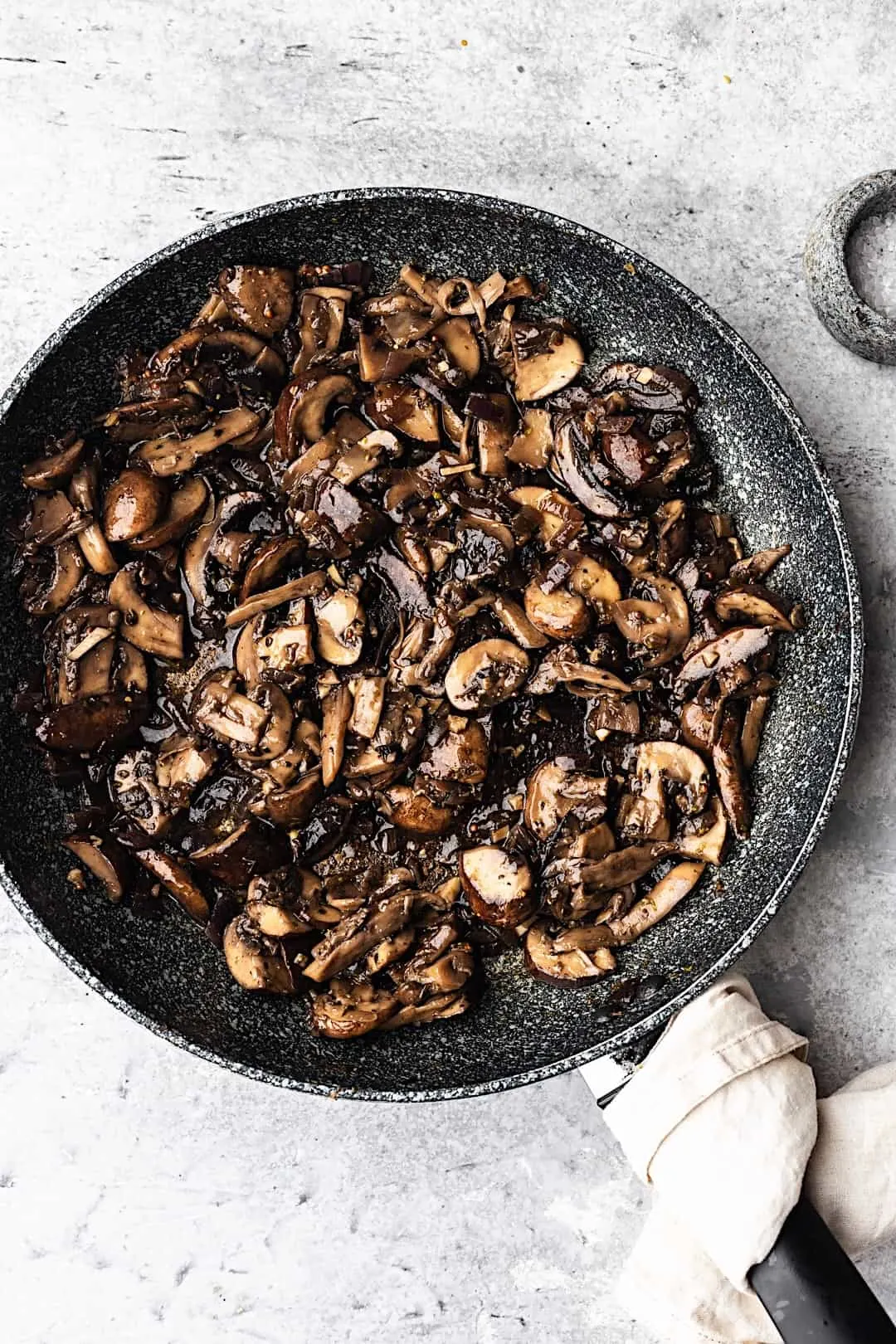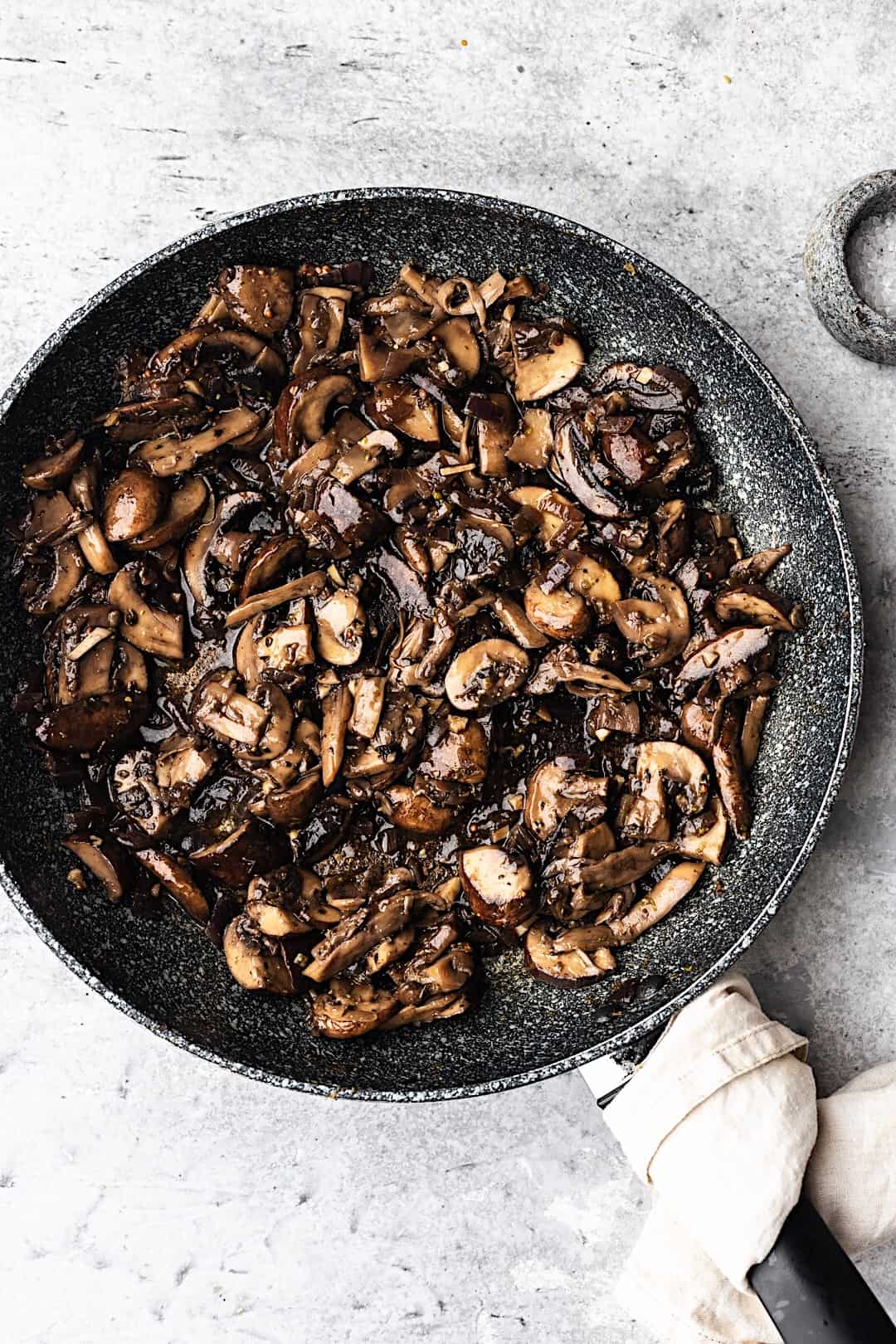 You want the mushrooms to cook until the have absorbed their water and are starting to brown and are nice and glossy. Then comes the white wine (or water) and stock. Let this simmer until it's reduced and there is about 1/4 of the liquid.
If you're serving with rice, put this on to cook now. Alternatively you could serve with pasta or potatoes! It's delicious with just about any carb! I love having mushroom stroganoff with rice, it's how I always ate it growing up.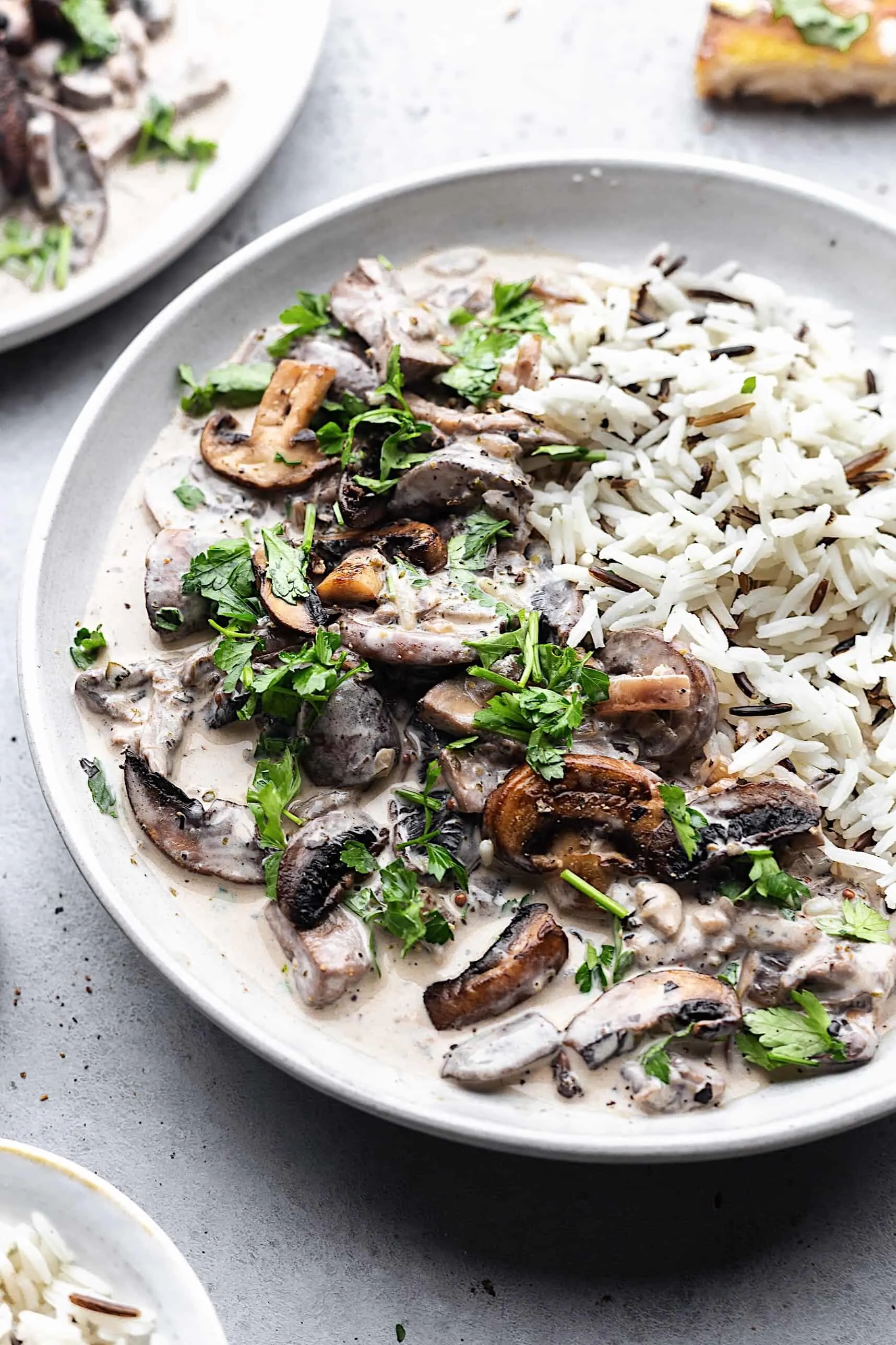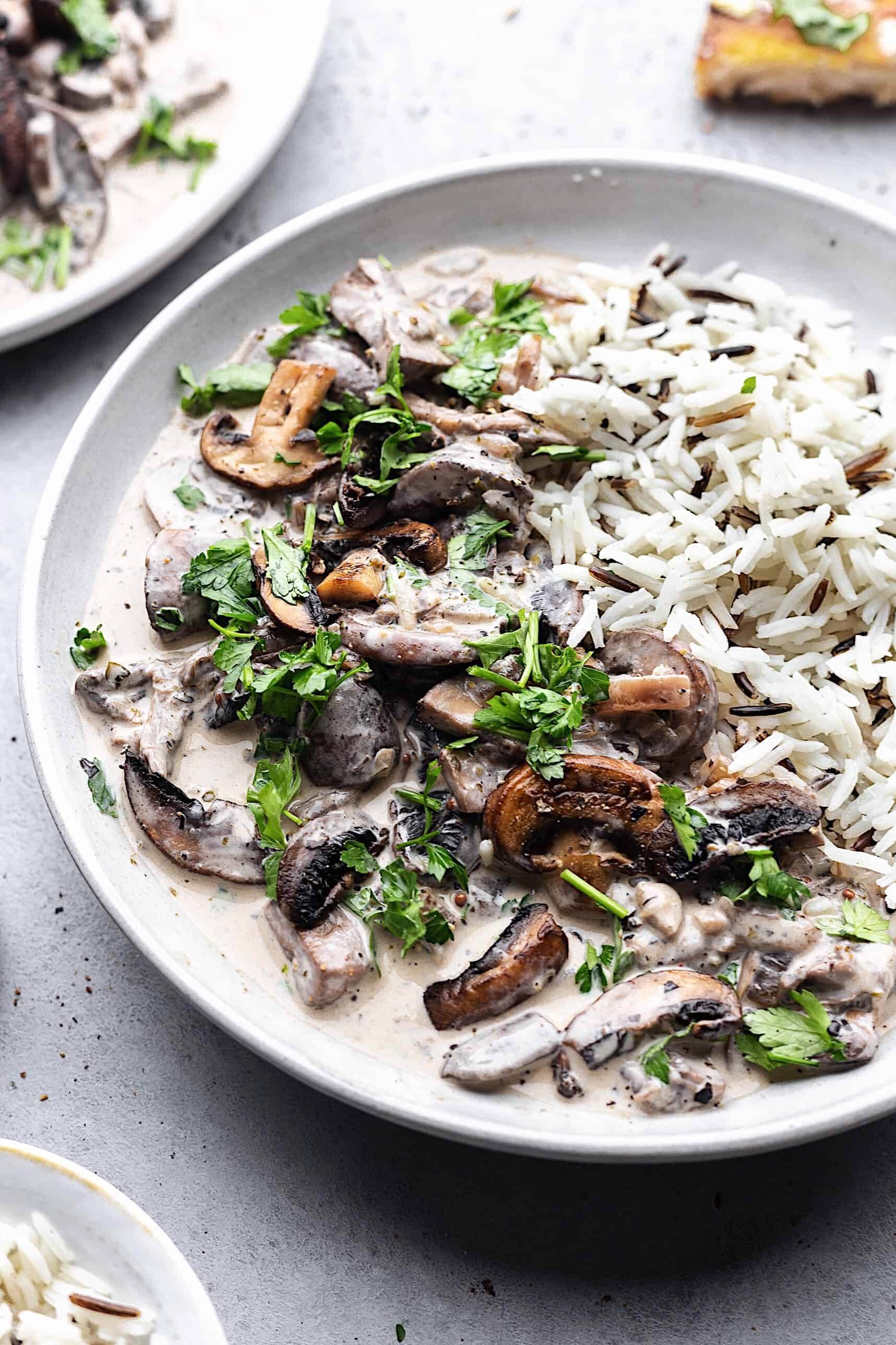 Once the white wine is reduced we can add the cream and mustard. I use Oatly single cream alternative which you can find in most supermarkets. A soya cream works too but I prefer the creaminess of the oat cream.
Let the sauce gently simmer for about 5-10 minutes until the sauce has thickened. Top with some fresh parsley and serve with rice! I also having this with garlic bread or some toasted sourdough/ciabatta to soak up all that delicious sauce!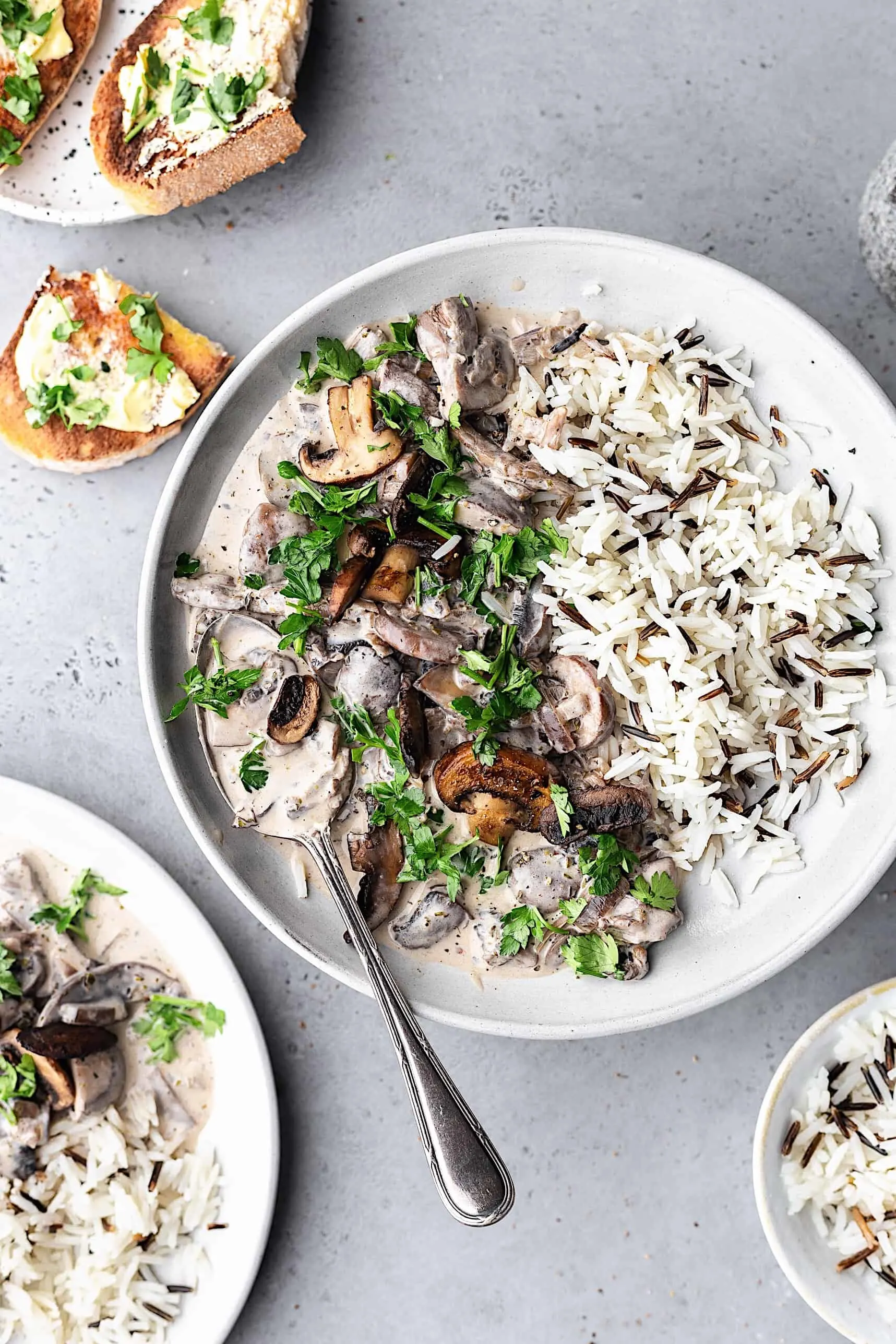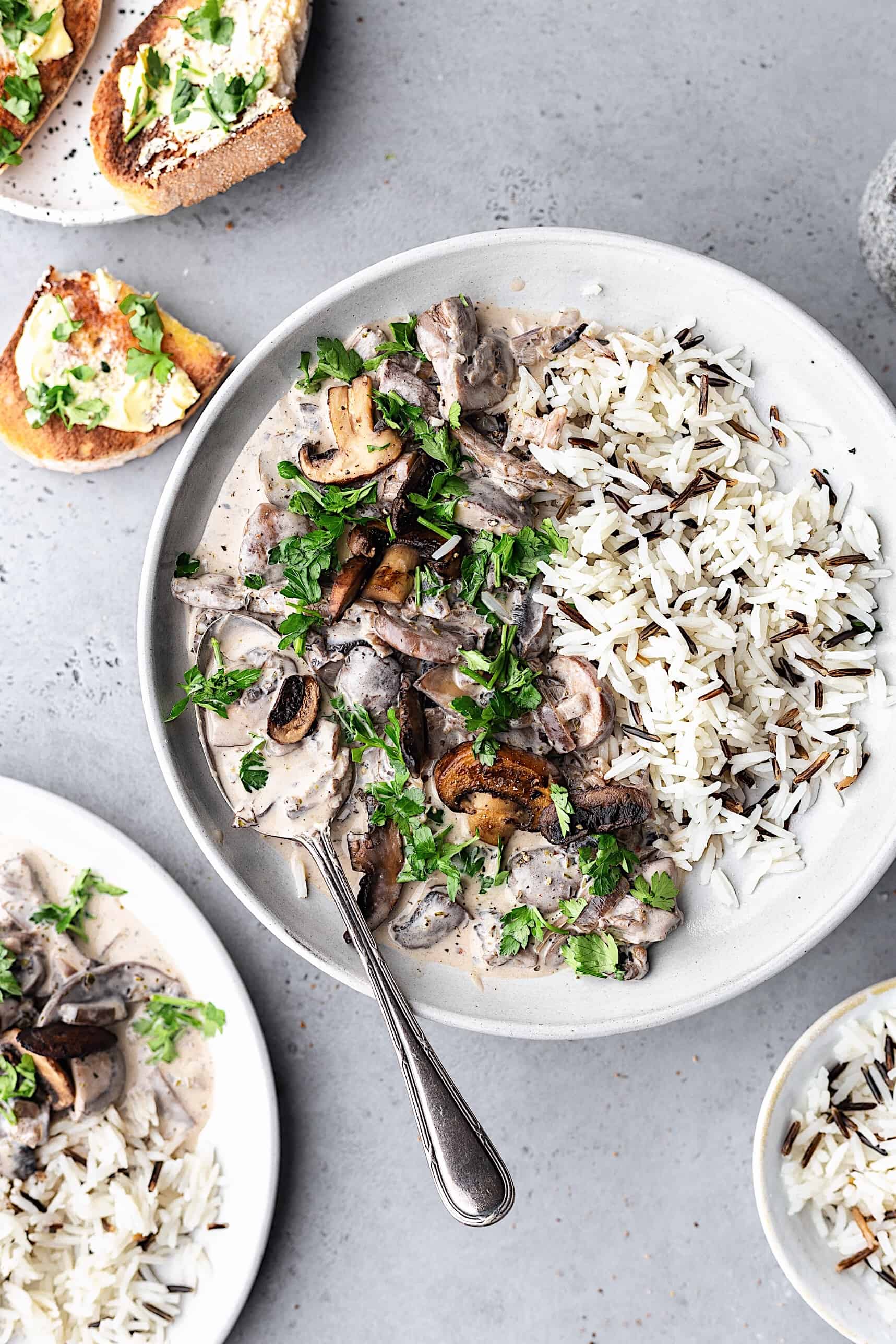 This recipe serves between 2-4 depending what you serve it with. I also definitely go back for seconds and thirds, it's too good not to!
For more mushroom recipes you may enjoy these:
Mushroom and tofu tikka masala
Crispy garlic breaded mushrooms
Mushroom and lentil shepherds pie with sweet potato mash
---
As always if you make this vegan mushroom stroganoff be sure to leave me a comment, rate this recipe and tag me on Instagram. I love seeing all your photos of my recipe recreations!
Don't forget to follow along on Facebook, Pinterest and Instagram – I'd love to see you all there!
---
NEVER MISS A RECIPE! GET MORE VEGAN RECIPES SENT STRAIGHT TO YOUR INBOX – SUBSCRIBE HERE 🙂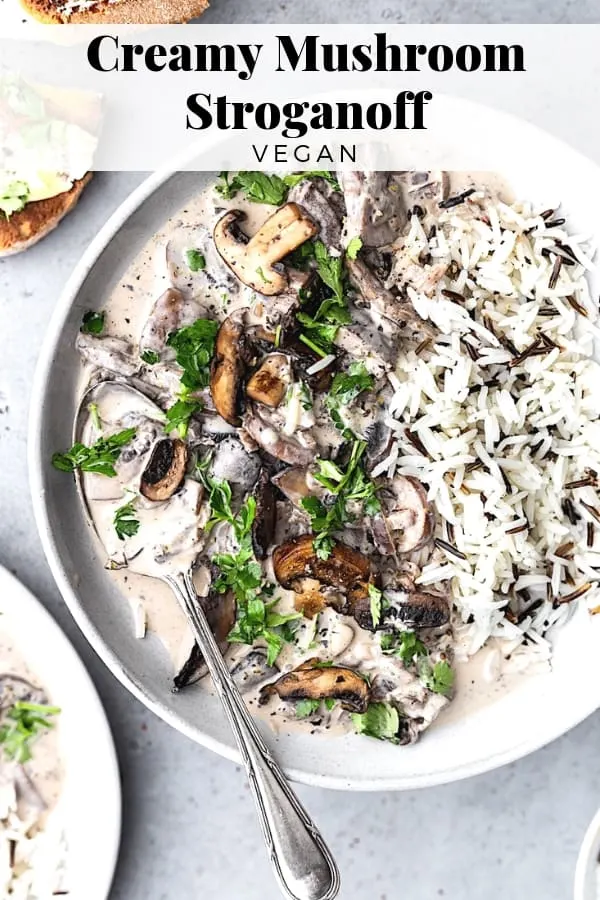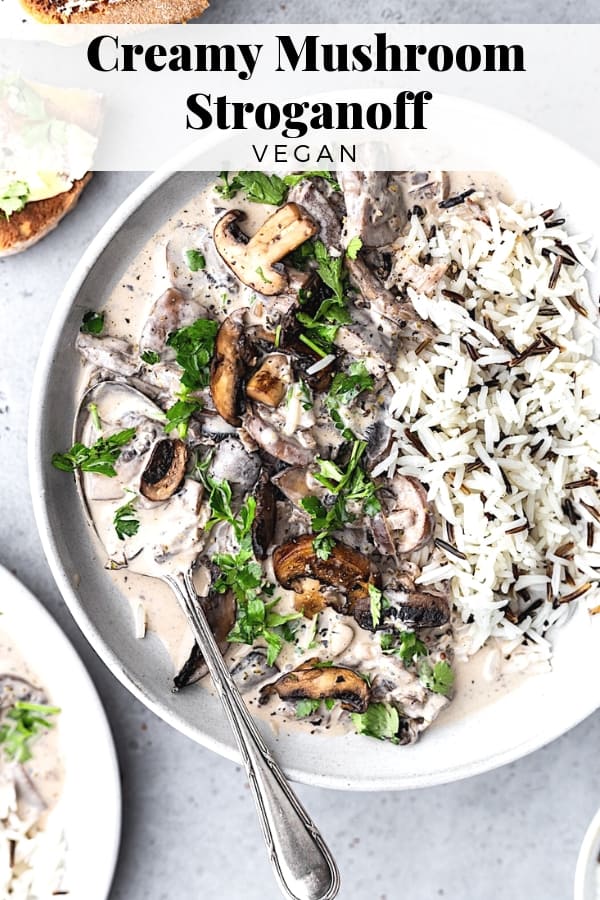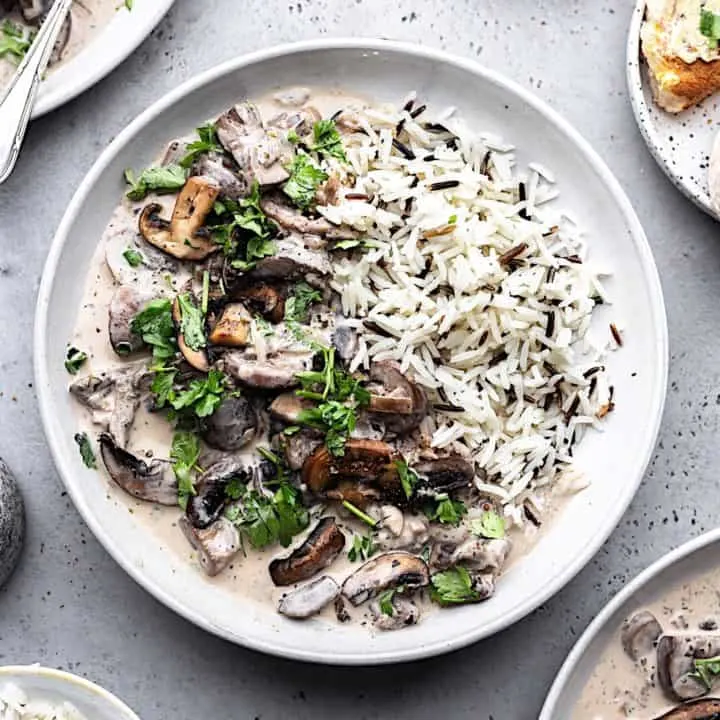 Vegan Mushroom Stroganoff
Creamy vegan mushroom stroganoff served with wild rice and garlic bread. It's one of the best mushroom dishes around and completely dairy free!
Ingredients
1 tbsp vegan butter
4 shallots
4 garlic cloves
500g / ~4 cups mix of mushrooms (chestnut, portobello, oyster, king oyster)
1/2 cup white wine (or water)
1 stock cube
1 tsp wholegrain mustard
1 tbsp mixed dried herbs
250ml oat cream
Handful flat leaf parsley
To serve
Rice (I used a wild rice/basmati mix)
Garlic bread
Instructions
Heat the butter (or oil) in a large frying pan on medium heat. Finely chop the shallots and add to the melted butter.
After a few minutes add the crushed garlic and cook until the onions are soft.
Chop/slice the mushrooms so they are roughly the same size. For the king oyster mushrooms I shredded the stalks.
Add the mushrooms to the frying pan and let cook for about 15 minutes. You want them to have absorbed the water they release. They should be turning golden and have reduced a lot in size.
Add the wine (or water) and crumbled stock cube. Let simmer until almost fully reduced.
Now add the oat cream, mustard ad dried herbs. Leave to gently simmer for 5-10 minutes until the sauce has thickened a bit. Taste and season with salt and pepper.
Top with parsley and serve with rice and garlic bread!
Notes
I use Oatly single cream but soya cream works too. Make sure the white wine you are using is vegan.
Recommended Products
As an Amazon Associate and member of other affiliate programs, I earn from qualifying purchases.