These vegan crispy garlic breaded mushrooms are the perfect starter, snack or side dish!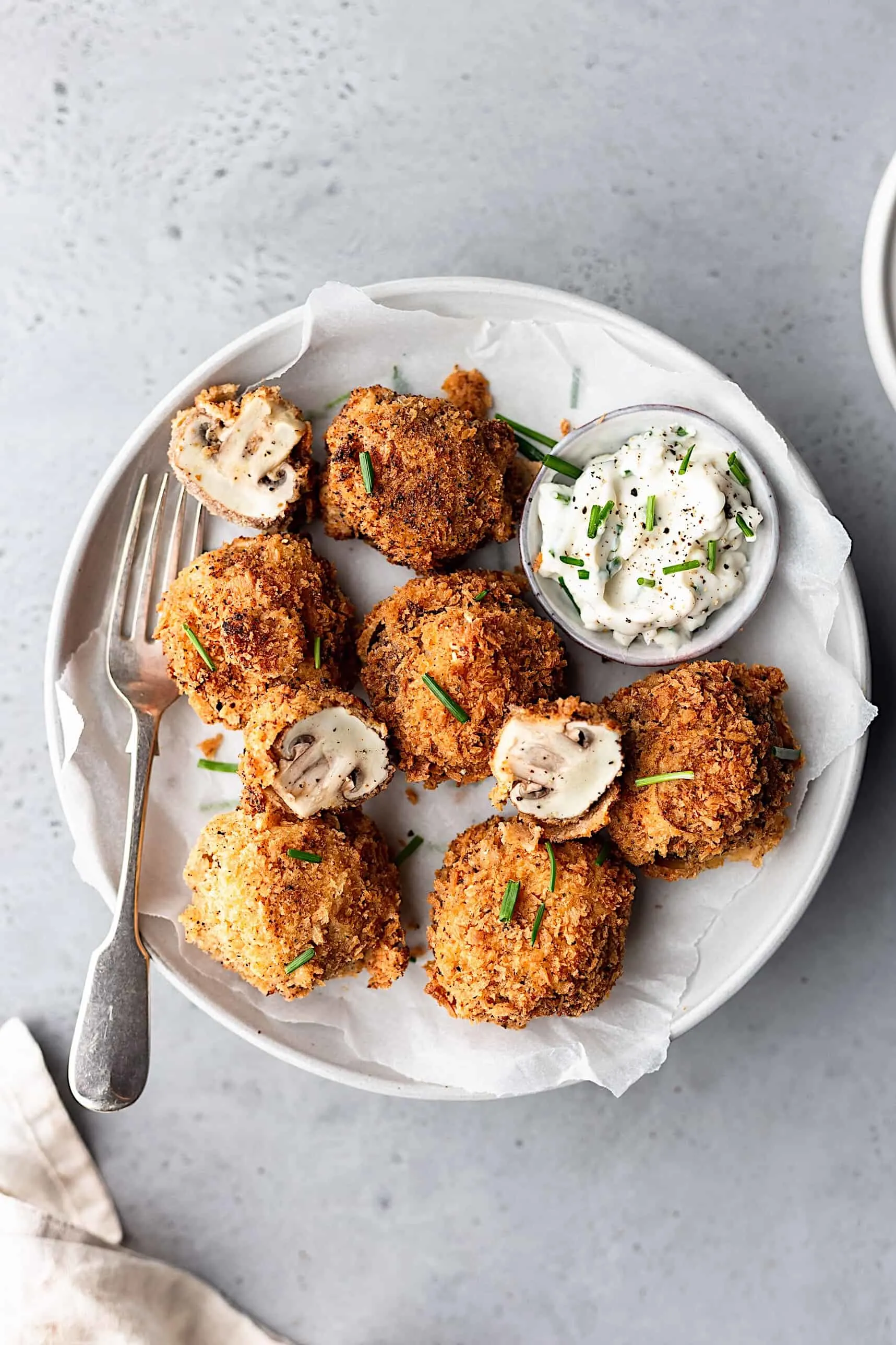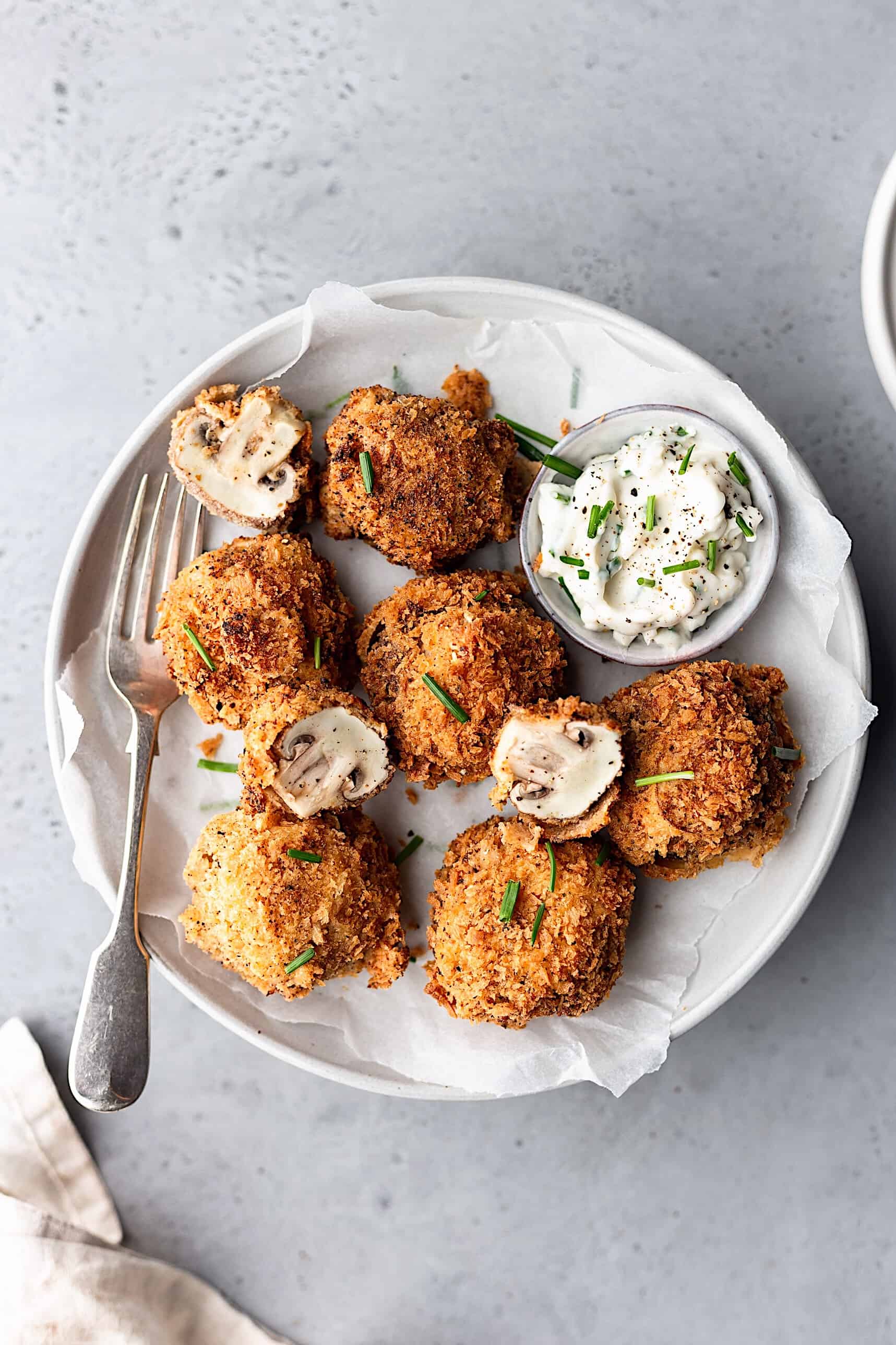 They're perfectly crunchy on the outside and juicy and tender on the inside. Served with a simple lemon, chive and mayonnaise dip!
It is impossible to find breaded mushrooms at restaurants or the supermarket that are vegan as they always have egg in them.
I used to eat them all the time when I was younger and I knew I had to recreate them and veganise them!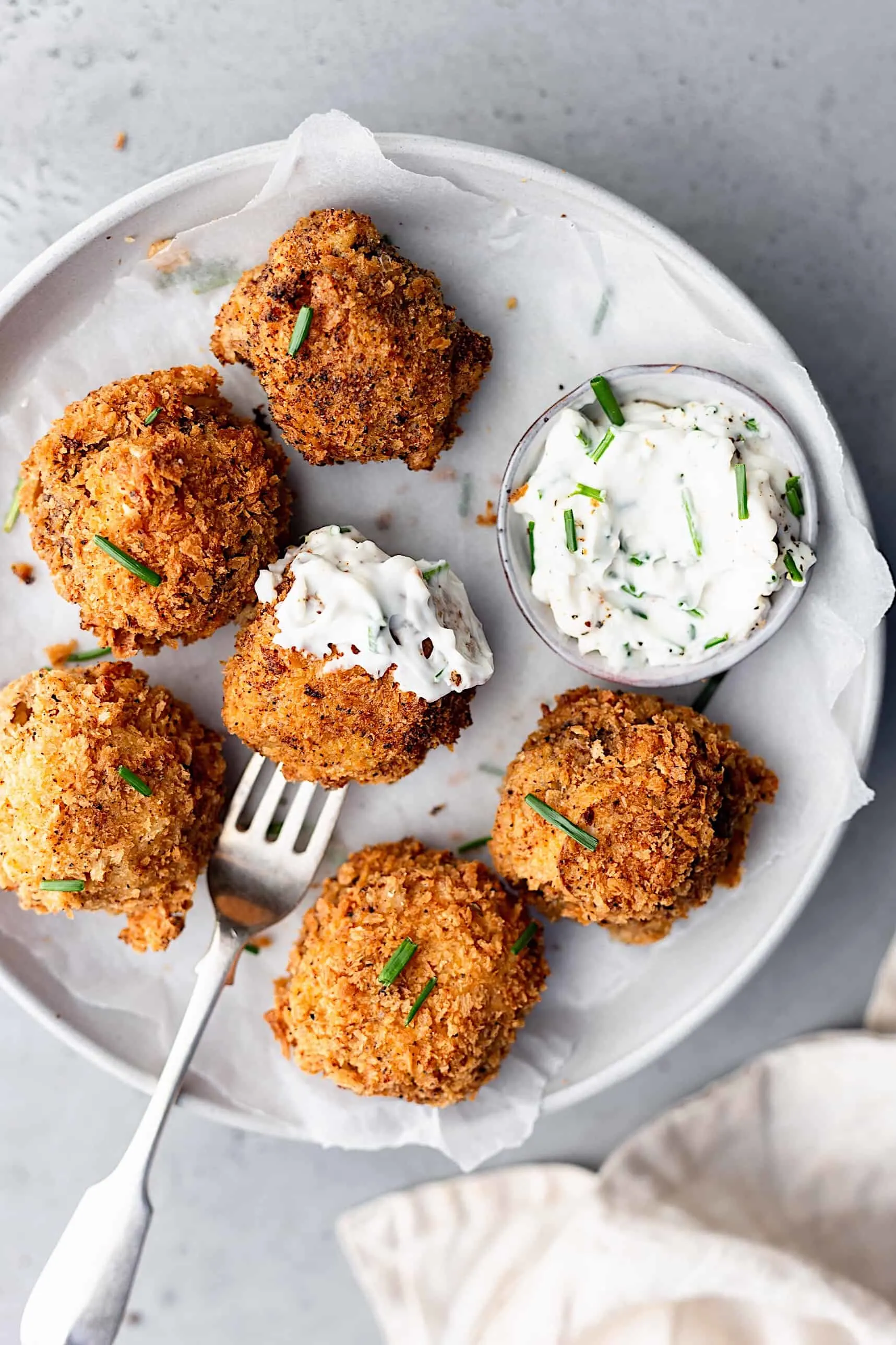 This was a really easy swap, instead of egg I used a mix of chickpea flour and plant milk. For the coating I used panko breadcrumbs, garlic powder, onion powder, smoked paprika and salt and pepper.
Panko breadcrumbs are commonly used in Japanese cooking and they are perfect for frying and creating that perfect crunch for this recipe.
I like to use chestnut mushrooms for these but you can use any you like, button mushrooms are often used but I find chestnut mushrooms have more flavour.
You could try portobello, shiitake or oyster! Plus they're in season at the moment!
Which means you'll be getting 1 of your 5 a day in, even if this is more or a treat meal!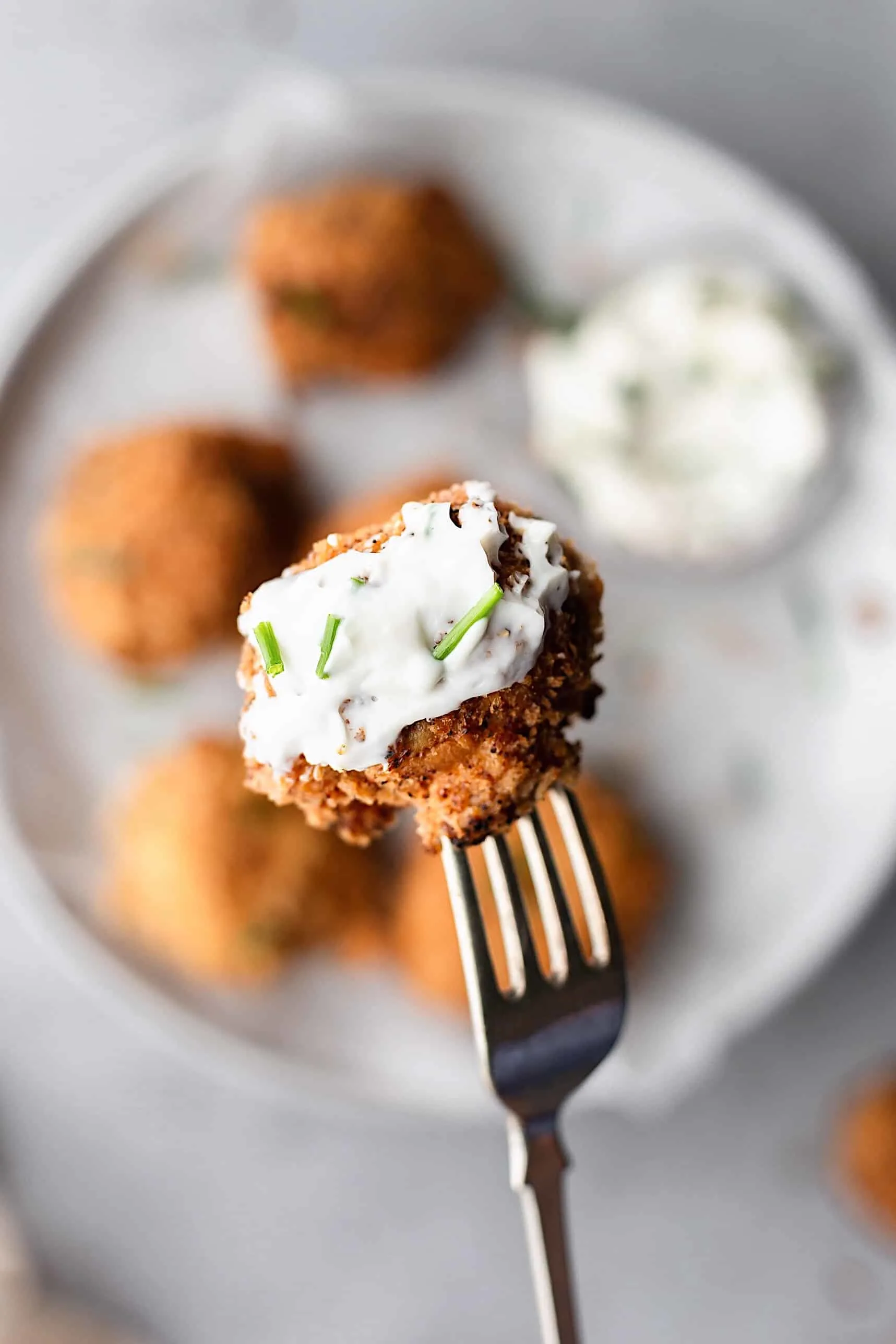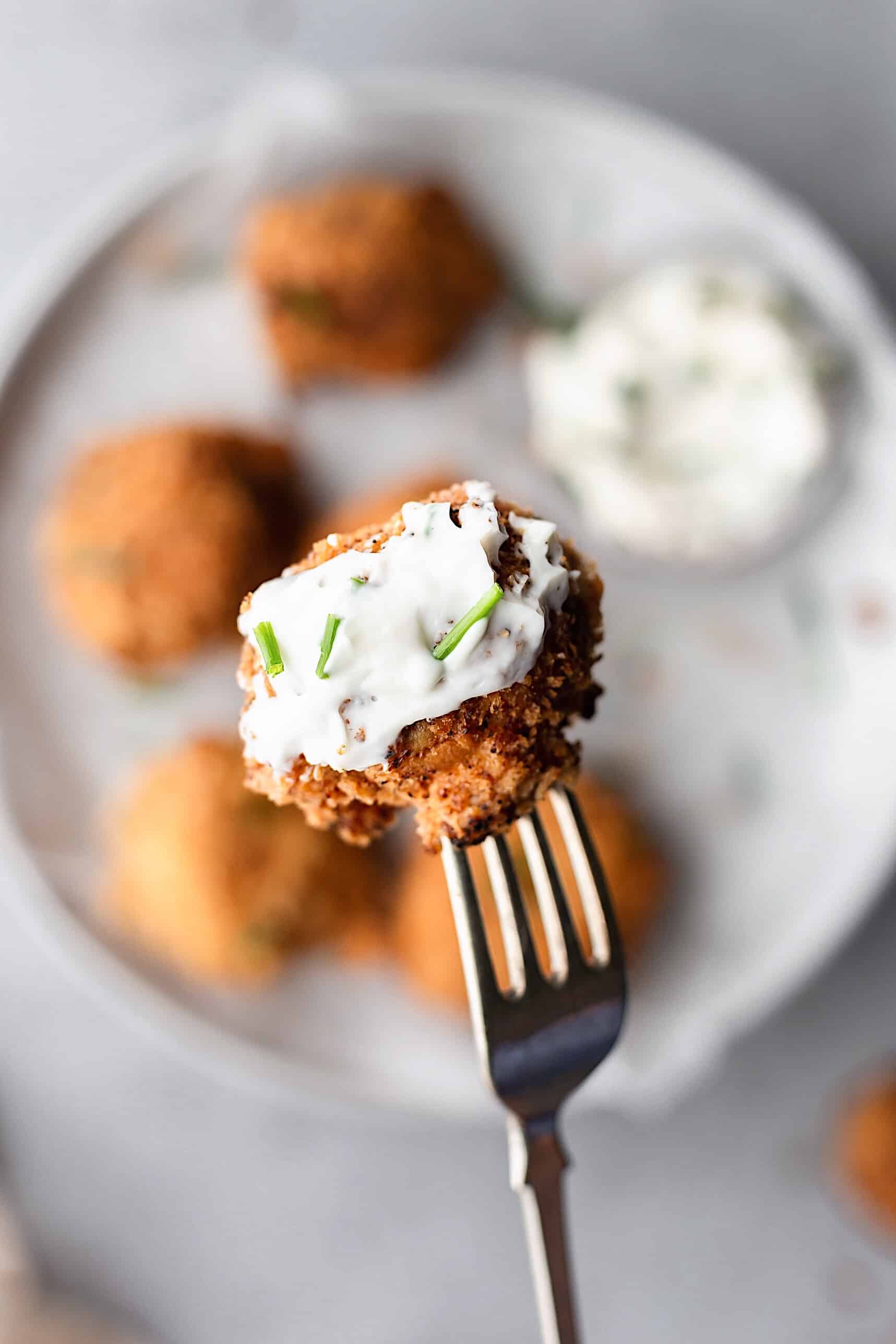 This recipe will make between 15-20 breaded mushrooms, depending on the size and variety of the mushrooms you use.
Chestnut mushrooms are usually bigger than button mushrooms so you may want to half the recipe if you're using button mushrooms.
It should serve 4-5 as a starter or side dish. Or 1 main if you're anything like me!
I made a simple lemony chive mayonnaise dip to go with these and they are perfect together. It's just lemon juice, freshly chopped chive and vegan mayonnaise – told you it was simple!
My favourite vegan mayonnaise is the Follow Your Heart Vegenaise which you can pick up in most big supermarkets!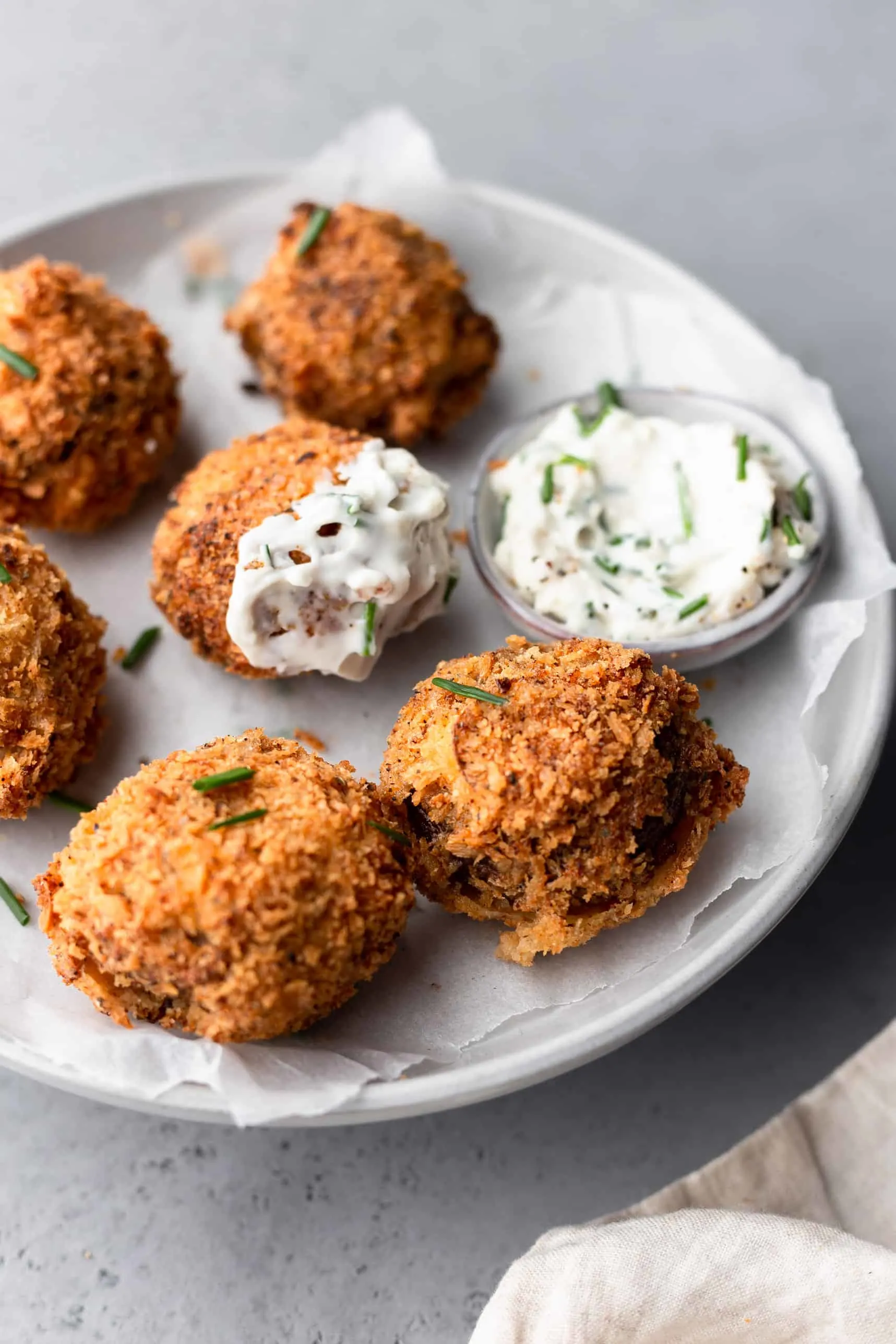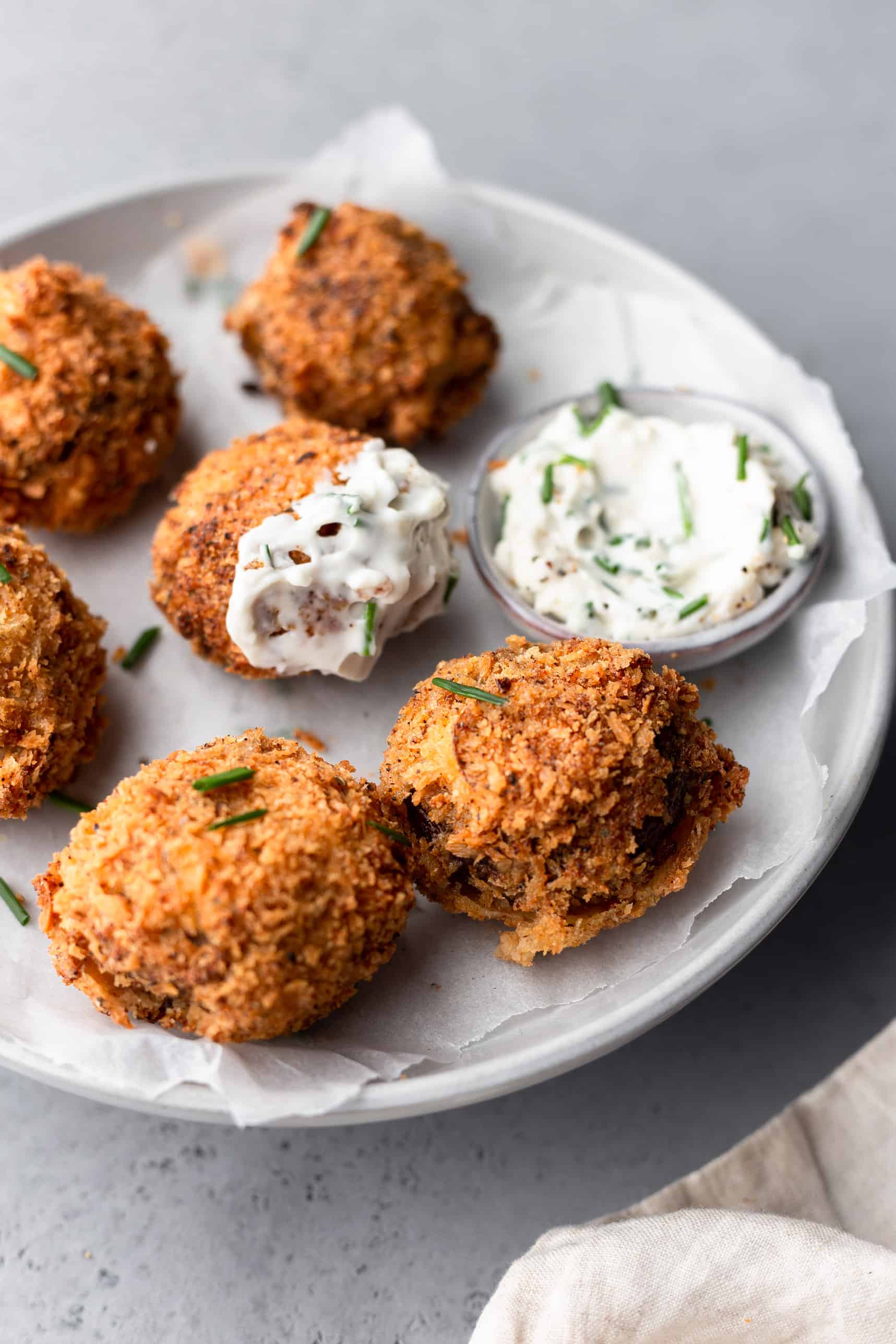 For more mushroom recipes you may enjoy these:
Mushroom and Tofu Tikka Masala
Mushroom and Lentil Shepherd's Pie
Creamy Mushroom and Sausage Gnocchi
---
As always if you make these vegan crispy garlic breaded mushrooms be sure to leave me a comment, rate this recipe and tag me on Instagram. I love seeing all your photos of my recipe recreations!
Don't forget to follow along on Facebook, Pinterest and Instagram – I'd love to see you all there!
---
NEVER MISS A RECIPE! GET MORE VEGAN RECIPES SENT STRAIGHT TO YOUR INBOX – SUBSCRIBE HERE 🙂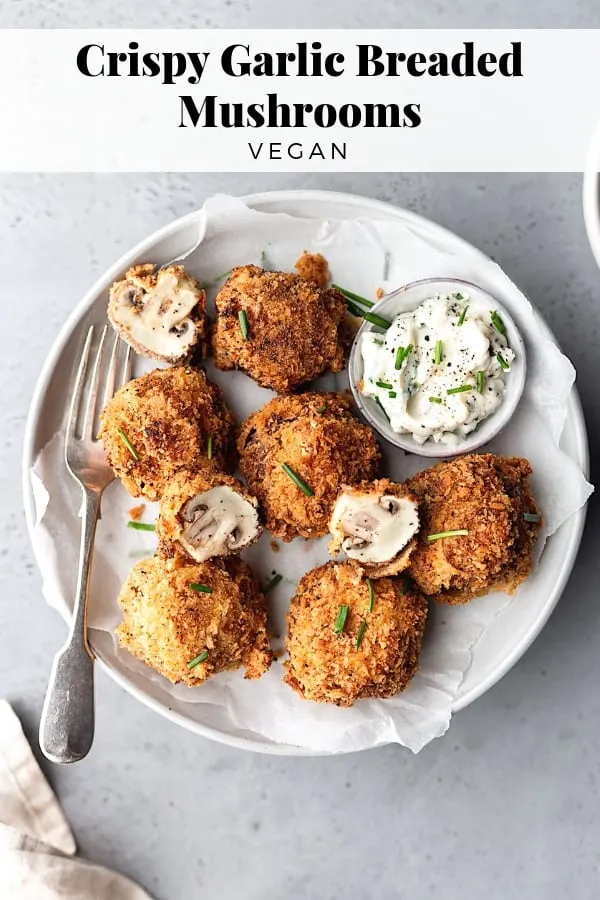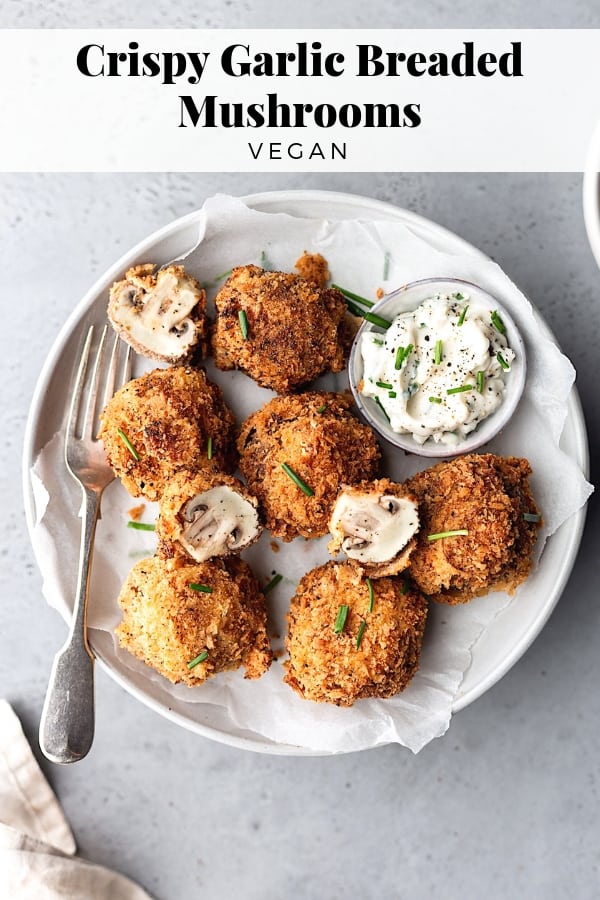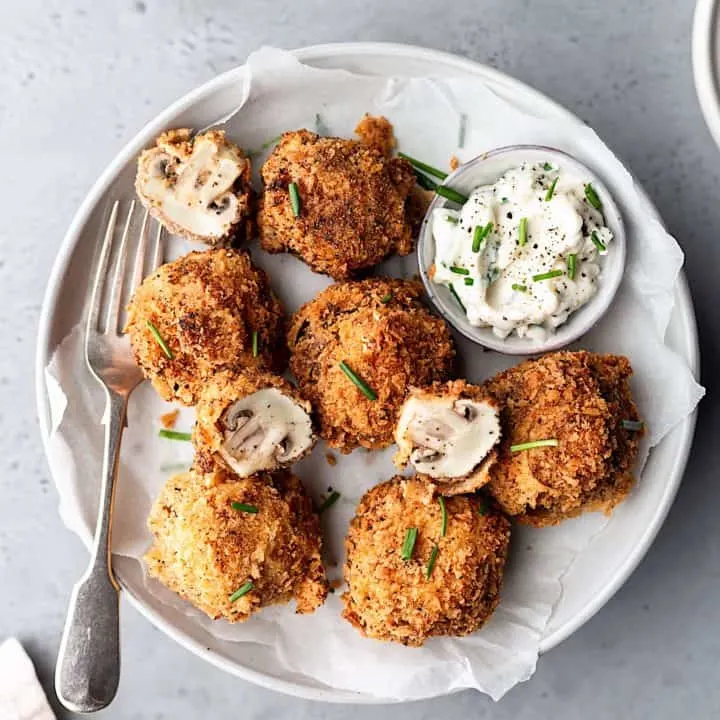 Crispy Garlic Breaded Mushrooms
Succulent mushrooms fried in a crispy garlic panko breadcrumb served with a lemony chive mayonnaise dip. The perfect vegan starter or side!
Ingredients
15-20 chestnut mushrooms
4 tbsp plain flour
1 cup panko breadcrumbs
1.5 tsp garlic granules
1/2 tsp onion granules
1 tsp dried mixed herbs
1 tsp smoked paprika
1/4 tsp salt
1/2 cup chickpea/gram flour
1/2 cup plant milk
~2 cups neutral flavoured oil
Dip
1/3 cup vegan mayonnaise
2 tbsp finely chopped fresh chive
Juice of half a lemon
Salt and pepper to taste
Instructions
Place the oil in a small saucepan on medium heat - you want it to fill about 1/3 of the saucepan.
Get three bowls and in one place plain flour.
In another place the chickpea flour and plant milk and whisk until smooth.
In the last place the breadcrumbs, garlic, onion, herbs, paprika and salt. Mix well.
Gently brush your mushrooms with a paper towel to remove any dirt.
Place the mushrooms into the flour and coat well. Then dip into the wet mix, then the breadcrumb mix and then place onto a plate. Make sure you coat all layers well and the mushroom is completely covered. You may want to use one hand for the dry and the other for the wet or a fork to transfer so you don't get too messy!
Check the oil is hot my placing a drop of the wet mix in the oil, if it rises straight to the top it is hot enough.
Place 2-3 of the breaded mushrooms into the pan at a time. Gently turn them over after a minute or two until they are golden brown all over. Repeat until all the mushrooms are cooked/the mixture is used up.
Place the fried mushrooms on a tray with kitchen paper to soak up excess oil. You can place them in the oven in a low heat whilst the others cook.
To make the dip mix the mayonnaise, chives and lemon and place in a bowl.
Serve straight away and garnish with some extra chopped chives!
Notes
You can use any mushrooms you like for this - button, portobello, shiitake, oyster!
Recommended Products
As an Amazon Associate and member of other affiliate programs, I earn from qualifying purchases.