Two tier vegan lemon and elderflower cake with semi naked lemon frosting, topped with adorable chai spiced animal biscuits. The perfect cake for a special occasion to impress your friends and family.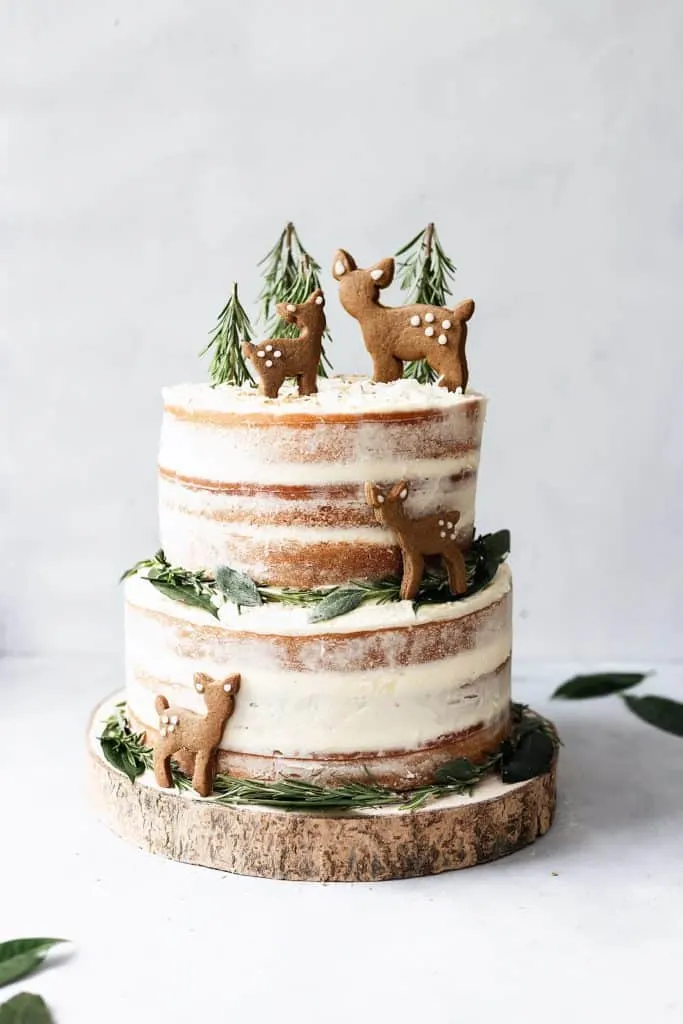 This is a sponsored post and I have partnered with Pyrex to bring you this recipe, all views are my own. Chances are you're probably well aware who Pyrex are.
If not, they are most known for their recognisable super strong, heat resistant glassware. That glass measuring jug you have in your cupboard? It's most likely Pyrex!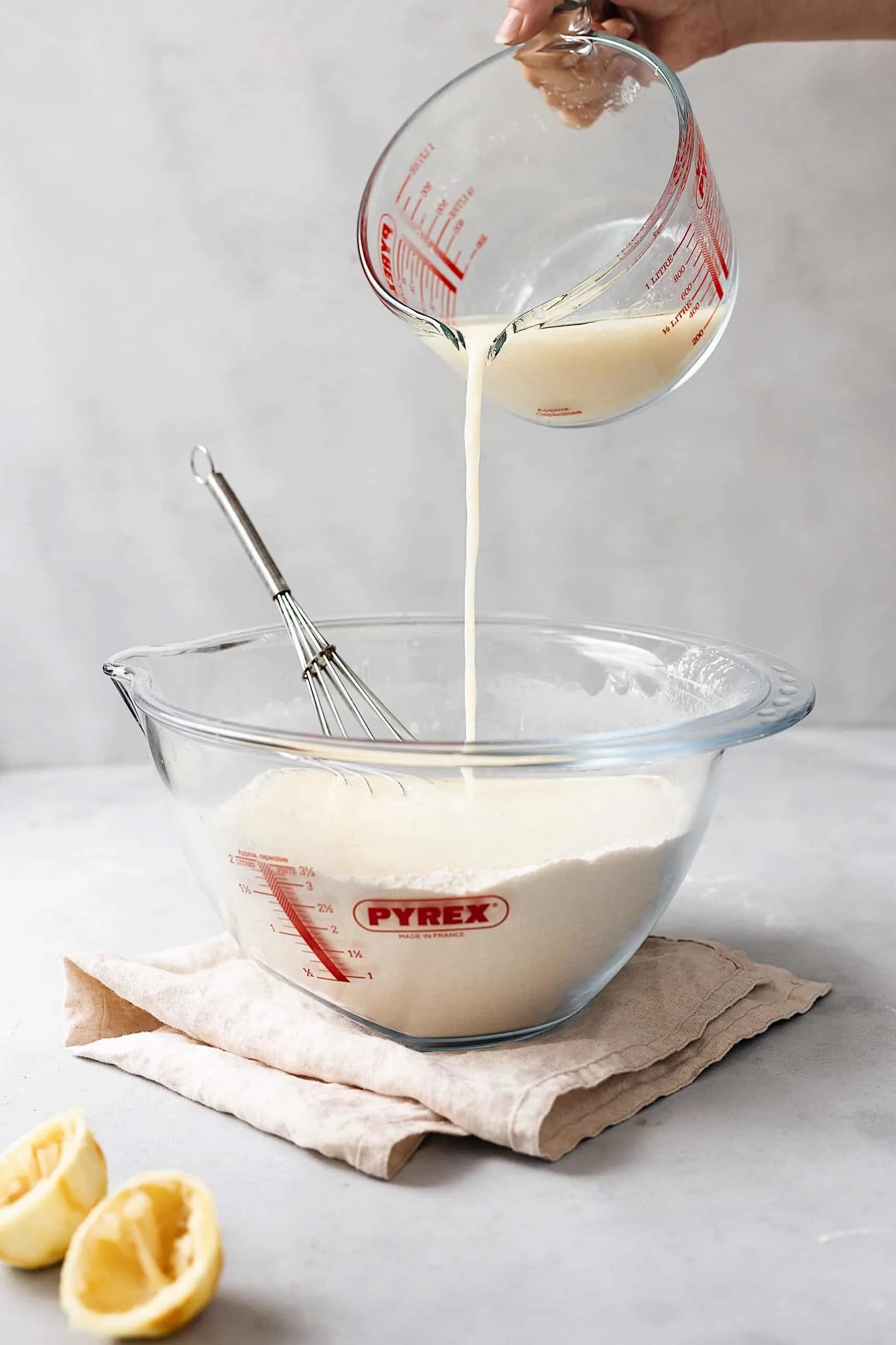 The best bit? They have two fantastic bakeware ranges. The Pyrex Magic metal bakeware range is non-stick, made from carbon steel and dishwasher safe. Hello cakes, pies, cheesecakes, cupcakes, pizzas, you name it.
The second is the Pyrex Bake & Enjoy glass range which is oven, microwave, freezer, fridge and dishwasher safe. Hello biscuits, cookies, meringues and quiches.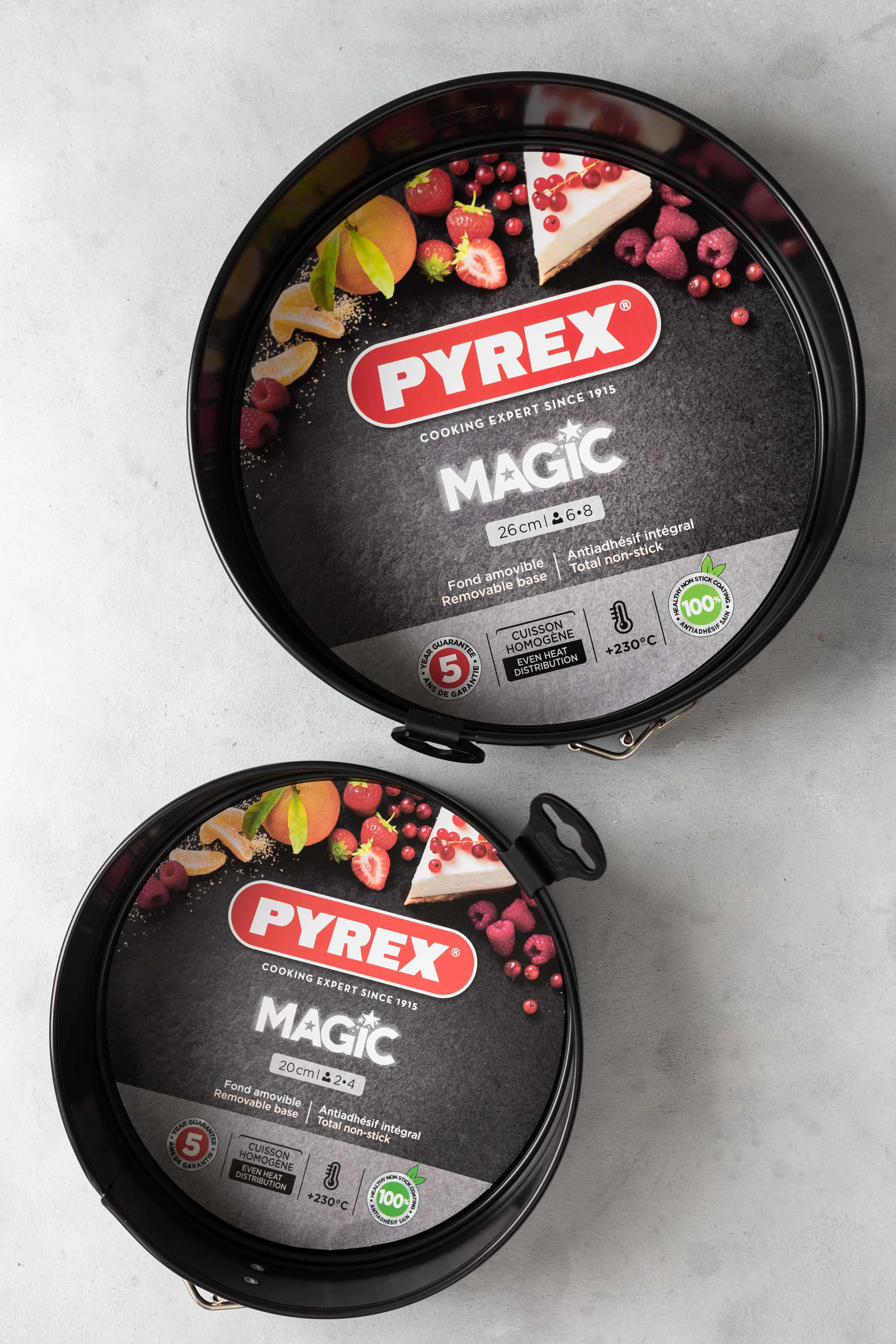 What better way to test out both these ranges by making a vegan showstopper cake with biscuits! The whole range is beautiful and as with all Pyrex products everything is extremely high quality, they won't let you down.
They make baking and cooking so seamless and I'm going to show you how you can make a showstopper vegan cake with chai spiced biscuits at home using their Magic metal bakeware and Bake & Enjoy glass bakeware ranges.
I've also used lots of Pyrex glass prepware, including the Expert bowl (so handy for mixing on an angle!)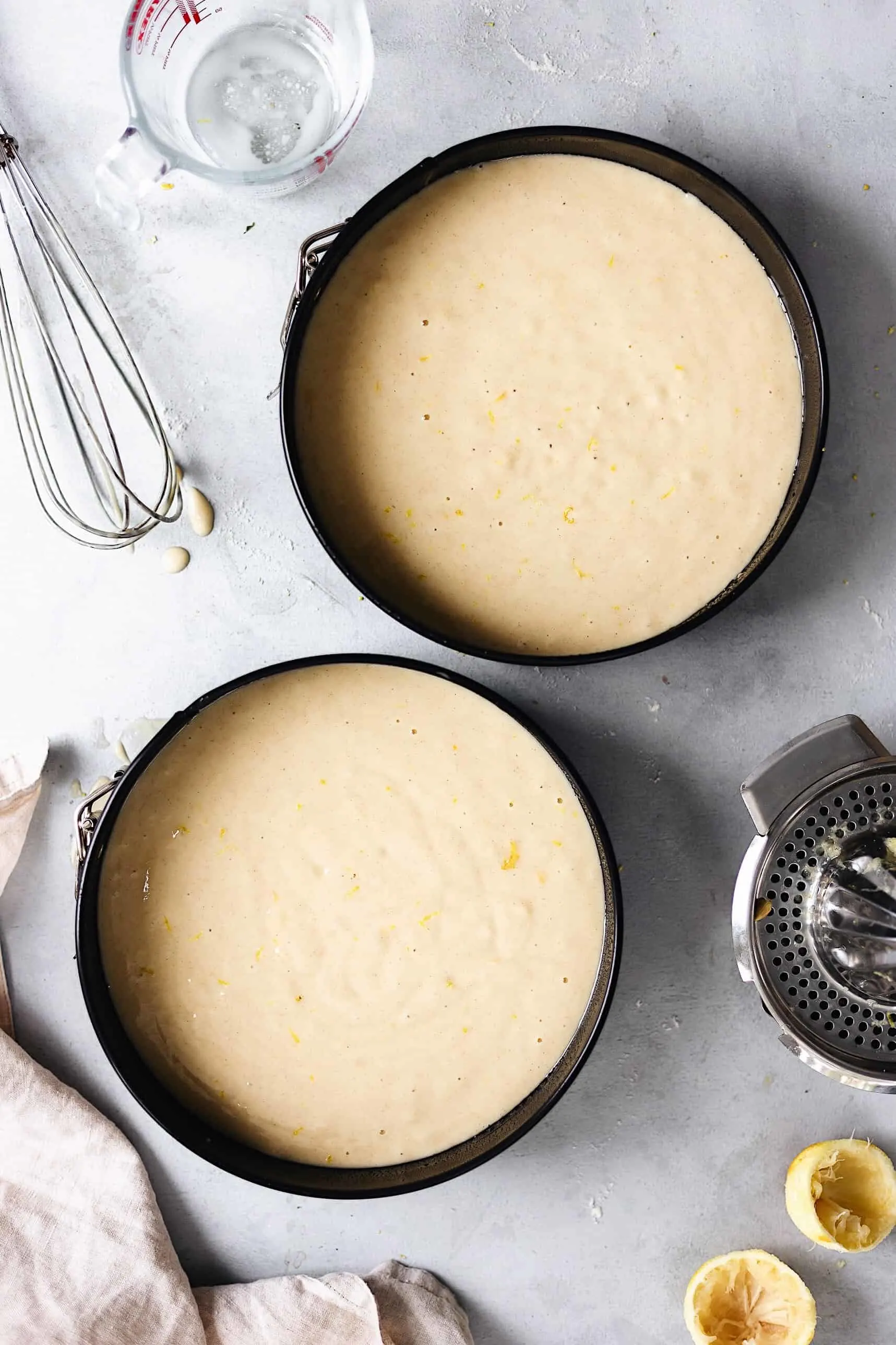 The recipe for the sponge is really quite simple, I've used plant milk and rapeseed oil to substitute any dairy/eggs and it gives for the fluffiest, moist sponges.
Honestly, you don't need dairy or eggs to make a delicious cake and my non-vegan family and friends couldn't tell the difference.
Lemon and elderflower are two of my favourite flavours so combining them for this cake was super fun. You get the subtle flavours of floral elderflower mixed with the citrus lemon tones from the zest and juice.
When I baked my first test run for the sponge I ate all but one slice of one sponge, no joke.
Do you think making a two tier 6-layer cake is too difficult? You don't have much experience?
I am going to make this as easy as I can for you because this is not too difficult, you just need a little patience and you can create this at home! I'm sure of it!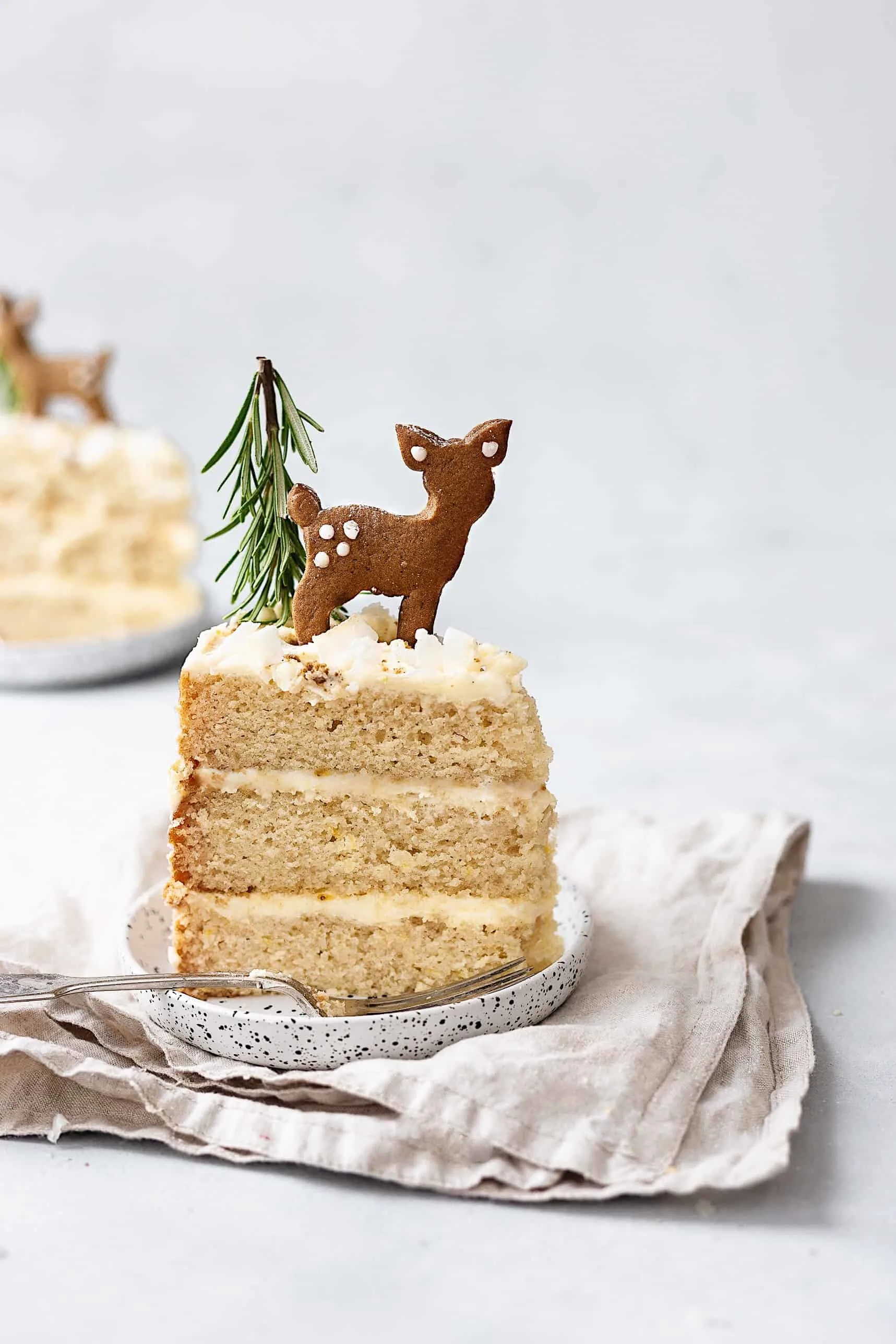 You'll find it easier if you make some of the sponges in advance and freeze them. I made all 6 sponges few days before I needed them and froze them.
Freezing cakes is really easy and they will be just as moist when they defrost. If you want to do this, wait till the sponges have cooled completely, leave the baking parchment underneath and wrap well in cling film.
Place on a flat surface (a baking sheet, such as the Pyrex Bake & Enjoy glass one works) in the freezer and take them out the night before you want to use them.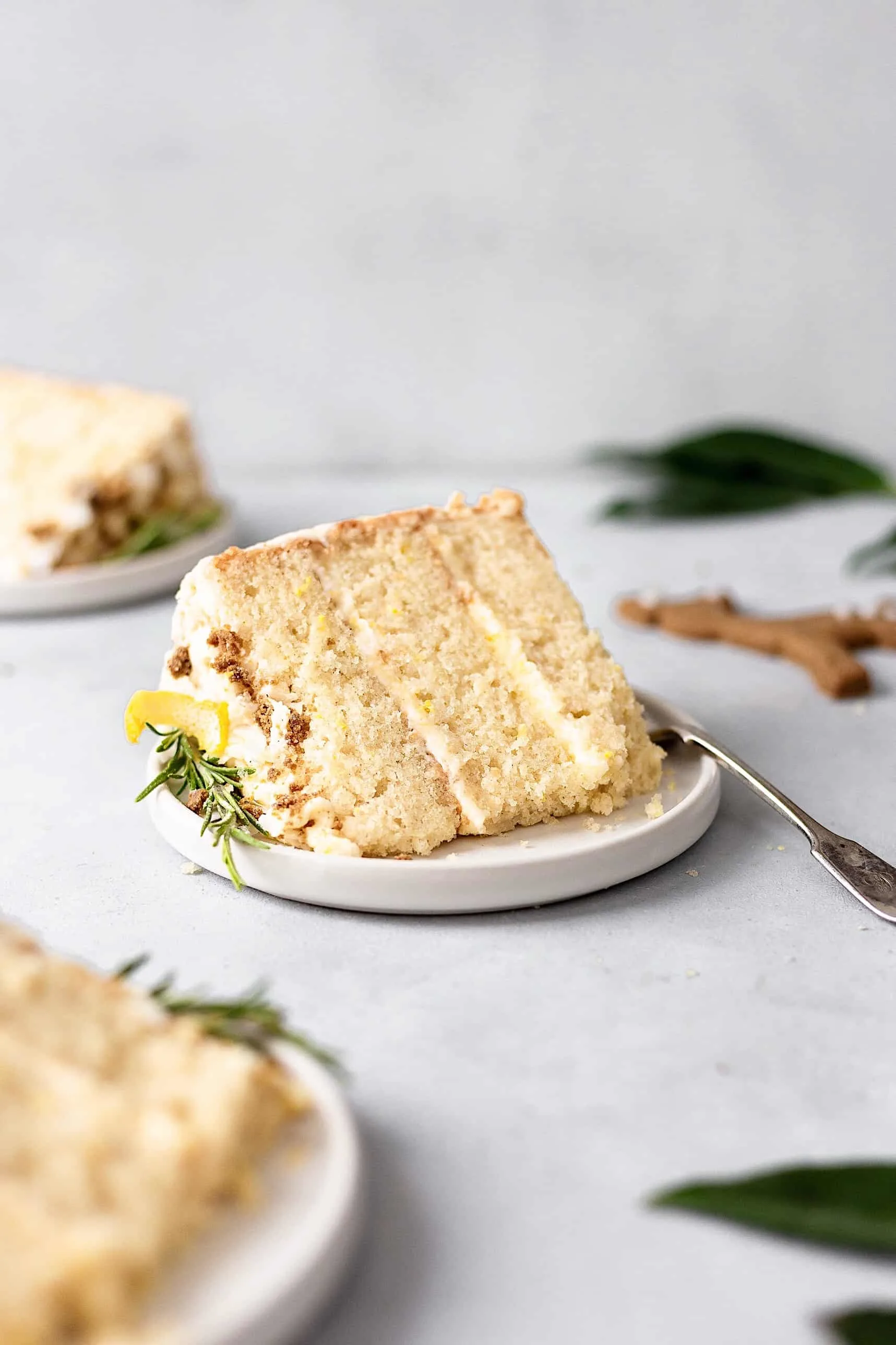 For the biscuits, you can use which ever cutters you like. I got some deer shaped cutters in three different sizes and they looked super cute.
As you can see from this picture, I iced them quite simply and I think they look really effective. Some other ideas are bears, squirrels, owls or foxes.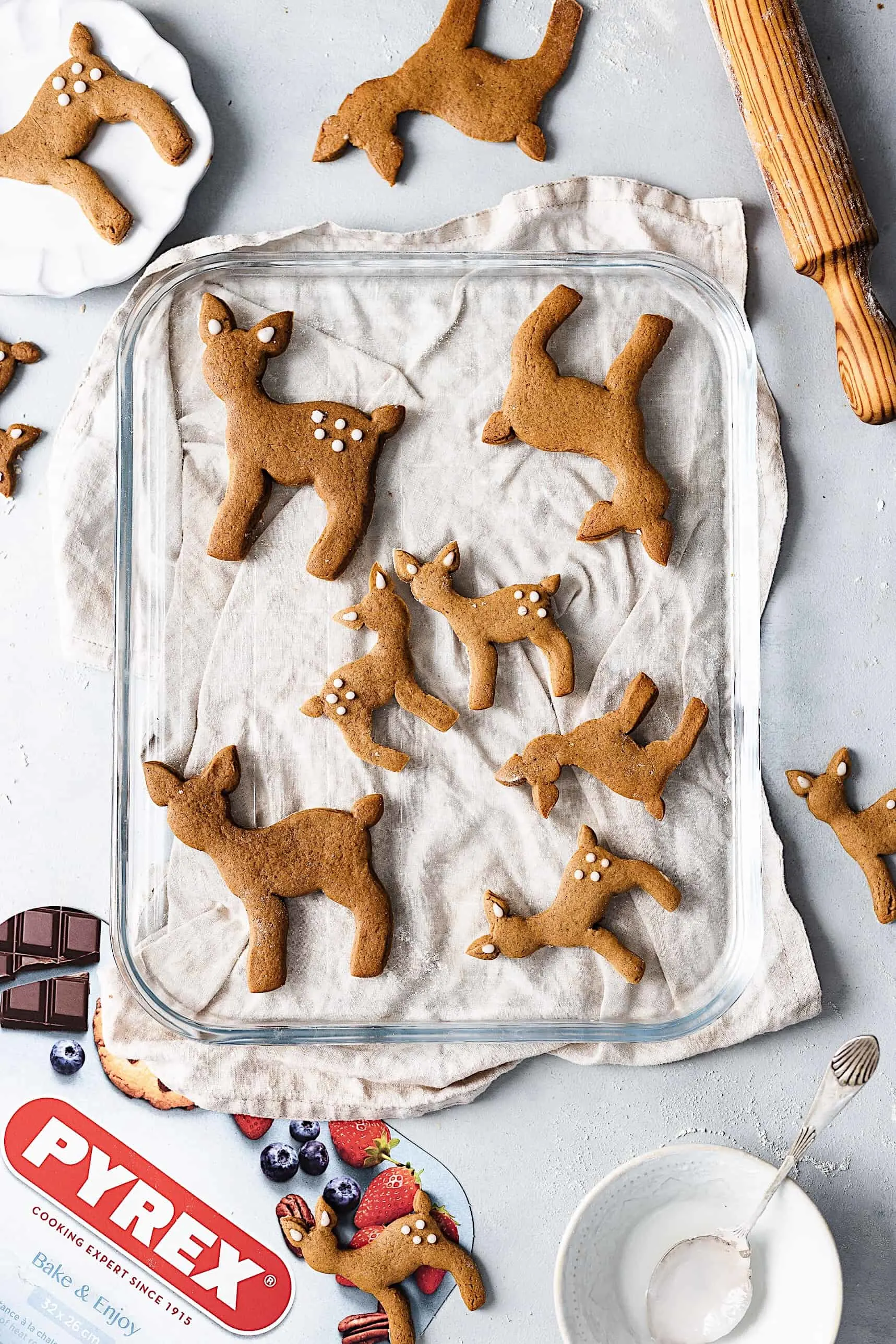 I displayed my cake on a wood slice which fitted really nicely with the rustic woodland theme. I purchased mine from eBay but I know there are some shops that have them too.
Just make sure it is wide enough for the cake, mine is 32cm in diameter.
There are a few items you will need to make decorating this cake a little simpler if you don't have them already:
Want to get your hands on these Pyrex products? You can find the Magic range in Ocado, Asda, Dunelm and The Range. The Bake & Enjoy range can also be found online at Ocado.
You may also be interested in some of these fruity cakes:
Lemon and poppy sead loaf cake
Choc chip banana bread with peanut butter frosting
---
As always if you make this lemon and elderflower cake be sure to leave me a comment, rate this recipe and tag me on Instagram. I love seeing all your photos of my recipe recreations!
Don't forget to follow along on Facebook, Pinterest and Instagram – I'd love to see you all there!
---
NEVER MISS A RECIPE! GET MORE VEGAN RECIPES SENT STRAIGHT TO YOUR INBOX – SUBSCRIBE HERE 🙂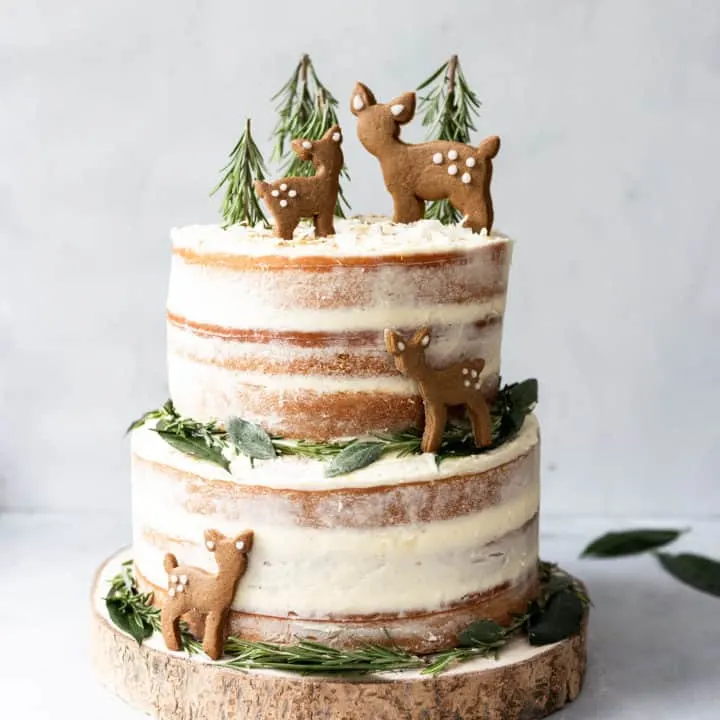 Vegan Lemon and Elderflower Cake with Chai Spice Biscuits
Fluffy and moist lemon and elderflower cake with chai spice biscuits. This vegan showstopper is sure to impress your friends and family.
Ingredients
20cm/8" - makes 3 sponges
• 960g self-raising flour
• 3 tsp baking powder
• 540g caster sugar
• 790ml unsweetened almond milk
• Juice of 3 lemons
• Zest of 2 lemons
• 7 tbsp elderflower cordial
• 340 ml rapeseed oil
26cm/10" sponge - makes 3 sponges
• 1.25 kg self-raising flour
• 5 1/4 tsp baking powder
• 700g caster sugar
• 1030 ml almond milk
• 440 ml rapeseed oil
• Juice of 4 lemons
• Zest of 3 lemons
• 9 tbsp elderflower cordial
Buttercream
• 1kg vegan butter
• 1.6 kg icing sugar
• Juice and zest of 1 lemon
Chai Spiced Biscuits
• 130g vegan butter
• 100g light brown sugar
• 100g golden syrup
• 100g black treacle
• 425g plain flour
• 1 1/4 tsp baking powder
• 2 tsp ground ginger
• 1 tsp ground cinnamon
• 1/2 tsp ground all spice
• 1/4 tsp ground cardamom
• 1/4 tsp ground cloves
• 1/4 tsp ground nutmeg
• 4 tbsp icing sugar
• Splash of water
Instructions
Start with the 20cm/8-inch sponges. Preheat the oven to 160Cfan/180C/300F.
Sift the flour and baking powder into a large bowl. Add the sugar and gently mix together with a wooden spoon.
In a separate bowl, pour in the milk, lemon juice, lemon zest, oil and elderflower cordial.
Pour this slowly into the bowl with the flour and sugar and mix until combined, but do not over mix.
Grease and line three 20cm/8-inch tins, such as the Pyrex Magic spring form options. To make sure the mixture is evenly distributed you can weigh each tin. Tap the pans gently on the work surface to release air bubbles.
Place in the oven for 40 minutes. To check the cakes are done, place a skewer in the middle and if it comes out clean, it's done. The sponges will be lightly browned and beginning to pull away from the sides.
Leave to cool on the cooling rack for 10 minutes before taking out the tins.
Repeat for the 26cm/10inch sponges and bake for 50 minutes.
If you want to do this in advance you can freeze the sponges. Once they are completely cool, leave the baking parchment on the bottom and wrap tightly in cling film. Place in the freezer on a flat surface and take them out to defrost the night before you need them.
Make the buttercream frosting by mixing all the ingredients in a bowl, if it is quite soft leave it in the fridge for an hour before using.
Make the biscuits. Preheat the oven to 160C fan/180C/300F. Place the vegan butter at room temperature into a bowl with the sugar and beat until fluffy. Add the golden syrup and treacle and mix. Then add the spices, flour and baking powder and mix until it forms a ball, you may need to use your hands.
Roll into a ball then place in some cling film and place in the fridge to firm up. When its firmer, cover a chopping board with cling film, place the dough on top and then place the cling film it was wrapped in on top. This will make it easier to roll out the dough.
Use a rolling pin to roll the dough to 1/4 inch thick. Cut out animal shapes and place on a lined or greased baking sheet – I used the Pyrex Bake & Enjoy glass baking sheet.
Place in the oven and cook for 10-12 minutes. They are cooked when they are beginning to brown on the edges. Leave to cool and then transfer to a cooling rack. To ice, mix 4 tbsp icing with a splash of water. Use a spoon or small piping bag to ice the biscuits.
Once all your sponges are ready, you will need to cut the tops off. They should have cooked with a fairly flat top but they will need levelling. It's best to do this with a cake leveller to make sure it is even, but you can use a serrated knife. Make sure you have the cakes on a flat surface and then cut the sponges to the same height.
Place one of the larger sponges on a cake board with a little buttercream underneath to help it stick. Generously spoon some buttercream on top and smooth out right to the edges using a palette knife. Repeat with next two sponges, making sure they are stacked on top carefully (use the cake lifter you if have one).
Once all three sponges are iced and stacked, spoon some extra buttercream onto the sides until it is fully covered. Then using the palette knife vertically scrape the buttercream so you are getting rid of excess buttercream. You will start to get the naked icing effect like the pictures. Continue all the way round, scraping excess buttercream into a separate bowl.
Place 4-5 rods in the cake, cutting them to the size required.
Repeat with the smaller sponges and then carefully place on top of the larger tier.
Decorate with the biscuits and rosemary. For the trees, place the rosemary upside down.
Notes
I used Belvoir Elderflower Cordial which I got in Sainsbury's, there are a few different brands and own supermarket ones available.
Recommended Products
As an Amazon Associate and member of other affiliate programs, I earn from qualifying purchases.
Nutrition Information:
Yield:

80
Serving Size:

1
Amount Per Serving:
Calories:

459
Total Fat:

21g
Saturated Fat:

8g
Unsaturated Fat:

12g
Sodium:

486mg
Carbohydrates:

66g
Fiber:

1g
Sugar:

39g
Protein:

4g