This super easy yet delicious maple roasted carrot soup is a cosy winter warmer. Serve with your favourite crusty bread and you've got the perfect lunch treat.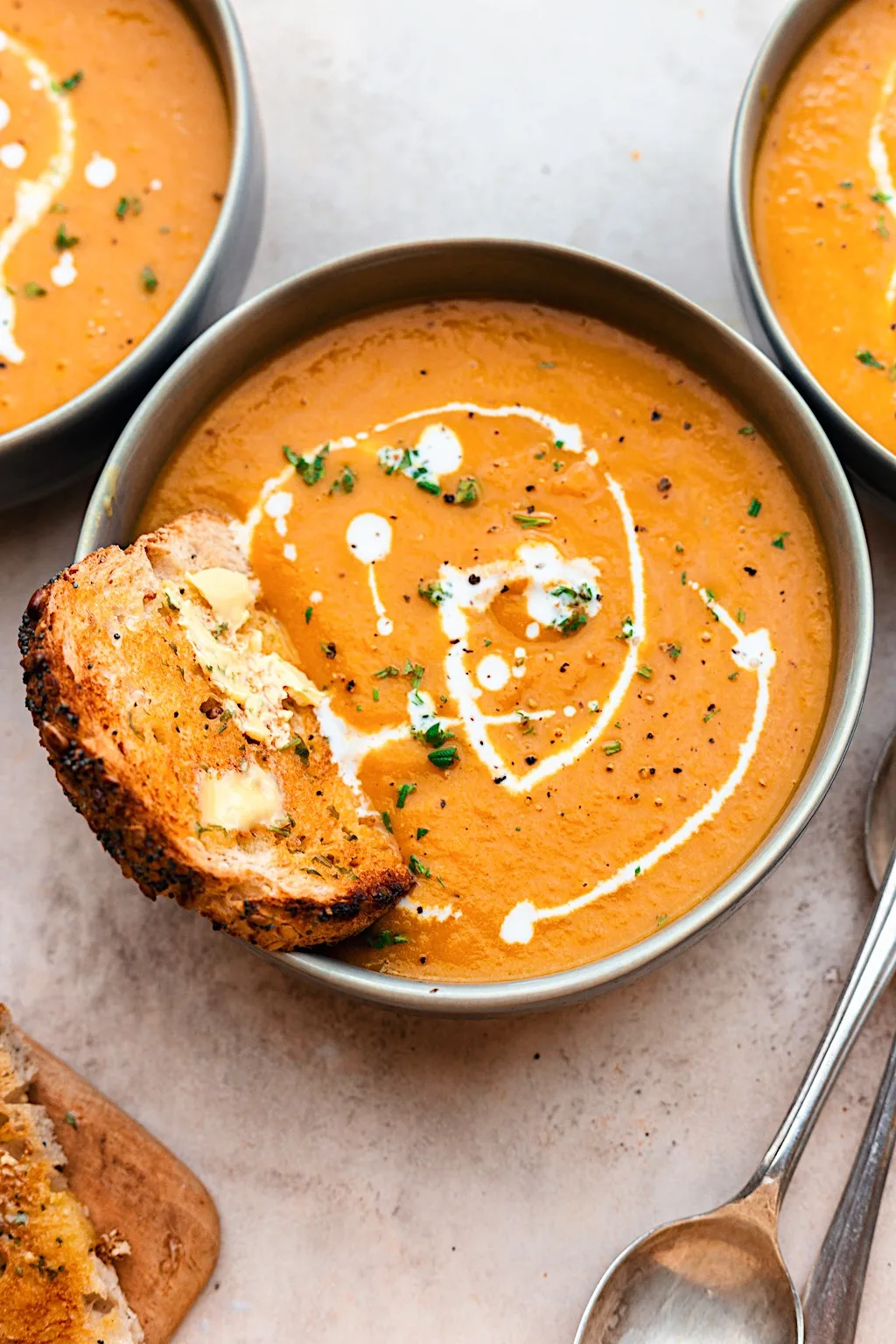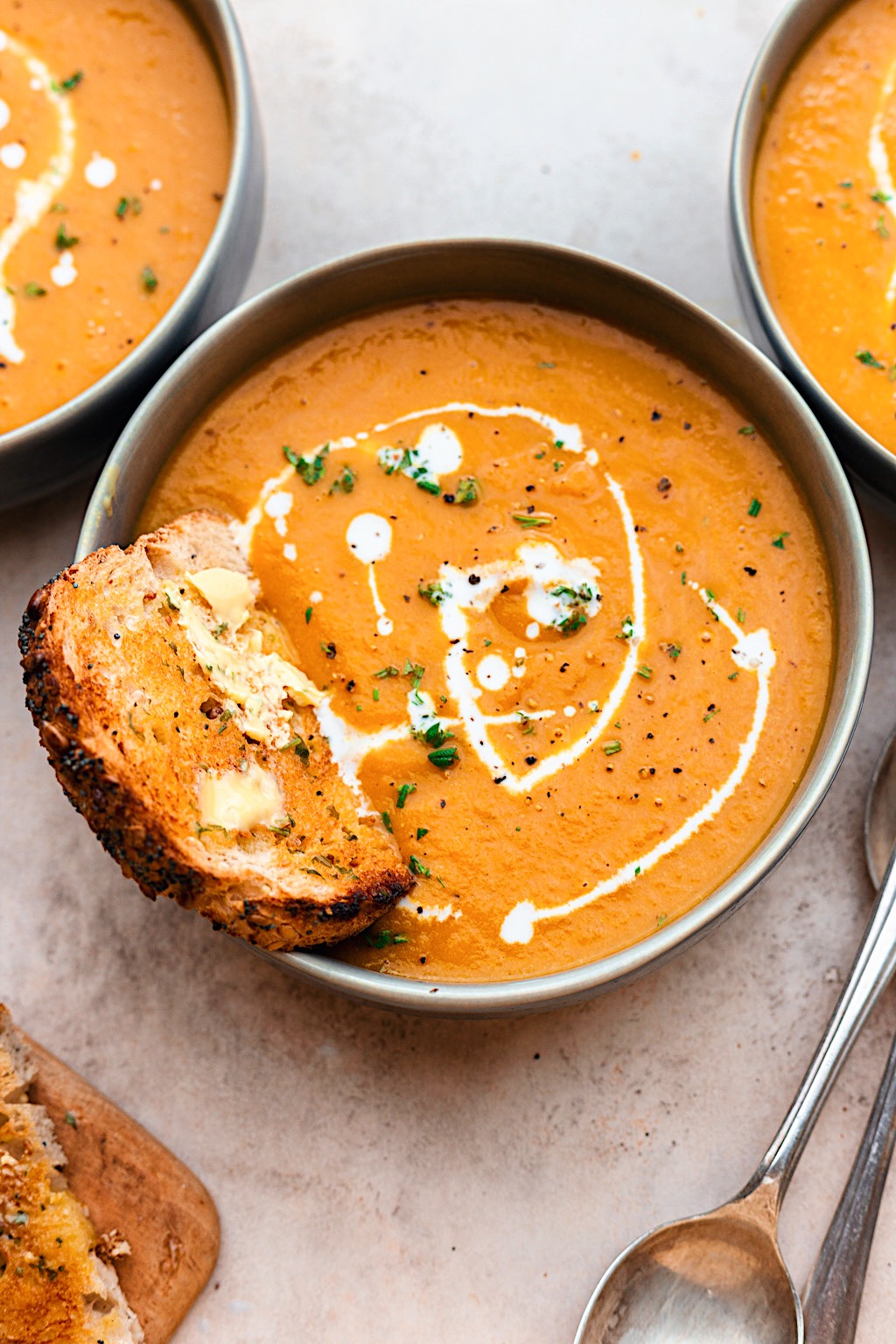 With roasted carrots tossed in maple syrup that go perfectly caramelised blended with sauteed onion, garlic, vegetable stock and some spice.
It makes for a super creamy velvety soup that is calling out to be dunked with some buttery bread.
This soup only requires a few ingredients which you probably already have in your pantry, making it a no fuss recipe.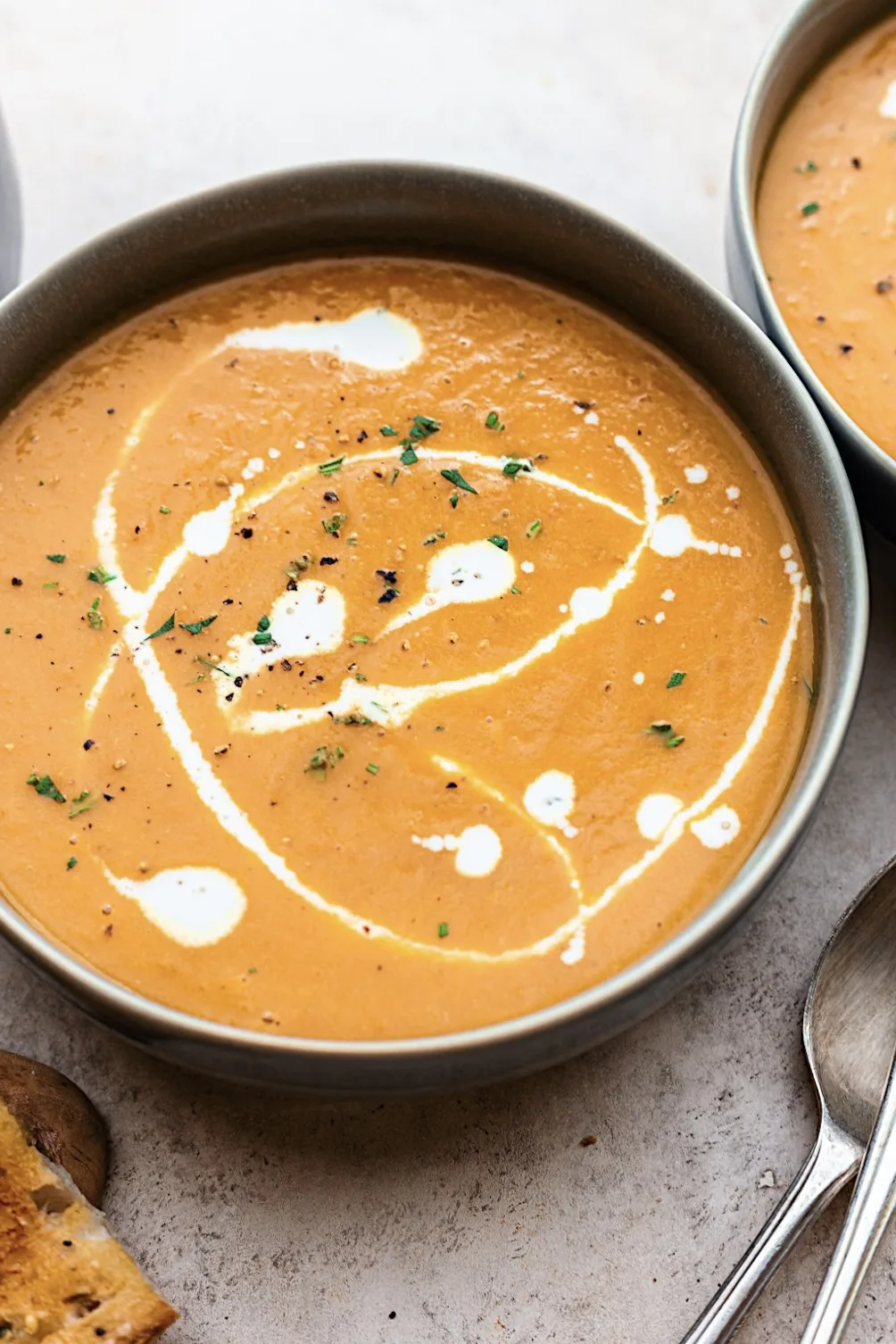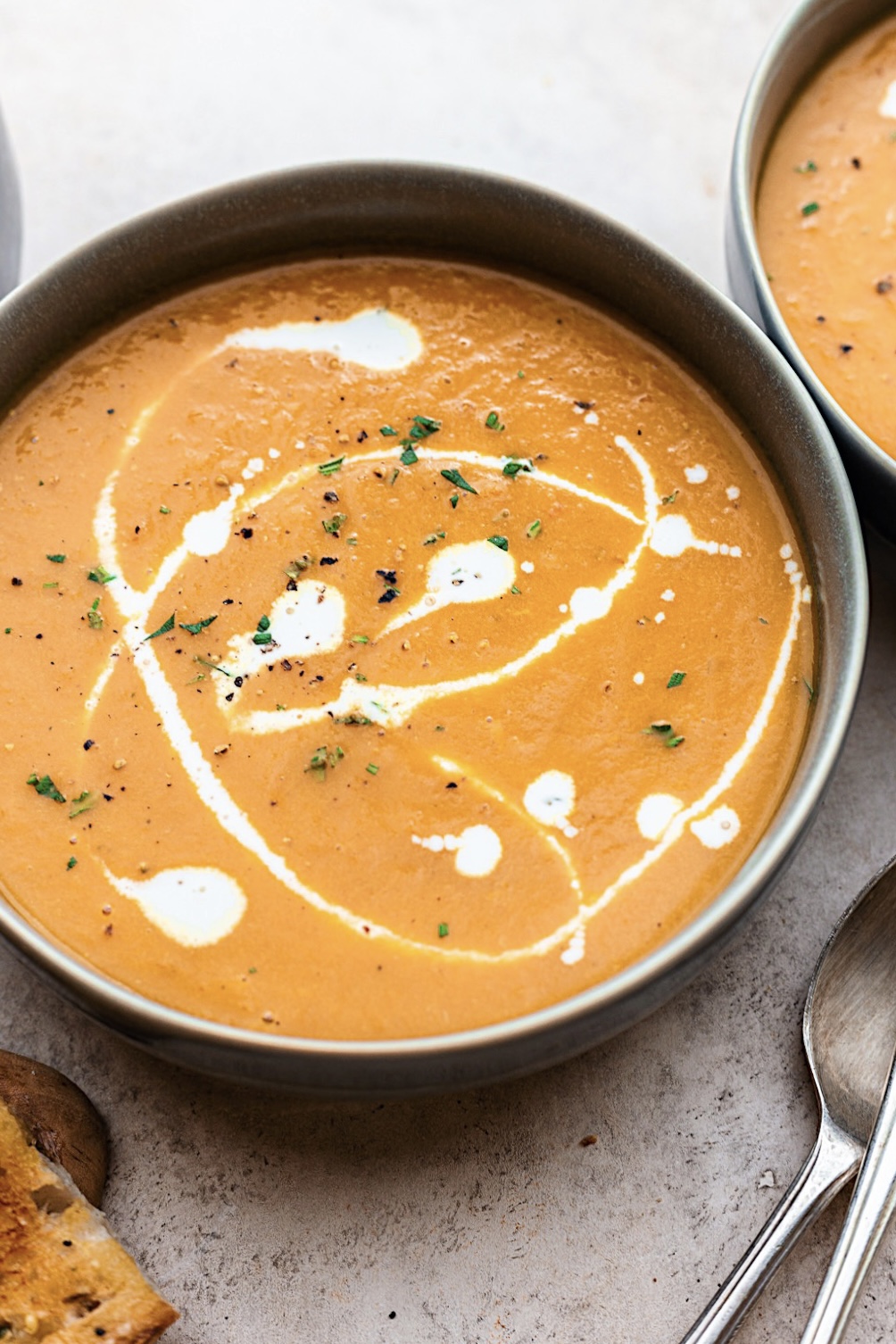 Carrots are a really versatile vegetable, they go with pretty much anything and any flavour combo. Maple syrup and carrots are a match made in heaven and really elevate their sweetness.
Roasting carrots is my favourite way to enjoy this vegetable. You don't get the same flavour by boiling or frying them.
Carrots do take a while to roast until soft so you can't rush this step. They will take around 50 minutes until tender. Don't be tempted to blend them before because you won't get a smooth soup.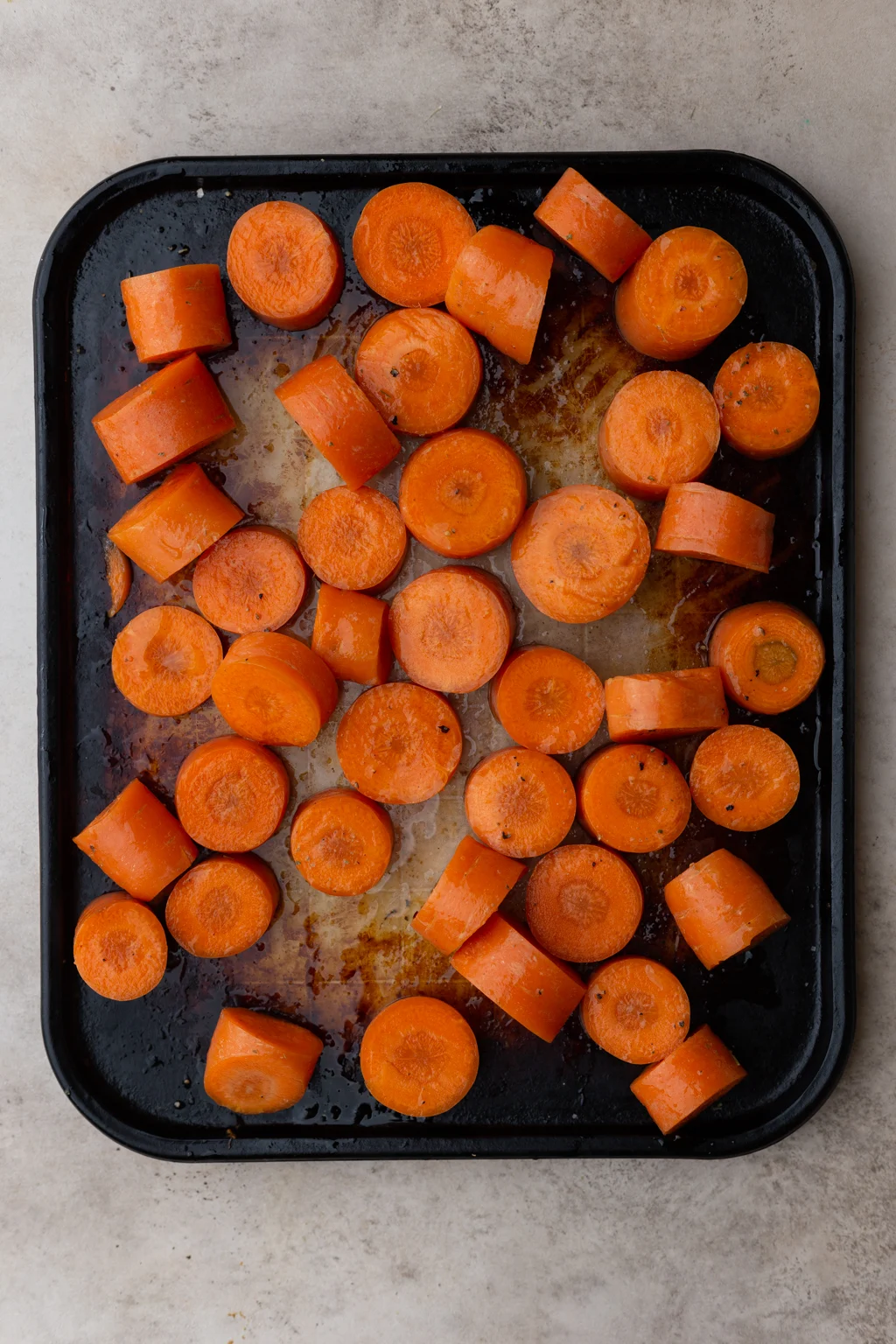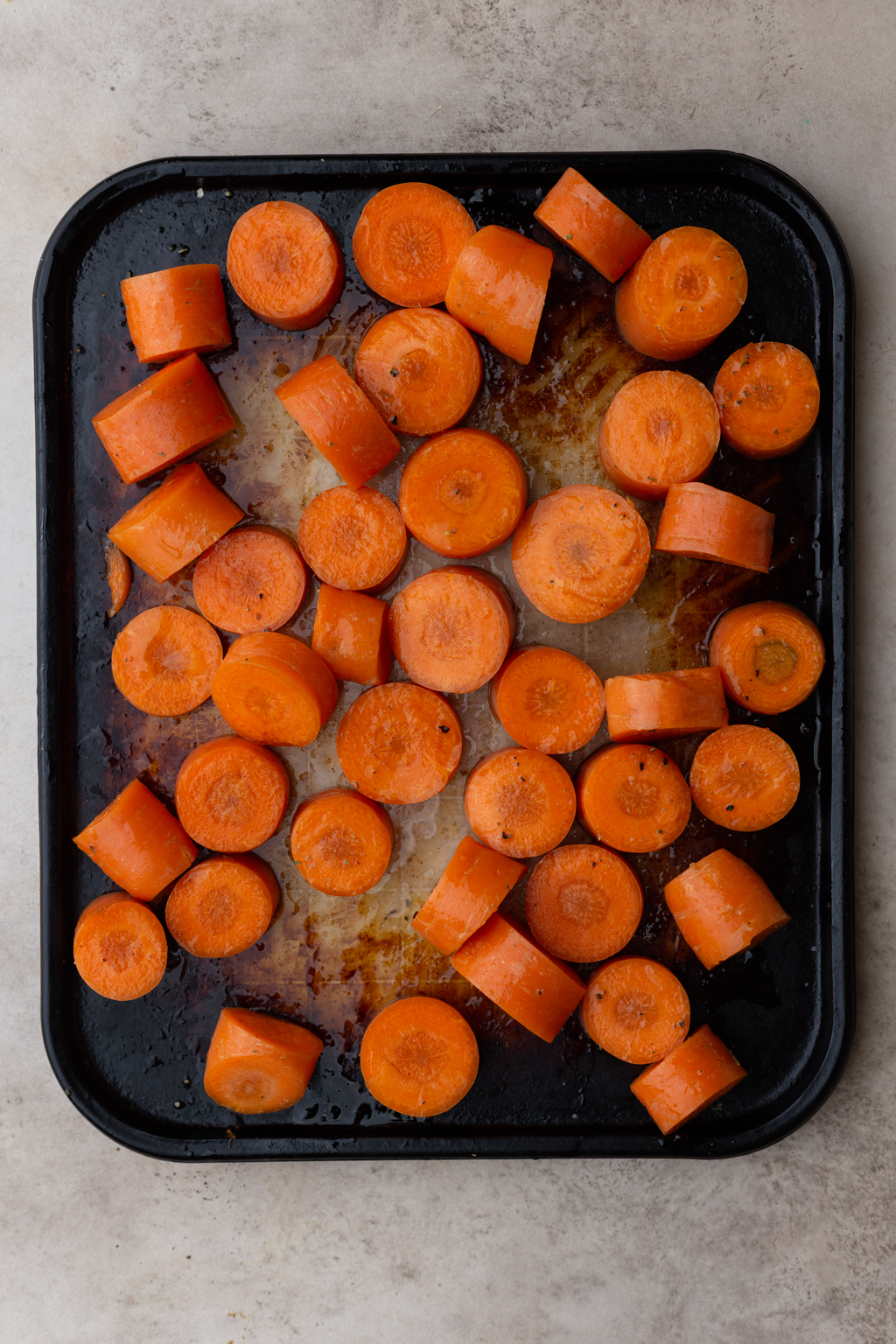 What you need for roasted carrot soup:
Olive oil
Carrots
Maple Syrup
Onion
Garlic
Ground coriander
Ground turmeric
Vegetable Stock
Chilli flakes
Black pepper
Vegan cream (optional, to top)
As you can see there really is less than 10 ingredients needed for this warming roasted carrot soup. So let's get into making it!
How to make maple roasted carrot soup:
(full recipe and ingredients below, please scroll to the bottom)
Start by prepping the carrots. Cut into 1 inch chunks. You don't need to peel them, just give them a good wash and remove any stringy bit.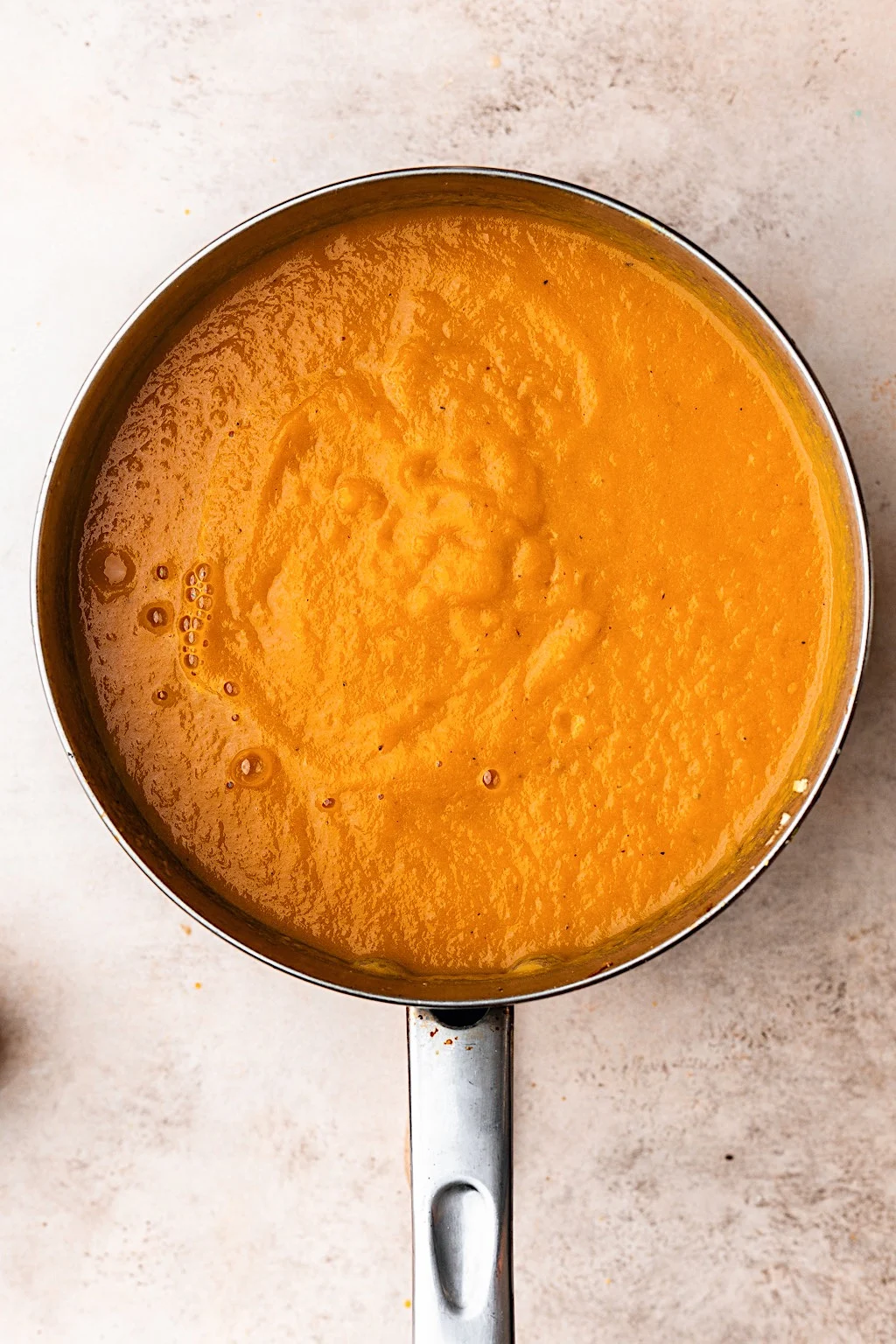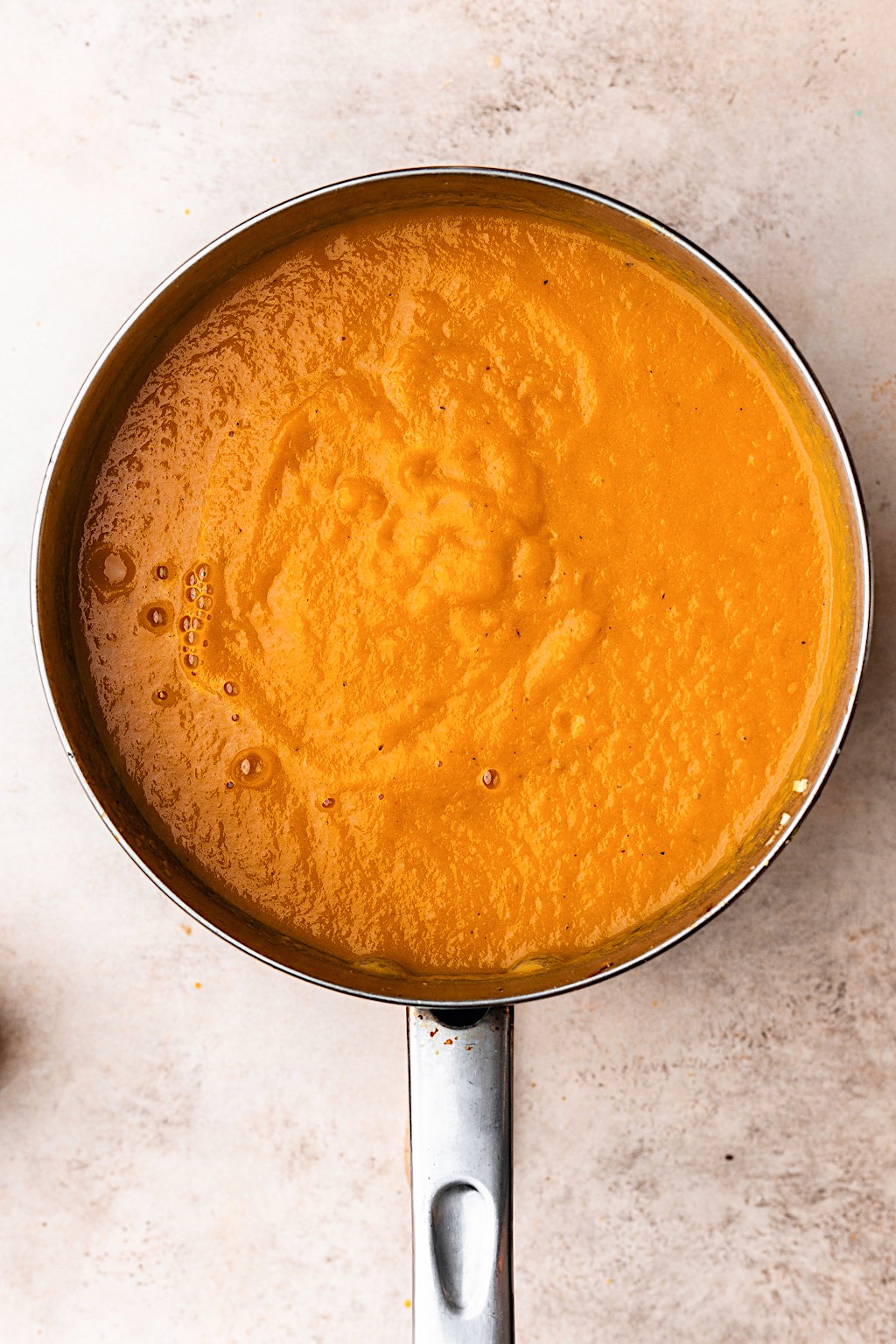 Toss in two tbsp olive oil and a good sprinkle of salt and pepper and pop in the oven for 40-50 minutes. In the last 15 minutes, drizzle over the maple syrup, toss and cook for the remaining time.
Whilst the carrots are roasting, heat a tbsp of olive oil or vegan butter in a pot on medium heat. Add finely diced onion and fry few a few minutes. Then add chopped garlic and fry for another minute.
Add the coriander, turmeric, vegetable stock, chilli flakes and leave on a low heat. When the carrots are ready transfer everything to a blender.
Note: Please make sure the mixture is not too hot when pouring in the blender and do it 2-3 sections if you need so you don't overload the blender.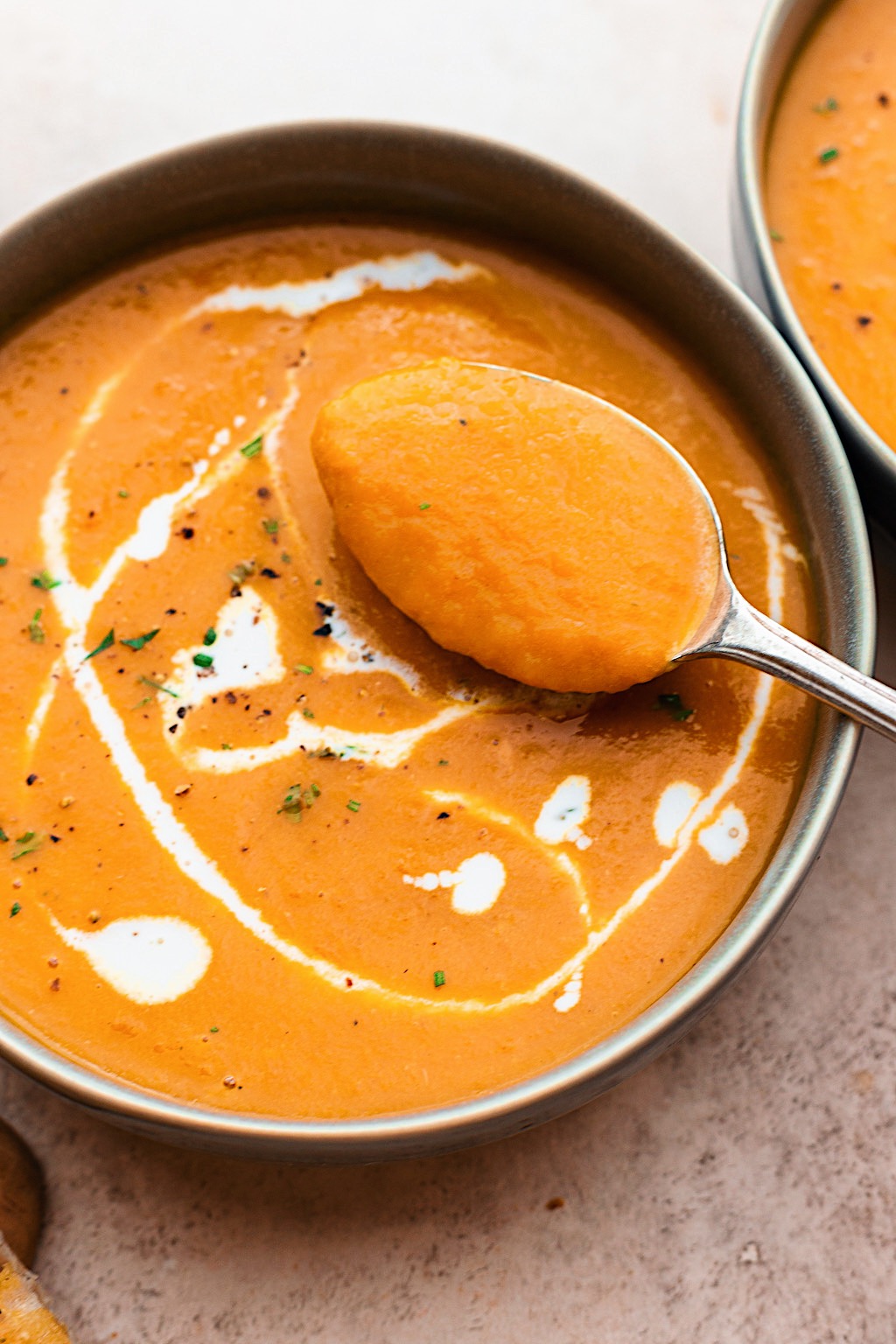 You can also use a stick blender but you won't get as smooth. But it you like it with a bit of texture feel free to do it this way.
Transfer back to the pot and leave on a gentle heat until ready to serve. Top with some vegan cream in cracked black pepper. My favourite vegan creams are Oatly Double or Elmea Plant. You could also use cocount cream.
It adds some richness and of course looks super pretty! You could also add some toasted seeds or some nutritional yeast/vegan parmesan. Yummy!
This fridge will keep in the fridge for a few days and will also freeze well!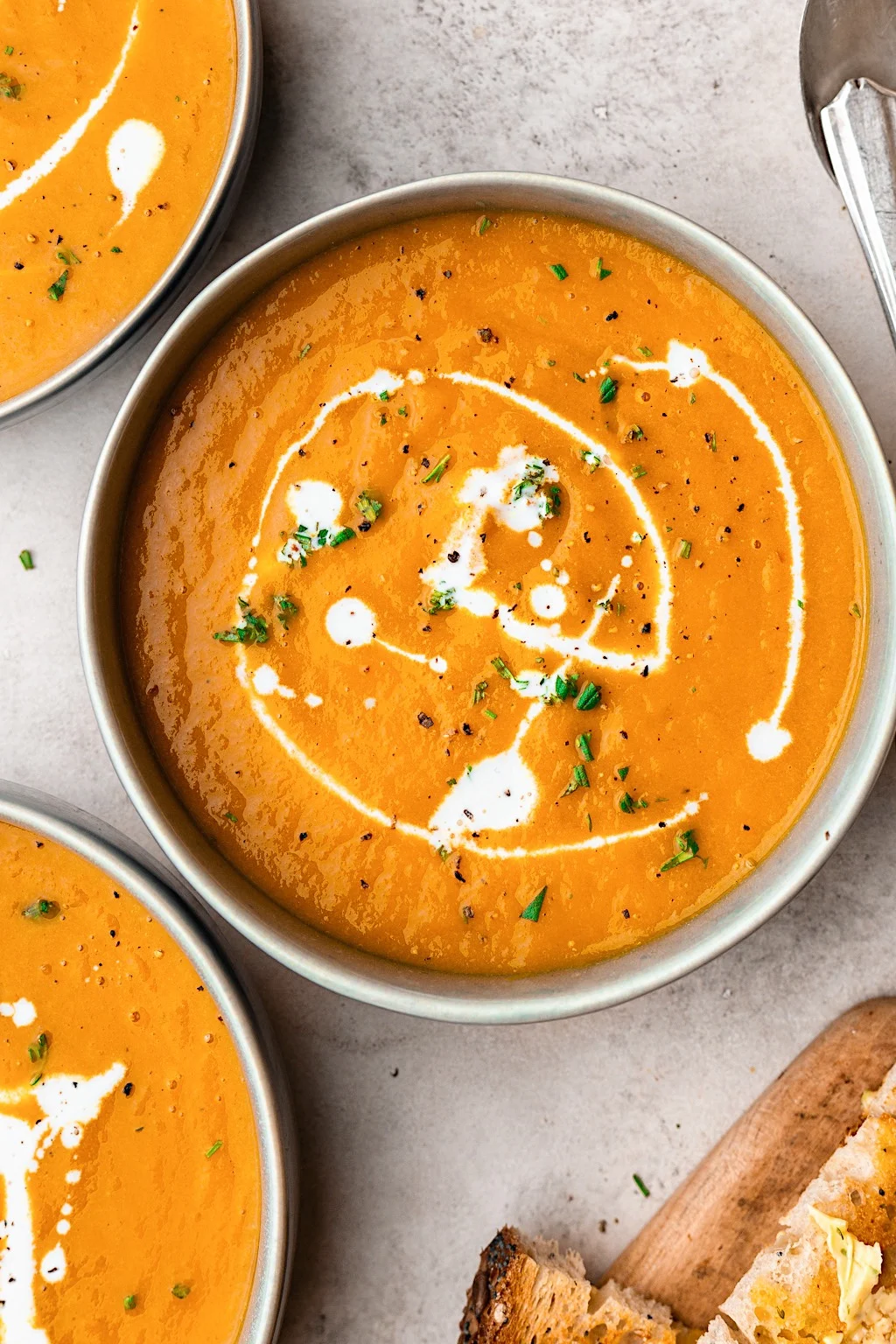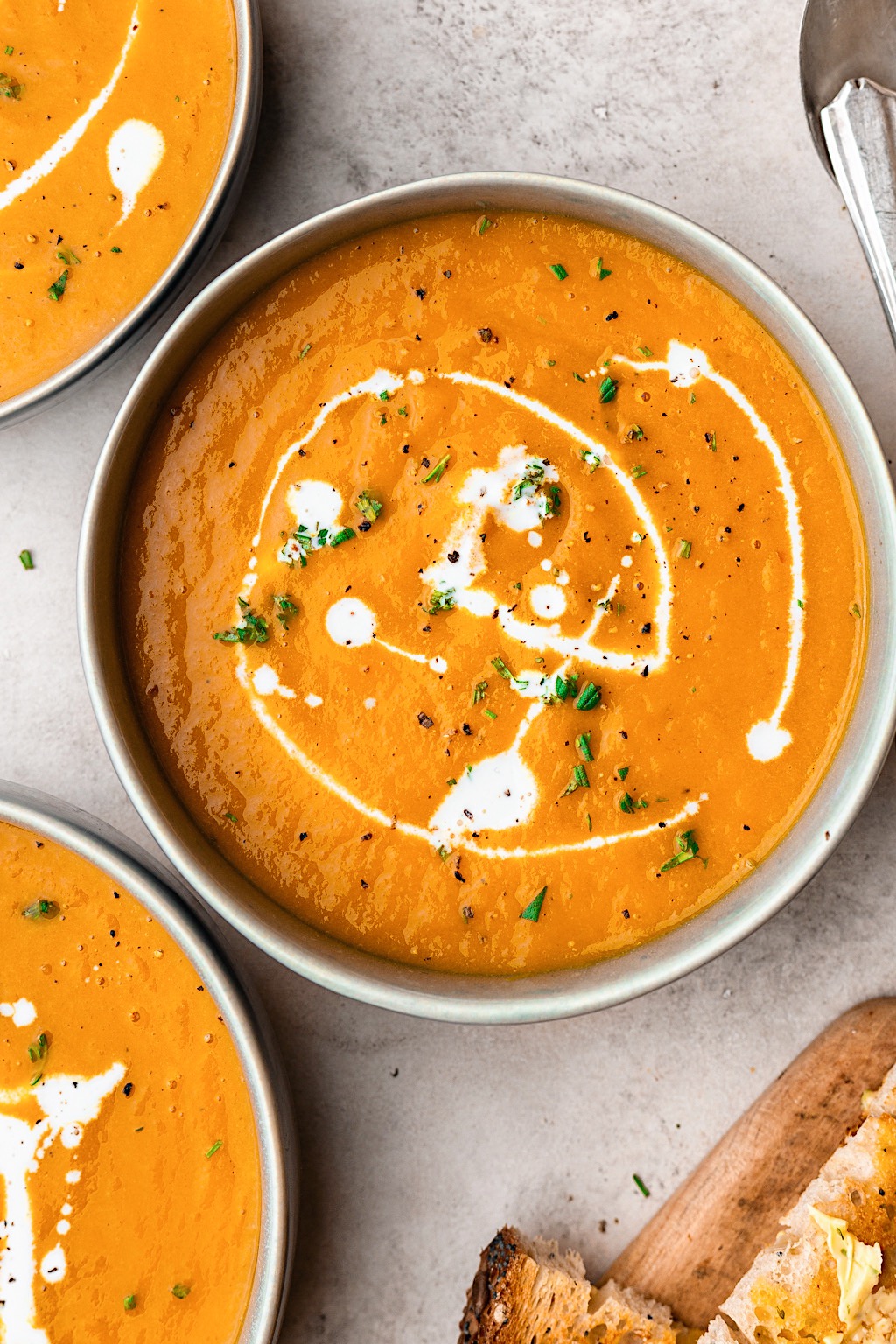 Why not switch it up next time with these add ins:
Add a large handful of fresh coriander when blending for coriander and carrot soup – a classic!
Add a tbsp curry powder when adding the garlic for a curried carrot soup – so warming!
Swirl in a tsp of red or green pesto to each bowl for a punch of herby flavour!
Add an inch of chopped fresh ginger and fresh turmeric with the garlic. A great immune booster!
For more soup recipes you may enjoy these:
Roasted parsnip and garlic soup
Thai sweet potato and carrot soup
Soups have a big space on the blog because they are one my favourite food in the colder months! There is nothing better than cosying up with a hot soup and buttered bread!
As always if you make this maple roasted carrot soup be sure to leave me a comment, rate this recipe and tag me on Instagram. I love seeing all your photos of my recipe recreations!
Don't forget to follow along on Facebook, Pinterest and Instagram – I'd love to see you all there!
---
NEVER MISS A RECIPE! GET MORE VEGAN RECIPES SENT STRAIGHT TO YOUR INBOX – SUBSCRIBE HERE 🙂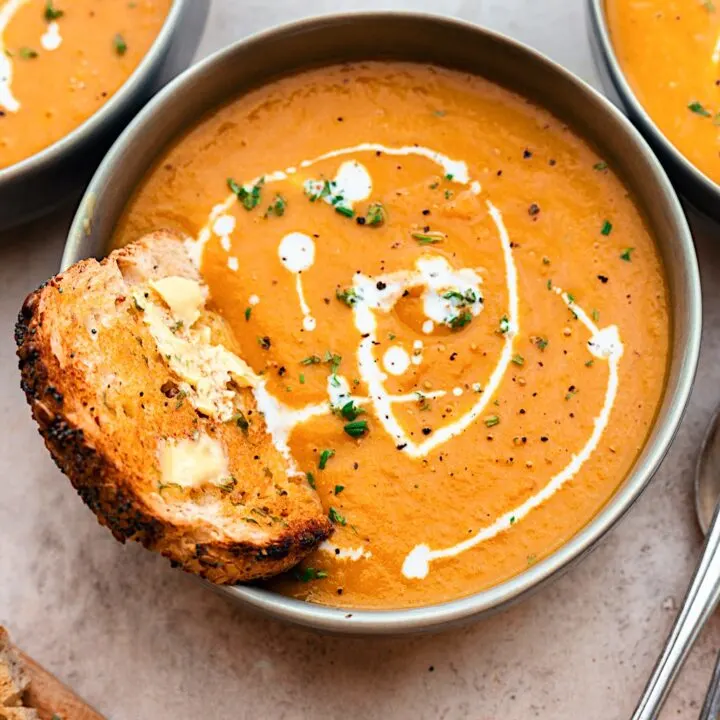 Maple Roasted Carrot Soup
This maple roasted carrot soup is perfect for cosy winter days. Roasted carrots caramelised with maple syrup, with a touch of chilli for warmth. Just 10 ingredients and super easy to make! Naturally vegan and gluten free.
Ingredients
900g / 2 pounds carrots (about 5 large carrots)
2 tbsp maple syrup
1 red onion
4 garlic cloves
1.25 litre / 5 cups vegetable stock
1/2 tsp ground coriander
1/2 tsp ground turmeric
1/4 tsp chilli flakes*
Cracked black pepper
To top (optional)
Vegan cream
Chopped fresh herbs (rosemary/coriander/parsley)
Instructions
Pre heat oven to 200C/400F.
Cut carrots into 1 inch chunks and place on a baking tray. Drizzle with 2 tbsp olive oil and generous amount of cracked black pepper and salt. Place in the oven for 40-50 minutes until soft through. Add maple syrup and toss in the last 15 minutes.
Whilst the carrots are roasting heat 1 tbsp olive oil/vegan butter in a saucepan. Fry finely diced onion for a few minutes until softened.
Add finely chopped garlic, fry for a minute then add the coriander, turmeric, chilli, good sprinkling of cracked black pepper. Fry for 30 seconds.
Add vegetable stock and leave on a low heat until carrots are roasted. They should be tender and soft through.
Place all the ingredients in a blender (if you want super smooth soup) or use a stick blender if you like a bit of texture. Please let the stock cool down a bit if you are using a blender and do it in 2/3 loads if needed so the blender doesn't overflow with hot soup!
If you like it a bit thinner you can add some extra water. Taste and season with salt and pepper (just be careful with the salt as some stock is saltier than others).
Return to the pan on a low heat until ready to serve. Top with some vegan cream, fresh herbs and some cracked black pepper. Serve with your favourite bread and butter!
Will keep will in the fridge for a few days or freeze well. Allow to cool fully before freezing.
Notes
*You can add as little or as much chilli as you like. A 1/4 tsp chilli flakes should give it a nice warmth without being spicy but different brands can vary in spiciness.
Recommended Products
As an Amazon Associate and member of other affiliate programs, I earn from qualifying purchases.