This restaurant style vegan aubergine dhansak is tangy, sweet and slightly spicy. With a creamy tomato lentil sauce and chunks of melt in your mouth aubergine. Swap your take out for this restaurant worthy dish that is one pot and so delicious!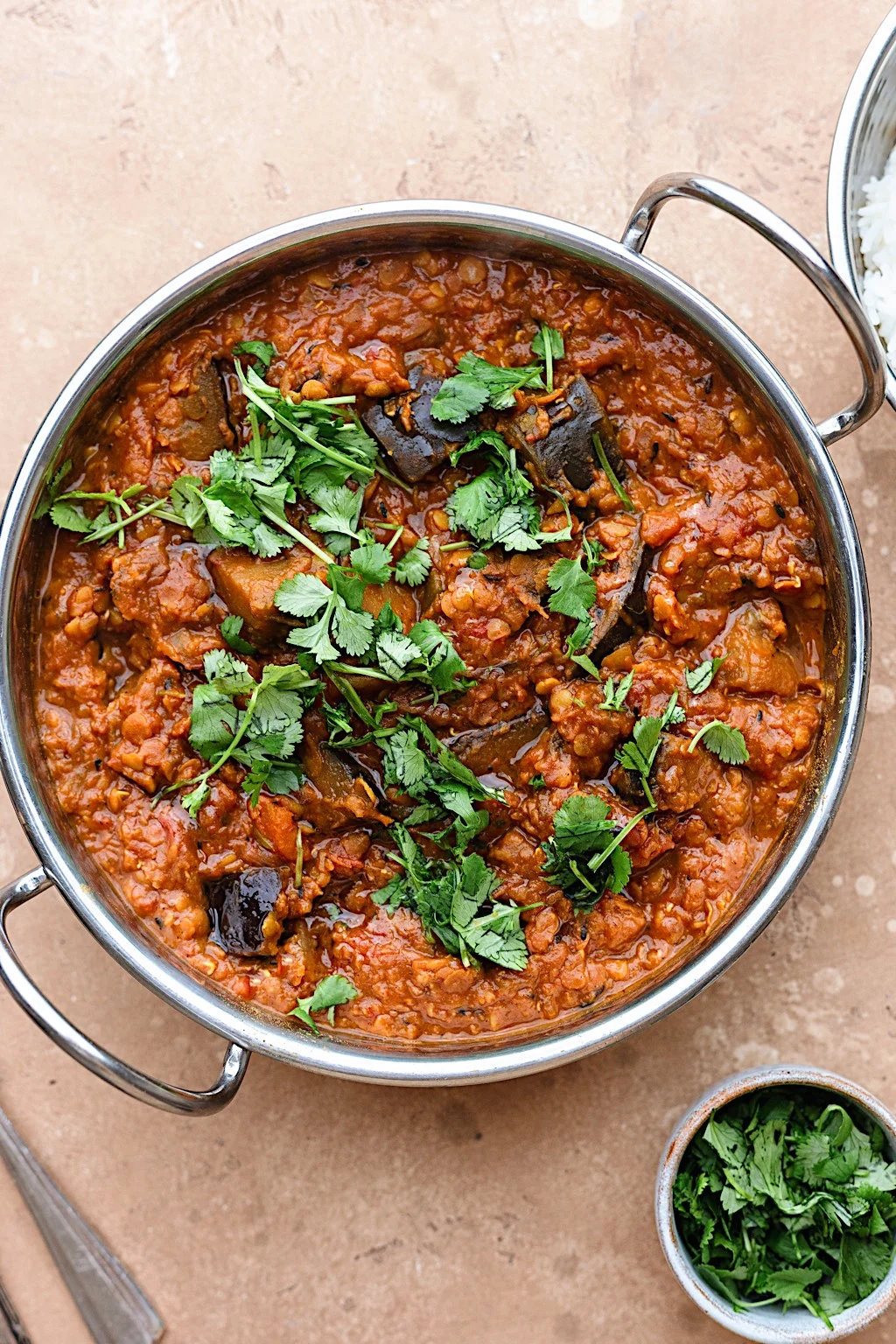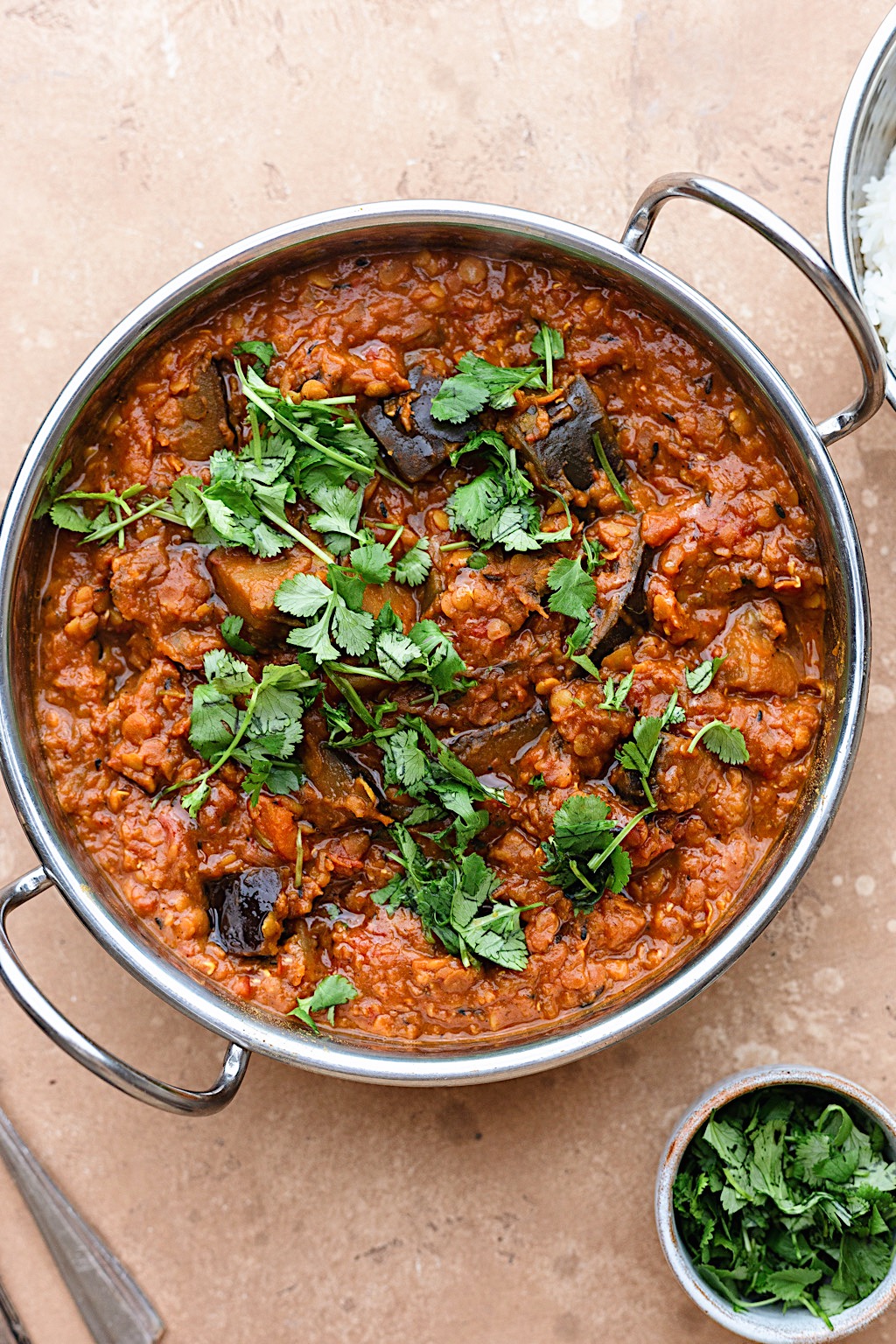 Dhansak is a highly popular curry dish in British Indian restaurants. And this vegan dhansak is based on my experience of a vegetable dhansak.
However, dhansak is not traditionally vegan or vegetarian. Dhansak originates from the Parsi/Parsee community in India and is a combination of Persian and Gujarati cuisine. Which is where the tradition of combining vegetables/meat and lentils together to make a curry/stew comes from.
To substitute for the meat we are using aubergine/eggplant. It has a great meaty texture and I always think they work so well in curries. You could also sub for butternut squash or pumpkin, which are more traditional.
Or go for tofu or a vegan chicken alternative. Tear the tofu into chunks, coat in cornflour then fry until golden for a chewier texture.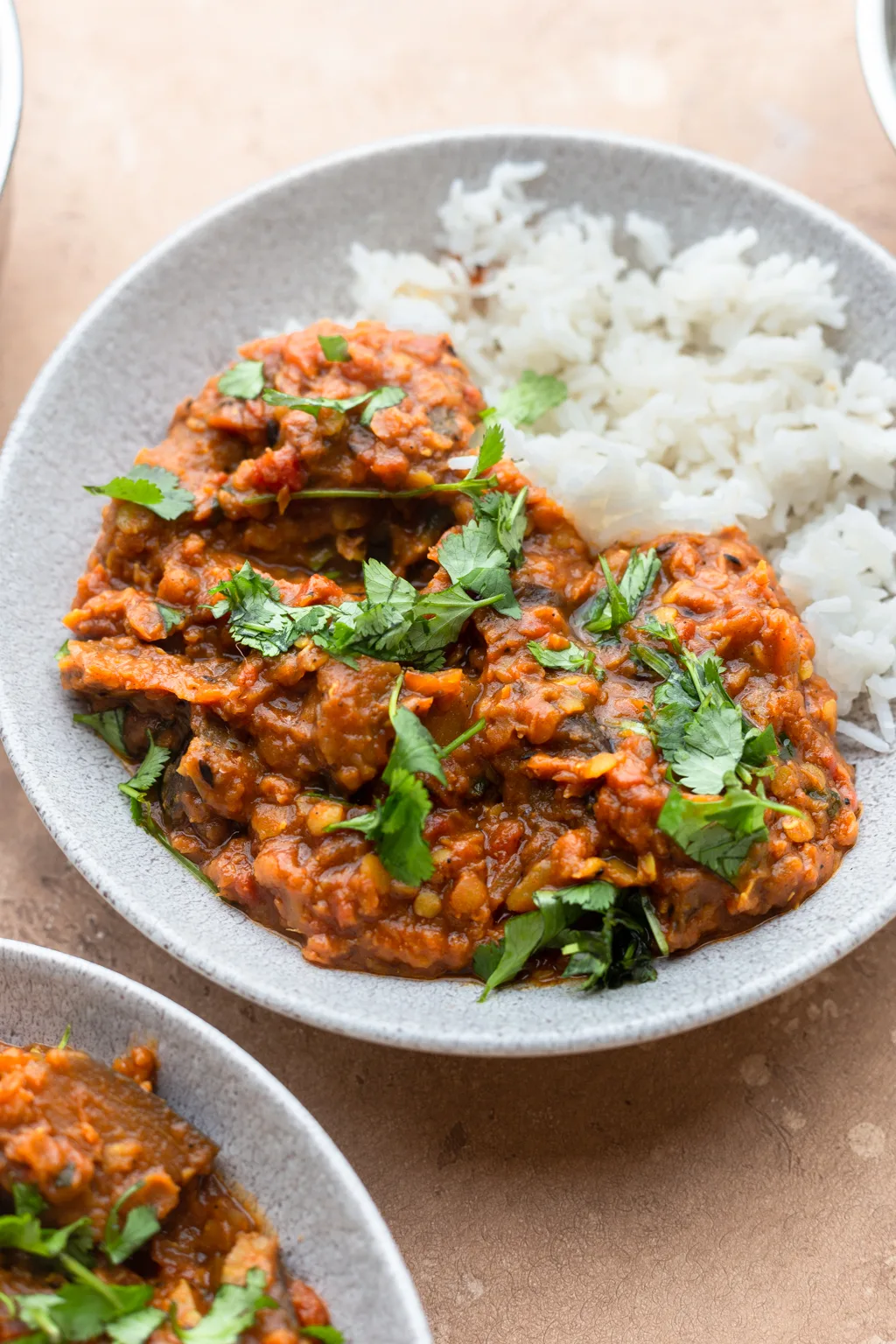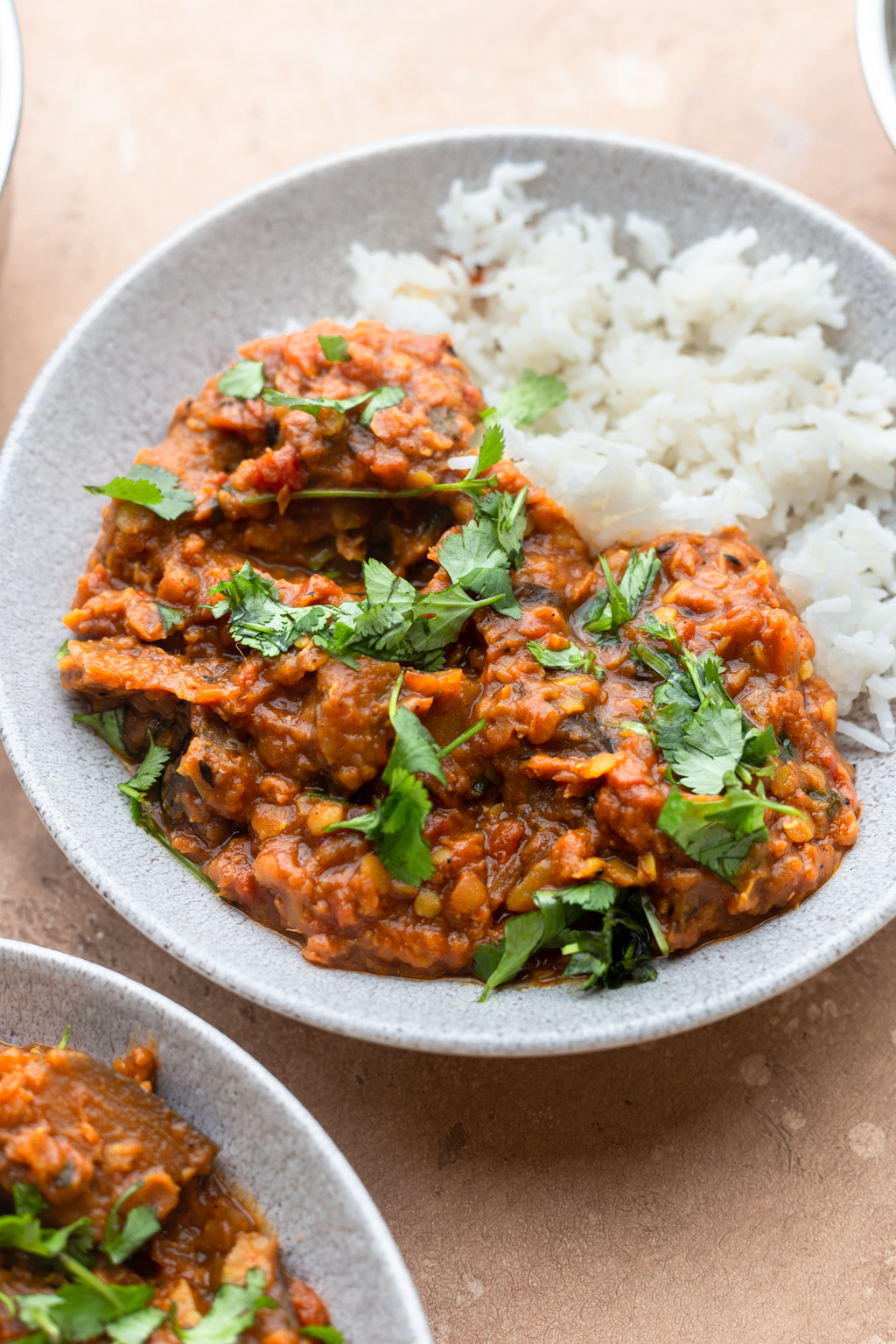 To make this recipe a little simpler we are using just one type of lentil – red lentils. They don't take as long to cook and break down well, which is key to a good dhansak. The lentils should be broken down so they melt into the sauce, giving it a creamy texture.
The key to that sweet and sour tangy flavour is tamarind sauce. Not the same as tamarind paste. You can find it in most large supermarkets.
I picked up the brand Maggi from Sainsburys. It's a great ingredient to have on hand to add to curries or use as a dip! If you really can't find any then you can sub for 1 tsp tamarind paste and about 2 tsp sugar.
What you'll need for vegan dhansak:
Aubergine (you can sub for another veg like courgette or squash)
Cumin seeds
Onion
Garlic
Ginger
Turmeric powder
Garam masala
Ground turmeric
Ground cumin
Ground fenugreek
Salt
Tinned tomatoes
Water
Red lentils
Tamarind sauce
Lemon
There are quite a few different spices that go into this dhansak but once you've got them in the pantry you are good to go with making curries at home!
Tamarind sauce does contain chilli (Maggi is quite spicy) which is why I haven't added chilli as an ingredient but you can add more if you want to up the heat! This may vary by brand too, so add spice accordingly.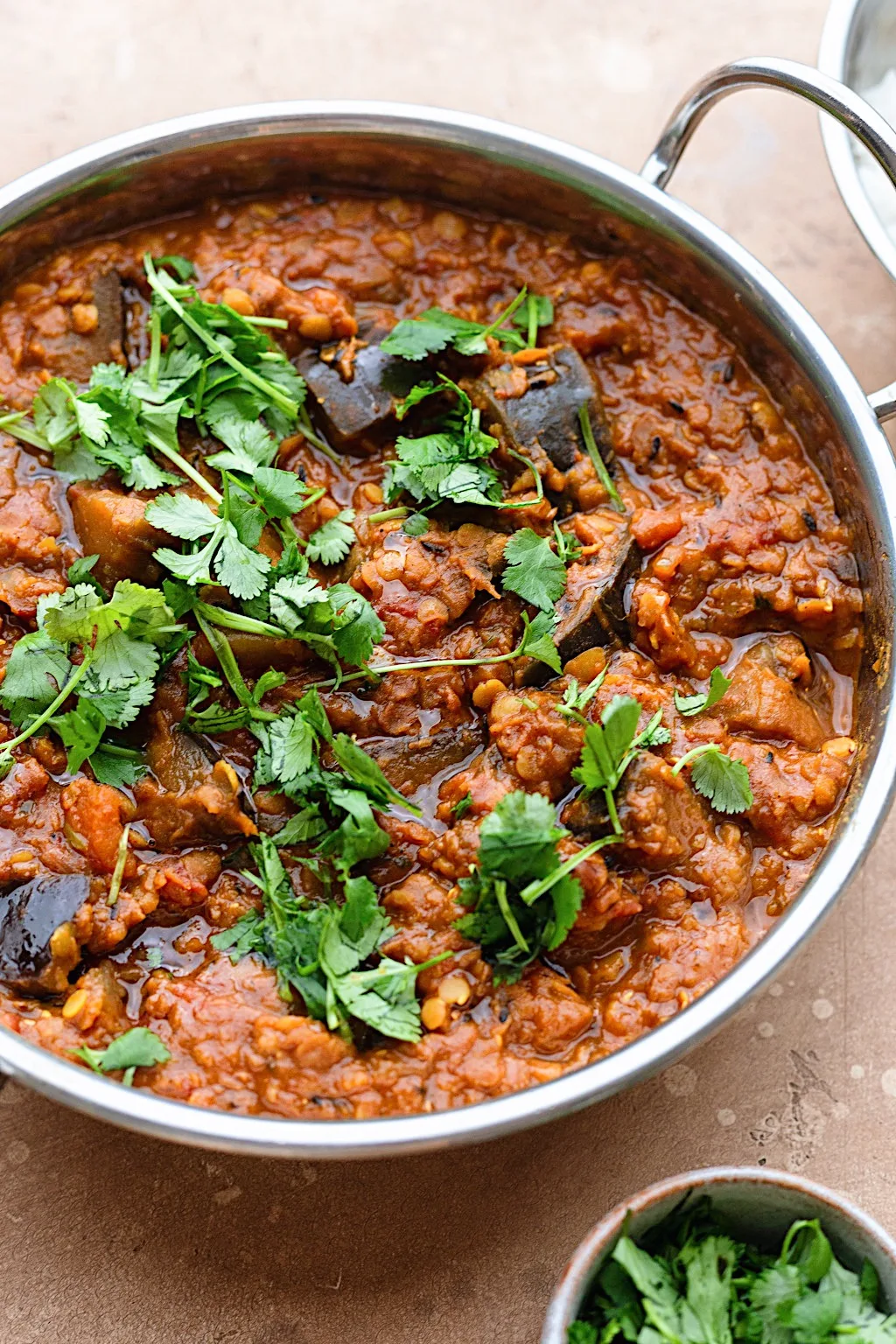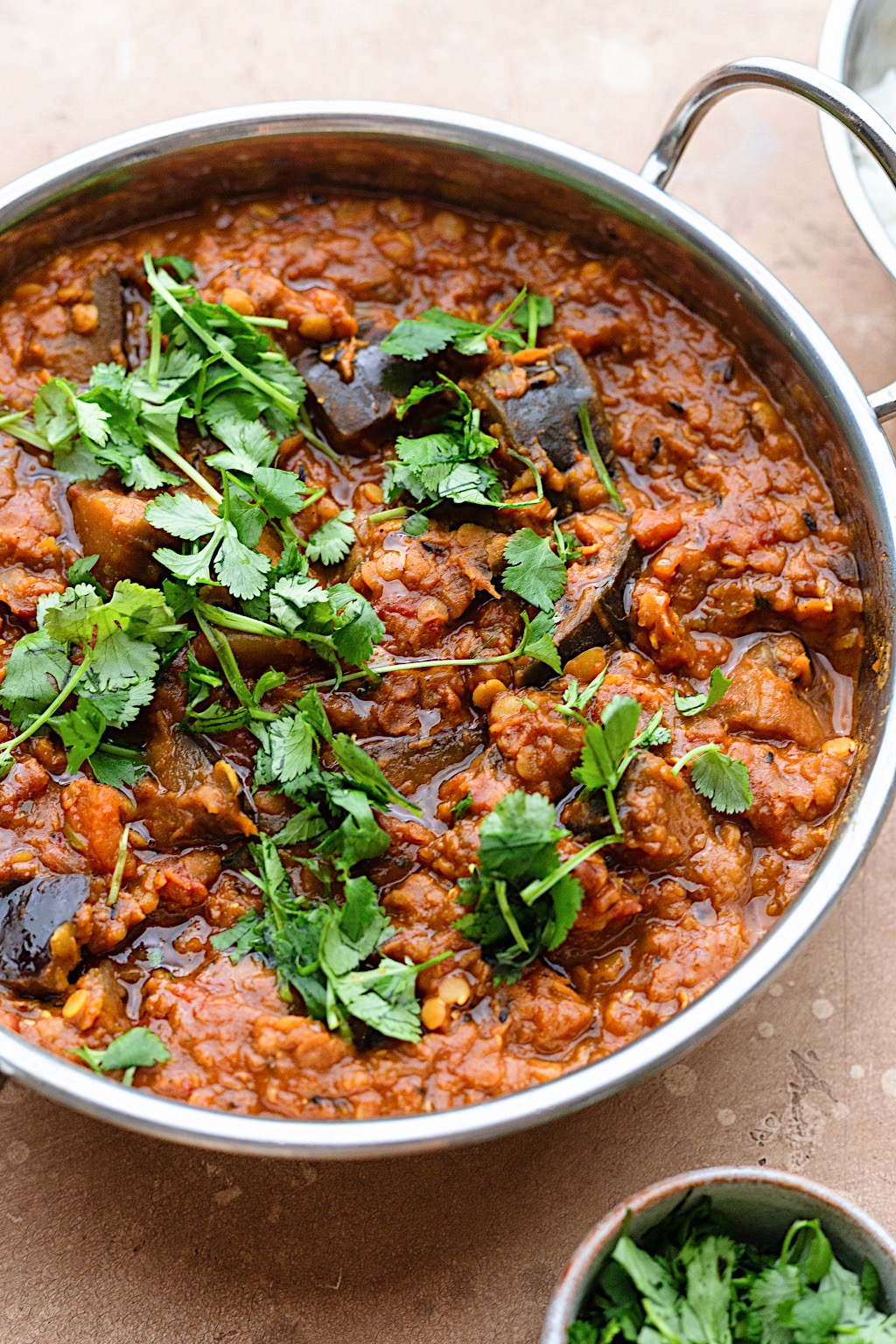 How to make aubergine dhansak:
[full recipe and ingredients at the bottom of the page, please scroll down]
Start by heating the vegetable oil and then add the cumin seeds. Once they are fizzing add the finely chopped onion. Fry for a few minutes and then add grated garlic and ginger.
Add the spices and fry until the onion is soft and browned and then add the cubed aubergine/eggplant. Once it has some colour to it add the rinsed lentils, water, tomatoes, tamarind sauce. Stir well.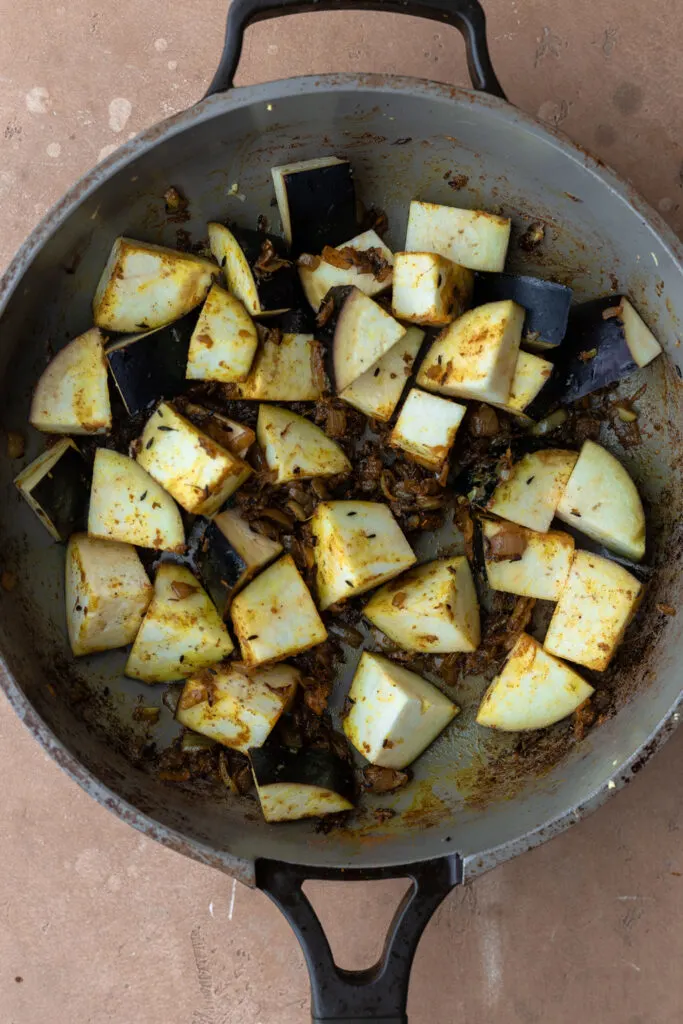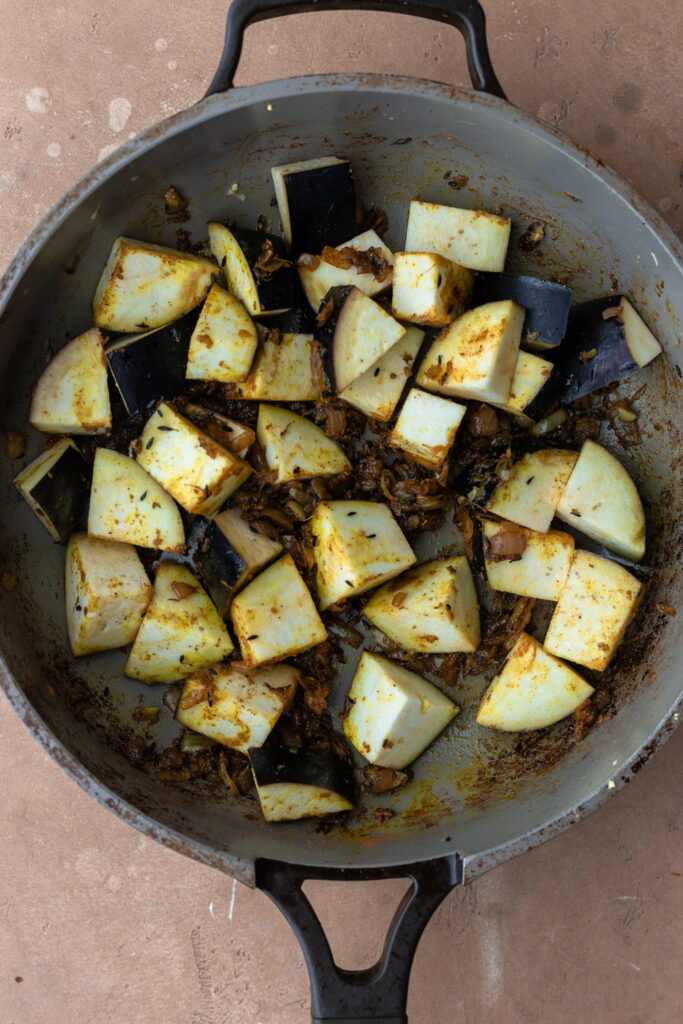 Bring to a gentle simmer and let cook for 30 minutes until the sauce has thickened and the lentils are breaking down and the aubergine is soft and starting to fall apart.
Give it 5-10 minutes longer if needed and you can add a bit of extra water if it gets too thick. Add lemon juice, taste and season.
What to serve with dhansak curry
Rice – traditionally dhansak is served with rice cooked with caramelised onions and whole spices
Kachumber salad – sliced onion, tomatoes, cucumber with lemon and chilli
Chapati/naan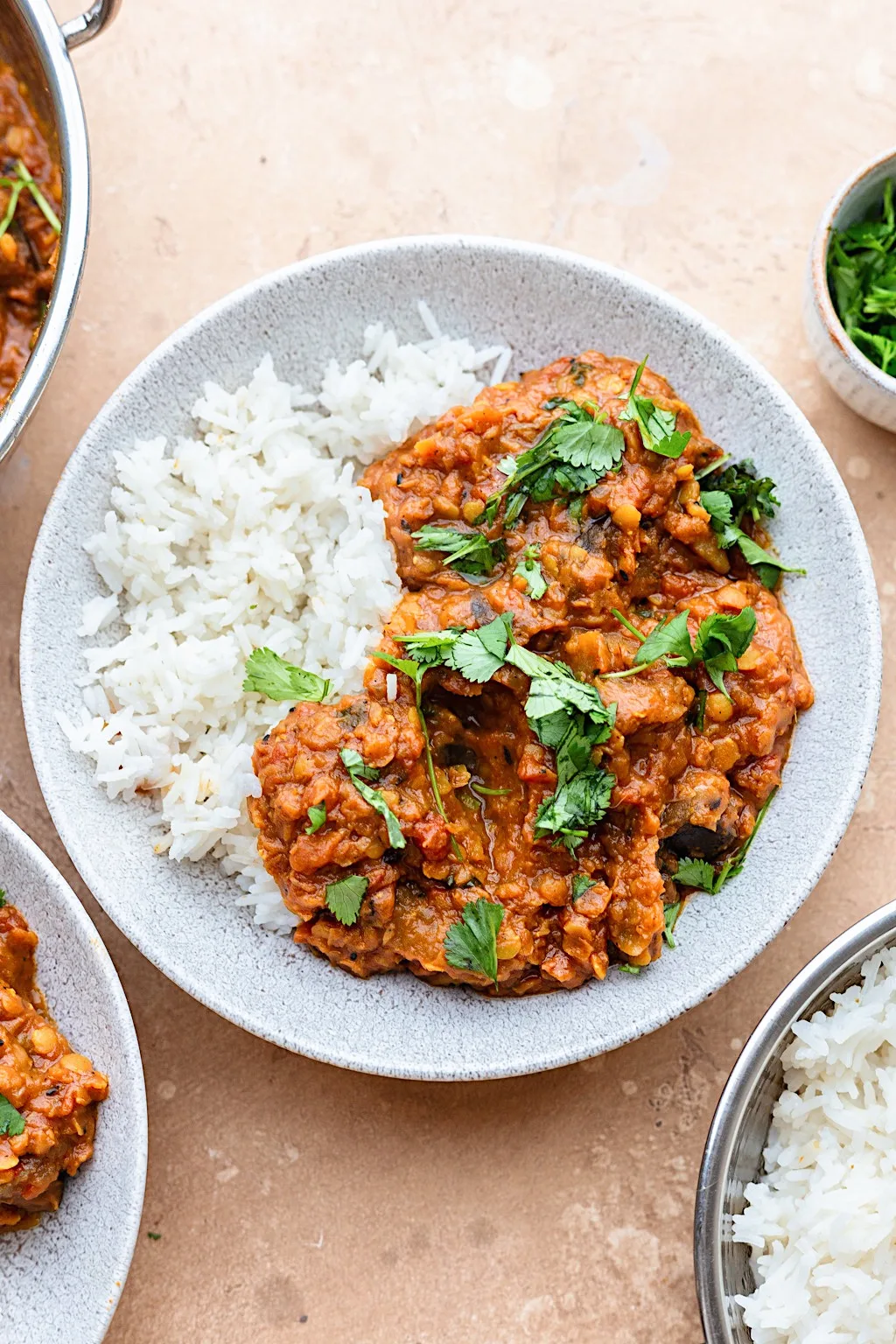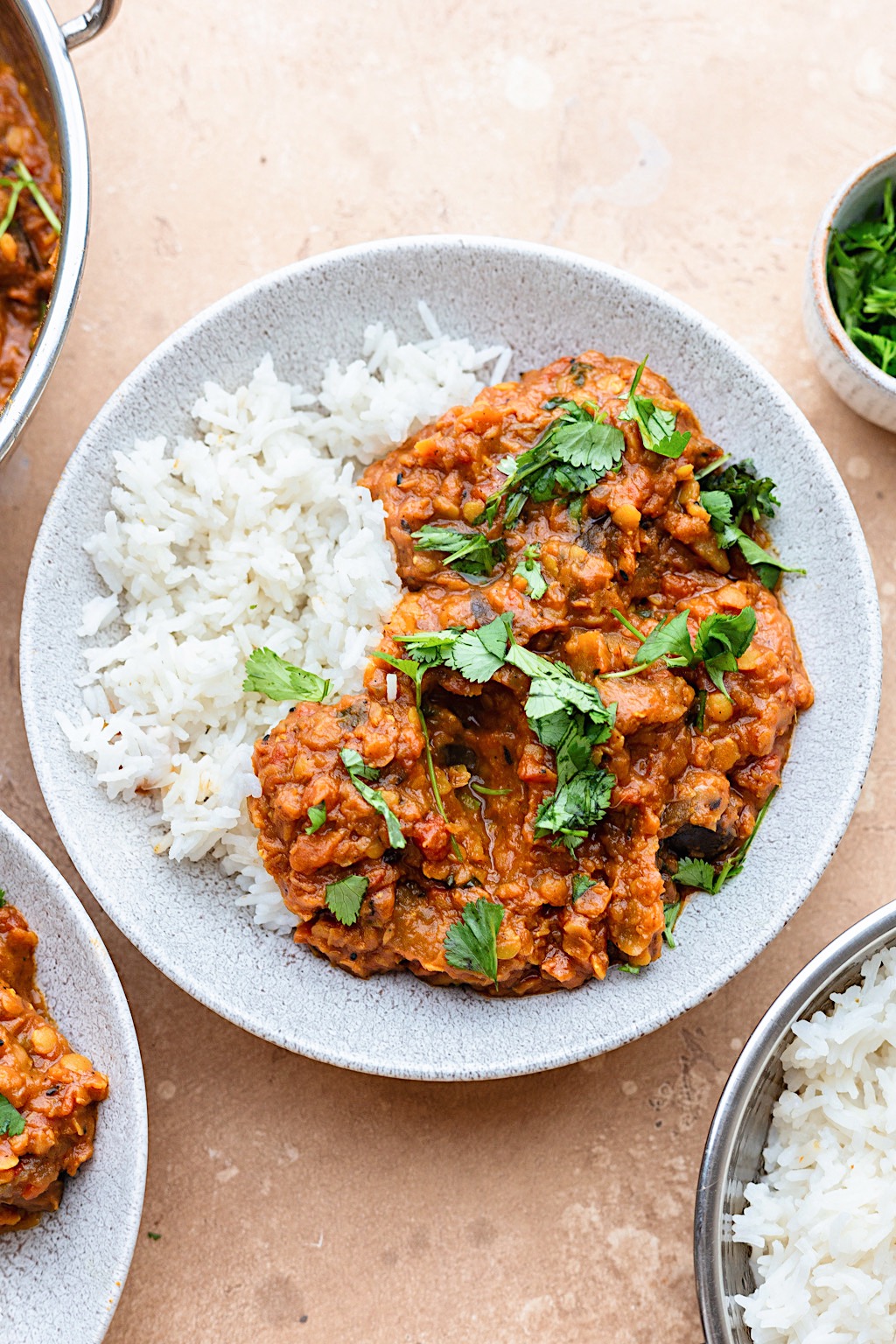 For more curry recipes you may enjoy these:
Roasted butternut squash and chickpea curry
Roasted aubergine and chickpea curry
---
As always if you make this vegan aubergine dhansak curry be sure to leave me a comment, rate this recipe and tag me on Instagram. I love seeing all your photos of my recipe recreations!
Don't forget to follow along on Facebook, Pinterest and Instagram – I'd love to see you all there!
---
NEVER MISS A RECIPE! GET MORE VEGAN RECIPES SENT STRAIGHT TO YOUR INBOX – SUBSCRIBE HERE!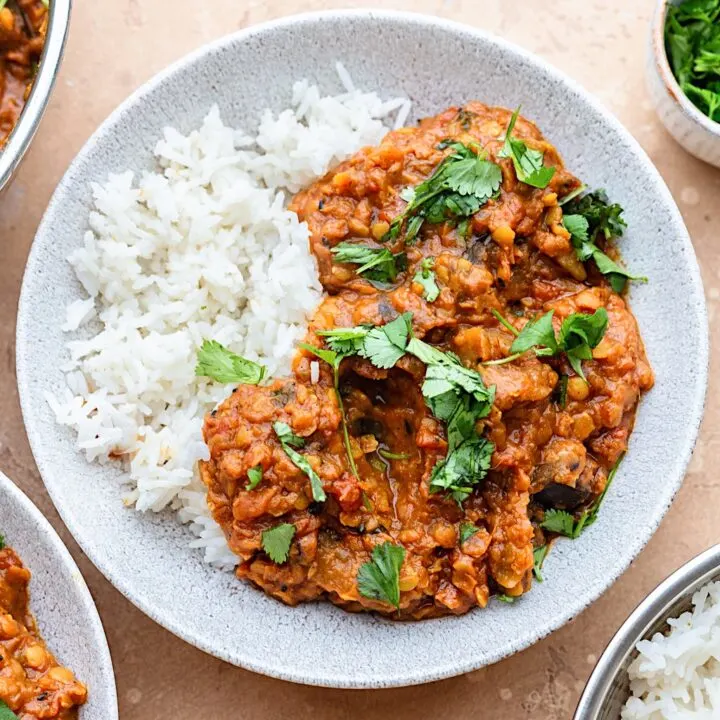 Aubergine Dhansak
The perfect vegan aubergine dhansak to curb your take out cravings! With chunks of melt in your mouth aubergine and creamy red lentils.
Ingredients
3 tbsp vegetable oil
1 heaped tsp cumin seeds
1 onion
4 garlic cloves
2 inch fresh ginger
1 tbsp garam masala
1 tsp cumin powder
1 tsp ground turmeric
1/2 tsp ground coriander
1/2 tsp ground fenugreek
1/2 tsp chilli powder
1/4 tsp ground nutmeg
1 tsp salt
1 aubergine/eggplant
1 tin / 400ml chopped tomatoes
255g / 3/4 cup red lentils
1 lr / 4.5 cups water
2 tbsp tamarind sauce*
1/2 lemon
Fresh coriander
Instructions
Heat oil in a large heavy bottom pan on medium heat. Once hot add the cumin seeds and fry about 30 seconds until fizzing, don't let it burn.
Add finely chopped onion, fry for a few minutes then add grated garlic and ginger and fry for a further minute. Add all the spices, and fry for 30 seconds until fragrant.
Cut aubergine into 1 inch chunks, Add the aubergine and salt and cook for 5 minutes until the aubergine is browned.
Rinse lentils until the water runs clear. Add to the pan with chopped tomatoes, water and tamarind sauce. Stir well and bring to a simmer.
Simmer for 30-40 minutes until the sauce has thickened and the lentils are breaking down. The aubergine should also be really tender and falling apart.
Add juice of half a lemon, stir and taste and season. You can add a bit more tamarind sauce if you want it more tart (just watch the heat as some are also spicy).
Top with fresh coriander and serve with rice and your favourite sides. Will keep in the fridge for a few days. You may need to add some extra water when reheating to loosen it.
Notes
Tamarind sauce is different to tamarind paste. You can find it in larger supermarkets, I got the brand Maggi from Sainsburys. If you really can't find any then sub for 1 tsp tamarind paste and 2 tsp sugar.
Recommended Products
As an Amazon Associate and member of other affiliate programs, I earn from qualifying purchases.