These vegan coronation chickpea sandwiches are the perfect lunchtime or afternoon tea treat!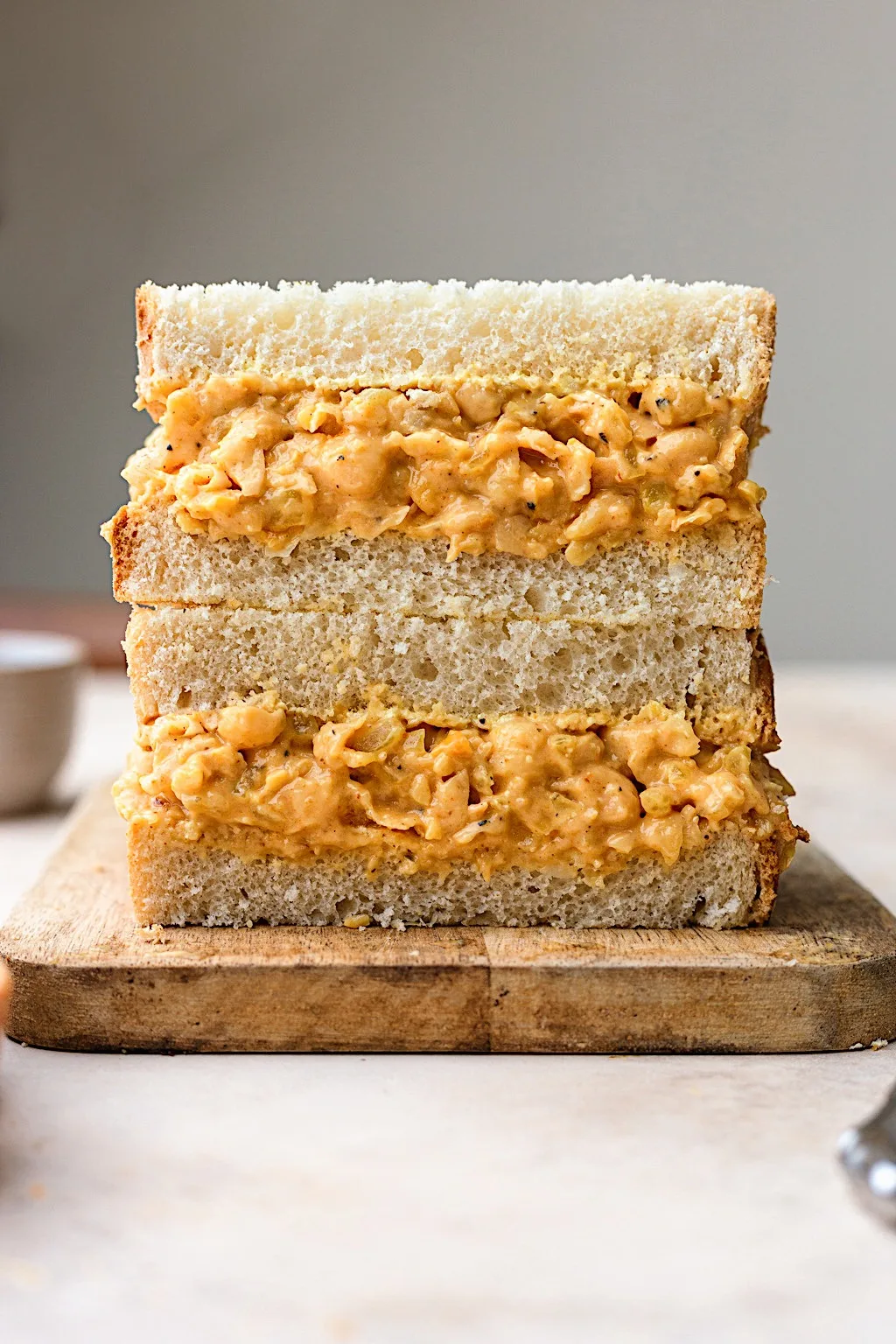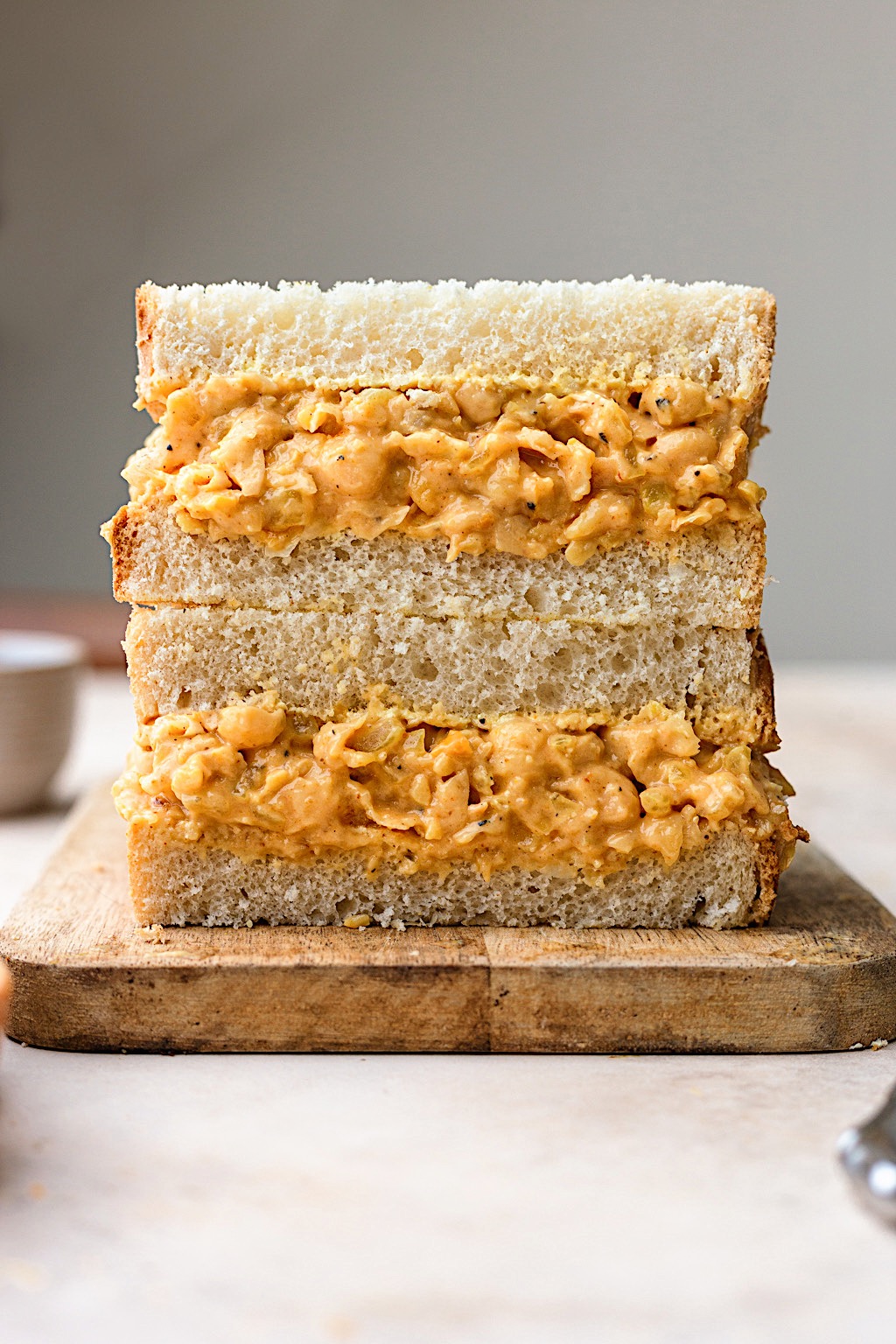 If you aren't familiar with coronation chicken it was a dish developed and eaten at the Queen's coronation in 1953 by the Cordon Bleu cookery school.
It is most commonly eaten in sandwiches but can also be eaten as a salad with lettuce. It can be enjoyed lots of different ways though!
This vegan take on the recipe uses mashed chickpeas mixed with a mayonnaise based sauce with fried onion, curry powder and apricot jam. It's sweet and creamy with a touch of spice.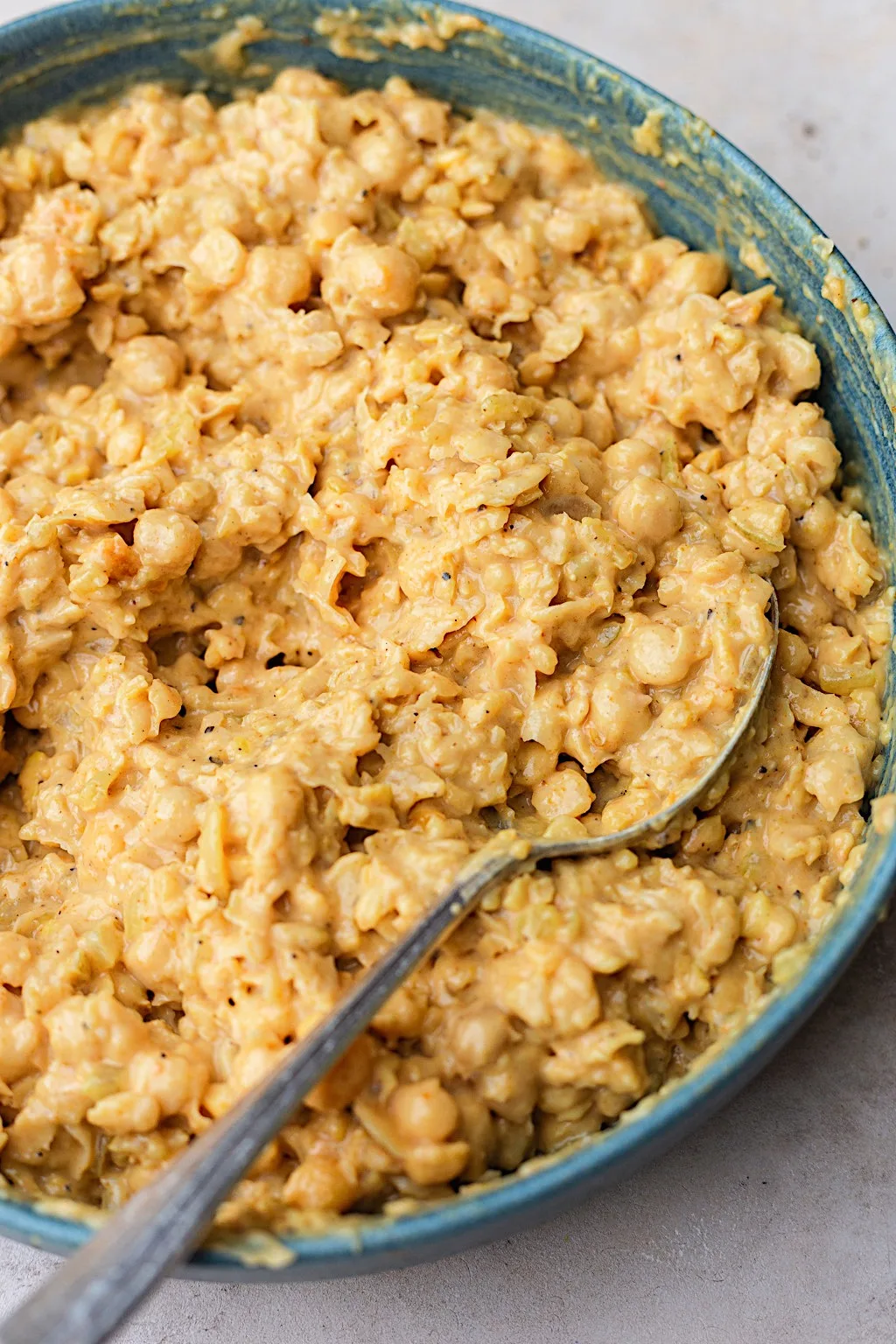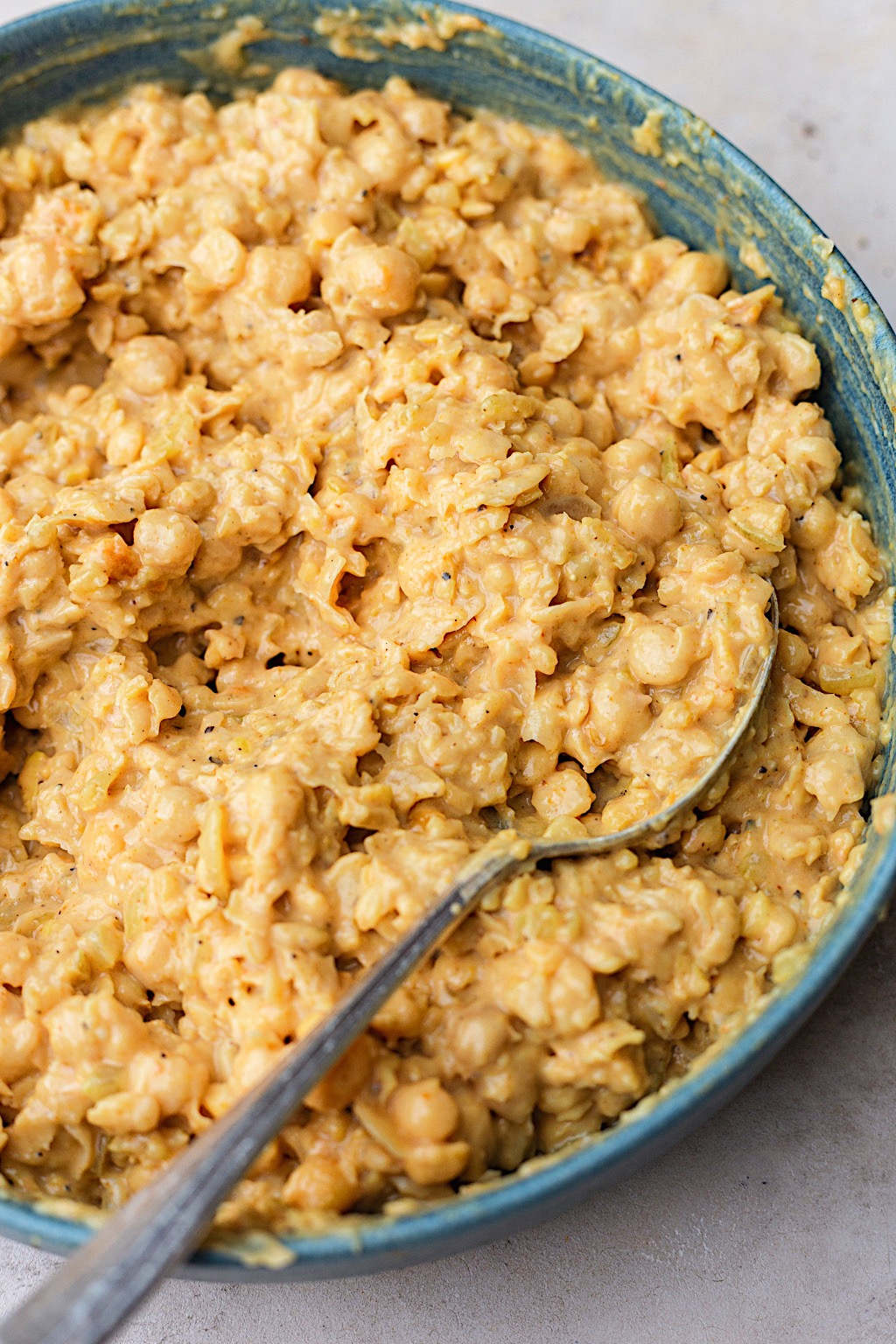 These coronation chickpeas come together in no time. Whilst there is a bit of cooking required for the onions, everything else comes together really quickly.
Finely chopped onion gets fried with a bay leaf and once soft gets mixed with curry powder. We use medium curry powder for this recipe.
A lot of recipes call for mild curry powder but I don't think that packs enough flavour, if it's all you have on hand you can use it but add a bit more if needed.
Of course this recipe is vegan so we aren't using chicken and instead are using chickpeas. They are packed with protein and make for a great sandwich filler.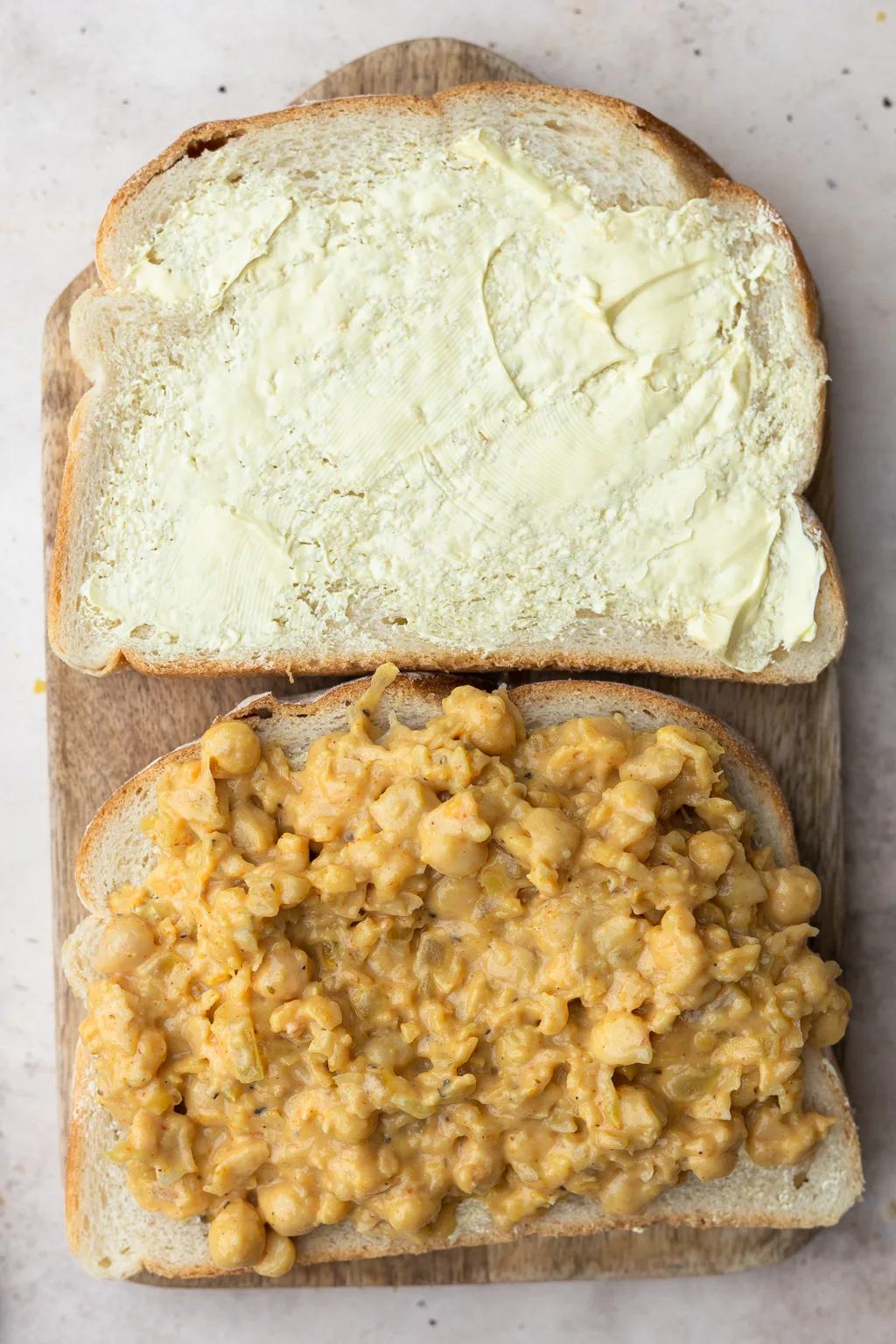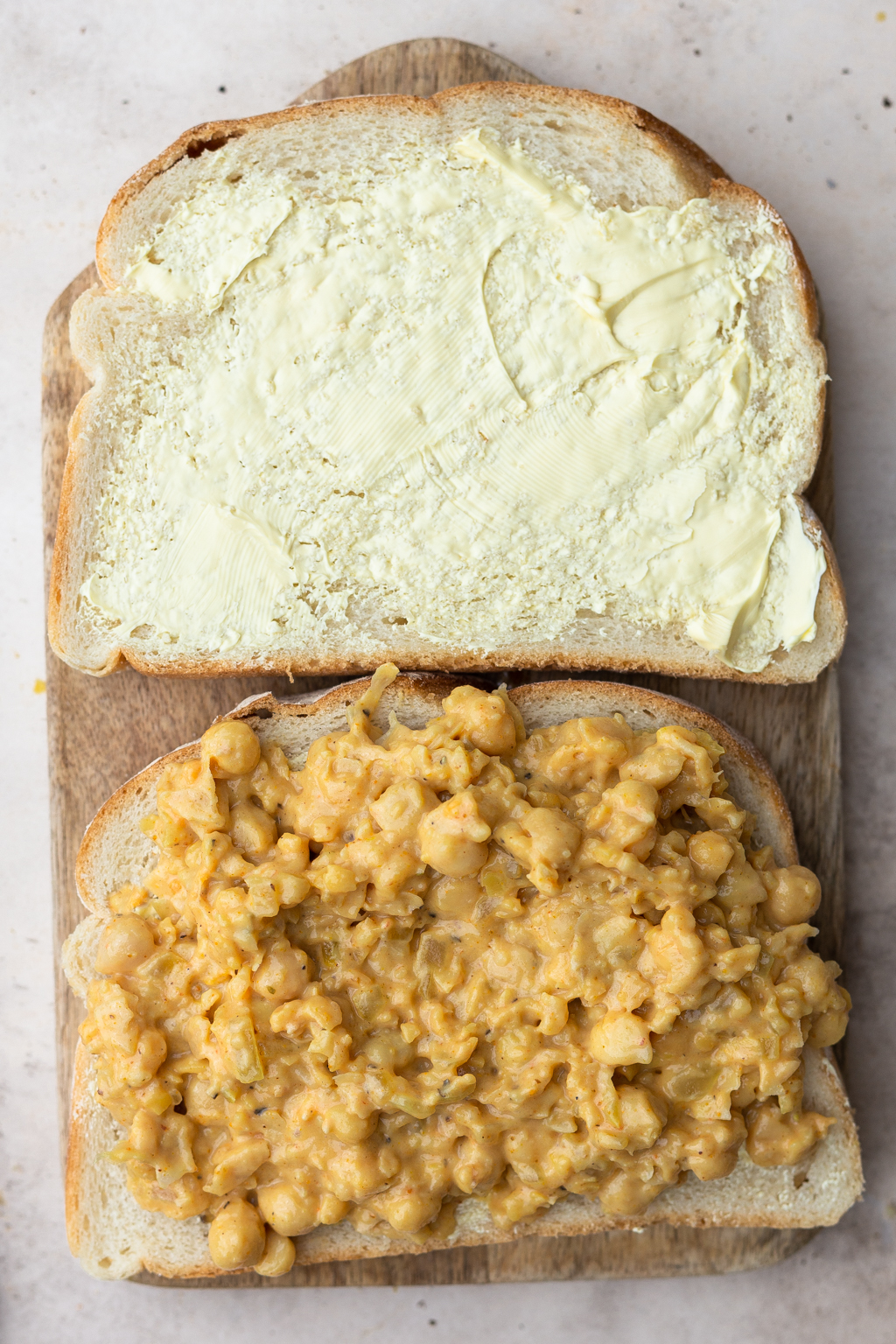 We are using tinned chickpeas for ease, you'll need two tins. If you want to cook your own, you'll need 480g drained.
You can of course use a vegan chicken alternative or tofu which would also work well. Just fry it up first if it needs cooking. Some of my favourite are Quorn pieces or Dopsu no chicken pieces.
Once you've got the sauce you can really add in whatever protein you want, or throw in some add ins.
What you'll need for coronation chickpea sandwich:
Onion
Bay leaf
Curry powder
Chilli powder (optional)
Chickpeas
Vegan mayonnaise
Vegan creme fraiche
Apricot jam
Tomato puree
Lemon
Salt and pepper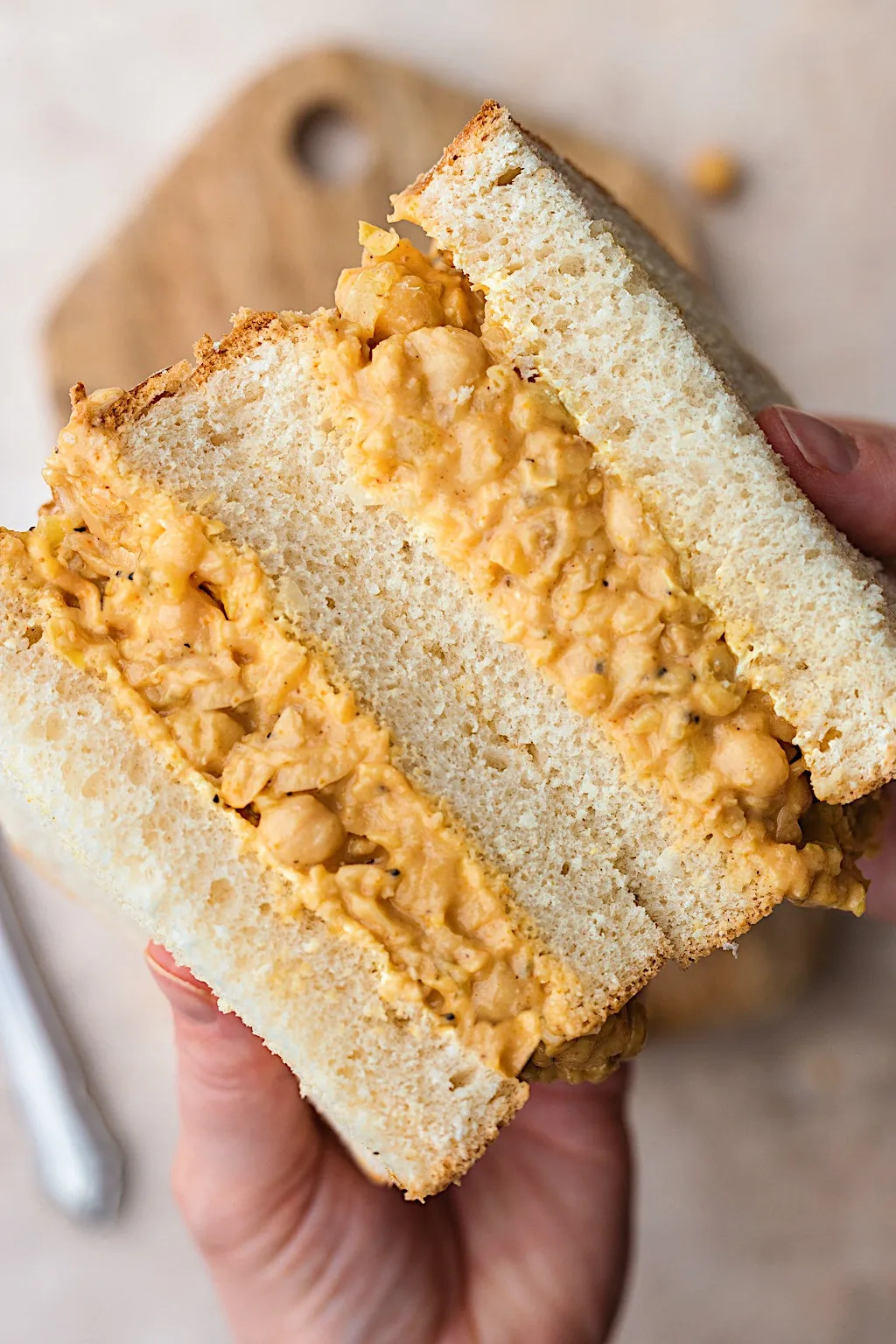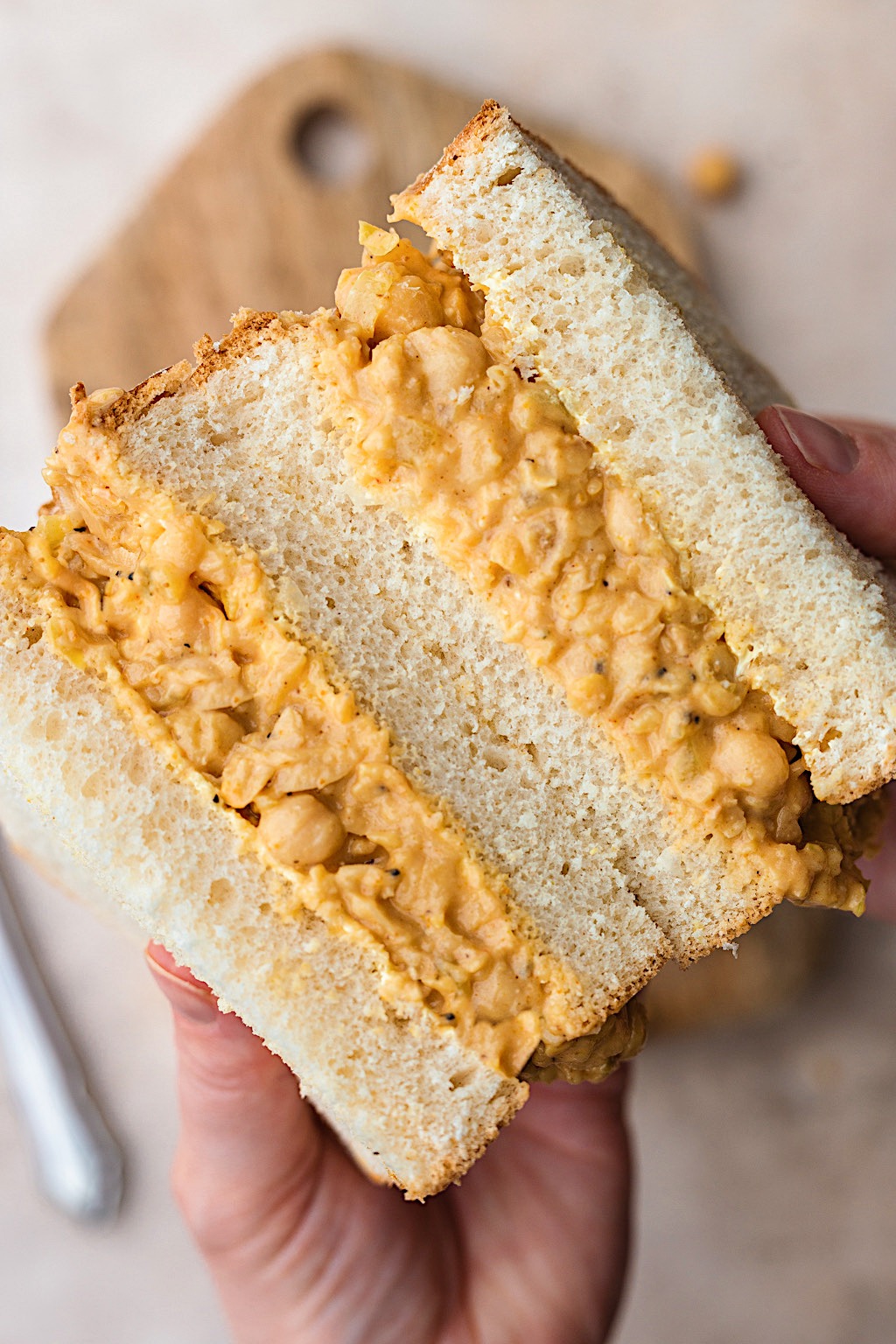 Vegan mayonnaise is key to the recipe as it adds richness. I use Hellmans vegan mayo, but there are loads of brands and supermarket own versions.
For the creme fraiche I use Oatly oat fraiche which is available in most big supermarkets. If you can't find any, I would sub for a vegan greek style yoghurt, Oatly do a great one.
Apricot jam adds sweetness and is a quick way to add a fruity sweet flavour. A lot of recipes add raisins but this is not traditional!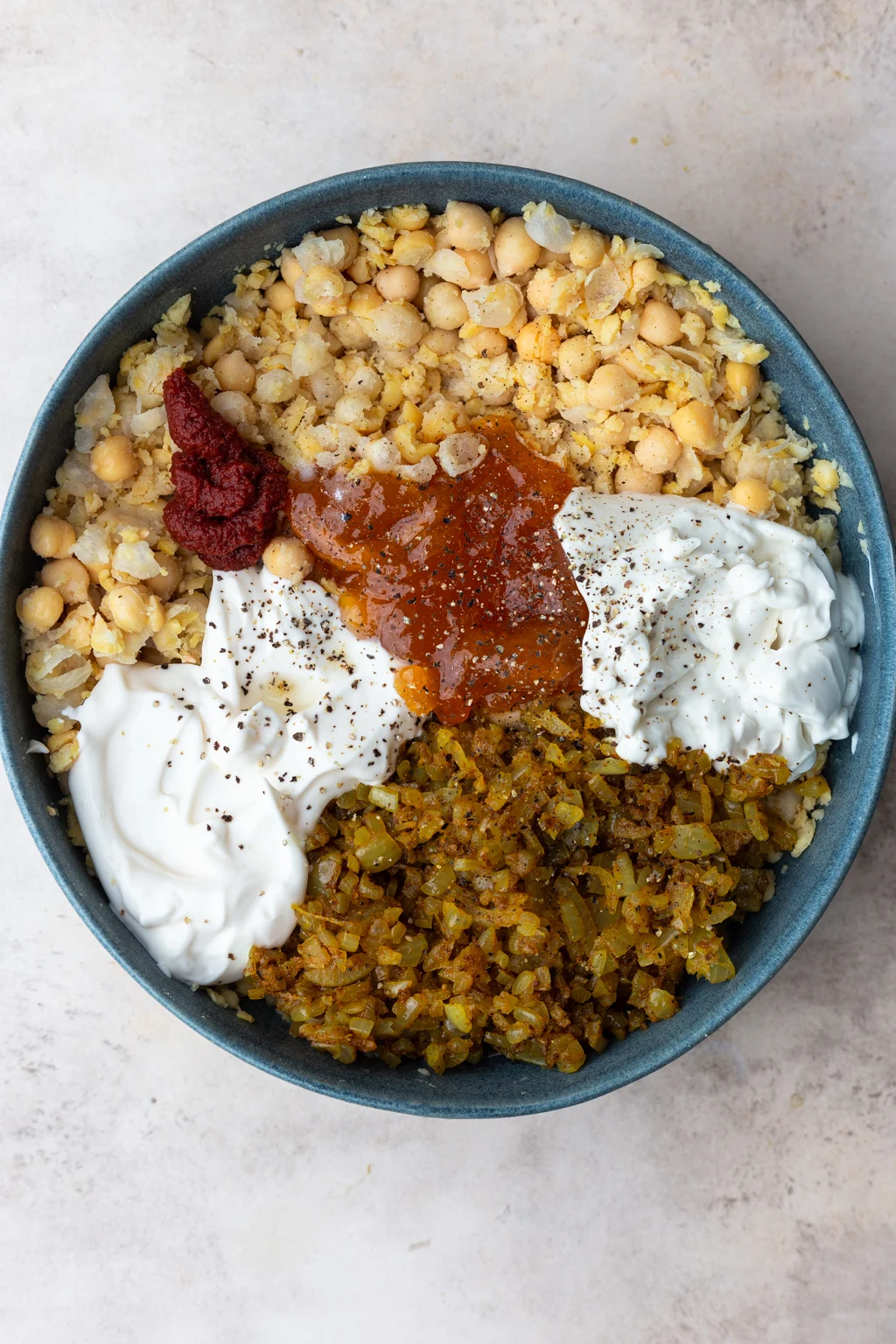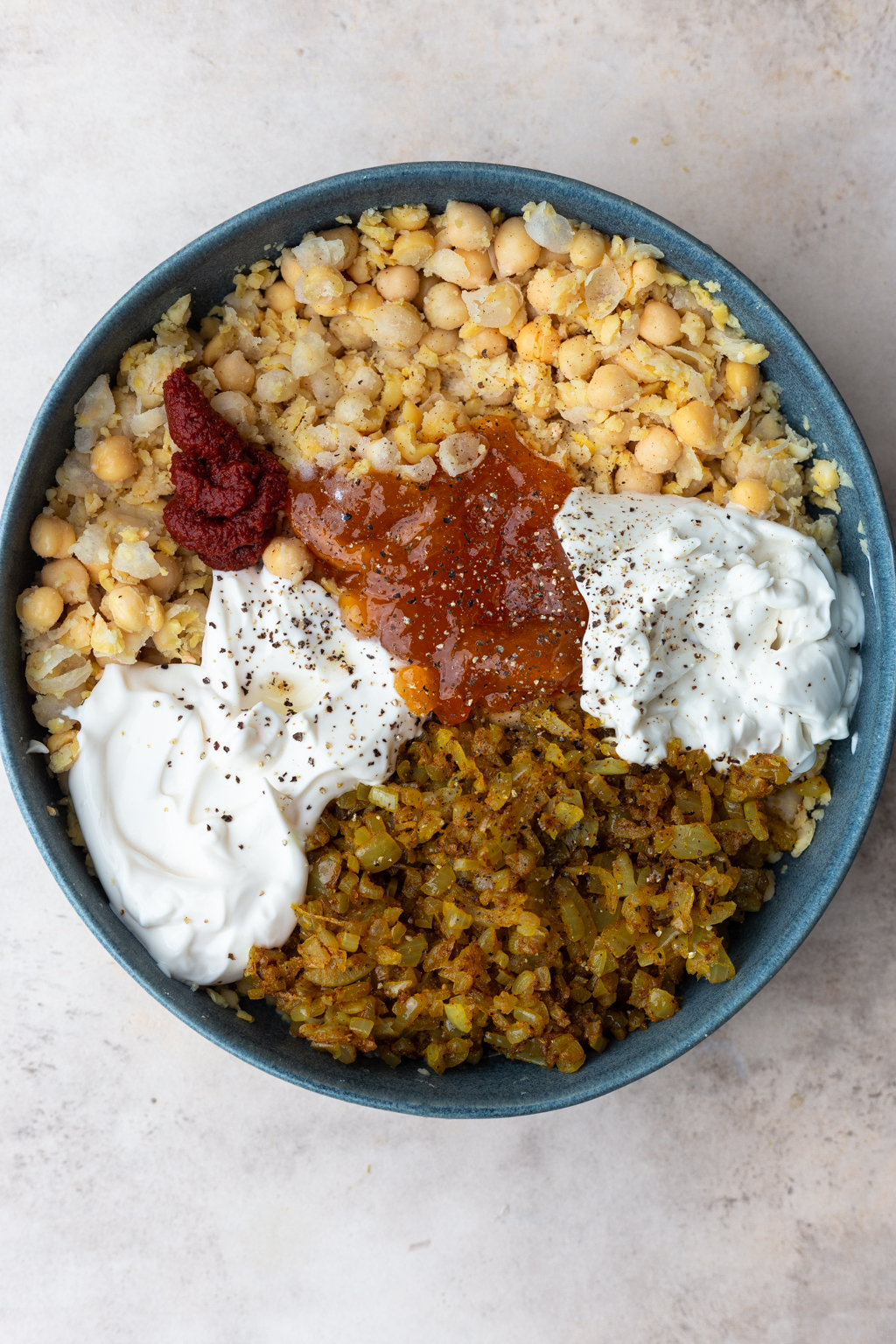 How to make coronation chickpeas:
Start by finely chopping one white onion. Fry in a tbsp of oil along with a bay leaf. Cook for about 5 minutes until softened, then add curry powder. Fry for 30 seconds then take off the heat.
Rinse and drain the chickpeas and add to a bowl. Mash with the back of a fork until 3/4 of them are mashed.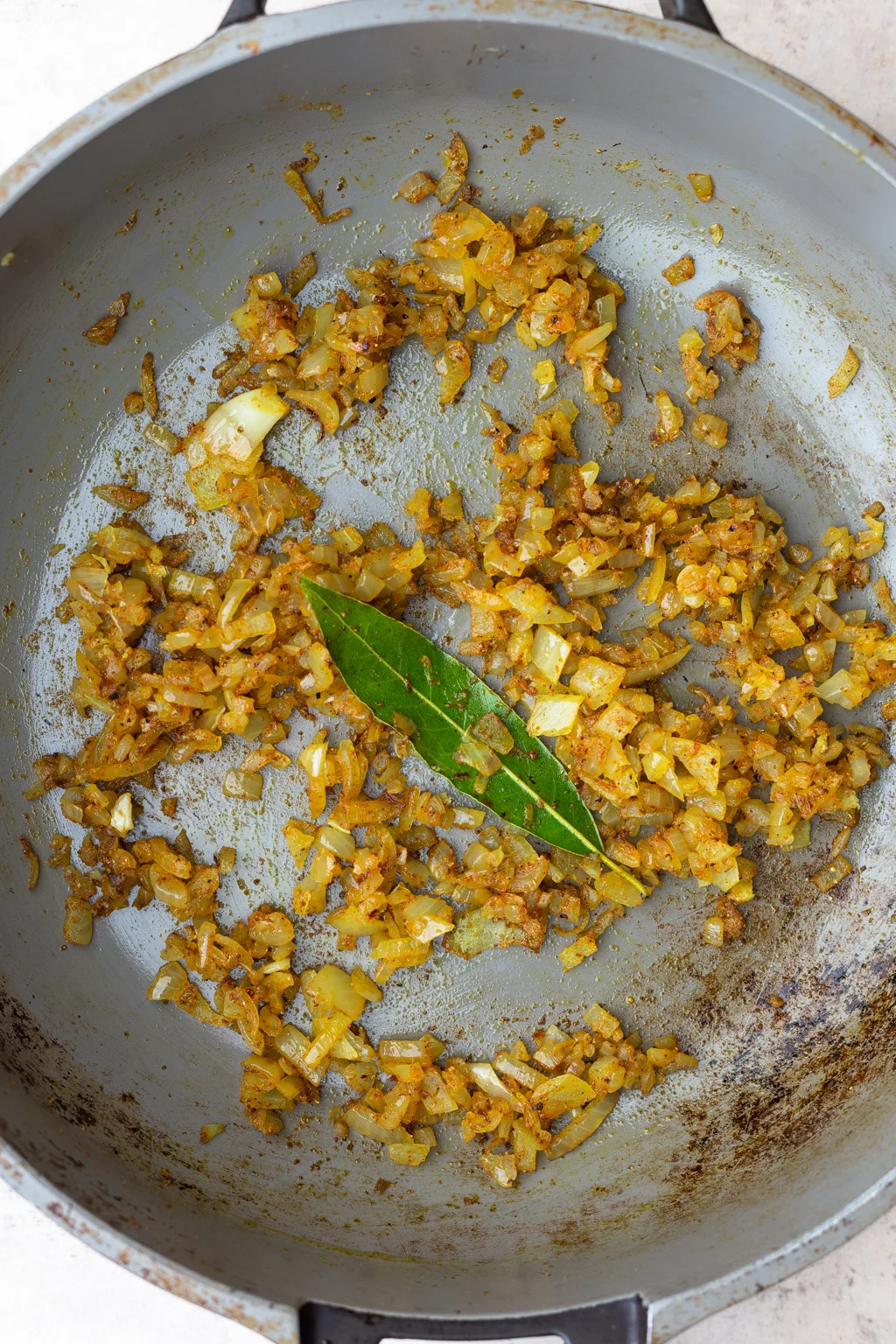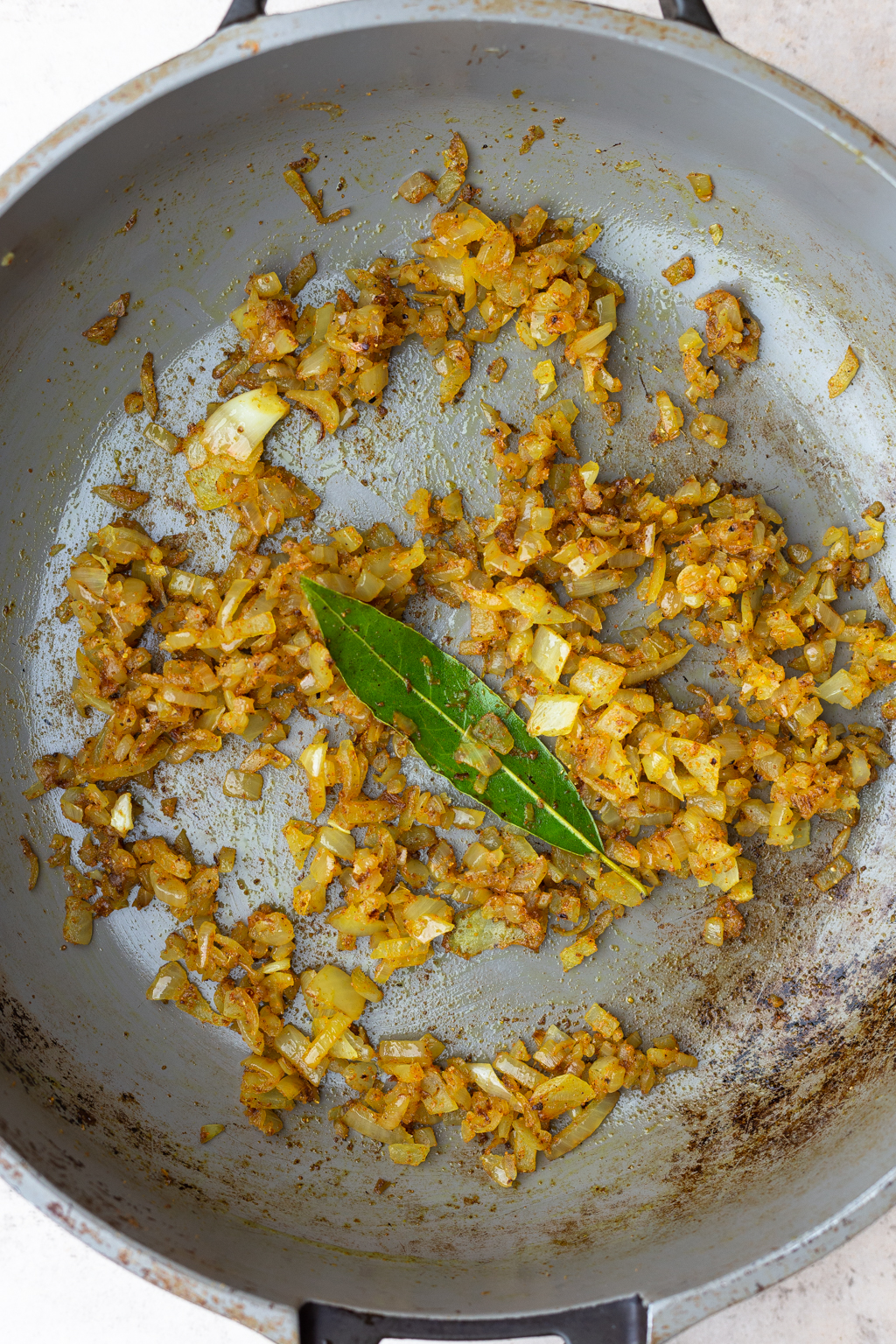 Add all the remaining ingredients and onion and mix well until combined. Taste and season.
Choose your favourite sandwich bread, a thick white farmhouse bread works well! Spread with some vegan butter and spoon the coronation chickpea onto one slice.
Cut carefully with a bread knife and you're ready to devour! It really is as simple as that.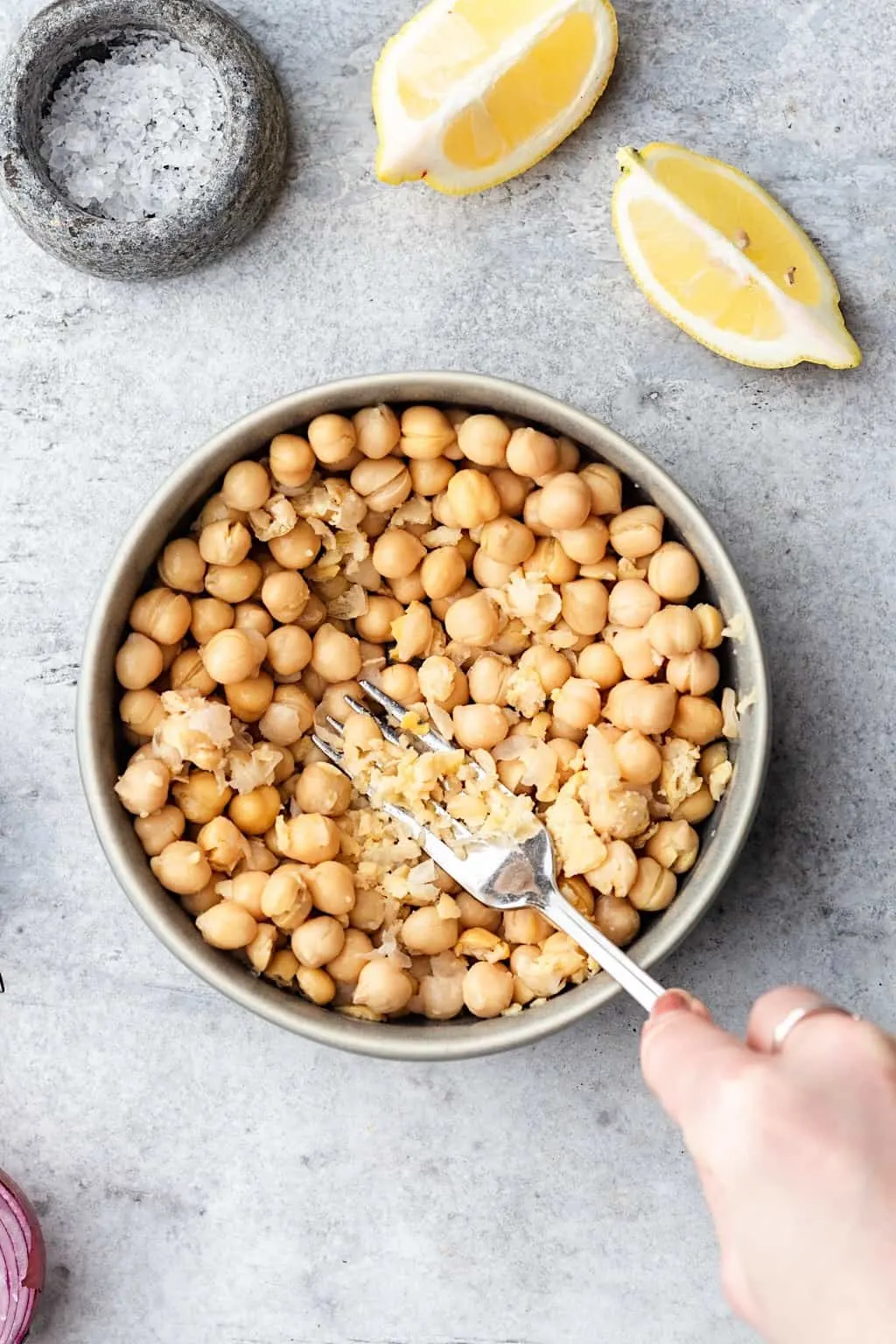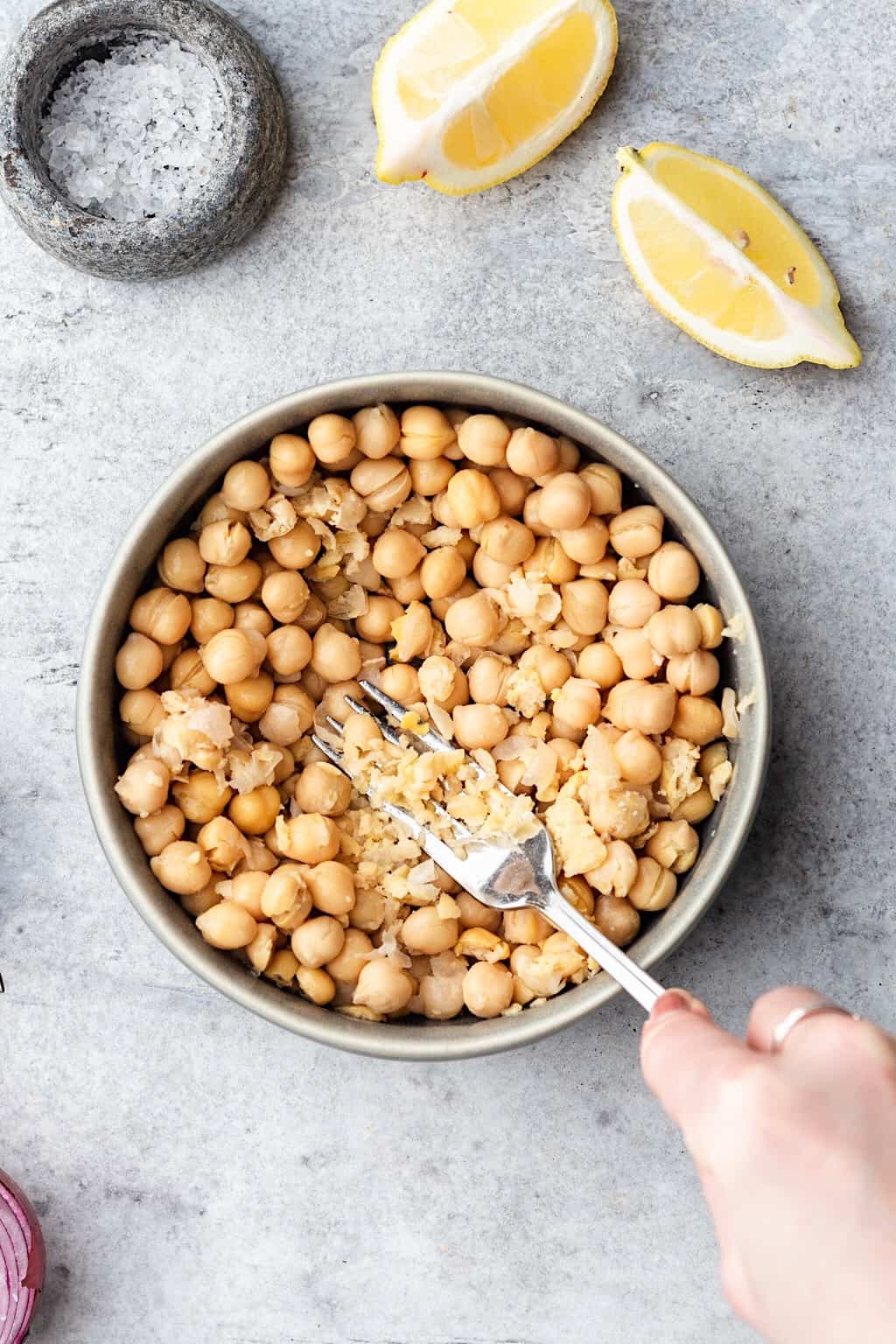 To serve as a salad, layer a good amount of salad leaves on a plate and then top with the coronation chickpeas.
I find it best served at room temperature so take it out about 15 minutes before serving. It will keep for a good few days in an air tight container in the fridge!
It will make enough to make 4 generous sized sandwiches or 6 smaller ones!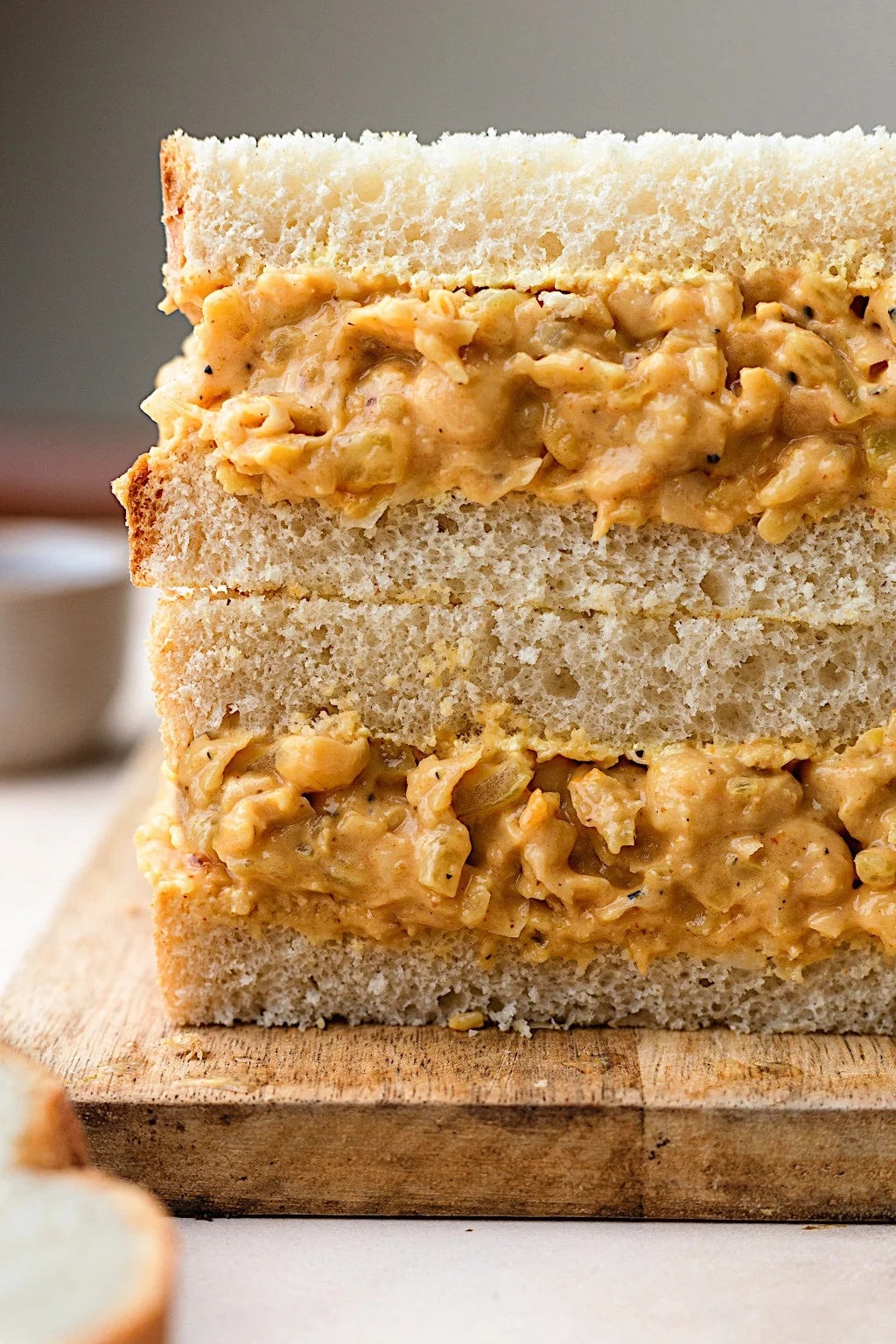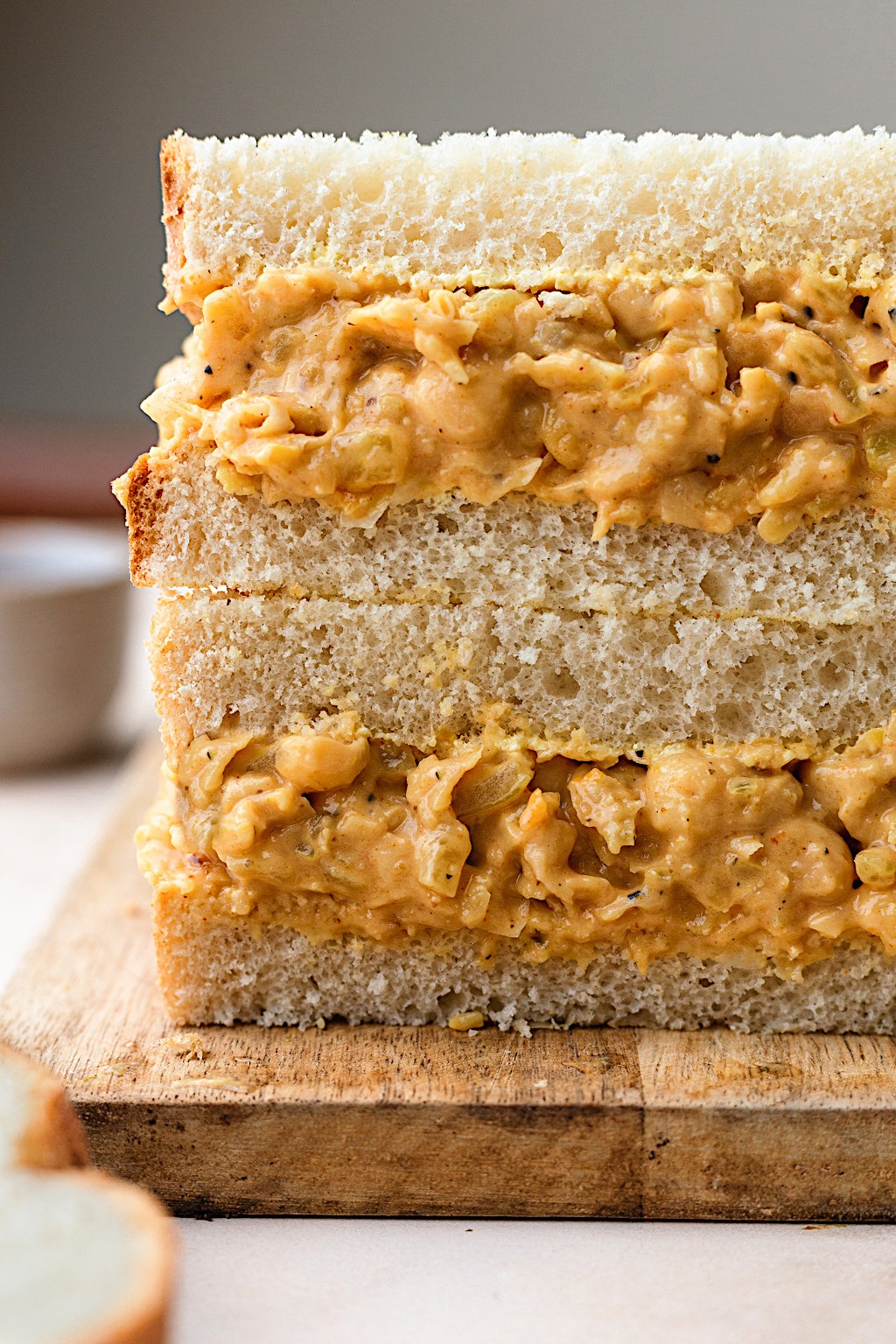 Ways to enjoy vegan coronation chickpeas:
Best enjoyed as a sandwich!
Eat over a bed of salad. Add lettuce, tomatoes, cucumber and any veg you like!
Top a baked potato – really good!
Use as a dip with some pitta or crackers
For more chickpea recipes you may enjoy these:
Spicy chickpea and black bean burgers
Harissa chickpea and quinoa stuffed peppers
---
As always if you make this vegan coronation chickpea sandwich be sure to leave me a comment, rate this recipe and tag me on Instagram. I love seeing all your photos of my recipe recreations!
Don't forget to follow along on Facebook, Pinterest and Instagram – I'd love to see you all there!
---
NEVER MISS A RECIPE! GET MORE VEGAN RECIPES SENT STRAIGHT TO YOUR INBOX – SUBSCRIBE HERE!
Corontation Chickpea Sandwich
These vegan coronation chickpea sandwiches are the perfect lunch or afternoon tea treat! Mashed chickpeas combined with a mayonnaise based sauce with curry powder and apricot jam. They are savoury, sweet, creamy and so delicious!
Ingredients
1 yellow onion
1 bay leaf
2.5 tsp medium curry powder
1/4 tsp chilli powder (optional)
2 tins (800g) chickpeas
5 tbsp vegan mayonnaise
2 tbsp vegan creme fraiche (can sub for vegan greek yoghurt)
1 tbsp lemon juice
2.5 tbsp apricot jam
1 tbsp tomato puree
1 tsp salt
Black pepper
To serve
Sandwich bread
Vegan butter
Instructions
Finely chop onion. Heat a tbsp of oil in a pan on medium heat. Add onion and pay leaf and fry for 5 minutes until softened.
Add curry powder and chilli powder if using and cook for 30 seconds then take off the heat.
Drain and rinse chickpeas and place in bowl. With a back of a fork mash until 3/4 are mashed.
Add onion and all the remaining ingredients and stir well to combine. Taste and season generously with black pepper. If you like it sweeter you can add a bit more jam, and some chilli powder for some heat.
Serve straight away in your favourite sandwich bread! Or serve on a large bed of lettuce for a salad.
Notes
I use Hellmans vegan mayonnaise and Oatly oat fraiche but can sub for Oatly greek yoghurt. I use Bonne Maman apricot conserve.
Recommended Products
As an Amazon Associate and member of other affiliate programs, I earn from qualifying purchases.