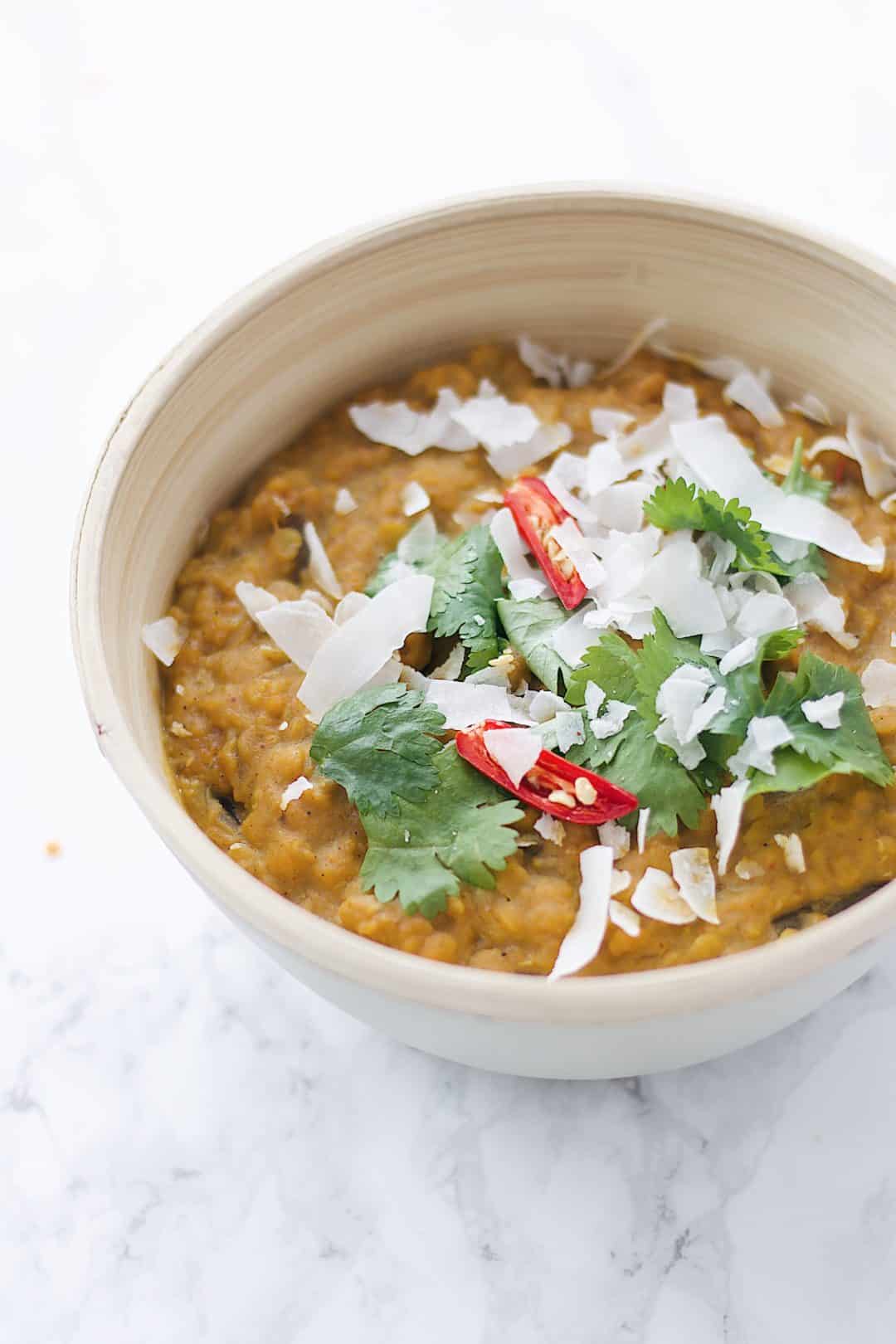 There is something so healing and comforting about a big bowl of dhal. I didn't even know what dhal was until a few years ago, and boy was I missing out. If I am ever eating Indian food out, dhal is ALWAYS on my order. It is a simple one pan dish that is ready in half an hour, and is one of my favourite lentil recipes. Who couldn't fall for this bowl of lentil goodness. I can devour a whole bowl of this on its own, but it is equally delicious as a side with a curry and some onion bhajis.
Turmeric + Red Lentil Dhal
Ingredients
Inch of ginger
Pinch of curry leaves
2 red onions
1 can coconut milk
1½ cups dried red lentils
2 tbsp curry powder
1 tbsp turmeric
1 tbsp garam masala
1-2 cups water
Handful of coriander
Fresh chilli
Coconut flakes
Instructions
Peel the ginger and cut into small pieces and cut the onion in half and then into thin slices. Fry in some coconut oil along with the curry leaves (I use dried ones) for a few minutes.
Once fragrant and the onions are translucent, rinse the lentils and add the remaining ingredients apart from the water.
Stir often so that the lentils don't get stuck to the bottom, and add the water as necessary. Once it has thickened and the lentils have fluffed up, taste to check they are cooked, this should take about 20 minutes.
Garnish with coriander, coconut flakes and chilli.
Serve on its own, with rice or as a side!
Notes
For more of a kick, add some chilli powder or paprika.

If you're craving greens, add in some kale in the last 5 minutes.