This vegan potato and chickpea curry (aloo chana curry) is an easy one pot recipe! With chunks of potato and chickpeas in a flavour packed tomato based curry sauce.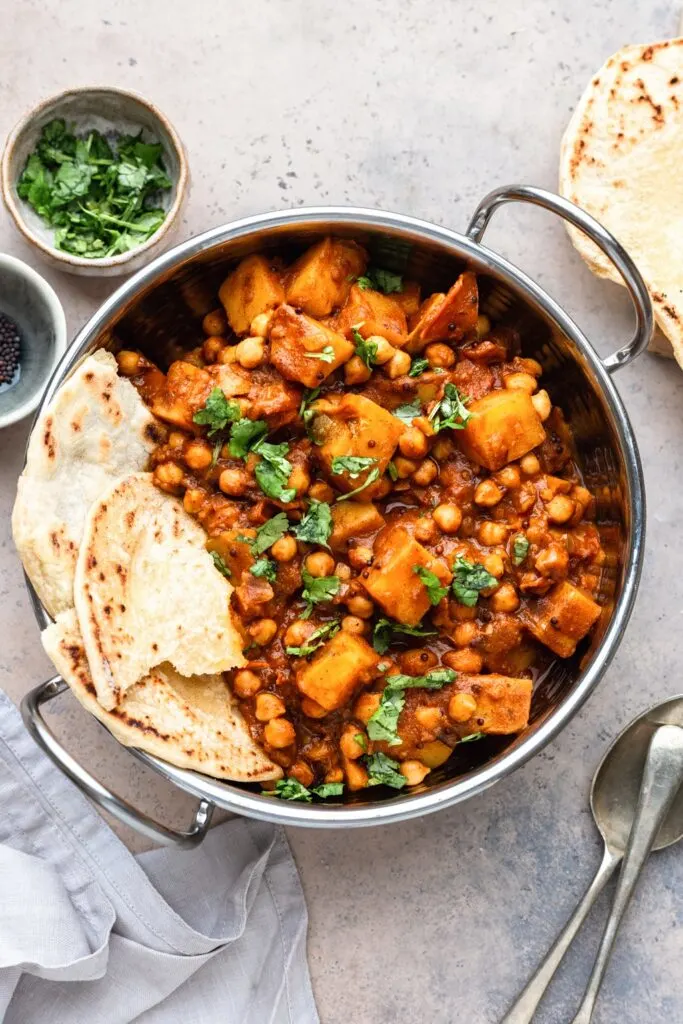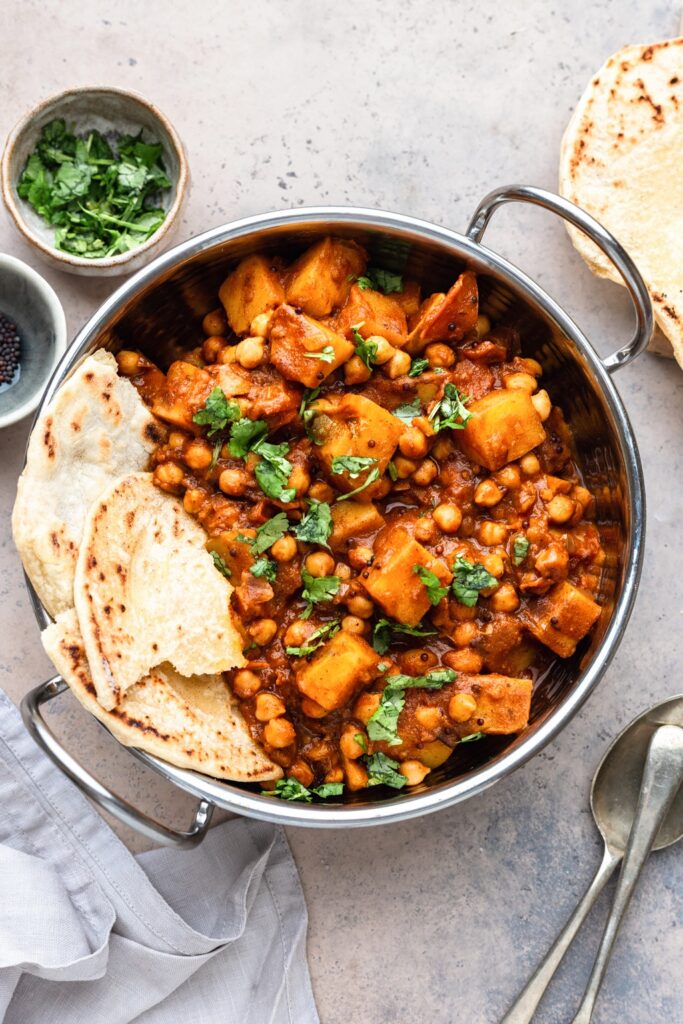 This curry is comforting, wholesome and easy to make! If you're a regular here you know I am a big lover of curry. Especially chickpea ones!
The inspiration for this potato curry comes from bombay potatoes/aloo. I used to always order it in restaurants or take away, it's such a flavourful side dish or main!
I knew I wanted to add something extra though, and so the chickpeas add protein and are just SO good with potato!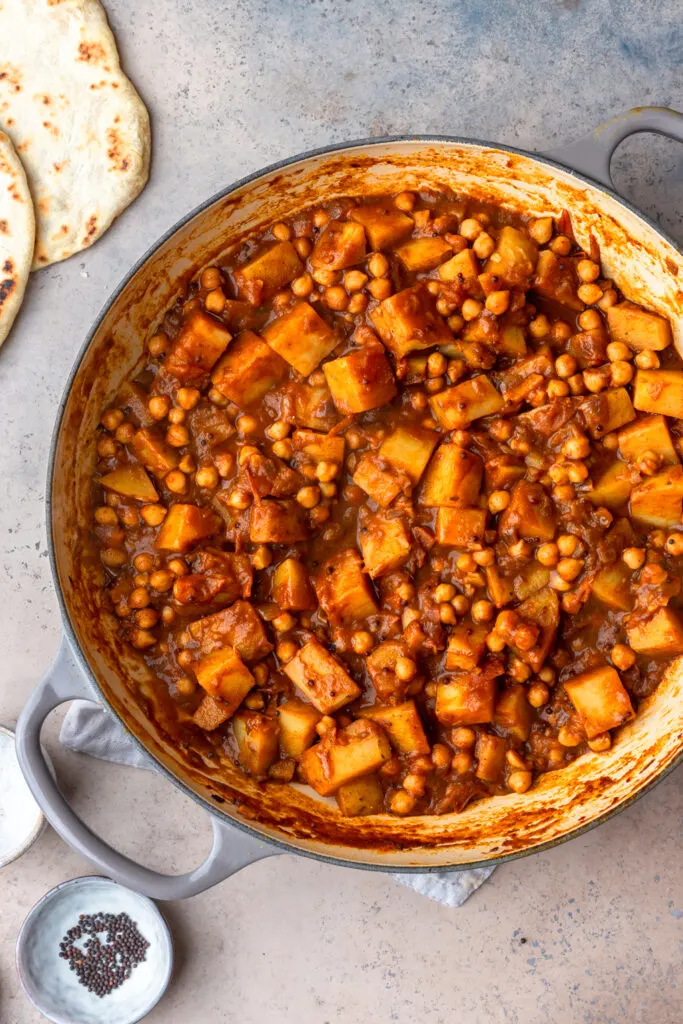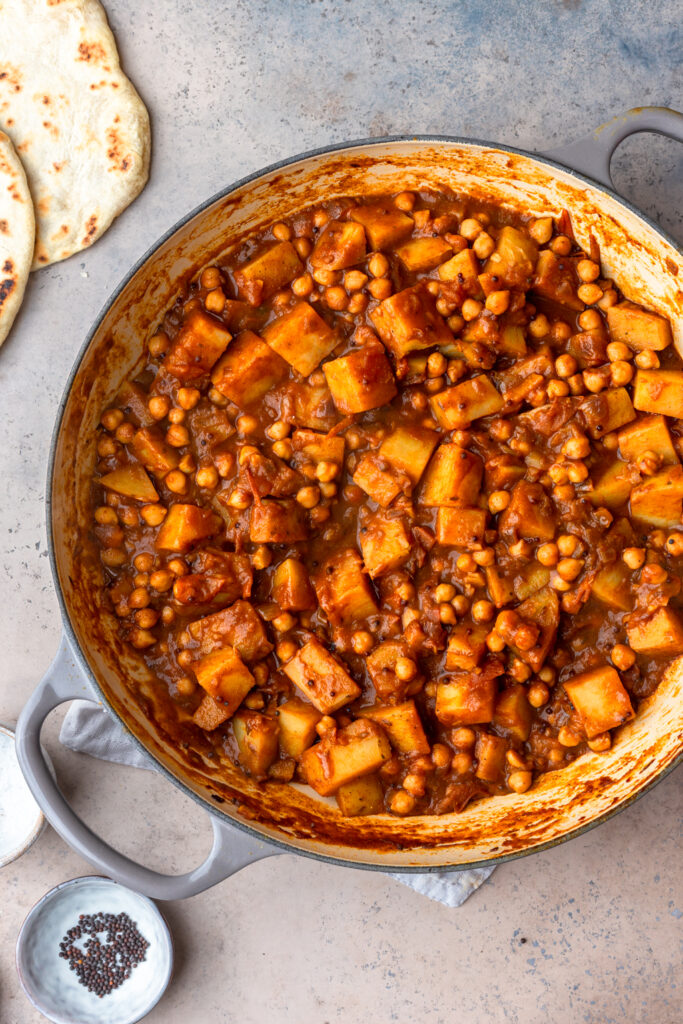 What kind of potatoes are best for curry?
Ideally, choose a waxy potato that will hold it's shame when cooking. Yukon gold potatoes or King Edward work well but really any potato is fine just cook until soft through.
If you want to sub for sweet potato then you'll need to reduce the cooking time as they will cook faster. This will alter the overall taste of the curry as they are sweeter, but it will still be tasty!
The potato gets cooked straight in the sauce, so all that flavour gets soaked up in them. There is no need to cook the potatoes separately first.
The base to this recipe is the tomato curry paste. It's packed with so much flavour and simple to make. So let's get on to how to make it!
What you'll need for potato and chickpea curry:
Onion – red onion for sweetness, but white onion will also work
Ginger – fresh ginger, finely chopped
Garlic – fresh garlic, minced
Black mustard seeds – these add a nice nutty mustard flavour
Garam masala – a fantastic spice for curries, it is a blend of usually cinnamon, coriander, cumin, cardamom and peppercorn
Ground cumin
Cumin seeds – seeds and powder add a good amount of cumin flavour
Chilli powder – you can add less or more chili depending on your preference
Ground turmeric
Large tomatoes – go for juicy ones with a bright red skin
Tomato puree – adds a more complex tomato flavour
Vegetable stock – add one cube of vegetable stock, just watch how much extra salt you add as they do vary in saltiness
Potatoes – a waxy potato holds up best like yukon gold potatoes or king edward but any white potato works well, just cook until tender
Chickpeas – canned chickpeas, drained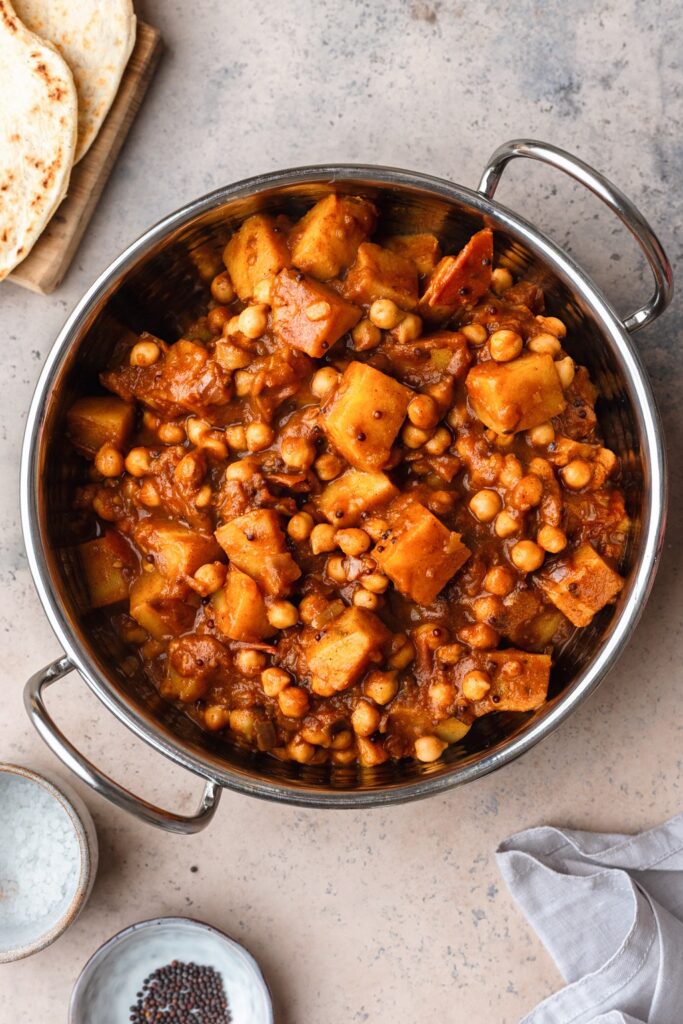 We are using canned chickpeas for convenience, they make it super quick to throw together! If you are using dried beans make sure to soak the day before and cook.
All these ingredients can be found in the supermarket. Black mustard seeds might be a little trickier but I found them in a large supermarket. Or try your local asian supermarket!
Black mustard seeds are less common and more expensive but they are worth it. They have a stronger flavour than yellow or brown mustard seeds. They are spicier and have a nutty flavour.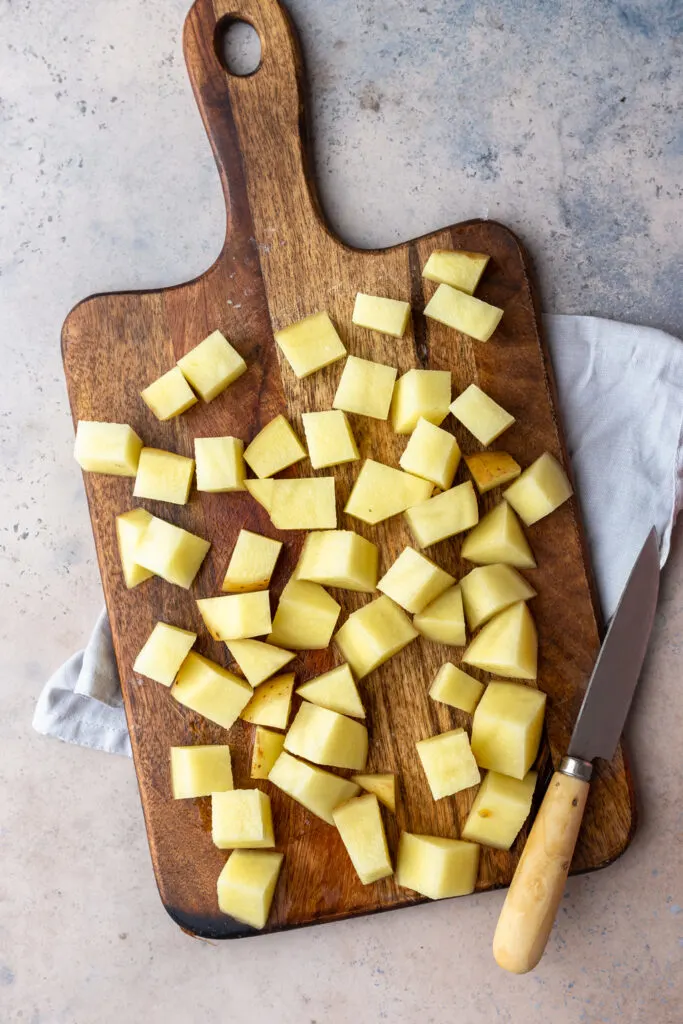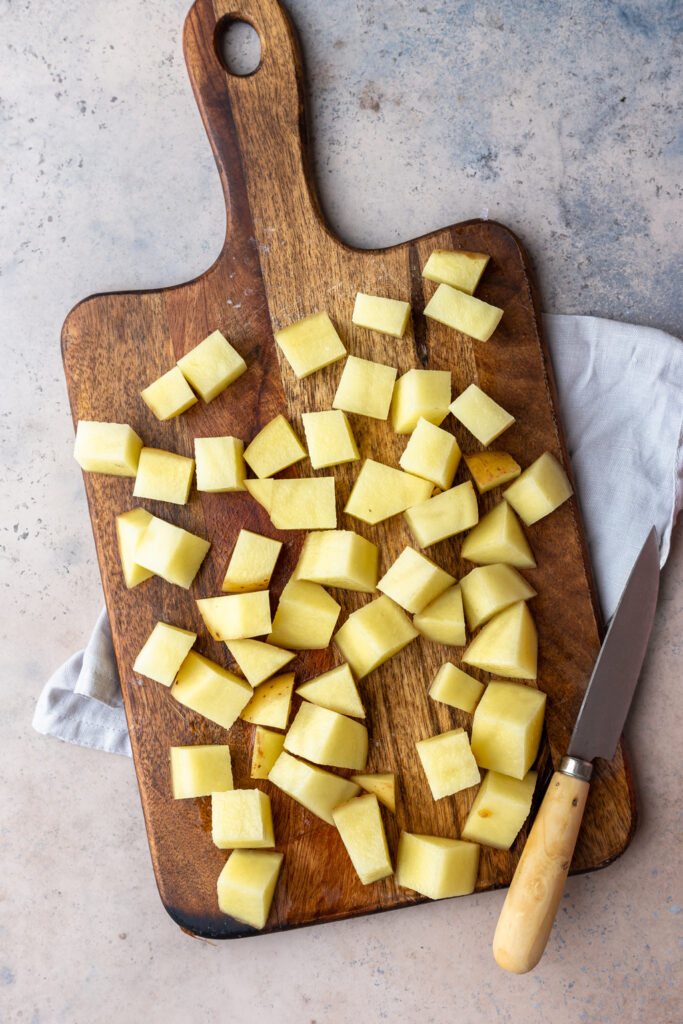 How to make vegan potato and chickpea curry:
Heat 2 tbsp of oil in a heavy bottom pan on medium heat. Add finely chopped onion and cook for a few minutes.
Add minced garlic and ginger and fry for a few minutes longer until softened.
Add all the spices and fry for a minute or so until fragrant. Add a little more oil if it gets too dry.
Roughly chop the large tomatoes and add cook until the tomatoes have broken down and softened and it resembles a paste.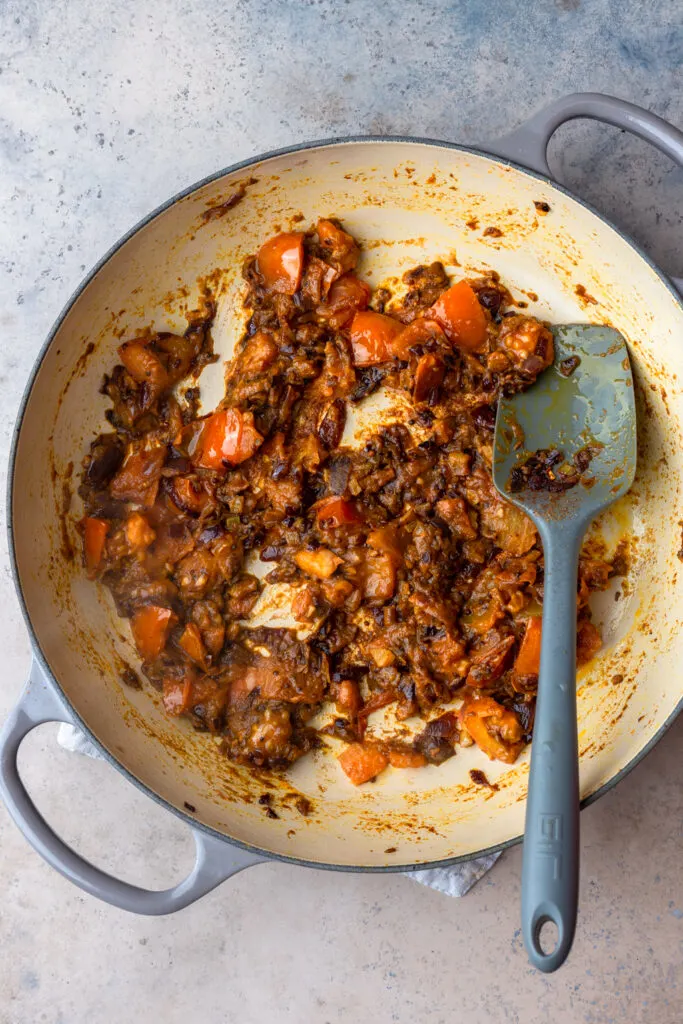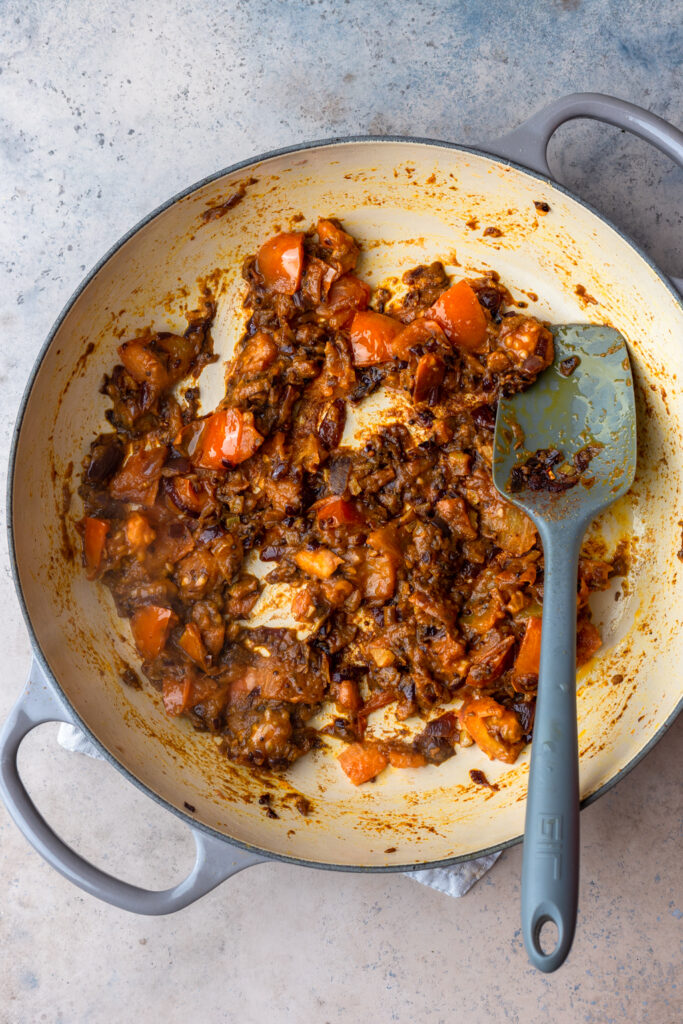 Add the tomato puree, potatoes and vegetable stock. Leave to simmer for 25-30 minutes until the potatoes are soft through. Add the chickpeas in the last 5 minutes.
You want to dice the potatoes so they are about 1 inch in size. Make sure they are all similar sized so they cook at the same speed.
I usually leave the skins on but you can peel them if you prefer!
Can you freeze chickpea and potato curry?
Yes, this curry will freeze well. Allow to cool then seal in an air tight container and pop in the fridge. You can then reheat in the microwave or on the hob.
You may just need to add a little water to loosen as the sauce may have thickened!
What to serve with this potato curry:
Rice – basmati is best but you can serve with your favourite
Roti, naan or poppadom
Some fried greens like spinach or kale.
Simple side salad (kachumber salad) – chopped onion, cucumber and tomato
My favourite onion bhajis!
Add a dollop of vegan yoghurt for some creaminess! Works great with the tomatoes and cools it down a bit if you are making it spicy!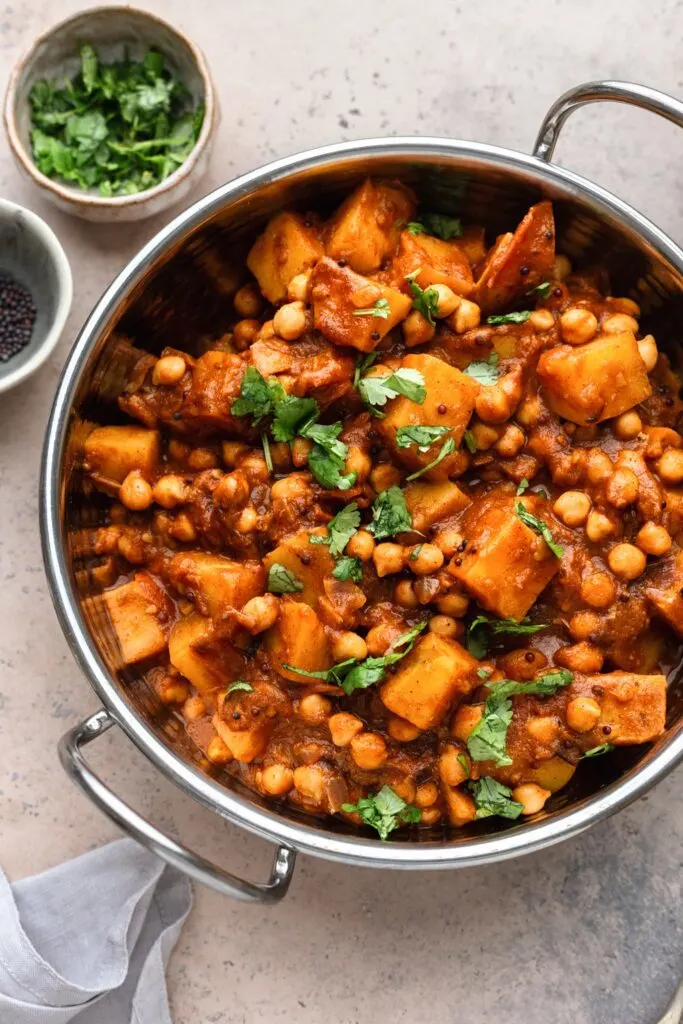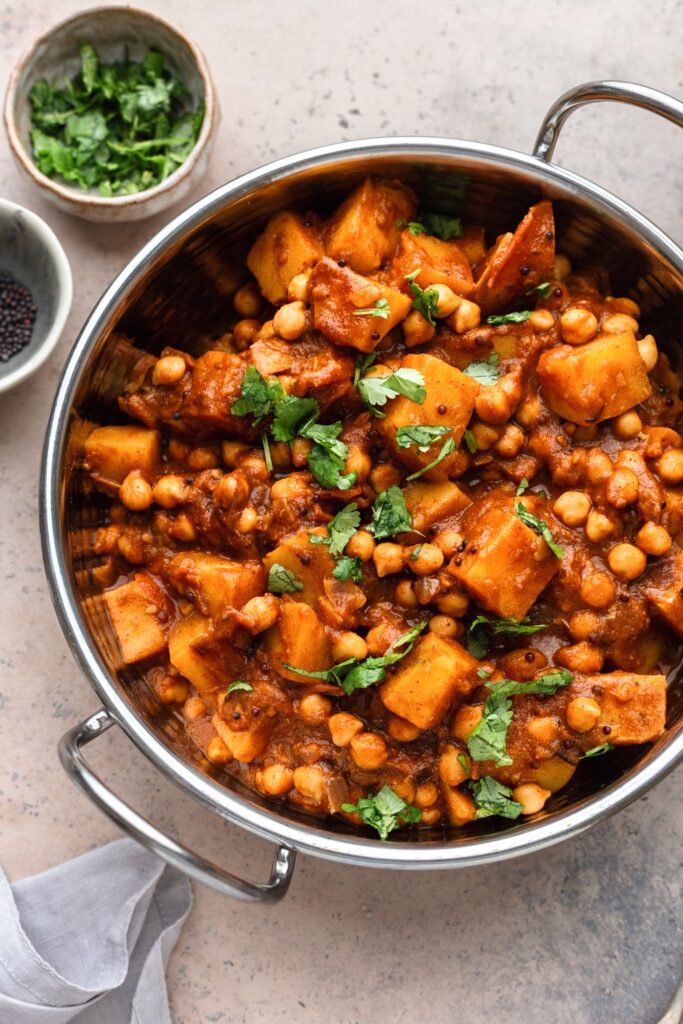 For more curry recipes you may enjoy these:
Roasted aubergine and chickpea curry
Cauliflower and chickpea curry
Roasted butternut squash and chickpea curry
---
As always if you make this vegan potato and chickpea curry be sure to leave me a comment, rate this recipe and tag me on Instagram. I love seeing all your photos of my recipe recreations!
Don't forget to follow along on Facebook, Pinterest and Instagram – I'd love to see you all there!
---
NEVER MISS A RECIPE! GET MORE VEGAN RECIPES SENT STRAIGHT TO YOUR INBOX – SUBSCRIBE HERE!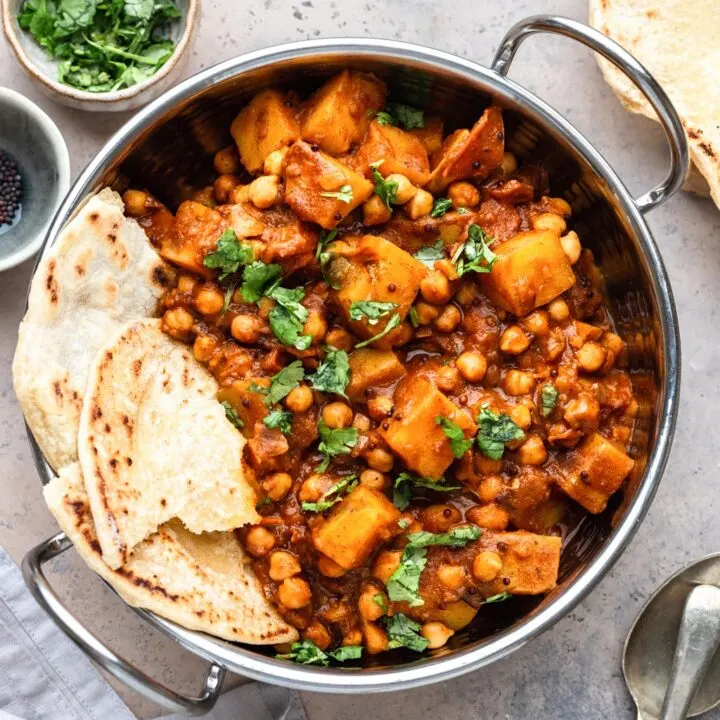 Potato and Chickpea Curry
Comforting and wholesome vegan potato and chickpea curry (chana aloo curry). With a tomato curry sauce it's packed with flavour, easy to make and one pot!
Ingredients
2 tbsp oil
1 red onion
4 garlic cloves
1 inch fresh ginger
1.5 tsp black mustard seeds
1 tsp cumin seeds
1 tsp ground cumin
1/2 tsp ground turmeric
1 tbsp garam masala
1/2 tsp chilli powder
3 large tomatoes
1 tbsp tomato puree
500g/1lb potatoes
600ml / 2.5 cups vegetable stock
1 tin (400g) chickpeas
Fresh coriander
Instructions
Heat 2 tbsp oil in a heavy bottom pan on medium heat. Add finely chopped onion and fry for a few minutes.
Add crushed garlic and minced ginger and fry for a few minutes until soft.
Add all the spices - black mustard seeds, cumin seeds, cumin, turmeric, garam masala and chilli powder. Fry until fragrant, about 40 seconds. Add a little oil if its too dry.
Add roughly chopped tomatoes and cook until the tomatoes have broken down and softened and it resembles a curry paste.
Dice potatoes into 1 inch cubes. Add to the pan with the tomato puree and vegetable stock. Bring to a simmer and leave to cook for 25 minutes.
Add chickpeas and cook for a further 5 minutes until the potatoes are soft through. If you need to add a little more water whilst cooking then do so.
Serve with chopped coriander and serve!
Notes
For creaminess add a dollop of vegan yoghurt when serving!
Recommended Products
As an Amazon Associate and member of other affiliate programs, I earn from qualifying purchases.