There's nothing better than a batch of these vegan spiced chocolate chip cookies fresh out the oven on a cold autumn day! They're soft and gooey on the inside with just the right amount of crunch.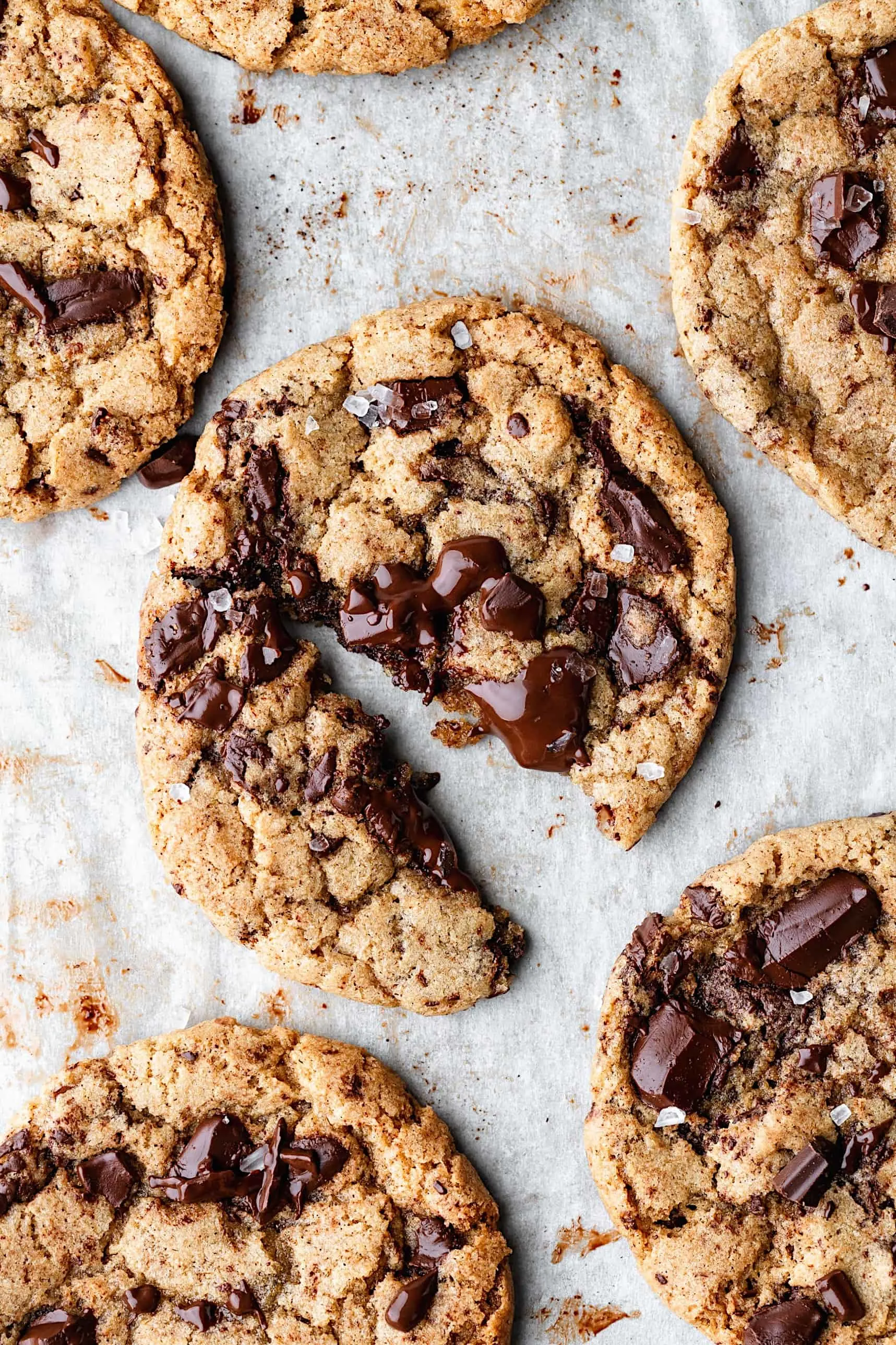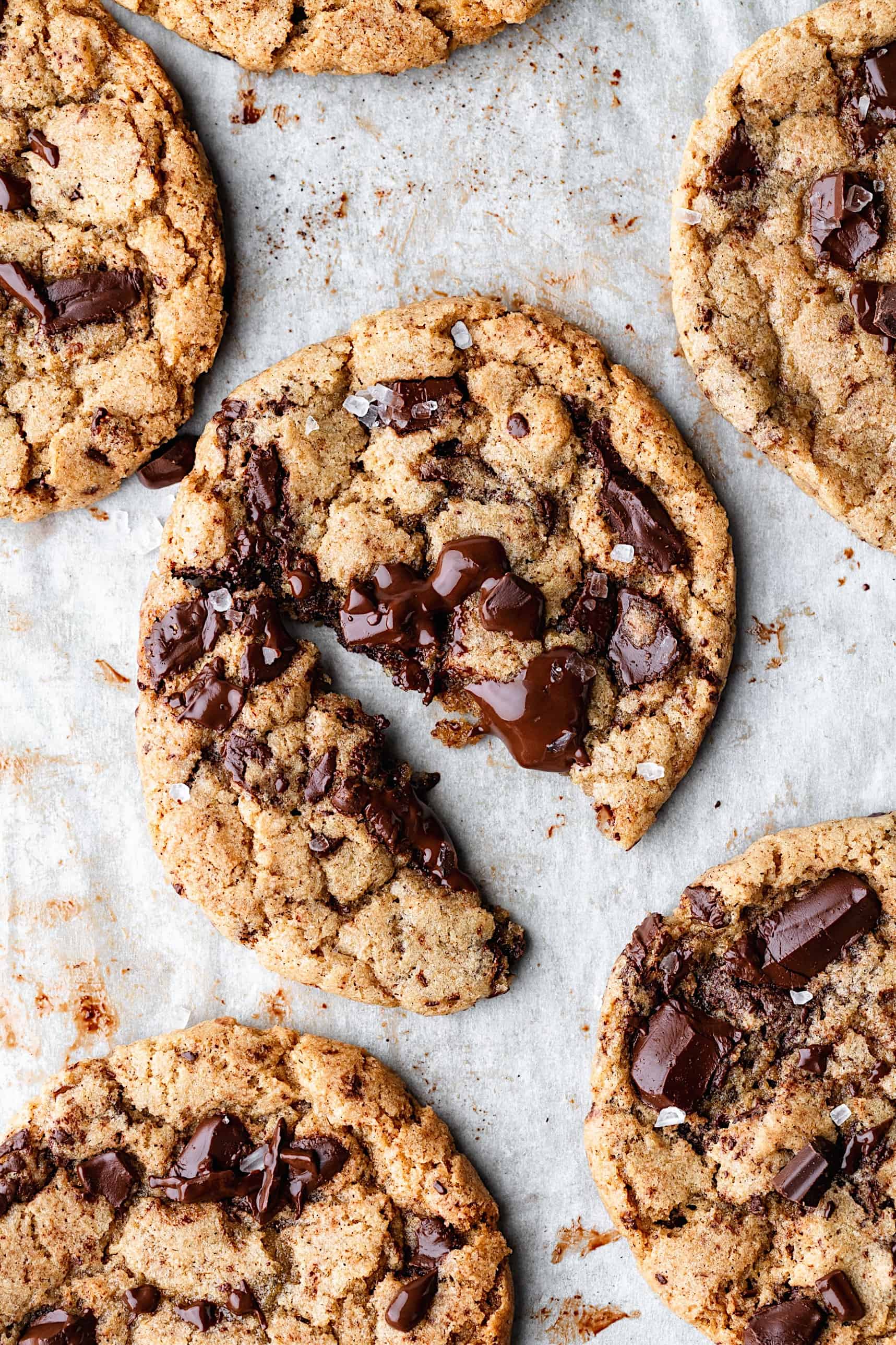 These spiced cookies are full of chocolate chunks and warming autumn spices! What's not to love?
The perfect autumn sweet treat. Not only are they irresistible warm out the oven they're also great with a cup or tea, or coffee! And I'm all for a chocolate cookie as an afternoon treat!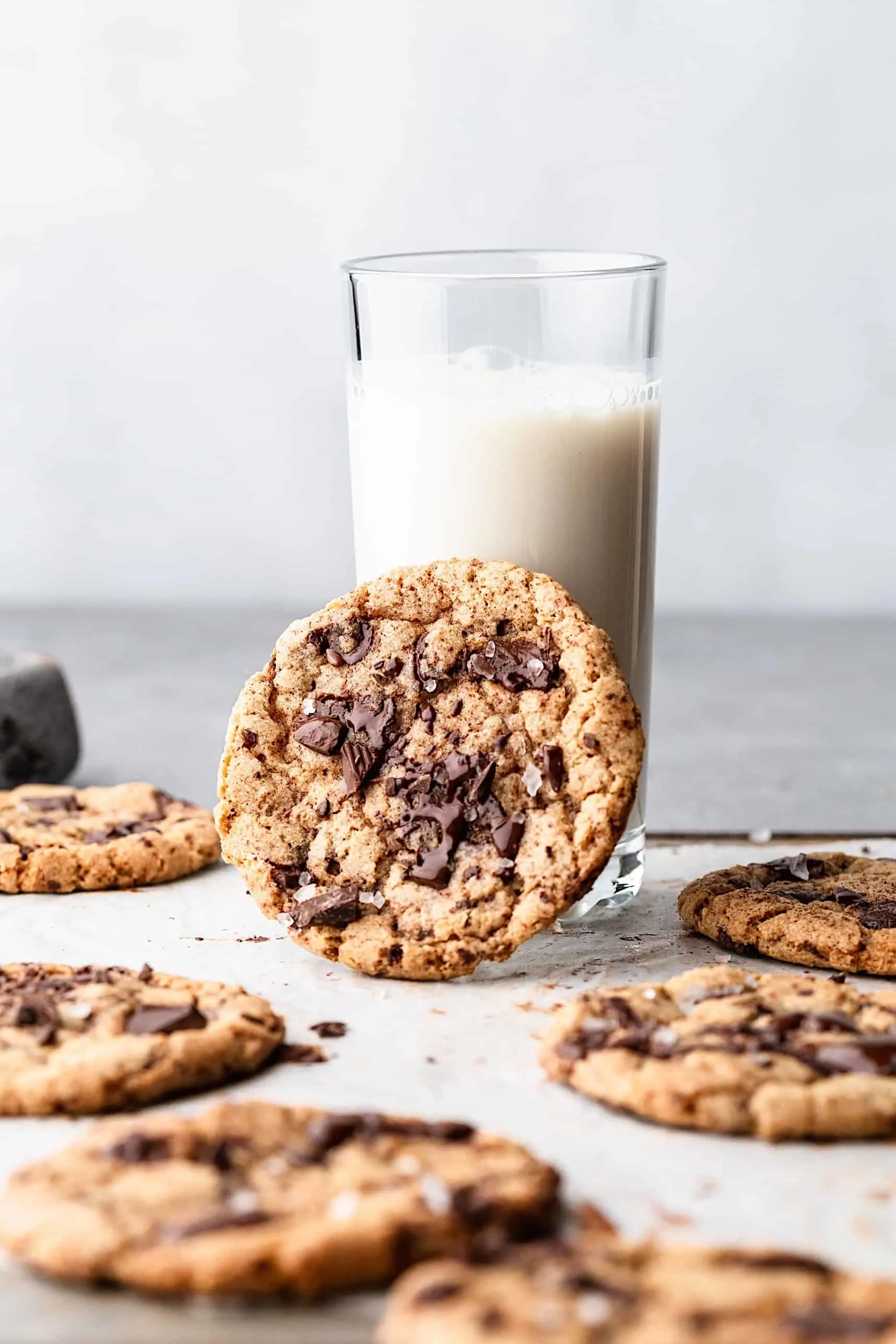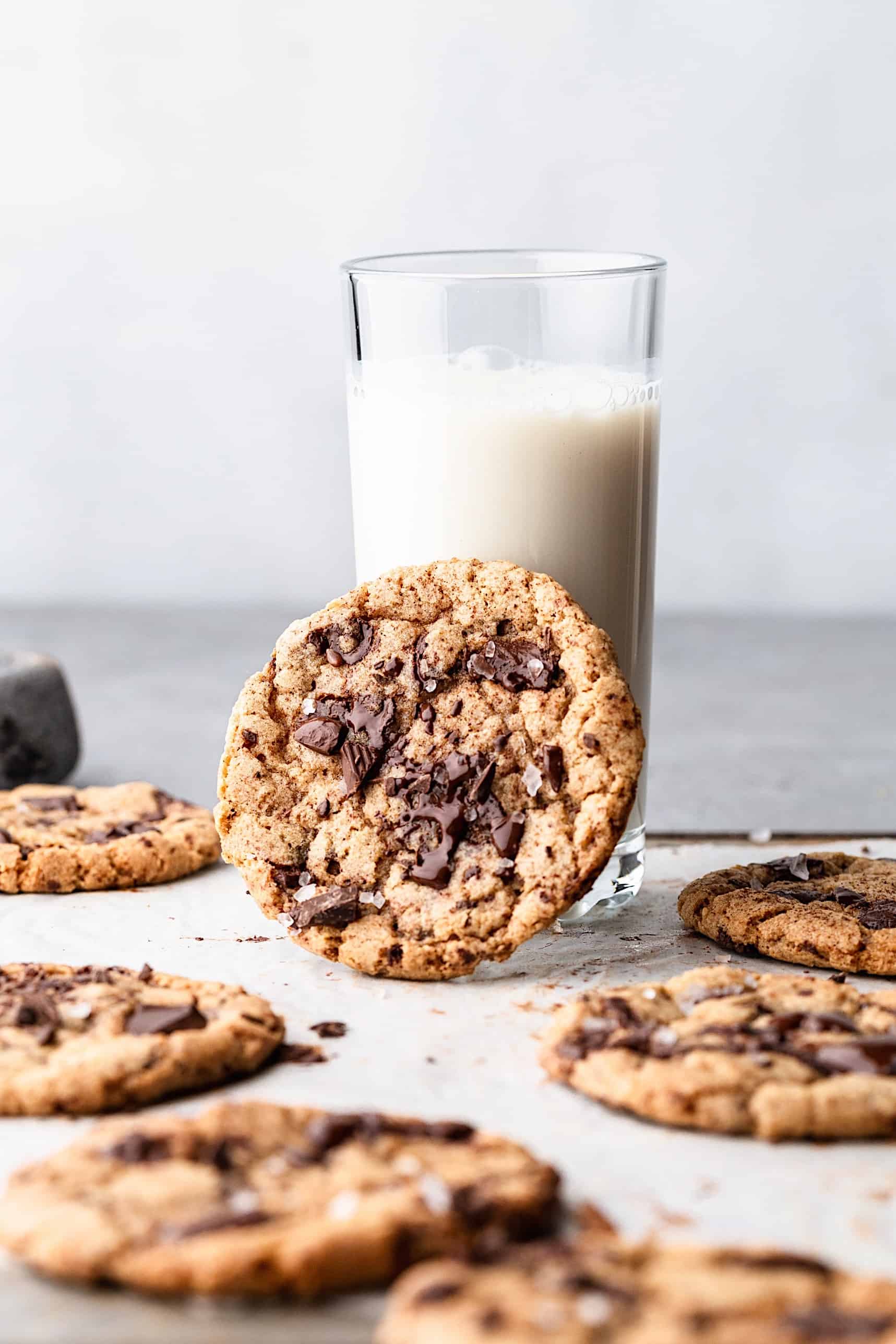 What is a vegan cookie made of?
Making vegan cookies is so easy and it's easy to swap out dairy for alternatives. Instead of butter we are going to use vegan butter (I tend to use Vitalite).
This gets whipped with light brown sugar until pale and fluffy. Next comes the arrowroot and water mix (or sub cornstarch) and vanilla essence.
Once this is all mixed together it should be really smooth and thick. Next you're going to add the spice mix, flour, baking powder and chocolate chunks/chips.
For the chocolate, simply use dark chocolate or you can sub for a vegan milk chocolate.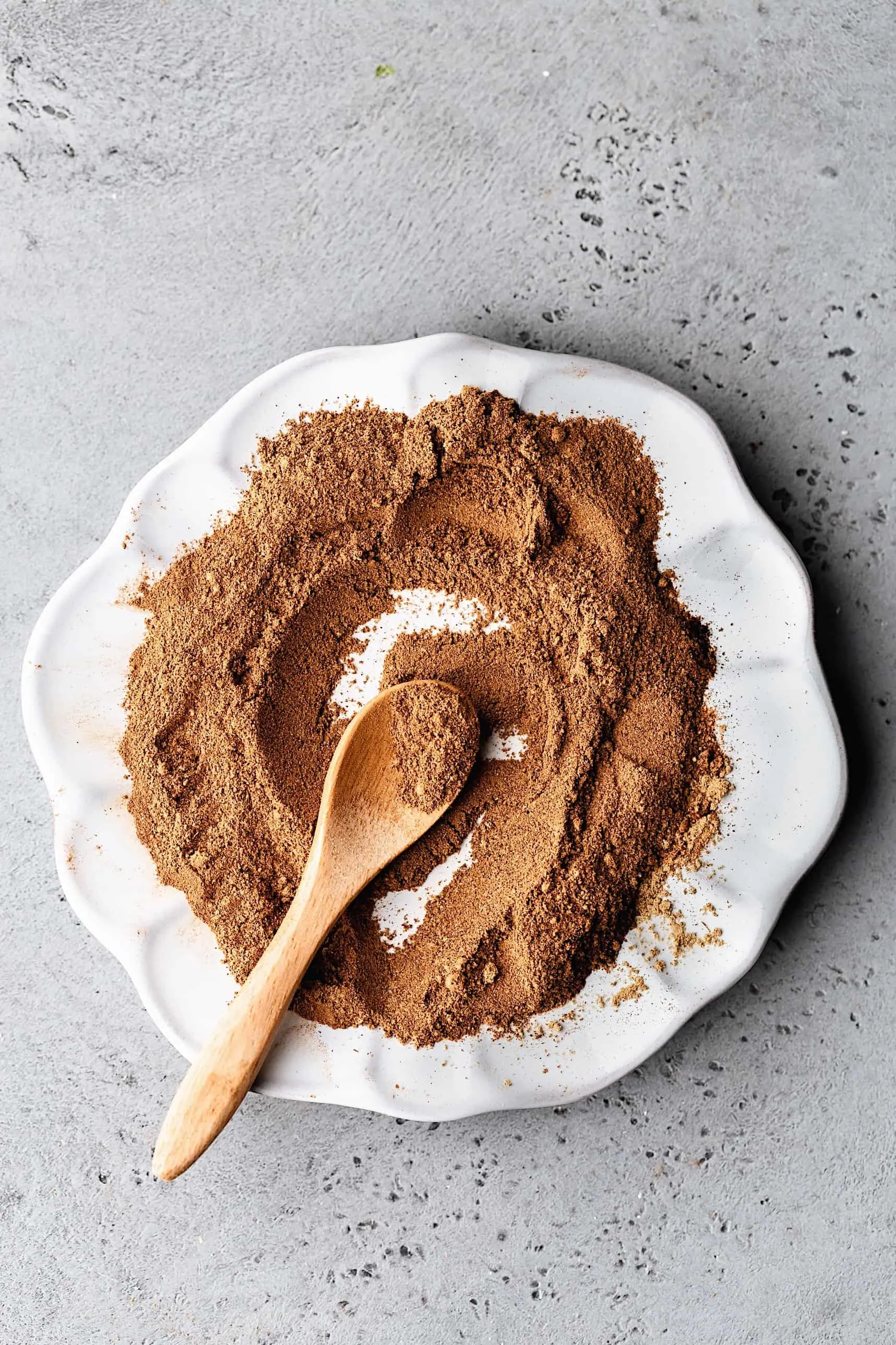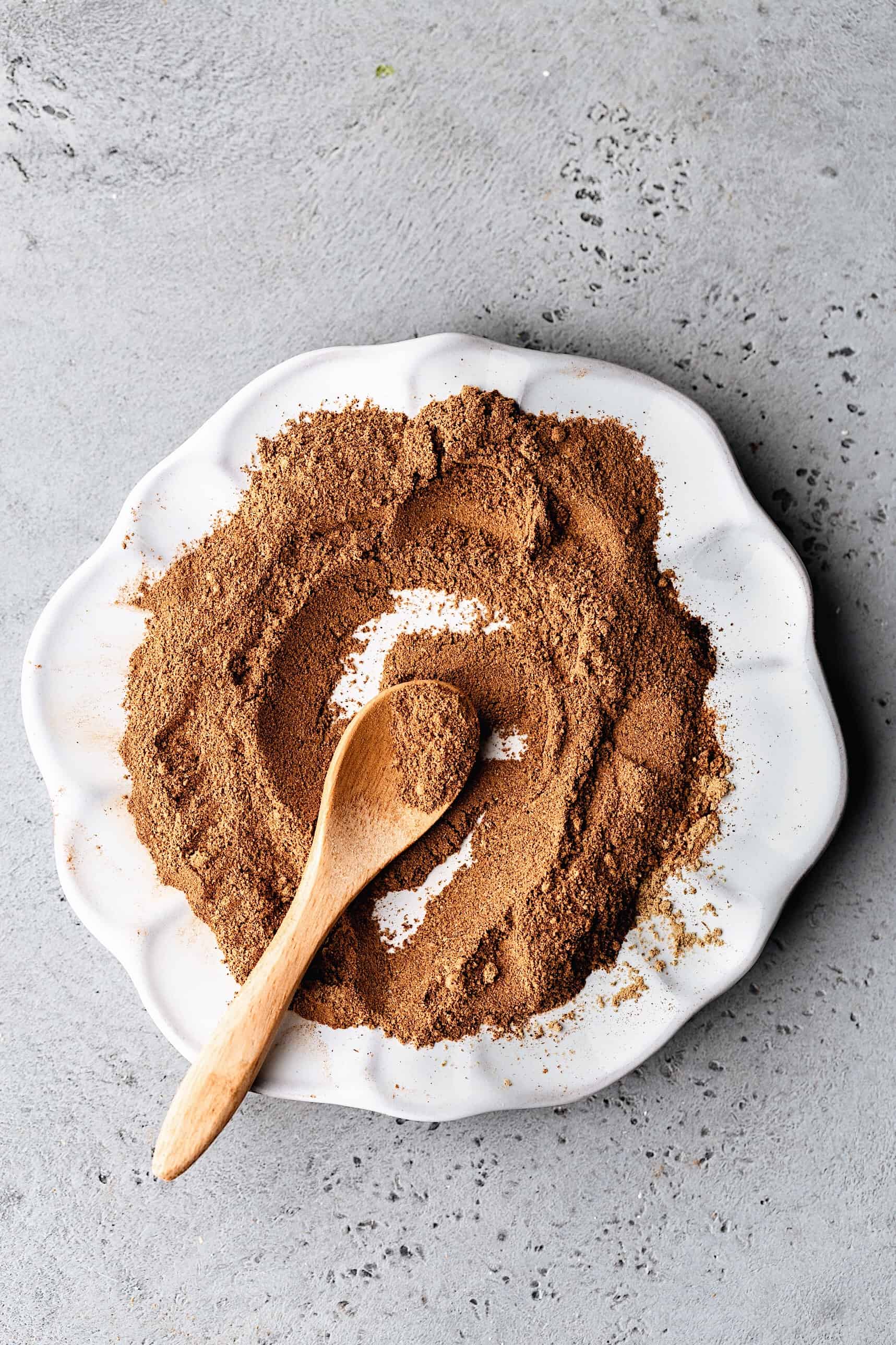 What's in the spice mix?
Only the best autumn spices of course! We've got cinnamon, ginger, cloves, nutmeg and allspice. Also known as pumpkin spice if you're in America!
These spices mixed together give me all the cosy autumn feels. And when you add them to chocolate it's a match made in cookie heaven.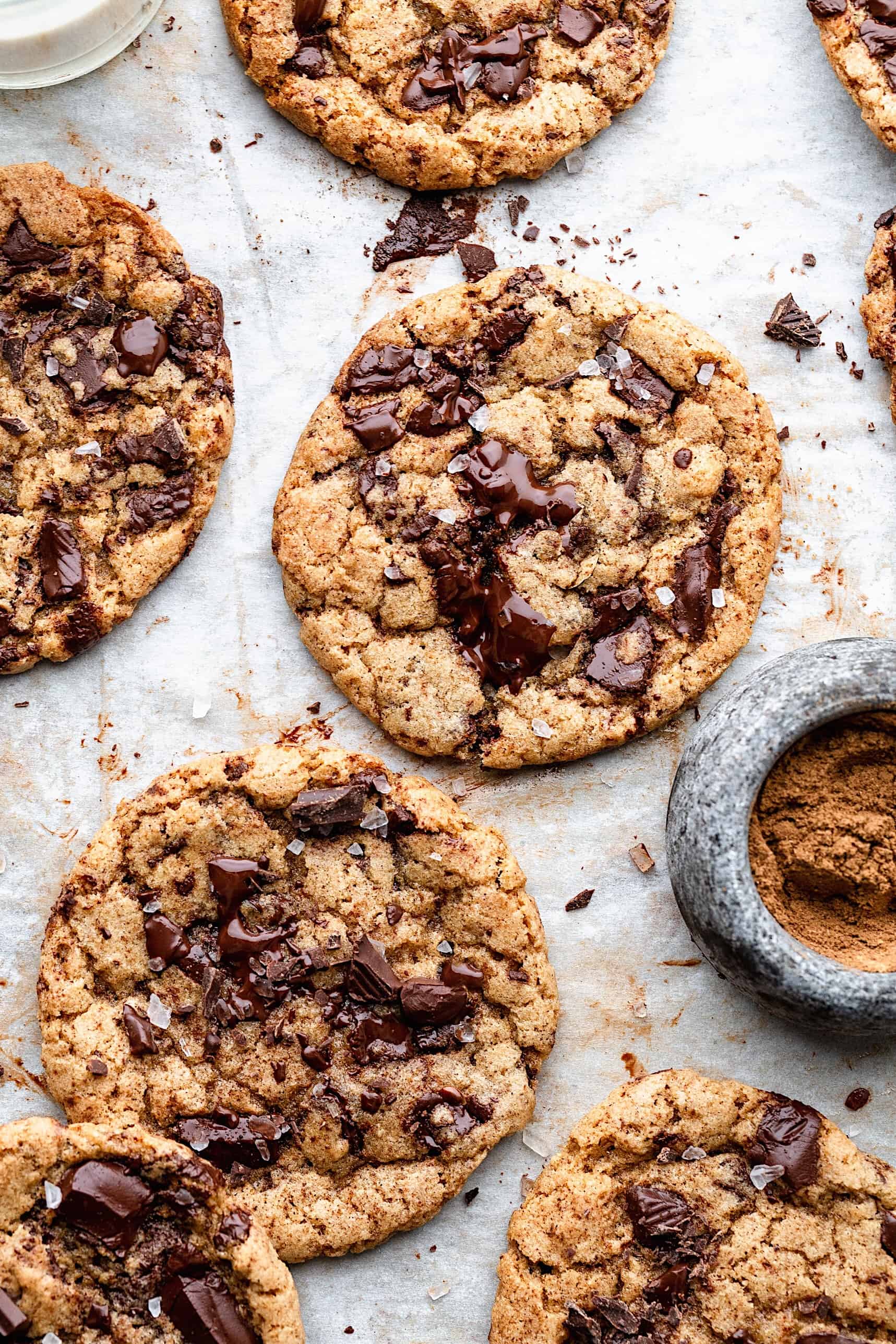 If you're wondering whether to use chocolate chips or chunks, I always use chocolate chunks. I find vegan chocolate chips don't taste that nice and often have a rubbery texture.
I just use a good quality dark chocolate, usually 70% cocoa and cut this into chunks/chips (see pic below). Alternatively, you could use a vegan milk chocolate, white chocolate or a mix!
Once all the ingredients have been mixed together it's time to roll the mixture into 16 golf shape sized balls. I use my hands for this, it's much quicker and easier.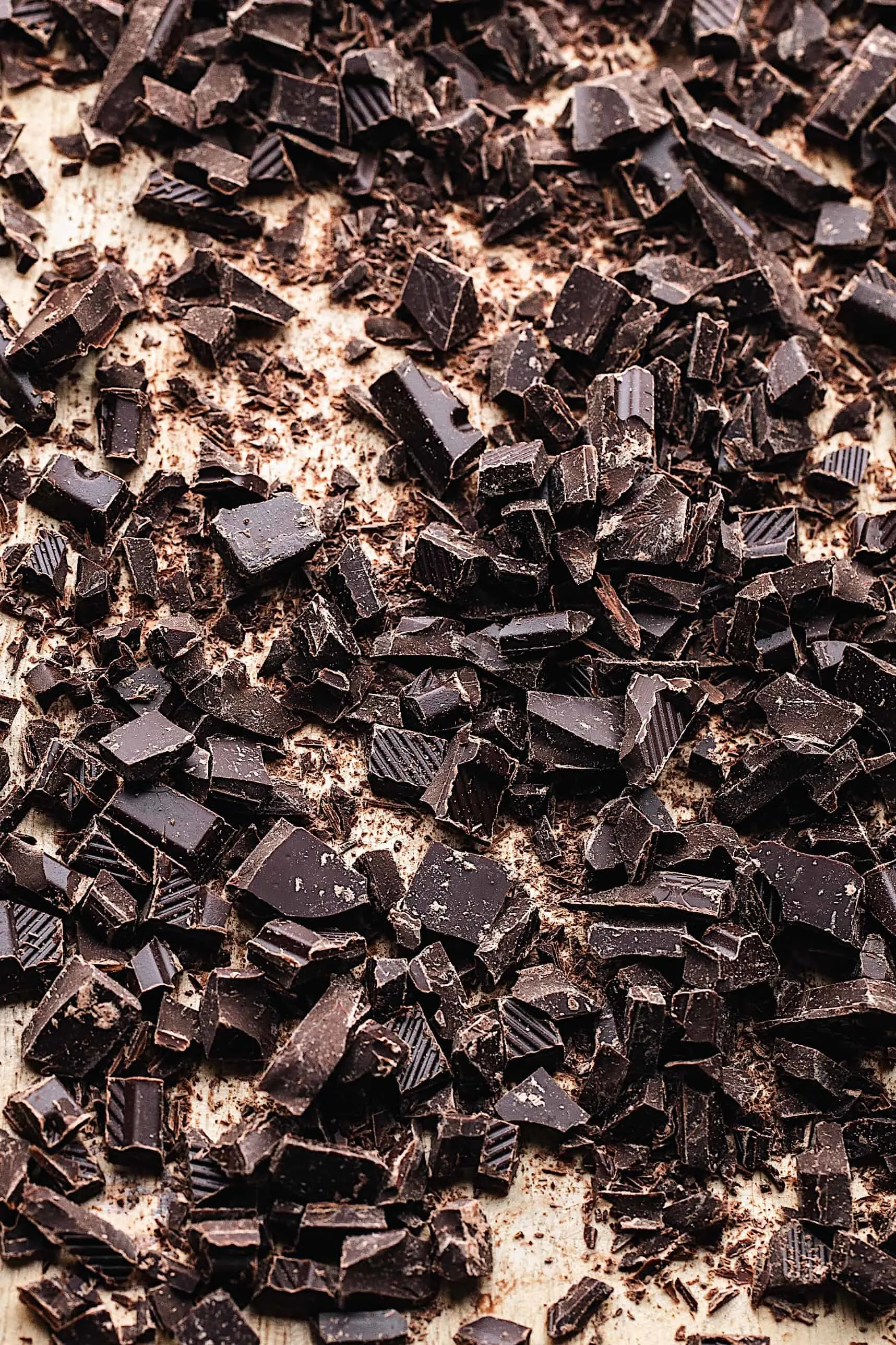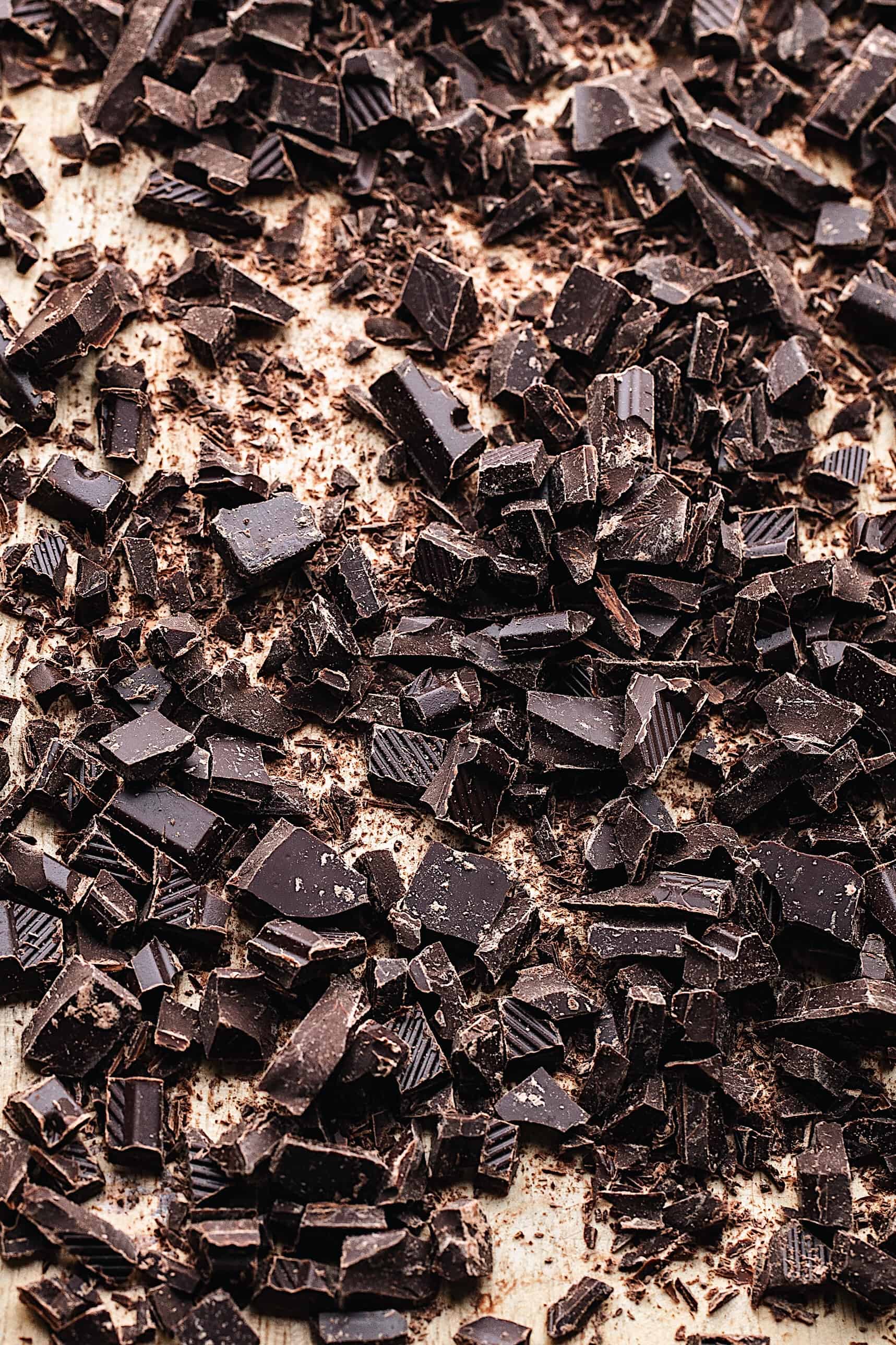 Divide the mixture into two, then each half into two again so you have four quarters. You can then make 4 cookies out of each quarter.
Line two baking sheets and then place 8 cookies on each sheet. You want to leave space for them to spread or you'll end up with one giant cookie!
With the oven at 180C/350F you want to bake the cookies for 10-12 minutes, no longer. The cookies should still look quite soft and almost under baked.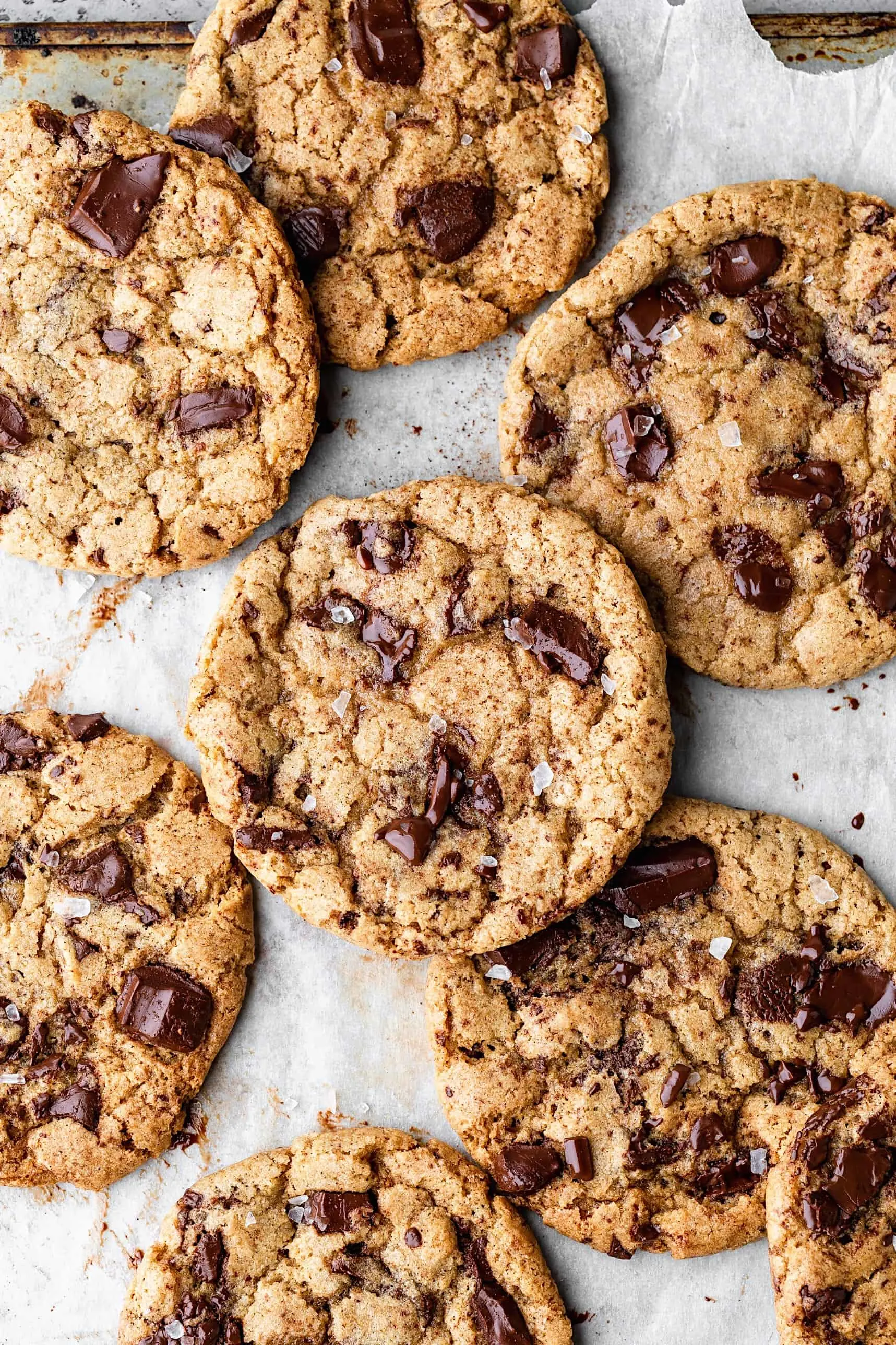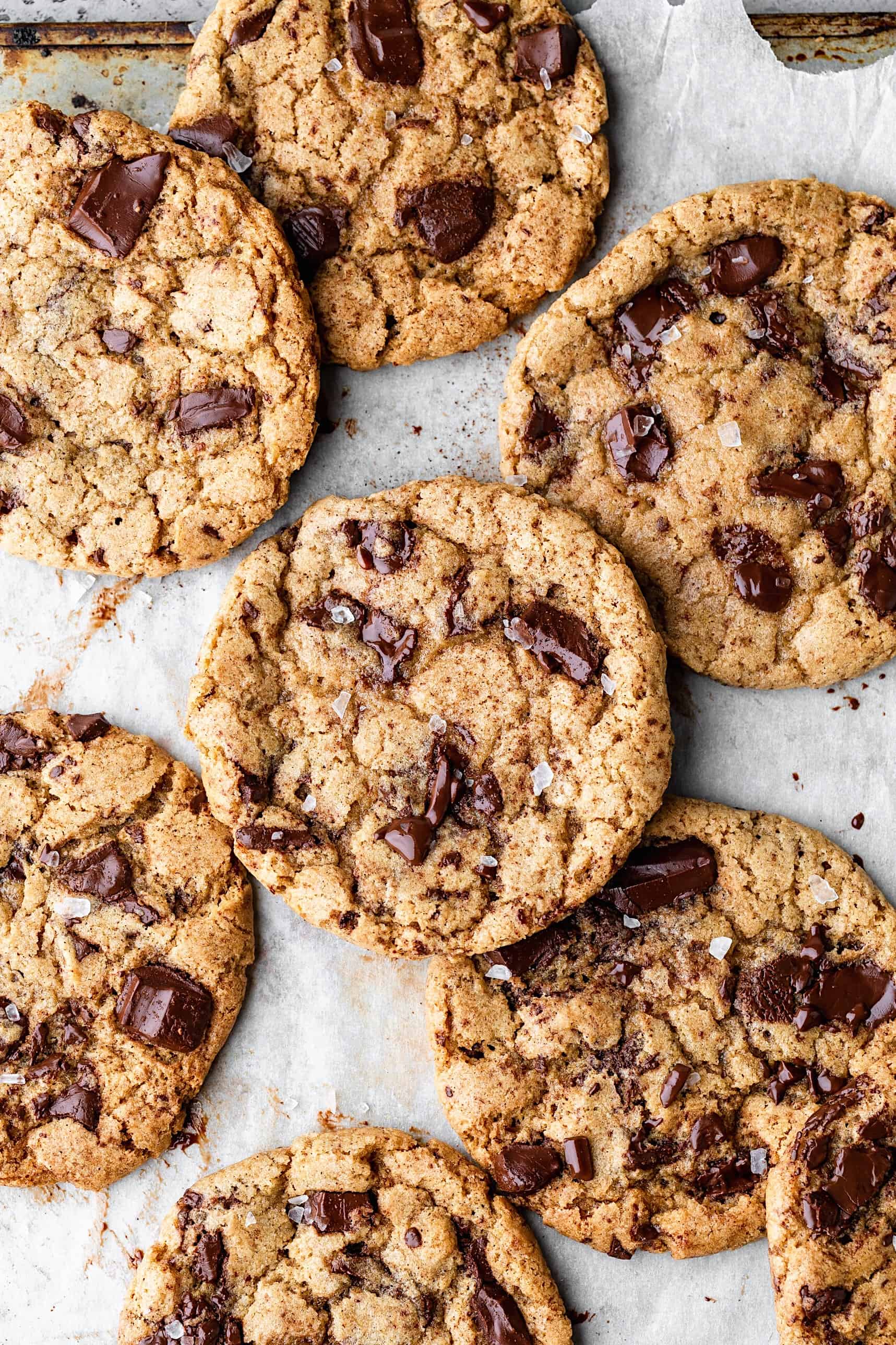 This is because they will continue to bake out the oven and you want them to still be chewy inside. So don't be tempted to leave them in any longer!
If after a day or two they aren't as chewy, just pop them in the microwave for about 20 seconds and they'll soften up.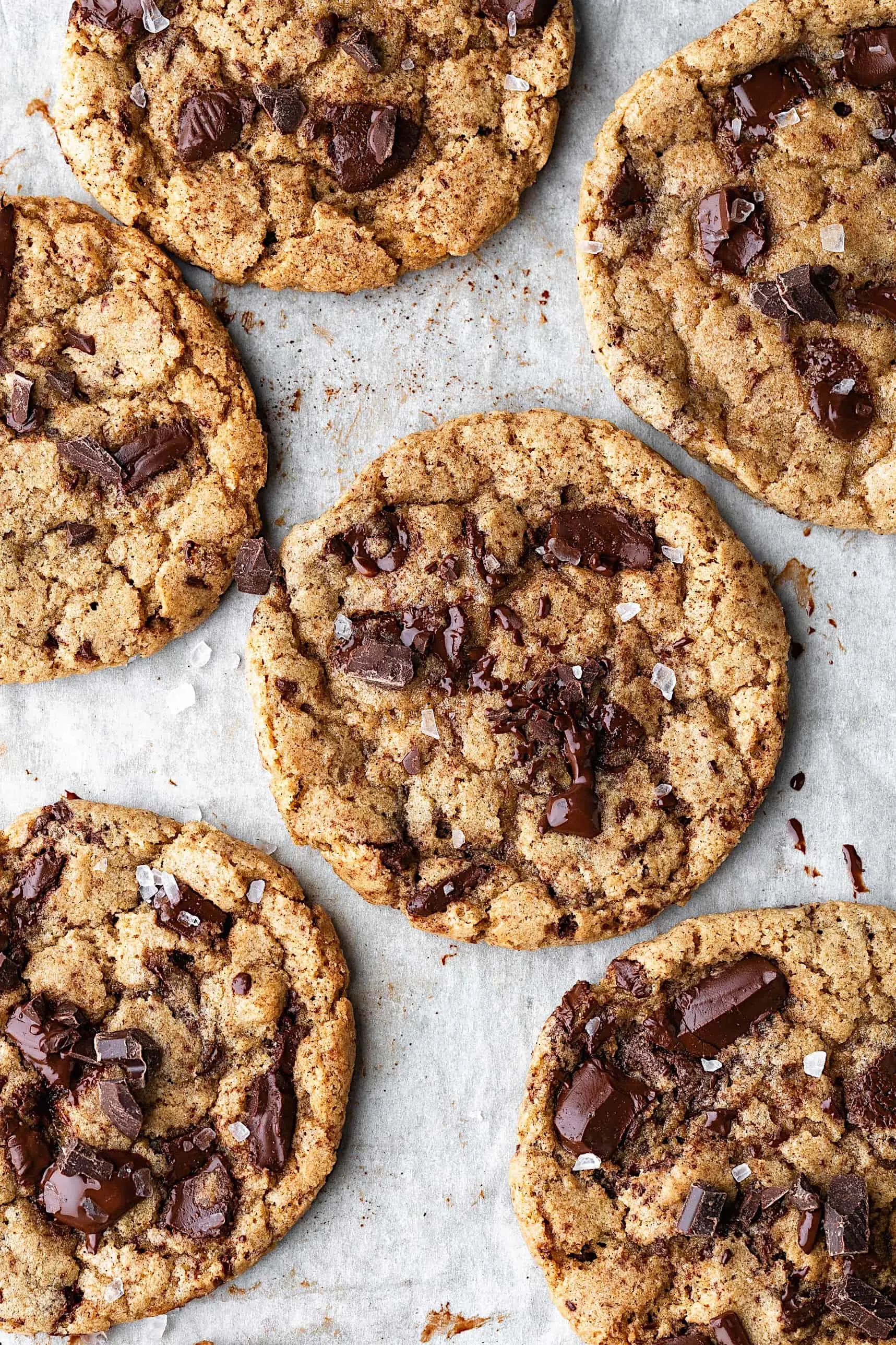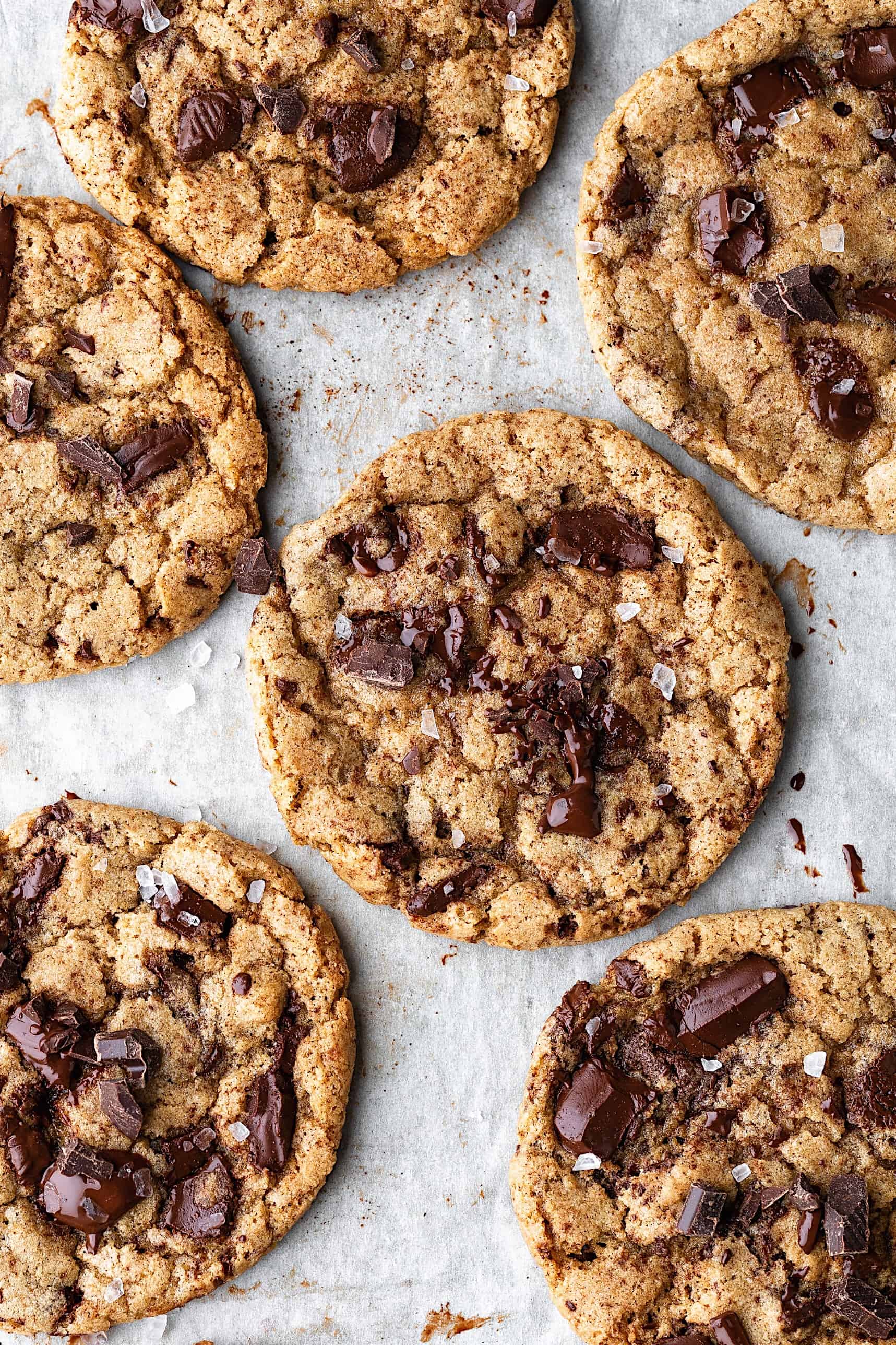 For more cookie recipes you may enjoy these:
Double chocolate chip peanut butter cookies
Chocolate chip salted caramel cookies
White chocolate and raspberry cookies
As always if you make these vegan spiced chocolate chip cookies be sure to leave me a comment, rate this recipe and tag me on Instagram. I love seeing all your photos of my recipe recreations!
Don't forget to follow along on Facebook, Pinterest and Instagram – I'd love to see you all there!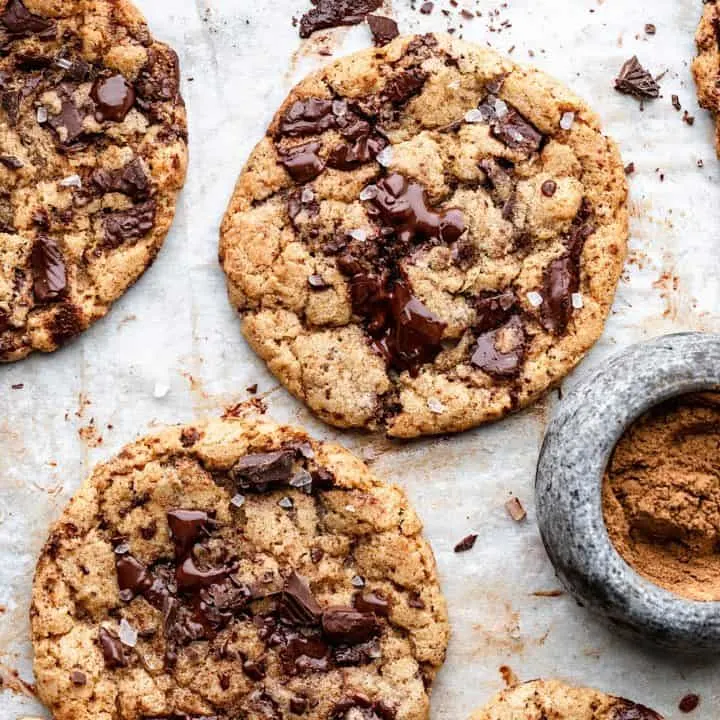 Spiced Chocolate Chip Cookies
These vegan spiced chocolate chip cookies are the perfect autumn sweet treat! Soft and chewy with just the right amount of crunch. They are totally irresistible!
Ingredients
Spice Mix
1.5 tsp ground cinnamon
1 tsp ground ginger
1/2 tsp ground nutmeg
1/4 tsp ground cloves
Pinch of allspice
Cookies
115g vegan butter
200g light brown sugar
1 tbsp arrowroot/cornstarch
1 tbsp water
1 tsp vanilla essence
190g plain flour
1 tsp baking powder
150g good quality 70% dark chocolate
Instructions
Preheat the oven to 180C/350F and line two baking sheets with parchment paper.
Cream the sugar and butter in a bowl with an electric mixer until it is pale and fluffy.
Mix the arrowroot and water in a cup and then add to the bowl along with the vanilla essence and stir.
Sift the spice mix, baking powder and flour into the bowl, and fold. You may find it easier to use your hands to mix.
If you are using chocolate bars, cut into chocolate chip sized chunks and add. Stir so they are evenly distributed.
Using your hands, divide the mixture in four. Then divide each part into 4 golf sized balls. You should make 16 in total.
Place them onto the lined baking sheets (8 on each) making sure to leave enough room for each to spread. Gently push them down.
Place in the oven for 10-12 minutes. They may still look soft and gooey in the middle but don't be tempted to leave them in longer. They will set when cooling and give that perfect gooey texture inside.
Sprinkle each cookie with some sea salt.
For best results eat on the same day but they will keep for 2-3 days in an airtight container.

Notes
I use Vitalite vegan spread and Green and Blacks 70% dark chocolate.
Recommended Products
As an Amazon Associate and member of other affiliate programs, I earn from qualifying purchases.
Nutrition Information:
Yield:

16
Serving Size:

1
Amount Per Serving:
Calories:

200
Total Fat:

10g
Saturated Fat:

6g
Unsaturated Fat:

3g
Sodium:

83mg
Carbohydrates:

26g
Fiber:

1g
Sugar:

14g
Protein:

2g