These Metis® fruit and maple crumble bars make for a perfect summer dessert or sweet treat. With a delicious layer of sweet Metis® fruit and maple jam sandwiched between a soft buttery crumble.
They're totally addictive so be careful who you share them with!
This post is sponsored by Metis® and all opinions and thoughts are my own. Thank you for supporting Cupful of Kale!
Let's start with the jam. The jam is made up with Metis® stone fruit, a natural cross between a plum and apricot. For this recipe I'm using Oxy Solar.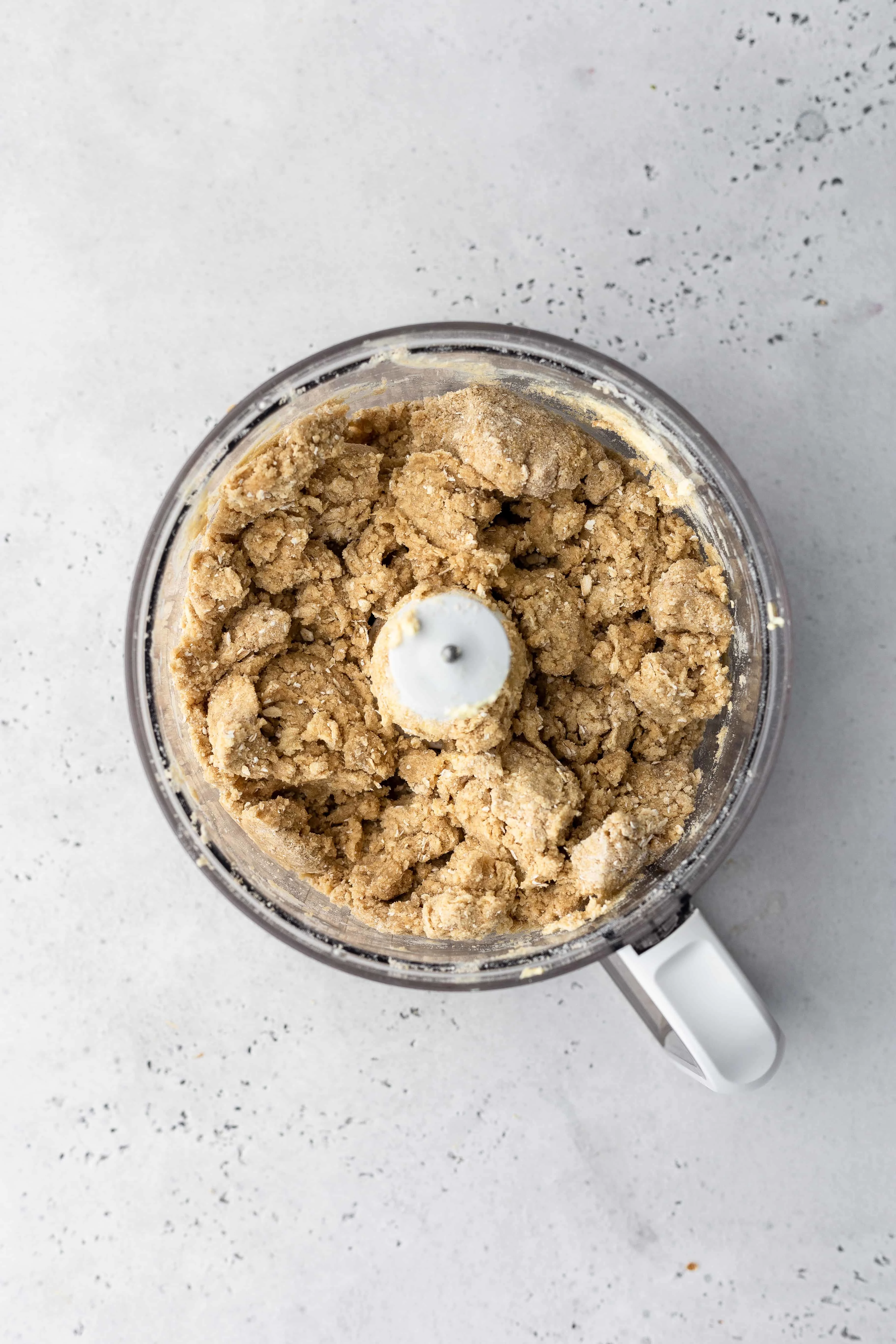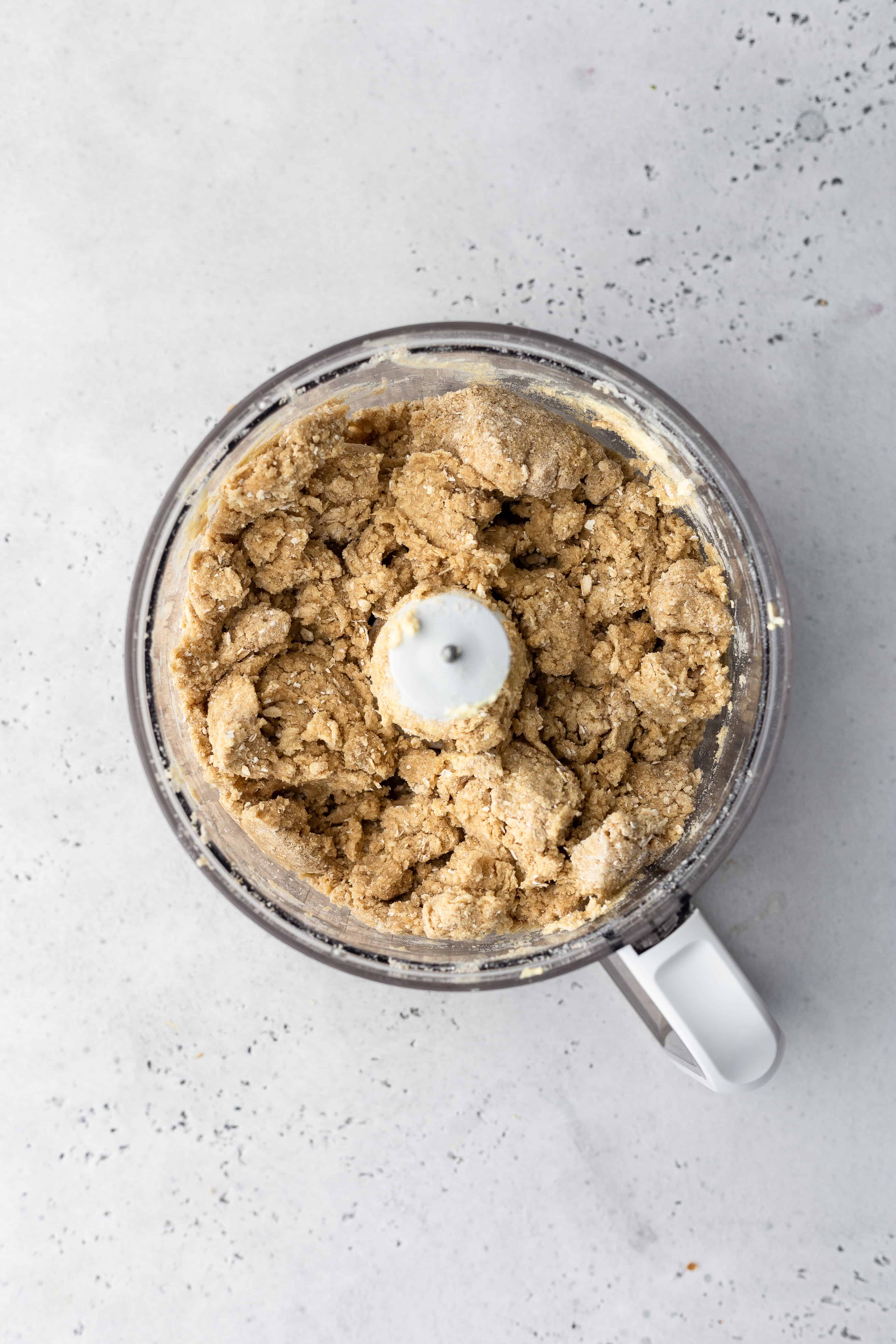 It has a dark purple skin and super juicy sweet flesh which make it perfect for baked goods, in this case, crumble bars! There are also three other family members – Dark Moon, Safari Star and Sunset Sky. Find out all about them here!
For the jam you'll need a few simple ingredients. Metis® fruit, maple syrup, lemon juice, vanilla and cornstarch. Carefully pit the Metis® and place in a pot on medium heat with the other ingredients.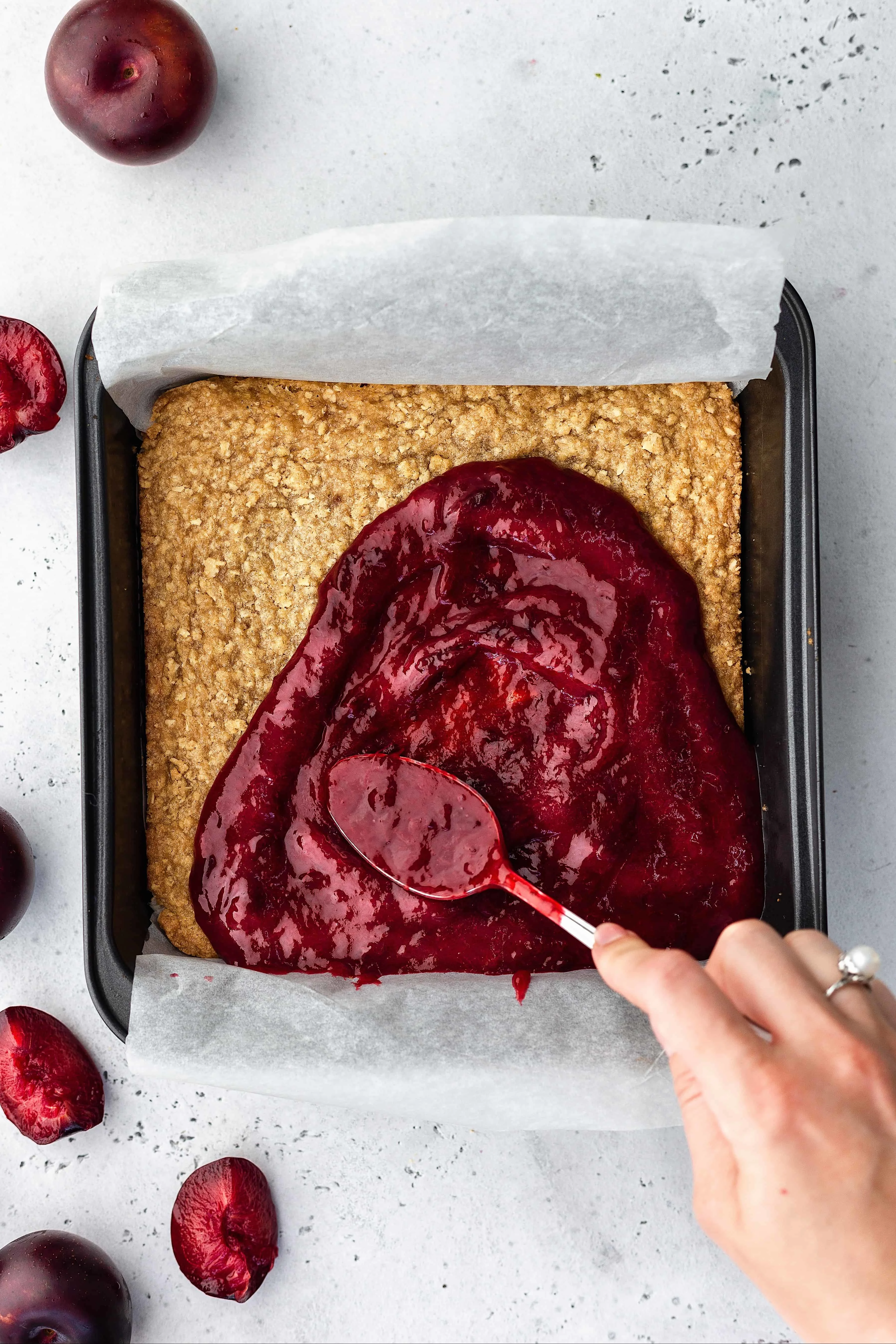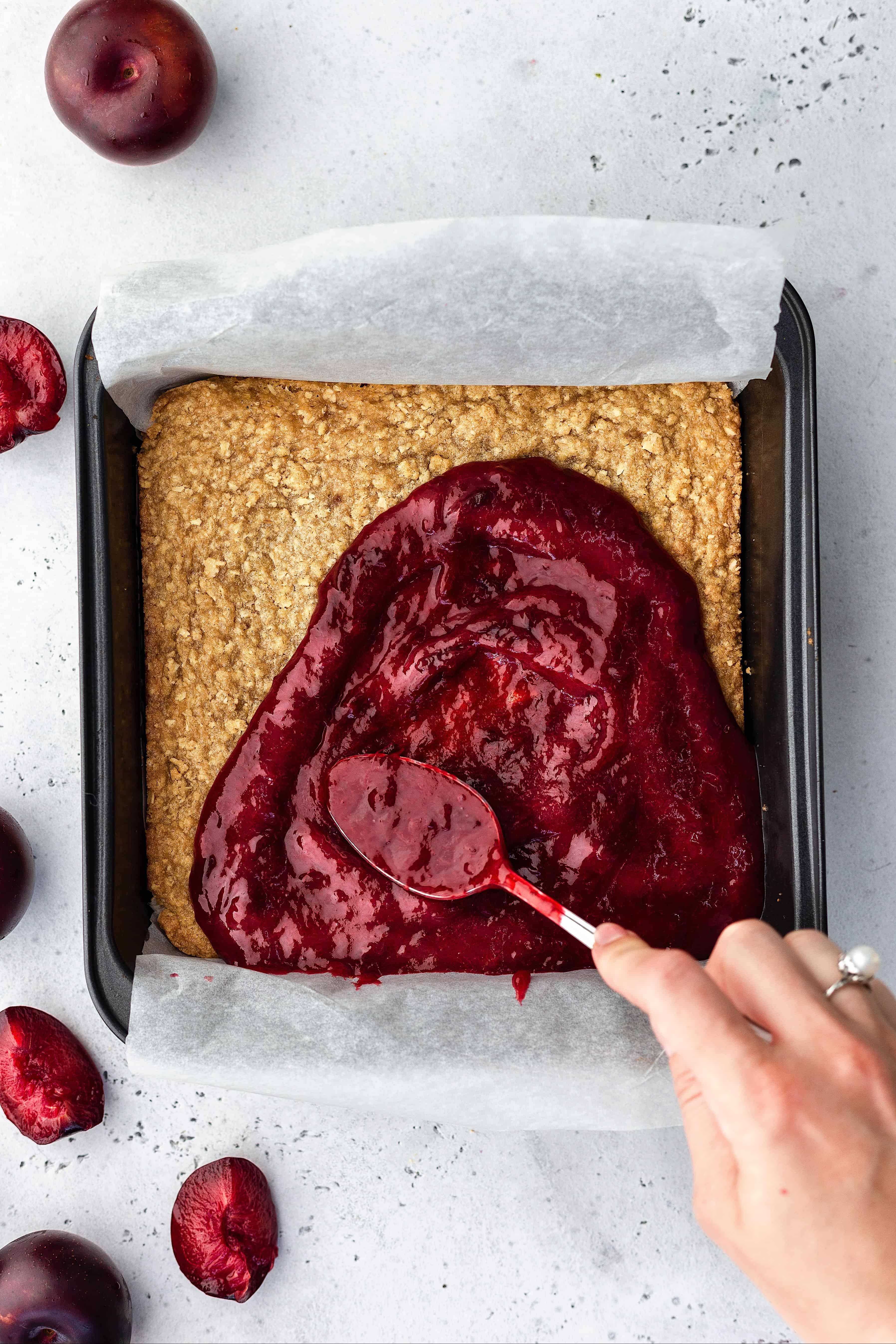 Let this simmer until the fruit has broken down and the jam has thickened, it will take about half an hour.
Whilst the jam is cooking you can prepare your crumble. You don't need to make a different crumble base to the topping, making this super simple!
I like to use a food processor to make the crumble, it means you don't need to get more utensils dirty, which is always a no brainer for me!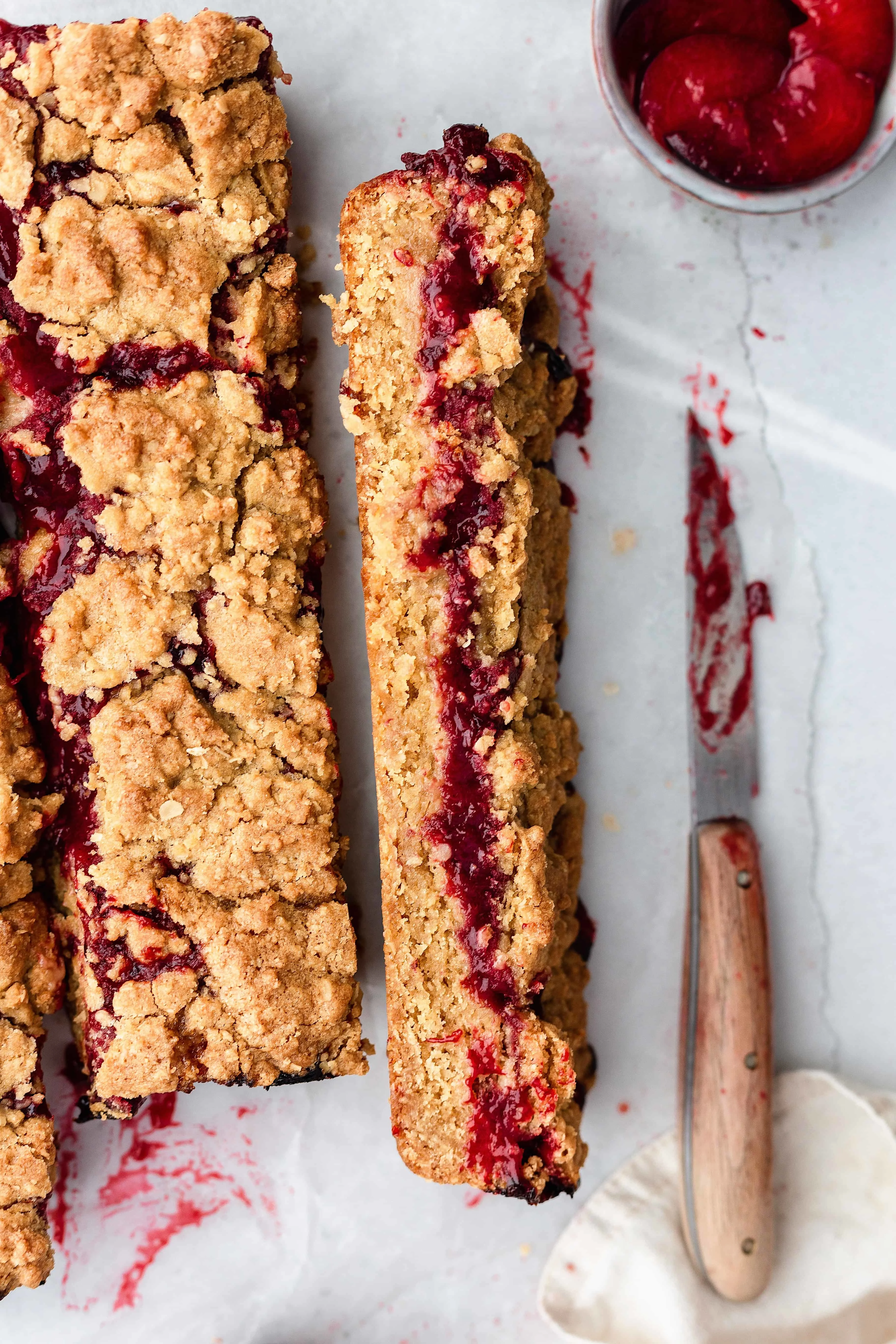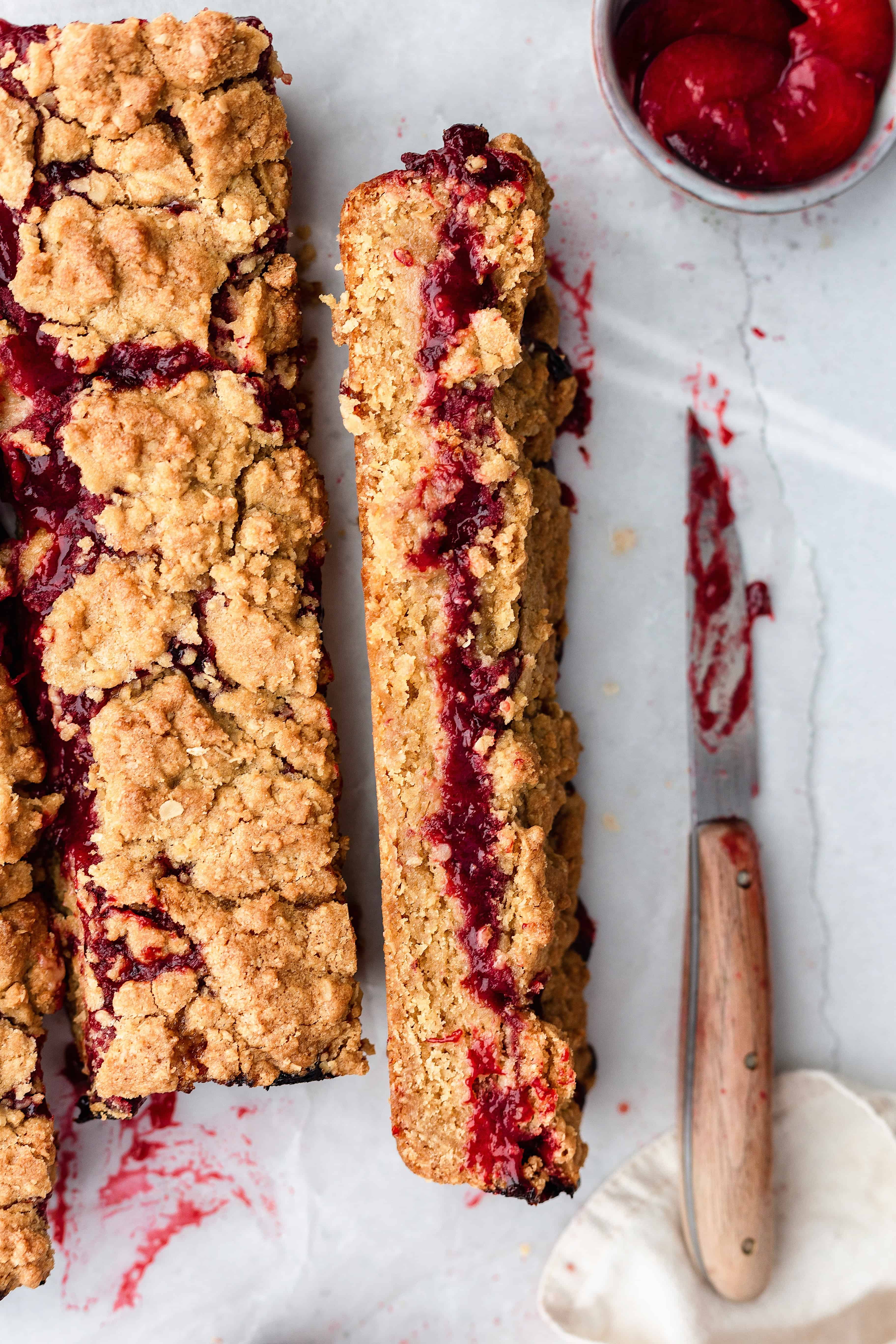 Blitz the oats along with soft brown sugar, baking powder and flour until it turns into an oat flour consistency. Add vegan butter and blitz again until well combined and it is starting to clump.
That's it, you've made your crumble. Told you it was easy, and quick! For the base, we are going to use 2/3 of the crumble.
Grease and line an 8×8 inch cake tin and use a spoon or your fingers to push the mixture into the tin until you have an even layer. Bake for 10 minutes.
Once the base has baked it's time to assemble the jam and the remaining crumble mixture. Using your hands, crumble it between your fingers on top of the jam.
Place in the oven for 25-30 minutes. The crumble topping should be golden brown.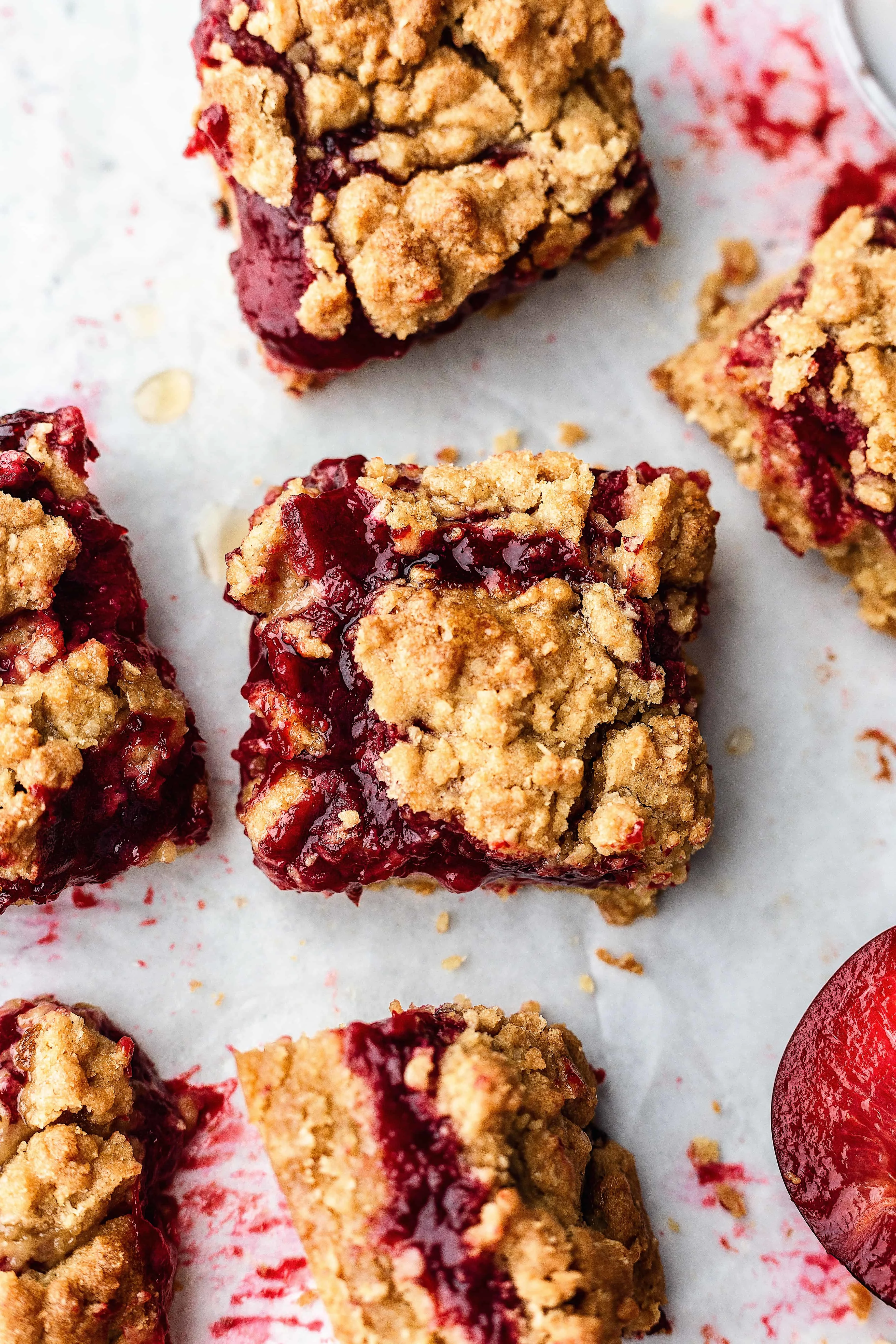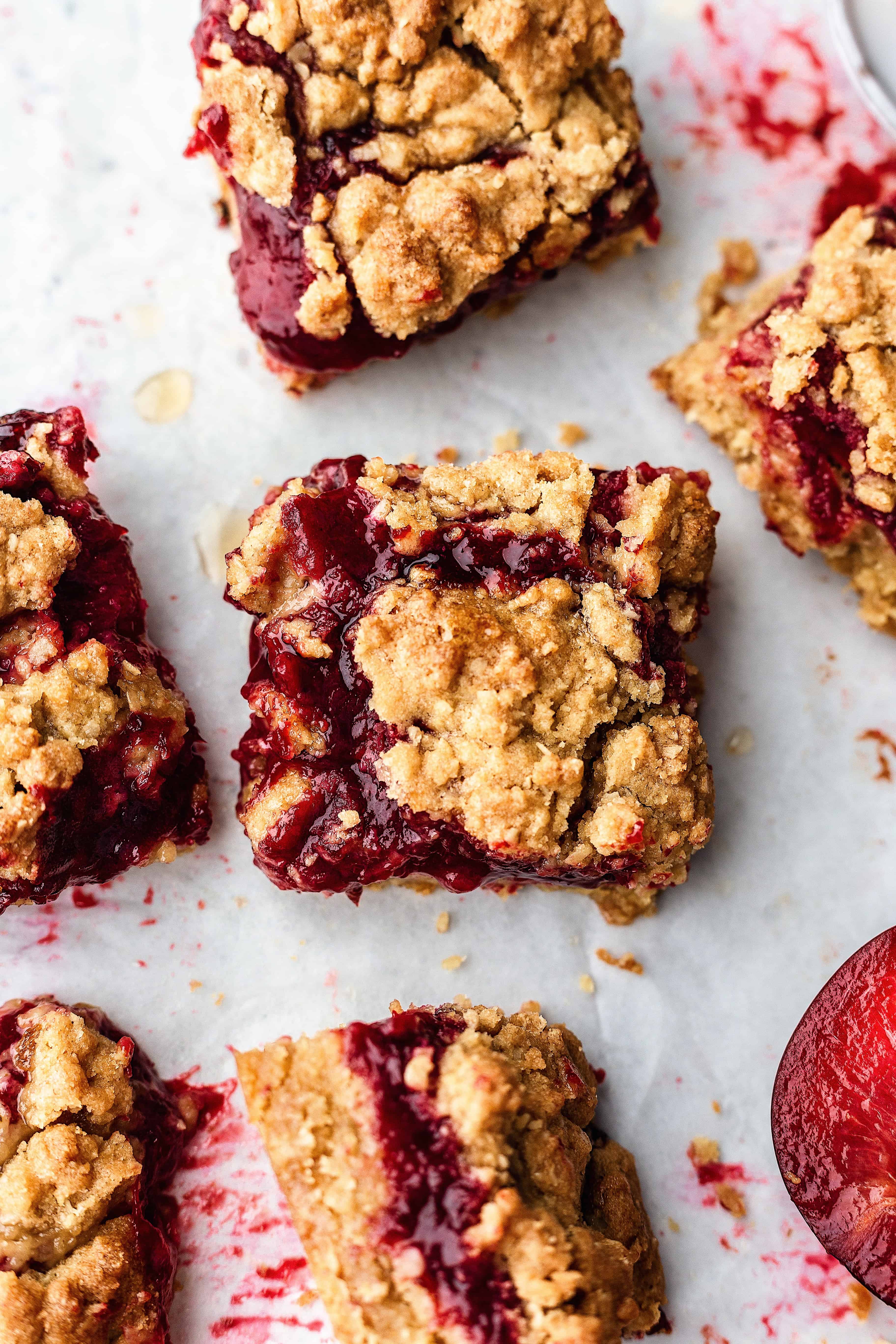 You're going to need to leave the crumble bars to completely cool before cutting into them. Which means leaving them in the fridge to set for a couple of hours.
If you're anything like me, you'll have little patience waiting for baked goods to cool out the oven. So, I give you full permission to also just dig in with a fork and eat it warm out the tin.
Hopefully you're on your way to the shops or the kitchen so start making these Metis® fruit and maple bars. Trust me when I say they're irresistible!
Whilst these crumble bars are delicious on their own, they also pair nicely with some vegan ice cream or custard! I'll leave that decision with you.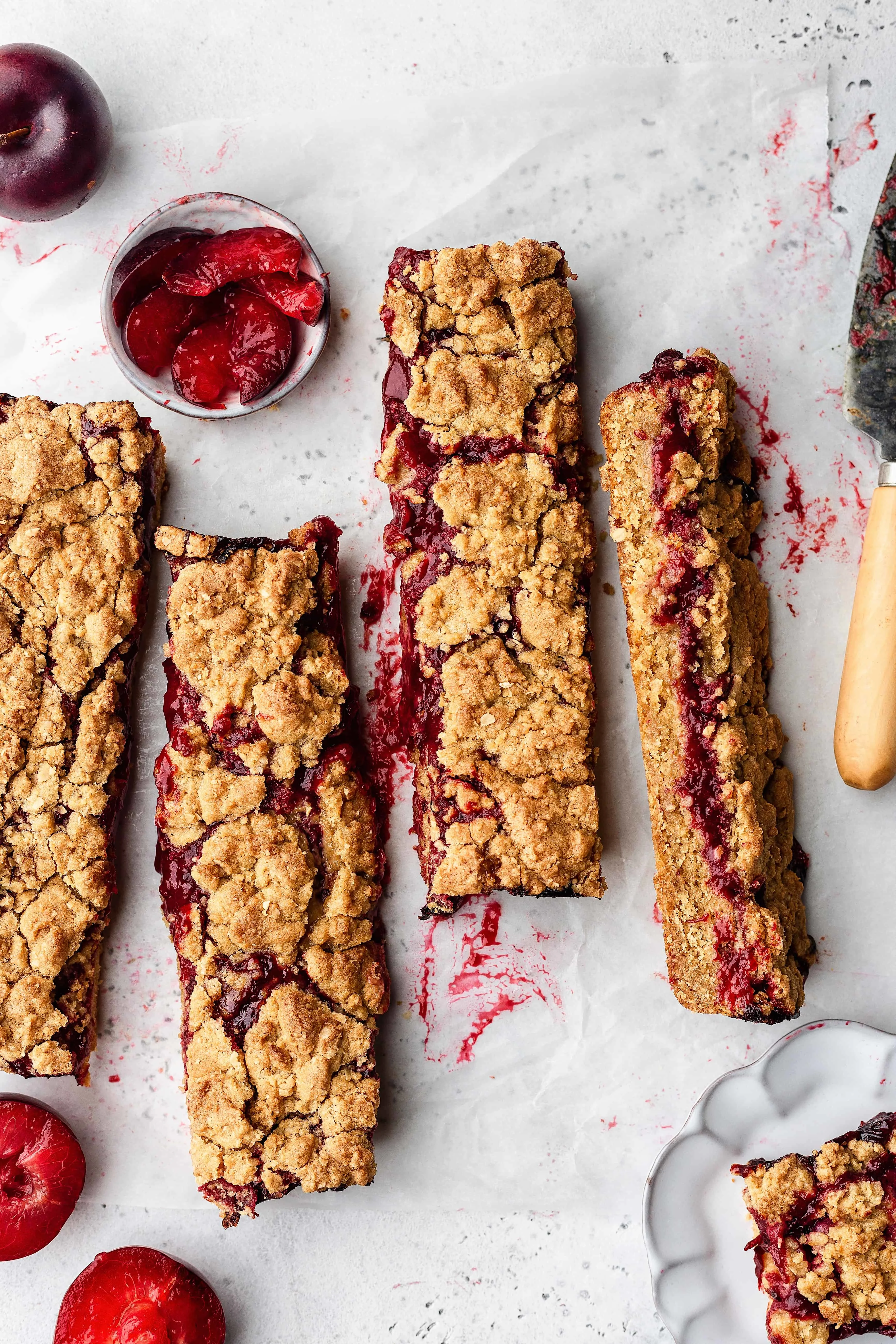 If you want to get your hands on Metis® fruit head to Co-op, Tesco, Morrisons, M&S or Costco. They will be available all summer and you'll find them in the fresh fruit section!
Look out for the Metis® sticker on packs of plums and pick up a couple of packs! To make these crumble bars, of course.
For more sweet recipes you may enjoy:
Upside down pear and almond cake
As always if you make these Metis® fruit and maple bars be sure to leave me a comment, rate this recipe and tag me on Instagram. I love seeing all your photos of my recipe recreations!
Don't forget to follow along on Facebook, Pinterest and Instagram – I'd love to see you all there!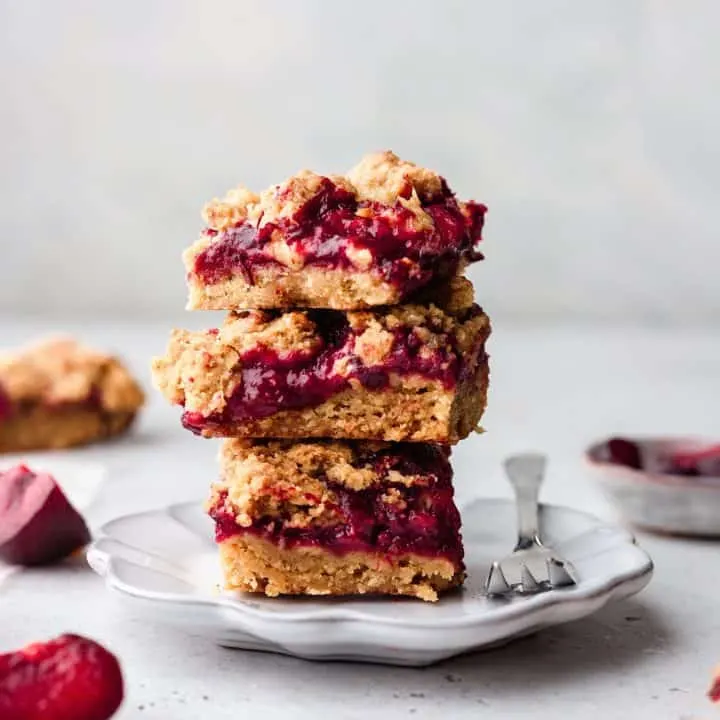 Metis® Fruit and Maple Crumble Bars
Total Time:
2 hours
50 minutes
Make the most out of summer stone fruit Metis® with these maple crumble bars. With a buttery crumble base and topping and sweet Metis® fruit and maple jam filling. They're easy to make, highly addictive and vegan!
Ingredients
Crumble
100g/2 cups oats
240g pain flour
270g/1 1/3 cups soft brown sugar
1 tsp baking powder
Pinch of salt
230g/1 cup vegan butter
Jam
1kg/about 16 Metis® Oxy Solar fruits, pitted
½ cup maple syrup
2 tbsp lemon juice
1 tsp vanilla bean paste
4 tbsp cornflour
Instructions
Preheat oven to 180C/350F.
Carefully remove the stones from the Metis® and place in a saucepan with the remaining jam ingredients. Bring to a gentle simmer and leave for about 30 minutes, stirring occasionally. The fruit should have broken down and the jam thickened.
Place the oats, flour, sugar, baking powder, salt and flour in a food processor. Blitz for about 10 seconds until it resembles an oat flour.
Add the vegan butter and blitz again until the mixture is combined and starting to clump together.
Grease and line an 8x8 inch baking tin. Place 2/3 of the crumble mixture in, using the back of a metal spoon to create an even layer. Place in the oven for 10-12 minutes.Remove from the oven and once the jam is ready, pour on top. Then place the remaining crumble mixture on top, using your fingers.
Place back into the oven for 25-35 minutes until the topping is golden brown.
Leave to cool completely then place in the fridge for a couple of hours. Place onto a chopping board and cut into squares, I made 16.
Will keep in the fridge for 2-3 days.
Recommended Products
As an Amazon Associate and member of other affiliate programs, I earn from qualifying purchases.