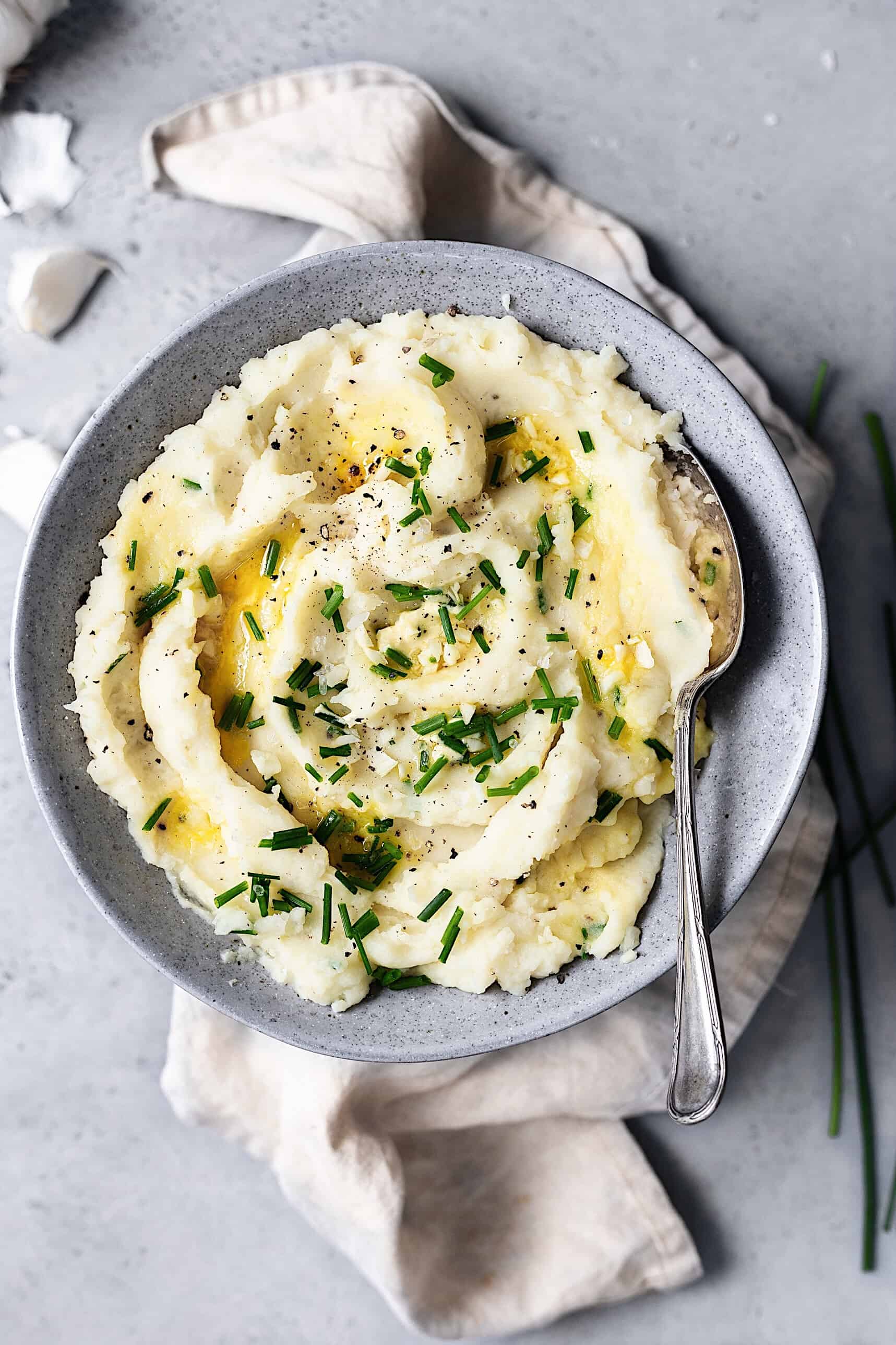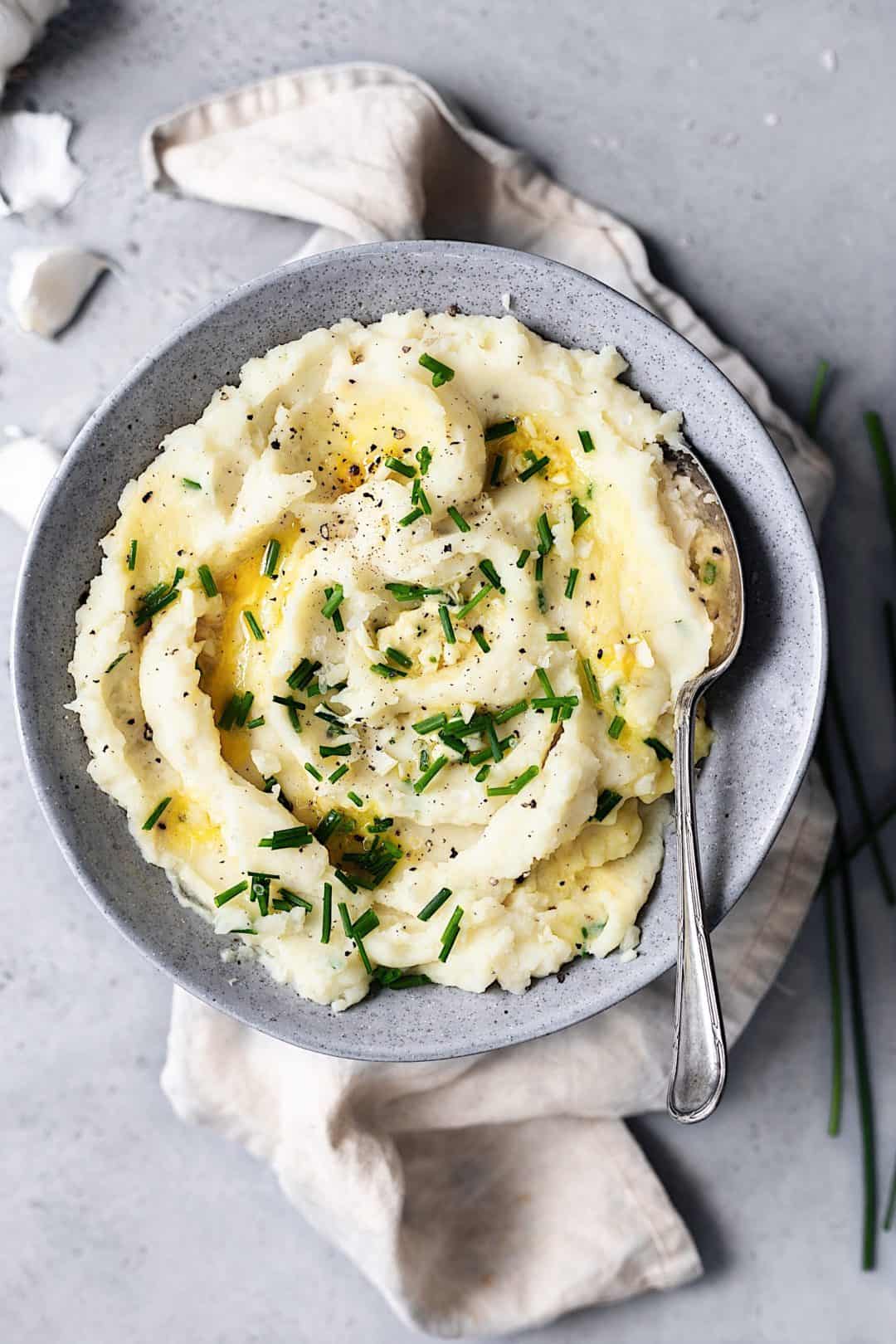 This fluffy and creamy garlic mashed potato is the ultimate potato dish for your next meal or spread.
There are only 5 ingredients in this mash potato. You can use any type of potato but I like to use maris piper potatoes for mash as they are soft and creamy.
The other ingredients are plant milk, vegan butter, garlic and chives. That's all you need to make a really tasty vegan mash potato. In fact the garlic and chives are optional but they work so well in this dish.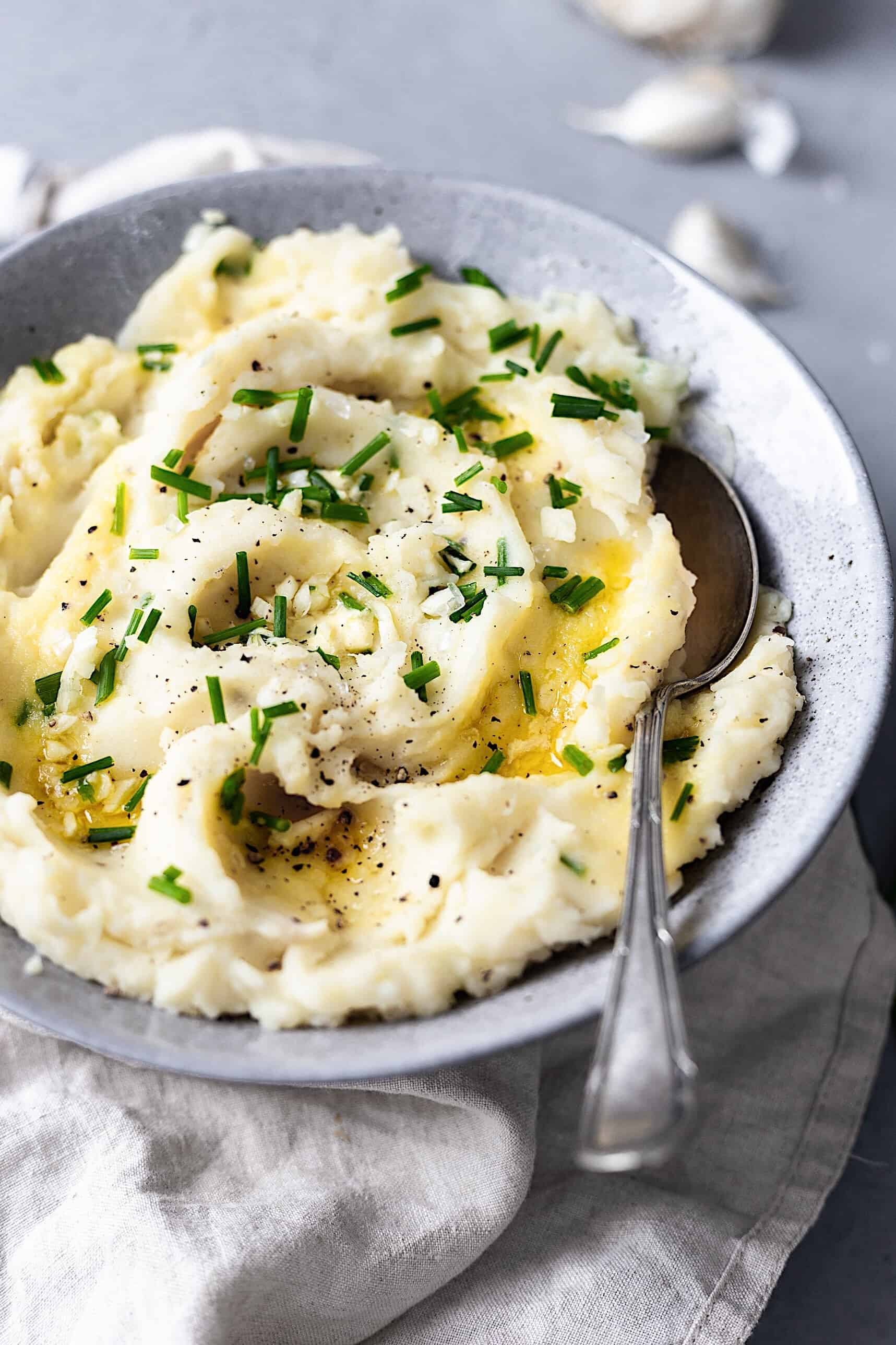 I would call it a side dish but I could definitely eat a whole bowl of it as a main too. It's light, creamy, fluffy and buttery.
One of my favourite meals with mash potato is sausage and mash with lots of gravy. Its such a quick meal and so comforting.
It's one of those recipes that my mum would always make and it always feels like home. It's also great with a casserole, roast or shepherd's pie.
American Thanksgiving is 3 days away so if your looking for a vegan mash potato recipe for your vegan friends and family, this is it!
I'll me making this for Christmas and many times before that too. We always like to have two potato dishes and my leek and potato dauphinoise is a great addition.
I've had a really busy week with clients that I haven't had much time to develop recipes for the blog but I have SO many ideas that will be coming soon. If you have any suggestions please let me know!
This mashed potato would be great alongside some of these:
Chickpea and Quinoa Harissa Stuffed Peppers
---
As always if you make this creamy garlic mashed potato be sure to leave me a comment, rate this recipe and tag me on Instagram. I love seeing all your photos of my recipe recreations!
Don't forget to follow along on Facebook, Pinterest and Instagram – I'd love to see you all there!
---
NEVER MISS A RECIPE! GET MORE VEGAN RECIPES SENT STRAIGHT TO YOUR INBOX – SUBSCRIBE HERE 🙂
Creamy Garlic Mashed Potato
Yield: 4 as a side

Prep Time: 5 minutes

Cook Time: 30 minutes

Total Time: 35 minutes

The creamiest, fluffiest vegan mashed potato. Flavoured with roasted garlic, vegan butter and fresh chives. Make this easy side dish for your next spread.
Ingredients
1.5kg maris piper potatoes
250ml unsweetened almond milk
60g vegan butter plus extra for topping
1 head of garlic (about 10-12 cloves)
Handful of fresh chives
Instructions
Pre heat the oven to 180C/350F.

Peel the potatoes and cut into haves/quarters and place in a large saucepan of boiling water with a pinch of salt. Let simmer for 25-30 minutes.

Cut the top off the head of garlic so you can just see the cloves. Drizzle in some oil and place on a tray in the oven for about 15 minutes. You want them to be soft but be careful they don't burn.

Check the potatoes are done by piercing with a knife, they should be soft and fluffy.

Drain and place back in the pan with the milk and use an electric mixer to blend until smooth.

Squeeze the cloves out of their skins. Finely chop/mince and add to the potato with the butter and chopped chives. Mix again.

Season with salt and pepper and serve with extra chives and butter.
Notes
You can use any type of potato and plant milk. I just find these work best.
Nutrition Information:
Yield: 4 Serving Size: 1 cup
Amount Per Serving: Calories: 480 Total Fat: 13g Saturated Fat: 8g Trans Fat: 0g Unsaturated Fat: 5g Cholesterol: 32mg Sodium: 136mg Carbohydrates: 83g Fiber: 9g Sugar: 5g Protein: 11g