Hearty vegan sausage and cannellini bean stew in a rich and smoky tomato and red pepper sauce. This one pot dish is perfect for a comforting and no fuss weeknight dinner! Or lunch, or breakfast!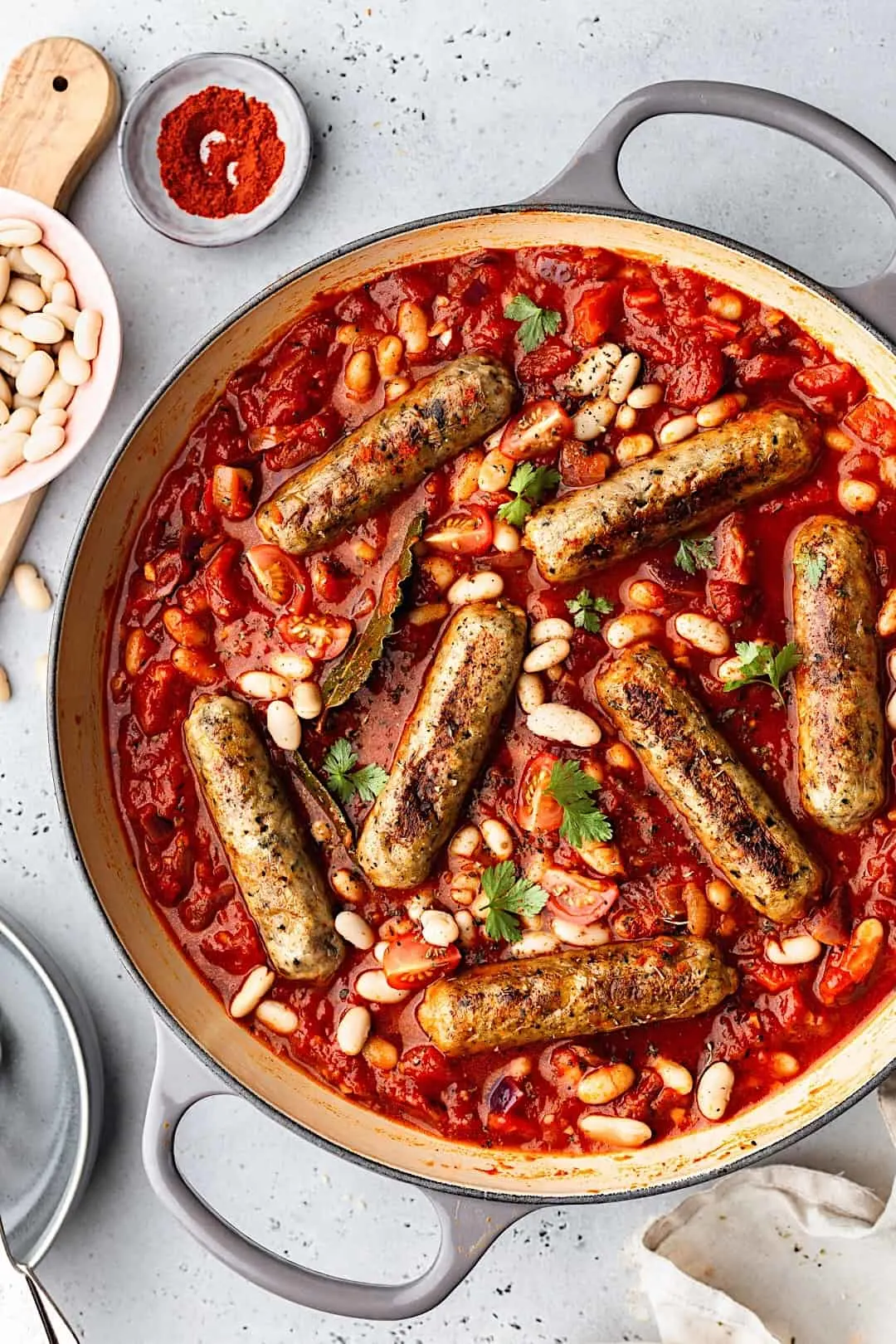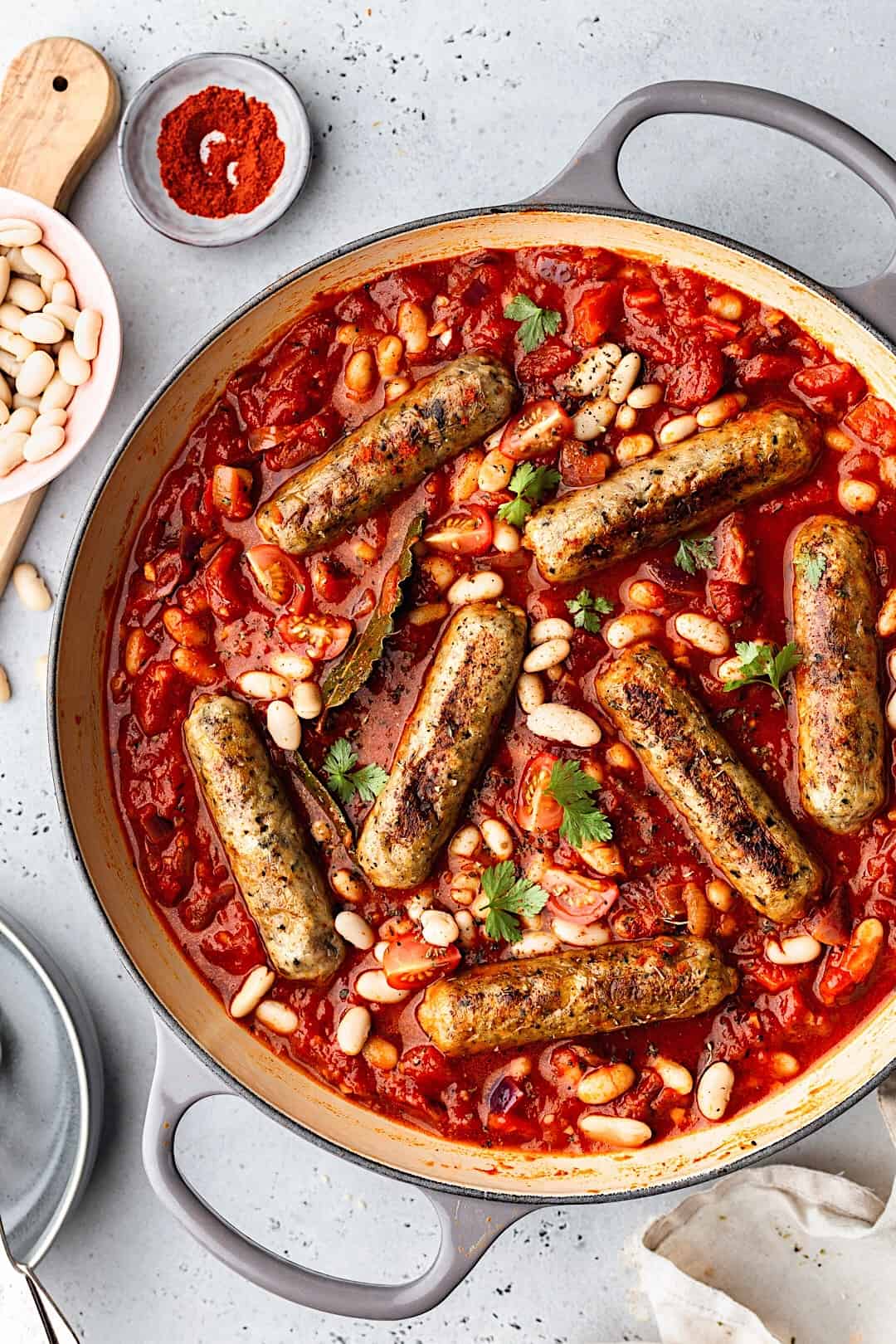 Serve with a side of mashed potato, new potatoes or a fresh loaf of crunchy bread! To soak up all that delicious sauce!
When the cold weather hits all I crave is comforting dishes like these. Stews, casseroles, curries, pies. They always remind me of my mums cooking and I there is nothing better than a nostalgic meal.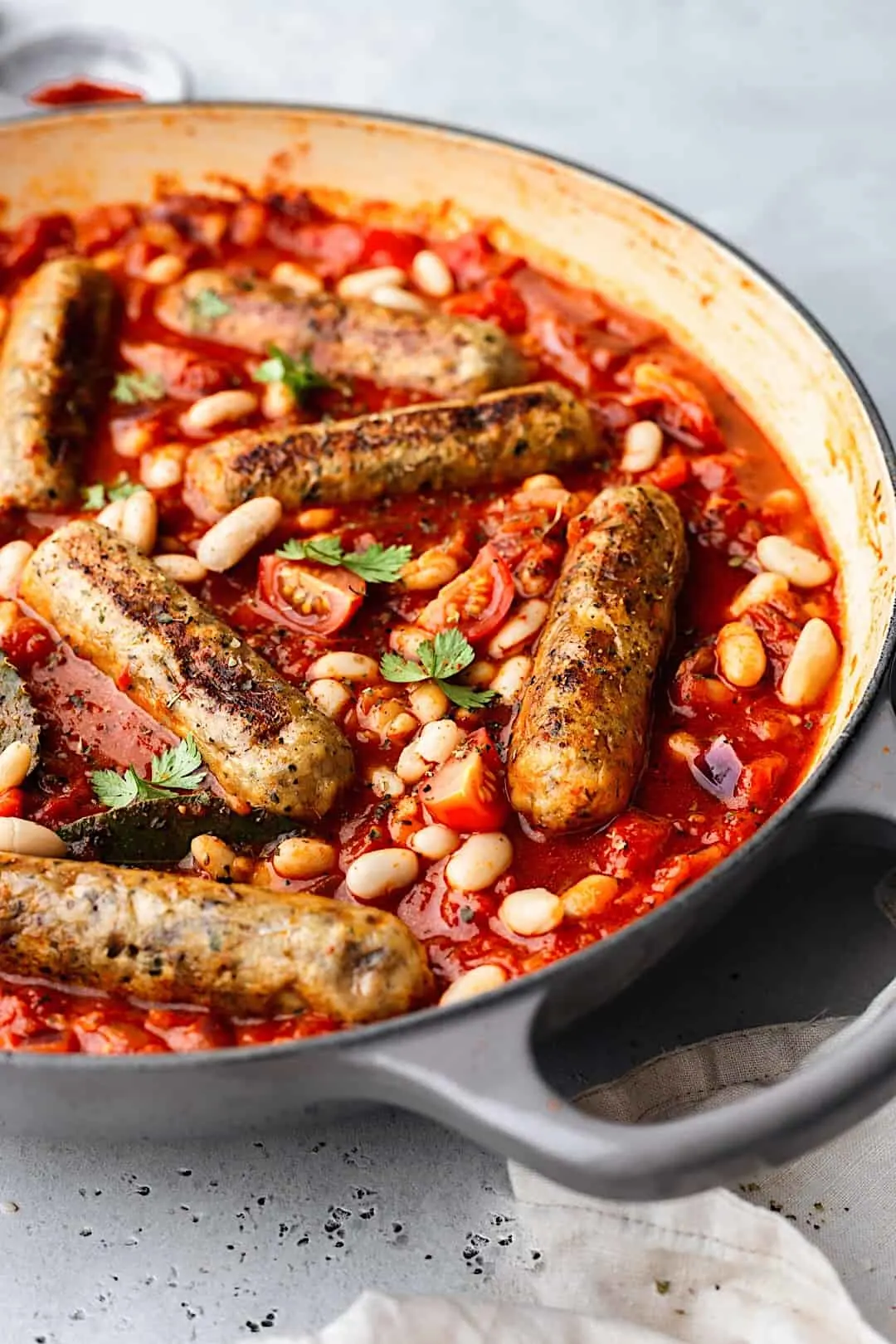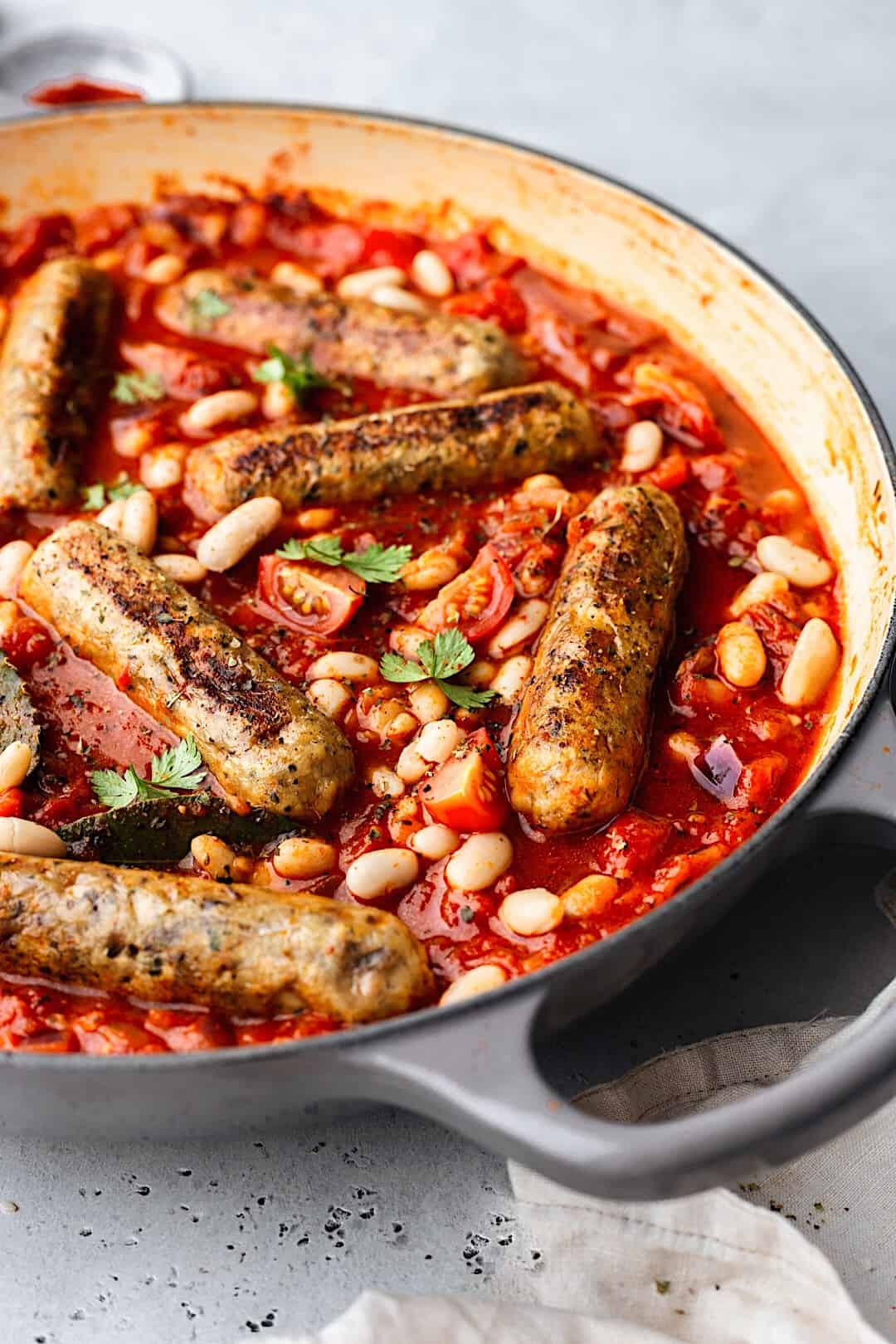 For this stew I've used cumberland style vegan sausages (if you're in the UK I love the Sainsbury's shroomdog ones). I also knew I wanted to include some kind of bean and although any bean would work in this I love the creaminess of cannellini beans.
These white beans are similar in shape to kidney beans and have a mild nutty flavour. I have used tinned cannellini beans for this recipe although you can use dried ones too, just follow the packet instructions before adding to this recipe.
How to make a vegan stew:
To start, we are going to sautee onion, garlic and red pepper. You want a large heavy bottom pan – I used my Le Creuset shallow casserole dish. Once the onion is soft and translucent add the garlic and red pepper. Cook until the pepper has softened as is starting to slightly brown.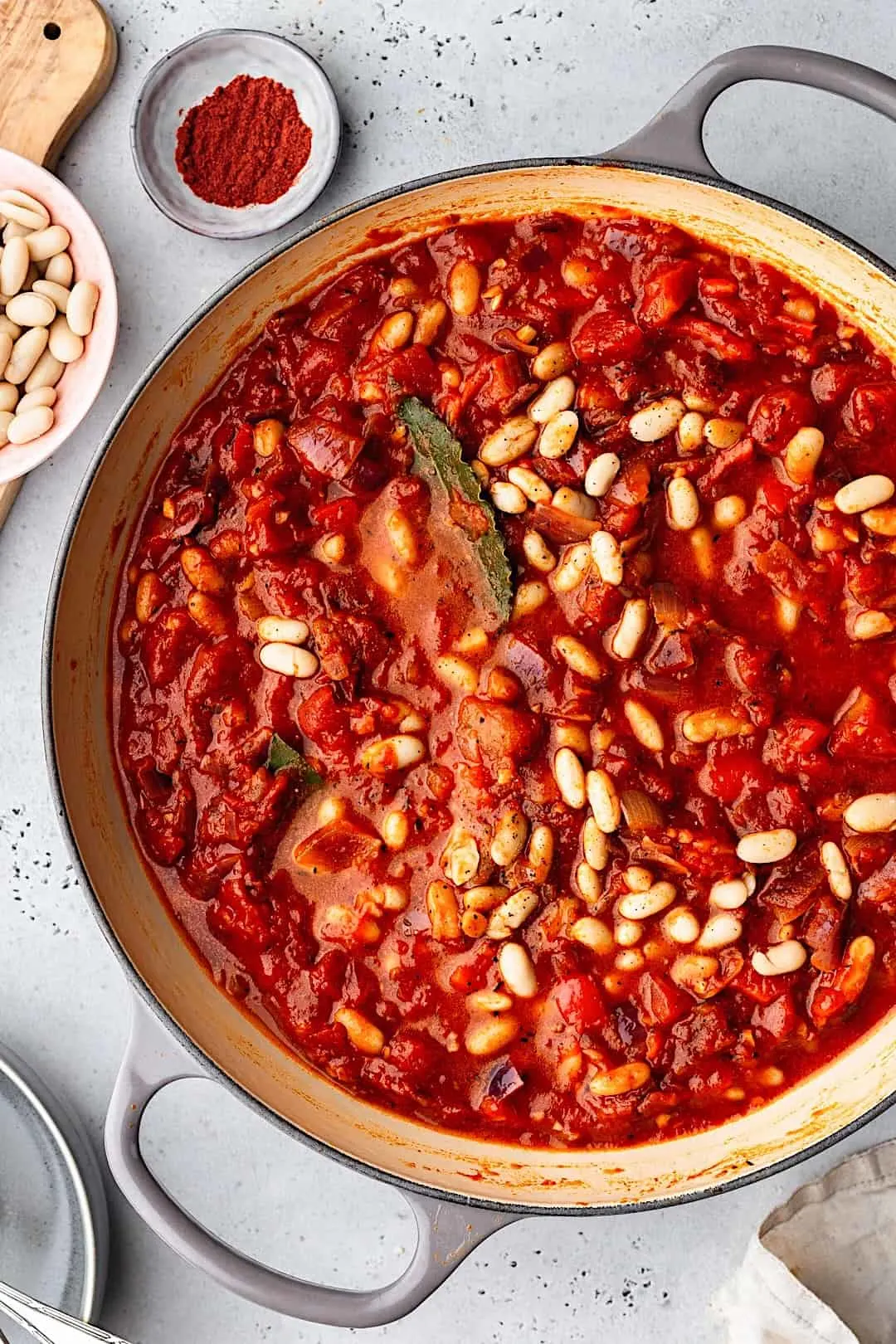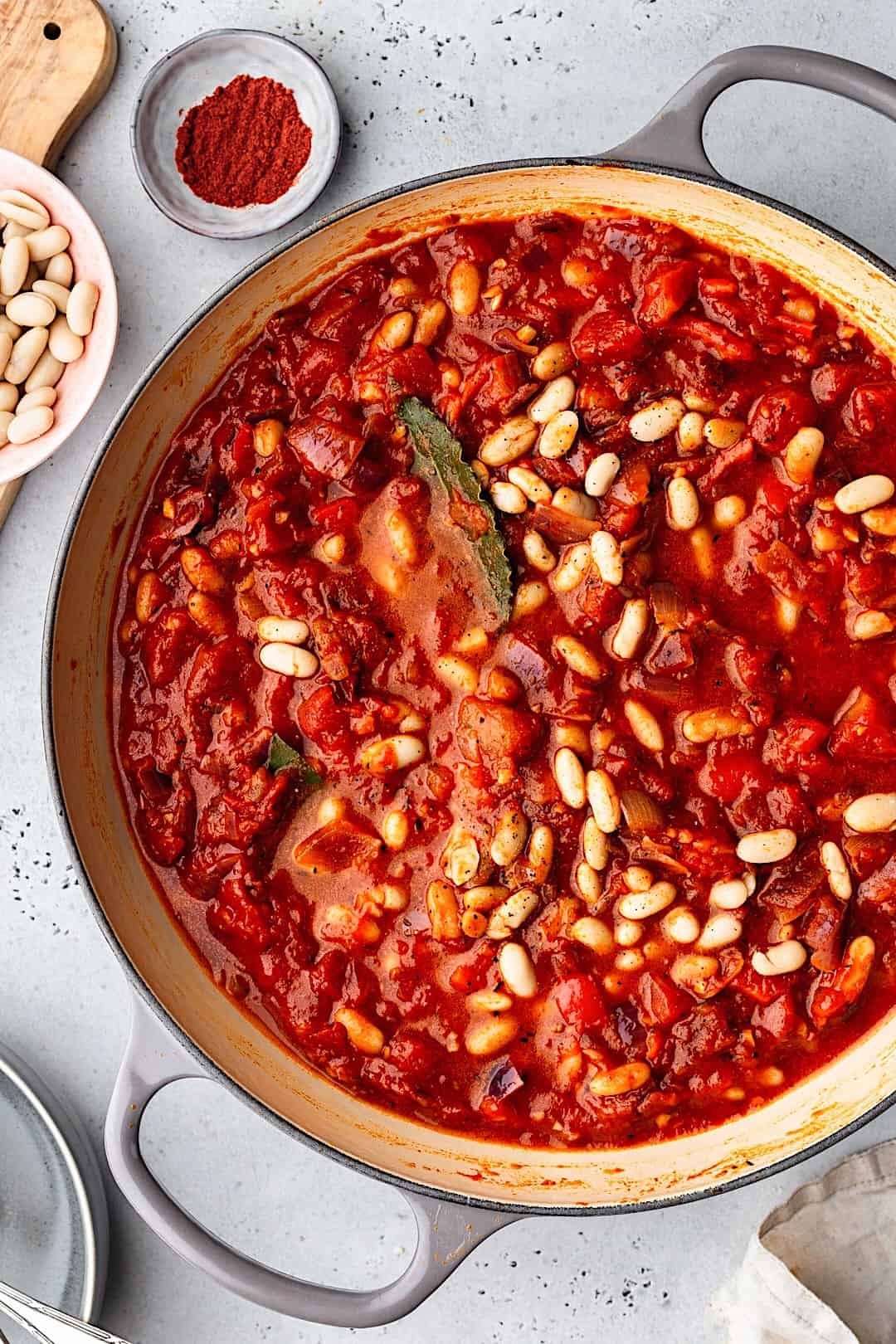 Next comes sundried tomatoes (my favourite way to add umami flavour), tomato puree, dried thyme and smoked paprika. Stir and let fry for a minute. The oil from the sundried tomatoes will stop it from burning.
Now you can add the tinned chopped tomatoes, vegetable stock, bay leaves and balsamic vinegar. For the sundried tomatoes you want the ones in oil and for the stock I used one stock cube for 350ml water. We let this simmer for 20 minutes until the sauce is nice and thick.
Whilst this is simmering, you can fry the sausages in a little oil. You can either leave them whole or cut them up. I cooked them whole for the photos, but cut them up before serving. If you cut them before you fry them you'll get nice crispy sides!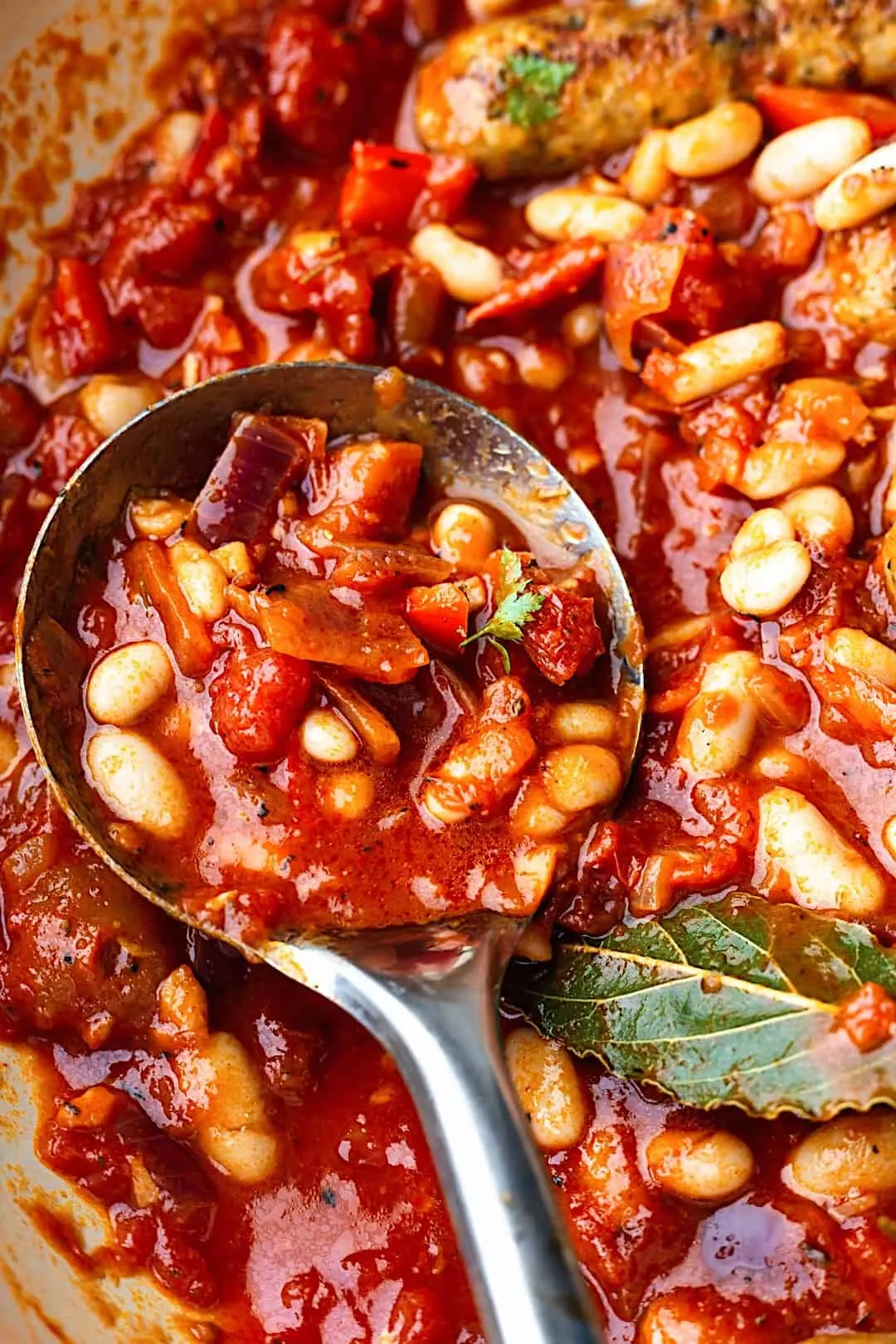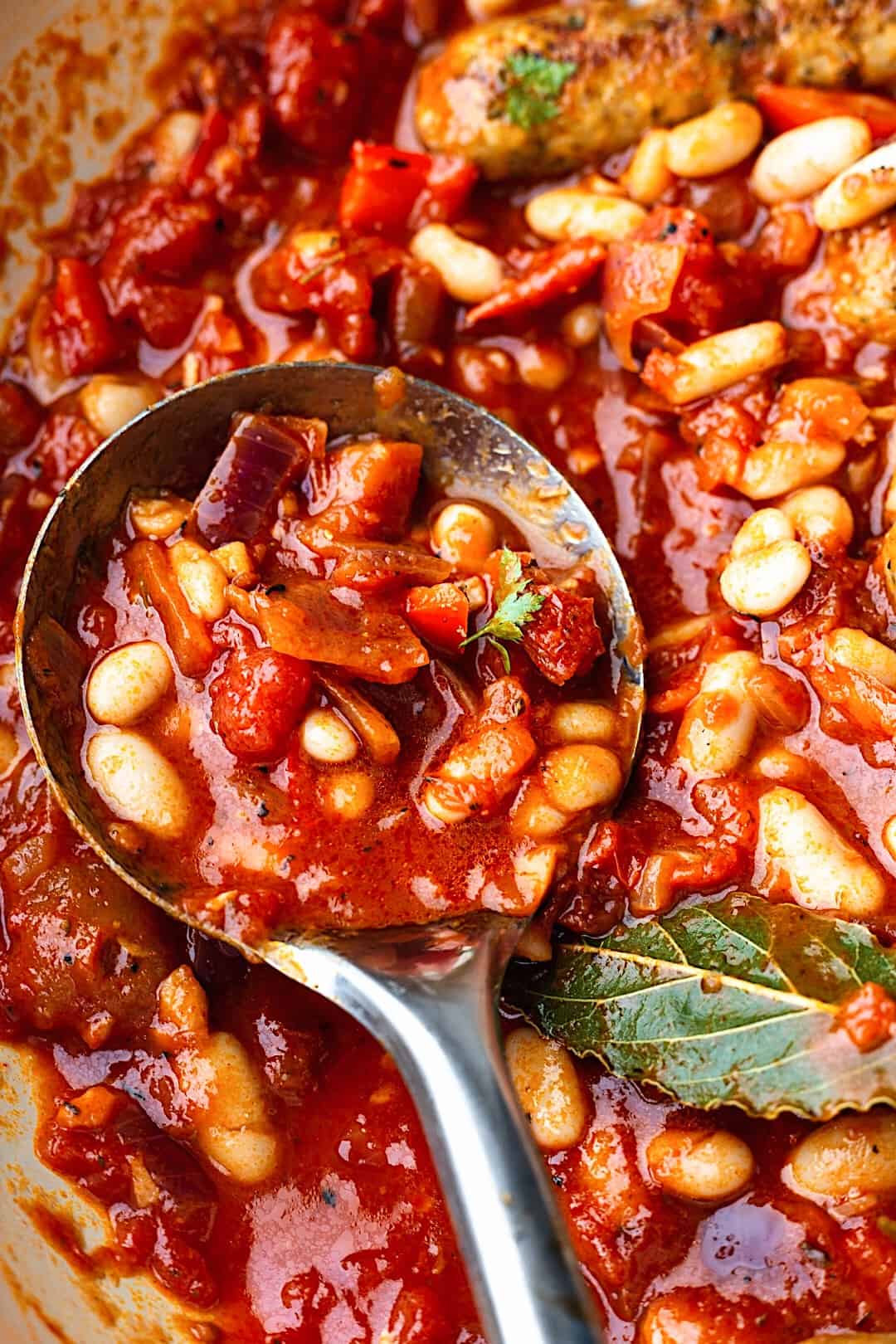 The tinned cannellini beans can now be added, they need about 5 minutes. After this, taste and season with salt and pepper. I find it doesn't need much salt as the vegetable stock has salt in it.
Add the sausage to the stew, remove the bay leaves and it's ready to serve! I love serving this with some fresh crunchy bread to soak up all the juice. Mashed potato is also great!
Whether you serve it on it's own or with a side it's a delicious, healthy and wholesome meal that all the family will love! It freezes well and will keep in the fridge for a few days too.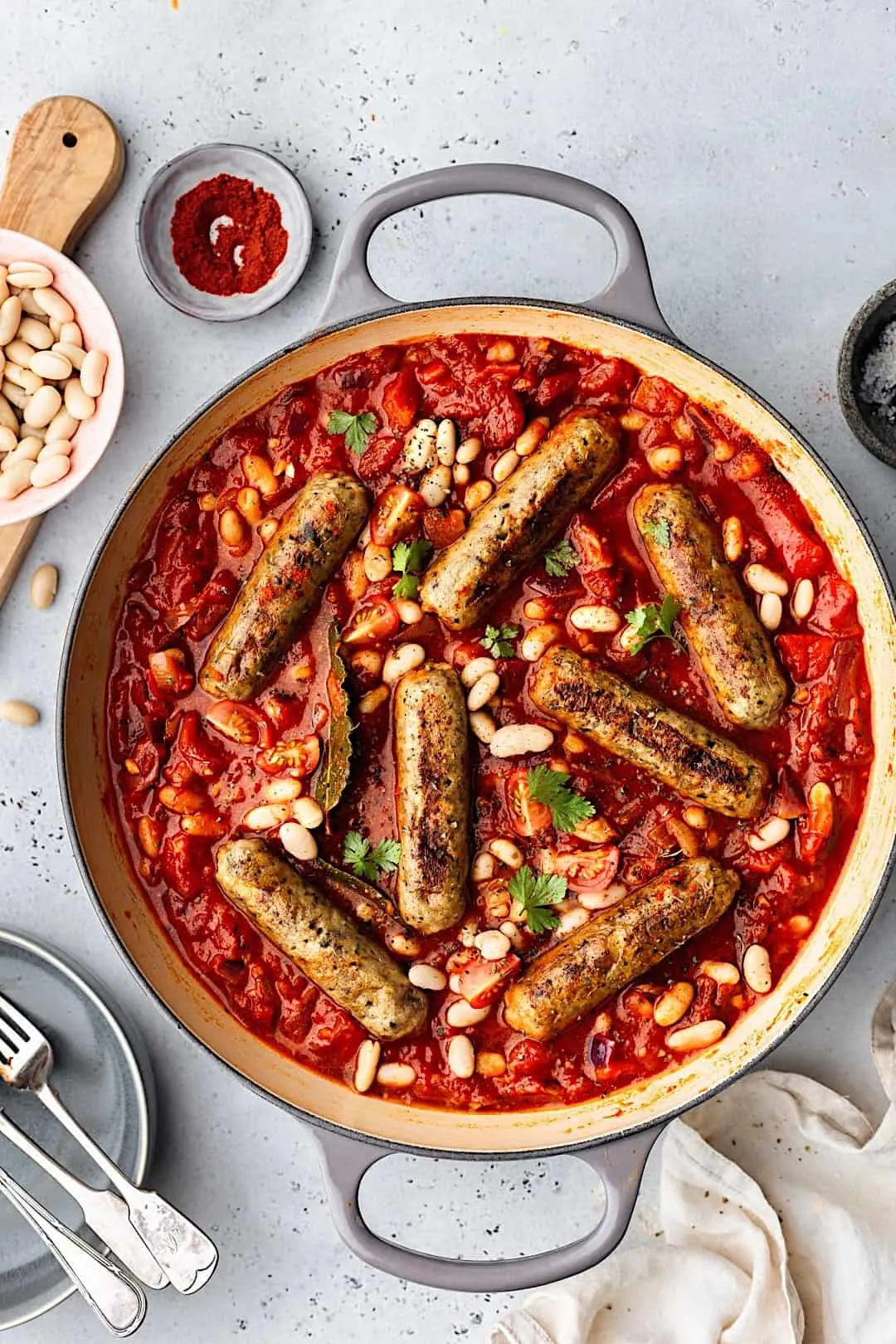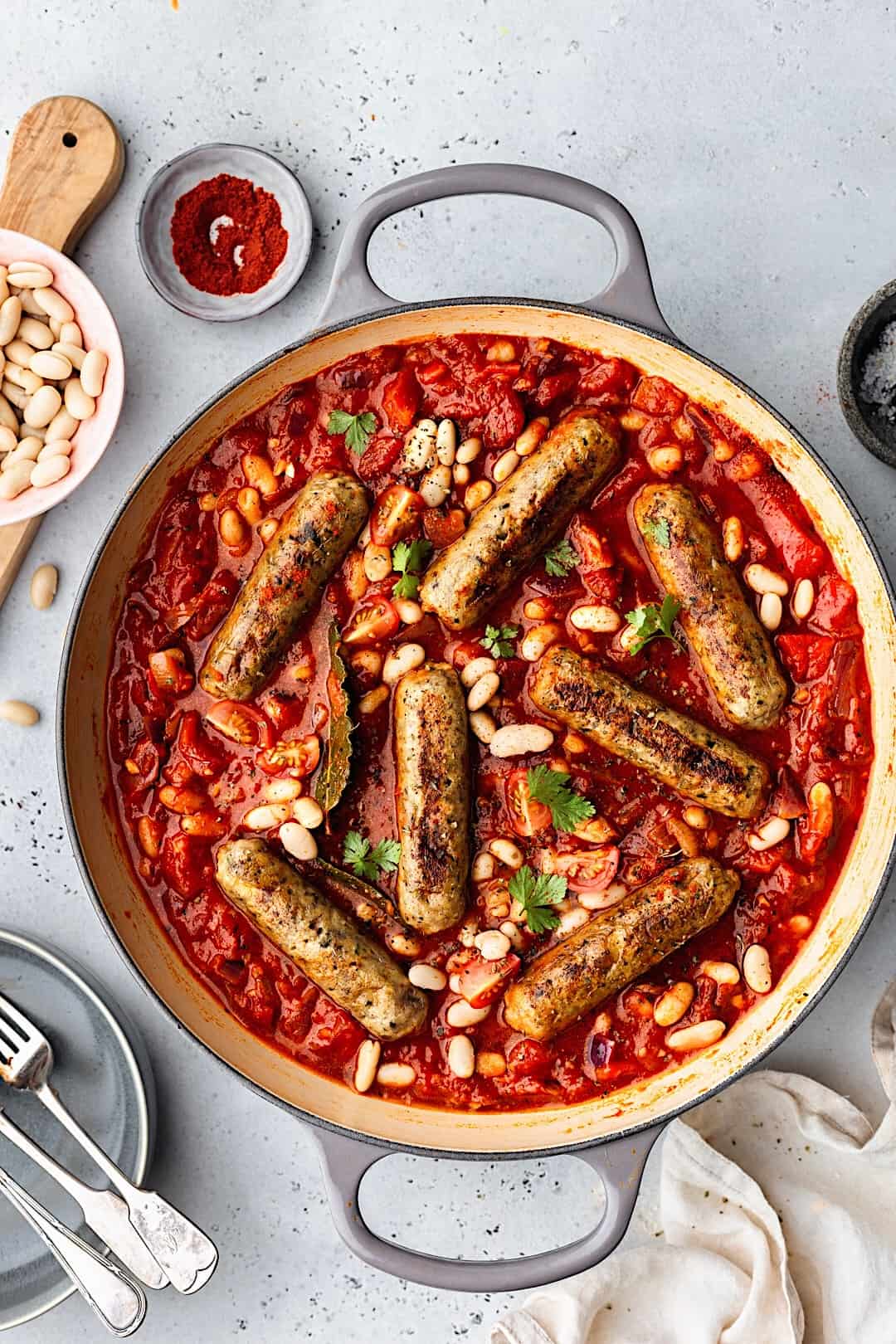 If you wanted some added veg, try adding in spinach or kale in the last couple of minutes! If you want to switch up the beans or have different beans in your cupboard you could try butter beans, haricot beans or chickpeas!
Serve leftovers for breakfast or lunch – it would be delicious with some breakfast hasbrowns or leftover sauteed new potatoes!
For more comforting recipes you may enjoy these!
---
As always if you make this vegan sausage and cannellini bean stew be sure to leave me a comment, rate this recipe and tag me on Instagram. I love seeing all your photos of my recipe recreations!
Don't forget to follow along on Facebook, Pinterest and Instagram – I'd love to see you all there!
---
NEVER MISS A RECIPE! GET MORE VEGAN RECIPES SENT STRAIGHT TO YOUR INBOX – SUBSCRIBE HERE 🙂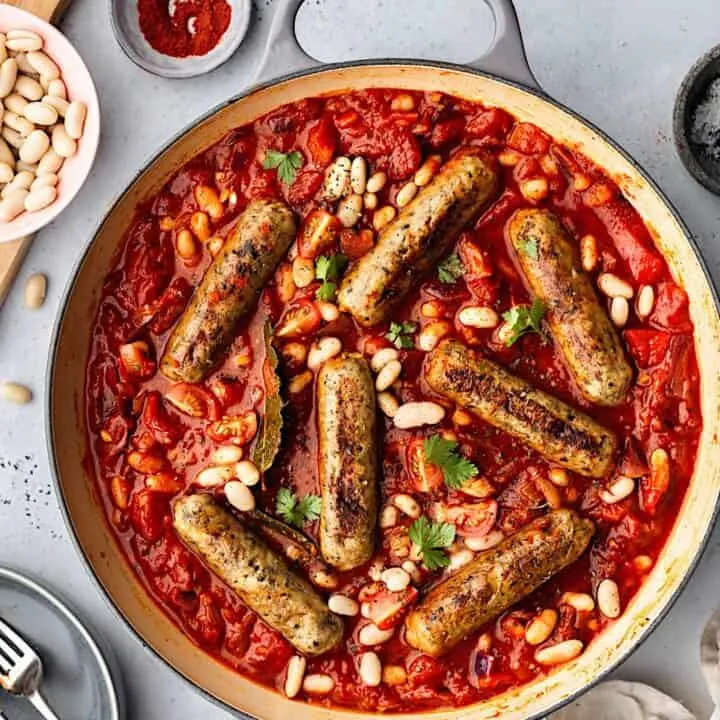 Sausage and Cannellini Bean Stew
Vegan sausage and cannellini bean stew is the ultimate comforting healthy meal. Cooked in a smoky red pepper and tomato sauce. Serve with fresh bread or mashed potato!
Ingredients
1 red onion
4 garlic cloves
1 red pepper
6 sundried tomatoes in oil
1 tsp dried thyme
1 tbsp smoked paprika
1 tbsp tomato puree
2 tins (800ml) chopped tomatoes
350ml vegetable stock
1 tsp balsamic vinegar
2 bay leaves
1 tin (400g) cannelinni beans
8 vegan sausages
Instructions
In a heavy bottom pan on medium heat add a tbsp of vegetable oil. Finely chop the onion and add to the pan.
Crush the garlic and roughly chop the pepper into 1/2 inch pieces. Add to the pan, stir and let fry for a few minutes until the pepper has softened.
Add chopped sundried tomatoes, dried thyme, smoked paprika and tomato puree. Stir and let cook for a minute.
Next add the chopped tomatoes, vegetable stock, balsamic vinegar and bay leaves. Bring to a simmer and leave for 20 minutes.
Fry the sausages in a seperate pan on medium heat according to packet instructions. You can either leave them whole or cut them up. Cook until browned.
After 20 minutes, add the cannelinni beans and leave for a further 5 minutes. Taste and season with salt and pepper.
Add the sausages to the stew and serve! I like to serve with some crunchy bread or mashed potato to soak up the sauce!
Notes
I used one stock cube for 350ml water and Sainsburys cumberland style shroomdogs.
Will keep in the fridge in an air tight container for a few days or can be frozen.
Recommended Products
As an Amazon Associate and member of other affiliate programs, I earn from qualifying purchases.