Super flavourful vegan butternut and lentil curry with cumin roasted cauliflower. Such a delicious vegan curry!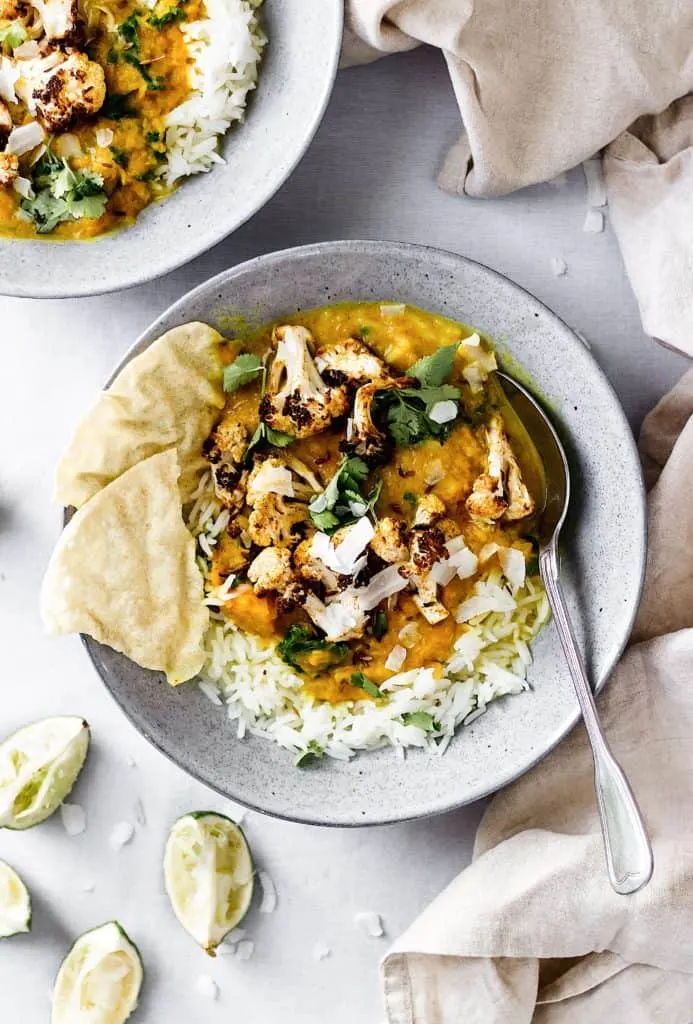 I make this vegan butternut and lentil curry with cumin roasted cauliflower curry ALL the time but I always forget to write down the measurements.
Which is why it has taken me so long to get it posted, sorry about that. But now you can enjoy it too and I am so excited to share it with you! This curry is creamy, coconutty and full of flavour.
It is such a filling and comforting dish for all the family (or just yourself). And tastes just as good, if not better, three days later (I had it for lunch today, and was so sad when I had my last mouthful).
The most hands on part about this recipe is prepping the butternut squash. I think this puts people off using it but it's really not that time consuming.
Chop off the ends, peel the whole butternut and then cut in half and chop into cubes. I think I'm pretty fast at it nowadays. If you don't love butternut, you can replace for sweet potato.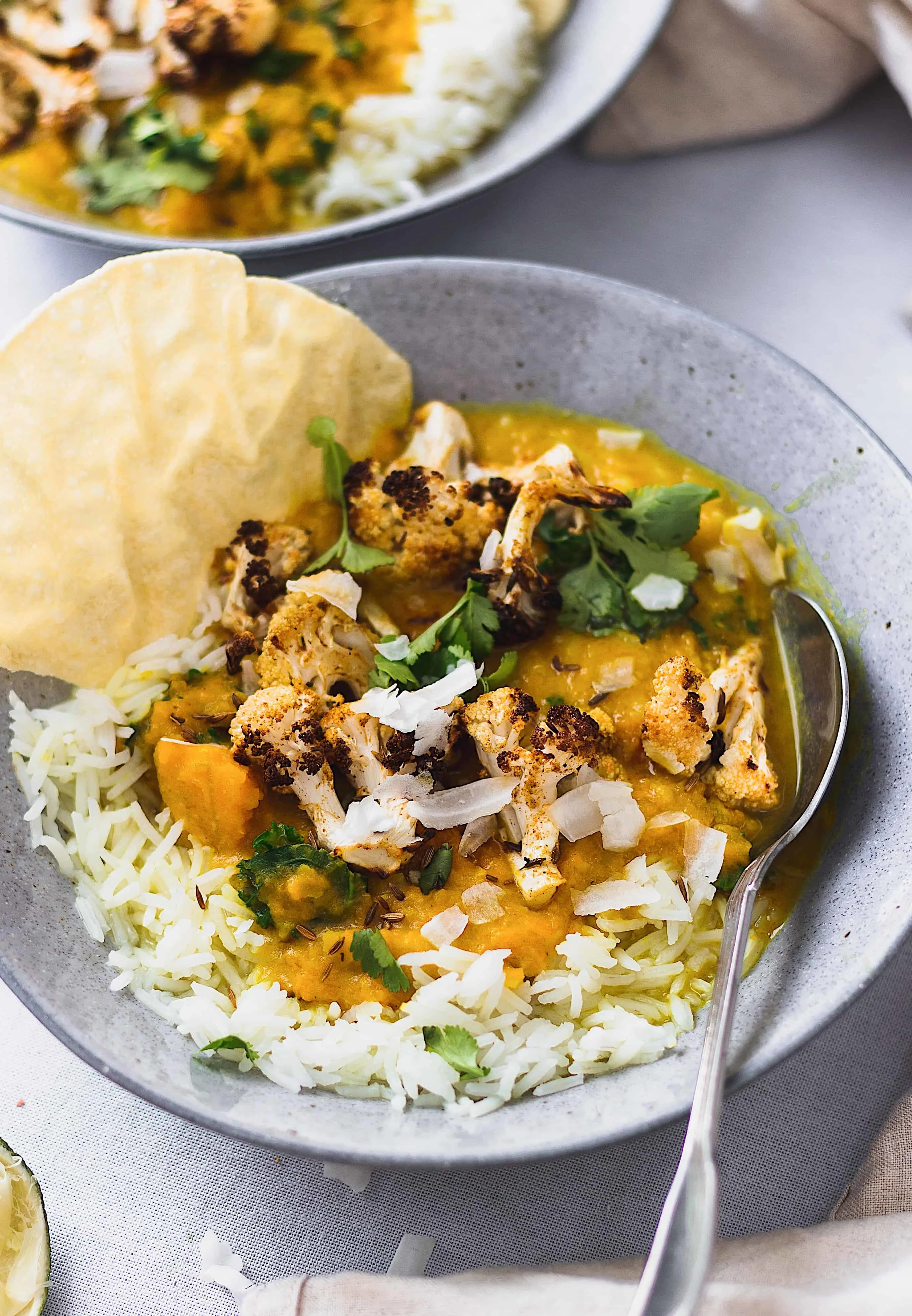 This recipe serves 6 but I highly recommend making the full quantity because 1) no one wants half a butternut left in the fridge to go off and 2) leftover curry is the BEST and makes for the perfect lunch/dinner for the week.
If you're a curry lover you may also be interested in these:
Mushroom and tofu tikka masala with cauliflower rice
Roasted aubergine and chickpea curry
---
As always if you make this vegan butternut and lentil curry be sure to leave me a comment, rate this recipe and tag me on Instagram. I love seeing all your photos of my recipe recreations!
Don't forget to follow along on Facebook, Pinterest and Instagram – I'd love to see you all there!
---
NEVER MISS A RECIPE! GET MORE VEGAN RECIPES SENT STRAIGHT TO YOUR INBOX – SUBSCRIBE HERE 🙂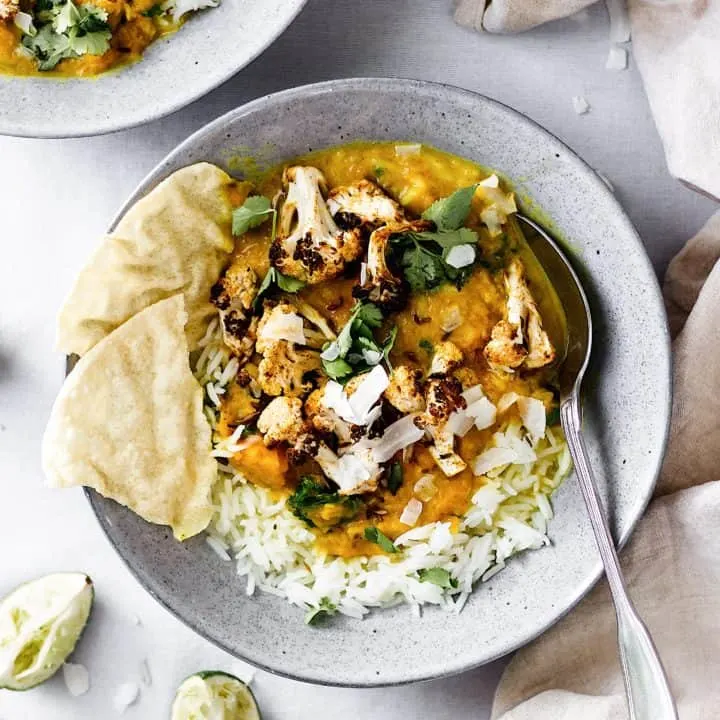 Vegan Butternut and Red Lentil Dhal Curry with Cumin Roasted Cauliflower
This beautifully orange curry is made with butternut squash and red lentils. Full of flavour and perfectly creamy. Topped with crispy cumin roasted cauliflower.
Ingredients
Curry:
1 butternut squash
2 onion
4 garlic cloves
1 inch fresh ginger
2 cans coconut milk
500 ml vegetable stock
1 tsp turmeric
1 heaped tbsp medium curry powder
1 tsp curry leaves
1 tsp ground cumin
1 tsp garam masala
1 tsp dried chillis
1 cup dried red lentils
1 lime
3 tbsp desiccated coconut
Bunch of coriander
360 g / 2 cups basmati rice
Roasted cauliflower:
1 cauliflower
1 tsp curry powder
1 tsp cumin seeds
Instructions
Heat the oven to 180C/350F.
Prepare your butternut. I find it quickest to cut off both ends, peel and then cut in half and cut into chunks. You want to cut them into about 1 inch cubes.
Heat some oil in a heavy bottom pan on medium heat. Thinly slice the onion and crush the garlic and ginger. Add them to the pan when it is hot. Add the curry leaves after a minute and cook until fragrant.
Add the butternut, turmeric, curry powder, garam masala, cumin and chilli and mix until evenly coated.
Next add the coconut milk and vegetable stock, and bring to a gentle simmer.
After 10 minutes, rinse the red lentils and add to the pan. Leave to simmer whilst you prepare your cauliflower.
Cut the cauliflower into bit size florets and mix in a bowl with some oil, cumin seeds and curry powder. Spread onto a baking sheet and cook in the oven for 20 minutes.
After 10 minutes place the rice in some boiling water and cook for 10 minutes (or according to packet instructions).
Once the cauliflower is crispy and starting to brown, remove from the oven.
The curry should now have thickened and the butternut will be soft. Add the desiccated coconut, this will help to thicken the sauce. If you think it is too thick, just add a little more water.
Add the juice of one lime and a handful of chopped coriander.
Serve with extra coriander, desiccated coconut, chilli flakes and mango chutney.
Nutrition Information:
Yield:

6
Serving Size:

1
Amount Per Serving:
Calories:

451
Total Fat:

30g
Saturated Fat:

26g
Trans Fat:

0g
Unsaturated Fat:

2g
Cholesterol:

0mg
Sodium:

362mg
Carbohydrates:

42g
Fiber:

8g
Sugar:

7g
Protein:

11g