The most perfect vegan eggplant BLT sandwich! With smoky eggplant bacon, juicy tomatoes, lettuce and vegan mayonnaise.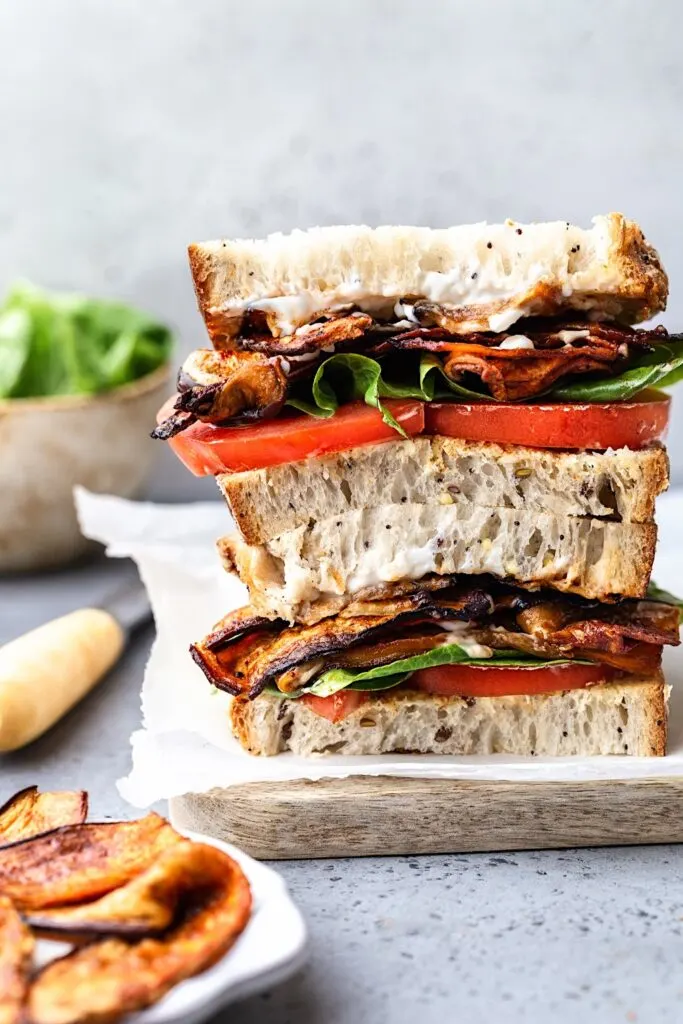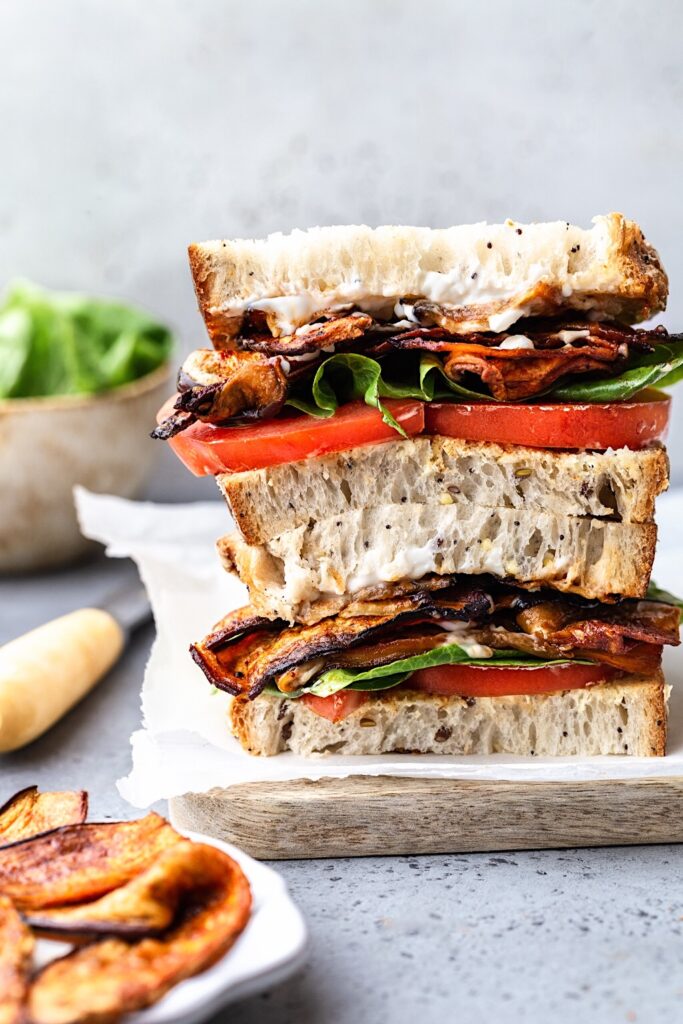 Layer it inside your favourite bread and you have one of the best vegan sandwiches out there!
My favourite bread for this BLT is thick slices of sourdough or farmhouse white.
To start, you're going to need to make your eggplant bacon – the most important part of this BLT!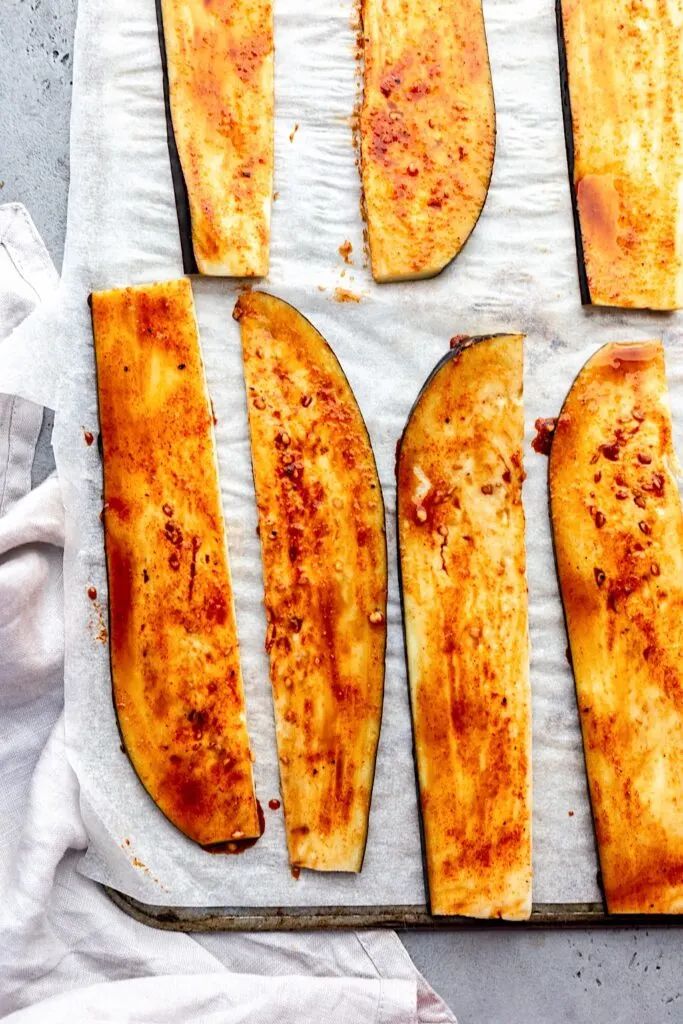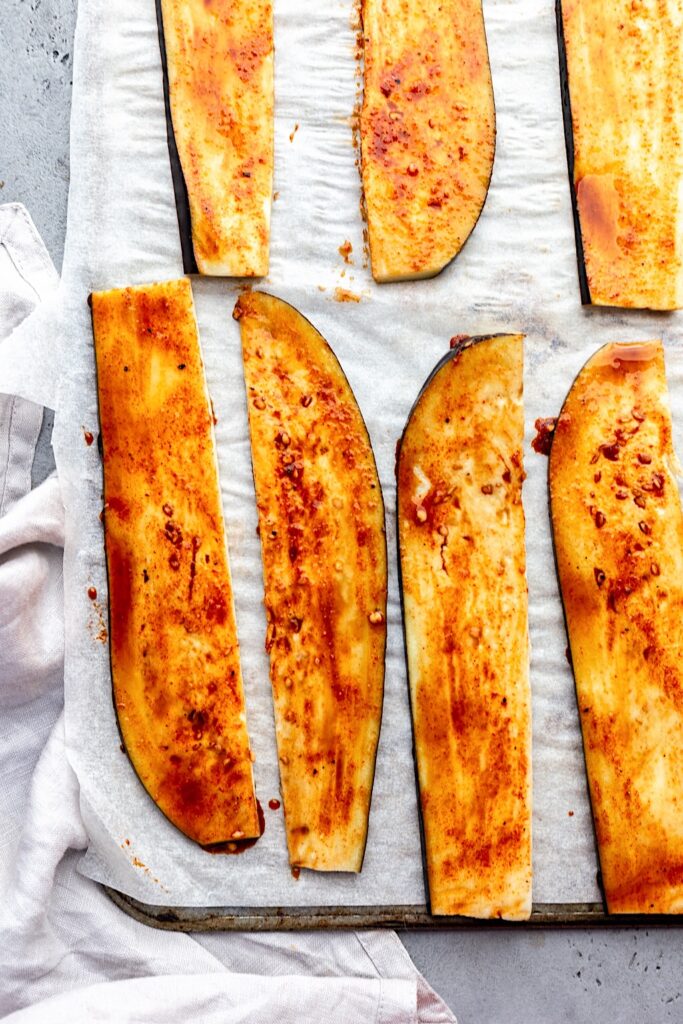 What you'll need for the eggplant bacon:
Eggplant (aubergine)
Soy sauce
Maple syrup
Liquid smoke
Oil
Smoked paprika
Onion powder
Garlic powder
Salt and pepper
In order to get the 'bacon' flavour we need a mix of sweet, salt and smoke. Liquid smoke and smoked paprika are going to provide the smoky flavour, the soy sauce sauce brings saltiness and maple syrup adds sweetness.
You should be able to find liquid in larger supermarkets or online. It's a great ingredient to have when you want to add smoy flavour to things, and a little goes a long way.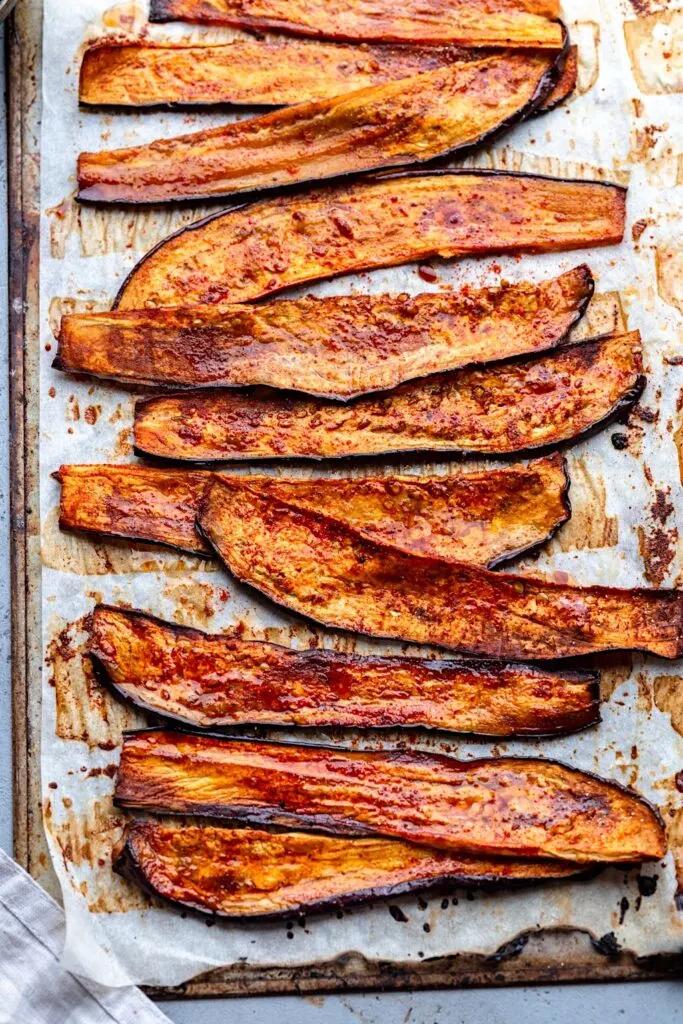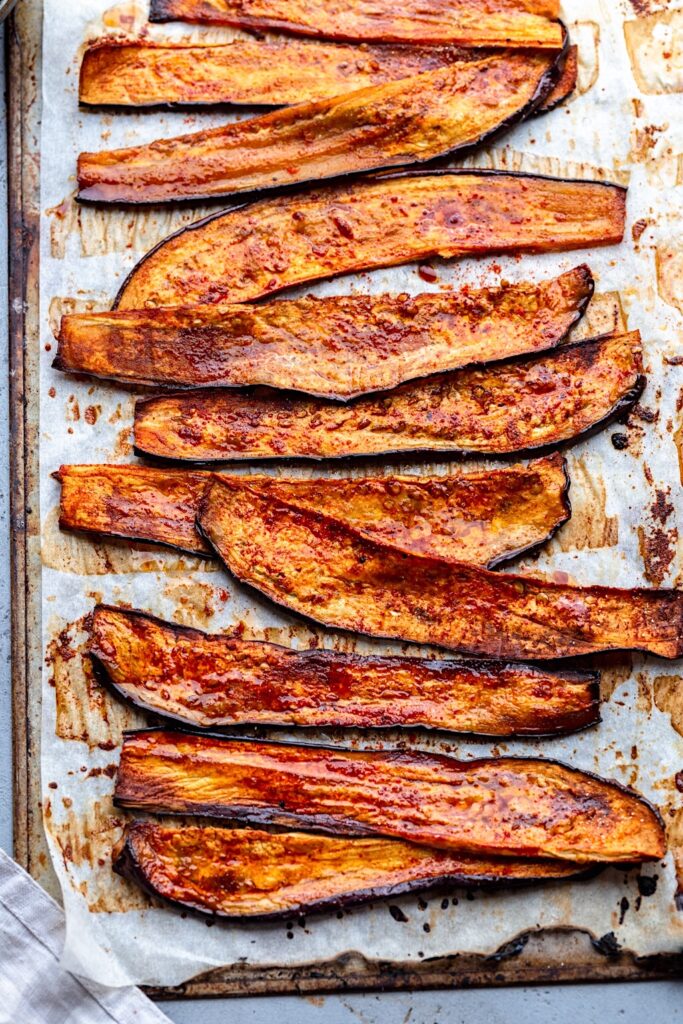 How to make eggplant bacon:
Cut the ends of the eggplant and then slice lengthways into quarters. With each quarter, lay down flat and use a sharp knife to cut into 1/2 cm slices. You can use a mandolin but be careful of your fingers!
For a medium-large eggplant you should make about 20 slices. Line a baking tray or two with parchment paper and place the slices in rows.
Mix up the marinade in a bowl and then brush each eggplant slice with marinade. Flip them over carefully and brush the other sides.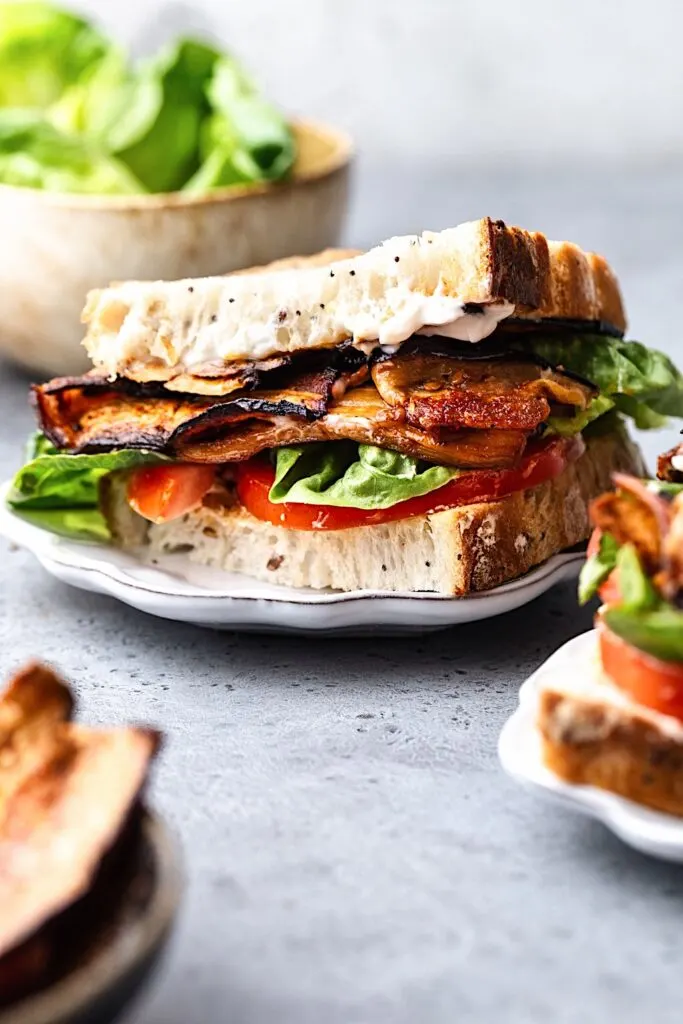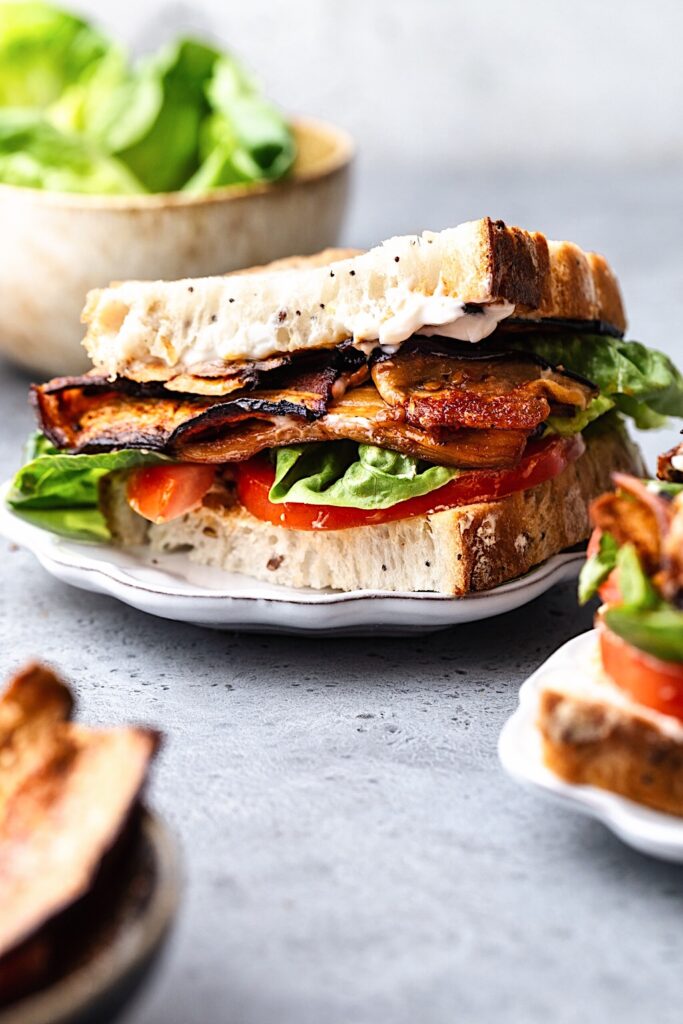 Place in the oven at 160C/320F for 20-25 minutes. Check them half way and flip them over. Keep an eye on them for the last 10 minutes and make sure they aren't burning.
Whilst it's cooking you can prepare your sandwich. Slice big tomatoes into 1/2 inch slices and wash and dry lettuce.
This eggplant bacon will fill 2-3 sandwiches depending how much you use. How many slices you put in the sandwich is up to you, but I like to load them up! Plus a few never make it into the sandwich because I can't resist them fresh out the oven!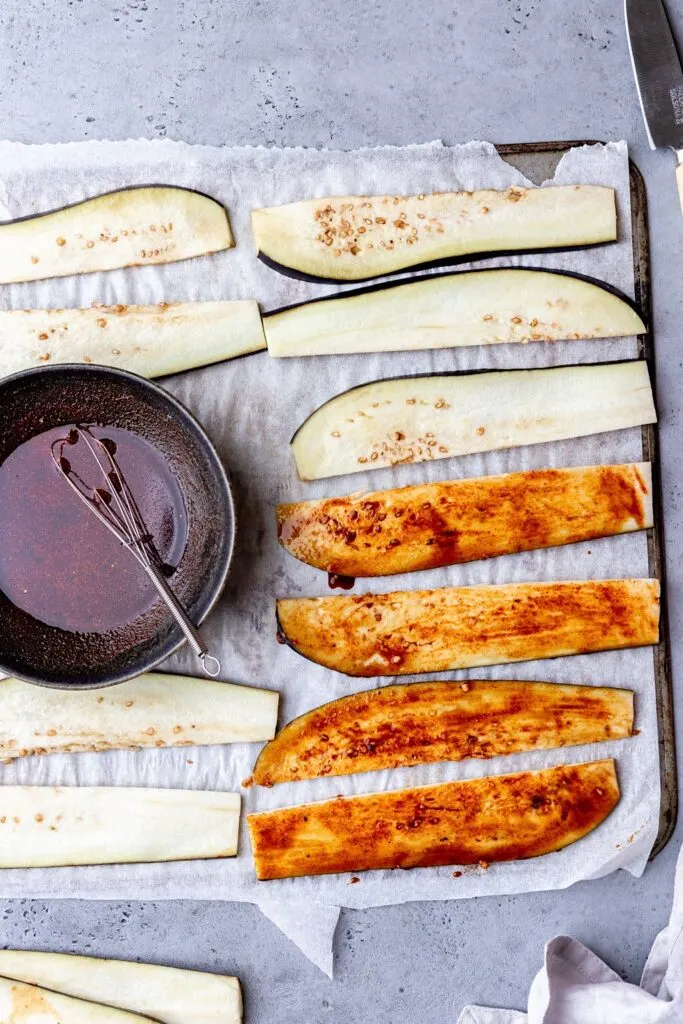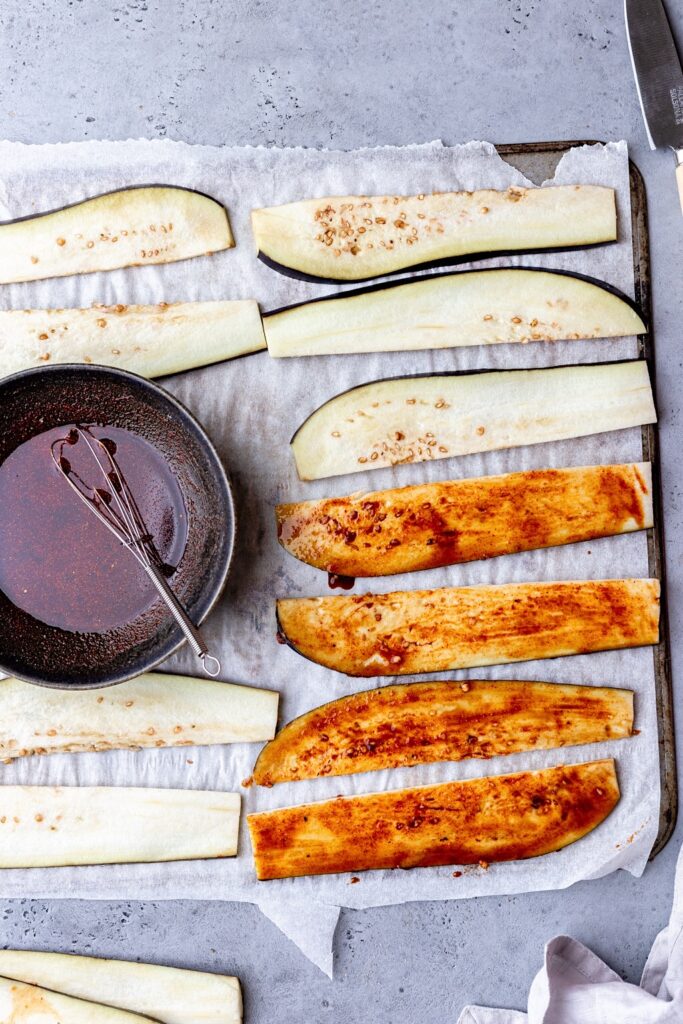 The eggplant slices will be crispy out the oven but will get crispier once cooled, so it's up to you if you want to wait. I like them when they are still warm but crispy!
You can make these eggplant bacon slices ahead of time. If you want to heat them up then you can lightly fry them in a pan for a couple of minutes.
To assemble to sanwich, spread vegan butter on one slice and a generous layer of vegan mayonnaise on the other.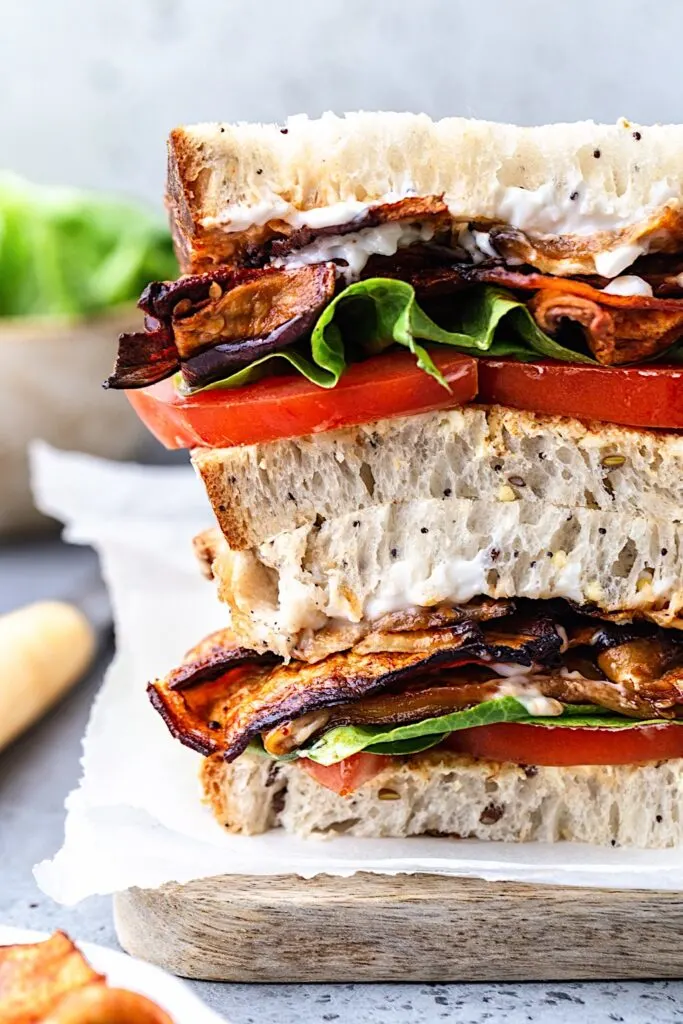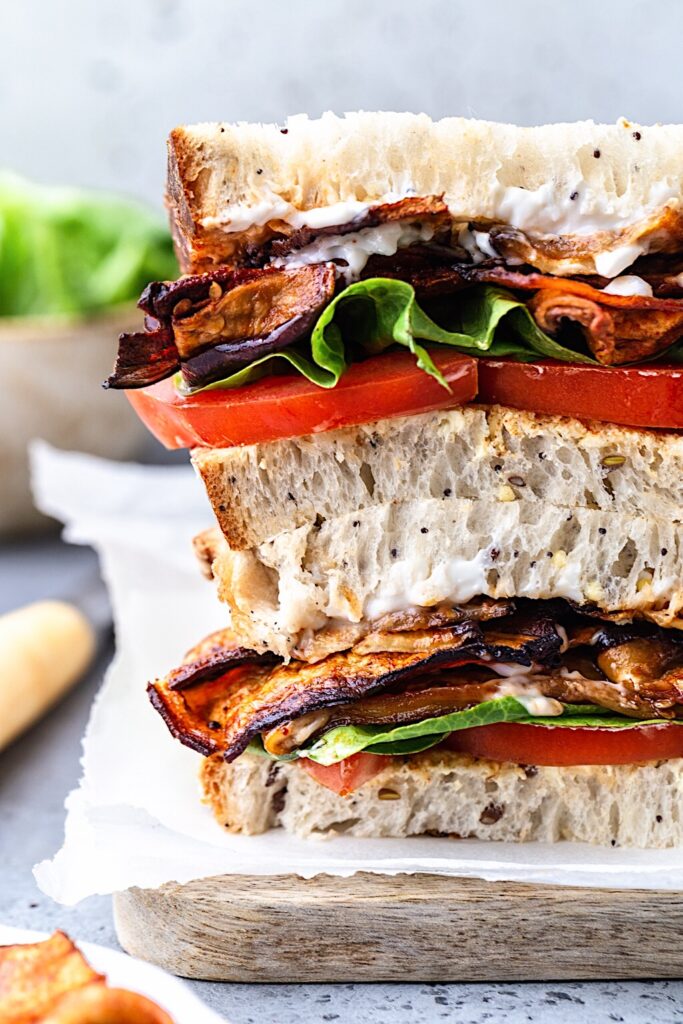 Add the tomatoes, lettuce and eggplant bacon onto the buttered slice and then top with the bread with mayo on.
Slice in half and enjoy! It's juicy, fresh, packed with flavour and so much better for you than the meat version!
What else to enjoy this eggplant bacon with:
Add it to a breakfast fry up! Once cooked gently fry the bacon in some oil.
Add it to salads – cut it into chunks to jazz up your salad!
Enjoy it on it's own as a snack! It's so good you don't even need to add it to anything!
For more lunch ideas you may enjoy these:
Sweet potato and sweetcorn falafels
Summer roasted vegetable sandwich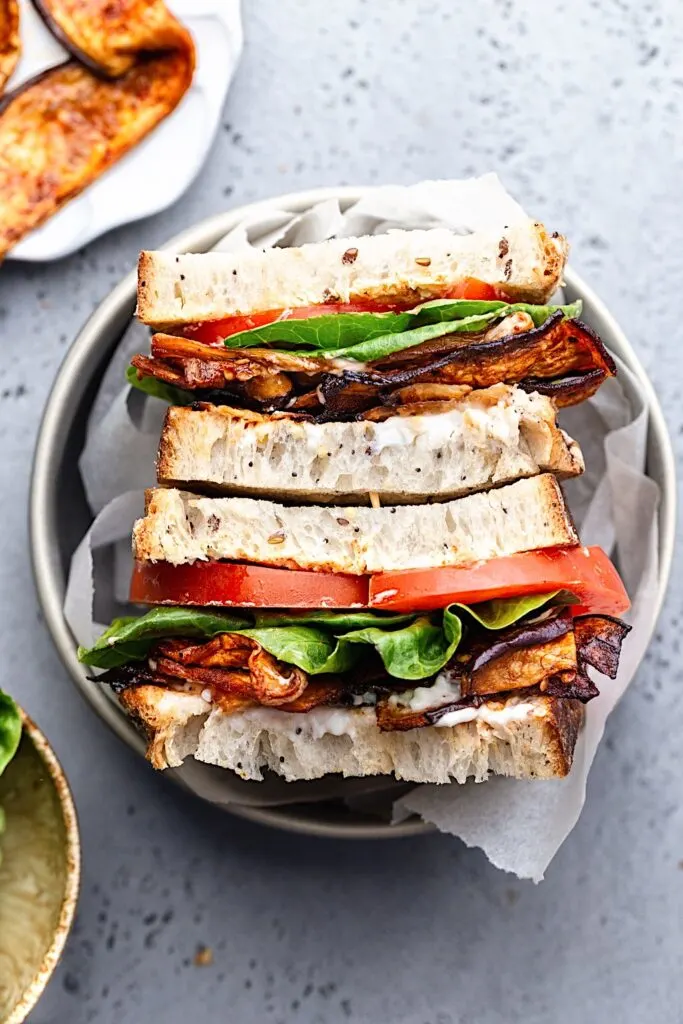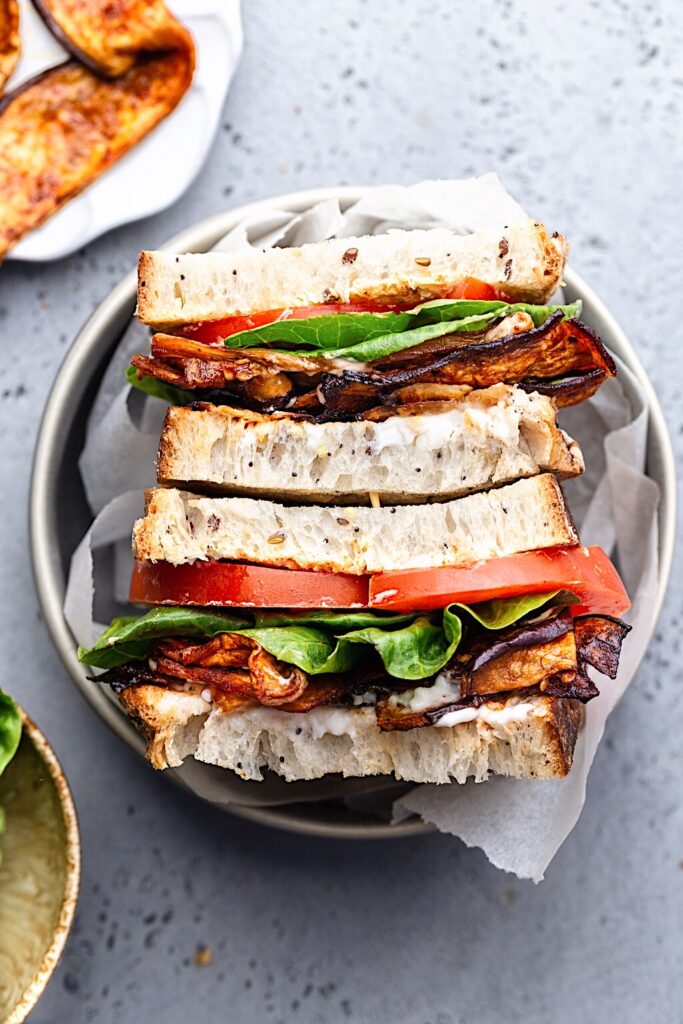 ---
As always if you make these vegan eggplant blt sandwiches be sure to leave me a comment, rate this recipe and tag me on Instagram. I love seeing all your photos of my recipe recreations!
Don't forget to follow along on Facebook, Pinterest and Instagram – I'd love to see you all there!
---
NEVER MISS A RECIPE! GET MORE VEGAN RECIPES SENT STRAIGHT TO YOUR INBOX – SUBSCRIBE HERE ?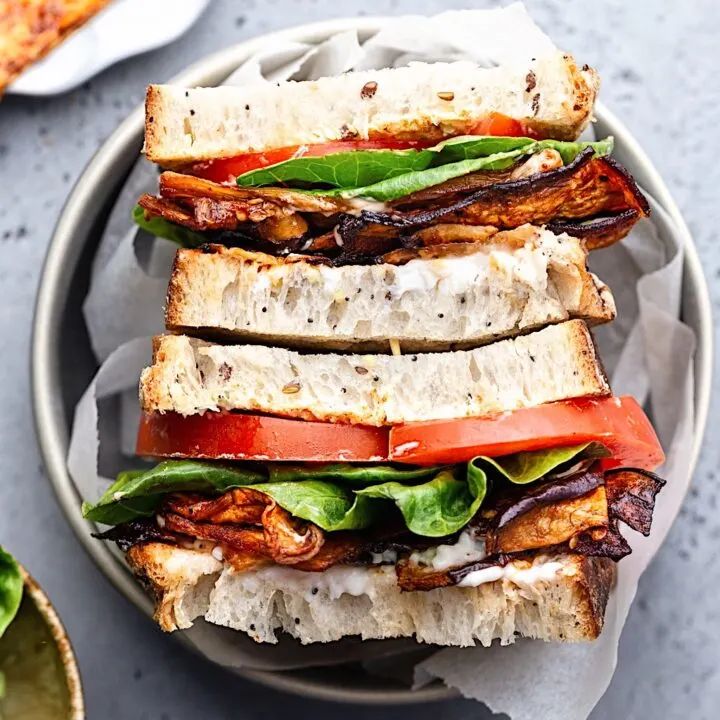 Vegan Eggplant BLT Sandwich
This vegan eggplant BLT sandwich is juicy, fresh and packed with flavour. With eggplant bacon that is smoky, sweet and salty - the perfect sandwich filler!
Ingredients
Eggplant bacon
1 eggplant/aubergine
2 tbsp dark soy sauce
1.5 tbsp maple syrup
1 tbsp oil
1 tsp smoked paprika
1 tsp liquid smoke
1/2 tsp garlic powder
1/2 tsp onion powder
1/2 tsp cracked black pepper
1/4 tsp salt
Everything else
Bread
Vegan mayonnaise
Large tomatoes
Lettuce
Instructions
Preheat oven to 160C/320F.
Cut the ends off the aubergine and then slice lengthways into quarters so you have 4 long pieces.
Lay each quarter flat on the chopping board and cut into thin slices about 1/4cm. Repeat until the eggplant is all cut up. You will have around 20 slices.
Line 2 baking sheets with parchment paper and place the aubergine slices in rows.
Make the marinade by mixing all the remaining ingredients in a bowl. Brush each slice with the marinade and then flip and brush the other sides so they are well coated.
Place into the oven for 20-25 minutes. Check them after 10 minutes and flip them over. Keep an eye on them making sure they don't burn. They should be crispy but not charred! They may need a little longer depending on your oven type.
Remove from the oven and leave to cool/crisp up whilst you prepare the sandwich.
Spread vegan butter and mayonnaise onto the bread then load with tomato slices, lettuce and the eggplant bacon!
Slice in half and enjoy!
Notes
It will make around 20 slices of eggplant bacon. Use as sandwich fillers, add to salads, serve with a vegan fry up or eat as a snack!
Recommended Products
As an Amazon Associate and member of other affiliate programs, I earn from qualifying purchases.